Oakland, CA
Oakland
Monster Energy AMA Supercross Championship
Cooper Webb | Monster Energy/Knich Yamaha | 7th in 450SX
The night and day went a lot better. Qualifying was lot better. I was in the top five. I was pumped on that. Then the heat race went really well. I pulled the holeshot and then kind of messed up the first turn and Justin [Barcia] got by me. I was able to kind of follow him in the heat race and pick up on some things and got a solid second there. Then the main event, I just got a terrible start, unfortunately. The good news is I know what I did wrong, but it was just absolutely terrible. I think I went around the first turn in, like, 17th, so that didn't help. But I was pumped. I made a lot of great passes early on. Me and Justin came through the pack pretty much together. Kind of got stuck behind [Weston] Peick there for a few laps and was able to pass him. Made a little bit of a charge on [Cole] Seely and just kind of started making some mistakes. But I was pumped. I feel like the old me is coming back. I feel a lot more confident and feel like I'm in the hunt, at least, now. It was a seventh place, but I think with a great start, I could have done a lot better.
Racer X: It did look like you were riding a lot more confidently today. Another improvement, so you've got to be happy with that.
Yeah, absolutely. I felt like I showed that I had confidence. I was riding like myself and was comfortable and had a great day. Like I said, it's a process. I was pumped. I think going on to the next, however many we have, I think this is only the fifth one, so it's good that I'm getting the momentum building now. I think it's just going to get better and better.
What was the change? You seemed like a different guy today out on the track.
Man, it's a lot. It's hard to pinpoint one thing. Just really started focusing on myself. As simple as it was, I had a lot of talks with people, a lot of meetings with people. Just kind of needed to get that fire back. For me, it was just one of those things where I just said, I need to worry about myself and quit worrying about everybody else. Eff it, type deal. So, I think that helped me be more confident in myself and not be scared of these guys. That was the biggest thing. Had great sponsors like Monster and Yamaha, we had some great meetings and talks this week. Everybody's on the same page and we're working forward. We're all on the same… whatever works best for me is what we need to do. We're getting back to that.
I saw you inching up on Peick and catching him back, but I didn't see what actually happened. What was that pass situation? What was that all about?
He made a little mistake and I just went right inside of him. Then I think he must have maybe got hung up or something, but I looked and had a little gap on him once I immediately passed him. I was eating his roost for about eight laps. Need to work on making a pass on him easier, better. But other than that, everything else was good. —Kyle Scott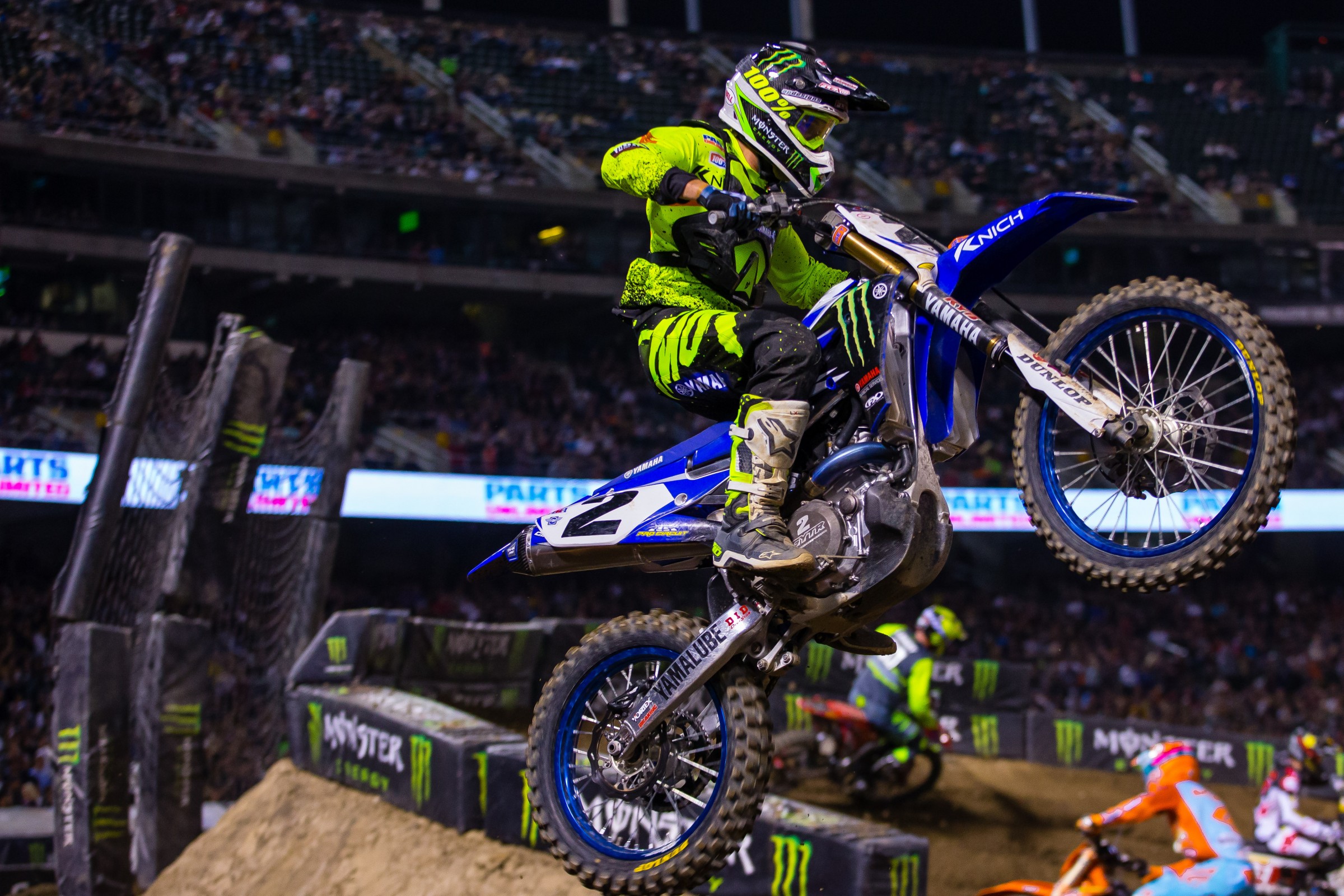 Josh Grant | Monster Energy Kawasaki | 10th in 450SX
Walk me through your night. That corner kind of killed you in the beginning.
Yeah, which one?
The one where you spun out after the whoops.
The whole day kind of was good. Qualified really good. I was comfortable from the beginning. The track just broke down really gnarly. But it was good. I made a lot of positives from the week and brought it into this weekend. I felt more comfortable on the bike, which is always a good thing. Just made that mistake in the main after the whoops. Tucked the front, fell, slid out. Then my clutch was all bent up. I tried to get back on the track and it whiskeyed off over the bales again and I fell. I fell again on the same lap in the first turn. So I started probably 20-something seconds behind. I guess that'd be 21st. I rode by myself for the first three or four laps. I just kept my head down and plugged away. I knew that a lot of people were going to make mistakes, so as long as I just did all the jumps—that was pretty much the hardest part tonight, was even making the rhythms and being consistent. It got me up to the top ten, which I was stoked with. Just got to keep putting myself in a better position and not make those little mistakes that kind of hurt me. I think with that, we would have been up hopefully in the top five, somewhere around there. We've still got a lot of races, so I'm stoked.
You got to be happy with another top-ten, even despite all that.
Yeah. That was my goal. Stay inside the top ten every weekend and by the end of this thing, we'll be in a good spot. Hopefully it's enough to keep my career going. We never know. Hopefully it helps.
You were battling with Tomac for a minute there too, right? He looked like he was having his own struggles.
Yeah, I don't know what he was dealing with, but I knew at the beginning of the race I made a pass on him. I was able to kind of move up a little bit. Then I made that mistake and everything went after that. I was able to kind of catch up and do the same thing and pass a lot of guys. I'm stoked with how I rode. Like I said, the track was freaking gnarly tonight. I'm just glad to walk out of here healthy and no issues and we move on to next weekend. —Kyle Scott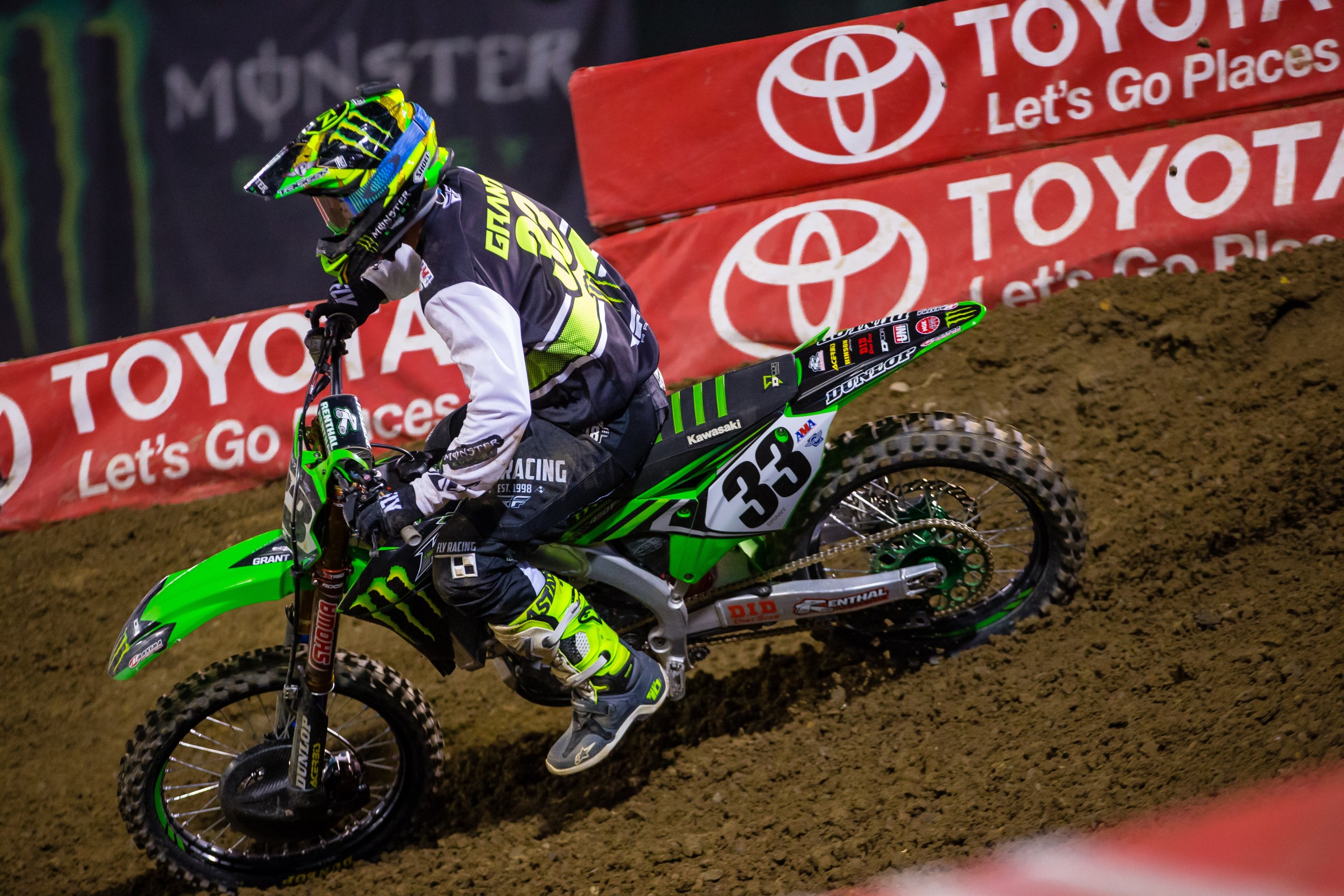 Kyle Cunningham | H.E.P. Motorsports/FXR/Suzuki | 18th in 450SX
It was better than last weekend, obviously! Last weekend we had a first-turn pileup in the LCQ that kept me out of the main. Tonight we were in the LCQ again, and that thought may have popped into my head in trying to make it through the first turn. We made it, but I think I was about 16th. Somehow I came all the way up to fourth to qualify, which was good. I felt like that was the best I really rode all day. I had some decent laps in the main, too—I felt like I started to come on there in the middle of the race. The track was tough, though. I got cross-rutted in a rhythm, caught a Tuff Block, and went down. That was a little bit of a bummer, but we salvaged what we could.
The bike got my leg a little bit so I'm a little sore, but we ended up 18th, got points, and we're healthy enough to go racing next weekend. The Suzuki is a great bike and the H.E.P. team is doing a great job. It's been a little bit of a learning curve riding the 450; I could get away with it when settings were a little off on the 250, but now it's opposite. It's slow progress, but we're making progress and we can keep moving forward in getting me more comfortable. I want better results, obviously, but Rome wasn't built overnight, so we'll keep working and training. We've got twelve more to go; there's a lot of racing left. —Aaron Hansel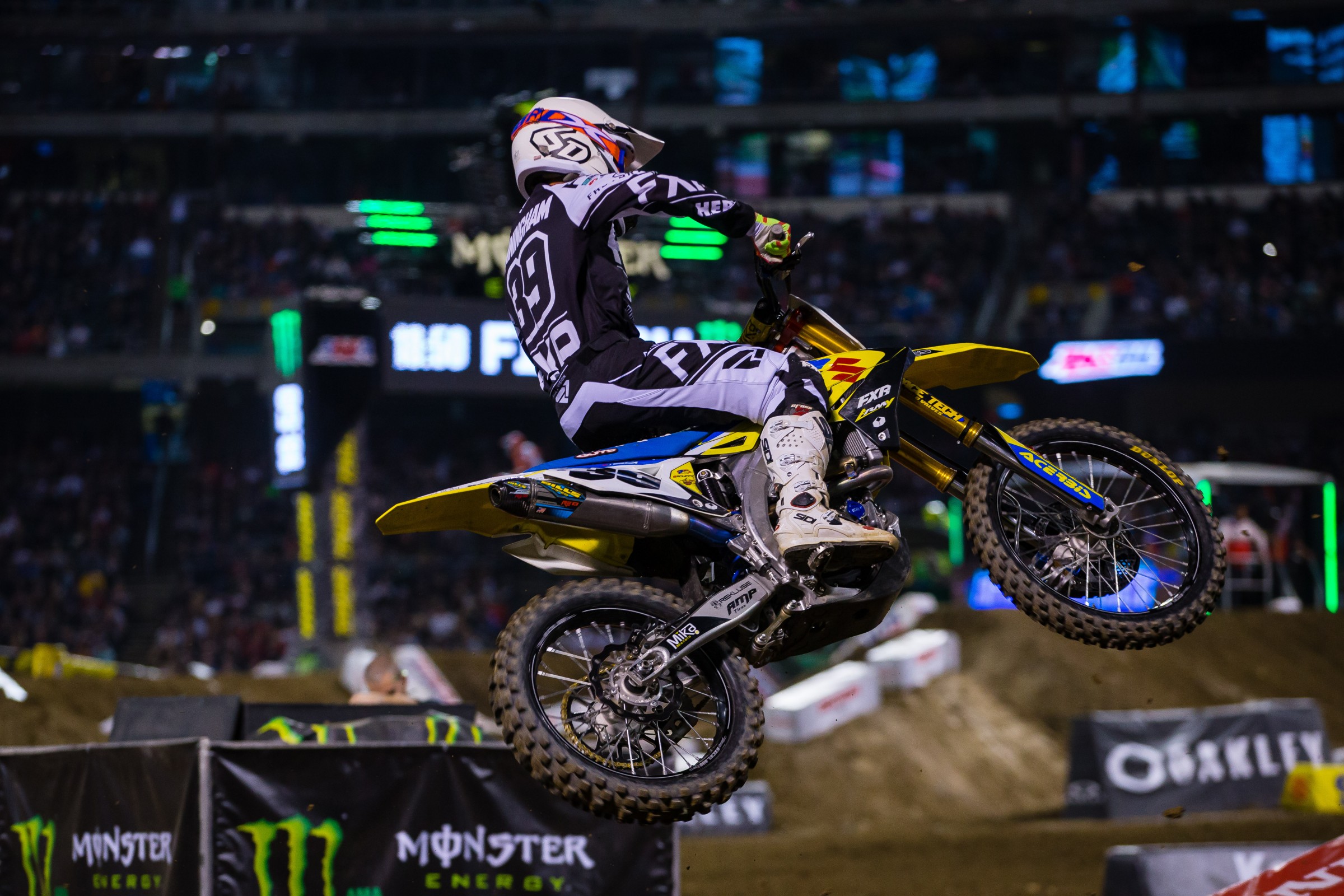 Benny Bloss | Rocky Mountain ATV/MC-WPS-KTM | 20th in 450SX
It was rough, but positive compared to practice. Practice was horrible, and then the heat race was really good. I ended up sixth. In the main, the first half was sick. I was 12th, riding good behind [Broc] Tickle and then just made some mistakes. Ended up crashing pretty hard. Just not what I wanted. Really need to pull it together and have some good races. My second race back, something to build on and excited for more.
Where did you go down? I saw you between the lane but I didn't see what happened.
I went down on the on-off before the whoops and I ended up in the middle on some boulders.
What happened? Did you just get sideways?
Yeah, I took off. I was going double on-off. I did the double, and then when I went on I leaned to the side a little bit and it shot me off the track into the Tuff Block. You don't just ride over those things. You're not fine after that.
You were a little slow to get up. Are you okay?
Yeah, I'm good. Ready to get after it on Monday with some more riding and head to San Diego.
How are you feeling from your Anaheim crash?
I feel good. The Anaheim crash was bad, but my injuries weren't bad. I had a crash in November and I broke quite a few things. I actually found out at the hospital in Anaheim that I had, like, four fractures that the other hospital had missed from November. So my crash in Anaheim, I had broken ribs, broken sternum, and broken hips, and everything at the Anaheim crash was just bruised. Kind of good from that.
I was under the impression that the sternum was what was really holding you back.
That's what we had thought, but it ended up not being that.
So you're running the chesty now?
Yes, full-on outside chest protector. I like it. I'm a fan. I wanted to run it in outdoors last year but some stuff happened where I couldn't, and now I get to.
Sponsor deal?
Yeah, it kind of covers up a lot of sponsor but we got a nice sticker kit for it. —Kyle Scott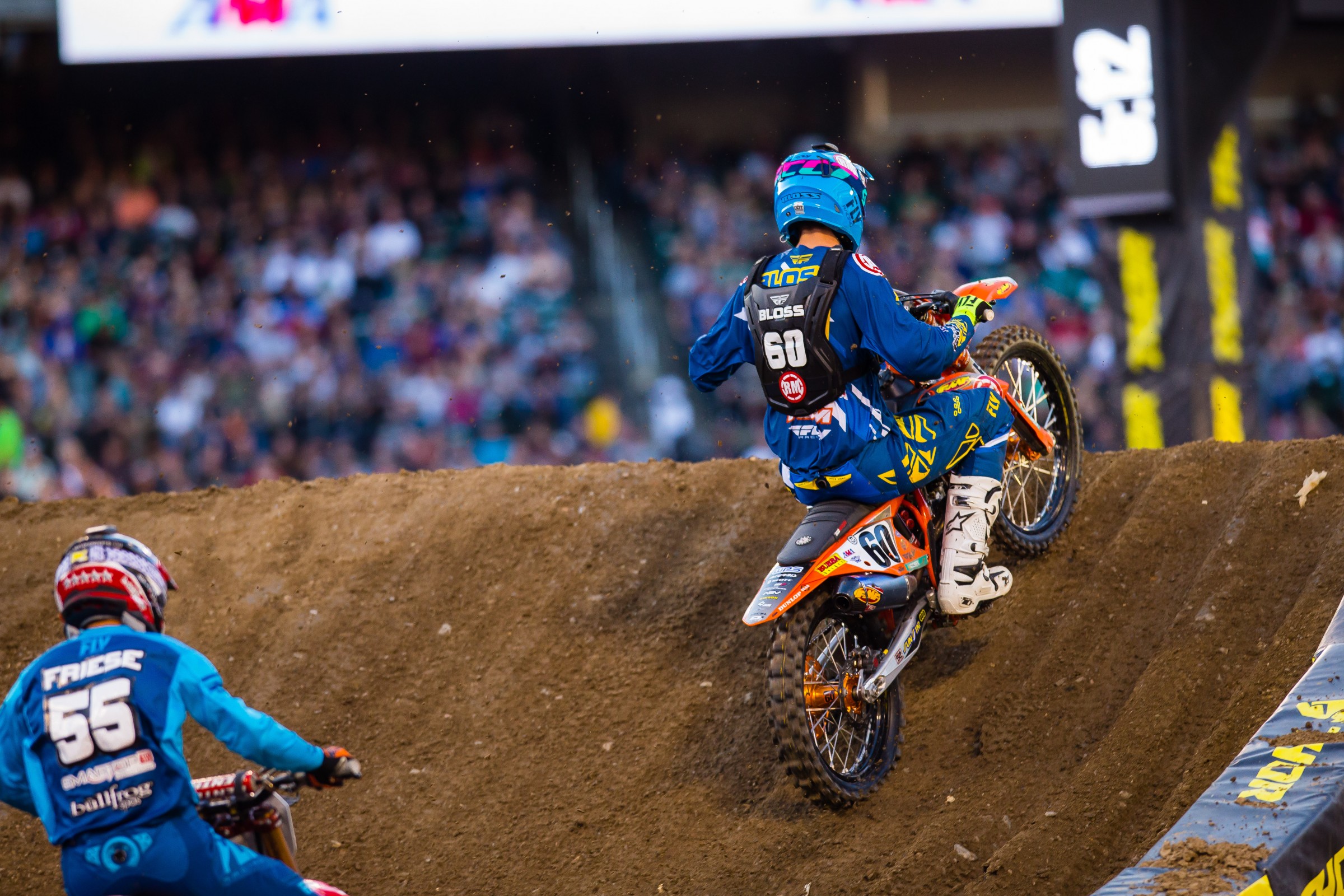 Chase Sexton | GEICO Honda | 6th in 250SX
It was pretty good all day. I had good speed. The heat race was good. I kind of started off slow and ended up third. In the main event, I had a good start. I came into the corner third and I did pretty much a 180 in the first corner and just blew it. I was pretty much dead last and came back to sixth, which was, I guess, about as good as I could do. A-Mart and Christian [Craig] were right in front of me at the end, but didn't have enough time. Sixth was not where I want to be, but we've got next week.
Happy with your speed, though? You were able to come through the pack.
For sure. I've been qualifying good and everything. I feel like my speed is really good. I'm pumped on that. Go back to work this week and come out swinging at San Diego.
What'd you think about the track tonight? It was pretty tough to hit you marks.
Yeah, for sure. The track was tough. Super soft. I think it made for some good racing. Obviously, the 450 Class was awesome to watch. Didn't get to see too much of the 250 because I was in it. But it was a good track for racing. I think it was good and technical. —Aaron Hansel
Kyle Chisholm | 51Fifty Energy Drink Yamaha | 8th in 250SX
I did some work on the bike last week and I felt really good, so we stuck with it. I kind of had a short off-season with the way the cards fell; I didn't get to have a lot of time on the bike or a lot of time working with the team, but in that short time, they've made it super easy for me. We haven't had to change a lot—it's just been some fine-tuning. Today I felt more comfortable, and like you said, I think I was up front a little bit more. Just getting comfortable with the motorcycle. The starts have been good, I was second there in the main for a little bit, and stayed up there a little bit longer than some other weeks. I just need to keep working—I want to stay up there a little bit longer and get in that top five.
It was a tough track tonight. What other track could you compare it to?
Houston was pretty similar. Maybe not quite as soft as this one, but it was pretty soft. It hardened up a little bit for the main, but it still got rutted and tough. And this race last year, I think it was even softer than it was tonight. I think they had rain during the day last year. It's always a little bit softer, I kind of expect that coming here, but walking the track, it seemed harder on the surface. Like the crust got hard. But underneath it was pretty soft.
This is kind of a home race for 51Fifty Energy Drink Yamaha, so I got to do press day. The owner, Carlos, has a foundation, Race for Autism, and a portion of all the proceeds from the drink, apparel, stuff like that, goes to the foundation for autism awareness. So getting to do press day, I kind of got a jump on knowing what the track was going to be like and that was kind of nice. But I kind of enjoy these conditions. The tougher the track, the better. I like it. —Aaron Hansel