Welcome to Racerhead. Last Saturday night, while the Anaheim 2 Supercross was taking place at Angel Stadium, a terrible tragedy was unfolding in Oklahoma City. Chance Blackburn is one of our up-and-coming riders from the Pacific Northwest. He was at Anaheim racing, and his dad was in Oklahoma working, so Rob Blackburn went to a sports bar called the Double D Saloon to watch the races on Fox Sports. Inside he made friends with the bartender, who was also a supercross fan.
"The guy that was serving him that night and watching supercross with him, because that bartender was a fan of supercross, he messaged me on Facebook, he reached out this morning, and said your dad was very proud of you and your sister and talking about it," Chance told a Spokane, Washington, news station.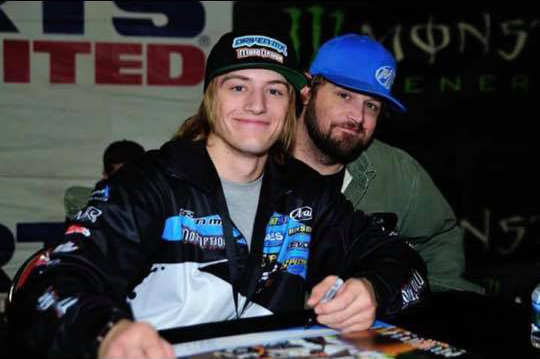 What happened is as sad as it is senseless and horrifying. When Blackburn went to leave, he saw an apparently drunk driver back into another car. When he went to stop the man, the driver ran over him. When he was blocked by another car from getting away, the driver back over Blackburn again, then pulled forward, running him over for a third time. Then the driver tried to get away from the scene of the crime.
While Rob Blackburn was dying in the parking lot, police arrested 28-year-old Michael Burke. According to KXLY.com, "Burke is facing several charges, including first-degree manslaughter. Police say he was clearly intoxicated when he was arrested."
"He was always happy," Chance said of his dad. "Always smiling with a little bit of chew grains in his teeth. Just the best."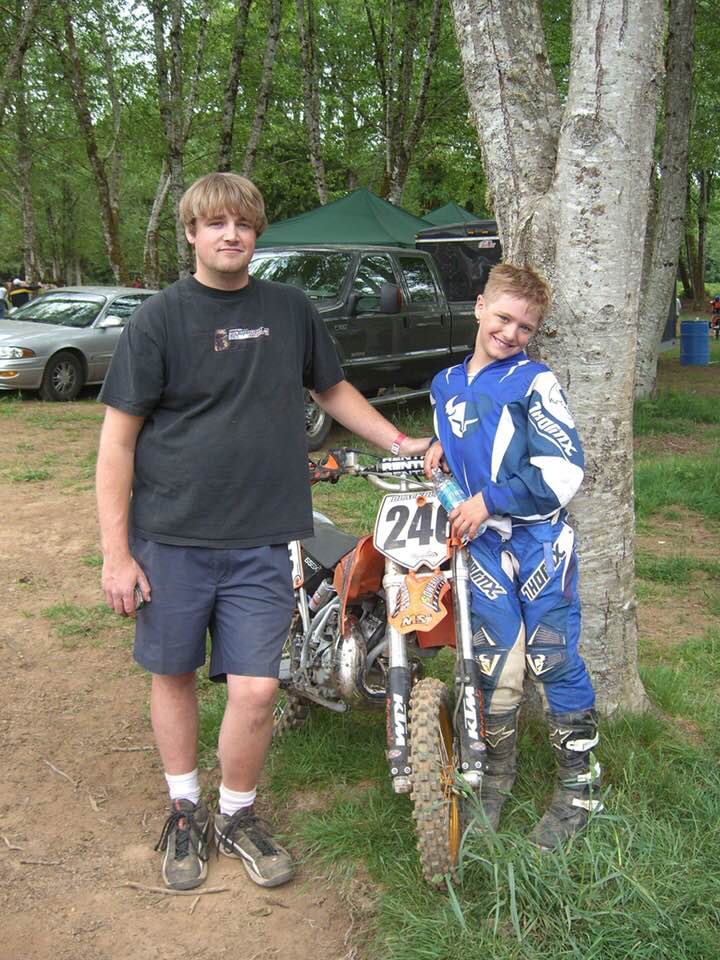 A GoFundMe page has been set up to help the Blackburn family with the costs of getting Rob back to Washington for burial. Please help if you can.
Godspeed, Mr. Blackburn. And good luck to Chance and the whole Blackburn family.
Anderson Evolution (Jason Weigandt)
We know Jason Anderson isn't the kind of guy who would enter a triathlon for fun. As he told me last year, "The day I retire, I'm selling my road bike." His free spirit and fun-loving attitude always put people on alarm. Is he really willing to make the sacrifices needed to be a champion?
Apparently, yes. While Anderson seems like a carefree guy, he's smarter and more calculated than he lets on. His views on money and career management are more advanced than you'd think, and this year, when he saw the window of opportunity to go after Ryan Dungey's vacated supercross throne, he put himself in position to take advantage. Anderson looked smoother than usual right from the start of practice at Anaheim. He didn't get great starts at Anaheim 1 or in the first two main events at Anaheim 2, but he let up and patiently picked his way through the pack. At Houston, he was the fastest rider in every practice, but in the main event, he spent the first few laps figuring out lines before putting the press on Ken Roczen, then ultimately going on to get the win. Every move this year has been calculated, smooth, and patient.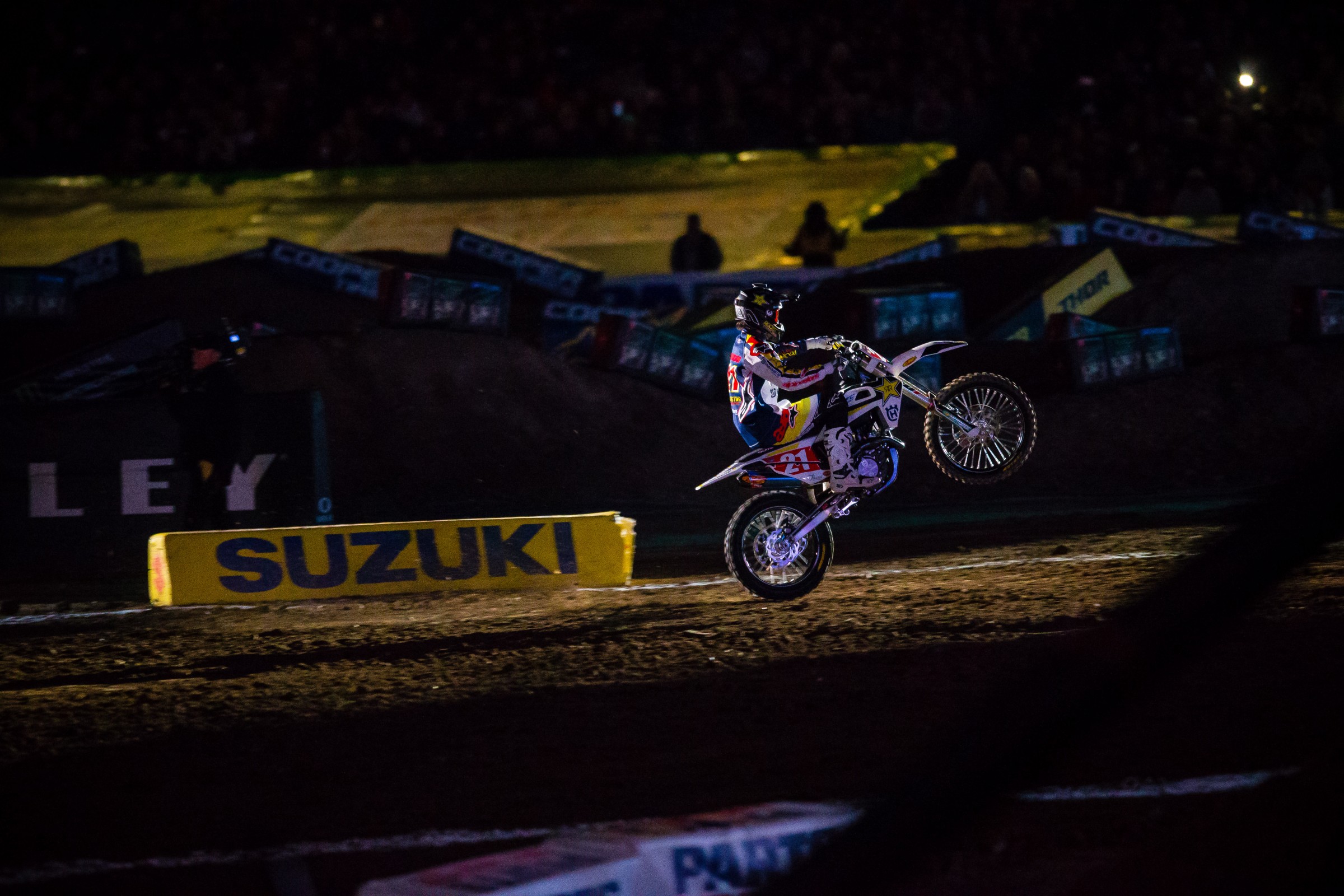 I've had multiple talks with Bobby Hewitt, owner of the Rockstar Energy Husqvarna team, and he assures me this is by design. On Saturday morning, he told me they'd told Jason over and over to pass people cleanly instead of trying to go through them. At Anaheim 1, when he was in third and closing on Justin Barcia, they worried the two might tangle. They both rode clean, and Jason eventually got the position. At Anaheim 2, they worried the intensity of the short main events might make him get impatient. Instead, Anderson played it cool and mentioned at the end of the night that he was trying to just get podiums—like the last guy who won this title, Dungey.
Clearly, Anderson understands the situation. He's not just riding on instinct—he's riding with thought, and everyone who has been watching these races is impressed with his maturity.
There's one thing we still need to know, though: has he fixed his starts? While a few of Anderson's block-passing dust-ups have garnered attention over the years and his riding style is usually wide-open and aggressive, he's really never been a big crasher. His past inconsistencies have stemmed more from bad starts. He's had a few good ones this year, but also a few bad ones. If Anderson is lost out of the gate like he often was in 2016, he's going to have a tough time staying patient. If he can start near the front, I think he's shown he has the rest of the tools to get this done. Anderson has never been a great starter, and his ability to improve that aspect of his game might ultimately be the one that determines if he can win this title.
Roczen...Rocks? (Steve Matthes)
Forgive the cheeseball headline, but we had Ken Roczen on the PulpMX Show this past Monday night (Weege was in-studio and was awesome except for the 20 minutes where he talked wrestling), and it was a reflective Roczen on the show. We're three rounds deep into a comeback from that gruesome injury and coming off perhaps his worst supercross race we've seen from him in a few years at the Triple Crown.
Roczen doesn't do a ton of interviews like this nowadays (he admitted that he blew me off in the off-season), so it was news that he said he's done talking about his injury.
"I've had this conversation with Steve [Astephen], my agent, that I am done talking about the injury," Ken said. "I am done, done, done. I don't mind talking about it once. I don't mind talking about it five times. I don't mind talking about it fifteen times. But now there is a time where I have to respectfully decline to answer that question because I am done with it and I am over it. I'm sick of hearing and I'm sick of it being in my head… Not that it's in my head, but I'm sick of talking about it. I really am."
So yeah, I guess we're done with that, right?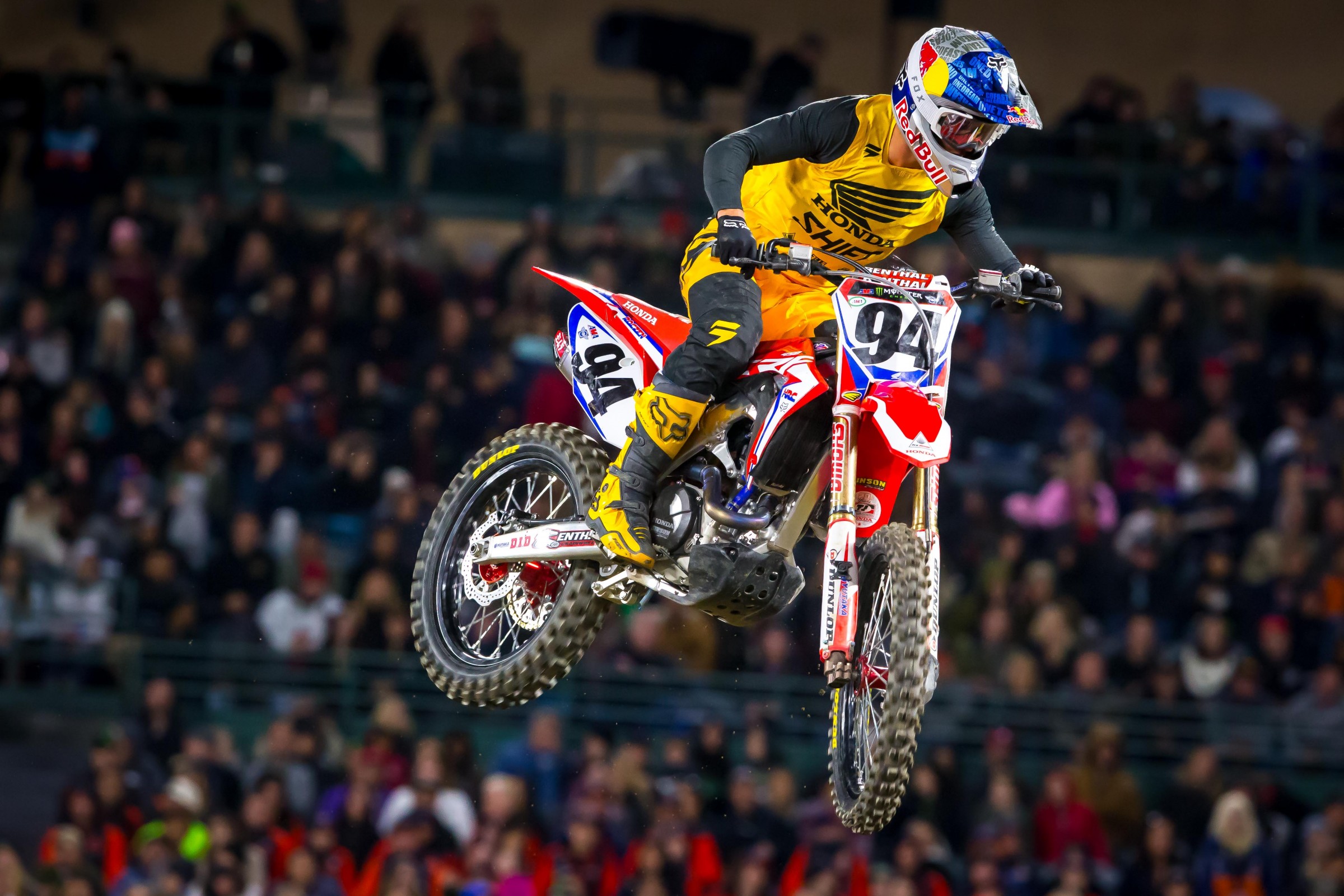 I think maybe the worst thing for those of us who follow the sport was Roczen qualifying fastest at Anaheim 1. It signified to all of us that he was back, the same as always, and to watch the #94 roll here any minute. And he rode well at Anaheim 1 to come up to fourth. The next week in Houston I will fully admit that I had him winning the main. But he got caught while in the lead and finished second to Jason Anderson. Anaheim 2? Well, best to not talk about that one.
So, if you're scoring at home, it's one great race, one so-so race, and one bad race. Hardly enough of a sample size for us to judge whether Roczen can get back to the domination he started 2017, before he crashed and suffered that… well, you know. Let's all chill down here that Roczen hasn't won yet. It seems to me he's in a good place.
"From here on out, I said it before, I don't want to have any too high or too low," he said. "So, I hope that this was my worst weekend. We got to just click off podiums and wins for sure. Got to be patient. I'd rather be out there racing and get podiums instead of crashing out and then maybe winning and then crashing out again or whatever. Same what I've been doing the last couple of rounds."
Smart advice to himself right there.
VIEW FROM THE STANDS (Dan Radlauer)
Dan Radlauer has contributed to Racer X Illustrated before—his parents made schoolbooks about motocross racing and various other sports as he was growing up. He went to the Anaheim Triple Crown event and suggested doing the op-ed opinion below on how the whole program worked from the grandstands.
We fans have just experienced the biggest change to supercross in decades. I may not be an ex-pro or an "industry insider," but my buddies and I are serious fans with strong opinions. I've been to almost every SX in Southern California since the late eighties. I've seen Anaheim go from one night to two to three and back to two. I've seen SX at the Los Angeles Coliseum, Jack Murphy Stadium in San Diego, even the Rose Bowl in Pasadena. But three motos with all the stars at the gate and championship points on the line? I'd never seen that until Saturday night.
We were all excited to see how this would play out. Three "motos" makes for some interesting strategy options. In Lucas Oil Pro Motocross, each moto pays points, so there is always an incentive to place as high as possible. But with the Triple Crown, in that third moto, someone might play it safe knowing they could win the event without moving forward or even protecting a position. It's possible we could see something like Jason Anderson's mechanic writing on the pit board, "Let Kroc Bye."
So, did this new format make me break out my "Believe the Hype" T-shirt? Well, almost. The first set of races were electric, and you could feel it in the stands. There was an intensity in that first moto you rarely see. While there is often great racing in the heats, they always have the feeling a kind of warm-up race too. This time the racing was red hot from the drop of the gate, and the fans were loving it.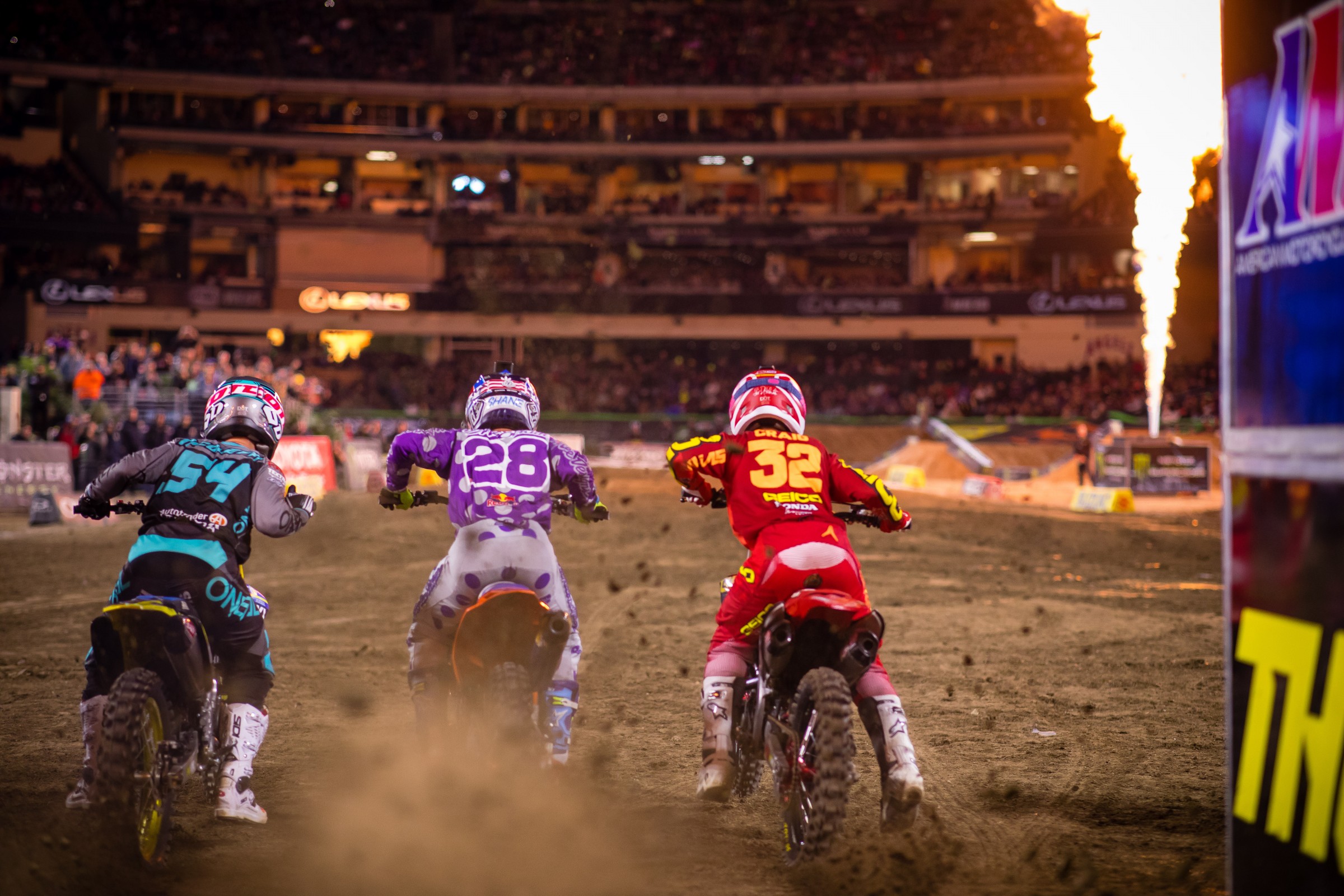 But there is clearly room for improvement. The downtime between the first and second motos was way too long. I'm sure the organizers have their reasons, but that fantastic energy had started to wear thin after the mini race, interviews, track maintenance, and more interviews. And then, to no fault of the promoter, that was followed by the most boring race of the night (the second 250 moto). At that point, I was starting to wonder if the whole thing was going to work. Fortunately, the second 450 race was great and really shook things up. I could feel the crowd coming back to life.
After the second set of motos, I took the break in the action as an opportunity to quiz a few of the people sitting near my little group. Everyone I spoke to liked the format and felt it brought a new level of excitement to the race. Everyone loved having all the "big dogs" out there fighting for position. There was an awareness that each race had more importance than just qualifying for gate picks.
Gratefully, the break between the second and third motos seemed shorter. (Was it? I don't actually know.) We all started doing the math and making our predictions and scenarios. And this brings me to another tweak that seems important to the fan experience: it's hard to keep track of the placing in all these motos. And a fourth or fifth or even sixth might be a huge part of the overall results. I could see that people were a bit confused as to who needed to pass whom to win. And figuring out the top five from memory and thumbnail calculations is not ideal. There need to be posted standings on the big screen based on the results. This would make the format much clearer and make the audience more engaged. With transponder technology, there could be running totals during the race. This way, you could see that a rider running currently in fifth needs to pass two or three riders for the win or podium or whatever.
And this brings me to one of the best parts of this format. People were watching deeper into the race because the battle for fifth might change who wins the overall. In the last race of the night, while Jason Anderson ran away with the moto win instead of it being a boring blowout, all eyes were glued on eighth place as Cole Seely tried to move forward and steal the win from Eli Tomac.
Should the whole series go to a three-moto format? On first blush, I think some would say yes. Would the excitement wear off once it became the norm? Possibly. Clearly, some tweaks are in order, but on this Saturday night, I think the fans walked away feeling they had seen something special. One of our group said this was the most fun and exciting night of racing she could remember. And she was there when Damon Bradshaw holeshot from the outside gate in the 1990 opener—the legendary "Holeshot from Hell" according to then-Dirt Rider editor Tom "Wolfman" Webb!
FORTY DOUBLES (Andras Hegyi)
Kawasaki was not able to win in the first two rounds of Monster Energy AMA Supercross in either class. But at the third round, Kawi took both classes. Green riders were able to win both 250SX and then 450SX, and while it was a new format and neither rider swept their three motos, it still counts the 40th double win.
Kawasaki got its first double victory on February 23, 1985, in Atlanta's old Fulton County Stadium. Mark Barnett was the 250 winner, while Eddie Warren was the 125 winner. Coincidentally, the 250s ran two motos that season, and Barnett went 2-2. The moto winners were Broc Glover and Ron Lechien. The '85 Atlanta SX would mark the Bomber's last professional win.
It's no coincidence that Kawasaki has the most double wins in Anaheim. Anaheim has played host to more AMA Supercross races than any other place. Kawasaki got six double wins there: 1987, 2007 (when they did the double in all three Anaheims), 2014, and now '18 with Eli Tomac and Joey Savatgy. In 2007, with James Stewart on the 450 and Ryan Villopoto, Christophe Pourcel, and Ben Townley on 250s, Kawi would win both classes at eight different rounds.
Pro Perspective
David Pingree: Last Sunday marked the return of amateur day at the supercross races, and it sounds like it was a huge success. After the sport's best finished racing on Saturday night, the track crew came out and tamed things down for the eager masses the following day. Triples were turned into mellow double jumps with big, round landings, and whoops were flattened into rollers that even the minibike kids could zip through. Because there are classes from little kids all the way to beginner big-bikes classes, the track has to be watered down like a strip club cocktail, and that's okay. The cool part about these races isn't tackling the same exact course the pros did; it's getting to ride inside these stadiums and getting a feel of how tight the layout is and how tacky the dirt is—it's a unique experience.
When I was a kid, I raced several of these events in Las Vegas, Texas, and somewhere in Southern California on 80s and big bikes as an intermediate rider. As I mentioned, this gives young riders a feel for racing in that environment and on that surface without the risks of mistiming some of the big jumps and crashing. If nothing else, it's a once-in-a-lifetime experience to ride down the tunnel into a major ballpark and race your dirt bike in those surroundings. I'm sure all who showed up in Anaheim had a ball, and this weekend in Glendale will be no different. Hopefully Feld keeps these going for years to come.
Jason Thomas: I rode a couple of these Amateur Day events in the mid-nineties, and wow, was it fun. To be able to ride the track that McGrath and Emig and all my other heroes were battling on was a dream come true. Back then, I had no idea that racing inside these legendary stadiums would become a weekly thing in my later years. For most, this is their only opportunity to ever ride in an environment like that. Sitting on the starting line and looking up at the vertical grandstands is humbling. Knowing that very venue has played host to so many epic nights in racing history is simply surreal. Ninety-nine percent of the racers at Amateur Day will never line up for Anaheim on a January Saturday night. That's just reality for most. To get a taste of supercross magic is a memory those kids will remember for decades to come.
As Amateur Supercross returns, a tip of the hat is surely due to the RCSX program at Daytona too. MX Sports and Ricky Carmichael teamed up a few years ago to offer a chance to race inside Daytona International Speedway during Bike Week. When I was growing up, those under 16 weren't even allowed near the racetrack due to insurance regulations. It's been great to see an opportunity realized and so many racers compete inside the world's most famous speedway. With multiple Amateur Supercross events this year across the country, and hopefully more added in 2019, it's never been a better time to go racing.
Davey Coombs: If you are a rider of a certain age from the Midwest, you probably sat in that long, cold line at the Pontiac Silverdome waiting for amateur day practice, which started almost immediately after the Saturday night AMA Supercross. The Silverdome had an inflatable roof, and every time they opened a door, a giant blast of wind would come out. Just sitting there in the Michigan cold waiting to practice was enough to make your nerves run wild, but add in the cold and it was downright panic. I got to race Jeff Stanton and Keith Bowen there as a kid, and I remember running second in a qualifier to one of them (both Team Dynamic Yamaha riders in Hi-Point gear) and trying to make a pass, but then I ended up hitting into the left side of him and busting my radiator and knocking my pipe off. Dad wanted to kill me.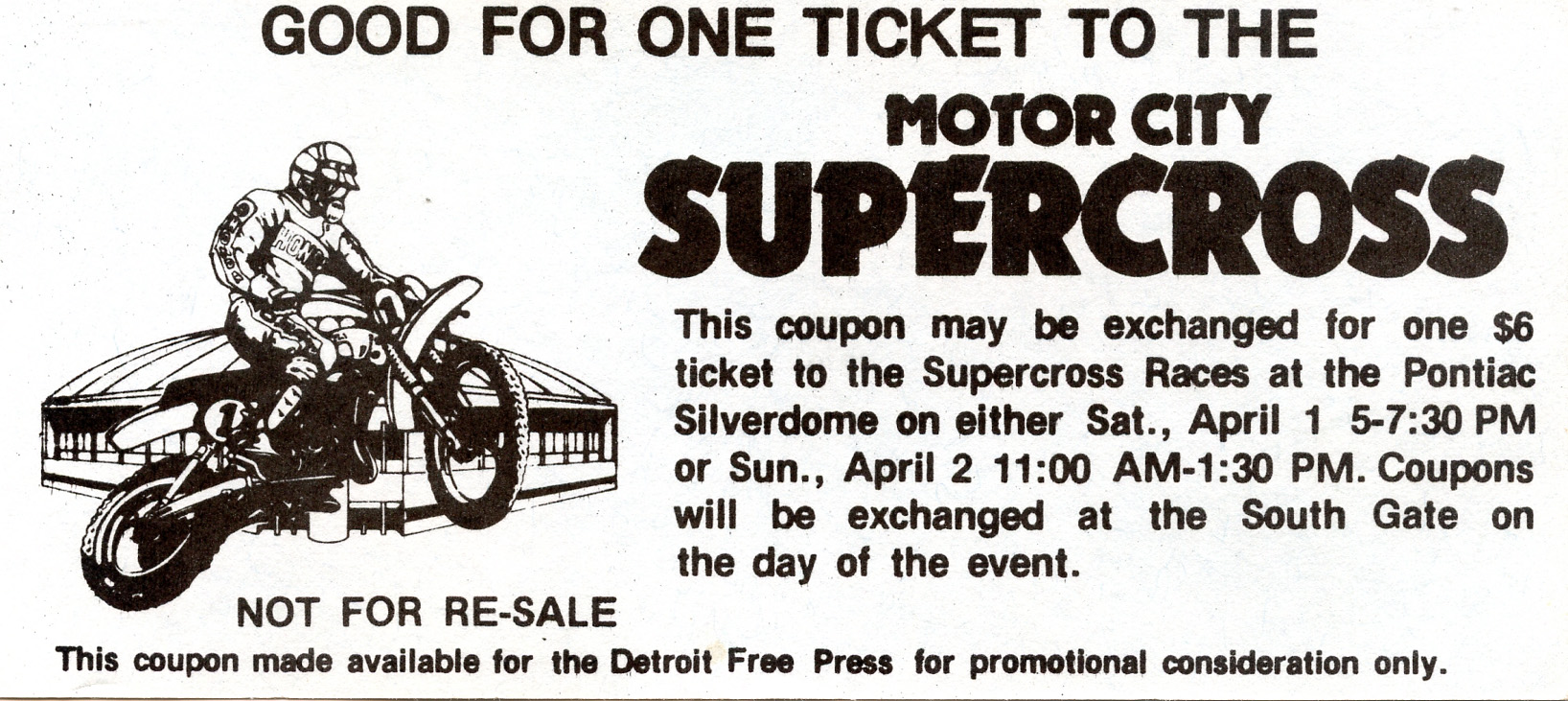 At the 1983 Pittsburgh Supercross in the old Three Rivers Stadium, I had a much better time. My parents were co-promoters with Pace Motorsports, and there was an amateur day on Sunday, and then they were going to start taking the dirt out on Monday afternoon. Amateur day was Sunday, and it was packed with riders. I really don't remember how I did. What I do remember is that Ricky Ryan (THE Ricky Ryan) was there from California, racing the actual AMA Supercross as a rookie on a Suzuki, and he hit it off with my brother and me, as did his dad with my dad. Ricky rode amateur day with us in the Pro-Am classes just to get more track time. On Monday morning, our dads got us up early and we went to the stadium, but instead of taking down the banners and starting to dig out all the dirt, my dad told us to get out there and ride! For an hour—at least a gas tank's worth—it was just me and my brother and Ricky Ryan, riding in an otherwise empty Three Rivers Stadium, home of the Pittsburgh Steelers. One of the best rides ever. As we were leaving the stadium floor, the heavy equipment was coming in. The track was gone by the end of the day.
WHEN WE WERE YOUNG (DC)
Spotted something on my longtime friend Robb Mesecher's Facebook that reminded me of my own youth, writing letters to riders I looked up to or companies to tell them how much I appreciated their products… and might it be possible to get some free stickers? Mr. DeHoop and Mr. Davis used to work at Husqvarna and they showed some of those letters, asking if they could tell me whether or not Heikki Mikkola's knee was okay and could I please have some decals. Anyway, Robb, who works at Hi-Torque Publications, posted a collection of letters he had written to one of his heroes, desert legend Mitch Mayes: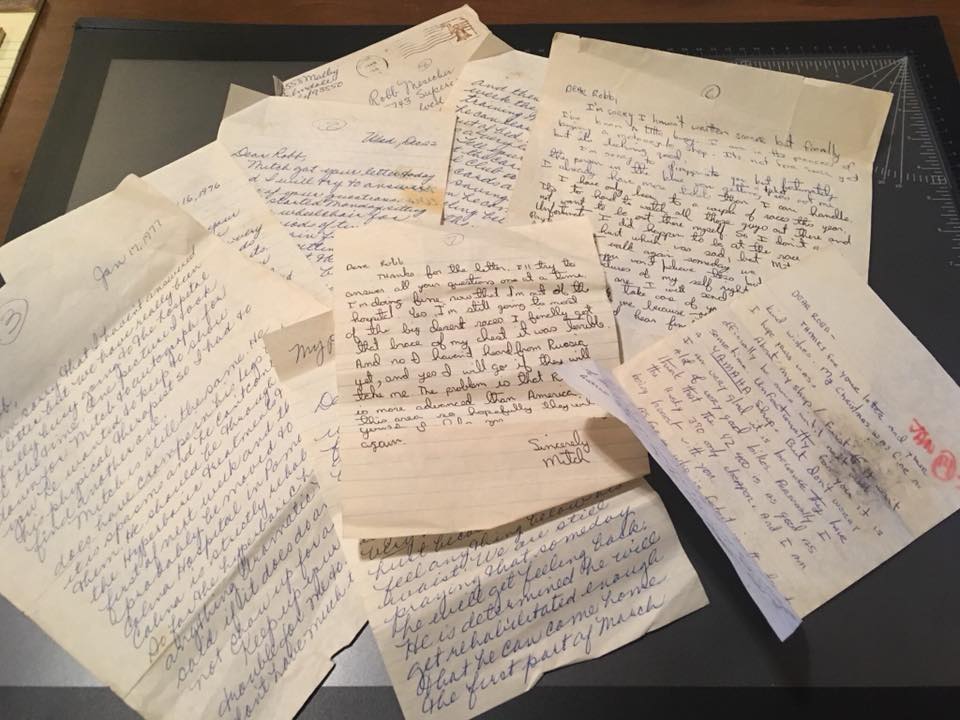 "I have always been a fan of Desert racers. Dad took me go so many desert races in the 70's. When Mitch Mayes got hurt in December of '76 I wrote him every few weeks, his Mother Marilyn responded for many and then finally she probably threw these at Mitch and said "you answer this pain in the a$$ 11-year old." The 42 year old letters today still bring me back to a painful time that i will never forget. I will honor the Mitch with a replica bike build in the months to come."
That's good stuff!
HOT FRESH PULP LINKS (Matthes)
Kris Keefer absolutely loves the new KTM 450 SX Factory Edition, but who knows, he also loved the Husky one and maybe next week he'll love the new Yamaha YZ60... anyway, read about his love here.
Every week our guy Moser talks to a rider that came up JUST SHORT to the main event, and this week he texted with Matt Bisceglia about his Anaheim 2 and more here.
Did you know that this weekend in Glendale is the first round of the PulpMX Quadruple Challenge? Yeah, that's right. We're helping a rider who comes up Just Short in four specified rounds, and you can help out by buying a raffle ticket for a chance to win this sweet Fly Racing F2 PulpMX helmet. All money collected goes to the rider that comes up Just Short the most.
David Vuillemin had a lot to say about the Anaheim 2 Triple Crown format in his weekly column looking back at the races here.
Hey, Watch It!
KTM highlights from the Dakar Rally:
The funniest show on TV is back for Season 3:
Honda and Forever 21 team up?
Jason Macalpine had the chance to sit down with Ryan Dungey and Adam Laroche at the "Red Bull: Homegrown" shoot.
Head-scratching Headlines of the Week
"PHILADELPHIA EAGLES: ANOTHER FAN PUNCHES POLICE HORSE" —Bleacher Report
"A dog is suspected of shooting its owner in Russia in freak hunting accident" —Newsweek
"Nearly 100 Taco Bell fans in Alabama hold vigil after Montgomery Taco Bell burns down" —AJC.com
"Actor Who Played 'BARNEY' Now Runs Tantric Sex Business..." —Drudgereport.com
"After crash, injured motorcyclist accuses robot-driven vehicle of 'negligent driving'" —Washington Post
"My Idiot State Senator is Campaigning on Coke Dogs" —Deadspin
"Like A Phoenix Rising, Yamaha Factory Supercrossers Webb And Barcia Are Set To Soar This Saturday" —Yamaha (of course)
"50 Cent forgot he had a stash of Bitcoin now worth $8m" —BBC
RANDOM NOTES
Summer ride on the Continental Divide (Olivier De Vaulx)
Daylong rides in beautiful American landscapes are on everybody's to-do list. But why procrastinate when you could do it this summer? The Continental Divide trail is a path between the Mexican border and the Canadian border, a 2,700-mile journey on dirt roads in the most remote areas of the middle West. In this emptiness, you can enjoy riding in different conditions, from long straight lines of gravel or dirt roads to technical single tracks, from endless plains to high elevation summits. Of course, such a long ride needs a ton of preparation, and who's got the time to study the maps and prepare his bike accordingly when the daily routine is so demanding?
That's why XR Adventures USA is offering the whole tour as a package. A fully modified XR650L with big tank, raised handlebar, protections, large footpegs, GPS, and saddlebags will wait for you at the border. A pickup truck will carry your gear, and you'll ride with little to worry about. Follow the blue arrow on your GPS or just stay with the other riders of the group—it's up to you! In both cases, you'll ride at your own pace; this is not a race. The chaperones will help if you need to repair a flat, which is very unlikely. All expenses are covered, including gas, accommodations in motels, meals, and snacks. To make the adventure even better, some nights will be held in tents under the great Milky Way, with stories to tell around the bonfire.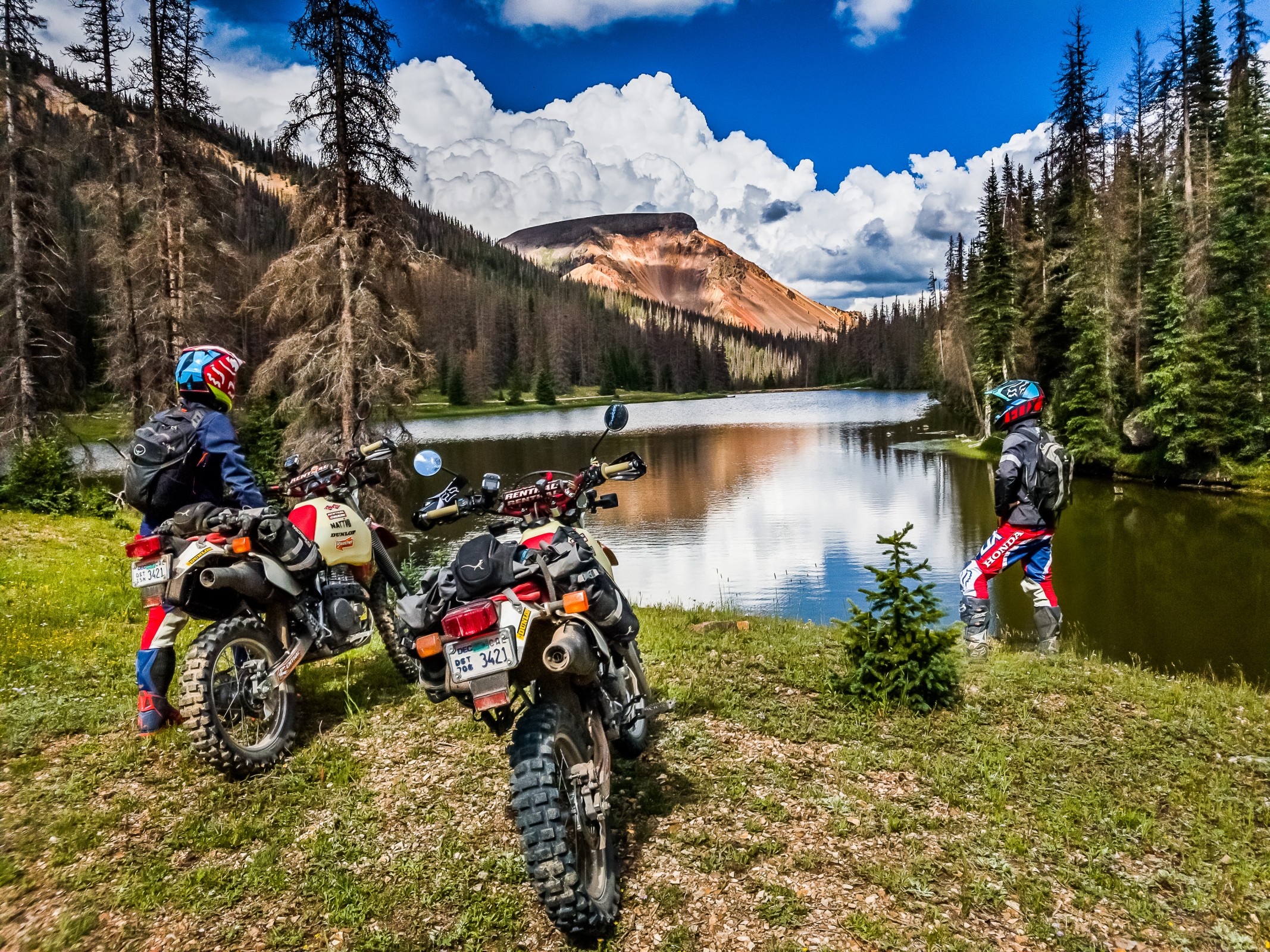 During the 12-days trip, riders will cross the colorful and enchanted lands of New Mexico, the high summits of Colorado, the plains of Wyoming, and the forests of Montana. Wildlife will be more present than humans, with antelopes, hawks, elk, deer, and, of course, placid herds of cows and authentic cowboys. The weather will make each day different, and you can expect high temperatures as well as showers. If you can ride a dirt bike, don't pass on this unique occasion. The ride is mostly on easy trails, with some difficult sessions you can avoid if you don't feel up to it. But only those who apply on the website have a chance to be selected and enjoy the trip.
As of today, almost 50 percent of the spots are already taken by European riders, ready to explore the beauty of America on one of the two trips offered: south to north from July 9 to 22 and north to south from July 27 to August 9. Don't be shy, the true adventure is at your door! See more at xradventuresusa.com.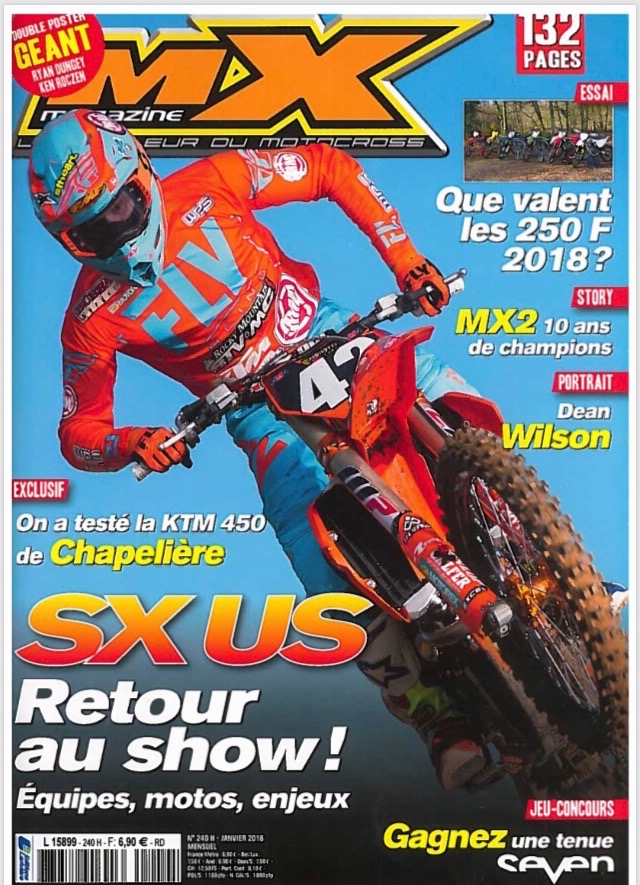 Congrats to Dakota Alix, who popped up on the cover of the French MX Magazine in a photo shot by Simon Cudby.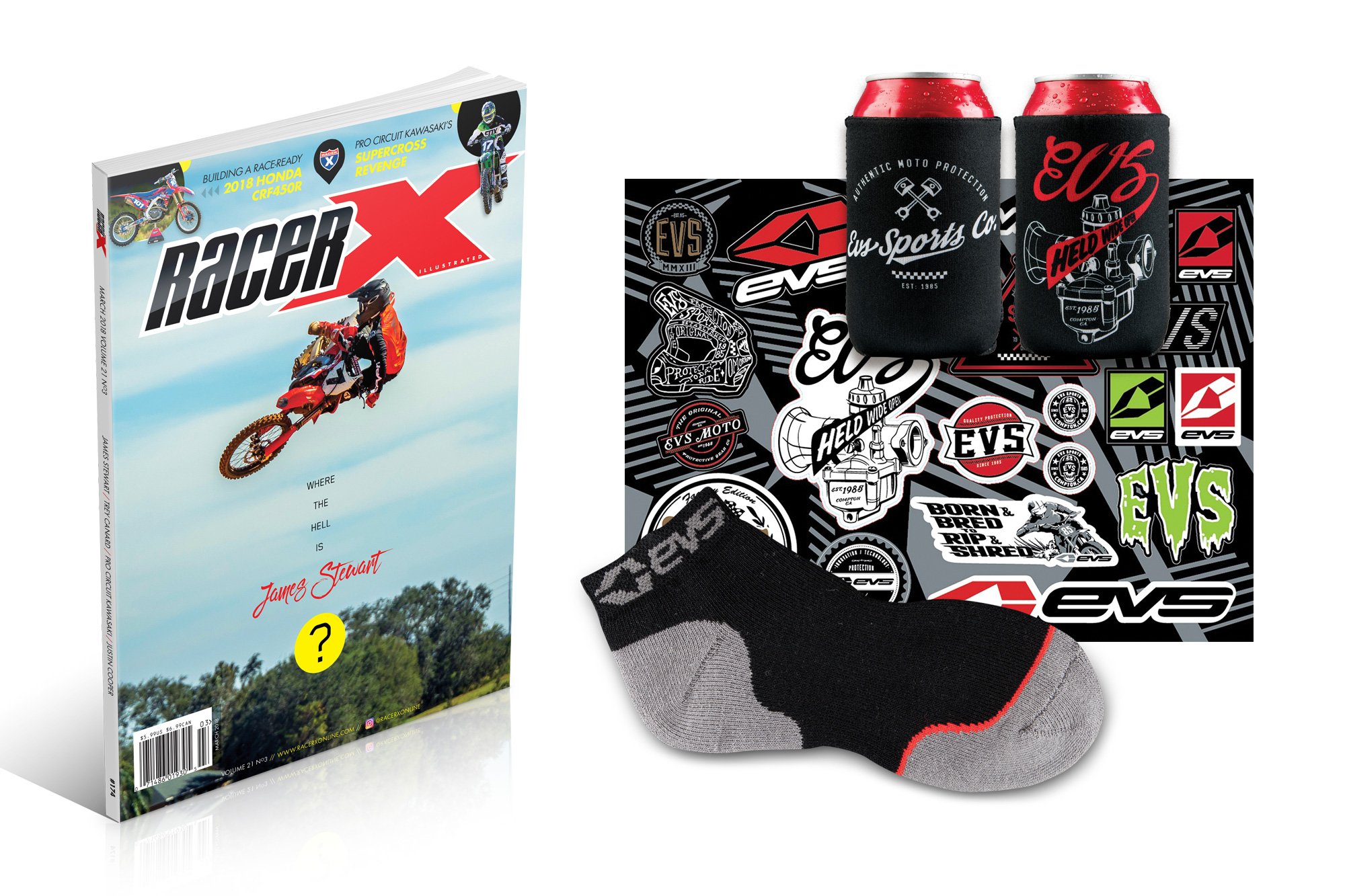 Subscribe Now and Get a Free EVS Gift Pack
Subscribe now for as low as $9.98 and receive a FREE EVS Gift Pack plus access to our digital edition.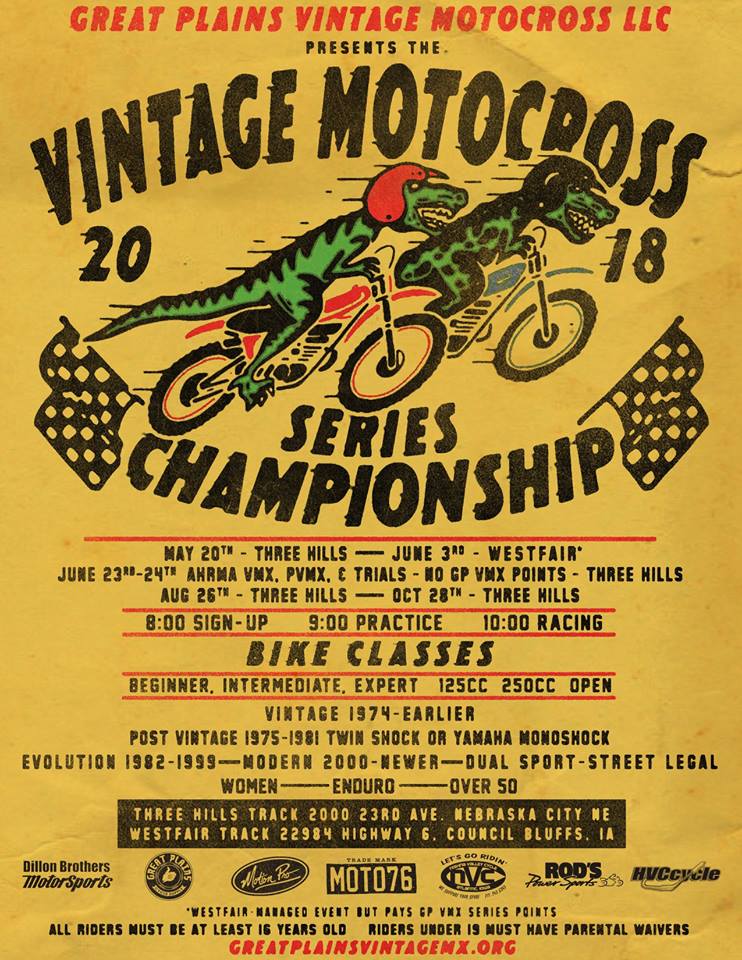 Great Plains Vintage Motocross series is back in 2018 and kicks off in May. They'll be racing in both Nebraska and Iowa this year and the series consists of five different events. If you're in the midwest and have that itch to get the old bike out on the track, you've got until May 20 to get your bike running again. Check it out at greatplainsvintagemx.org.
Random Office Old-School
Here's a cool press release we received this week about a project to create a new motorcycle themed museum and event center to be located in or near Anaheim, California.
A group of motorcycle industry executives and insiders got together on Friday, January 19th at the Double Tree hotel in Anaheim to learn about and discuss the development of a new motorcycle themed museum and event center to be located in or near Anaheim, CA and its' included Anaheim Resorts and Platinum Triangle. The project is called "The International Moto Collective" (IMC) and was created and developed by two motorcycle industry veterans, film and TV producer/director Todd Huffman and Vintage Iron's Rick Doughty. The two have been working on the project together for over three years. The IMC will be an attraction with a "collective" of pieces from the great private and corporate motorcycle collections from all over Southern California and the rest of the country and perhaps world. These wonderful machines and related memorabilia will be housed in a facility open to the public and available to rent as an event center for parties, weddings, product introductions, meetings, etc.
"It was great to unveil this project for the public and the industry that Rick and I have been developing for over three years," said Todd Huffman, Director and Producer at Pipeline Digital Media (PDM) who created "The Motocross Files" TV series on Speed. "And, with the tourism growth in Anaheim and Orange County it's a natural for this project to be located here.""There are so many unique and important motorcycles in private collections all over that will finally be available for the public to enjoy from all over the world," said Rick Doughty, Owner of Vintage Iron and one of the country's leading motorcycle restoration experts."The goal of the meeting on Friday was to present the project to OE manufacturers, aftermarket companies, media outlets, motorcycle governing bodies and more for feedback on overall concept and possible uses for this new facility that will support and highlight the sport of motorcycling."I thought the presentation Todd and Rick put together was comprehensive and well thought out," said Eddie Cole, Managing Director at Group 6 USA and an industry veteran. "This project would be very important to our industry once it's completed."Our industry needs a facility like this to find new riders and create enthusiasts who can support all facets of the motorcycling culture," said Richard Varner, CFO and Partner of MotoAmerica. "We feel the concept and rationale for the location near Anaheim Resorts is spot on."
Thanks for reading Racerhead. See you at the races.