And they're off! The 2018 Monster Energy AMA Supercross Championship got off to an excellent start last weekend with a full-house at Angel Stadium in Anaheim, a solid TV audience, and a generally good overall vibe. The racing had its ups and downs, from the return of Ken Roczen to the wardrobe malfunction of Eli Tomac; big crashes for Dean Wilson and Alex Martin to solid wins for Marvin Musquin and Shane McElrath. It's always great to attend the opener, and when things went south for Tomac in the 450SX main, it felt like a signal that we are in for one hell of a series, but only if he can get back on track fast—he's already 25 points down, as Marvin scored 26 for the win under the new points system and Tomac's last-place finish netted him a single point. We've seen guys dig out from dead-last before, but with a possible shoulder injury for Eli and the orange-hot Musquin firing on all cylinders, it's going to be a tough one to pull off—especially if Marvin becomes attached to his new red plates.
Someone asked me before the race who I thought would win, and I almost said Ryan Dungey before I caught myself. Musquin popped into my mind next, given how he's ridden throughout the off-season, as well as the way last summer ended for him—with a crash and throwing away the Ironman 450 Pro Motocross win to the visiting Jeffrey Herlings. I also expected Tomac to be on the box, and I was hopeful that Roczen would have a positive night—I was wrong on Eli and glad to be right on Roczen.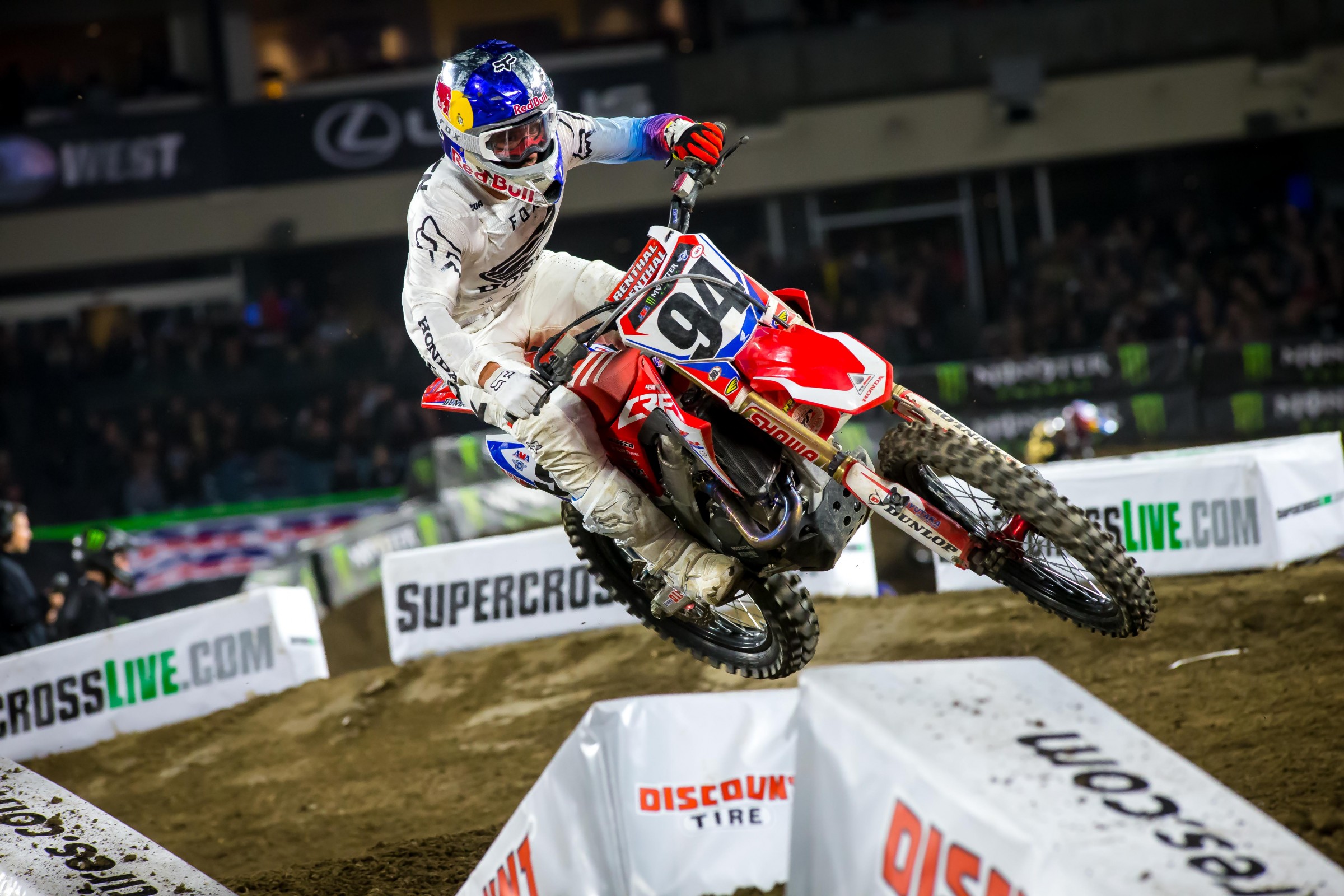 But I really never thought that Justin Barcia would be up there in his factory Yamaha debut, and I quite honestly didn't even think of Shane McElrath in terms of being on top in the 250 Class, which was stupid—he won this race last year! Instead, I was thinking Adam Cianciarulo, or Aaron Plessinger, or even Christian Craig to be the guy. Shane had a superb ride and will not be overlooked again anytime soon!
And now we go back to Houston with a bunch of different storylines, including the return of Malcolm Stewart as a fill-in rider for Justin Bogle on the Autotrader/Yoshimura/JGR Suzuki. Houston is one of the original pillars of supercross, having participated in the very first "Yamaha Super Series of Stadium Motocross" back in 1974. The race was organized by Houston resident Allen Becker and his company, PACE Motorsports, which evolved and grew and was purchased and sold several times and is now Feld Motor Sports. Races were held in the Astrodome for nearly three decades. It was a game-stadium when it was originally built in the 1965. It was the first domed, multi-purpose "super stadium," known as the "Eighth Wonder of the World," home of the Houston Astros baseball team and the Houston Oilers football team. Sometimes they would run weekend double-headers, usually after the Houston Livestock and Rodeo Show so they could re-use the dirt on the stadium floor. When guys like Bob "Hurricane" Hannah, "Jammin'" Jimmy Weinert, and Tony DiStefano were winning races here, there was a distinct odor to the track that made it smell more like a barn than a stadium!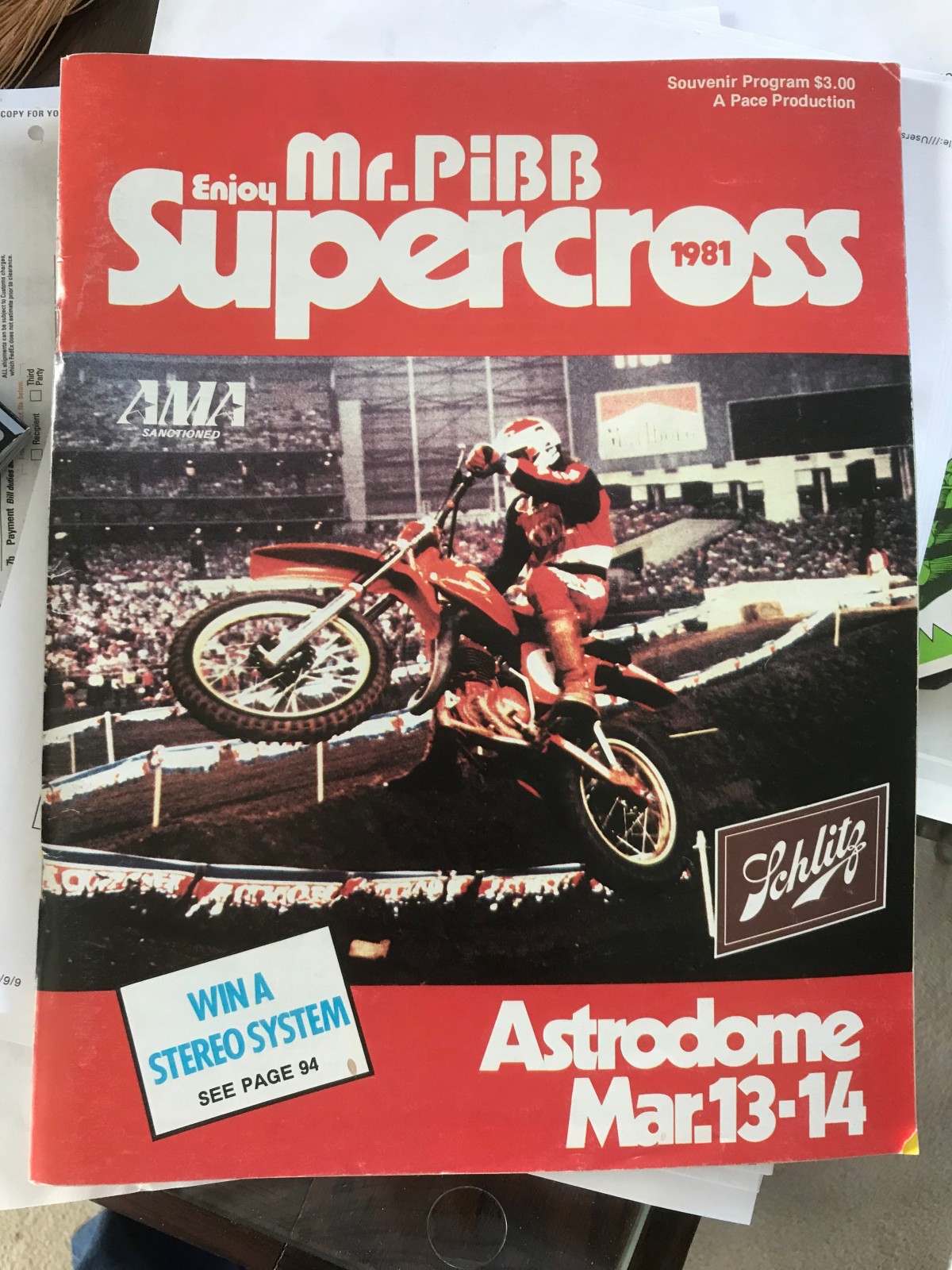 Over the years, the monolithic Astrodome aged and other stadiums popped up in town, one for baseball and one for football. In 2002, the last AMA Supercross was held under the Astrodome, then it moved next door to Reliant Stadium (now NRG Stadium), home of the Houston Texans NFL team, and it ran there through 2015. It then took a couple of years off before tomorrow night's return. The last race there was won by Team Honda's Cole Seely in 450SX (with Tomac third), and current Yamaha factory rider Cooper Webb in 250SX (with McElrath second).
Add them all up and this will be the 50th AMA Supercross in Houston, albeit under two different roofs. Here's hoping this return to Houston is as successful and fun as the 71st Anaheim SX was last weekend.
Houston Press Day (Jason Weigandt)
We have updates from Houston. Eli Tomac's Monster Energy Kawasaki is sitting under the tent and his mechanic Brian Kranz says he will be racing. Eli rode yesterday and got the green light. Kranz says the crash definitely had an impact on Eli, but he's going to go for it.
Over in the Rockstar Energy Husqvarna camp, Dean Wilson tried a turn track in the California hills yesterday. He was in pain, but he was able to ride. The team was scheduled for press day today, anyway, so he came out and tried riding, and he looked decent. The plan as of now is to try riding in practice again tomorrow, and hopefully he'll be able to race.
Blake Baggett is here hoping for better than last week's "struggle street," as he called it, where he finished 12th. "Had a good start in the heat race, but I just wasn't feeling 100 percent like myself," he said. "I immediately knew I wasn't feeling it, so I just tried to make it into the main event. In the main event I still wasn't feeling comfortable, maybe a little bit of me or a little bit of the bike, changes you don't think about when you're riding at the test track and you're in your groove."
After Hangtown last year, Blake made a ton of bike changes and his season began to turn for the better. Will he make as many changes before round two this time? "I don't know," he said with a smile. "We'll see before the main event tomorrow."
I did notice last week that even though Blake was struggling, he was definitely fast in the whoops. The always-quotable Baggett said, "Yeah, I had the whoops down, but it wasn't Straight Rhythm, so that wasn't enough."
There has been a lot of talk this week about the Marvin Musquin/Jason Anderson/Aldon Baker relationship, since the word got out at Anaheim that the two riders didn't ride together much this off-season, which is a change from previous years. Anderson spent more time in California to be part of the development process of the new Husqvarna, but even when he did go to Florida, he and Marvin didn't ride together. I heard a few people at Anaheim saying some big drama was going down between the two, but I asked Musquin about it directly after the press conference and he said no, there is not friction between him and Jason, but they are not riding together as much as in previous years.
Still, that was enough for the rumor mill to fire up, with some apparently thinking Anderson might be on the outs with Baker. This is super-duper not true, and Aldon was not happy this week about some of the rumors getting all twisted around. Anderson even went to Twitter this morning to let everyone know he's still with Baker and plans to be for the rest of his career. Anderson was here for press day today and I asked him about the situation.
"Aldon Baker is my trainer and we're all good," said Anderson. "I just think, obviously, me and Marv both want to win this championship. For me, I'm going to obviously do whatever is best for me to win this championship. This year I feel ready to go and whatever makes me comfortable and helps me win this championship, I'm going to do. I don't really care. If I want to ride by myself, I'm going to ride by myself, you know? So I'm just kind of doing what I believe is good for me and that's about it. It's nothing against him. I just want to win this championship. I feel like I will be more productive and get more done the way I feel like I think I should. I feel like the biggest part of this game is believing in yourself and believing in the process that gets you there. For me to win, I think the stuff that I needed to work on is what I worked on."
But what about the personal relationship between Anderson and Musquin. Are they mean-mugging each other every week in the pits and at the airport?
"No," said Anderson. "By no means. If he rides good and I ride good, I think we should both congratulate each other. But at the same time, I'm looking to take that title."
Rockstar Energy Husqvarna's Bobby Hewitt assured me today that everyone is on board with this, from Aldon to Jason and the teams involved and everything else. Anderson is four years into the Baker program, which is about as long as anyone else has ever been involved with it since Ricky Carmichael's long run with Aldon. So they're looking for longevity and making sure Jason is happy. The team, by the way, now has Anderson locked in for four more seasons with the team, so they're definitely playing the long game.
ORANGE MATTERS (Andras Hegyi)
KTM has started this 2018 supercross season wonderfully. The Austrian brand has repeated its 2014 season opener, winning again in both 450SX and 250SX. In 2014, KTM winners were the German import Ken Roczen in 450 and New Mexico's Jason Anderson in 250. These 2018 KTM winners were the French import Marvin Musquin (450) and the North Carolina's Shane McElrath (250).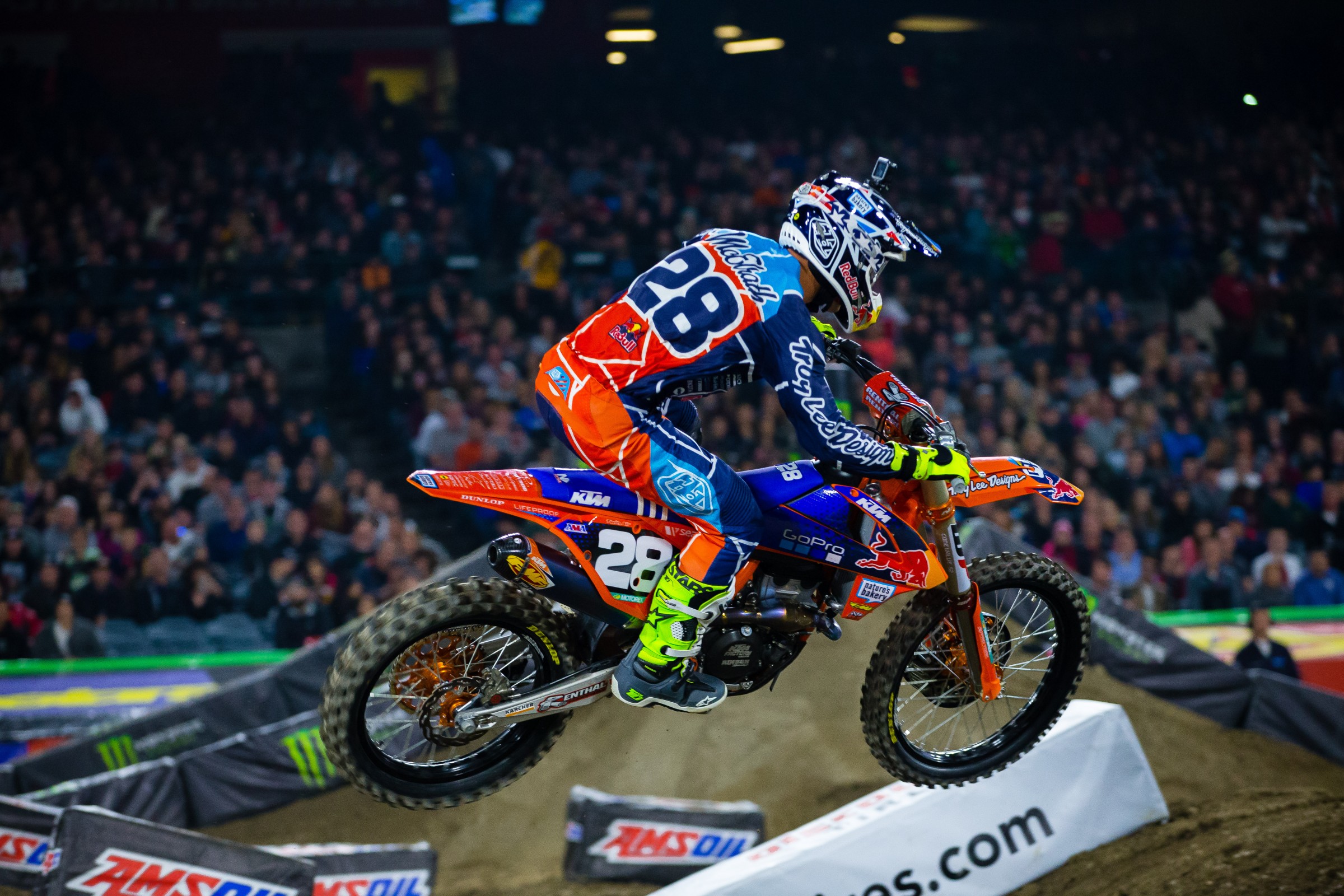 Troy Lee Designs/Red Bull KTM's McElrath (he was series runner-up in the 250SX West standings in both 2015 and '17) was able to win the 250SX West Region opener in '17 as well, so he became the first KTM racer ever to win two season openers in the small-bore supercross class. He is the 13th rider to win a pair of season openers in this class. He joins Jeff Matiasevich, Brian Swink, Ezra Lusk, Kevin Windham, John Dowd, Ernesto Fonseca, Travis Preston, Ryan Dungey, Jake Weimer, Davi Millsaps, Christophe Pourcel, and Justin Barcia to conquer at least two season openers in 125/250 supercross. The record holder is Matiasevich getting three season openers wins in 1987, '88, and '89.
Red Bull KTM's Marvin Musquin has set and broken more records in the 450 class. Besides Roczen, the French rider became the second racer to win a season opener in the premier class in the saddle of KTM. And besides Sebastien Tortelli and David Vuillemin, Musquin is the third French racer to win a season opener in the premier class. Musquin is also the first KTM rider to win season openers in two different supercross classes, having won the 250SX season opener in 2015 in the East Region.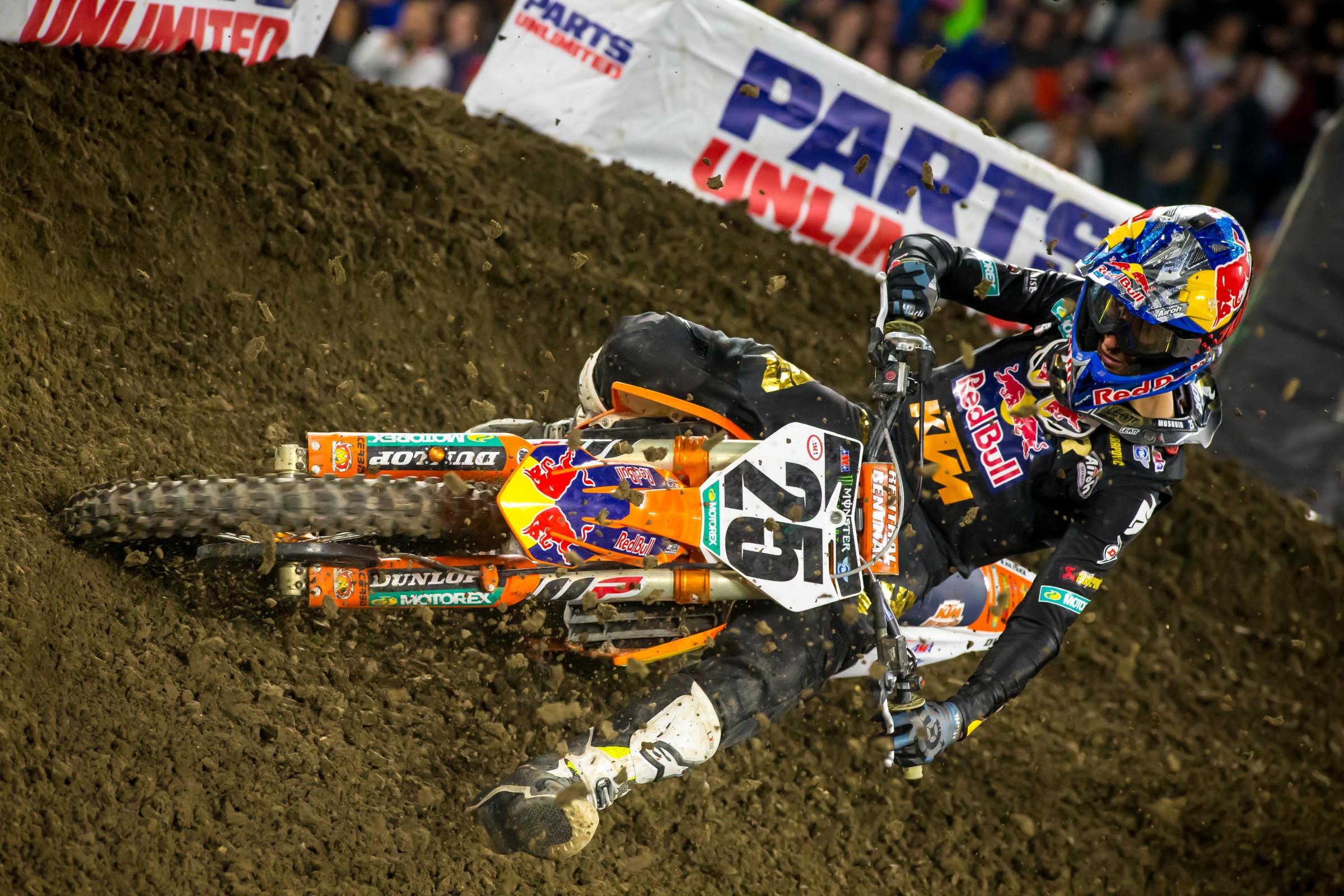 Maybe Musquin's biggest achievement in Anaheim was overtaking Jean-Michel Bayle, the most famous French rider. Based on wins in all categories Musquin has overtaken the three-time AMA Champion Bayle, though it comes with an asterisk. Bayle collected 25 wins in all; Musquin celebrated his 26th win in the U.S. last Saturday. But Bayle didn't ride in the 125SX class—he went straight into the premier 250cc class in 1989—and JMB has a better winning percentage. Bayle got 25 victories in just 91 races between 1989 and '92; Musquin, who debuted in the U.S. in 2007 and has raced there regularly since 2011, got his 26 wins participating in 145 races in all. (And both Bayle had Musquin had two FIM World Championships before moving to America.)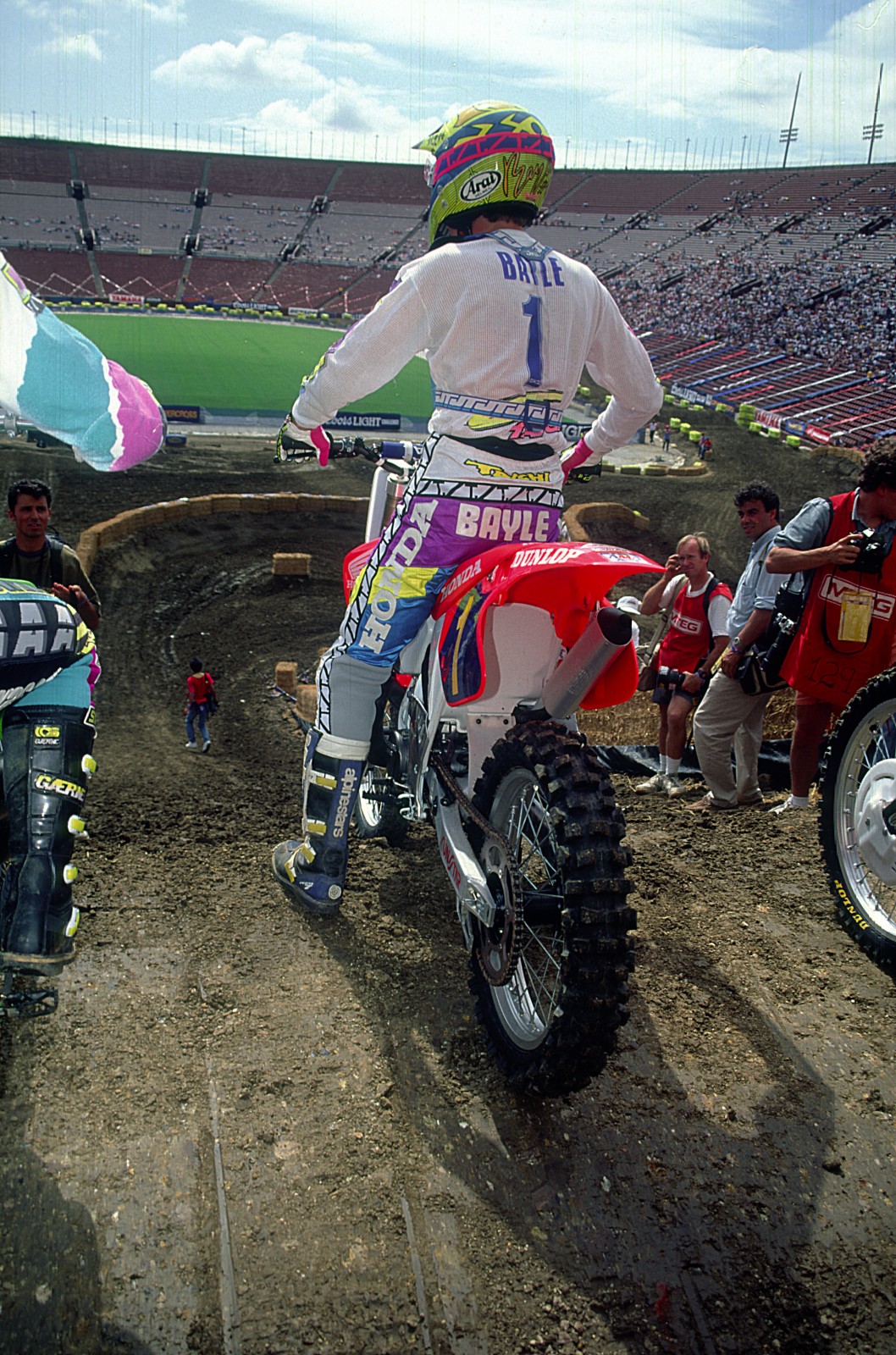 Finally, Musquin has gotten his first 450 season opener win and, for the first time ever, he is the 450 SX points leader.
French winners in the U.S. (including every SX/MX class)
Marvin Musquin (26 wins)
Jean-Michel Bayle (25)
Christophe Pourcel (19)
David Vuillemin (14)
Mickael Pichon (11)
Stephane Roncada (11)
Sebastien Tortelli (4)
ANOTHER SIDE OF ANAHEIM (DC)
Throughout the weekend at Angel Stadium, which included set-up day, the press conference on Friday, Saturday's day-long pit party, qualifying, and the actual Anaheim SX, there was a surreal scene just beyond all of the glitz of Monster Energy AMA Supercross. Literally 25 feet across from the pit fence and preferred parking was a homeless encampment that runs for miles along the Santa Ana River.
Entrenched along what's considered county property is a tent city that looks every bit as desperate as a refugee camp in a Third World country, or maybe something from the Great Depression. It gave a lot of people pause, as it's never been there before (at least not during the races) and has grown into a massive human tragedy. It's also a problem seemingly without ownership because the riverbed is considered county land, and cities along it like Anaheim don't have the authority or the funds to go in resolve all of the issues that lead to this level of homelessness.
Click here for a deeper dive into the whole issue.
Being from West Virginia, I've seen a fair share of poverty and homelessness, but nowhere near the sheer mass of this problem in Southern California. Throughout the weekend, local police patrolled the fence line on bicycles. Local food trucks stopped by on a regular basis, as well as water trucks and mobile restroom facilities. There was even a medical unit right below the stadium's Big A for anyone who needed it. It was all very calm, but also very sad. There were also some criminal elements to all of this, as an "underground bunker" was recently found with about a thousand stolen bicycles stashed away. Said one of the police officers who discovered it: "Common sense would usually dictate if you have 1,000 bikes in a tunnel, some of them could be stolen."
If you are going to the second Anaheim SX, don't be surprised if you don't see any of this. According to the newspaper story in the Orange County Register city and county officials hope to have moved the camp, but to where remains anyone's guess. Those people no doubt have a million stories of how they ended up there, some by sad circumstances, some by choice, but it's not something that's going to go away easily.
Here's a really cool thing that Josh Hansen did for some of the people in the camp.
And it was mentioned in Daniel Blair's Main Event Moto podcast that Hansen plans on doing something in Houston for hurricane relief from last year's devastating storms in the area.
Pro Perspective
David Pingree: The big takeaways from Saturday night were Musquin's hot streak (which continued), Barcia's return to form, and Ken Roczen's incredible recovery from one year ago. Given what I saw last weekend, I'd bet every dollar I have that Ken Roczen wins this Saturday night. I was also impressed with Weston Peick, Jason Anderson, and Cole Seely, who all rode great on Saturday.
The 250 Class was Shane McElrath show, and this guy's future is really bright. Last year he was poised to win this title, but a freak mechanical problem with two rounds to go crushed his hopes. This year Shane looks more prepared than ever, and I wouldn't want to be racing against him. He is buttery smooth, fit, strong, and a good starter. Those qualities will serve him well this year and more so as he moves up to the 450 in the future. AC and Plessinger were also great, and this will be a fun class to watch this year.
Tomorrow I'm going to be watching Eli closely as timed practice kicks in. I've said this week that his shoulder has to be worse than a "contusion," as reported in the Kawasaki PR. A contusion is a bruise, and I've never known a national champion who pulls out of the opening race of the year with just a bruise, unless it was to his brain. I certainly hope I'm wrong, but I fear his shoulder is worse than he's letting on. Timed practice should be a good indicator of how badly he's hurt.
I'm also keeping an eye on Dean Wilson to see if he has a go. His crash was horrific to watch, and he's very lucky his injuries aren't worse. Deano was flying right up until that crash, though, so I'm hoping he brushes it off and gets himself in the mix. Can Baggett rebound? How much will Reed improve, week to week? Can Cooper Webb shake off his A1 result and deliver? There is no shortage of questions as Houston kicks off.
Jason Thomas: A1 brought more questions than answers. Marvin rode very well and was ready to strike when Eli made his mistake. Jason Anderson was very impressive in my opinion, even catching Marvin at different times during the main event. As for Kenny, I am not quite as convinced as Ping is, but I could definitely see him on the podium in Houston. The other riders have so much momentum and very few holes in their game, so I don't see Kenny as a shoe-in to win anything just yet.
As for Eli, I think his shoulder is definitely more than a bruise, but the real question is, how much structural damage are we talking about? Is it something that will improve, or will it nag him all season—or, even worse, will he try to fight through it but decide something more invasive needs to be done?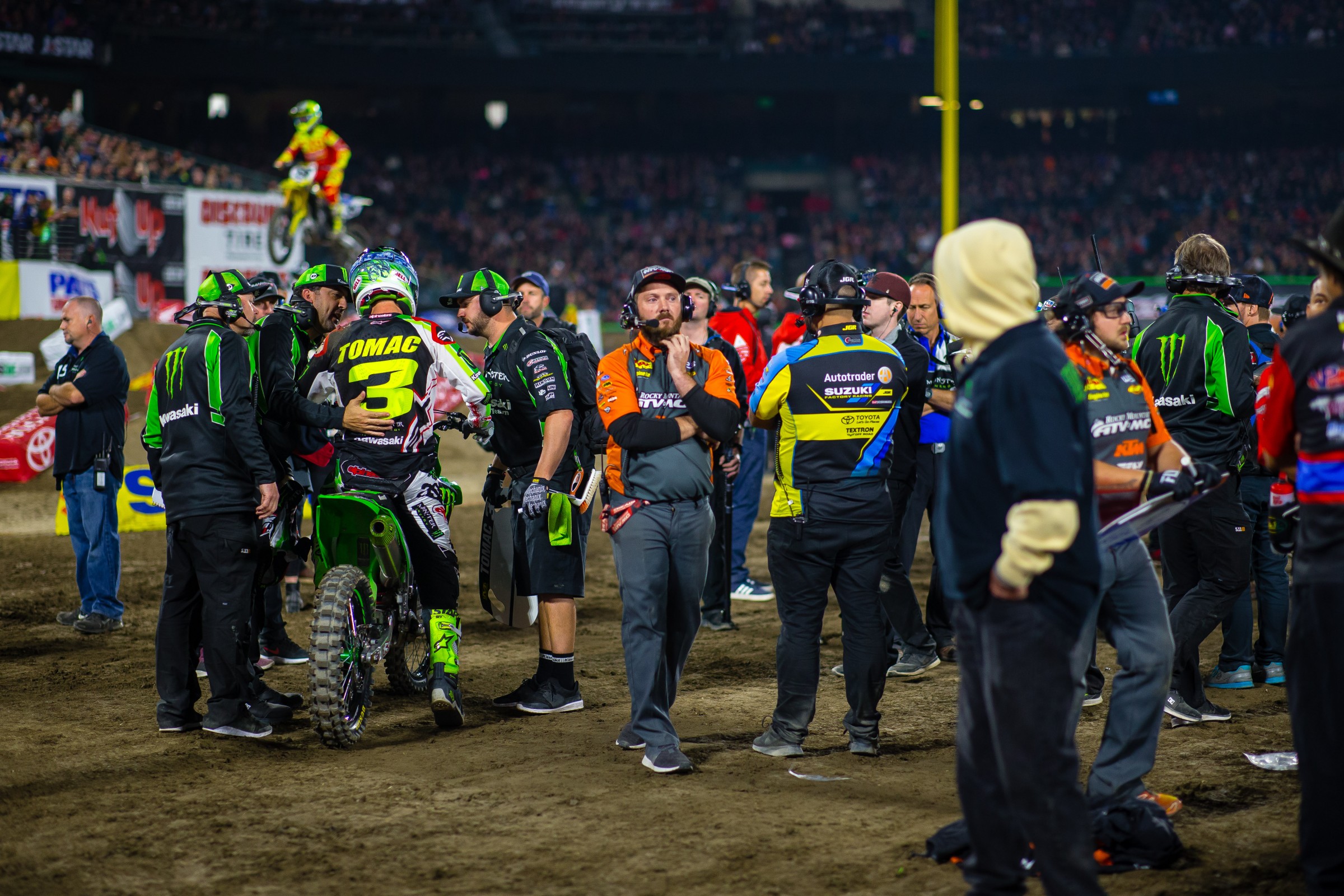 Overall, I saw much of what was expected. The elite riders were all just that. Tomac's crash was certainly a surprise, but these things happen. For Phoenix, my main interest is on the other contenders who didn't live up to perceived expectations. How will Blake Baggett, Cooper Webb, Justin Hill, and Broc Tickle bounce back in Houston? That's what I will be watching for.
THE FOUR-YEAR ITCH (Andras Hegyi)
Justin Barcia was one of the big stories in the 450SX opener in Anaheim. It was his first race in the saddle of Yamaha since 2016, and his very first race as a Yamaha factory team rider. Barcia was able to get on the podium again first time since 2014, when he was the runner-up in the Houston SX.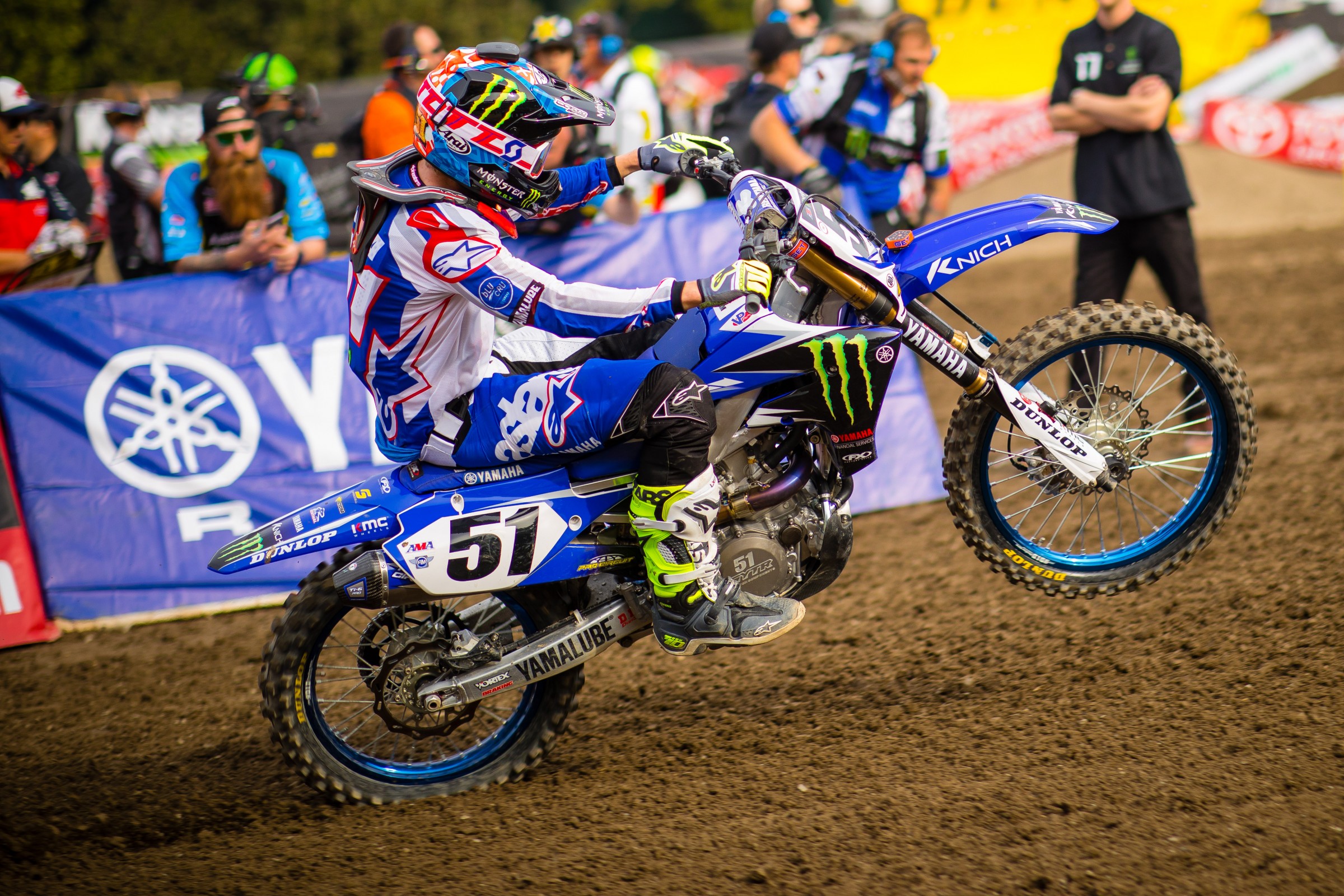 Before last Saturday, Barcia got his last SX podium on April 5, 2014, in Houston, Texas. He was riding in the in the saddle of factory Honda and scored second behind Kawasaki's Ryan Villopoto. Add up the races and it took 55 rounds for Justin to see a supercross podium again.
And it's been since 2012 that Yamaha got a podium in a 450SX season opener. Seven years ago, James Stewart was the last Yamaha rider to step up on the podium in the opener. That's the longest period where Yamaha was not able to get a podium in any season opener. The former Yamaha record without season opener podiums happened between 1991 and '95. Barcia is now the 42nd Yamaha rider to get a podium in the supercross premier class. The Yamaha record-holder is the Australian legend Chad Reed, who possesses 90 podiums while riding a Yamaha. Barcia's third-place was the 477th premier-class podium for Yamaha.
J-MART (Steve Matthes)
Lost in the Anaheim 1 buzz a bit was GEICO Honda's Jeremy Martin and his ride. Or, well, more about his start. The two-time 250 Class champion in Lucas Oil Pro Motocross got a great start using a secret technique he won't tell me about and ran up front for a bit before dropping back. So, J-Mart's raced two 450SX main events in his career (Daytona last year and Anaheim) and has gotten two great starts, if you're keeping track.
I like this move by Jeremy. At one time, tons of dudes raced 450SX on the West while getting ready for the East and it's nothing but a positive. Yeah, you can get hurt, but you can also get hurt practicing. And for Martin, he's not exactly crushing it in every 250SX he lines up for, so this is something new for him—why not try to mix things up? Martin admitted the bike tired him out late in the main, but seemed to agree that racing 450SX out West can be good for him.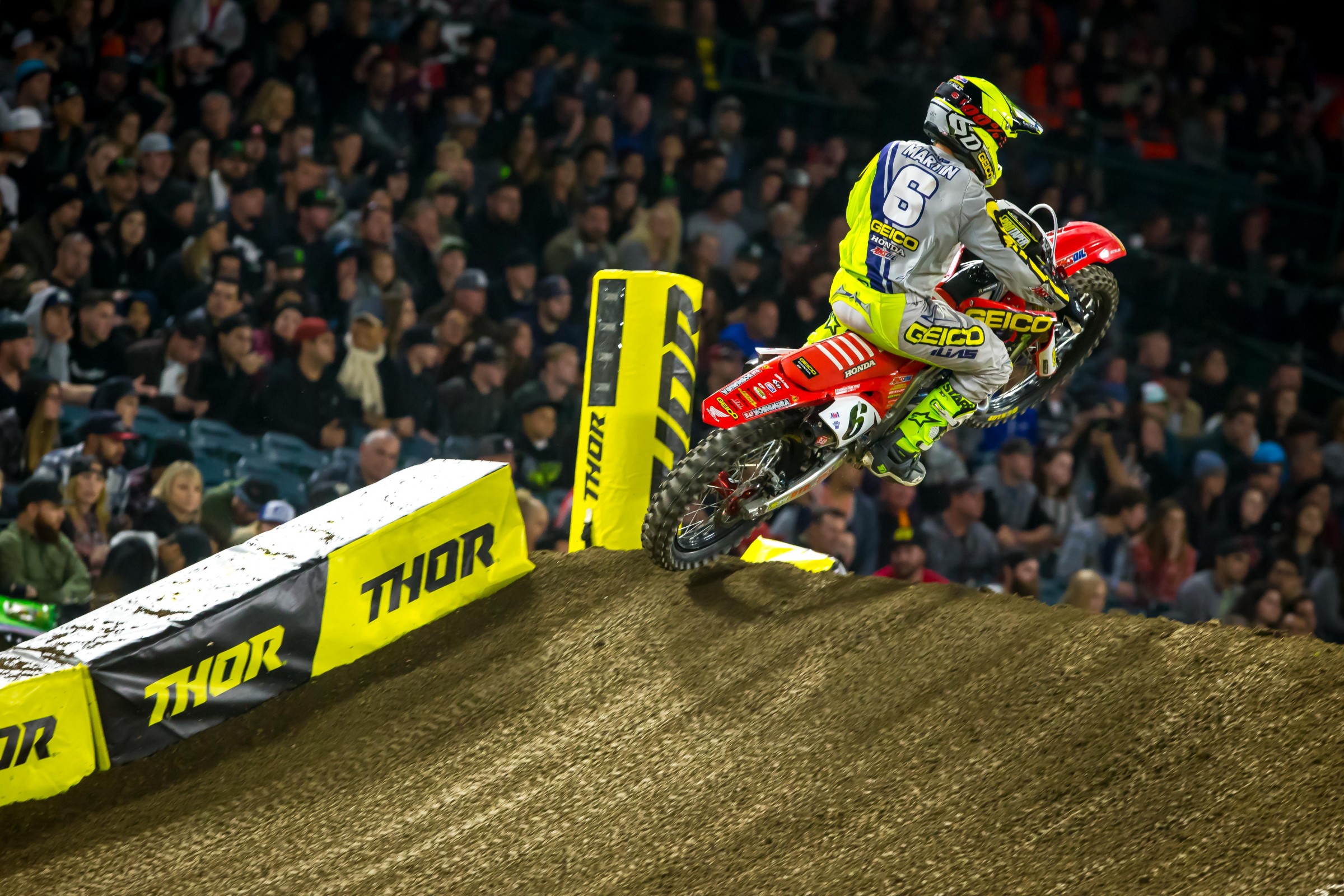 "For sure. If you look at my supercross seasons, I kind of don't get going right away in the beginning. I'm trying something different this year and I'm riding a bike that's significantly heavier, significantly faster with double the competition," Martin said, still in his gear from the main. "So, I look at it like it's good. I've done a lot of laps in practice this year and lap times have been good compared to all the boys, so we're here to race and we're ready to work on the setup and ride with good guys."
If this works for Martin, you might see a whole bunch of guys try this move and we'll be back to how it used to be.
PULP STUFF
Ever wonder what OEM pays the best for the pros in SX? Well, that answer is right here, as Kris Keefer broke down the contingency plans for the pros.
Austin Politelli came up JUST SHORT at Anaheim 1, and that means he now gets to answer some texts from Moser.
David Vuillemin has some thoughts on Anaheim 1.
Swizcore wrote about Anaheim 1 and all his thoughts in his 3-Peat column.
Desperate to ride (Kyle Scott)
With the rain in California earlier this week, it messed up riding for just about everyone as most are Southern California based for the early part of the season. Monday was a full no go with downfall all day. On Tuesday, GEICO Honda and Honda HRC Tuesday went all the way out to Carson Mumford's track in Victorville because it was one of the few places that wasn't a sludge fest. JGR AutoTrader.com/Yoshimura Suzuki did the same on Wednesday. Milestone was one of the few ride-able places on Thursday and so that's where many went.
It was the first rain of the winter and so not much soaked in, but rather flooded. On Thursday Milestone's supercross track opened a few hours late as workers pushed off the sludge and made some trenches for the water to drain. When the track finally did open, it looked more like a Saturday morning practice supercross race with so many of the tops pros there. Guys like Cooper Webb, Cole Seely, Weston Peick, Justin Hill, Chase Sexton, Dylan Ferrandis, Jeremy Martin, Matt Bisceglia, Michael Mosiman, Jake Weimer, Josh Mosiman, and many more were there burning laps.
Being unable to ride earlier in the week, guys were desperate to be on the track. Most were leaving directly from the track to the airport to fly to Houston. Webb was so desperate to ride after his disappointing Anaheim 1 result that I saw him going out for his final moto at 11:30 when his flight was supposed to leave at 12:45; not sure how that worked out for him.
Malcolm Stewart has taken a fill in role at JGR with Bogle sidelined. He was also at Milestone with the JGR boys getting his second day on the bike. Check out the gallery and video below to see what Malcolm had to say and some shots of the rest at Milestone yesterday.
RETIREMENT HOME (DC)
One thing that's always fun at Anaheim is visiting with old friends from the industry, as well as seeing past riders who have ridden off into retirement. I couldn't say which was more weird: seeing Ryan Dungey just hanging around, or Ryan Villopoto in his new blue kit (and Answer stuff instead of THOR). Trey Canard was there, too, soaking in his full supercross in full retirement mode. I didn't see Mike Alessi anywhere, but he's done now, too, and not seeing the #800 under the very professional-looking MotoConcepts/SmarTop Honda pits was also strange. And Kevin Windham, well past his last race, returned to the place where he retired five years ago with his whole family in tow. K-Dub had a full-on mountaineer beard, which made sense since he'd just come down off Mammoth Mountain, where they all vacationed.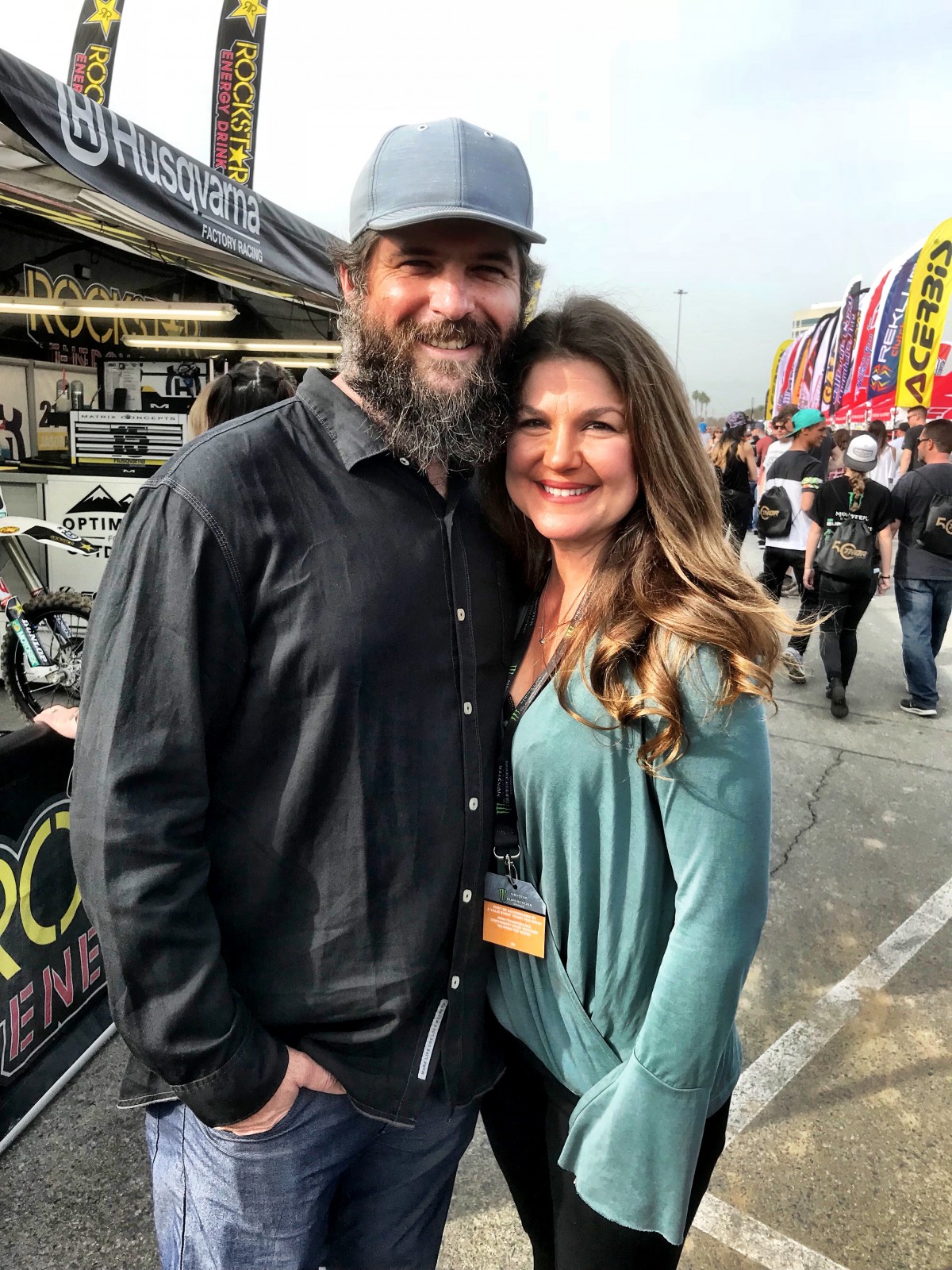 Of course, we were also missing both James and Malcolm Stewart, though Mookie picked up Bogle's JGR Suzuki rider and will be on the line tomorrow. And with Chad Reed admittedly rusty and just not having his best stuff for Saturday night after ankle surgery last October, it really felt like the changing of the supercross guard was almost complete. Here's hoping Chad gets it turned back on in a hurry; we're missing #22 up there, as he's closing in on Mike LaRocco's all-time record for race starts.
Chad's CR22 Motorsports debut:
OUt in Cali.... (Cudby)
Simon Cudby was out at the Monster Energy/Pro Circuit SX track just above Glen Helen on Thursday. Kawasaki's Josh Grant, Pro Circuit's Adam Cianciarulo, and Team Honda's Ken Roczen were putting in their programs on one of the only dry SX tracks in Southern California. The whole area saw several inches of rain earlier in the week, and the team's regular SX tracks were unrideable. For Roczen, the word of the day was "starts," as he is hoping to be closer to the front at the start of this weekend's Houston main event.
A highlight of the day was not when the pros were riding, but instead when PC owner Mitch Payton's sons and Nick Wey's son took to the SX track to spin laps on their 65cc machines while the pros took a breather.
HEY, WATCH IT
Here's Ping and Simon's look around the pits at the factory 450 bikes:
Here's Cole Seely's GoPro highlights from the Anaheim SX main:
And if you prefer 250s, here is Adam Cianciarulo's:
Shane McElrath's is right here, but it lacks a lot of traffic—he was out front from start to finish
The 1983 Houston Astrodome Supercross:
Head-Scratching Headlines of the Week
"Japanese kayaker banned eight years for lacing rival's drink" Abcnews.com
"United States Army Files Trademark Claim Against Vegas Golden Knights" Deadspin
Random Notes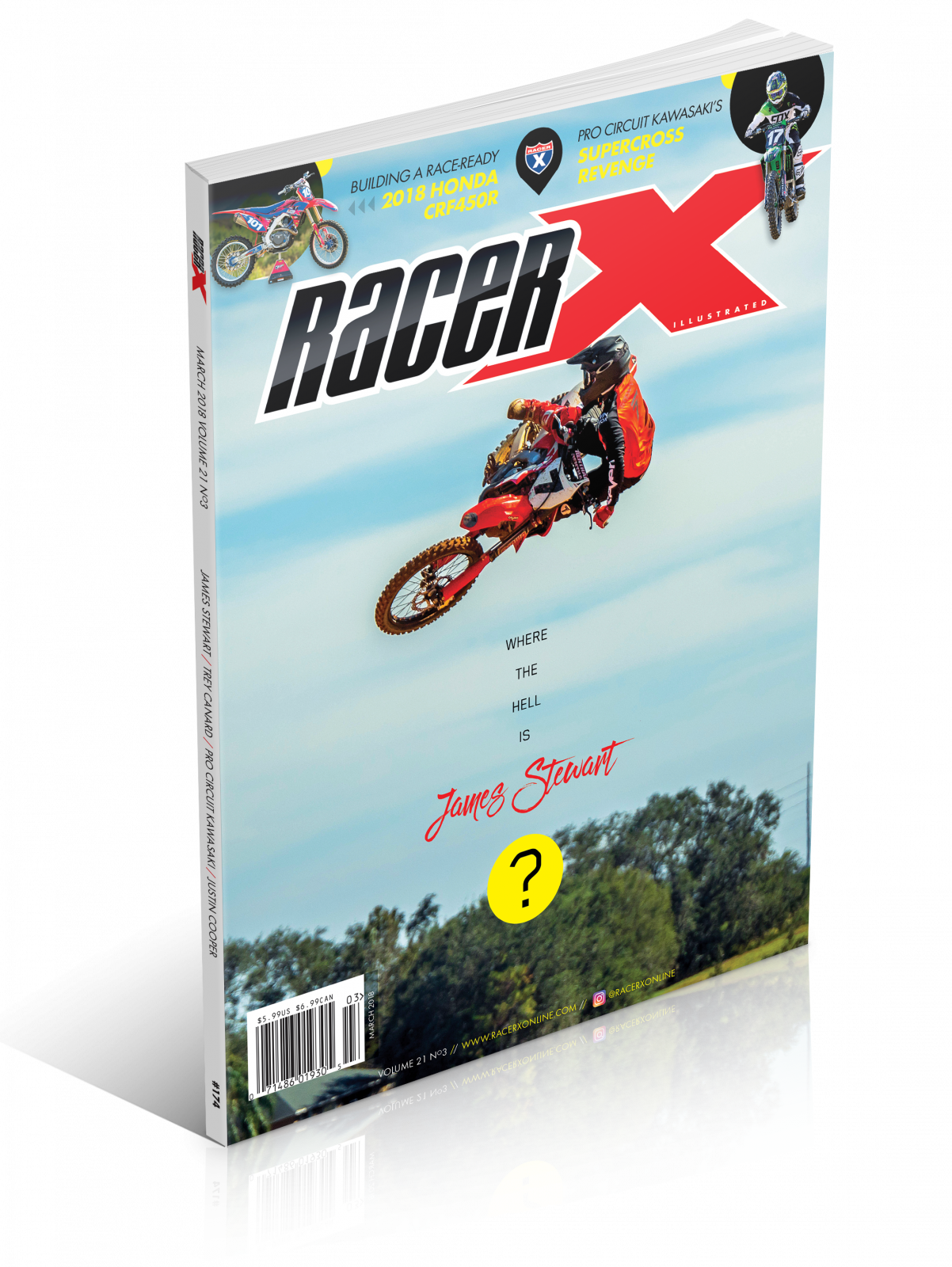 Pick up your copy of Racer X Illustrated now and read about the rider we used to call the fastest man on the planet—James Stewart, Trey Canard and his highs and lows in his professional career, and France becoming the favorite of the Motocross of Nations. Also read about Monster Energy/Pro Circuit Kawasaki and their 2018 SX title chase, the 46th Annual Thor Winter Olympics, and how Justin Cooper became one of the top prospects in the 250 class this season.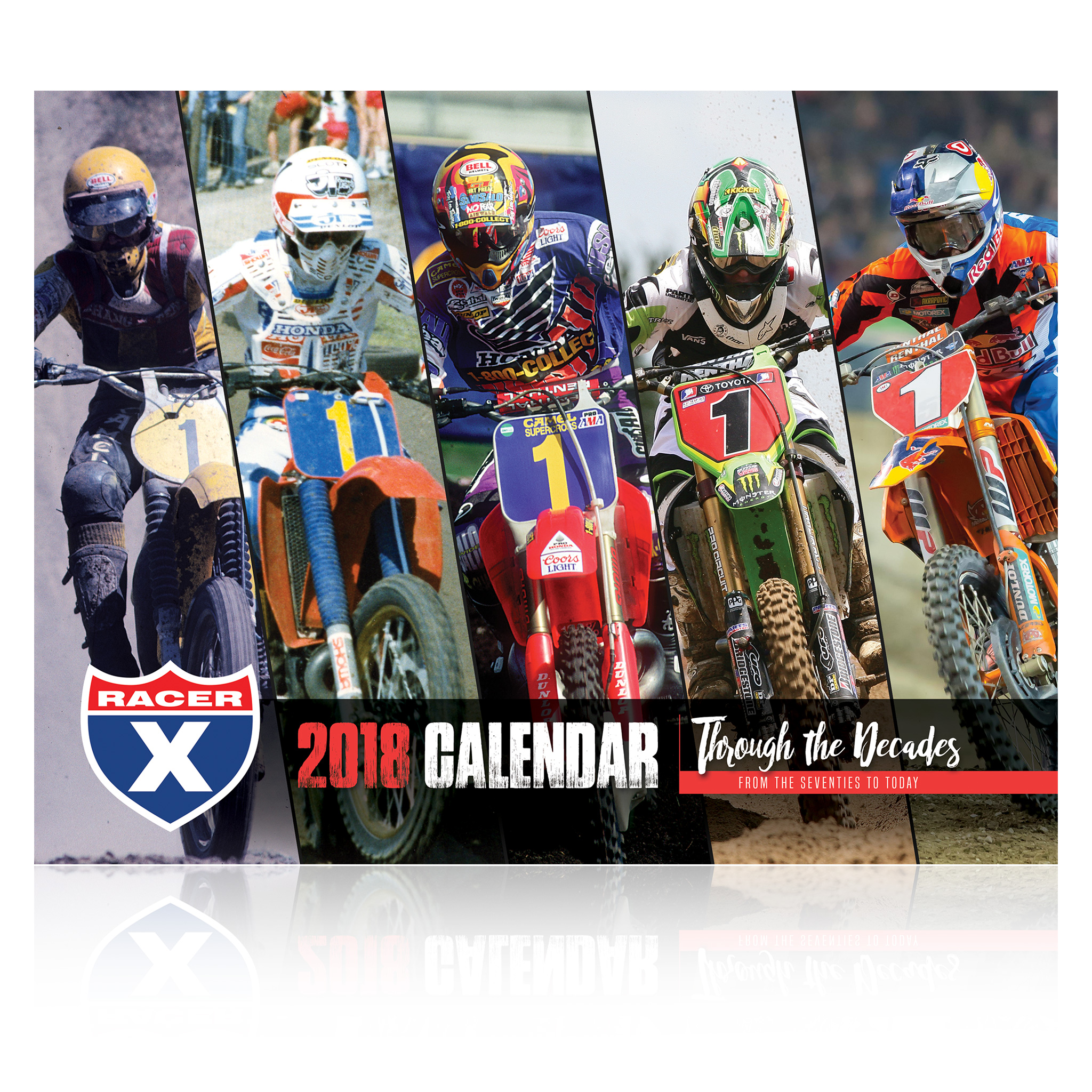 Our 2018 Racer X "Through the Decades" Calendar is now available for purchase on Racer X Brand. Make sure you get yours before they are gone.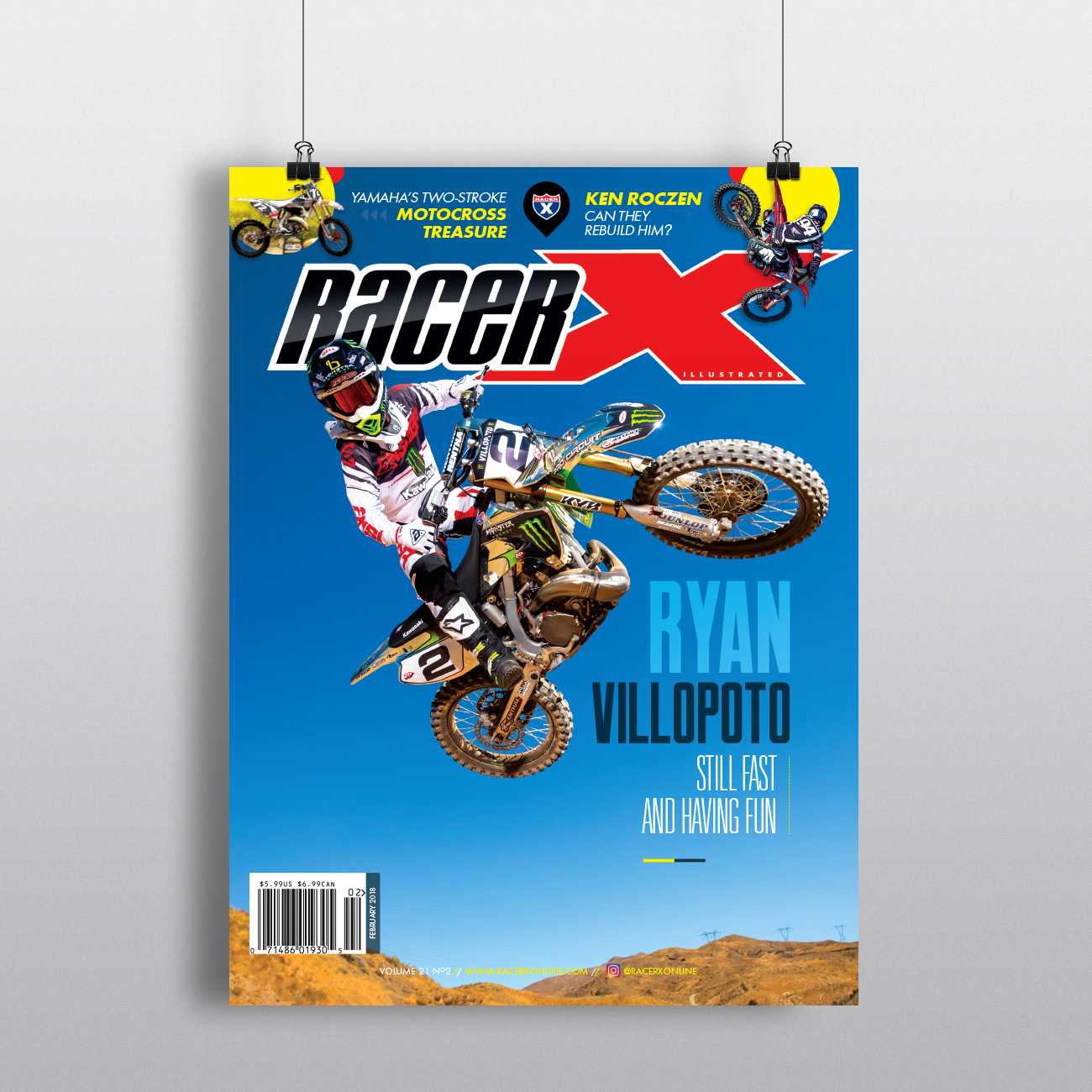 The February 2018 cover of Ryan Villopoto is now available in an 18"x 24" poster. Be sure to head to Racer X Brand to get yours today.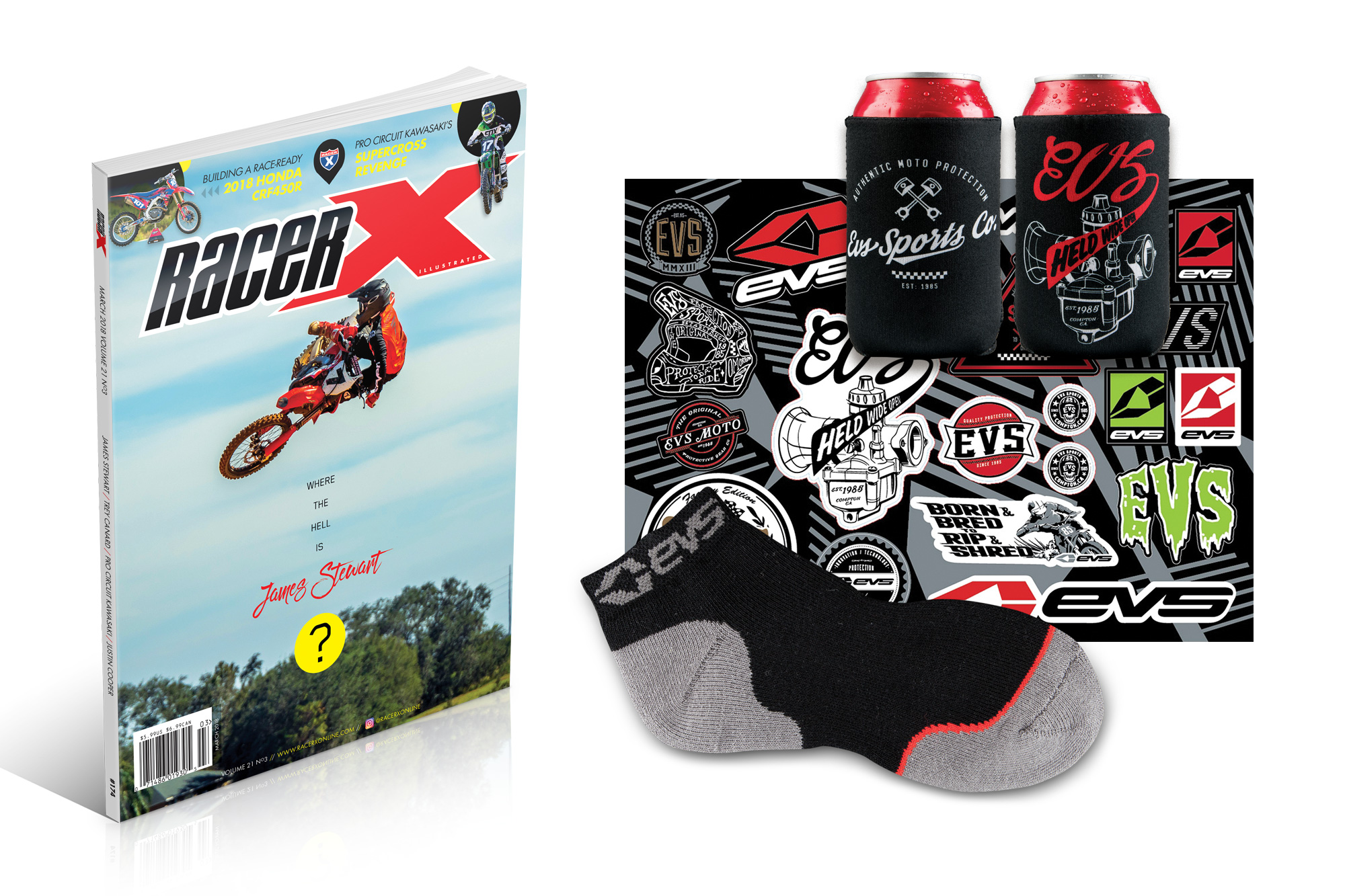 Subscribe now for as low as $9.98 and receive a FREE EVS Gift Pack plus access to our digital edition.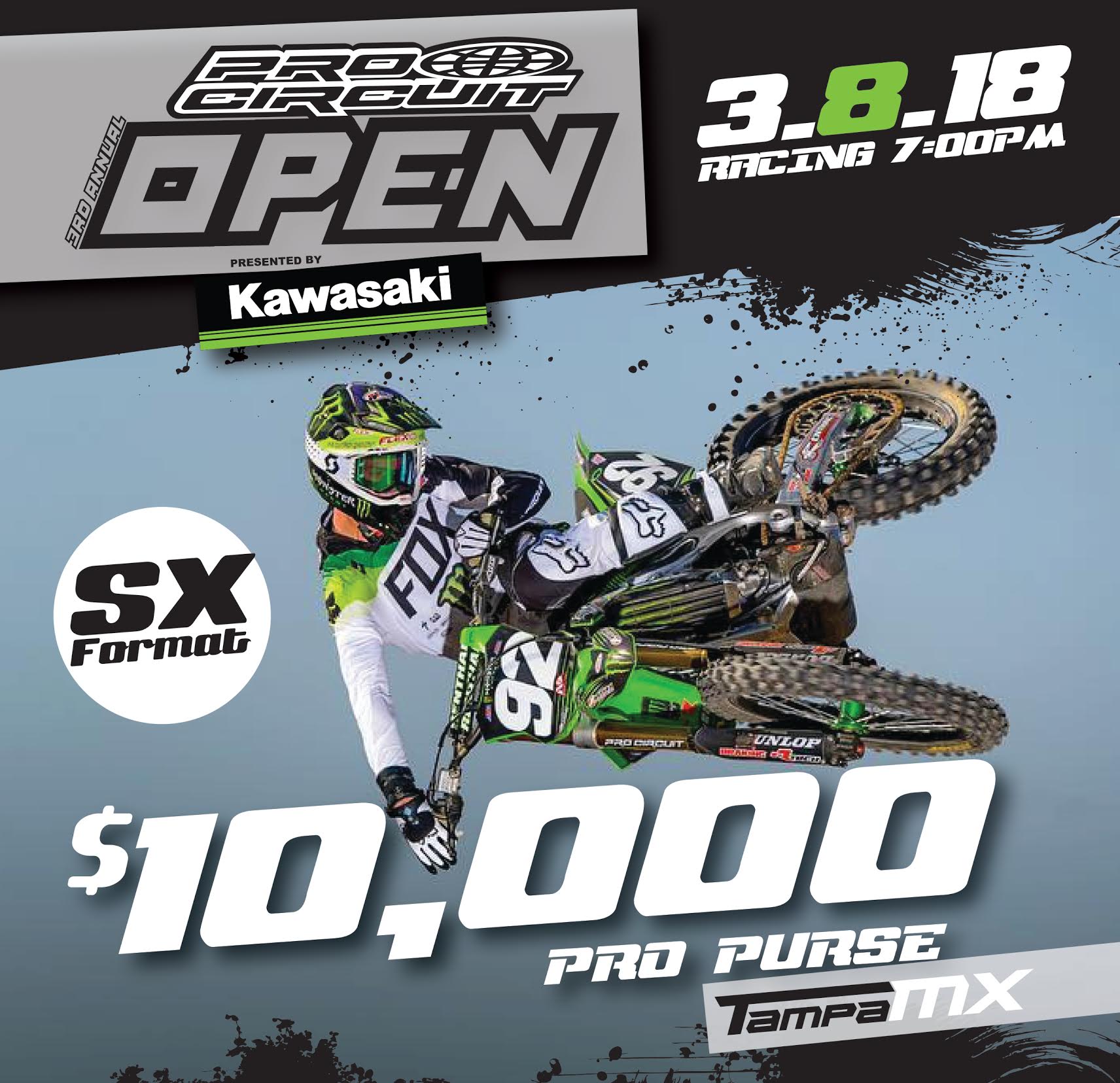 The 3rd Annual Pro Circuit Open, presented by Kawasaki, will roll into Tampa MX Thursday, March 8, 2018. The event is held right before the Daytona SX, allowing some of the nation's top pro riders to make a quick stop in Tampa for a chance to take home their share of the $10,000 pro purse.
Event Details
The 3rd Annual Pro Circuit Open Presented By Kawasaki • Thursday March 8th • Gates Open at 3 p.m; Practice, 5 p.m.; Racing, 7 p.m.
$10,000 Pro Purse (1st $4000 2nd $2500 3rd $1500 4th $700 5th $500 6th $350 7th $225 8th $100 9th $75 10th $50) • $500 Hollywood Racing Pro Holeshot Award • $1000 Advanced Women's Purse and $100 Holeshot Award • $1750 in Pro Circuit Contingency for 85-112 Open Class
Supercross Format (Mains)
Class Structure: 50 4-8 Open • 65 7-11 Open • 85-112 9-16 Open • B Open • C Open • VET 30+ Open • Advanced Women Open • Pro Open
Class Entry $50 Pro $30 Amateur
Event Location: Tampa MX 6334 Burts Rd. Tampa, FL 33619
Instagram: @tampamxtrack
A1 has come and gone and left us wanting more. This week, Darkside & Muscle Mark go over the first supercross of 2018. TPJ's Ben Lamay and Rocky Mountain ATV/MC-WPS-KTM's Blake Baggett let us know how they feel about round one and what's to come. Then one of the greats, Ty Davis, discusses his career, what he's doing now, and shares a story about an exploding shock. Check the MotoXpod Show out anywhere you listen to podcasts.
ESPN The Magazine senior writer Alyssa Roenigk wrote about Ken Roczen's return from injury for ESPN.com. Check it out here.
Thanks for reading Racerhead. See ya at the races!