2018 Monster Energy Supercross Format Changes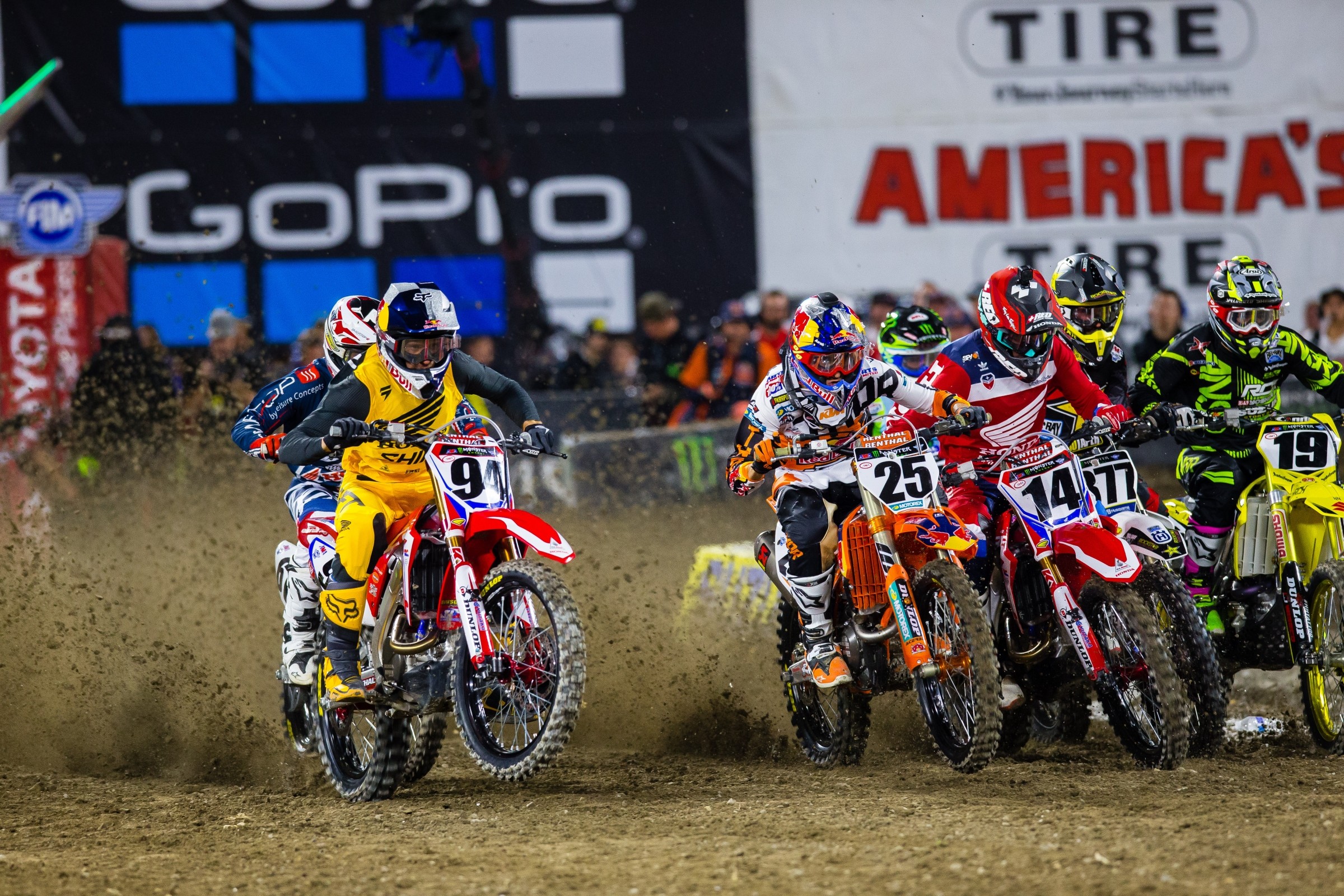 Anaheim, CA
Anaheim 1 (A1)
Monster Energy AMA Supercross Championship
In October, Feld Motor Sports announced a number of changes to the 2018 format of Monster Energy Supercross, including a new points structure, the introduction of the Triple Crown, amateur racing, and more.
Just so you're on top of all of the changes, here they are again as we head into the 2018 season opener at Angel Stadium in Anaheim.
Point Structure
2018 Championship Points
1st place — 26 points
2nd place — 23 points
3rd place — 21 points
4th place — 19 points
5th place — 18 points
6th place — 17 points
7th place — 16 points
8th place — 15 points
9th place — 14 points
10th place — 13 points
11th place — 12 points
12th place — 11 points
13th place — 10 points
14th place — 9 points
15th place — 8 points
16th place — 7 points
17th place — 6 points
18th place — 5 points
19th place — 4 points
20th place — 3 points
21st place — 2 points
22nd place — 1 point
East/West Showdowns
Indianapolis and Las Vegas will host East/West Showdowns for the 250 class. Riders will score points based on finishing position, regardless of which coast the rider represents. Here is how the format breaks down:
Qualifying: 250SX West and East qualifying. Top 20 riders from qualifying advance to the heat races.
250SX West and East heat races. Top 9 riders move to main event. Each heat is 6 minutes plus 1 lap.
250SX LCQ: 22 riders. 1-4 move to main.
250SX East/West main event. 22 riders, 15 minutes plus 1 lap.
Triple Crown
Anaheim 2, Minneapolis, and Atlanta will make up the Triple Crown, which uses a modified version of the Monster Energy Cup's three-race format. Both 450SX and 250SX will race three main events each. Overall winners will be determined by counting up the scores from each race.
Here is the format:
New Qualifying Format
The semis are gone, and have been replaced with heat races and LCQs.
250SX and 450SX Heats:
Two 20-rider heat races. Each heat race will be 6 minutes plus 1 lap.
1-9 will transfer to the main; 10-20 go to LCQ.
250SX and 450SX LCQs:
The LCQs will feature 22 riders with the top four advancing to the main.
5 minutes plus 1 lap.
Amateur Racing
Amateur racing is coming to Anaheim 2, Glendale, Tampa, and Atlanta.
Anaheim 2 — January 21, 2018
Glendale — January 28, 2018
Tampa — February 25, 2018
Atlanta — March 4, 2018