2018 Anaheim 1 Provisional Entry Lists Released [Updated]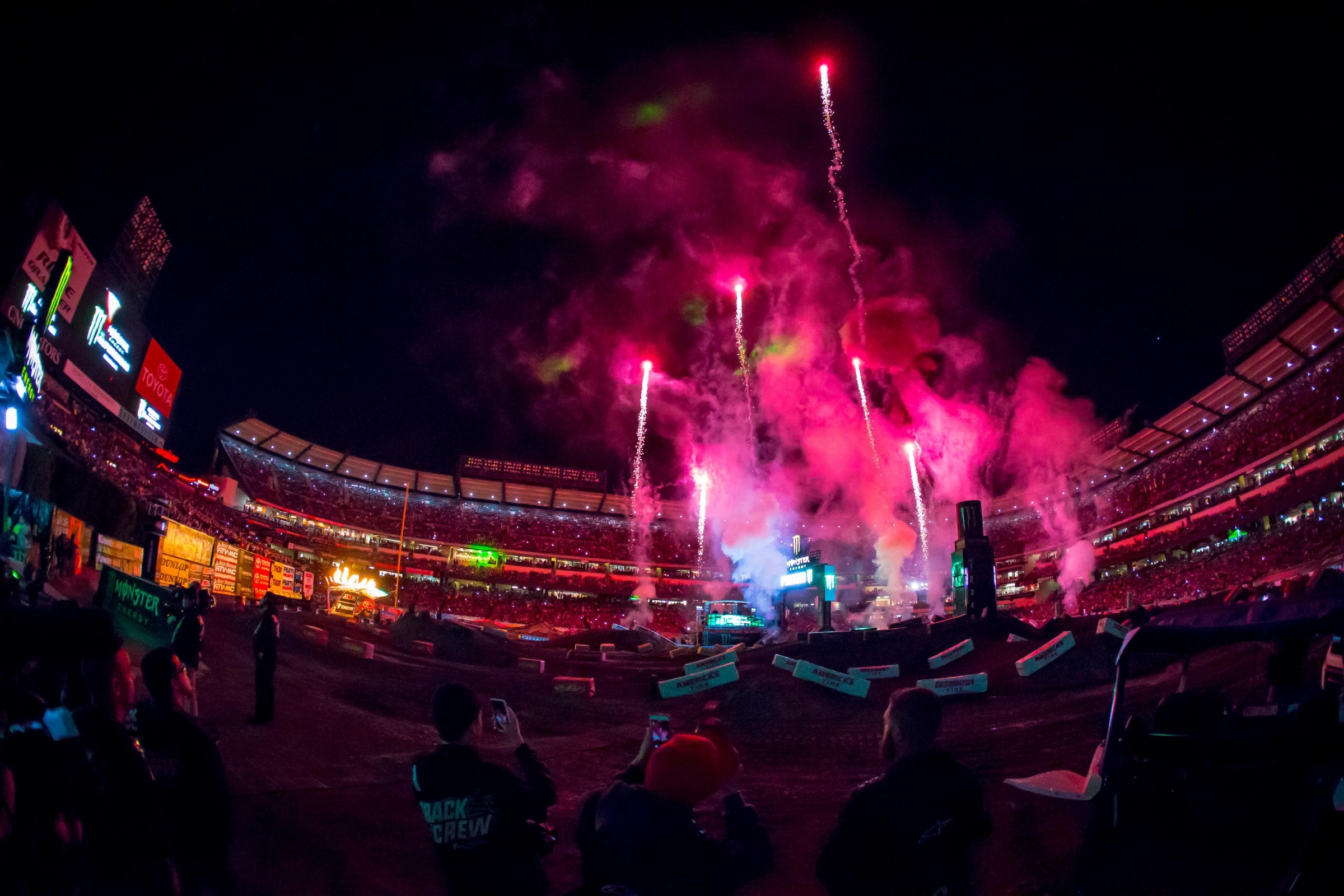 Anaheim, CA
Anaheim 1 (A1)
Monster Energy AMA Supercross Championship
[Update]
Below are the official entry lists provided by the AMA as of Wednesday, Jan. 3.
---
The American Motorcyclist Association (AMA) has released the provisional entry lists for the 2018 Monster Energy AMA Supercross opener at Angel Stadium in Anaheim, California, next Saturday.
While you'll see a lot of riders registered in the 250 Class, not all of them will actually be on the line this Saturday. Most 250 teams enter their entire teams in case of injury. We recently put together a list of which coast each rider will ride. You can check it out here.
This is NOT THE FINAL ENTRY LIST FOR NEXT SATURDAY. For example, Marvin Musquin and Broc Tickle are not listed. They will be racing. So, take this list with a grain of salt.
Also noticeable is the absence of James and Malcolm Stewart. We've heard that Malcolm is putting together his own deal on Kawasakis. As for James, we haven't heard much.
You can view the provisional entry list for the 250 and 450 Class below.
450SX
| | | | |
| --- | --- | --- | --- |
| 2 | Cooper Webb | Newport, NC | Yamaha YZ450F |
| 3 | Eli Tomac | Cortez, CO | Kawasaki KX 450F |
| 4 | Blake Baggett | Grand Terrace, CA | KTM 450 SX-F Factory Edition |
| 6 | Jeremy Martin | Carlsbad, CA | Honda CRF 450 |
| 10 | Justin Brayton | Mint Hill, NC | Honda CRF 450 |
| 12 | Jacob Weimer | Huntington Beach, CA | Honda CRF 450 |
| 14 | Cole Seely | Newbury Park, CA | Honda CRF 450 |
| 15 | Dean Wilson | Clermont, FL | Husqvarna FC450 |
| 19 | Justin Bogle | Cushing, OK | Suzuki RM-Z450 |
| 20 | Broc Tickle | Holly, MI | KTM 450 SX-F Factory Edition |
| 21 | Jason Anderson | Rio Rancho, NM | Husqvarna FC450 |
| 22 | Chad Reed | Dade City, FL | Husqvarna FC450 |
| 25 | Marvin Musquin | CLERMONT, FL | KTM 450 SX-F Factory Edition |
| 33 | Joshua Grant | Wildomar, CA | Kawasaki KX 450F |
| 34 | Weston Peick | Menifee, CA | Suzuki RM-Z450 |
| 39 | Kyle Cunningham | Willow Park, TX | Suzuki RM-Z450 |
| 48 | Henry Miller | Rochester, MN | Suzuki RM-Z450 |
| 51 | Justin Barcia | Greenville, FL | Yamaha YZ450F |
| 55 | Vince Friese | Cape Girardeau, MO | Honda CRF 450 |
| 58 | Matthew Bisceglia | Weatherford, TX | Suzuki RM-Z450 |
| 60 | Benny Bloss | Oak Grove, MO | KTM 450 SX-F Factory Edition |
| 69 | Tyler Bowers | lake elsinore, ca | Kawasaki KX 450F |
| 72 | Joshua Hansen | Lake Elsinore, CA | Suzuki RM-Z450 |
| 73 | Brandon Scharer | Gardena, CA | Yamaha YZ450F |
| 80 | AJ Catanzaro | Reston, VA | Kawasaki KX 450F |
| 84 | Scott Champion | Orange, CA | Yamaha YZ450F |
| 90 | Dakota Tedder | Surfside, CA | KTM 450 SX-F Factory Edition |
| 91 | Alex Ray | Milan, TN | Yamaha YZ450F |
| 94 | Ken Roczen | Clermont, FL | Honda CRF 450 |
| 120 | Todd Bannister | Colorado Springs, CO | Kawasaki KX 450F |
| 145 | Travis Smith | Lancaster, CA | KTM 450 SX-F |
| 178 | Ronnie Ford | Paducah, KY | Husqvarna TC250 |
| 181 | Dustin Pipes | Fresno, CA | Suzuki RM-Z450 |
| 185 | Damon Back | Roosevelt, UT | Kawasaki KX 450F |
| 211 | Tevin Tapia | Menifee, CA | Honda CRF 250 |
| 214 | Vann Martin | Houston, TX | Honda CRF 450 |
| 256 | James Milson | Granbury, TX | Kawasaki KX 450F |
| 262 | Connor Pearson | Rocklin, CA | KTM 450 SX-F |
| 282 | Theodore Pauli | Edwardsville, IL | Kawasaki KX 450F |
| 330 | Cade Autenrieth | Hemet, CA | KTM 450 SX-F |
| 447 | Deven Raper | Mesa, AZ | Kawasaki KX 450F |
| 471 | Logan Karnow | Vermilion, OH | Kawasaki KX 450F |
| 509 | Alexander Nagy | Richmond, IL | KTM 450 SX-F |
| 523 | Miles Daniele | Clovis, CA | Honda CRF 450 |
| 526 | Colton Aeck | Simi Valley, CA | Honda CRF 450 |
| 542 | Johnnie Buller | Dinuba, CA | Suzuki RM-Z450 |
| 608 | David Pulley | Lake Elsinore, CA | Honda CRF 450 |
| 645 | Cheyenne Harmon | Newark, TX | Yamaha YZ450F |
| 722 | Adam Enticknap | Lompoc, CA | Honda CRF 450 |
| 723 | Tyler Enticknap | Lompoc, CA | Honda CRF 450 |
| 877 | Dylan Bauer | Spring Creek, NV | Yamaha YZ450F |
| 907 | Ben Lamay | Wasilla, AK | Honda CRF 450 |
| 914 | Brice Klippel | Bradford, TN | Honda CRF 450 |
| 918 | Michael Akaydin | Louisville, KY | Kawasaki KX 450F |
| 976 | Josh Greco | Kearns, UT | KTM 350 SX-F |
| 981 | Austin Politelli | Murrieta, CA | Honda CRF 450 |
250SX West Region
| | | | |
| --- | --- | --- | --- |
| 1 | Justin Hill | Yoncalla, OR | Suzuki RM-Z250 |
| 11 | Kyle Chisholm | Valrico, FL | Yamaha YZ250F |
| 17 | Joey Savatgy | Thomasville, GA | Kawasaki KX 250F |
| 23 | Aaron Plessinger | Hamilton, OH | Yamaha YZ250F |
| 26 | Alex Martin | Millville, MN | KTM 250 SX-F |
| 28 | Shane McElrath | Canton, NC | KTM 250 SX-F |
| 29 | Martin Davalos | Clermont, FL | Kawasaki KX 250F |
| 30 | Mitchell Harrison | Tallahassee, FL | Husqvarna FC250 |
| 32 | Christian Craig | Orange, CA | Honda CRF 250 |
| 35 | Austin Forkner | Richards, MO | Kawasaki KX 250F |
| 40 | Chase Sexton | Clermont, FL | Honda CRF 250 |
| 42 | Dakota Alix | Jay, VT | KTM 250SX-F Factory Edition |
| 52 | Mitchell Oldenburg | Alvord, TX | Yamaha YZ250F |
| 53 | Bradley Taft | Nixa, MO | Yamaha YZ250F |
| 54 | Phillip Nicoletti | Bethel, NY | Suzuki RM-Z250 |
| 62 | Justin Cooper | Huntington, NY | Yamaha YZ250F |
| 63 | Hayden Mellross | Clermont, FL | Yamaha YZ250F |
| 67 | Justin Hoeft | Castaic, CA | Yamaha YZ250F |
| 68 | Justin Starling | Deland, FL | Husqvarna FC250 |
| 75 | Noah McConahy | Spokane, WA | Yamaha YZ250F |
| 77 | Ryan Surratt | Corona, CA | KTM 250 SX-F |
| 81 | Chase Marquier | Newcastle, OK | Husqvarna FC250 |
| 92 | Adam Cianciarulo | New Smyrna Beach, FL | Kawasaki KX 250F |
| 122 | Chris Howell | Spokane Valley, WA | Husqvarna FC250 |
| 124 | Robert Fitch | Watkins, CO | KTM 250SX-F Factory Edition |
| 137 | Martin Castelo | Murrieta, CA | Yamaha YZ250F |
| 138 | Blake Lilly | Wildomar, CA | Husqvarna FC250 |
| 141 | Robbie Wageman | Newhall, CA | Yamaha YZ250F |
| 149 | Tallon LaFountaine | Banning, CA | Suzuki RM-Z250 |
| 150 | Austin Walton | Sparks, NV | Yamaha YZ250F |
| 160 | Jess Pettis | Prince George, Canada | Yamaha YZ250F |
| 170 | Michael Leib | Menifee, CA | Yamaha YZ250F |
| 188 | Gage Schehr | Murrieta, CA | Yamaha YZ250F |
| 217 | Ryan Breece | Athol, ID | Kawasaki KX 250F |
| 226 | Dimitri Rolando | Corona, CA | Kawasaki KX 250F |
| 240 | Bryce Stewart | Canyon Lake, CA | Yamaha YZ250F |
| 246 | Chance Blackburn | Newman Lake, WA | KTM 250 SX-F |
| 271 | Kyle Fry | Whittier, CA | Yamaha YZ250F |
| 277 | Kordel Caro | Costa Mesa, CA | Yamaha YZ250F |
| 321 | Bradley Lionnet | Menifee, CA | Kawasaki KX 250F |
| 383 | Casey Brennan | Albuquerque, NM | Yamaha YZ250F |
| 388 | Brandan Leith | Eagle Mountain, UT | Kawasaki KX 250F |
| 422 | Philipp Klakow | Rodgau Germany | Husqvarna FC250 |
| 424 | Tyler Custer | Creston, CA | KTM 250SX-F Factory Edition |
| 427 | Deegan Vonlossberg | Palmdale, CA | Yamaha YZ250F |
| 448 | Broc Shoemaker | Pasadena, CA | Suzuki RM-Z250 |
| 497 | Brock Leitner | Summerland, Canada | Kawasaki KX 250F |
| 651 | Jake Hogan | Acton, CA | Yamaha YZ250F |
| 715 | Kele Russell | Seabeck, WA | Husqvarna FC250 |
| 767 | Mason Wharton | Brush Prairie, Wa | Kawasaki KX 250F |
| 792 | Bracken Hall | Rock Springs, WY | Kawasaki KX 250F |
| 805 | Carlen Gardner | Paso Robles, CA | Honda CRF 250 |
| 820 | Dalton Oxborrow | Lehi, UT | KTM 250 SX-F |
| 902 | Killian Auberson | Corona, CA | KTM 250 SX-F |
| 973 | Jean-Baptiste Marrone | | Husqvarna FC250 |
| 992 | Jean Ramos | Corona, CA | Yamaha YZ250F |