JMC Motorsports Racing Announces Four Rider 250 Team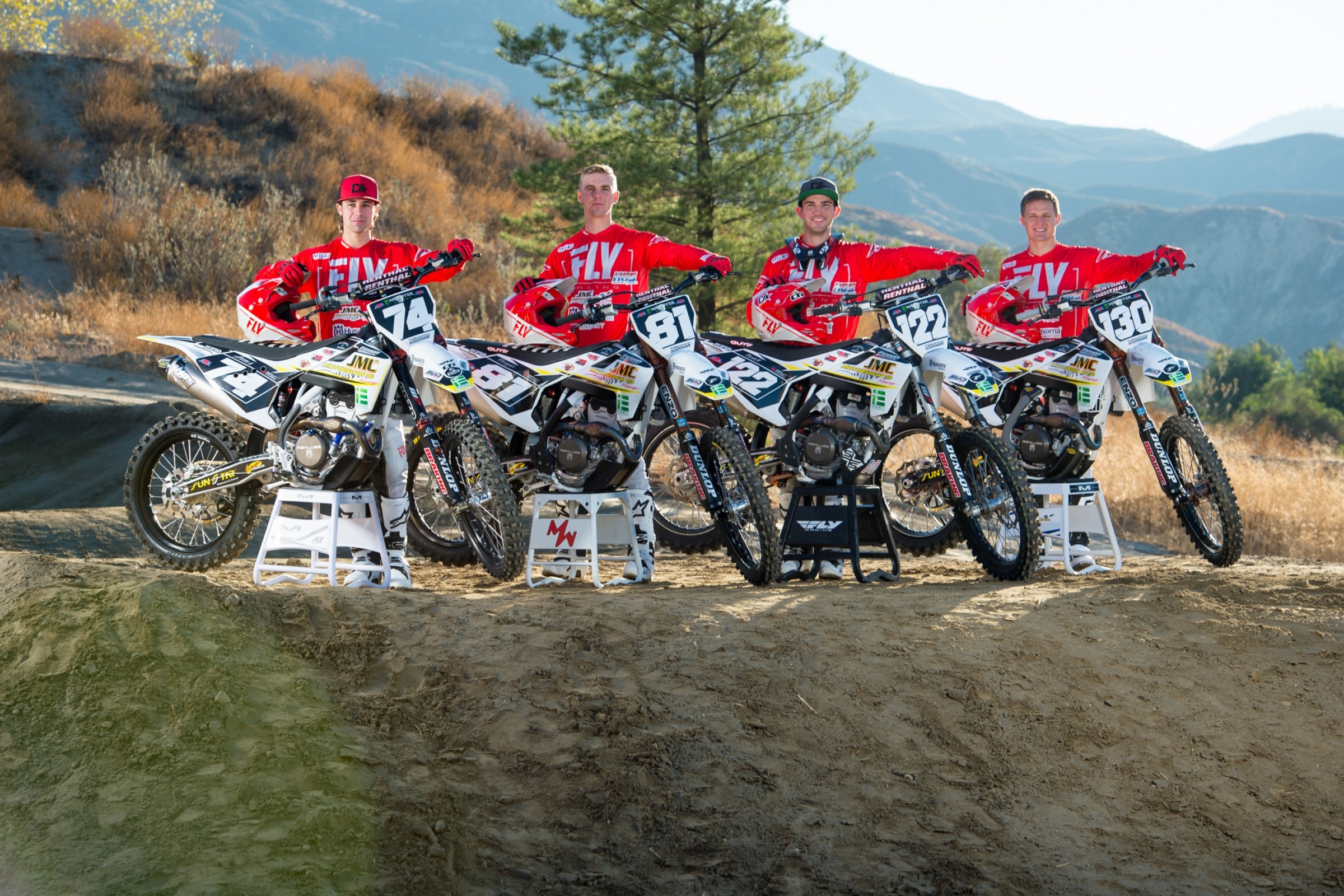 Northwest-based JMC Motorsports Racing announced today that they will field a four-rider 250 team that will compete in the West and East Region of the 2018 Monster Energy Supercross Championship.
Chris Howell returns for a third year with the team, and will be joined by new additions Chase Marquier, Jon Ames, and rookie Austin Root.
Howell and Marquier will compete on the West Region, with Ames and Root riding East. The team will have Husqvarna support for next year.
Below is the official announcement from the team.
JMC Motorsports Racing is pleased to announce a new four-rider team to contest the 2018 Monster Energy AMA 250 Supercross Series. JMC Motorsports Racing team is bringing back veteran Chris Howell (#122) for his third season with the team, and new additions Chase Marquier (#81), and Jon Ames (#74) in their sophomore year in supercross, JMC Motorsports Racing is also happy to announce signing Austin Root (#130) for his rookie supercross season.
Thanks to some Husqvarna support, the team will have four riders competing in the 250 Class aboard 2018 FC250s. Chris Howell, and Chase Marquier will be competing in the West Region while Austin Root and Jon Ames will contest in the East Region aboard the race-proven 2018 Husqvarna FC250. This will be the first year that the JMC Motorsports Racing Team will be competing in both regions, with help of team owners Joel and Michele Micka and the support of our dedicated sponsors. Jensen Hendler will be stepping up to the crew chief position and will oversee all race bike R&D. He will be in charge of quality control and providing a dual role on Sunday Amateur Racing, helping new talent realizing their dreams by competing on JMC Motorsports Racing bikes as well.
The team owners' expectations are one of still building the program. It's always a struggle to be competitive at this level of motorcycle racing. With a great group of talented young riders, dedicated family support, and unwavering support from sponsors, the team expects the 2018 season to be one of their best yet. The desire to put on a great show for the fans, mentor younger riders, and give back to the sport is paramount to the success of our program.
The team's 2018 product sponsors include JMC Motorsports, FLY Racing, HGS Exhaust, ENZO Racing, Renn Fuel, Integrity Electric, Alliance Steel, HRMC, Rekluse, Acerbis, Shaffer Oil, ARC levers, Fusion Graphics, 100% Goggles, BUD Racing, Sunstar, Braking, Motion Pro, Renthal, Dubya, Wossner, DT1 Air filters, Guts Factory Seats, and P-One Management. More sponsors are being added, and updates will follow. Joel would like to say a special thank-you to Josh Pitts from Renn Fuel, Ross from Enzo, and Tony from P-One for all the help and continued support.
Main image: Mike Emery