Angel Stadium
Anaheim

,

CA
Anaheim 1 (A1)
Monster Energy AMA Supercross Championship
Next year will be Cameron McAdoo's second with GEICO Honda. He was originally a member of Smartop/MotoConcepts Honda before being released from his contract and allowed to sign with GEICO Honda in the middle of last supercross season.
His Lucas Oil Pro Motocross Championship was cut short after he hurt his shoulder the week after the Glen Helen National, but McAdoo is looking to take what he learned last year as a first-year pro and apply it to next season. I caught up with him at the Honda team intro to get a little more backstory on him and see how his preparations are going before he heads back East to get ready for the 250SX East Region opener in Arlington.
Racer X: This is your second year with the team. You got picked up from the MotoConcepts team last year. Can you just talk about how that all came about? You used to train with Mike [Alessi] at Club MX.
Cameron McAdoo: I've trained at Club MX for just over three and a half years now. Mike came a couple years after me. I was kind of toward the end of my amateur career. I was basically completely on my own. I think I got goggles for free and that was about it. We rode together quite a bit on some outdoors and stuff. I guess he kind of relayed the message over to Tony [Alessi], like, "Hey, this kid's really good. I think we should see if Mike Genova [MotoConcepts team owner] will try and put some amateur program together for him for his last A year." So, they gave me the opportunity to just kind of ride with my bikes under their semi at Daytona, at the Daytona Amateur Supercross thing. I guess they liked what they saw.
Two weeks later, I got a phone call from Genova and he said, "We want to help you for the rest of this year's amateurs and see how it goes." They kind of put their own little program together for me and took me the rest of the way through my amateur racing. It was a good year. At the end of Monster Cup—I ended up winning Monster Cup in 2016, and then they kind of, along with Honda coming onto that team and giving them some support last year and stuff, they put a 250 East Coast program together for me. Kyle Chisholm was their West Coast rider. That was awesome. They gave me the opportunity to go race in some supercrosses. We started the season out fairly well and had some little hiccups here and there and stuff, but I think we showed what I had and my experience and stuff that I was there to fight.
About midway through the supercross season, we got a phone call from GEICO Honda and they were interested in taking me for outdoors because MotoConcepts doesn't race outdoors. They had also mentioned kind of the rest of the supercross season, to get me acclimated to the bike and the team and stuff because R. J. [Hampshire] had just recently gotten hurt. Genova was kind enough to let me out of my contract, because he knew that it was probably what was best for me to get on the GEICO bike as soon as possible. That was kind of the transition there. So, my first race with GEICO was at New York Supercross last year.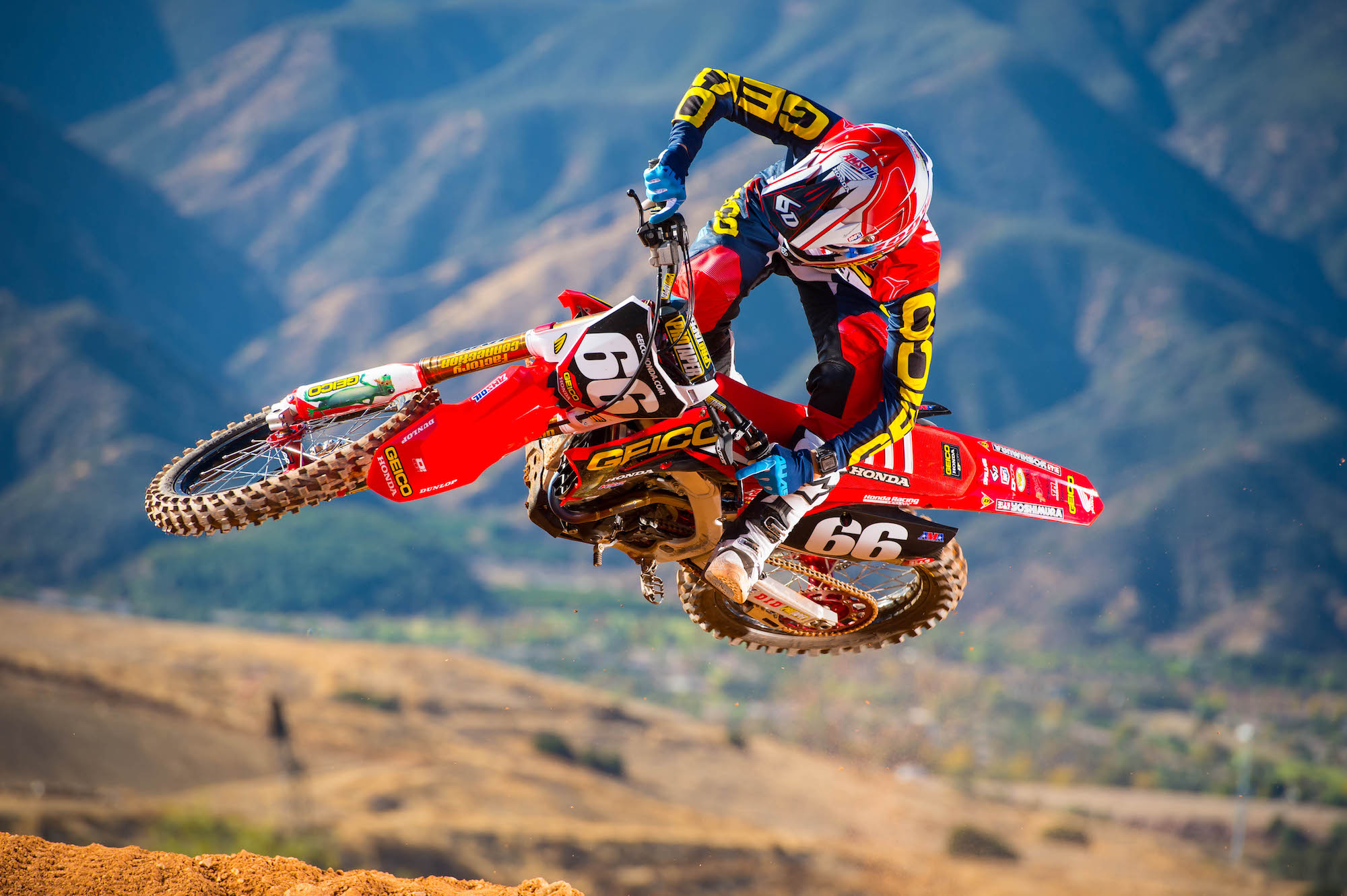 From my understanding, it wasn't just like, hey, you got a fill-in spot. They were saying like, you need to sign this kid for a two-year deal, right?
Yeah. Actually, Genova did help me out a little bit with negotiating my contract and stuff like that. He talked to the team and said, "If we're going to let him out of this contract, I want it to be worth it for him. I think he's going to be a good kid for your team," and so on and so forth. So, they actually offered me a two-year deal. They signed me for all of 2017 and I signed for all of this year, 2018.
How much did that mean? He really kind of stuck his neck out for you in a couple different ways, right?
Yeah, it was awesome. The whole crew over at MotoConcepts treated me awesome the whole time I was there. Same with all the guys over here at Factory Connection. It's like a family. It's really nice to work with a whole crew of people [where] it's not only just my mechanic and me or just a team manager. There's literally a whole staff of people who are working just as hard as the riders. It makes it that much easier to go and give it everything you have every single time you do anything because you are surrounded by people who are doing the same for you. It truly is the meaning of a team.
How has everything been going with the team so far this off-season?
It's been great. I've been out here in California for about a month now and spending some good time out here and done some testing on the new bike. Everything is coming along great with the new bike. The team has been working endless hours. I actually live with one of the mechanics, and some nights I don't even see him at home. He's not even home until after I go to bed. It's pretty humbling to know that I'm surrounded by so many people who are after the same goal and they work just as hard and harder than we do as riders to make our goals and dreams reality. So, it's been great. The team has been nothing but good and helpful. We're excited to go racing.
You're going to be racing the East Coast again, right?
Yup, I'll be East Coast.
Do you feel like you're going to need some extra time to prepare? What was the idea behind that?
Kind of. I'm based out of the East Coast. I live in South Carolina. I'm kind of more comfortable on those tracks. I think the rutty, kind of softer, broken-down tracks suit me a little bit better. I raced it last year. I'm comfortable and I'm ready. If I were to have to race West Coast, I could. I don't think it had all to do with that. I'm healthy, and that's been the most important thing this year. Last year was a little bit tough just because the outdoor season, I kind of had a few misdiagnoses on a really small injury that could have been fixed sooner than it was, but we got through and we learned from it. So, I've been healthy and I've been on the bike. I've been riding supercross for a while now, so I'm ready. But I'm very excited to go racing East Coast.
I believe it was after Glen Helen you hurt your shoulder in practice, right?
Yes, I did. I had that big crash at Glen Helen. I think people thought that was what put me out, but it really wasn't. Tuesday after, I just had a really dumb little crash at a practice track testing. That just kind of spiral-effected into not being able to race basically the whole season.
You mentioned a misdiagnosis. What was the story behind that?
I had a shoulder injury and I had seen a couple doctors and they were thinking that it was a muscular injury, so they had said once the pain subsides, you're good to go and go racing. So, that was why you guys saw me line up at RedBud. We thought we were good and healthy. I rode for a little while. I just had a very, very tiny crash at RedBud. I didn't even really land on my shoulder. Then I was just back to ground zero. I knew at that point, something else was wrong with my shoulder. So, we had some more MRIs, CAT scans, X-rays, you name it, done on my shoulder and we came to the conclusion that I actually had a broken scapula. So, we basically didn't let it heal and kind of re-broke it at RedBud. It was unfortunate because if I would have known it was that, I could have possibly sat out a few more weeks and been ready to finish outdoors. But we learned from it and that's all we can do.
Is that bothering you at all anymore?
No. It's healed up back to 100 percent. By the end of outdoors, it was actually back healed up, but with two rounds to go and no time on the bike all the summer, we just decided to focus ahead on supercross 2018.