By Alex Gobert | MotoOnline.com.au
Rockstar Energy Husqvarna's Jason Anderson scored the overall win at the Aus-X Open Supercross in Australia over the weekend, using 2-1 scores to edge his teammate Dean Wilson.
Our friends at Motoonline.com.au grabbed Anderson for a post-race interview. Follow their site for the latest on Australian moto--including continuing coverage of the Australian Supercross Championship.
Racer X: It was a really good weekend for you here at AUS-X Open, obviously finishing on a high note by winning Sunday and being crowned the 2017 event champion, so how was it for you?
Jason Anderson: Yeah, it was a really good weekend here at AUS-X Open and I was able to win the second night. I had a first-turn crash on the first night and salvaged second, so all in all it was a good weekend. Crashing in the first corner was the only bummer, but other than that it was cool and I had a great time.
Looking back to Saturday, you sliced your way through the field, still got that runner-up result for a Husqvarna 1-2 and it's always good to be on the podium. Did you know where you were at in terms of track position as you worked your way forward?
When you're in that situation you don't really know, you're just focusing on trying to slice through the guys and make the right decisions. Focusing on being back in the pack isn't going to do you any good, so you've just got to try go as fast as you can and that's really all I could control. I was able to get through and luckily I was able to do it safely, because it can get squirrely back there in the pack, but I was able to, not make it happen, but salvage second. It was good.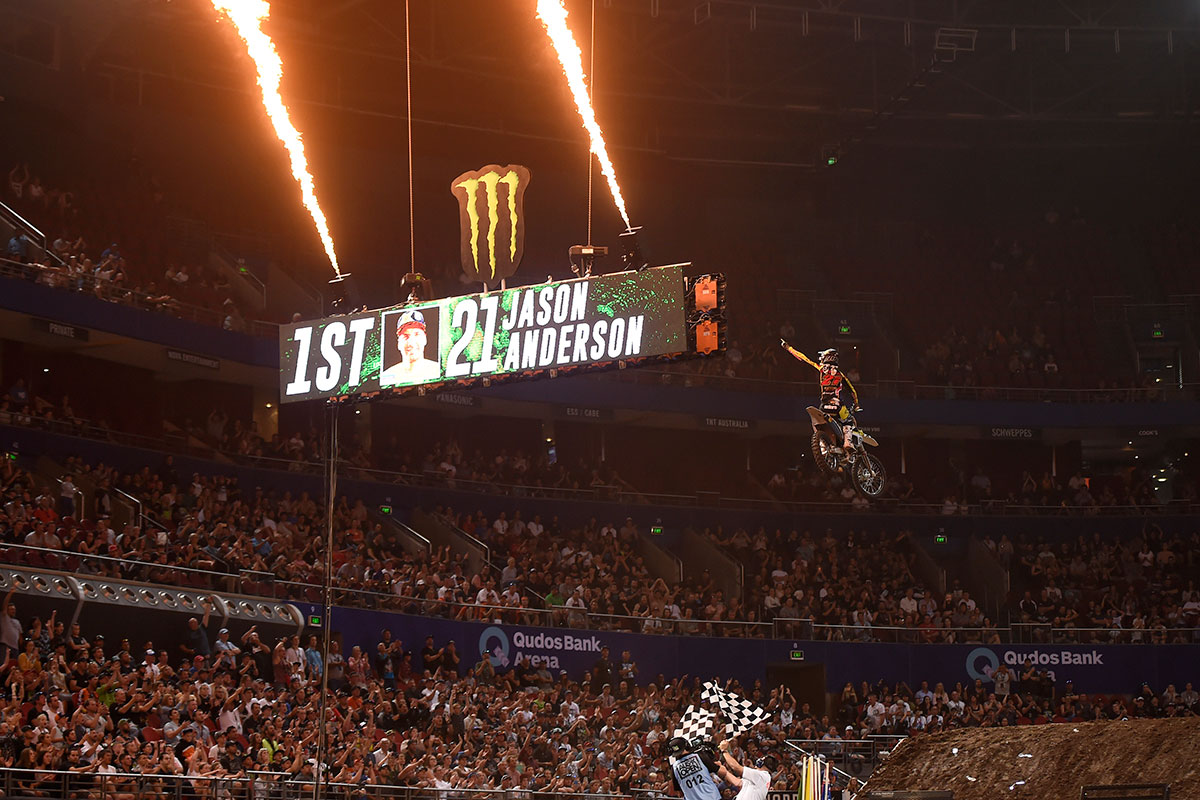 Tonight you got out front pretty early, used the Shannon's Shortcut and that worked for you, so you took control from there. What was it like? I suppose this time leading the race, working your way through traffic and ticking down the laps?
For sure, I think the "Joker Lane"—the Shannon's Shortcut—worked out good for me. The track was hard to pass, so I didn't want to get in a game of cat and mouse with the front-runner. I was able to get by and do it right away because I think if you're up front there's no reason to wait and do it, you have to do it right away. I hit that, got out front and was able to ride my own race, clicking off the laps. It was pretty short main because the lap-times were only 30 seconds or so, but I was able to keep plugging away and had a good one.
You claimed the Morris Finance Superpole both nights, which was impressive, and it's some neat entertainment for the fans.
Yeah, for sure it is. Luckily for me I was able to go last both times and see what the other guys were doing. I like those things. It's fun because you've kinda gotta wing it for a lap and hopefully you can pull off that fast time. You're honestly just sending it. So yeah, it's a good time.
And just to wrap it up, the AUS-X Open is a typically special event for Australia and, for you guys as visitors, you get to experience Sydney Harbour and do those kinds of things in the lead-up. The race track has a few different elements as well, so did you enjoy your time overall?
I had a great time here in Australia and am really hoping to come back next year and do it again. All in all it was a great trip, a successful trip and hopefully I can come back and do battle with all the Australians again next year, it'd be fun.