Phil Nicoletti Returning to JGRMX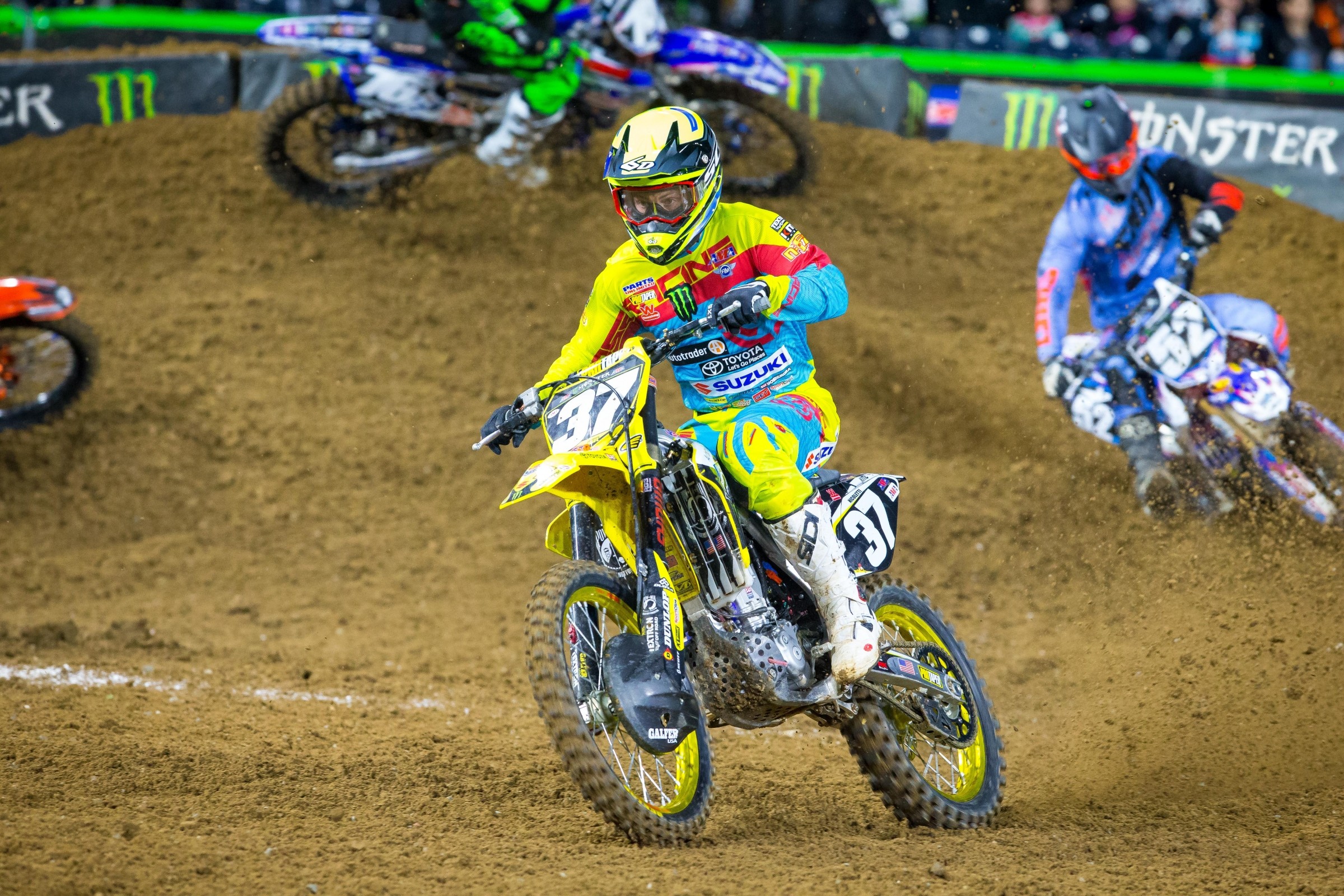 AutoTrader/Yoshimura Suzuki (JGR) has named the fourth, and final, member of its 2018 250 squad. As expected, Phil Nicoletti will return to the team for next year. In a press release announcing the deal, the team said Nicoletti has been signed to a supercross-only deal.
JGR, which was announced as the factory Suzuki team earlier this year, will field a four-rider team in Monster Energy Supercross (two on each coast) and a two-rider team in Lucas Oil Pro Motocross. Defending 250SX West Region champion Justin Hill is the only member thus far that has been named to the two rider team for the 2018 Pro Motocross season. Jimmy Decotis' team announcement said racing outdoors is an option, while Kyle Peters joins Nicoletti in the supercross-only column.
"I'm looking forward to continuing my racing career with JGRMX," Nicoletti said in a statement. "The crew members and I have formed a great relationship from our years of experience. It's exciting to see Suzuki's commitment to the 250 class, and I fully expect to be battling for podium finishes every weekend. I got a taste of 250 Supercross racing in 2017. With that under my belt, I'm looking for much more this coming season."
Nicoletti originally joined the North Carolina-based team in 2014 as part of an experimental fill-in program, in which the New Yorker would be available were any of the team members injured. He went on to race 13 races (supercross and motocross) that year. In 2016, Nicoletti was signed to a 250 supercross deal and 450 motocross deal but missed much of the season after fracturing his lower fibula, shattering his heel, and dislocating his ankle during supercross.
"This past year we were able to move Phil back to the 250 class in supercross, and he showed promise," said team manager Jeremy Albrecht. "In fact, Nicoletti scored a fifth in the 250 West series before sustaining an unfortunate injury. Phil was on the upswing, and I wanted to see what he could do in 2018 on the newly formed factory Suzuki team. There's no question that Phil Nicoletti is dedicated to his craft. He puts in maximum effort, both on and off the bike. In fact, Phil moved near the shop in Huntersville, N.C. to work closely with the team. It's a testament to his tireless work ethic."
A team breakdown, including which coast each rider will contest, will be revealed in the coming months.