Nitro Circus Announces Signature Bikes by Hyper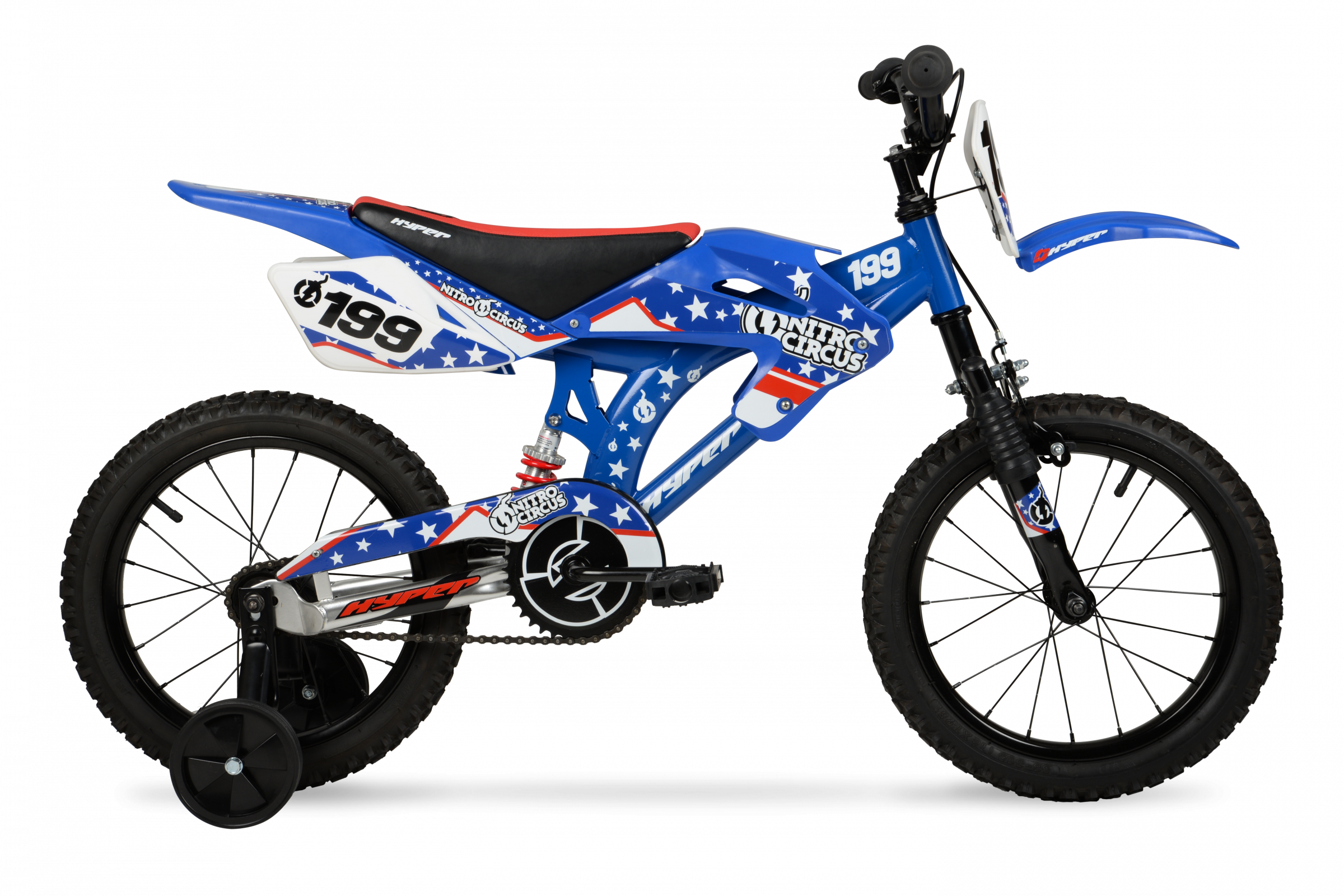 LOS ANGELES, CA – With the holiday season fast approaching, the highly anticipated Hyper Bicycles' signature Nitro Circus bikes are now ready, and exclusively at Walmart, starting Monday, November 6 and online now at Walmart.com. Inspired by the headline-grabbing feats of global icon Travis Pastrana and the epic world's firsts of champion BMX riders Ryan "R-Willy" Williams and James Foster, these bikes offer premium features usually only seen in pro-grade equipment, yet cost hundreds of dollars less. This makes them the perfect gift for young Nitro Circus fans and a great way for them to get out, get active and bring the action home.
"It's really important to me that Nitro Circus is family-friendly and that kids can be part of the fun. We're always looking to grow action sports and making it accessible for the next generation is such a big part of that," said Nitro Circus ringleader, Travis Pastrana. "These bikes are awesome and having them affordable for families is even better. Also, growing up I was always a huge fan of the Hyper brand and I'm very glad to call owner Clay Goldsmid a friend. Hyper has been such a big part of the progression of Nitro Circus and now R-Willy and James Foster are taking BMX to the next level on their Hyper bikes, so it's a great fit!"
"We are big fans of Nitro Circus at Hyper and we are proud to support athletes like R-Willy and James Foster", says Hyper CEO Clay Goldsmid, "Travis and the Nitro Crew have earned a huge following of dedicated fans, and we are happy to be able to offer those fans high-value and high-performance bikes at Walmart and Walmart.com."
First up is the 20-inch Hyper Nitro Circus BMX Bike. Featuring alloy platform BMX pedals to reduce weight and improve durability as well as micro-drive front and rear sprockets for a smooth ride, this versatile bike is great for young riders of all experience levels. A stem rotor is featured up front for 360-degree handlebar rotation. The bike's sturdy build also makes it perfect for beginning BMX'ers and more experienced cyclists alike, while its multi-surface tires can tackle all types of terrain with enhanced grip and control. The bikes are available in two distinct color-ways, stealthy matte black color or a bold nice red finish, so you're sure to ride in style. The 20-inch Hyper Nitro Circus BMX Bike is available for $99.00.
Young fans looking to emulate Travis Pastrana's FMX exploits can ride off to exciting adventures on the 16-inch Moto Hyper Nitro Circus Bike. It features motocross-style fenders with authentic Nitro Circus graphics – including Travis' signature 199 number - plus a saddle seat, adding some hi-octane visuals to this pedal-powered riding machine. It is built with a steel oversized frame, a steel handlebar, 16-inch rims and knobby tires. It also has standard size pedals and front brakes for an easy way to stop. With only one speed, there are no complicated gears. Training wheels are included for beginners who are still learning to ride. The easy to assemble 16-inch Moto Hyper Nitro Circus Bike is available for $79.00.
Fans can get an advance look at these bikes before they hit Walmart stores during NBC's, "Biggest Week in Action Sports," airing this Sunday, November 5 at 2pm EST/ 11am Pacific . This riveting TV special details seven days in Spring 2015 which saw two historic world firsts go down: the first triple backflip on a motorbike and the first quadruple backflip on a BMX bike. The national broadcast will feature a TV spot showcasing both bikes.
This product release, Nitro Circus' first hard goods initiative at retail, marks the next phase of its multi-year proud partnership with Hyper Bicycles, Inc., a top manufacturer of BMX bikes, mountain bikes and other specialty equipment. "This is a big step for us and I am thrilled to take it with such an established industry leader," said Peter Maule, Nitro Circus' Global Head of Consumer Products. "Hyper Bicycles' proven track record and top notch quality speaks volumes, providing credibility that gives such a strong halo effect for our brand as a whole."
To learn more about Hyper Bicycles, Inc and its products go to HyperBicycles.com. and follow Hyper on Instagram and Facebook. For Nitro Circus news, exclusive behind-the-scenes content, tour updates and more, go to NitroCircus.com and follow Nitro Circus on Instagram and Facebook.