Three and a half years ago, Martin Davalos, then an eight-year veteran of the AMA Pro Racing 250cc classification, was on his way to winning the 250SX East Region Supercross Championship when he crashed during a mid-week test session a few days before penultimate round of the series. End result: a broken ankle and one huge lost opportunity.
"I have pain, but to be honest, just not being able to race in a few days hurts even worse," said Davalos in 2014. Not only did the crash end his season, but also his tenure as a member of the Monster Energy/Pro Circuit/Kawasaki race team as he would race for the Rockstar Energy Husqvarna race enterprise for the next three race seasons. But now he is back. Yes, after a three year run on the white bikes—highlighted by an impressive Lucas Oil Pro Motocross Championship run on the FC450 this past summer—Davalos is back in the Monster Energy/Pro Circuit Kawasaki 250cc fold for the 2018 race season. And while he was adamant about racing the big bike in '18, the offers for a competitive ride were slow in coming, so when Mitch Payton came calling about rejoining his team, Davalos leaped at the opportunity.
To Davalos' way of seeing things, he has unfinished business in the 250cc division, and now he's looking for the big payback. Remarkably enthused and optimistic about the task at hand, Racer X sat down with the soon-to-be 12-year veteran late last week.
Racer X: Martin, after a successful 450cc debut in the Lucas Oil Pro Motocross Championship with the Rockstar Energy Husqvarna team, you'll jump back to the 250 class and race for the Monster Energy/Pro Circuit Kawasaki in 2018.
Martin Davalos: Yeah, and I'm actually really excited. Obviously, and as you know, my intention after this summer was to move up to the 450 class, but I couldn't be happier with where I ended up. What is meant to be is meant to be. If there is a team that I want to be on for my last 250 chance, it's with Mitch Payton and Monster and Kawasaki. We had a shot in 2014 and we came up a little short. You know a lot of people give me a hard time because I've been in the Lites class forever, but I'm just grateful for having another chance to go out and do something that I've always dreamed of.
Yeah, but to answer to the detractors you speak of, you went out and raced the 450 this summer and did quite well. I'm thinking that all of that has to be confidence-inspiring for you. Thoughts?
Yeah, definitely. Obviously, this summer, for me, it was to prove to myself that I could ride a 450 like I knew that I could. It was such a last minute deal that I struggled with the bike set-up at the beginning—I would say at the first three or four rounds. I was trying to get adjusted to the 450 because I only rode it for two weeks before the season started. I feel like I needed to prove myself on the 450. Also, pretty much the reason why I went to Husqvarna and I left the Monster Energy/Pro Circuit Kawasaki team a few years ago was because they were going to give me a chance to ride the 450. That never really happened until this past summer. That was something that I really wanted to do and to be able to get on the podium three times was awesome. For me, as a person, it was a great accomplishment for me being it my rookie year in that class.
And it can be argued that racing the 450 outside as opposed to a stadium can be even tougher for a first year rider, you know?
Yeah, for sure. Outdoors is a different animal. There are two motos and consistency plays into it a lot. I really wanted to transfer that momentum into the 450 indoors, but like I said, the cards didn't fall the way they were supposed to. They played a different way. I'm just super-stoked, to be honest with you. I talked to Mitch and have told him that I'm super-pumped to be coming back to the team and to have him really, really still believe in me. That, to me, means the world. I want to ride for somebody that really still believes in me and still believes that I can win because I know I can win. I think that combination is really what is important in both minds, you know?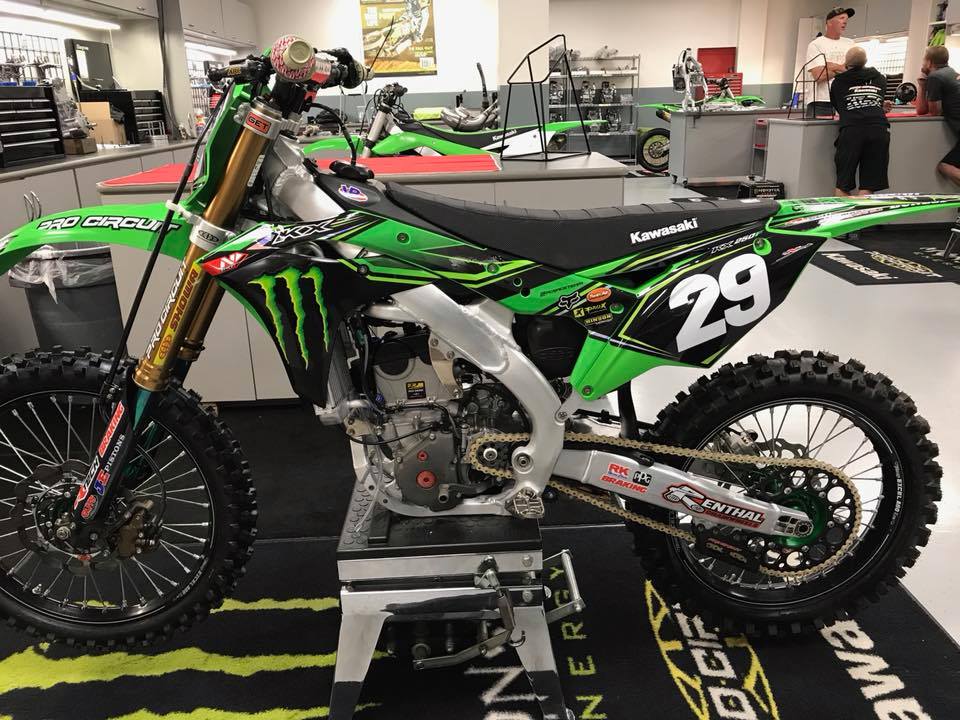 Yes, speaking to your thinking that you know you can win, you basically had the 2014 AMA Supercross 250SX East Region title won if not for some bad luck suffered from a mid-week testing crash.
Yeah, definitely. It's motocross and it's a crazy sport and we all have to deal with some stuff, but I left that year pretty bummed out and I'm never going to forget that day. But hey, tough times are really what bring your character out and what makes you want to become a better athlete and person. I moved on and I learned a lot from it and, yeah, I'm able to give it another shot. We'll have a different schedule and point system for the Lites in 2018, so I think it's going to be a very interesting year.
What do you make of the new changes dictated by Feld Motor Sports for 2018 Monster Energy Supercross?
You know, I think they're awesome. It's going to be different for everybody and I think everybody is super-excited when they bring something new to the table. I do think the two showdowns are going to be pretty critical because you have the whole field pretty much stacked. It's definitely going to be cool.
Since joining the Monster Energy/Pro Circuit Kawasaki team, how much time have you been able to put on the KX250F?
At the end of the summer I tore my MCL [medial collateral ligament], so I had to take two months off. I just started riding very recently. I've literally been on the bike four times now and three of those times I rode supercross. Right now I'm just trying to get confident. My knee is still a little sore. Right now is not the time for speed. I just need some time under my belt because I was off for so long. And being with the team has been great. I've always had a really good relationship with Mitch and everybody in the team. I place a lot of trust on how they run the team and how they run their program and how they approach the season. I've become really close with Bones [Jim "Bones" Bacon, Pro Circuit's lead suspension man] and I really trust him a lot when it comes to suspension. I trust all the guys who make the whole motorcycle better. From 2014 until now, the guys have really showed me what they've been working on. For the little amount of time I've been on the motorcycle, I'm pretty stoked with everything we've done. I've gotten comfortable very quickly. I thought it might be a little bit of a struggle coming from a 450 that I was riding the whole summer to riding the 250, but, man, I honestly felt comfortable right away on the bike. I was super, super-stoked right away.
Okay, Martin, so we're about to hit Halloween. What will be your program—be it yourself or with the team—come November and the ensuing winter months leading into the new season?
I've been in California now for two and a half weeks. The whole idea was for me to come here and learn the chassis and the bike to where I get comfortable. We wanted to get a pretty good setting to where I could start doing my pre-season stuff. I'm still training with Tim Ferry and our November is pretty much the big month that we have. I have one more week here in California and then I head back to Florida to start training with Timmy. Like I said, the most important thing for me right now is to get back on my fitness and to try and get good for when December comes.
You can't go wrong with Tim Ferry in your corner.
No. No. Timmy has been such an important part of my program. This will be almost my third year working with him. I take it back a little bit more old school with Timmy. He really sees our sport a different way and I really believe in what he does. It's been working for me.
I know it's early and Mitch Payton doesn't divulge much when it comes to his riders and when and where they will ride, but do you have a preference between the East and West Region Series?
Yeah, it's still really early. Mitch will let us know pretty much last minute. My preference is to always to do East Coast because of family and being able to have them there at the races I do.
What's your goal for the 2018 racing season?
My goal is to kick ass. This is my last year on the 250, regardless of a championship or not a championship, you know? A lot of people think that I don't want to move up, but the truth of the matter is that's not the case. I want to go out there and just do my best. We all want to win, but I want to have fun, man! I want to enjoy it. I feel like everybody here on the team is awesome right now and they welcomed me back pretty amazingly. I'm super happy. I think I'm the best when I'm happy. I'm hoping to have fun and ride hard, man. That's my goal. Dude, I'm riding for the best team in the world. That's not a bad thing. I'm super-stoked that I have this opportunity because at the end of the day, whoever is involved in our sport and whoever really knows about it, understands how hard it is and how much talent it takes. I mean a lot of people, some who have been past champions, don't have rides. It's crazy to think about that. For me, man, just to have this opportunity again, I don't give a shit what people think. I'm just blessed that I have this opportunity and I'm doing this for me, not anybody else. I'm just stoked. I'm not kidding you when I tell you that. I feel like I'm back at home. This year, I really, really want to do this for myself and I want to have that number one plate on Mitch's door and bring it home. I'm really going to do my best and I'm going to put one hundred percent into this. That's all I can say. I know that if I know I gave it my all, that's all that matters.