Fairplex
Pomona

,

CA
Red Bull Straight Rhythm
Red Bull Straight Rhythm
Welcome to the Racer X Saturday Night Live, where we will be covering the Red Bull Straight Rhythm from the Pomona Fairplex in Pomona, CA. We will be updating this again after tonight's racing to summarize the action from this half-mile, turnless track. You can also follow Racer X on Twitter, Instagram, and Facebook to stay up on all the action.
Yesterday was press day and unfortunately, also the day Chad Reed broke his ankle. From his Instagram page, Chad said, "I slightly over jumped into the next transition nothing un normal but my suspension went metal to metal and I hurt my ankle. I'm seeing an ankle specialist this morning. Will update when I have more info and a plan of action." I saw Chad and his wife Ellie pull into the pits and Chad had a set of crutches in his lap. Ellie also parked as close to the front as possible. It's a bummer to see that Chad got hurt and that we all will miss out on watching him race tonight. He came from Australia just for the race, what a disappointment that must be. Hopefully this doesn't tamper his 2018 plans for securing a SX ride.
Two other ankle injuries occurred today during practice. One was this morning when Tevin Tapia broke his. I saw him after the session was over before qualifying and he was sitting in his pit, boot open, but not off. He said, "If I take it (boot) off I won't get it back on. I'm just going to go out there and ride" when talking about still going out for qualifying. He didn't get any riding in again before qualifying so when he dropped in from the gate in the first race, he pretty much stopped racing immediately so you could tell he was in serious pain. Jordon Smith was had the other ankle injury sustained when he cased a jump this morning. Nothing appears to be broken, but he will not be lining up tonight.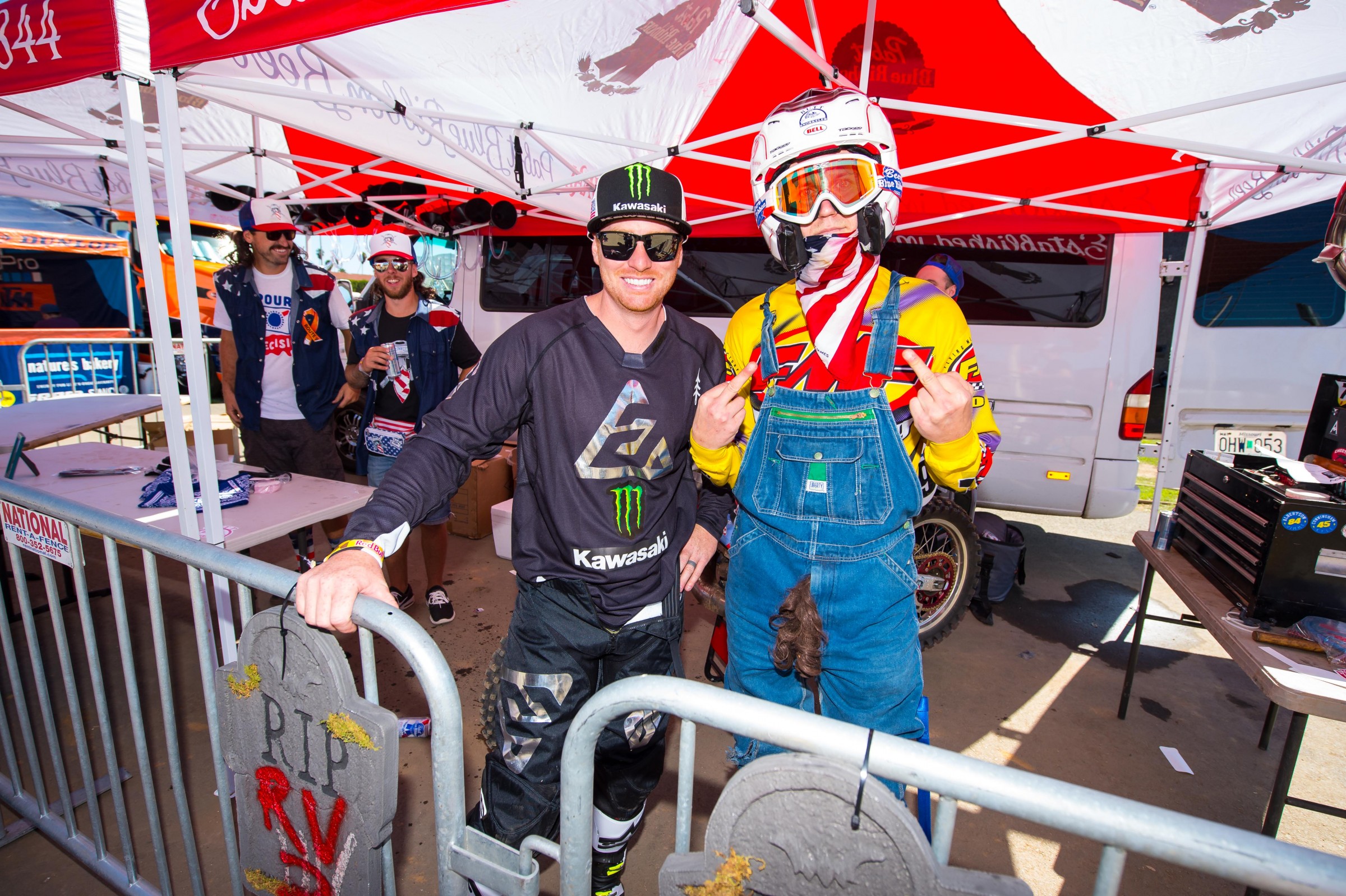 For the rest that will be racing, there is quite and eclectic line up. Ranging from Ryan Villopoto to Mike Brown to Colton Haaker. You can view the entire entry list here. (/2017/10/19/red-bull-straight-rhythm-entry-lists-released). It's a nice 80 degree day in Southern California. It should be some great racing. Below are the results from qualifying:
Two-Stroke Qualifying
Ryan Sipes
Ryan Villopoto
Gared Steinke
Ronnie Mac
Ryan Morais
Mike Brown
Mike Sleeter
Tevin Tapia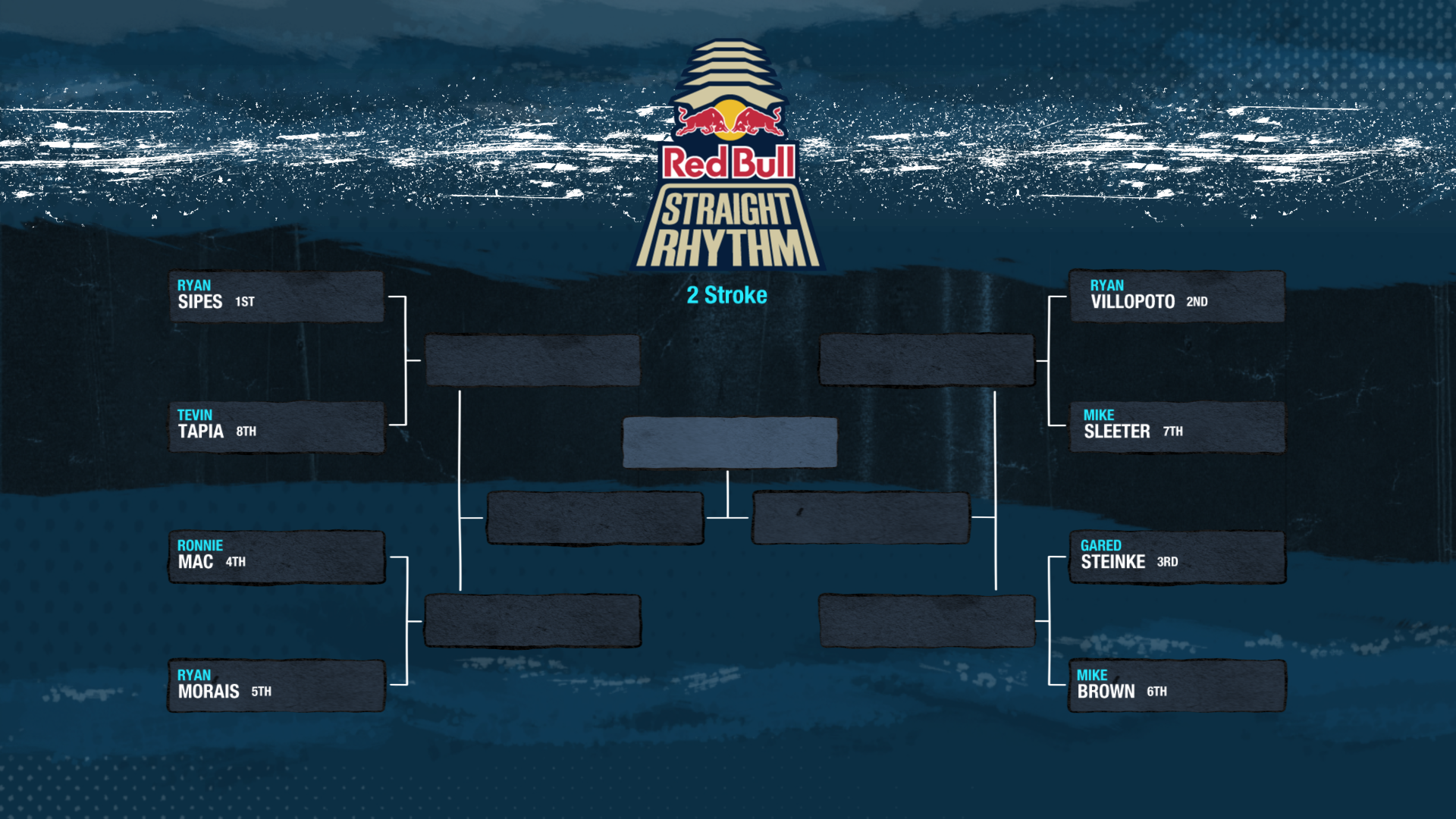 Lites Qualifying
Ryan Sipes
Shane McElrath
Alex Martin
Enzo Lopes
Sean Cantrell
Josh Hill
Ronnie Mac
Colton Aeck
Open Qualifying
Marvin Musquin
Broc Tickle
Josh Hansen
Tyler Bowers
Kyle Chisolm
Tom Ramette
Alex Ray
Colton Haaker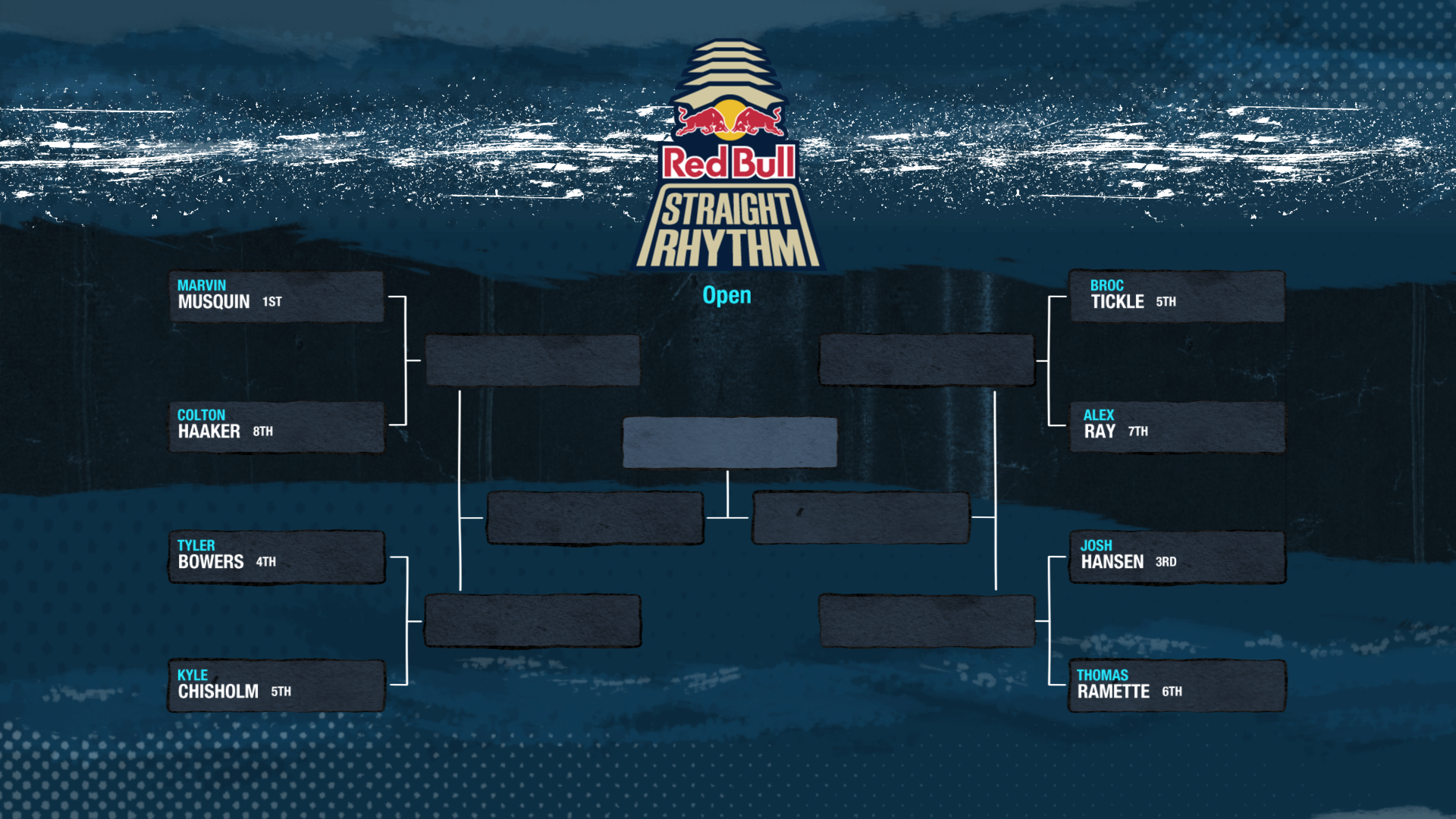 Check back for more on the this supercross drag race after it all goes down. You can watch the racing live beginning at 5:30 Pacific.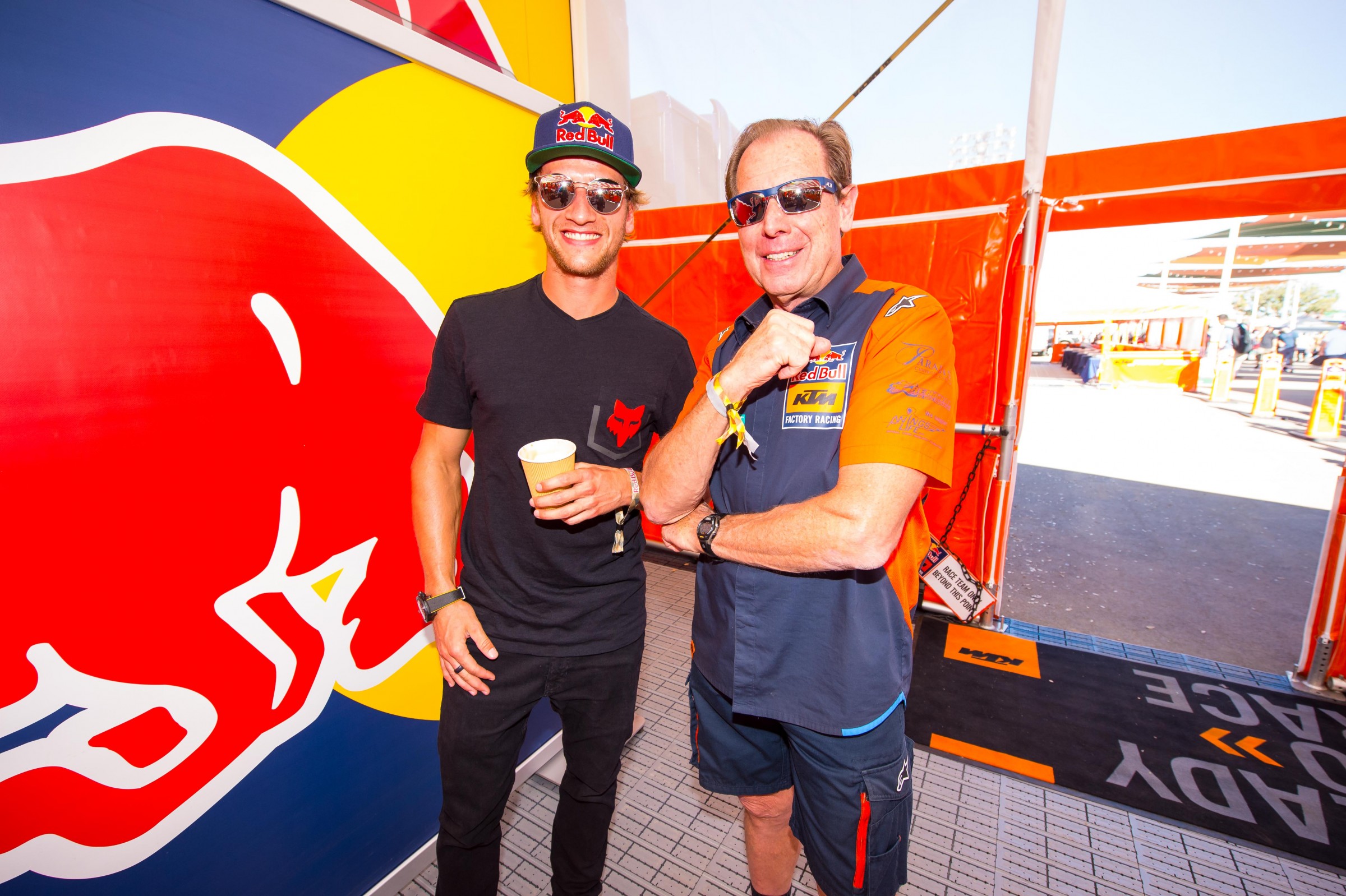 Two-Stroke
This was the really the class with the most hype, with a crazy cast of characters including Villopoto, Ronnie Mac, Stank Dog and more. And Ryan Sipes--who now races GNCC full-time but was always known for his raw speed in motocross and supercross--ended up as the fastest qualifier.
All races are run in a best-of-three format. A rider has to win two runs to advance.
Ronnie Mac, the internet superstar, made his second Straight Rhythm appearance today and he also chugged just about as many PBR's as fans as he entertained. Ronnie Mac kept things interesting and knocked Sipes out of the quarter-finals after he eliminated Ryan Morais. He was not playing around!
The semi finals featured Villopoto, Ronnie Mac, Sipes and Stank Dog. Now that's a diverse cast of characters! The surprises kept coming as Villopoto bobbled in a race against Steinke, and Steinke got the win. Everyone expected Villopoto to come back in the next one, but instead he bobbled again, and Steinke eliminated him!
Crazier? Ronnie Mac and Sipes went at it, each winning a run, setting up a winner-goes-to-the-finals third race. And Ronnie Mac won it setting up an insane final round against Stank Dog.
The third place consolation race pitted Sipes against Villopoto and Sipes came out on top!
It was Stank Dog vs. Ronnie Mac for the two-stroke finals. Ronnie's 1998 CR250 is a holeshot machine and he got starts all day. Stank and Ronnie were side by side going through the first rhythm before Ronnie got a little out of control and went down hard. He was down for a minute, but got up and took a mule ride back to the starting line. Ronnie's mechanic rode the bike back to the pit and everyone thought he might be done for the night. After a few minutes of silence and uncertainty, the red number 69 came ripping along the side of the track and back towards the starting line. Ronnie was back for redemption.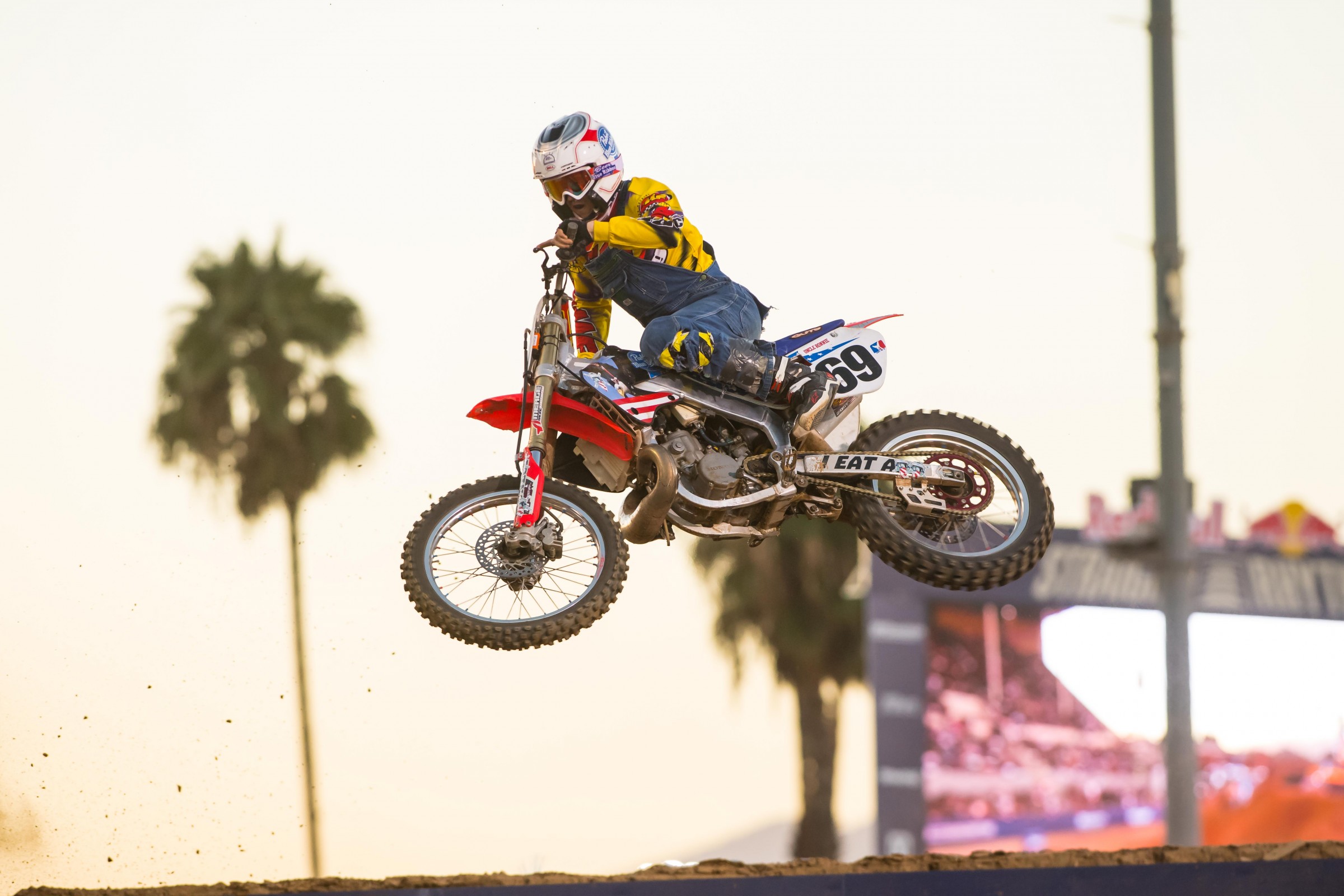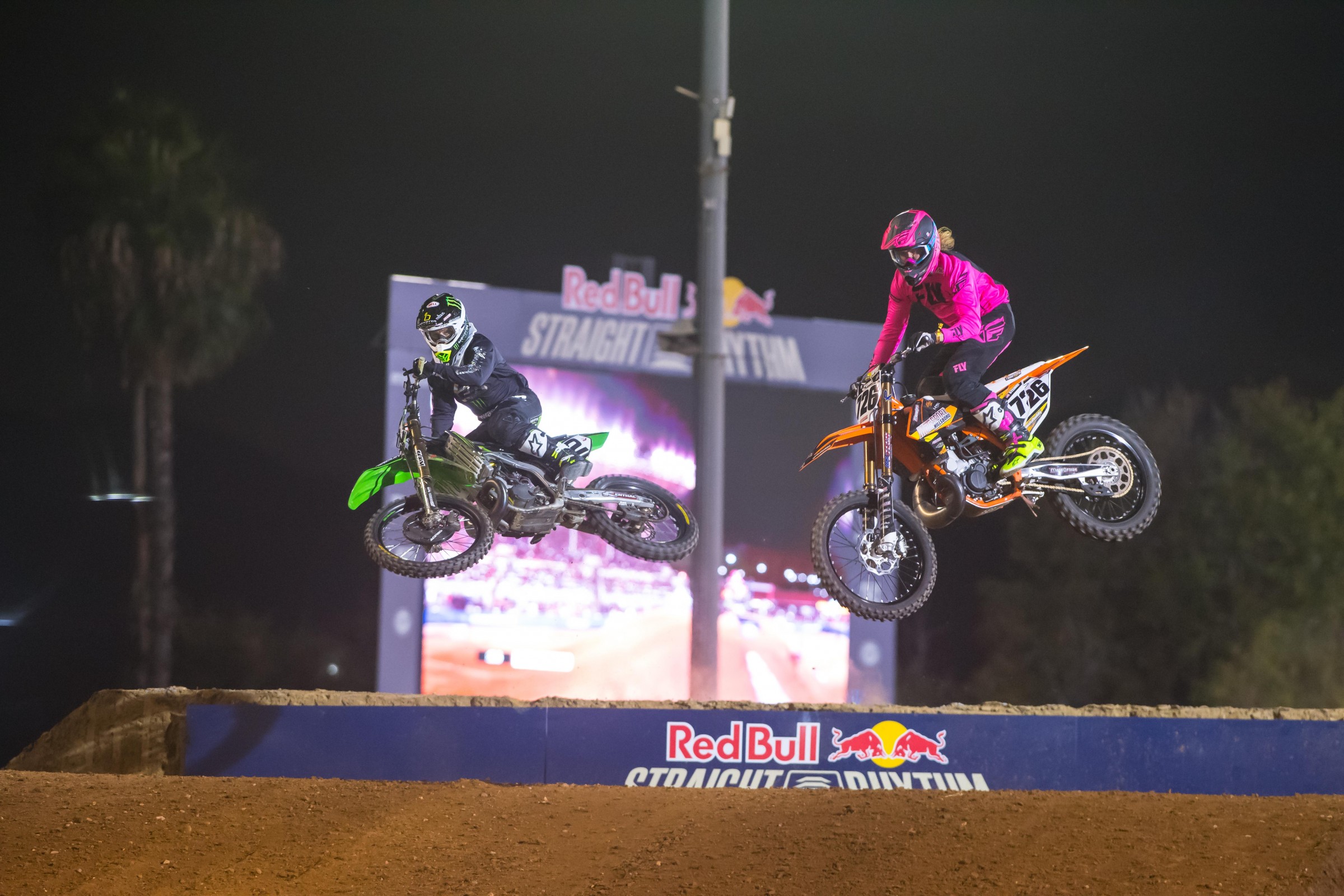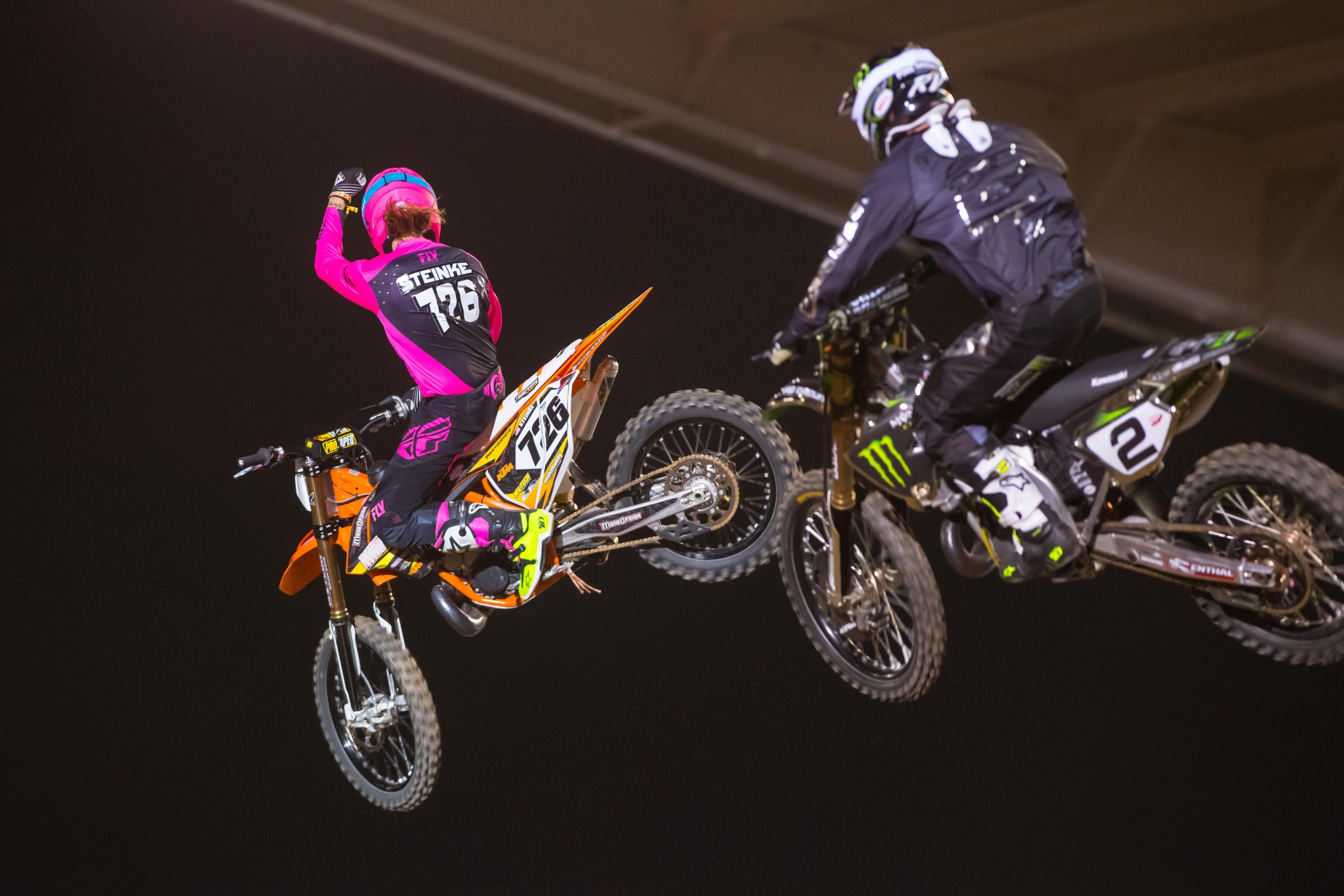 Stank and Ronnie switched gates and lined up again. Ronnie got another great jump and shrugged off whatever injuries he might have had, battling with Steinke all the way to the end, but Stank held on. With that, Stank Dog is the 2017 Two-Stroke Champion of Red Bull Straight Rhythm.
After the race he said, "I don't mean to toot my own horn, but I saw me winning this event as soon as I got invited and found out it was two-stroke only. It doesn't matter who the competition is, Stank Dog is the two-stroke king. I'm coming through."
When I asked Ronnie what happened with his crash, he said, "Really there's no loser in the two-stroke race, except for me, I f@$*ing lost it, that kind of sucked (his crash). But you know it happens man when you ride the fastest bike on the planet a 1998 CR250, it's going to spit you off every now and then, you know. It's a wild horse, it'll spit you out, bite your leg, it's a mean mother and it got me. Stank Dog was right there for the picking. I thought I could get him in that second one, but he had me beat, even when I got back on the horse."
The whole thing was pretty much just crazy.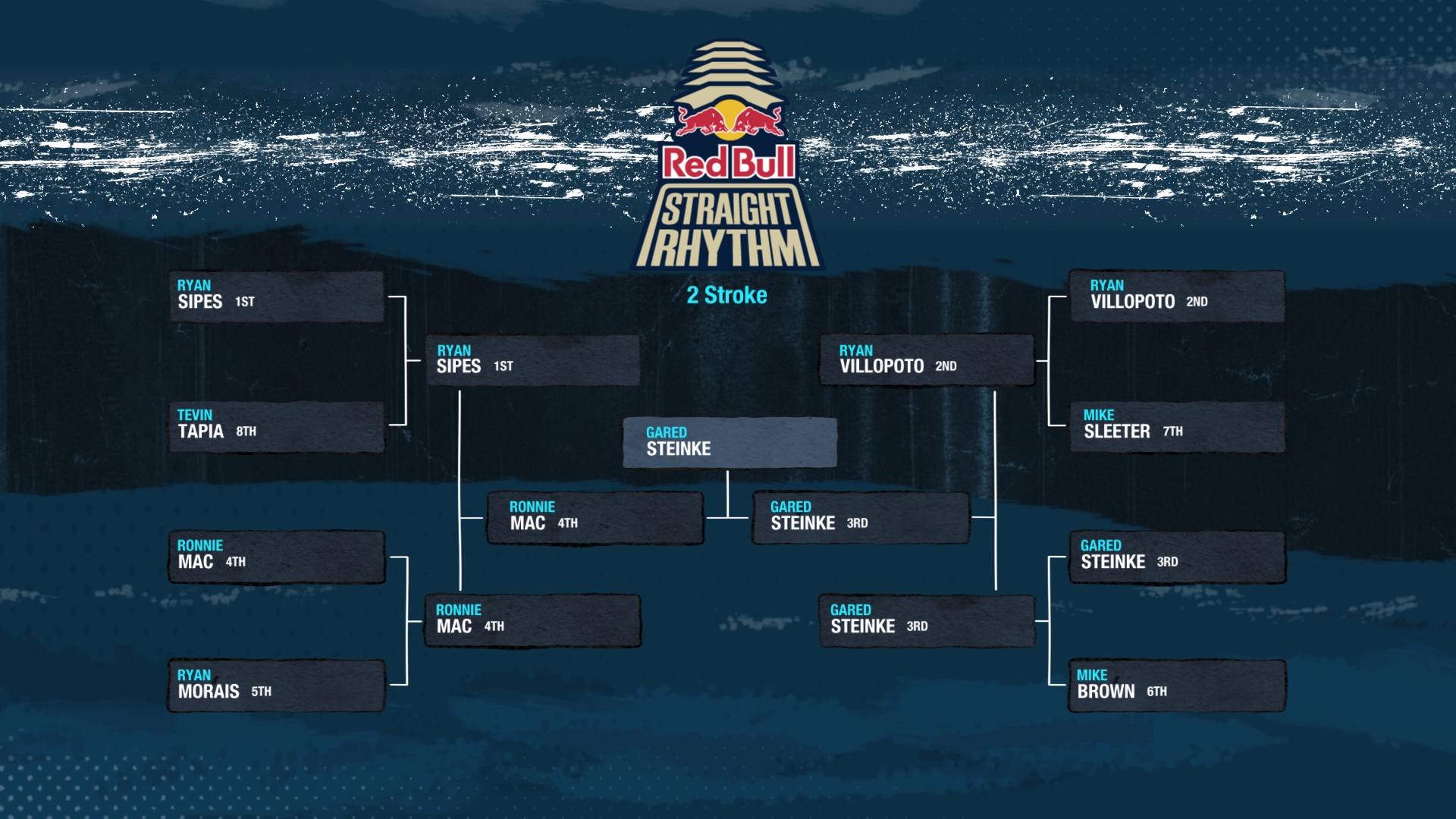 Lites
Last year Shane McElrath faced elimination at this event and seemed to have trouble finding his flow--until all of a sudden it clicked, he caught fire, and went on to the finals and then beat his teammate Mitch Oldenburg for the win.
This year McElrath again had to get himself psyched up, because his teammate Alex Martin beat him in their first semi-final race. But McElrath found his groove and came back to beat Alex straight up twice in a row to make the finals.
On the other side of the bracket, the other TLD/KTM rider, Sean Cantrell, was going fast and eliminated Sipes, who was also racing Lites on his 250 two-stroke (that's legal here).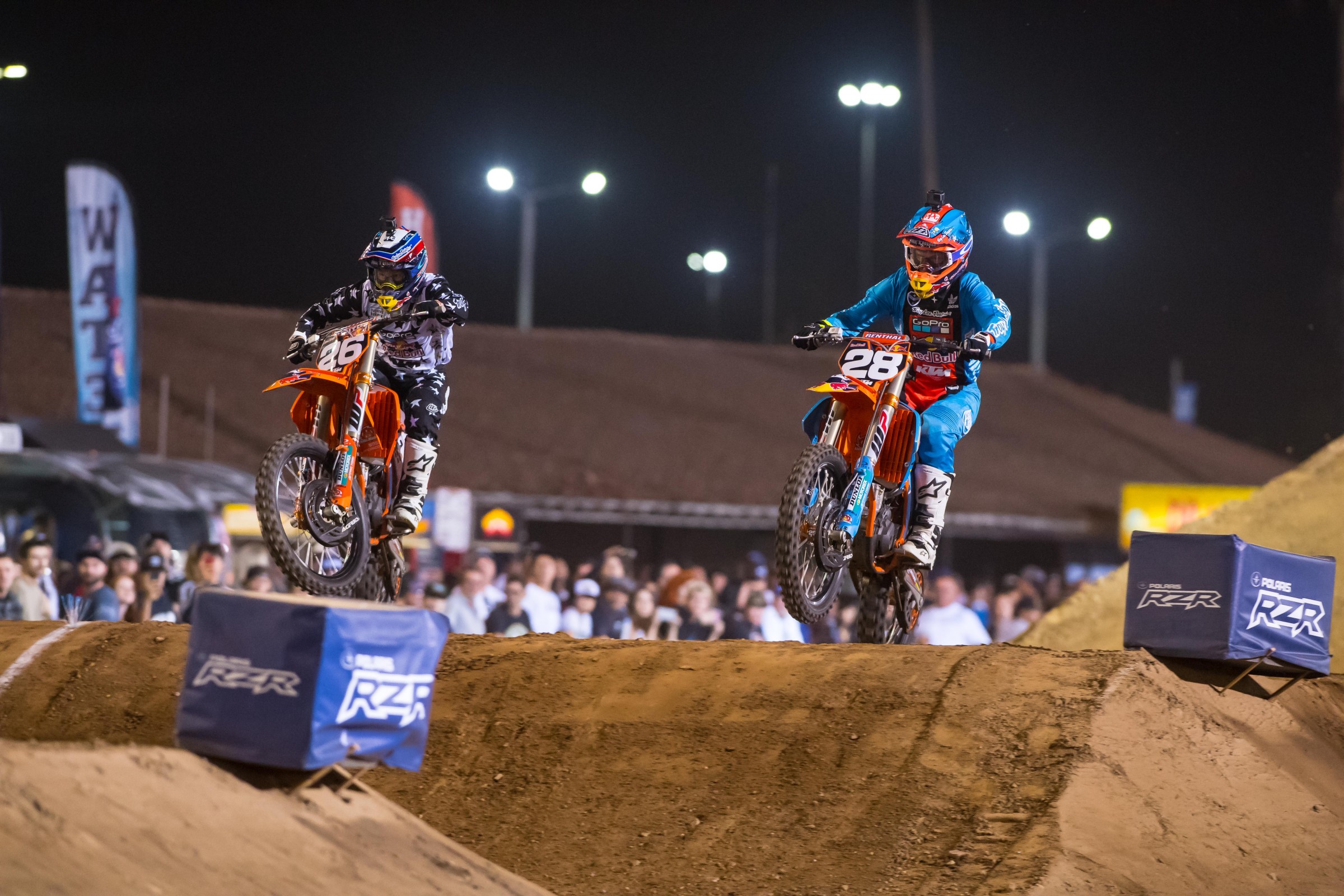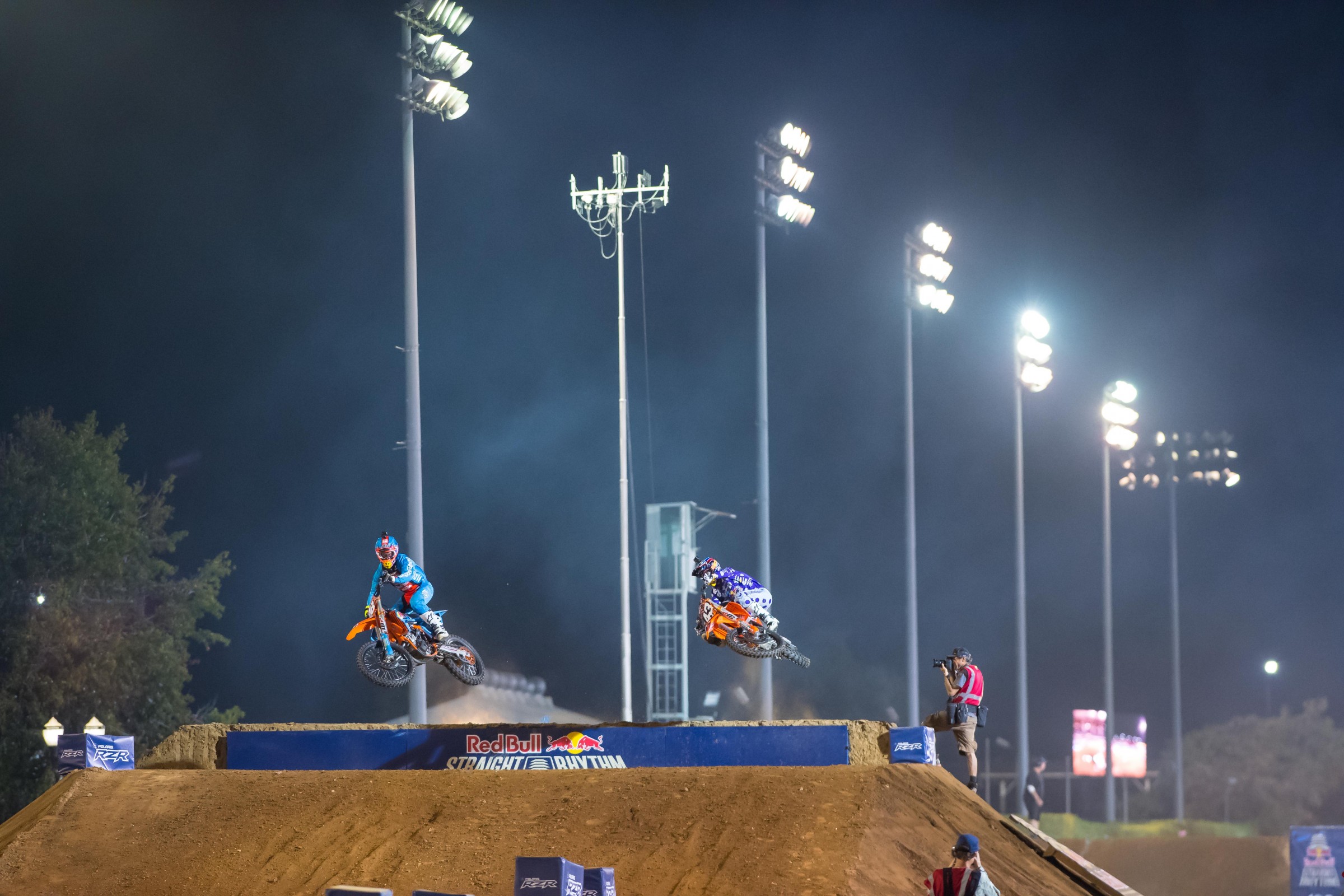 This set up Cantrell against McElrath in the finals. McElrath got the win the first time, but Cantrell came back to win race 2. This set up a great third race for all the marbles, and in it McElrath busted out a quad-quad he had been struggling on all day to open a lead. Cantrell did a mega-scrub late to close back in, but it was too late. McElrath had the Lites Championship for the second-straight year.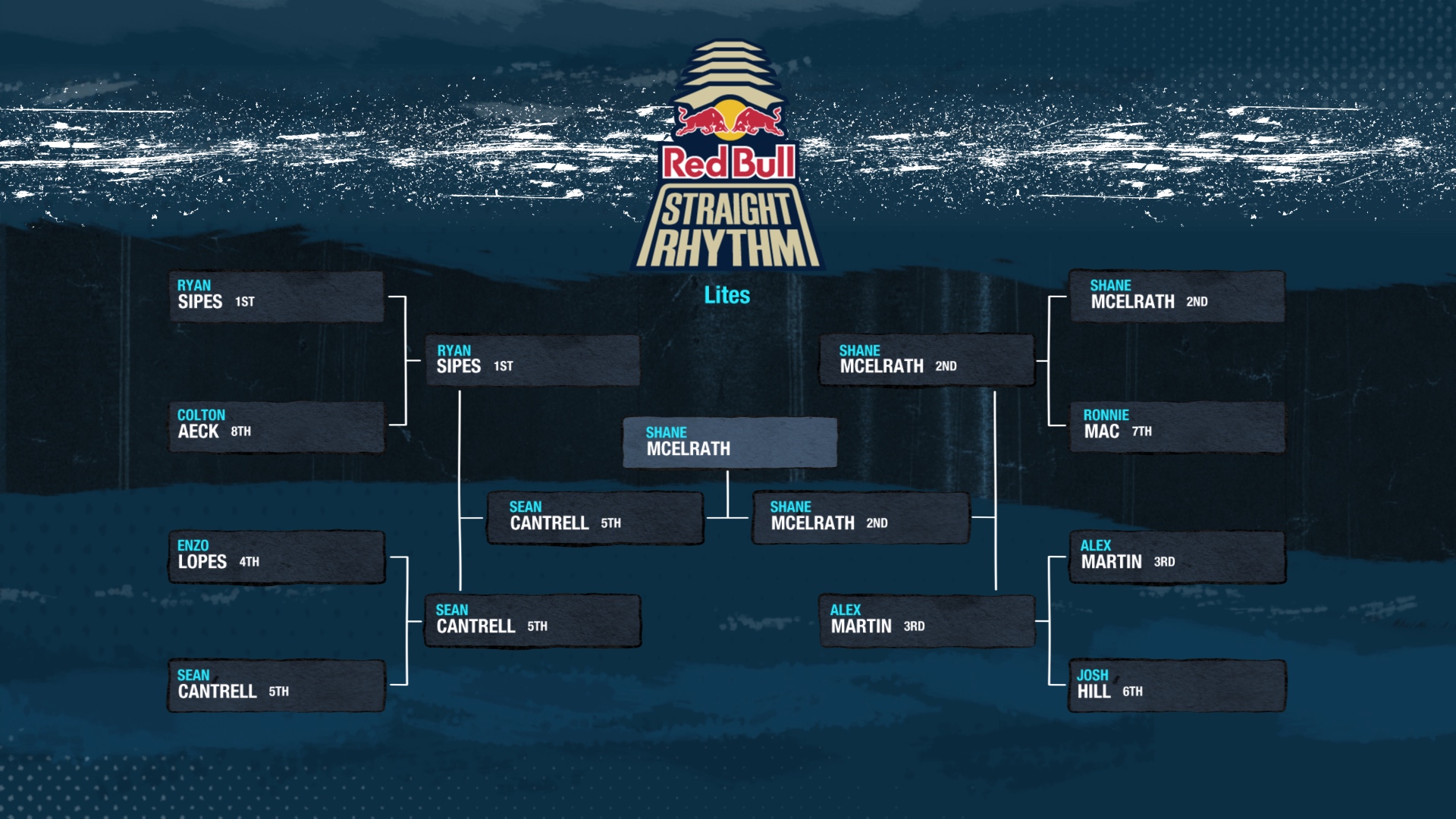 Open
Look, Marvin Musquin won this race last year, beating Ryan Dungey, which ended up serving as a preview to the way some races would go in Monster Energy Supercross. Since then, Marvin has only gotten faster and pocketed that $1 Million last weekend--he was the overwhelming favorite here.
Who would face him? Josh Hansen is always strong at this event, and he beat Red Bull KTM's Broc Tickle straight up to go to the finals against Marvin. Marvin beat Kyle Chisholm to make it to the final.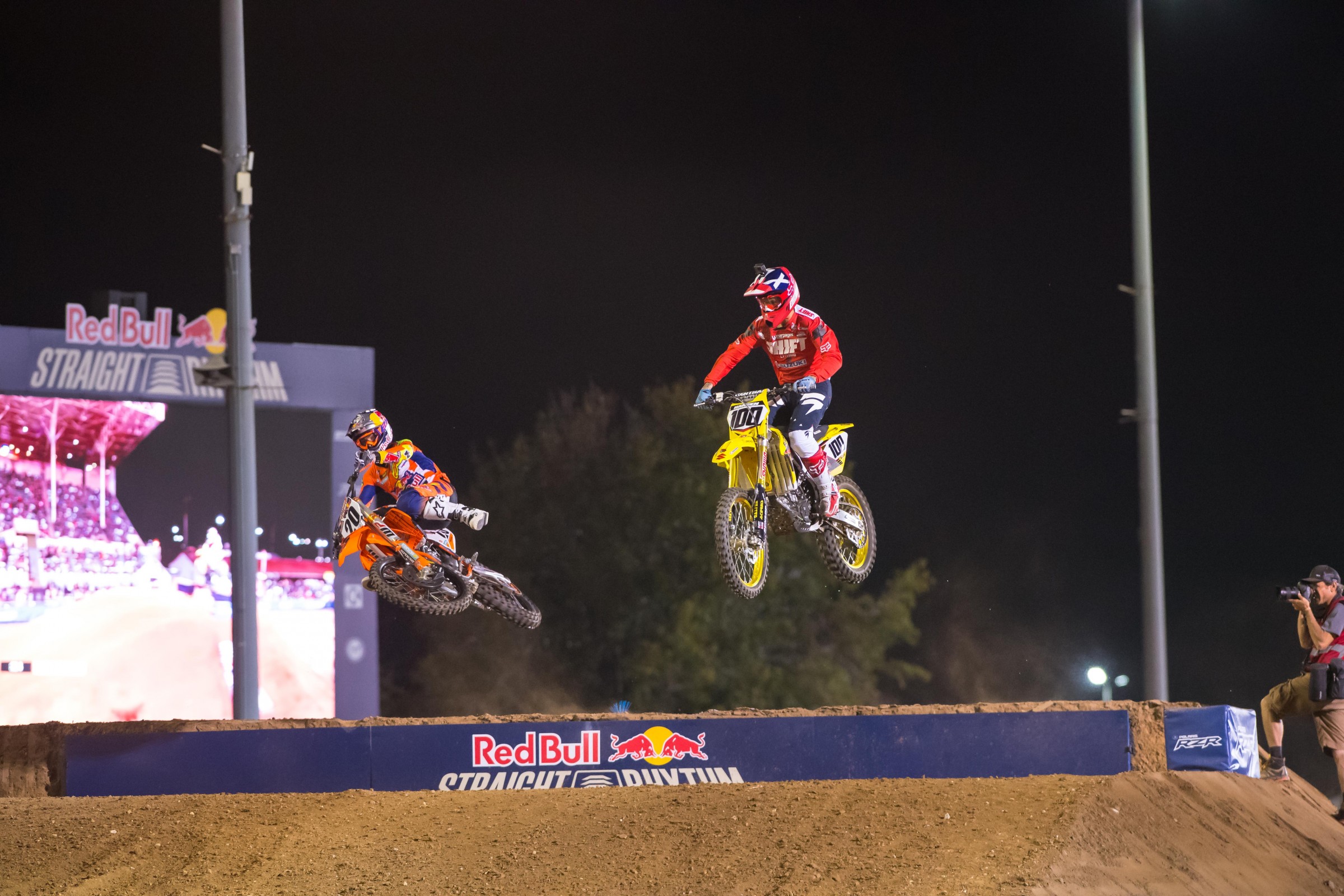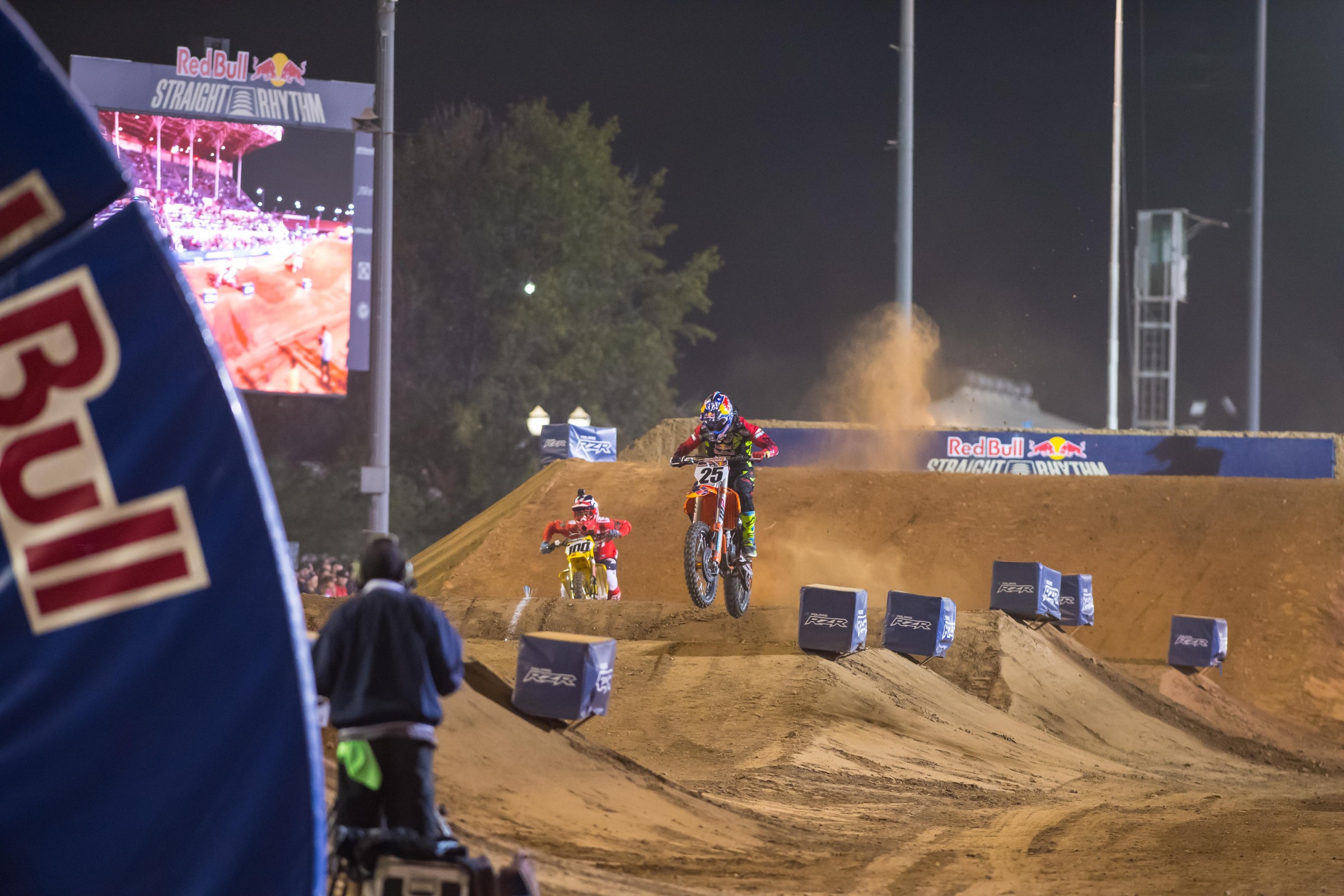 In the final, Hanny bobbled in the first race and Marvin got away. Hansen was much more aggressive the second time and gave Marvin a run, but in the end there was nothing he could do to stop the Frenchman, who is simply on fire right now. For the second weekend in a row, Marvin cashes the big check as the big winner (this one pays $20 grand).
Hansen was second and Tickle beat Chisholm in the Trophy Race for third overall.