Justin Bogle Update, Footage of Crash Released by JGR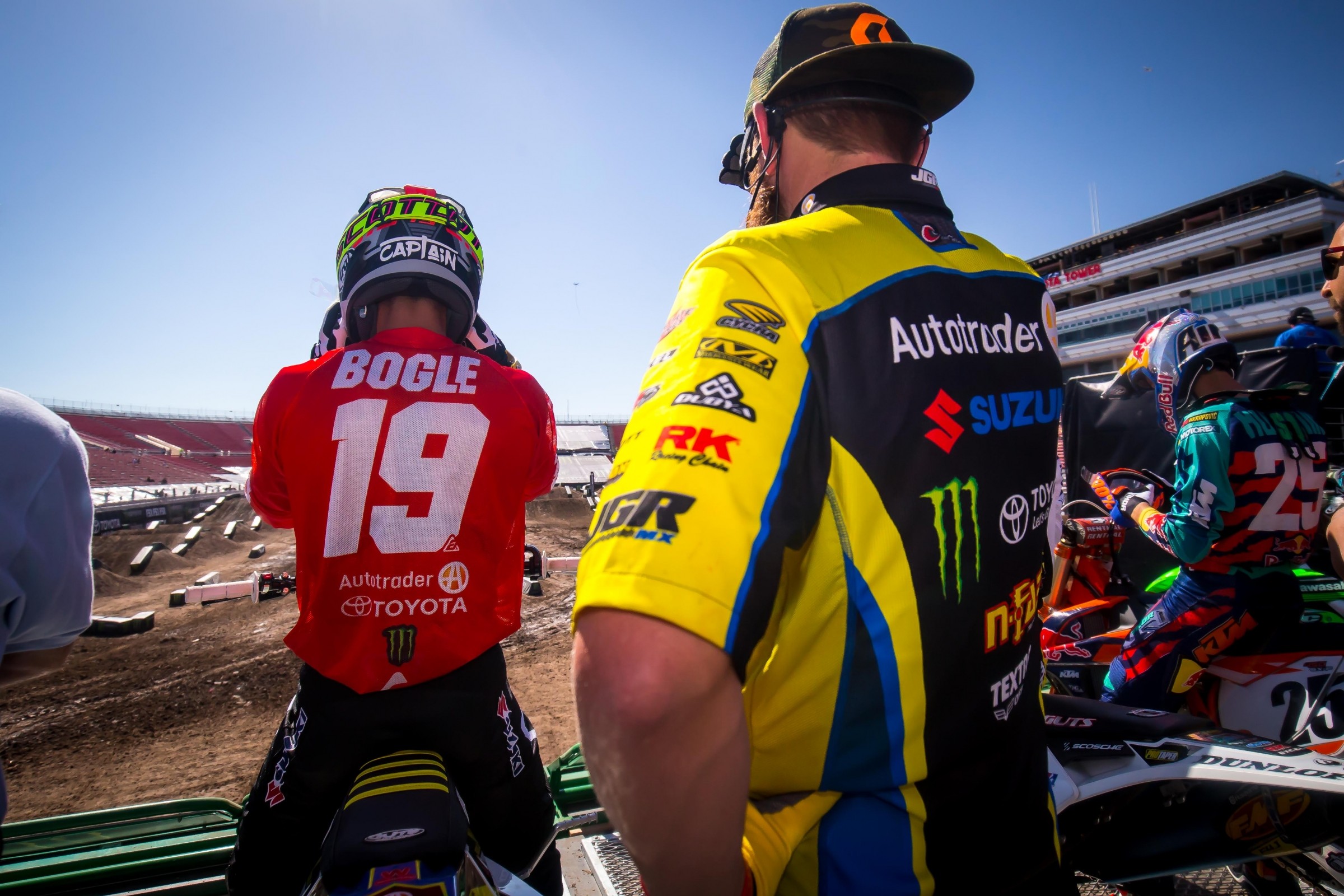 Las Vegas, NV
Monster Energy Cup
Monster Energy Cup
AutoTrader.com/Yoshimura Suzuki has released additional details and video of the crash team rider Justin Bogle was involved in Saturday night at the Monster Energy Cup.
In the first main event at the one-off race, Bogle was coming back into the stadium—one of the fastest parts of the track—into a difficult rhythm section when another rider, Justin Hoeft, bobbled and cross-jumped into his line. Bogle tried to avoid Hoeft, but collided with him in mid-air and immediately went down in a heap. The race was red flagged as the Alpinestars Mobile Medical Unit attended to him. Bogle did not compete in the remaining two main events.
According to the team, Bogle was diagnosed with a concussion and will take "the necessary time off to recover." After the crash Bogle later had trouble breathing as a result of an asthma attack and was transported to a local hospital. He was later cleared.
"Obviously, the crash was extremely unfortunate, especially given how well the day was going up to that point," stated team manager Jeremy Albrecht in a statement. "As far as looking at the positives, the Monster Energy Cup allowed the team to work with Justin and basically do a rehearsal before the start of the 2018 Supercross series. Justin was pleased with the 2018 Suzuki RM-Z450. We made small clicker changes to the Showa suspension and changed the fork leg height in order to achieve the chassis balance that Justin was looking for. Saturday night was shaping up to be a successful evening, but then the incident happened. Looking back at team film we realize it was an accident. That's racing. We will take what we learned this weekend and continue preparation for the upcoming season."