Monster Energy Cup Entry Lists Released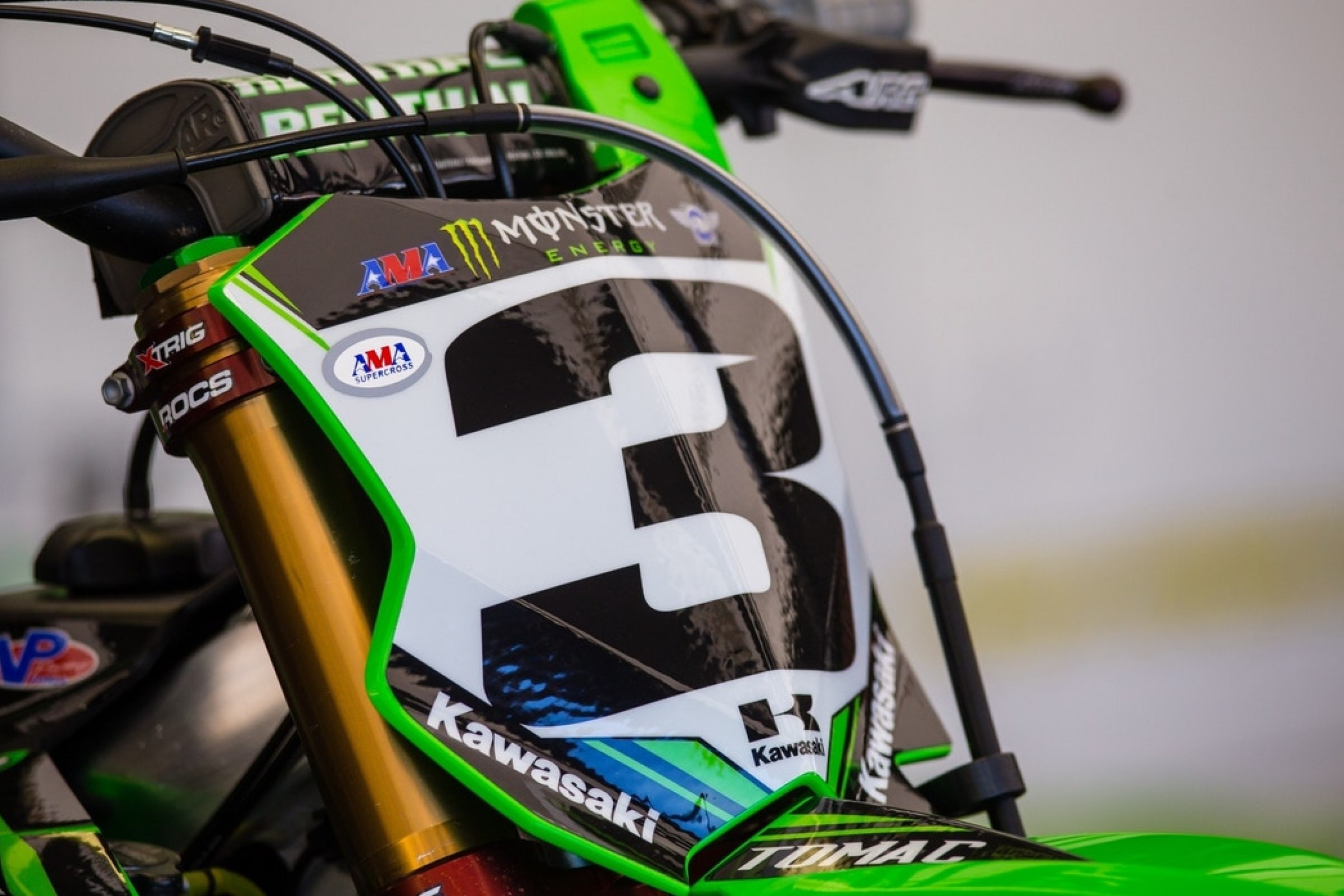 Las Vegas, NV
Monster Energy Cup
Monster Energy Cup
The pre-entry lists for this Saturday's Monster Energy Cup at Sam Boyd Stadium in Las Vegas, Nevada, have been released by the AMA.
As is typical for the one-off event, a lot of big names are expected to contend, including Eli Tomac, Dean Wilson, Davi Millsaps (although there are reports he was injured over the weekend), Justin Bogle, Broc Tickle, Jason Anderson, Marvin Musquin, Josh Grant, Justin Barcia and many more.
Check out the entry list for all three classes—Cup, Amateur All-Stars and Supermini—below.
Cup Class
| | |
| --- | --- |
| 3 | Eil Tomac |
| 11 | Kyle Chisholm |
| 15 | Dean Wilson |
| 18 | Davi Millsaps |
| 19 | Justin Bogle |
| 20 | Broc Tickle |
| 21 | Jason Anderson |
| 25 | Marvin Musquin |
| 33 | Josh Grant |
| 37 | Fredrik Noren |
| 45 | Jordon Smith |
| 48 | Christain Craig |
| 51 | Justin Barcia |
| 55 | Vince Friese |
| 59 | Cole Martinez |
| 60 | Benny Blos |
| 61 | Heath Harrison |
| 67 | Justin Hoeft |
| 69 | Tyler Bowers |
| 73 | Brandon Scharer |
| 81 | Chase Marquier |
| 90 | Dakota Tedder |
| 91 | Alex Ray |
| 102 | Chris Blose |
| 120 | Todd Bannister |
| 124 | Bobby Fitch |
| 190 | Jacob Hayes |
| 211 | Tevin Tapia |
| 222 | Chris Howell |
| 240 | Bryce Stewart |
| 243 | Tim Gajser |
| 256 | James Milson |
| 277 | Kordel Caro |
| 282 | Theodore Pauli |
| 374 | Cody Gilmore |
| 501 | Scotty Wennerstrom |
| 505 | Cyrille Coulon |
| 526 | Colton Aeck |
| 542 | Johnnie Buller |
| 608 | David Pulley |
| 713 | Chad Cook |
| 722 | Adam Enticknap |
| 723 | Tyler Enticknap |
| 726 | Gared Steinke |
| 740 | Lane Staley |
| 792 | Bracken Hall |
Amateur All-Stars
| | |
| --- | --- |
| 11 | Ciaran Naran |
| 14 | Brock Papi |
| 16 | Enzo Lopes |
| 17 | Carter Halpain |
| 29 | Zane Merrett |
| 33 | Derek Drake |
| 47 | Jo Shimoda |
| 57 | Kameron Barboa |
| 63 | Pierce Brown |
| 99 | Lance Kobusch |
| 101 | Jake Pinhancos |
| 133 | Jordan Bailey |
| 222 | Ramyller Alves |
| 223 | Paker Mashburn |
| 282 | Garrett Marchbanks |
| 288 | Conner Mullennix |
| 382 | Tanner Stack |
| 510 | Seth Hammaker |
| 522 | Johnny Garcia |
| 612 | Mitchell Falk |
| 777 | Dylan Greer |
| 972 | Cole Barbieri |
Supermini
| | |
| --- | --- |
| 10 | Jeremy Ryan |
| 24 | Joshua Varize |
| 26 | Parker Earl |
| 30 | Jordan Jarvis |
| 32 | Kaeden Amerine |
| 34 | Tayler Allred |
| 41 | Alexander Vestal |
| 46 | Charles Tolleson |
| 51 | Jace Kessler |
| 60 | Mark Stone |
| 68 | Branden Walther |
| 71 | Hunter Cross |
| 79 | Jett Reynolds |
| 80 | Preston Kilroy |
| 122 | Carson Mumford |
| 171 | Talon Hawkins |
| 222 | Caden Braswell |
| 329 | Matthew LeBlanc |
| 351 | Jack Rogers |
| 411 | Crockett Myers |
| 428 | Nate Thrasher |
| 552 | Larrey Reyes |
| 711 | Max Vohland |