Matterly Basin
Winchester

,

United Kingdom
Motocross of Nations
Motocross of Nations
For 22-year-old American Thomas Covington, the tale of the last two races of the 2017 racing season were bittersweet. First, on Sunday, September 17, the Rockstar Energy Husqvarna Factory Racing rider closed his MX2 World Championship season by winning the curtain dropping MXGP of Pays de Montbeliard in France. His season of dreams still moving forward, on October 1, Covington showed up at Matterley Basin in England to represent Team USA at the Monster Energy Motocross of Nations. As we all know that backstory of that dreary rain-lashed day outside of London, things did not go very well for Covington or his teammates Zach Osborne and Cole Seely. Turning the screw one more time for the Alabama-born MXGP globetrotter, on Tuesday morning a knee examination back in Belgium brought the news that he had suffered significant damage and would need to go under the knife almost immediately.
Now facing a four-month layoff, the fourth-place finisher in the '17 MX2 title fight will try to shake it off and bounce back as he tries to become the first American Motocross World Champion since Bob Moore way back in 1994 next year.
Racer X: Thomas, first off, you had knee surgery performed on Wednesday. How did it go?
Thomas Covington: Surgery went well. I went and saw Dr. Claes the Tuesday when I got back to Belgium after the Motocross of Nations. I didn't think anything was wrong with my knee, actually. I just thought I tweaked it a little bit. Jacky [Martens] said to me, "Let's go get it checked just to be sure you're all good for the off-season." So we went in and the doctor looked at my knee for about 10 seconds and said, "Hey, I've got bad news." He told me I tore my ACL and we scheduled surgery right then and there for Wednesday morning.
How damaged was the knee?
It was pretty much just standard damage. It tore the ACL completely and one other ligament—the ALL [anterolateral ligament] ligament—was completely torn as well. The surgery was pretty basic, actually. Everything else was good. All the cartilage was perfect. They went in there and used the hamstring to make me a new ACL. They told me I should be back on the bike within four months.
So you're now on a forced vacation, huh?
Yeah. Exactly. It's good timing. If I'm going to have something like this, this is the best time to do it. In that way, I guess it's good. It just sucks to miss a lot of the off-season testing and training. The good thing is that I'll have a month or a month and a half of riding before the first round at Argentina. There's really no stress as far as that. I'll be ready. But like I said, it sucks because we had big plans for the off-season and everything scheduled in how we wanted to do it to be the best we can for the championship next year. We're just going to make the best of it and maybe it'll do me good to lay off the bike for a little while.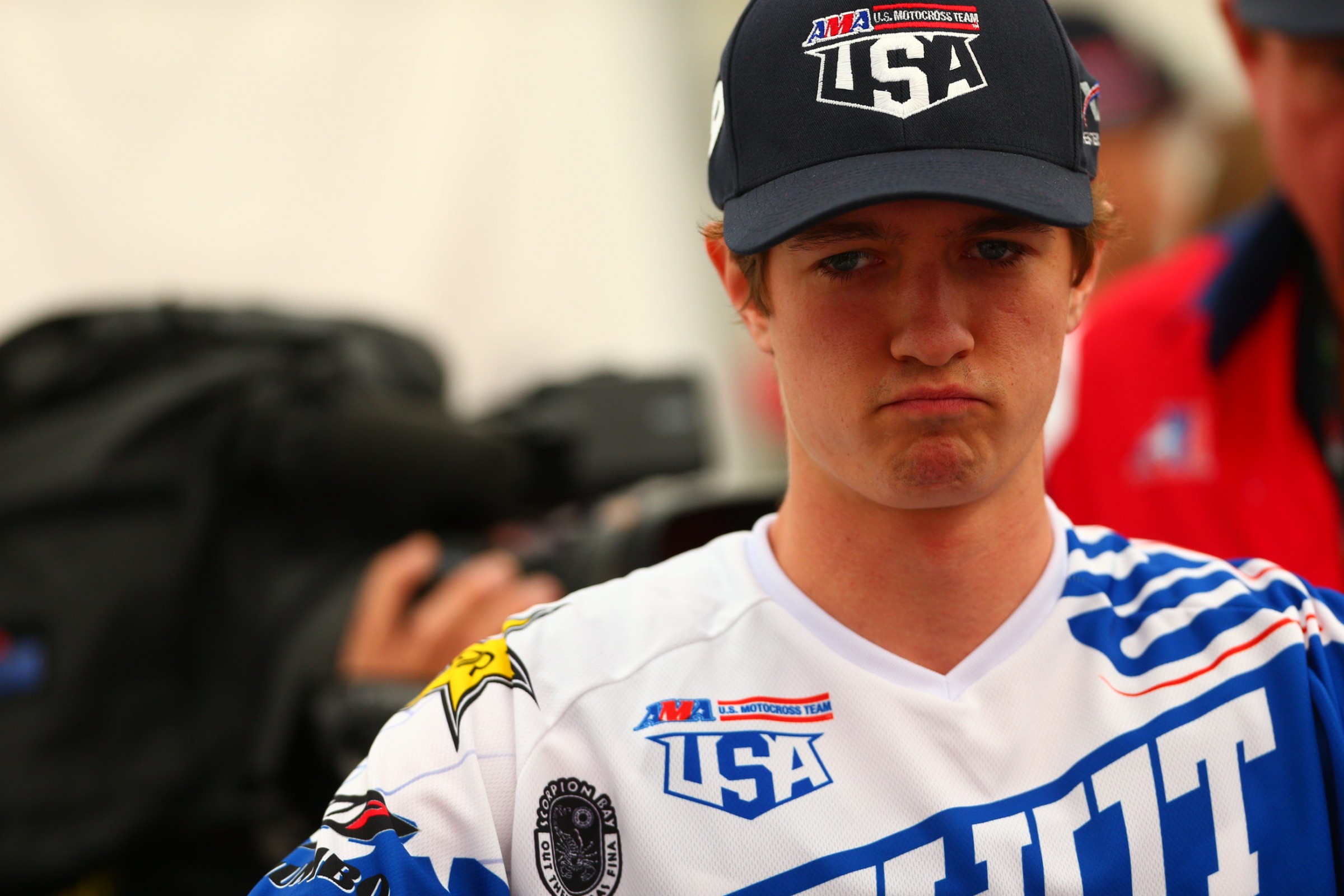 Going back to Matterley Basin and the Motocross of Nations, how did you hurt the knee and did you know right away that it might be serious?
Yeah, I had an idea. In the qualifying race on Saturday I was feeling pretty good like the first 10 minutes of the race and had a good little race there with Dean [Wilson] and then Dean got back around me and I guess I was just pushing a little bit more to try and get him back. I was just going through a left-hand turn—and the track was pretty gnarly and soft and rutted-out—I just caught my leg in a corner and it just kind of stuck in the mud and I hyperextended it. It didn't feel right; it didn't feel completely normal, but I just kept rolling around a couple of corners and then I just kept going. After the race I had one of our guys look the knee over and sort of test it and see if everything was okay and they thought it felt fine. I didn't think anything was wrong. I thought I had just tweaked it a little and told one of our guys to put some ice on it and tape it up. I thought I would be fine. When I went out on Sunday morning I was struggling with turning the bike and everything, but the main thing was that I was scared to lean that thing over in the mud without sticking my leg out. It was just hard to go around without dabbing your foot in every corner. I just tried to make the best of it. We taped it up real good and made the best out of the situation.
Did the knee hurt?
Yeah, I mean I've had knee problems before. It hurt really bad for about a minute when I first did it, but as soon as that passed, it was like, "Oh, maybe I'm fine." It swelled up a little bit, but nothing too crazy. I was expecting to go for it on Sunday, but as soon as I dabbed my foot the first time on Sunday, I could feel it. It definitely a bit more painful than normal. I pretty much tried to block it out. I didn't actually say anything to anyone. In fact, Zach [Osborne] was sitting next to me getting dressed for the motos and he saw the guy taping up my knee and said, "Dude, are you alright?" I said, "Yeah, I'm fine. We're just taping it up to be safe. It's all good." I tried to focus on the race and what we needed to do. With the track conditions the way they were, it was just impossible to go 100 percent with a knee injury and trying to paddle through those ruts in the corners.
So it definitely affected your riding on race day?
Yeah, for sure. It was kind of a bummer because I was feeling so good on Saturday during qualifying and all that. I've done pretty well in the muddy conditions this year as well. When I saw rain in the forecast I wasn't that bummed. It was more like, "Oh man, this might be good for me." I'm just super-bummed that it happened during such a big moment in my career, you know?
"Two weeks ago I was on top of the world winning the last GP and heading into the Motocross of Nations and then this Monday I was completely at the bottom. I feel like I let everyone down."
You were right there in your Open class qualifying race. You grabbed a good start and we're competitive throughout the race. To my perspective, I was thinking, Thomas is right there and doing what Roger DeCoster wants him to do. You looked solid.
Yeah, I mean that was really our goal. As long as I could stay around that top five we'd have a solid result at the end.
After qualifying fourth overall after all was said and done on Saturday, Team USA appeared to be poised to do well on Sunday. What were you, Cole, Zach, and Roger saying to one another that evening? Did you guys feel good about everything?
Yeah, we felt good. To be honest, I was a little bit nervous when we left the track. For the most part, the whole team was pretty positive after Saturday. We had a great gate pick and we were in a better position on Saturday than other U.S. teams have been in the last few years. We were still hoping for that win on Sunday at that point. Obviously there were a few other strong teams, but nothing that we felt we couldn't beat.
You weren't in the opening MXGP + MX2 moto. Did you watch it?
I was trying to but I was just trying to prepare my own stuff, especially my goggles. I was super-busy up to the last minute getting all my stuff prepared for the mud. I was trying to follow along on the TV in our truck and see what was going on. I saw what happened with Cole and I was kind of bummed out, but at the same time I was just trying to stay positive. I was thinking to myself, "We can drop that result and I just need to put in two solid races and we'll be fine." I was trying to keep it positive, even with the bad weather and everything. I mean, we've had so many races this year where the track was terrible and it was muddy, so it was kind of just another weekend for me—other than the fact that I was on the 450. I was ready to go. I was ready to get it done. I came into the first turn and came together with somebody and got caught up in the first turn pileup. I started to come from behind and my knee around the corners was killing me. At that point it was pretty bad. Cole had that result in the first moto and I was outside of the top 20 and it wasn't looking good. You know, before the weekend, Roger sat us all down and told us, "No matter what happens, I don't care what place you're in, you don't quit. You ride all the way to the finish and don't stop." I just kept that in my mind and kept pushing to try and get the best result that I could.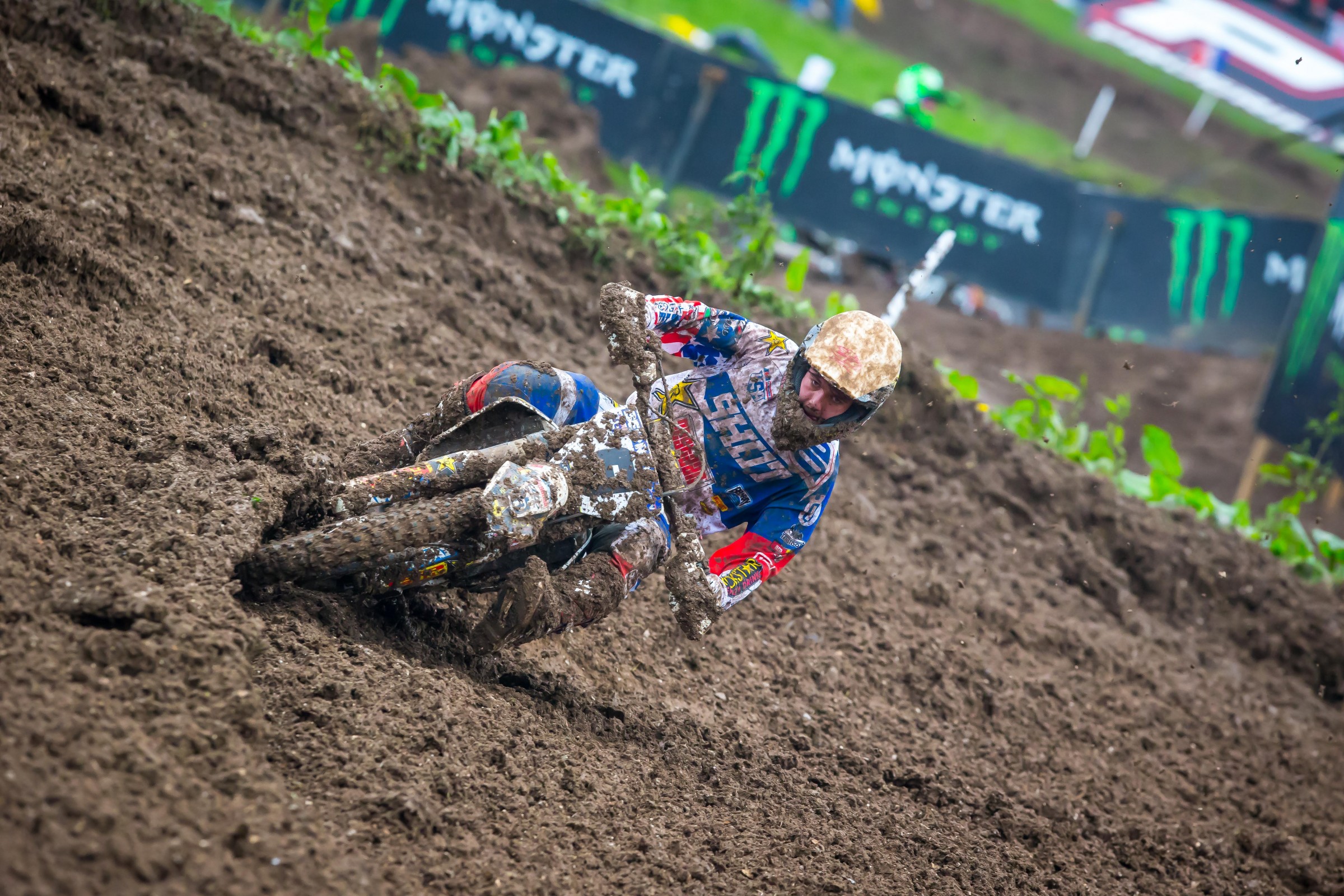 What was the atmosphere like back in the American pit area after your moto? Osborne had managed to get up to third place, but after the first and second races, the Team USA team score was really high.
We knew we were out of it. To be honest, I didn't really have any time to really talk to anybody that much. I talked about a few things with my mechanic and then I undressed and put new clothes back on and went back down to the gate. There wasn't much time to think about what was going on. I just talked to Cole a little bit before the last race. I went over to him and said, "Dude, you ready to do this? Let's give it all we've got. We've got nothing to lose now." I came out of the first turn and didn't get the greatest start. Cole got a pretty decent start, actually. I could see Cole a little bit ahead of me before he pulled out with the broke shock. I saw him throw up his hand and he was out. It was a crappy feeling, to be honest. Yeah, I was dealing with my knee, but at the same time I felt like I should have been able to tough it out and get the job done.
Zach Osborne told me that the thee of you guys went to dinner that night after the race. What was that like?
There was nothing we could do about it then. It was over. We were all pretty bummed. It wasn't the most fun after race dinner, for sure. I don't really know what to say about it. It was just a bummer.
Stefan Everts once told me that what he missed most from racing after he retired were the extreme highs and the extreme lows. As to the end of your 2017 season, it's crazy how things can go, isn't it? You can win big and be over the moon and then go to the very next event and have most everything go wrong. It's not an easy way to make a living, is it?
Yeah, for sure. That was what the team was trying to remind me too. They were saying, "Try not to focus too much on this last race." I had so many good things to focus on from the end of the season, you know? From winning a lot of motos and then winning the last GP. They told me to just stay focused on all that going into the off-season. But yeah, it's true. Two weeks ago I was on top of the world winning the last GP and heading into the Motocross of Nations and then this Monday I was completely at the bottom. I feel like I let everyone down.