Winchester, United Kingdom
Motocross of Nations
Motocross of Nations
Looking at the opening spread (pages 118 and 119) of the "Called to Duty" feature in the November 2017 issue of Racer X Illustrated, Jeff Ward pointed out, "Looking back on what I achieved in racing the Motocross des Nations and winning it seven times, I think it was huge for me. If I would have won two or three and lost three, it would have been no big deal, but I was never beat and I was on the team the most. It was all one of the bigger feathers in my cap as far as my accomplishments. I love the race."
Seven times Ward was called to be a member of Team USA in the most prolific and prestigious motocross race. And the team won all seven times. In fact, Ward was on the front lines in over 50 percent of the races that made up Team USA's 13-year win streak. The race meant a lot to him then and as your about to read, it means a lot to him today.
Less than 24 hours out from the race that has been going on annually since 1947—this year's race marks the 70th edition—Ward swung by my office to bench race about what Team USA will face on the rolling green hills of the Matterley Basin circuit in Winchester, England.
Racer X: Jeff, we did the "Called to Duty" story in the most recent issue of Racer X Illustrated you're now looking through. Do you still get a little bit of a kick seeing a magazine article about yourself as well as the memories that came along with it?
Jeff Ward: Yeah, it's funny how the brain works. When you see stuff you remember so well, for one, it doesn't seem that long ago, so it puts you right back in that situation. You know some races I remember to a T and there are other races that I don't even remember about. The Motocross des Nations—I remember every one of them. Every one of them was separate and different individually, where with the Nationals, year after year, things would kind of be the same. Yeah, it's really cool to see these old photos and feel like it's not that long ago and it gives you a good sense of feeling of winning.
In speaking with Roger DeCoster a few days ago he talked about how it was pretty tough to get some riders to race for Team USA this year. I mentioned to him that when I talk with guys like you or Broc Glover or Rick Johnson or Jeff Stanton, you guys always point out that the Motocross of Nations races they were part of were among the biggest, most important races of your careers. Do you feel that way?
For sure. They were the races with the most pressure. It was that era of Europe against America. They were definitely better than we were. Supercross was getting bigger, so they knew our names because we were getting more exposure from that, but on the motocross side of it, they were still probably the best at what they do. Honda won the Motocross des Nations the first two years (Note: In 1981 and 1982), and I went over the first time in 1983 and it was something that we had to keep going and that we had to keep proving. It was like, "Hey, we're no fluke. We are the real deal." That just gave us motivation. Now I think the mentality of our riders is, "We are the best." I don't think they take how good those guys are seriously. I mean, [Jeffrey] Herlings came over here and showed how good those guys are. They're no joke and they never have been. Maybe Herlings coming over here sparked something to where the guys are like, "Hey, wait a minute." With the Motocross des Nations we have such a good opportunity because we have such good riders over here. They have so many countries that it's always been tough to get three solid guys, but they're getting there now.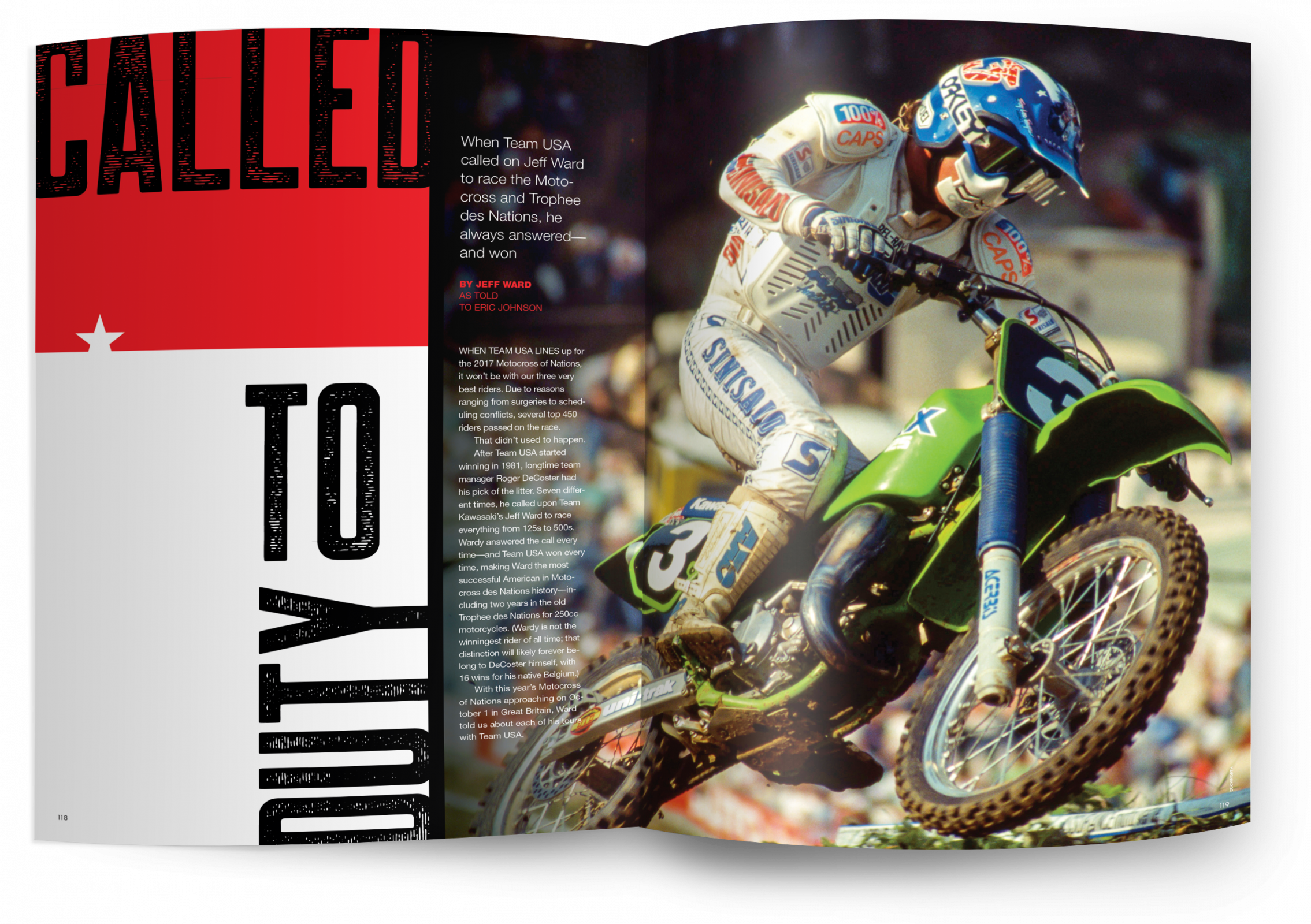 Yeah, a guy like David Thorpe, a three-time 500cc World Champion, was never part of a wining Motocross of Nations team and he was a phenomenal racer.
Yeah, he just didn't have two good teammates. Thorpe and Jobe and Geboers and Carlqvist were guys that were just tough. I have pictures of me with some of those guys and I look like a baby. They were like grown men that could rip trees down and to go out there and race with those guys was intimidating, for sure, but we still had the talent and the desire to put it together.
What do you think is going through the minds of are three guys: Seely, Osborne and Covington? I know Thomas and Zach have been working and riding together all week. I don't believe they've met up with Seely yet.
When we went over, we were always there more than a week before the race. We probably rode at least two times with the bikes before the race. Roger always found us a track to go to. Without Roger, we would have been lost. But yeah, we hung out together. Ricky and I, we didn't like each other. Throughout the year we were enemies. Stanton and I were tough competitors. Bradshaw didn't get along with anybody because he was so competitive. But when we all got together over there, it didn't matter. It was like we were one team. It was like we raced with each other for years because we knew each other so well. The camaraderie when we got over there was really high. Always the goal was to win. Yeah, with our guys right now, I'm hoping Cole is riding a day or so before. You don't want to show up on practice day. Those GP guys will be laying down the law in practice. It'll be an eye-opener real quick.
The weather for the weekend in Winchester, England, is looking a little bit dodgy. Have you seen the forecast?
Yeah, Saturday is kind of clouds and rain and then Sunday shows rain—which is normal there. Yeah, if I was over there, that's what would make me the most nervous. Those guys just want mud. They live in it. They know how to deal with it. When we travel all that way we don't have a lot of stuff and gear. The rain throws a big curve into being prepared. Going to England, I'd be prepared for rain and not sunshine. That would be a big nervous factor for them. Then again, it's a level playing field and anything can happen. Starts are important. Bike failure can play a part when it's muddy like that. A lot more teams have a chance to win.
Do you think the start at the Motocross of Nations is a bigger deal now? Back in the day it seemed like the better guys could charge through the pack and get to the front quickly.
Well, everybody is so fast. The caliber or the depth of the field is maybe bigger, so back then with a bad start you might be able to get to the top three or four in half a race. Now it takes half a race just to get by guys immediately in front of you. It just takes longer to get into position to make the late race passes. At the des Nations you have the best of the best from each country. They're hard to pass. They don't let you go by too easily.
What do you make of our three guys?
Well, with Cole, if it was supercross, he would be styling. Outdoors, he did great this year. However, it's just not his background or mentality to ride over his head. That can hurt you in the outdoors a little bit. But there is no reason why he can't run with the fastest guys because he has. The pressure, I think, is personally bigger because it's not just you that you let down, now the whole country is on you. Pressure will be a big factor.
Do you think the pressure will be something Cole takes notice of on Sunday? Will he feel that?
Oh yeah. Big time. I mean, I felt it the seven times I won. You feel it. It doesn't matter how many times you won; you feel that pressure. That will be his biggest struggle. Osborne has raced over there and he knows how it works. He knows the riders. For him, maybe there might not be so much pressure. I think it'll be the same for Thomas because he races there so he fits in and everybody knows him. I think Cole has got the biggest, most stressful position because he probably wasn't the first choice for the team, so he's got a lot to prove and to show that they picked the right guy to go. There are a few others guys who have been hauling butt too that could be there. I think he'll do well. But the pressure is different. It depends on how he handles it. I don't know how he's going to handle it.
There isn't really a standout team this year. Things seem to be pretty even and four, five or six teams could really have a shot at it. What do you think?
France, I think, would be the favorite if their guys were healthy. I think their lineup would have been one of the strongest. I don't know if anybody is sending their A team. Maybe the fifth or sixth best team is sending their A team which could be the team that wins it. You never know what moto you've got to throw out and what you've got to get. I think it will be a fun race to watch. I think in the last moto the scores are going to be pretty tight. Somebody is going to have a bad moto and you're going to have to throw a score out before you get there. It would be really nice if it was a close number between five countries instead of just one or two.
If you had to bet a large amount of money on the outcome of Sunday's race, who would you pick to win?
I'd still have to go with the U.S. just because of the caliber of the three riders right now. Every one of them is top notch. It's all how they deal with the pressure. Cole can run with anybody in the world, speed-wise. He showed this year that he is in shape and could finish the motos. It's not going to be hot. Zach has been on fire. And Covington has been racing over there and he's been racing the same guys he's going to race now, so we know he can win. He has to win the class.