Welcome to Racerhead. I'm back from a mini vacation overseas, where I got to see a boat the size of a football stadium, drive a six-speed over 120 (kmh, not mph), find a Steelers bar in Ibiza, sleep in past 7 a.m., and still watch seven hours of motocross via the MXGP in Assen. And special thanks the vineyard brokerage of Mundell, Byers & Kupec for making my first post-vacation Racerhead late.
After the MXGP of USA in Jacksonville, I was lucky to get to take a little time off, but now we're already back up and running on 2018 and beyond. The new numbers should be released by the AMA early next week, and there might be a few surprises in there, though I was initially wrong when I reported that we might be seeing #8 on Zach Osborne in 2018. Instead, we will see it on him for the upcoming Motocross of Nations when he leads Team USA into the event in two weeks in Great Britain, but then he will be wearing #1 next year when he defends his 250SX East Region title, and #16—his new permanent number—when he enters the 450 Class outdoors next summer. We will also be seeing a new #27 and a new #29. Stay tuned.
The entire state of Florida got nailed by Hurricane Irma, and our thoughts and prayers go out to everyone down there that was affected by the storm. I saw a video of WW Motocross Park and it looked like a lake. One week earlier and we might have had a much different MXGP of USA.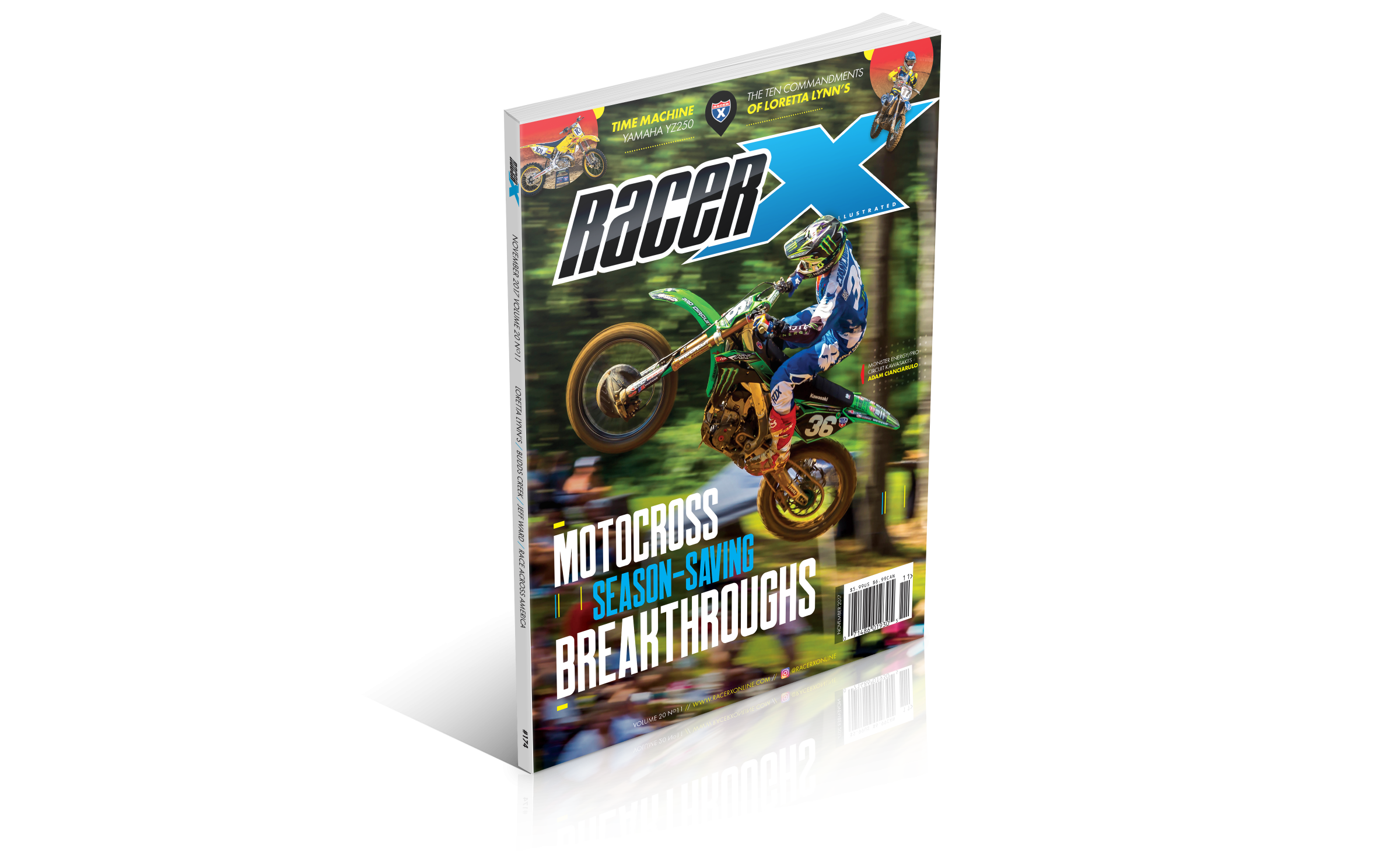 And there was a bit of good news for Florida motocross and the sport in general. Unlimited Sports MX, Wyn Kern's promotional company, finally got a lease worked out at Gatorback Cycle Park. The track was supposed to host the MXGP of USA but then the terms got all out of whack and the race had to be moved to Jacksonville. With the annual Thor Winter Olympics coming up, there was a lot of concern about where the race may end up, but Wyn told me today that the Mini Os will be back at Gatorback after all, so make your plans and hotel reservations accordingly.
Beyond that, we should be hearing about more signings next week too. Red Bull KTM of course has added Broc Tickle, AutoTrader.com/Yoshimura Suzuki has signed Justin Bogle and Weston Peick, and Yamaha is looking for a veteran to take the seat that used to be held by Chad Reed, who in turn may be starting his own team again. And your guess is as good as mine in regards to whether we will ever see James Stewart out there again. The site of the 2018 Motocross of Nations will hopefully be settled before the 2017 race goes off in two weeks.
Of course it's been Jeffrey Herlings' month, and that kept on going with a great home-race win at the Assen TT circuit last week. But Antonio Cairoli is once again the FIM Motocross World Champion, and I truly believe that this has been the most impressive championship yet of the nine world titles he's earned, simply because he just keeps getting better and better. Cairoli has a real shot at Stefan Everts' record 10 world titles next year, although by the way Jeffrey has finished up this season and all of the things he learned along the way, he's going to be tough to beat if he stays healthy. Regardless, bravo to #222, truly one of the greatest motocross racers of all-time, from any country.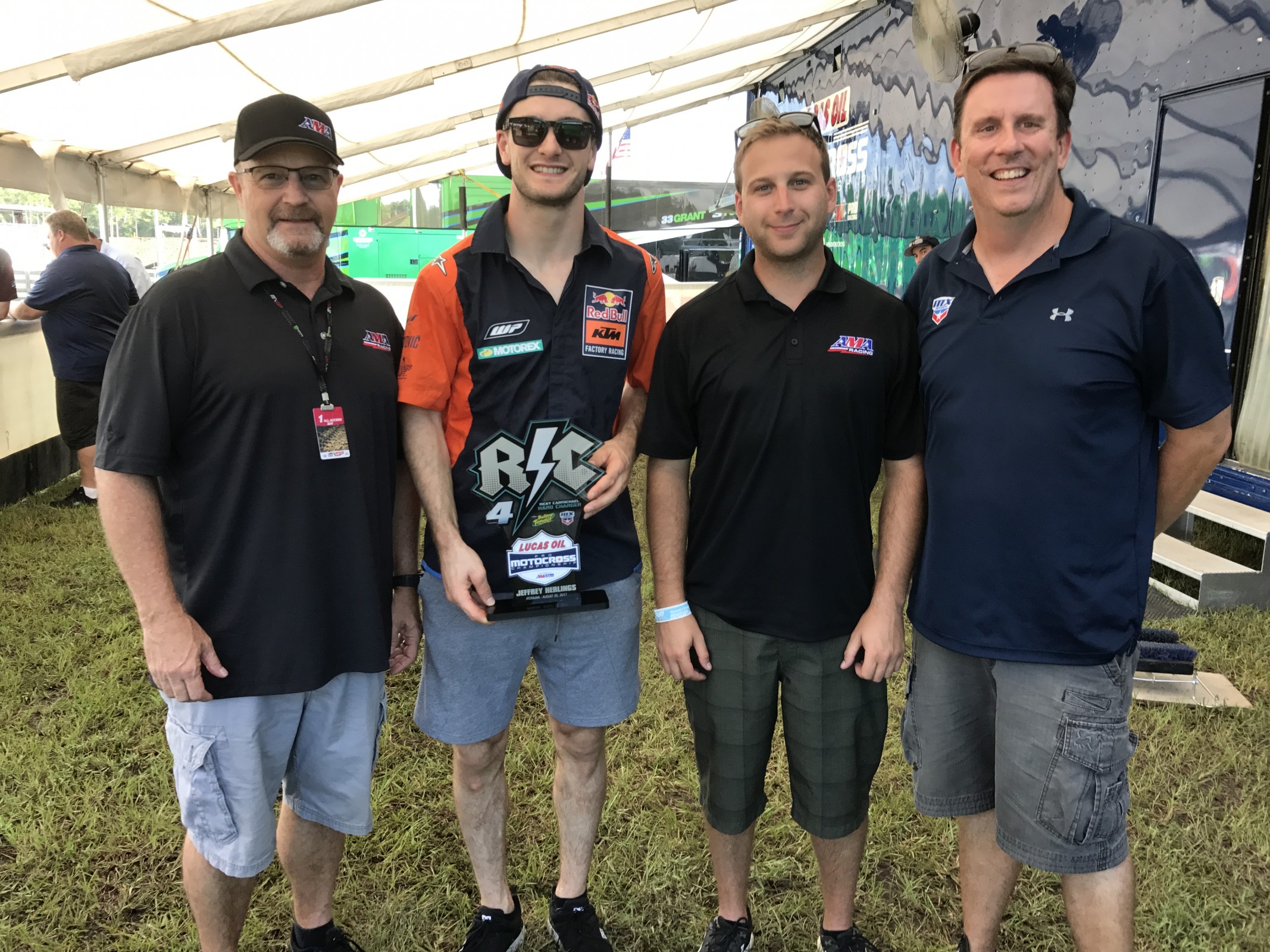 Finally, I wanted to congratulate the GEICO Honda team and of course RJ Hampshire on winning his first race as a professional two weeks ago at the MXGP of the USA. When we decided to get involved with the event, the first team that committed to participating was GEICO Honda, and while Jeremy Martin didn't make it, RJ certainly acquitted himself and the team well. Hampshire hails from Florida and had a lot of people along the fences at WW Motocross Park pulling for him. He also had the unfortunate task of having the last gate pick in both motos after he broke down in Saturday's qualifying race. After seeing Rocky Mountain ATV/MC-WPS-KTM's Dakota Alix take the far outside gate in the first moto on the deeply-disked start and then run over to the hard-packed foot path on the far outside to get a good start, Hampshire jumped at the chance to take that gate in the second moto. (Yes, by FIM rules you do not pick your second moto gate according to your first moto finish, but rather that Saturday qualifier.) Hampshire got a great jump, veered right out onto the harder edge, and then just zoomed past everyone else on the outside when he hit the hard stuff. It was like watching a certain #92 do the same thing at Loretta Lynn's one year when he drew #42 and was the far, far outside pick—before we started disking well past the last gates. It was smart, legal race-craft, and maybe the single coolest moment of the renewed MXGP of the USA. But I'm guessing they will disk a little further out next time around!
And speaking of MXGP, there is one race left in their 2017 season, the French round this weekend in Villars sous Ecot, site of the 1988 Motocross des Nations. If you're looking for a preview of what's to come in the Monster Energy Motocross of Nations in two weeks, when our boys Osborne, Cole Seely, and Thomas Covington try to get Team USA back on top, make sure you tune it to www.mxgp-tv.com and enjoy the races.
Okay, let's get into the rest of Racerhead.
Spotlight Time (Jason Weigandt)
When fans in the U.S. talk about "the season" in this sport, they're generally talking about the Monster Energy Supercross and Lucas Oil Pro Motocross calendar. I, literally, reference every year based first what happened in the races, and then what happened in regular life. For real. As soon as I hear "1990" I immediately think of the incredible 18-round season and Jeff Stanton's late drive for the championship. When I hear "1993" I think of Jeremy McGrath's breakthrough campaign. Even now that I have many other things to deal with in life including a wife and two kids, the racing always wins. For example, when I hear "2010" I immediately think of Ryan Dungey winning everything as a 450 Class rookie. Later, I realize 2010 was the year my daughter was born. My son was born in 2014, but the first thing I think of when I hear a reference to 2014 is "Villopoto's last title." When I admit things like this, I am thankful my wife doesn't read Racerhead.
The 2017 calendar is complete now, and I imagine that for the rest of my life, when I hear someone reference 2017 I will think of the Dungey/Tomac supercross battle. Then some other stuff. Racing is always first. But with that season complete, we now get time to shine the light on other racers and other series. We have a website and a magazine to fill around here so this is the perfect time to let those who would have been drowned in Tomac/Dungey news to finally get some attention. So, you'll note the stuff we have been or will be covering through the fall. We've gone heavy on MXGP news with Antonio Cairoli locking in his ninth World Championship over the weekend in Holland (and Pauls Jonass trying to get his first at this weekend's French finale). The Amsoil GNCC Series has a few races to go, with Kailub Russell now able to run stress-free as Thad Duvall can't get healed up in time for a miracle last-ditch effort. Duvall got hurt at the ISDE, which we also covered here this week and last. Also in off-road, EnduroCross is underway and the Colton Haaker/Cody Webb fight continues. This week I wrote my column on the complicated mix of money and speed in racing, and even covered the world of short-course off-road truck racing in it.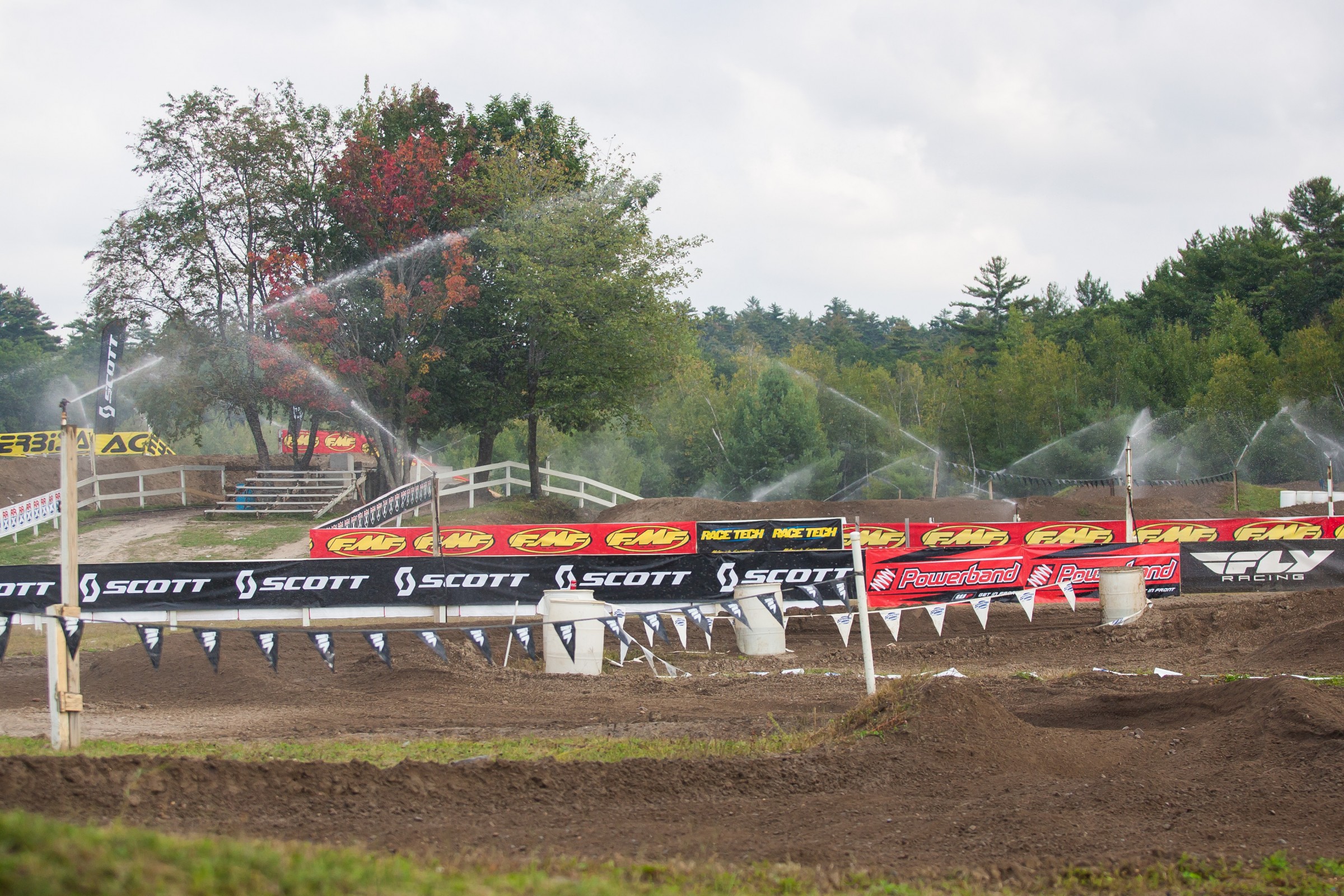 This weekend we're headed to Maine for the Racer X Maine Event presented by TCX at MX207, an awesome track up in New England. The Stuart family, which owns the track, has been working hard to make this year's Maine Event better than ever, including some amazing track prep. Danny Stuart tells me he's been hauling in truckloads of sand and using different types of sand in different sections to make the track work better than ever. The goal is #bermcity. DStu showed me a picture of the track map and all the strategy behind putting sand and soil in the right places to make every corner and jump work best. It's going to be great, and I just checked into my flight on up there. I'll be hanging, announcing, shooting, writing, and I may even be gate prepping for some rider who hit me up on Twitter asking for a mechanic for the weekend. I have zero experience—but you have to learn somewhere!
So a bunch of us are headed to Maine, and those who aren't are staying local in Morgantown for the annual DC Vet Homecoming at High Point Raceway. High Point is known worldwide as a great place to race, and there are a lot of old bikes and old riders who have turned wheels there. So this weekend is a throwback chance to ride and hang out like the old days. It will be a good time (Chase Stallo will have more on that below).
Yes, this is the time when the biggest names in the sport start getting a break, and other riders get their chance to shine. I also want to throw a shout-out to one other rider in one other series. Joel Hetrick recently locked up his first ATV Pro Motocross Championship, completing his long journey to the top of four-wheeled moto. Hetrick started in the series at age four, his family became synonymous with building fast minis, and then Joel went on through the amateur ranks proving his talent. It took a long time for him to finally get the consistency to outduel Chad Wienen for the championship, but Hetrick got it done a few weeks ago at Loretta's. Congrats to him and his family on that.
Yup, a little spotlight all around here. Now it's off to Maine to give more racers some love.
DC Vet Homecoming (Chase Stallo)
There is one race a year that offers up bragging rights around the Racer X offices: the DC Vet Homecoming. Every year, the Racer X staff races the Grand Prix/Moto-X Country race, which is a mix of grass track, woods, and portions of the motocross track. While it's a laid-back atmosphere, it definitely gets competitive among the staff. But the DC Vet Homecoming is more than just a fun race to compete in—it also holds a special meaning around the offices, as it commemorates the life and career of Dave Coombs.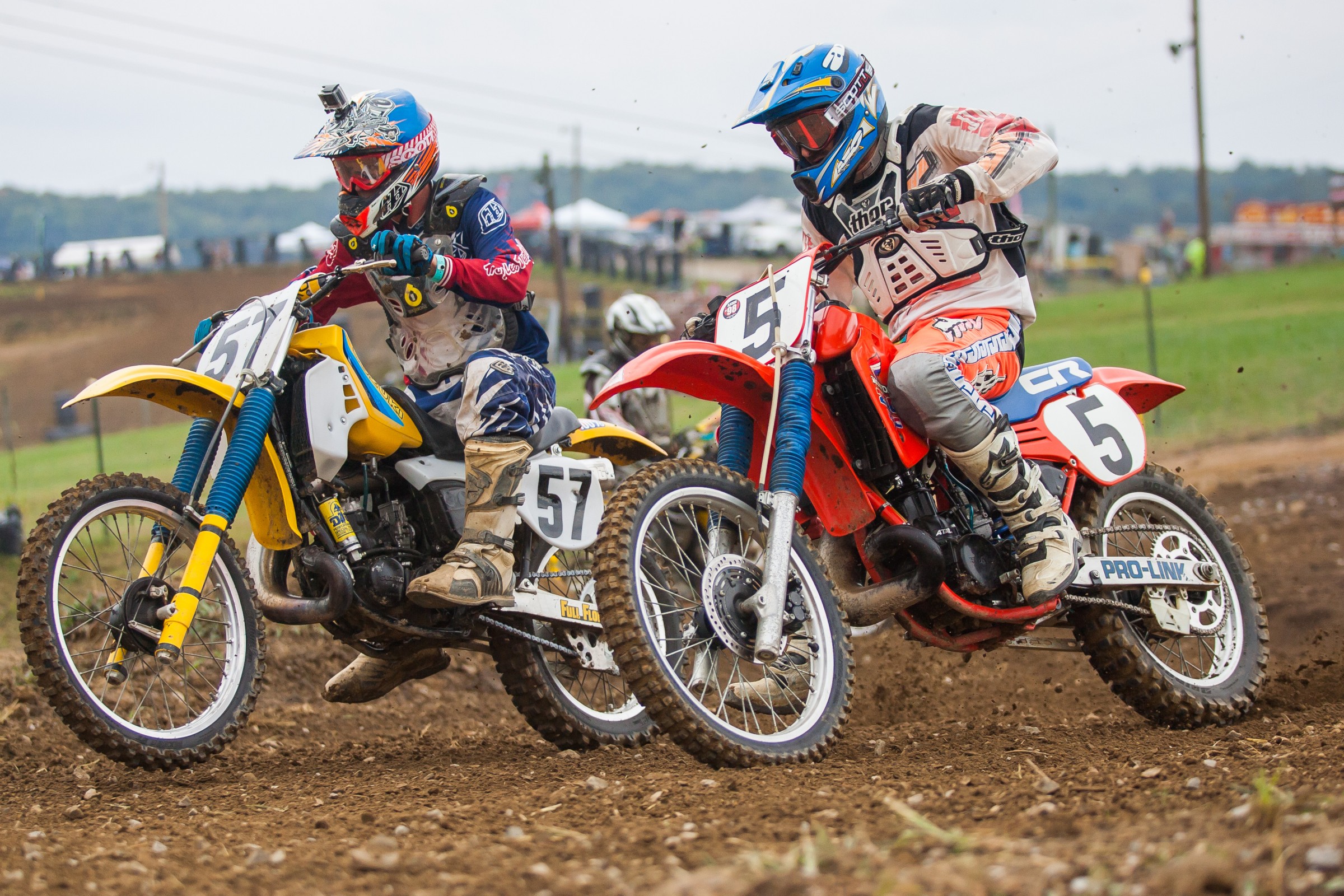 The Racer X staff will be at the races on both Saturday and Sunday. Registration opens Saturday at 8 a.m. with practice set for 10. Racing will immediately follow. After the motos on Saturday, a Pit Bike race will be taking place. There will be three classes for racers 16 years of age or older. Registration starts at 4 p.m. at the Announcers Tower. Following the Pit Bike race is a BBQ dinner and karaoke, retro films, and corn hole.
On Sunday, registration for the DC Vet Motocross Homecoming is at 7 a.m., followed by practice at 9 and racing immediately after.
It should be a killer weekend! For more information visit HighPointMX.com. Also, check out a preview of the Grand Prix/Moto-X Country course.
Cairoli in Numbers (Andras Hegyi)
Antonio Cairoli captured his ninth title last weekend—in a year when younger riders like Jeffrey Herlings, Tim Gajser, and Romain Febvre were poised to take the mantel as world's best from the veteran. Cairoli's numbers just keep getting better and better. He has now been able to step up on the podium in in 65.1 percent of his Grand Prix appearances, and in 37.5 percent of his GPs he has been able to win. This is the 14th full-time season for Cairoli, and he has ended nine of them with championships. By contrast, the Belgian Stefan Everts was able to collect his ninth world title in his 16th season. Everts is the most successful motocrosser ever in history of the FIM Motocross World Championship, with 10 titles and 101 GP wins. In addition, regarding the number of titles Cairoli has caught up with his fellow countryman, his friend and his business partner Valentino Rossi, the MotoGP superstar who, ironically, just got hurt on a dirt bike.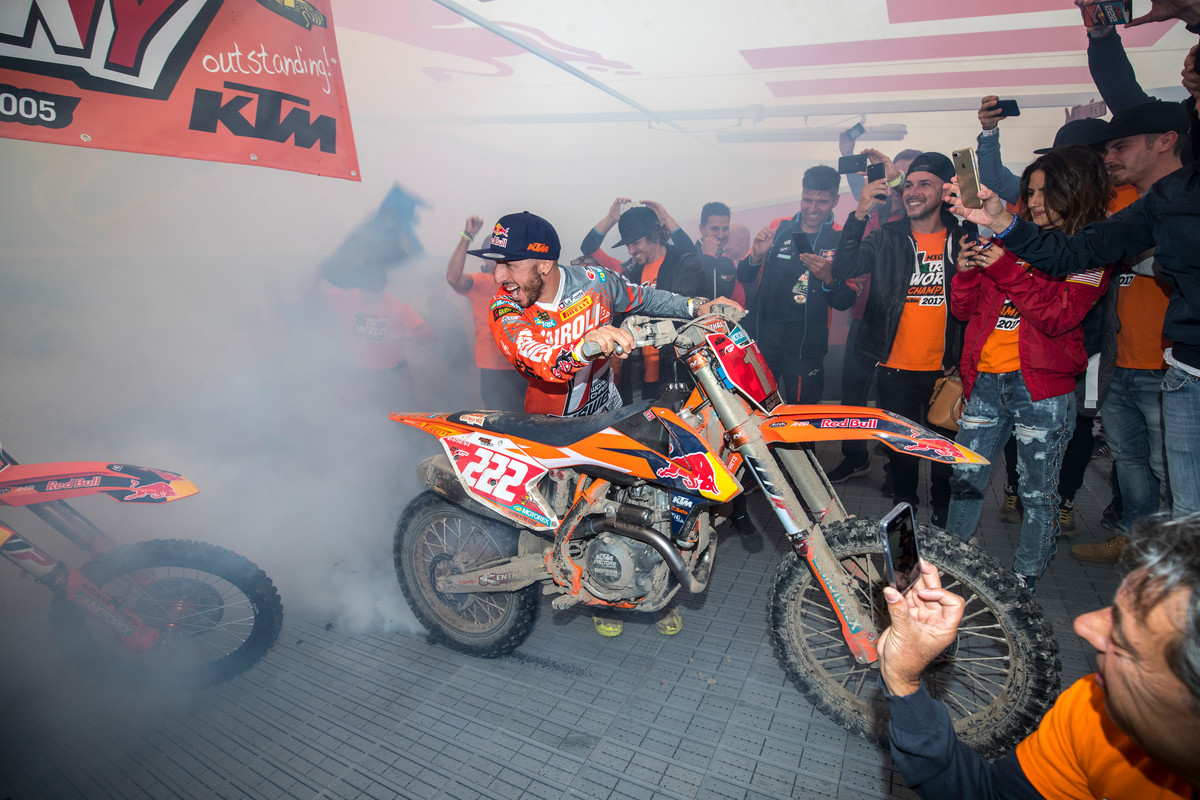 Let's take a closer look at Cairoli's numbers:
221
So far Cairoli has taken part in 221 GPs. He participated in his first GP in 2002, debuting at the 125cc Grand Prix of Belgium at Genk. Incredibly, Cairoli was not able to enter to the finals because he failed to qualify! Cairoli did a total of three GP races that year, as well as three in 2003. Since 2004 he has been a full-time rider in FIM Motocross World Championship.
83
Cairoli has 83 GP wins. He got his maiden GP win in 2004 at Namur, Belgium, at the GP of Wallonia in MX2. Cairoli's best seasons are 2007 and 2012. In both seasons he was able to take 11 GP wins in all.
144
So far, Cairoli has gotten 144 podiums. He collected his first podium in 2004 at the GP of Benelux at Lichtenvoorde, Netherlands. He finished third in MX2. Cairoli's best season was 2013 in which he got 15 podiums, all in MX1 class.
163
Cairoli has gotten 163 moto wins in all. He won his first moto in 2004 at the GP of Czech Republic at Loket in MX2. He got his greatest number of moto wins in 2007, obtaining 22 moto wins.
45
So far Cairoli has earned 45 double-moto wins. His maiden double moto win happened to him in 2005 at the GP of Portugal at Agueda in MX2. His best year was 2012 having nine double-moto wins.
8,412
Cairoli has scored 8,412 points in all. He picked up his maiden points in 2004 in the MX2 season opener race at the GP of Flanders, Belgium at Zolder. Cairoli's best season was 2013 in which he grabbed 761 points in MX1. These 761 points are an absolute record in history of the FIM Motocross World Motocross Championship. And Cairoli set a new record in 2017, becoming the first motocrosser to get more than 700 points in three different seasons. Besides 2013 and 2017 Cairoli scored more than 700 points in 2014 too.
9
Cairoli right now is a new nine-time FIM Motocross World Champion. The most successful GP rider, Stefan Everts, got his ninth world title in 2005. In that year Everts turned 33. Cairoli will turn 32 this month.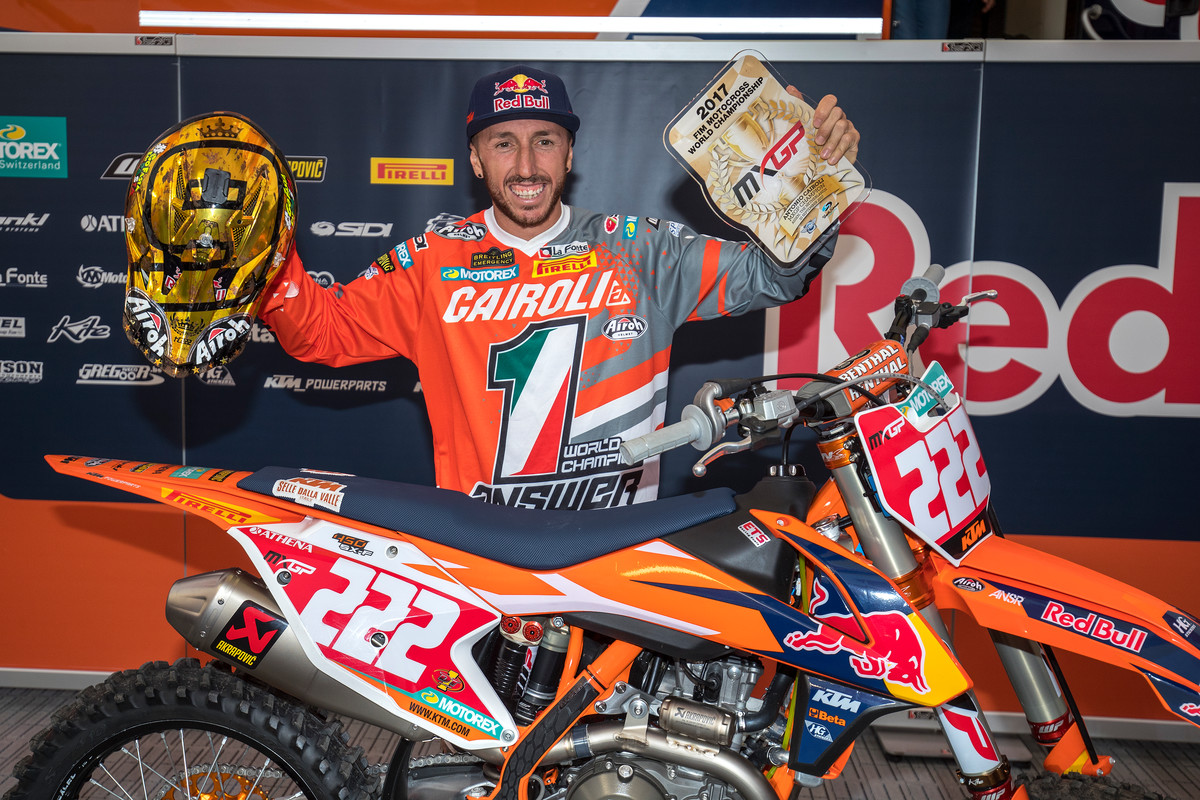 In the Mag
The November issue of Racer X Illustrated dropped earlier this week. Pick up your copy now and read about the new rules to success at Loretta Lynn Ranch, a historic day at the GEICO Motorcycle Budds Creek National, and the Race Across America. Also Read about Jeff Ward's seven wins at Motocross and Trophee des Nations between 1983 and 1990, and the annual ride through the coastal wildlands of Mexico's Baja California Peninsula. Subscribe now!
Here's a closer look at this month's feature articles, available only in the print edition of Racer X:
Ten Commandments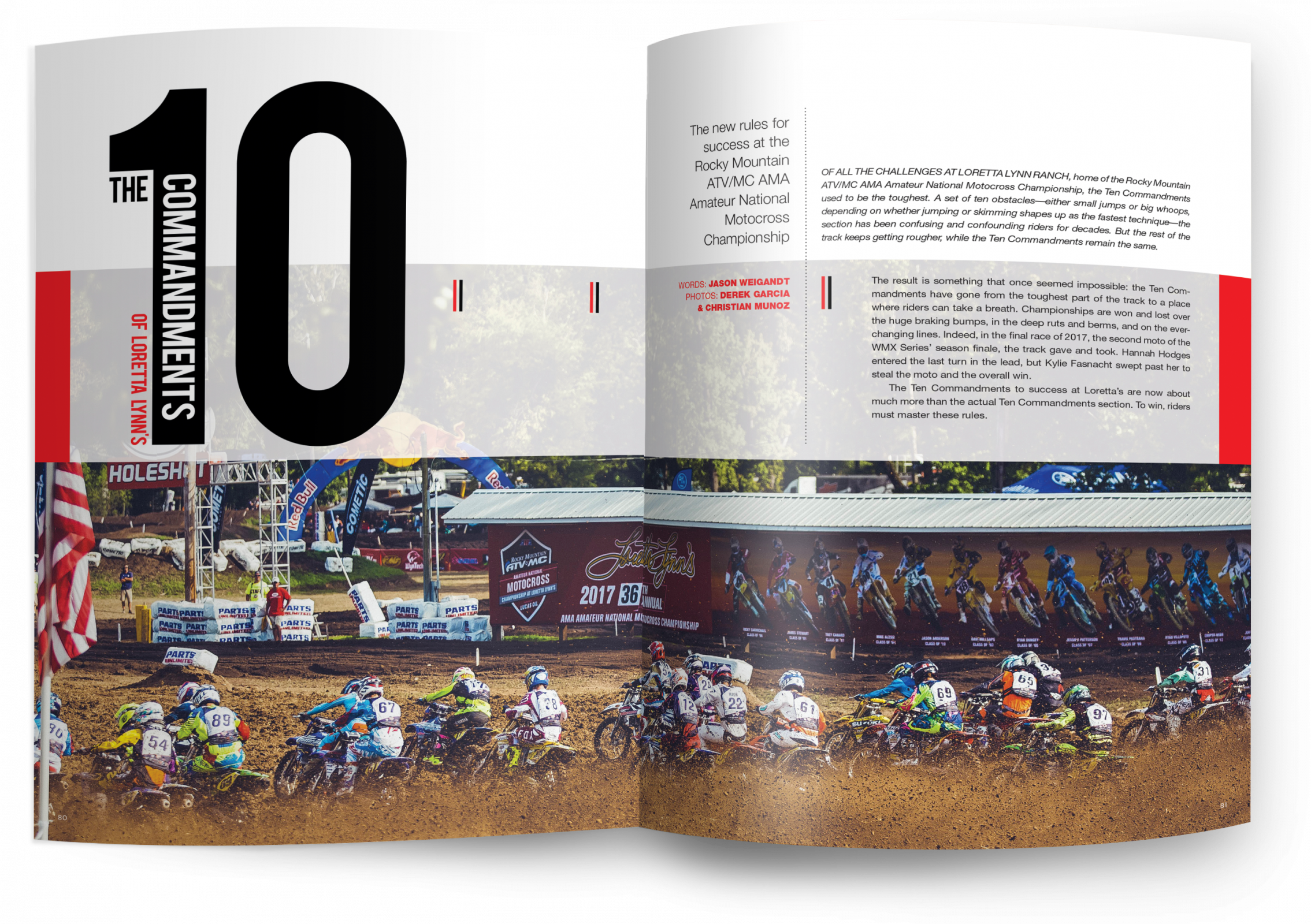 Of all challenges at Loretta Lynn's, the Ten Commandments used to be the toughest. A set of ten obstacles—either small jumps or big whoops, depending on whether jumping or skimming shapes up as the fastest technique—the section has been confusing and confounding riders for decades. But the rest of the track keeps getting rougher, while the Ten Commandments remain the same.
Over the Humps Day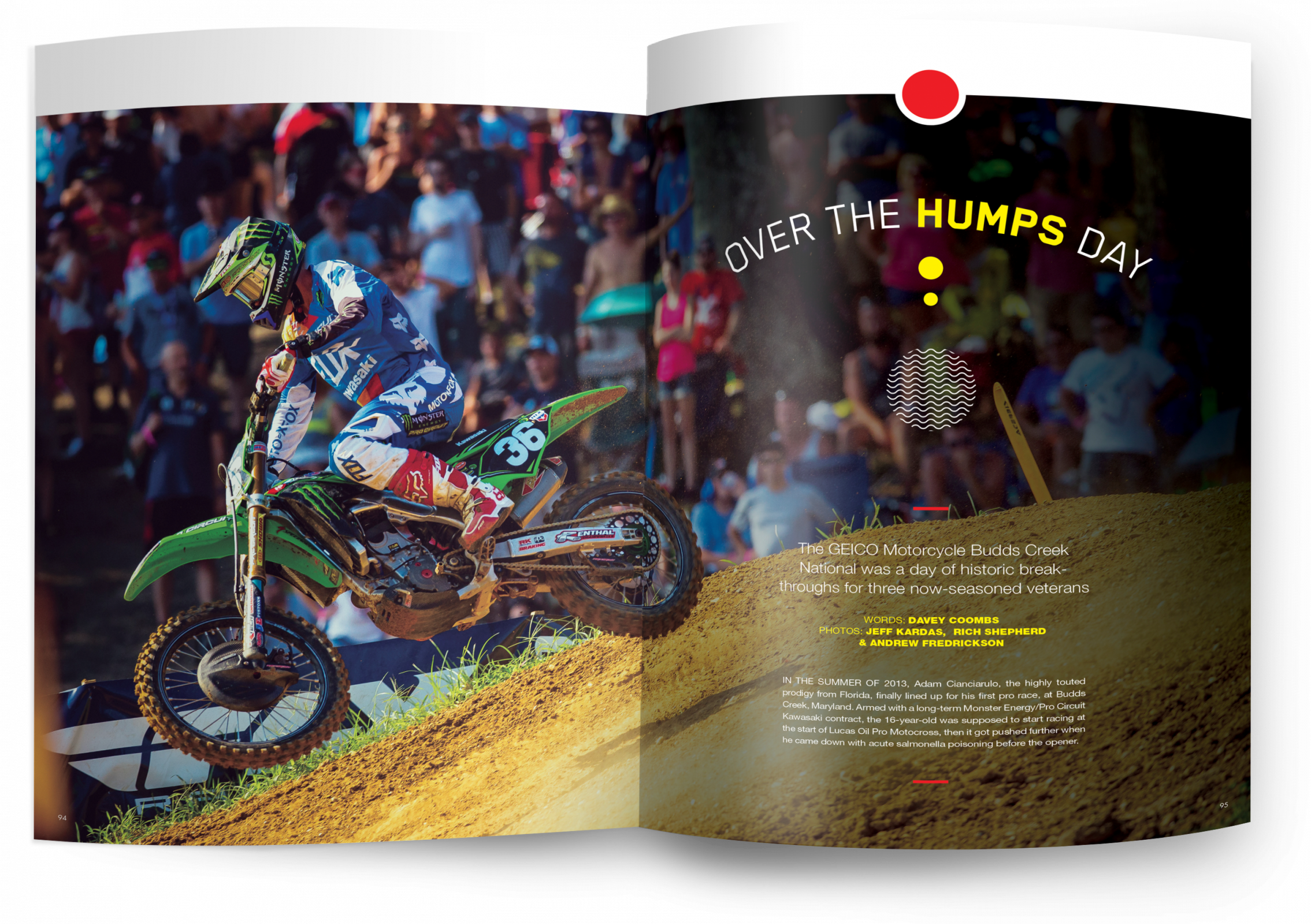 In the summer of 2013, Adam Cianciarulo, the highly touted prodigy from Florida, finally lined up for his first pro race, at Budds Creek, Maryland. Armed with a long-term Monster Energy/Pro Circuit Kawasaki contract, the 16-year-old was supposed to start racing at the start of Lucas Oil Pro Motocross, then it got pushed further when he came down with acute salmonella poisoning before the opener.
Called to Duty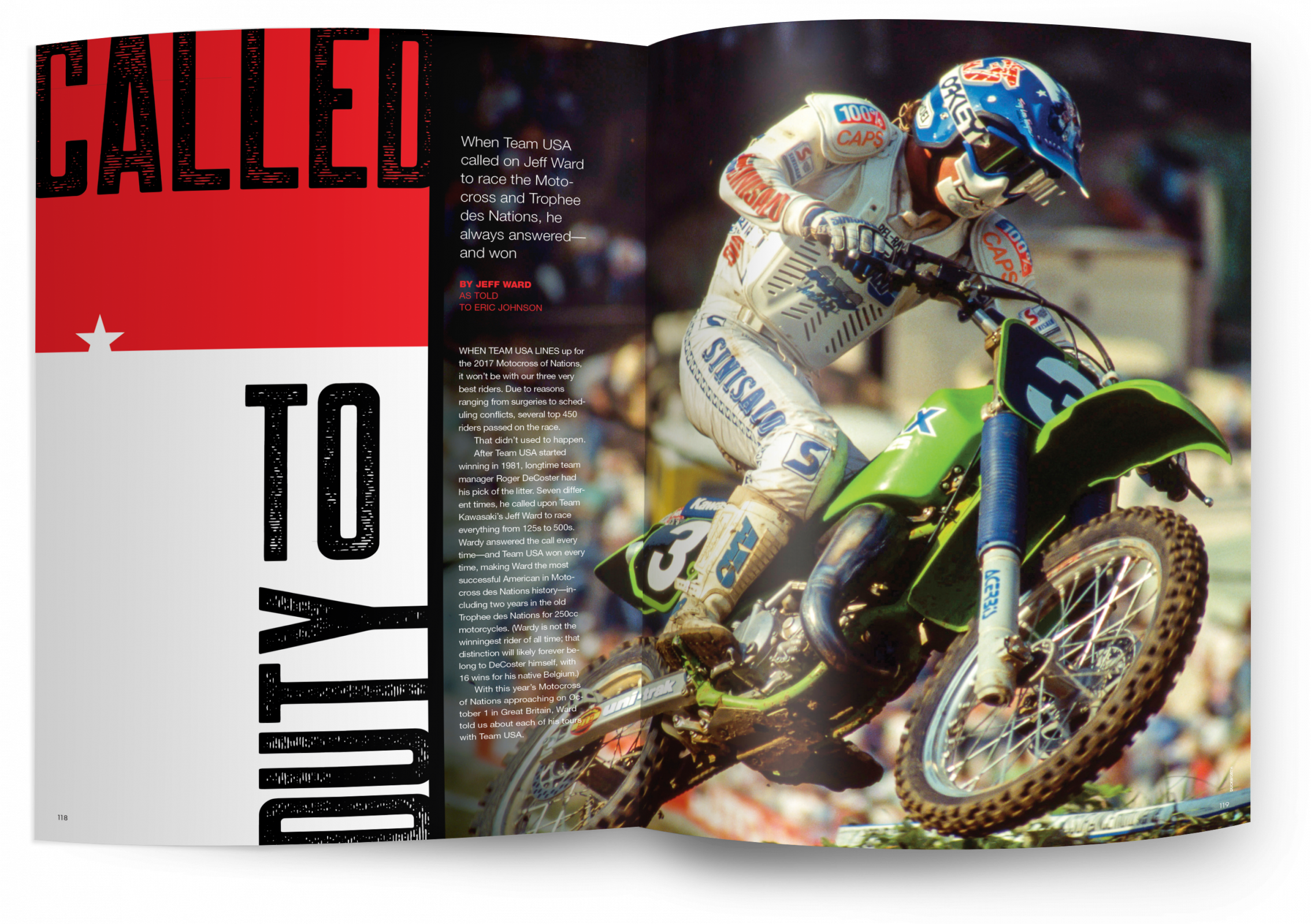 When Team USA lines up for the 2017 Motocross of Nations, it won't be with our three very best riders. Due to reasons ranging from surgeries to scheduling conflicts, several top 450 riders passed on the race.
That didn't used to happen.
After Team USA started winning in 1981, longtime team manager Roger DeCoster had his pick of the litter. Seven different times, he called upon Team Kawasaki's Jeff Ward to race everything from 125s to 500s. Wardy answered the call every time—and Team USA won every time, making ward Ward the most successful American in Motocross des Nations history—including two years in the old Trophee des Nations for 250cc motorcycles. (Wardy is not the winningest rider of all time; that distinction will likely forever belong to DeCoster himself, with 16 wins for his native Belgium.)
With this year's Motocross of Nations approaching on October 1 in Great Britain, Ward told us about each of his tours with Team USA.
Race Across America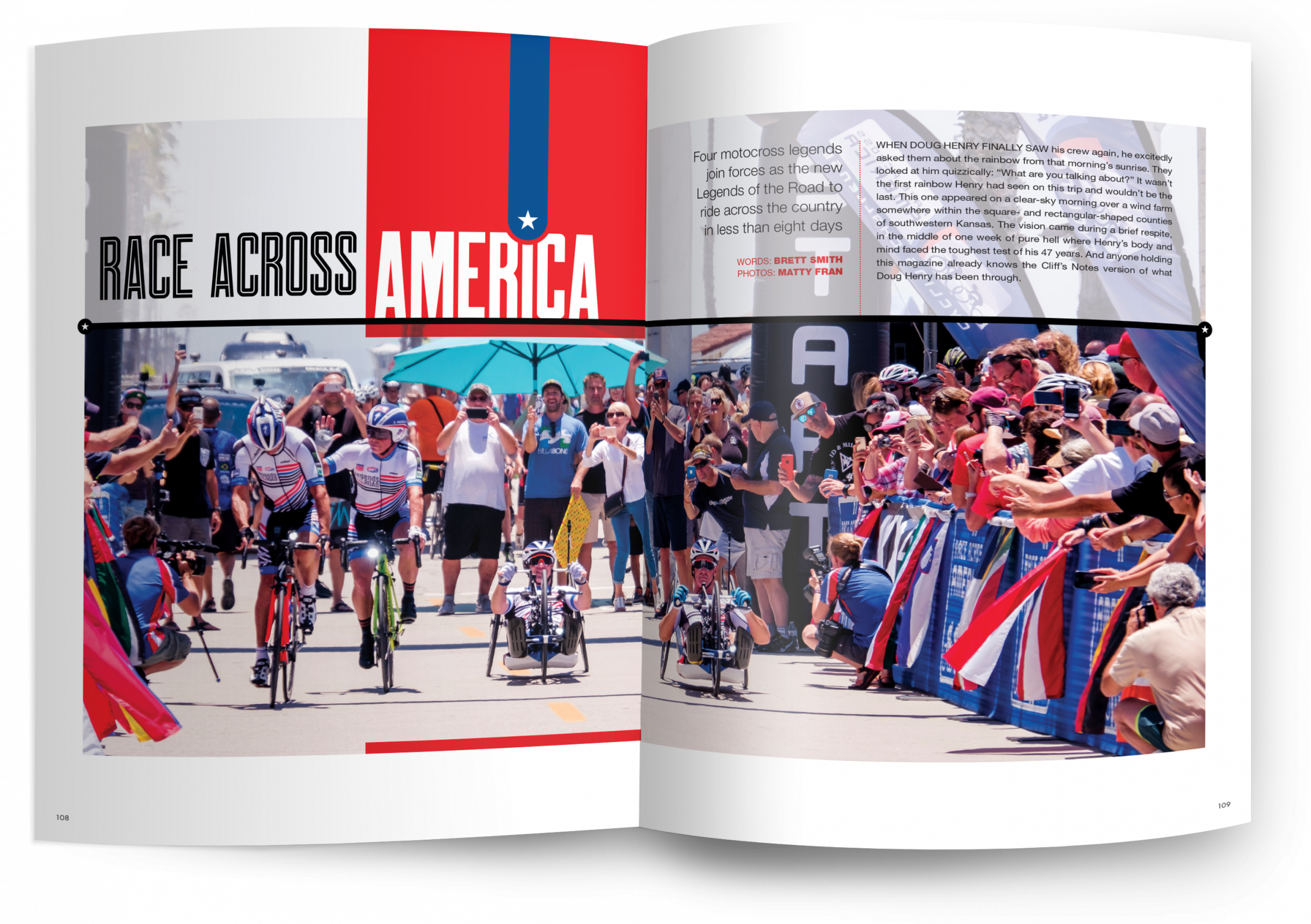 When Doug Henry finally saw his crew again, he excitedly asked them about the rainbow from that morning's sunrise. They looked at him quizzically: "What are you talking about?" It wasn't the first rainbow Henry had seen on this trip, and wouldn't to be the last. This one appeared on a clear-sky morning over a wind farm somewhere within the square- and rectangular-shaped counties of southwestern Kansas. The vision came during a brief respite, in the middle of one week of pure hell where Henry's body and mind faced the toughest test of his 47 years. And anyone holding this magazine already knows the Cliff's Notes version of what Doug Henry has been through.
Baja Beach Bash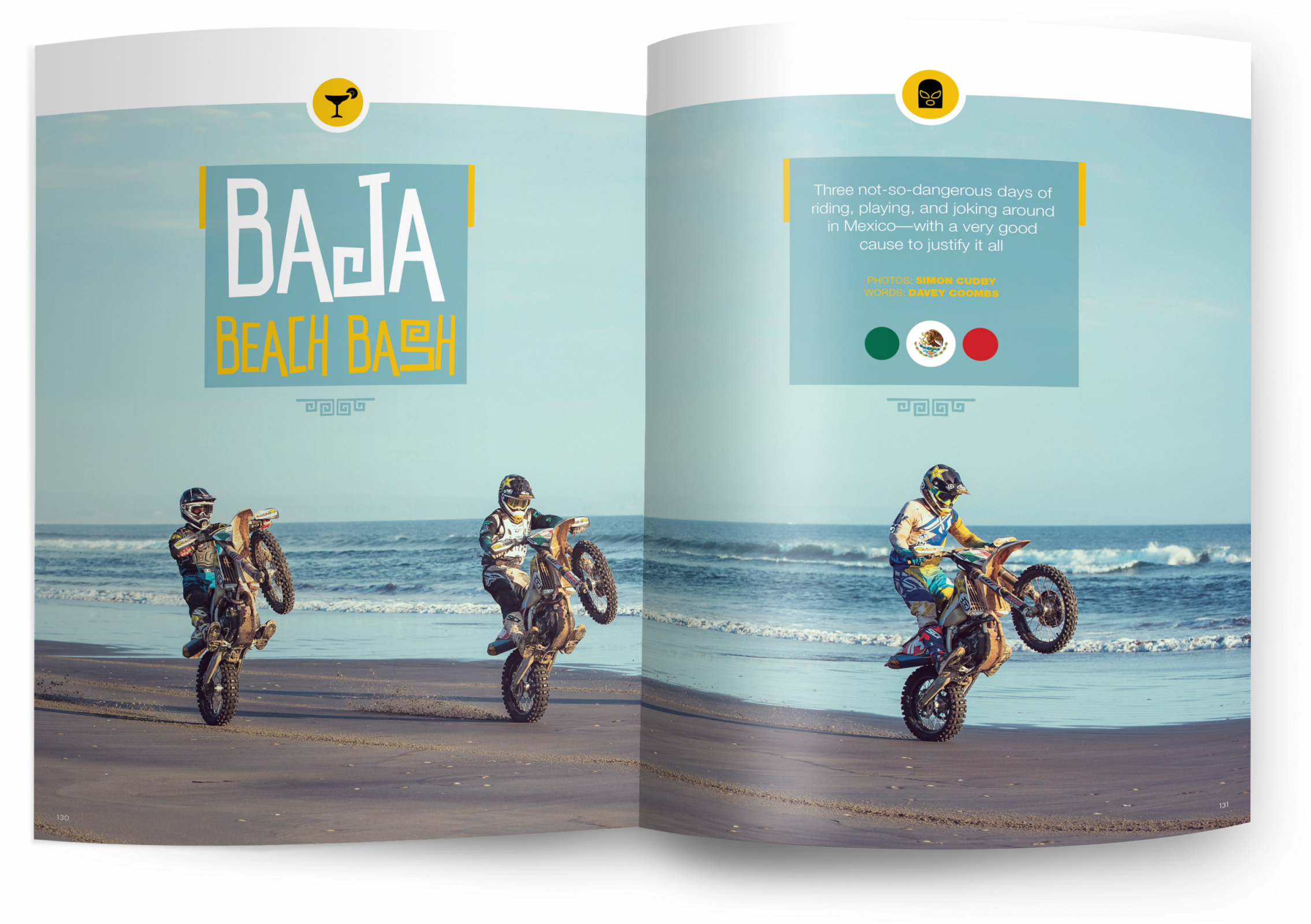 When you're on a motorcycle in Mexico, pretty much anything goes. In the great wide open of the Baja Peninsula, there are seemingly endless beach dunes, badlands, and two-track trails, as well as an almost complete lack of rules. In other words, it's the perfect place for an event like the Baja Beach Bash. Nine years in the making, it's an epic ride for seasoned Baja riders as well as for newcomers, who sometimes find it all a little overwhelming—the danger, the dust, the shenanigans. It is what it is: a big beach bash in Baja on dirt bikes.
We hope you'll check out the magazine on newsstands or subscribe to get Racer X delivered to your home.
Pro Perspective (David Pingree)
It's that time of year where many riders are changing brands and teams. Last week at Pala Raceway, for example, Broc Tickle was shaking down his new KTM and Jake Weimer was riding his new MotoConcepts Honda. This is an interesting time because it can really breathe new life into a rider who hasn't been loving his previous ride. They say that sometimes trees need to be replanted into a bigger pot with fresh soil to keep growing, and the same is true with riders. Change could fire these guys up for the 2018 season. On the other hand, it means you're starting from scratch on a new brand and trying to figure out settings. I think the KTM guys probably have a solid foundation to build from but this could be a struggle for Weimer. Either way, it will be interesting to watch their progress from the MEC to preseason races to A1 as they adapt and start to gel with their new teams.
Help Kai Mukai (Kyle Scott)
Last week, Kai Mukai crashed while doing a 450 bike shootout at Glen Helen Raceway. His rear wheel came off the back of a berm, and he was thrown, landing on his back. As a result, he fractured his T-4 and T-5 vertebrae and had bone fragments lodged in his spinal cord. He had surgery at Arrowhead Regional Medical Center where they inserted rods into his T-4 and T-5, performed a laminectomy from T-4 to T-7 as well as a posterior instrumented fusion from T-3 to T-8. He currently does not have feeling from the waist down, but he has been able to sit up and is already making progress.
I spoke with Kai, and he's in good spirits. He is determined to get back on his feet and knows he has a long road ahead, but is ready for the challenges that lie ahead. He was transported to Casa Colina in Pomona, California, on Wednesday, where he will be for the next two months or so to help him get adjusted to being able to perform normal life as well as therapy. They have tons of resources I have had another friend and the facility before and its truly top notch so it's good to know he's in good hands. If you can, please donate to Kai's GoFundMe and/or Road 2 Recovery fundraiser.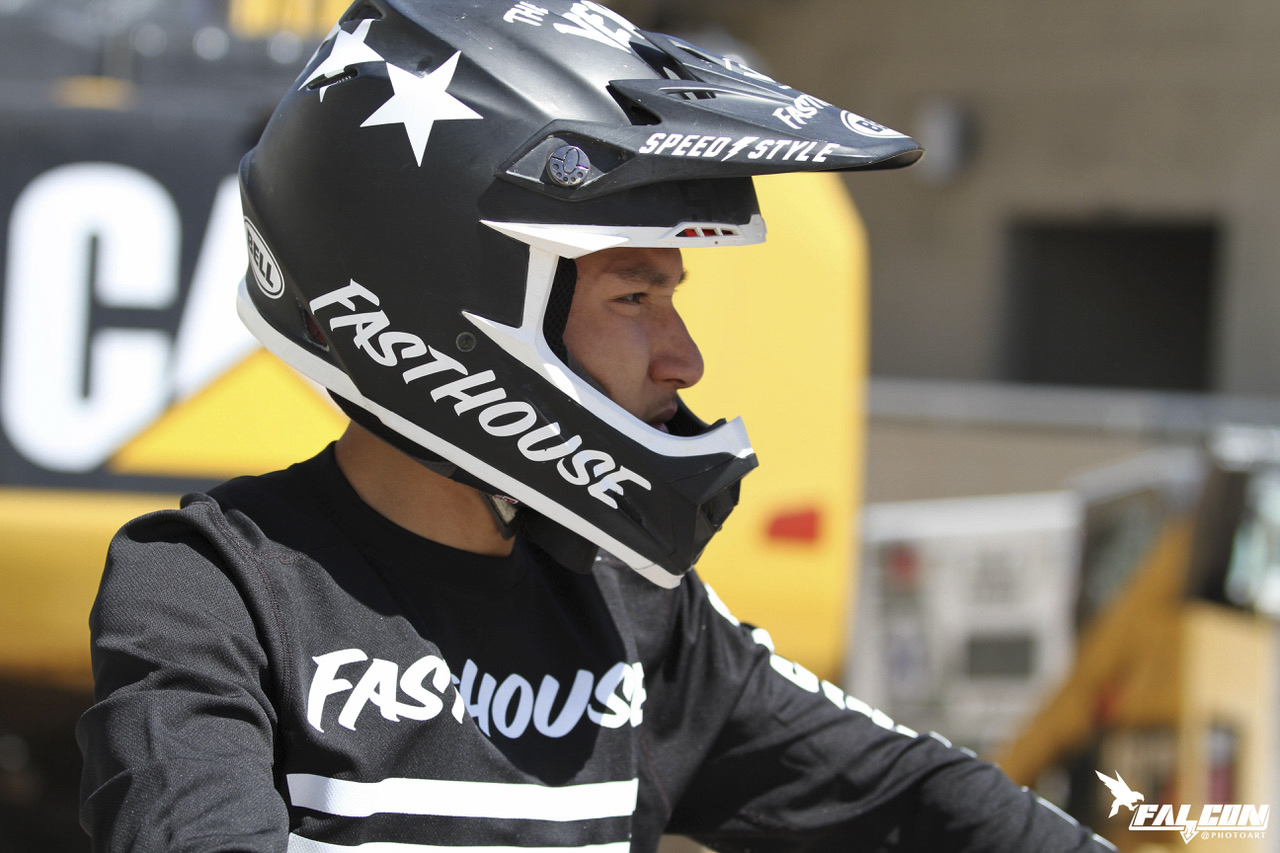 Head-Scratching Headline/s of the Week
"CONOR MCGREGOR SUED FOR HITTING SECURITY WITH AN ENERGY DRINK AT INSANE 2016 DIAZ-MCGREGOR PRESS CONFERENCE." – Maxim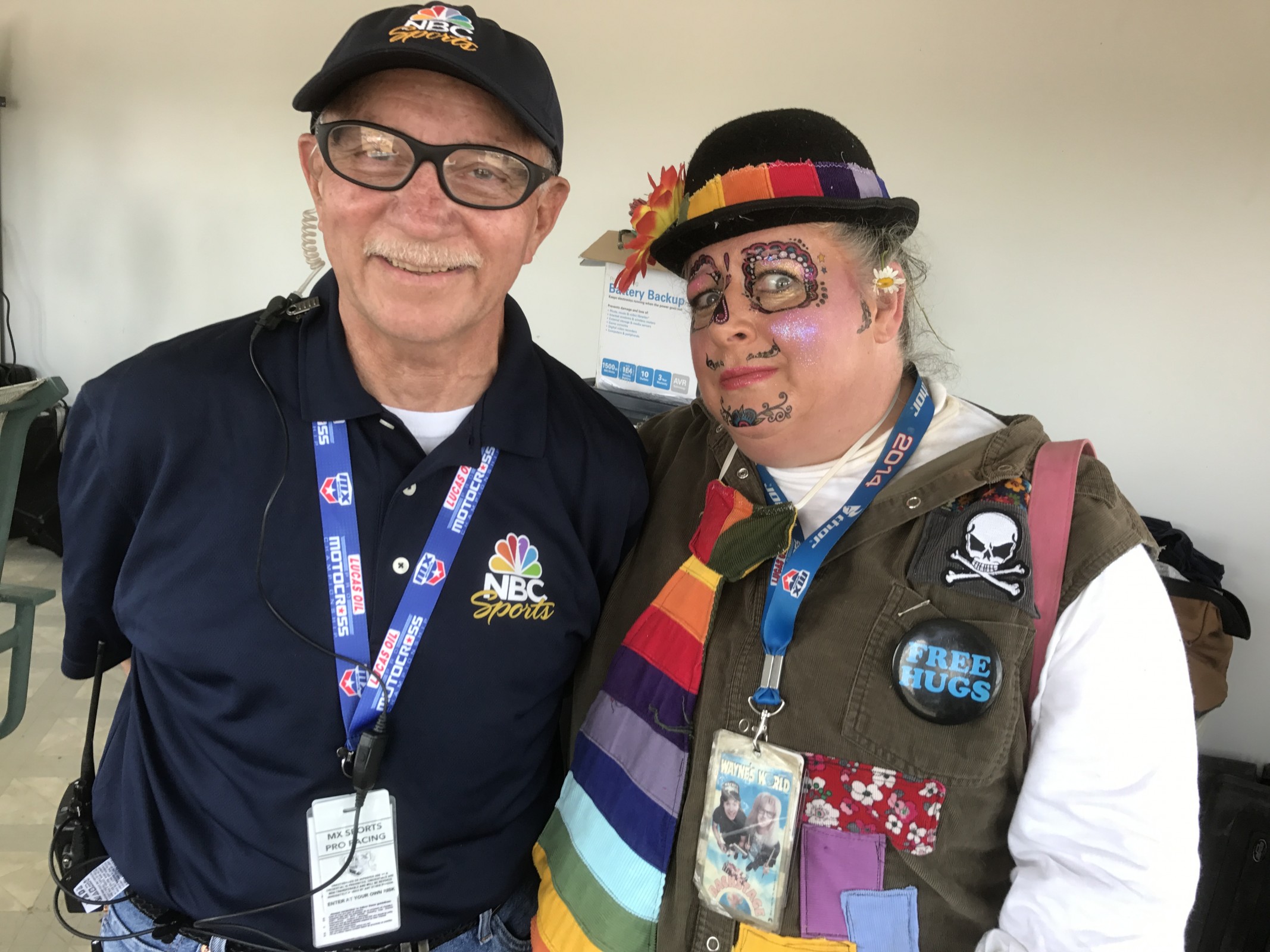 "Rihanna has just made the Motocross fashion trend a mainstream *thing*" - MotoFire.com
Random Notes
Subscribe at The Racer X Maine Event and Get a Free Event Tee
Headed to the Racer X Maine Event this weekend in Lyman, Maine, at MX207? Be sure to stop by the Racer X Booth and subscribe to the magazine to get a FREE event tee, an issue of Racer X, and free Racer X stickers.
This offer is only valid at The Racer X Maine Event, so don't hesitate to stop by.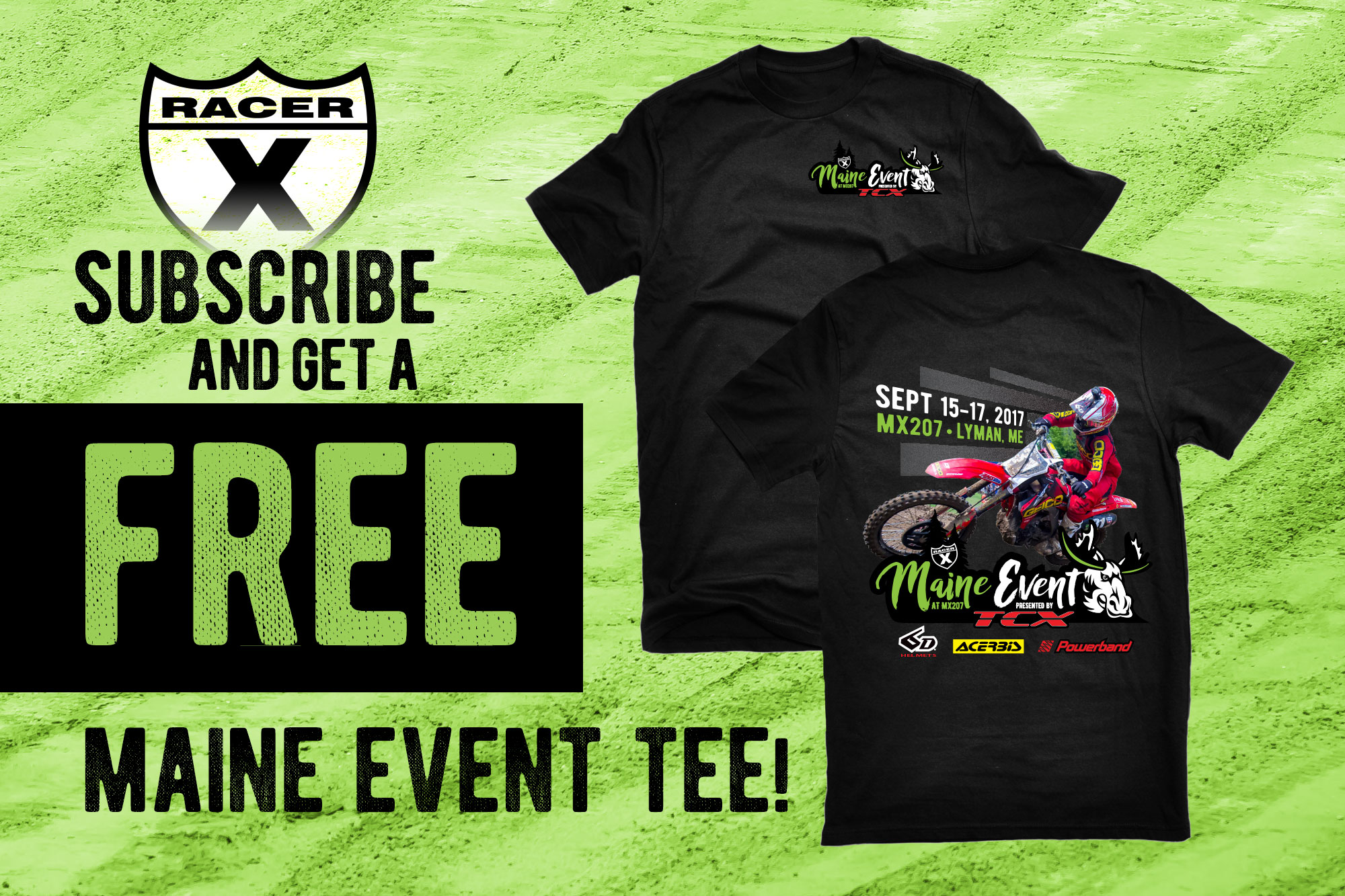 Subscribe Now and Get a Free MX vs. ATV T-Shirt
Subscribe now for as low as $9.98 and receive a FREE MX vs. ATV T-Shirt plus access to our digital edition.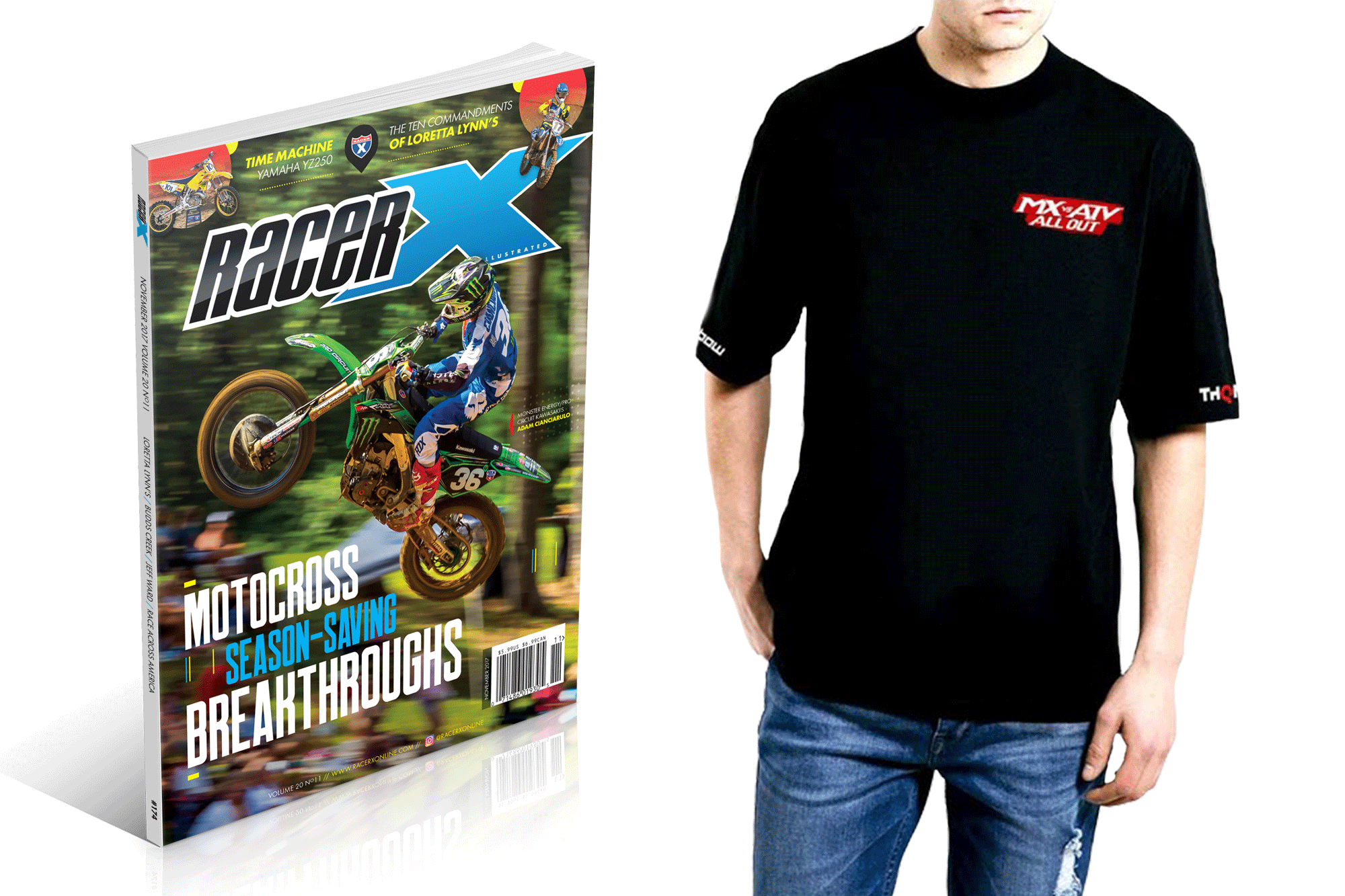 That's it for this week. Thanks for reading Racerhead. See you at the races.