New Berlin, NY
Unadilla
Lucas Oil AMA Pro Motocross Championship
Matt Hammer is one of those people that truly does strive to be the best at everything he does, and he does a lot of stuff. From trying to qualify for select Lucas Oil Pro Motocross races to continuing a family tradition of serving in the New York Fire Department to travelling to schools and churches to do motivational speaking and also running a YouTube channel during his free time, Matt is exploring several different professions. We called up this quadruple threat while he was in Spain getting ready to officiate his sister's wedding (he got ordained just for her) to see what he's all about.
Matt the Motocross Rider
Hailing from Yonkers, New York, just a couple miles north of New York City, Hammer, like many privateers struggling with the expenses that go along with racing, sticks to the AMA Motocross and Supercross races on the East Coast. So far the only race he's qualified for is Southwick in 2016, but he's made a couple supercross night shows and is right on the bubble of making it into the show every time he attempts to qualify for a National.
Eventually, he'd like to put himself in a position to race every single round of Lucas Oil Pro Motocross. "I wish could do the whole circuit," he said. "It's just hard because everything is so far apart and so separated. It's really difficult for a privateer to go to every round, unless you're ready to burn money and you have a lot of it. [Laughs]"
This year, Hammer went to both Southwick and Unadilla, but wasn't able to qualify at either of them. "It was a little frustrating, he said. "I know I have the speed and the talent to qualify, I just haven't had things line up. I qualified in 2016 and I was running like 23rd for over half of the second moto. I know I have the speed to do it, but I know how tough it is too. These guys are some of the best guys in the world."
Matt the Firefighter
The original reason we called Matt was because we heard he had just passed his test to become a firefighter in Yonkers and had the goal of becoming what he believes is the first active racer/firefighter. While he hasn't been assigned to a team yet, he's damn close. "There's like 3000 applicants that were trying to qualify to become a firefighter and you have to do good on a written exam and you have to do good on a physical exam," he explained. "I did good on my written, and they took 600 people out of the written [test], so 600 guys went to the physical. I did good on my physical and on the list I ended up coming out 43rd out of 3000. I should get hired this fall or early next year."
Firefighting runs in the Hammer family blood as Matt is set to become the fourth generation of the family to serve. Matt says the Hammer family name is also the second longest running name in the New York Fire Department. "My dad was a firefighter for over 26 years in Yonkers, both of my uncles were firefighters for over 25 years as well. My grandfather was a firefighter for over 30 years. My cousin's a firefighter in Yonkers. The Hammer name has been in the fire department for over 100 years."
Ultimately, the reason Matt decided to become a firefighter was to carry the family torch. He also realized it would give him the chance to help people physically by taking on the normal firefighter duties, but also help them emotionally by integrating his ability to communicate positively with others.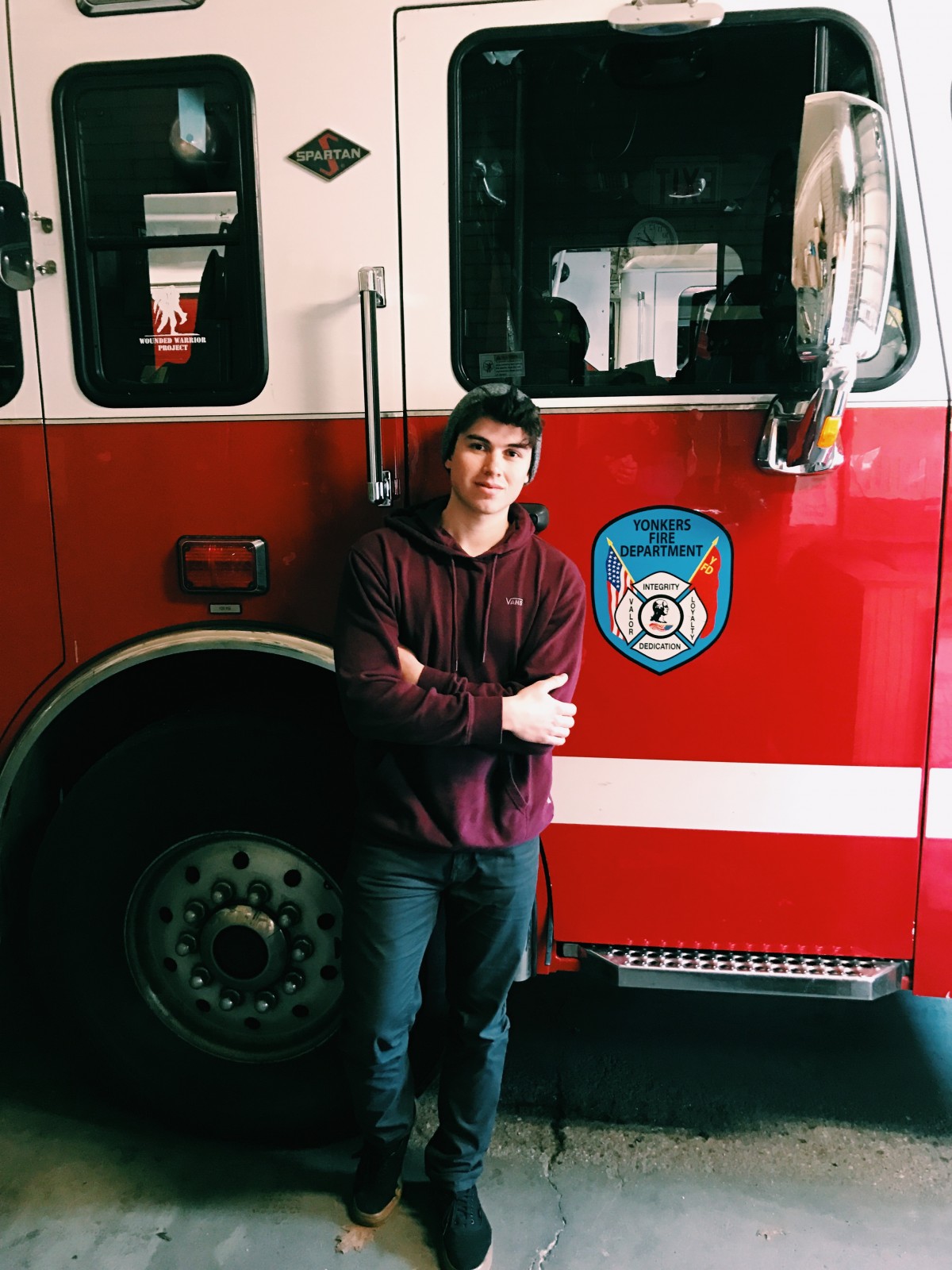 Matt the Speaker
Matt is an incredibly well spoken and positive person, so when he told me that he enjoyed motivational speaking at schools and churches, it didn't really surprise me. What did surprise me was his YouTube channel. Matt has over 12,000 subscribers to his channel that mainly features different spoken word poetry, but also mixes in some motocross stuff. His most popular video, "If I Die Tomorrow" has nearly 300,000 views and was inspired by a nasty crash at a local race that left himself and his doctors mystified as to how relatively uninjured he was.
"I got kicked over the handlebars and I went headfirst into this jump at 51 mph [according to his GPS watch]. I was wearing a 6D [helmet] and it split in half. It was a really scary moment in my career and probably the craziest crash I've ever had. But yet so much good was taken from that because of that video. Not saying I want to crash, but at least something positive came out of that negative. And that's why I want to help other in the times when they're facing trials and tribulations. I want to help them through that."
When talking to Matt, I was having trouble making sense of all of this. Here's a privateer trying to qualify for Nationals, training to become a firefighter, speaking at schools and churches, running a YouTube channel, and on top of all that working a landscaping job and taking in college classes when he can. I was trying to figure where his priorities were and which one of these paths he wanted to walk down, but I finally realized he truly wants to do them all as best as he can.
"Besides the firefighting I want to transfer into Christian and motivational speaking to help people," he said. "I'm transitioning into that and also becoming a firefighter and I love racing … I'm going to keep racing when I can. I'm doing a lot. I've got a lot on my plate."
A lot on his plate indeed.