Dean Ferris Clinches Second Straight Australian Motocross Championship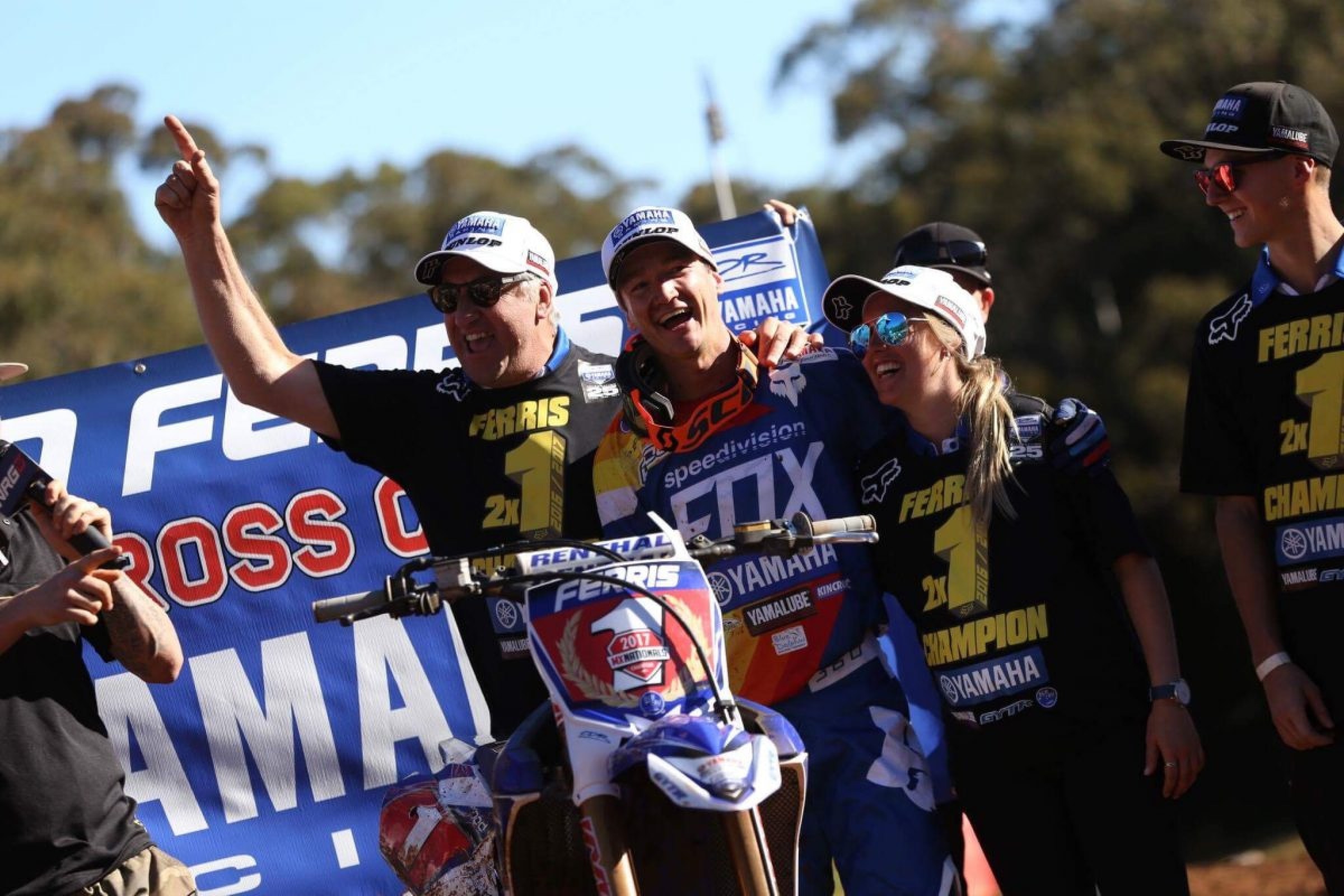 Report provided by MX Nationals Media
An Australian champion was crowned at Round 9 of the Motul MX Nationals at Toowoomba today, with CDR Yamaha's Dean Ferris racing to 1,1 race results and claiming his second consecutive Thor MX1 title with a round to spare.
With thousands of spectators turning out today in the hope to see history made at Toowoomba, Ferris delivered in the most epic way possible – dominating both races before crossing the finish line this afternoon as this year's premier class champion.
With GoPro Superpole entry more important than ever this weekend, qualifying this morning was without a doubt the most exciting of the season. By the mid-way point in the session, KTM Motocross Racing Team's Kirk Gibbs was sitting in pole, while his toughest competitor Ferris was back in third, ensuring the crowds were on the edge of their seats for the entire timed session.
After 30 minutes of practice and qualifying, it was Gibbs who finished on the top of the time sheets with a 1:48.635 lap time, second was MEGA Bulk Fuels Monster Energy Kawasaki's Brett Metcalfe (1:49.270), followed by Honda mounted pair Luke Clout, and Todd Waters, while red plate holder Ferris was the final rider to progress into the all important GoPro Superpole.
With a maximum of three championship points as well as the first gate pick up for grabs, riders had everything to gain in Superpole this morning, but it was Metcalfe who rose to the occasion to claim his first GoPro Superpole win of the season with a 1:49.302 lap time, second went to Gibbs, while Ferris finished third, claiming only a single championship point.
Moto 1
When the Thor MX1 riders took to the grid for their first moto of the weekend, thousands of spectators dotted the fence line, ready to watch one of the best races of the season unfold.
When gates dropped, it was Gibbs who stormed down the start straight to claim the Raceline Holeshot, followed by CDR Yamaha's Ferris, and within only a lap the series points leader made the pass on his closest competitor Gibbs and moved into a familiar position, the race lead.
Behind the top two, GoPro Superpole winner Metcalfe held the final podium position, followed by Wilson Coolair Motul Factory Suzuki's Kyle Peters and rookie Honda rider Clout.
By lap three, the crowd was treated to the battle they had been waiting for, Gibbs began to close in on Ferris and apply the pressure for the lead, meanwhile behind them, Metcalfe too began to reduce the gap between himself and the lead pair.
Unfortunately for Clout, a crash in the early stages of the moto saw him drop back to close to dead last, the Honda rider forced to nurse a damaged machine and come through the field for the next 20 minutes.
After five laps on the Echo Valley circuit, Ferris continued to lead, however Gibbs was not letting the championship leader out of his sights - behind Gibbs, Metcalfe continued to maintain third, followed by Peters, Waters and MEGA Bulk Fuels Monster Energy Kawasaki's Crawford.
By the halfway mark in moto one, Ferris had shaken off the threat that Gibbs previously posed, while Gibbs had his hands full in second, fighting off a hard charging Metcalfe aboard his Kawasaki machine. But unfortunately for Metcalfe, disaster struck the experienced rider after ten laps on track. While sitting in third, Metcalfe crashed out and was forced to return to the pits, registering a DNF.
With Metcalfe out, Peters inherited third, and looked to be in the box seat to claim his first podium race finish of the season.
With six minutes remaining, Ferris had increased his lead on Gibbs to a comfortable 4.5 seconds, the CDR Yamaha rider determined to do everything in his power to wrap up the championship with a round to spare.
When riders received the last lap board, it was clear that Ferris' dominance couldn't be matched at Echo Valley in race one, and with no change to positions, the red plate holder simply had one more lap to complete in order to collect his 14th race victory.
And claim victory is exactly what the CDR Yamaha rider did, second place went to KTM Motocross Racing Team's Gibbs, followed by Peters who broke through to finish in third in moto one. Fourth position went to Kawasaki rookie Crawford, followed by Crankt Protein Honda Racing's Waters in fifth. DPH Motorsport's Mosig concluded race one is sixth, followed by Dylan Long, Luke Styke, Clout who charged through the field to ninth, while Lachlan Davis completed the top ten.
Moto 2
With Ferris faced with the opportunity to clinch the Thor MX1 title in moto two at Toowoomba today, the crowd remained trackside to witness what could be the biggest moment of the season.
When gates dropped, it was Gibbs who once again secured the Raceline holeshot, but with back to back championships on his mind, it only took four turns for Ferris to move into the race lead.
After two laps, Ferris' lead on Gibbs increased to 3.5 seconds, while behind the top two Peters and Mosig occupied third and fourth positions. But with 30 minute plus a lap making up the final race of the day for the Thor MX1 class, for Ferris it wasn't over until he crossed the finish line.
By the four lap mark, the battle for fourth began to heat up, with DPH Motorsport's Yamaha rider Mosig beginning to feel the pressure from Crankt Protein Honda Racing Team's Waters, who was looking to redeem himself after a difficult first moto at Toowoomba.
After ten minutes on track, Ferris looked more in control than ever before out in front, while Gibbs and Peters maintained their second and third place positions. Mosig continued to feel the pressure from Waters, while Metcalfe, Crawford and Clout all remained inside the top ten.
Unfortunately for Waters, a crash at the mid-way point of race two spelled a drop in positions for the Honda rider – Waters slipping from fifth to eighth and with a task ahead of him if he was to make his way back through the talented field.
Surprisingly, with only ten minutes until the last lap board was set to be displayed, there had been little to no change in positions, but the one rider who the entire crowd could not peel their eyes away from, was Ferris.
After 12 laps, behind the top three of Ferris, Gibbs and Peters, things started to get interesting. Both rookies Crawford and Clout had both passed their more experienced teammates and moved in to fifth and sixth positions, relegating Metcalfe and Waters back to seventh and eighth.
But with less than five minutes remaining, the crowd began to hold their breath, each and every individual fixated on the number one machine of Ferris who continued to charge towards his second consecutive title.
And when the last lap board was displayed for the final time at Echo Valley Raceway today, Ferris was well and truly in the box seat to clinch the Thor MX1 title, and when his CDR Yamaha machine crossed the line for the final time, he collected the moto two race victory and was finally crowned the 2017 Thor MX1 Champion.
Second place in race two went to Gibbs, while Peters recorded his second third place of the day in the final MX1 moto. Mosig, and Crawford completed the top five, followed by Clout, Styke, Long, Metcalfe and Waters who all finished race two inside the top ten.
But the man of the moment was Ferris at Toowoomba today, who not only went 1,1 but secured his second Thor MX1 championship. Second position on the Round 9 podium went to Gibbs, while Wilson Coolair Motul Factory Suzuki's Peters achieved his first podium of the year, finishing third.
With Ferris wrapping up the title today, the final championship positions will be decided next weekend at the Grand Finale at Coolum.
Dean Ferris – CDR Yamaha – 2017 Thor MX1 Champion
"I only just got the championship last year, I went into the final round six points down, and I knew that I could do it but we had a lot of pressure on us," Ferris shared.
"This year I really wanted to improve and be dominant. I wanted to be that guy that could win motos and win the title again. So I got to work straight after the season wrapped up and I was determined to improve on every aspect of my life, and at the same time I made the decision that I wanted to become a dad.
"My girlfriend moved in with me, we improved the bike, my fitness, everything this year, so to get the title a round early and achieve what we have achieved, it feels amazing.
"Earlier today in qualifying we had a small issue and I ended up on my spare bike for that session, but we were determined to stick to the plan and not let it rattle me. For me, I wanted to execute and do what I've done every weekend, and I knew if I won the day it would be enough to get the title.
"I can't thank the CDR Yamaha team and all of my friends, family, partner and supporters enough. Everyone was here to cheer me on at Toowoomba, and I'm stoked that I could get the championship here for them."
Thor MX1 Round 9 Results
1) Dean Ferris – 70 points - Yamaha
2) Kirk Gibbs – 64 points – KTM
3) Kyle Peters – 60 points - Suzuki
4) Nathan Crawford – 54 points - Kawasaki
5) Kade Mosig – 53 points - Yamaha
6) Luke Clout – 47 points - Honda
7) Luke Styke – 47 points – KTM
8) Dylan Long – 47 points – Yamaha
9) Todd Waters – 47 points - Honda
10) Callum Norton – 39 points - KTM
Thor MX1 Championship Standings
1) Dean Ferris – 633 points - Yamaha
2) Kirk Gibbs – 553 points - KTM
3) Kade Mosig – 489 points - Yamaha
4) Todd Waters – 468 points - Honda
5) Luke Styke – 455 points - KTM
6) Kyle Peters – 431 points – Suzuki
7) Luke Clout – 425 points - Honda
8) Brett Metcalfe – 375 points - Kawasaki
9) Nathan Crawford – 358 points - Kawasaki
10) Joel Green – 300 points - KTM
---
MX2
Davey Motorsport's KTM rider Egan Mastin has found his form when it truly counts, closing in on the Motul MX2 championship, and going undefeated once again at Round 9 of the Motul MX Nationals at Toowoomba today.
With the championship reaching boiling point at Echo Valley, crowds were treated to the battles they'd been hoping for, with Mastin eventually edging out his competition and finishing the round with a perfect score card.
A full grid of MX2 competitors, plus a handful of MXD wildcard riders and international talent took to the track in prime conditions this morning for practice and qualifying, and with Toowoomba home to one of the longest start straights on the calendar, gate pick proved to be crucial.
Once qualifying had concluded it was Davey Motorsport's KTM rider Mastin who topped the time sheets with a 1:51.471 lap time, from Serco Yamaha's Mitchell Evans (1:52.174) and KSF Husqvarna Racing's Dylan Wills who recorded the third fastest time late in the qualifying session (1:52.648).
Moto 1
Once riders lined up for their first moto of the weekend, spectators had flooded in to the venue, providing the Motul MX2 class with a huge audience for race one.
With championship leader Wilson Todd entering the round with only a 13-point advantage on Mastin, all eyes were on the pair as the gates dropped and bikes left the grid, but it was the two-stroke machine of Mastin who drag raced his way down the start straight to collect the first Raceline Holeshot of the day.
After the opening lap, Mastin shook off DPH Motorsport's draft-in Hayden Mellross who was back in second, while behind the pair, local MXD wildcard rider Kaleb Barham and Raceline Pirelli KTM's Jay Wilson were locked into their own battle for third.
Surprisingly after two laps, red plate holder Todd was back in seventh position, followed by Evans in eighth, allowing Mastin to further capitalise on his lead and his bid to secure vital championship points.
After six minutes, Wilson made the move on Barham and slotted up into third position behind Mellross, however it was Mastin who looked in a league of his own leading by five seconds with just over 20 minutes remaining.
With the front three checked out, the attention soon shifted to Evans and Todd who were desperately trying to navigate their way through the talented field. By lap five, Todd had charged through to fifth, while Evans followed suit passing Barham and moving up to sixth.
By the halfway point in moto one, Mastin continued to lead from Mellross, however both Wilson and third fastest qualifier Wills had begun to close in on the lead pair. DPH Motorsport's Todd continued to maintain fifth from Evans, Barham, and CRF Honda Racing Team's Kyle Webster.
After seven laps on track, Wills found the passing opportunity that he had been waiting for, making the move on KTM mounted Wilson and moving up into the final podium position.
As riders reached the 19-minute mark of race one, fitness and mental strength began to come into play, and with a championship on his mind, Todd began to close in on Wills and Wilson, and it only took a few laps for Todd to make the move on both riders and snatch up third position.
From there, once again Serco Yamaha's Evans followed suit, charging onto the rear wheel of Wilson, and within only a lap he too had made a pass on the 2015 champ. Unfortunately, Wills dropped his Husqvarna at a crucial moment and dropped back to sixth, the KSF Racing Team rider then forced to chase down the top five riders for the remainder of the moto.
With only two laps remaining, Mastin stayed well out of the carnage, leading by a comfortable margin from Mellross in second, and it was then that championship leader Todd, and Serco Yamaha's Evans provided the of entertainment with a battle for the final podium position. The Yamaha pair went head to head for a full rotation before Evans made a vital pass on Todd, moving up to third.
But when the chequered flag flew, it was Davey Motorsport's Mastin who celebrated across the finish line, taking yet another race victory and closing in on the MX2 championship. Second place went to DPH Motorsport's Mellross, followed by Evans, Todd and Wilson who recorded his best finish of the season in fifth. Wills, Hamish Harwood and Webster all finished in sixth, seventh and eighth, while Barham and Raceline Pirelli KTM's Jayden Rykers completed the top ten.
Moto 2
With the Motul MX2 championship tightening up after the opening moto, when bikes took to the line for the second and final race of the day, riders had everything to gain and plenty to lose.
When gates dropped, it was once again Mastin who used the two-stroke power to his advantage, claiming the Raceline holeshot. Following closely behind was Evans and Mellross, setting up the final moto as one of the best of the season.
A notable absentee from the front of the field once again was Todd, who after a full lap on track was back in sixth position. But it only took a short time for the red plate holder to find his feet, and after two laps, the DPH Motorsport Yamaha rider charged up to third behind Evans and Mastin.
With the top three pulling away from the field, the attention shifted to the fight for positions behind them, and with only 20 minutes on the clock in the second moto, Harwood fought hard, closed in on Mellross' rear wheel, made a pass, then slotted up in to fourth position.
After eight minutes on the picturesque Echo Valley circuit, Davey Motorsport's Mastin continued to hold down the race lead from Evans and Todd, while behind the top three, Harwood led the charge for fourth between himself, Mellross and Raceline Pirelli KTM's Wilson.
Unfortunately for Mellross, race two went pear shaped at the six lap mark. With Wilson closing in on the DPH Motorsport's rider, the pressure was high, and a small mistake in a turn saw him go down, and hand fifth place to Wilson.
With only a few laps remaining, Mastin once again looked flawless out in front, while Evans dropped off the pace slightly however continued to maintain second just ahead of Todd. But the question on everyone's lips was would today's result be enough to see Mastin enter the final round with the MX2 red plate.
With two laps remaining, it was clear that Mastin was riding on another level, leaving Evans and Todd to battle for the final podium positions behind him – and battle they did. With crucial championship points up for grabs, Todd made the move on Evans for second with only one and a half laps remaining.
But it was Mastin who's flawless performance saw him take the final race victory this afternoon, second went to championship leader Todd, while Serco Yamaha's Evans was forced to settle for third. Fourth place went to New Zealander Harwood, followed by Wilson who completed the top five.
Wills, Webster, Barham, Rykers, and Mellross all finished in positions six through ten in race two for the Motul MX2 class.
But with 1,1 race finishes for the second round in the row, it was Mastin who was crowned the Round 9 overall winner today, second place at Toowoomba went to DPH Motorsport's Todd on a countback, while Serco Yamaha's Evans completed the MX2 podium.
Todd now carries a slim three-point championship lead into the final round at Coolum next weekend.
Egan Mastin – Davey Motorsports KTM – Round 9 Winner
"Today was awesome, I came out and did what I wanted to do, I did what I needed to do," Mastin explained.
"After the last round finishing 1,1 I wanted to carry that same confidence and momentum into this round. We did exactly that, and the whole team and the bike is just working so well at the moment.
"We knew what we needed to work on at the start of the year, and we have made our weaknesses our strong points so, I'm heading in to Coolum with some confidence."
Motul MX2 Round 9 Results
1) Egan Mastin – 70 points – KTM
2) Wilson Todd – 60 points – Yamaha
3) Mitchell Evans – 60 points – Yamaha
4) Hayden Mellross – 53 points – Yamaha
5) Hamish Harwood – 52 points – KTM
6) Jay Wilson – 52 points – KTM
7) Dylan Wills – 50 points – Husqvarna
8) Kyle Webster – 47 points – Honda
9) Kaleb Barham – 45 points – Husqvarna
10) Jayden Rykers – 43 points – KTM
Motul MX2 Championship Standings
1) Wilson Todd – 550 points – Yamaha
2) Egan Mastin – 547 points – KTM
3) Mitchell Evans – 536 points – Yamaha
4) Hamish Harwood – 479 points – KTM
5) Kyle Webster – 446 points – Honda
6) Dylan Wills – 431 points – Husqvarna
7) Jayden Rykers – 414 points – KTM
8) Jackson Richardson – 365 points – Yamaha
9) Richie Evans – 350 points – Yamaha
10) Joel Evans – 313 points – Yamaha