Washougal, WA
Washougal
Lucas Oil AMA Pro Motocross Championship
Austin Root, a South Carolina native, enjoys the normal things: hanging out with friends, fishing, photography, and exploring cities. He also finds motivation in being the underdog. It's a good mentality to have if you're going to attempt the Lucas Oil Pro Motocross Championship as a privateer, especially in the 250 Class where factory bikes are making ridiculous amounts of power compared to stock bikes.
After missing the first few races of the Nationals due to a collapsed lung from a practice crash, Root made his pro debut at Muddy Creek in Tennessee. It was an eye-opening experience for the 22-year-old. "I knew I would be underpowered, I had heard a lot of things about factory bikes and stuff, but I never really knew," he said. "I had never really been passed by one like I was standing still. It was insane!" After finishing just outside the top 20 in the first moto and blowing up his engine in the second moto, he knew it was time to get to work.
Root tried everything he could to get better performance out of his Kawasaki KX250F. He sent the head from his race engine out to get worked on; he tried running a stock motor; he even tried putting a 2016 engine into his 2017 frame hoping to get a little more power and a lot more reliability. None of it worked.
It sounds like normal business for a pro—who isn't out there trying to get the most out of their machine? But when you consider that Root is spending most of his time driving to the next race during the week (when I called him on Thursday, he was just getting home from Washougal), it doesn't leave a whole lot of time for R&D.
Earlier this year Henry Miller was struggling with a similar situation and decided to move up to the 450 Class so he could ride a more reliable and affordable engine package. I asked Root if it ever crossed his mind to do the same thing. "It did. I thought about it, but I made it a goal of mine … I said, listen, we're doing the 250 Class and it doesn't matter, I'm sticking to it."
After continuing to struggle with finding a reliable setup, Root finally decided to search for a new bike after one engine blew up and his frankenbike was even more underpowered than his original setup due to the 2016 engine not meshing well with the 2017 air box. Monster Energy/Pro Circuit Kawasaki team owner Mitch Payton even told Root he had no idea how his bike was even running.
In true privateer fashion, Root and his mechanic Aaron took a leap of faith and made the trek out to Washougal, Washington, without a bike to ride. Luckily Joel from JMC MotorSports came to rescue and hooked Root up with a new 2017 Husqvarna FC250. With nothing but an aftermarket piston, A-Kit forks that weren't set up for his weight, a stock rear shock, and an hour of seat time the Thursday before the race, Root went out and put in the best moto finishes of his career, going 17-17 for 17th overall.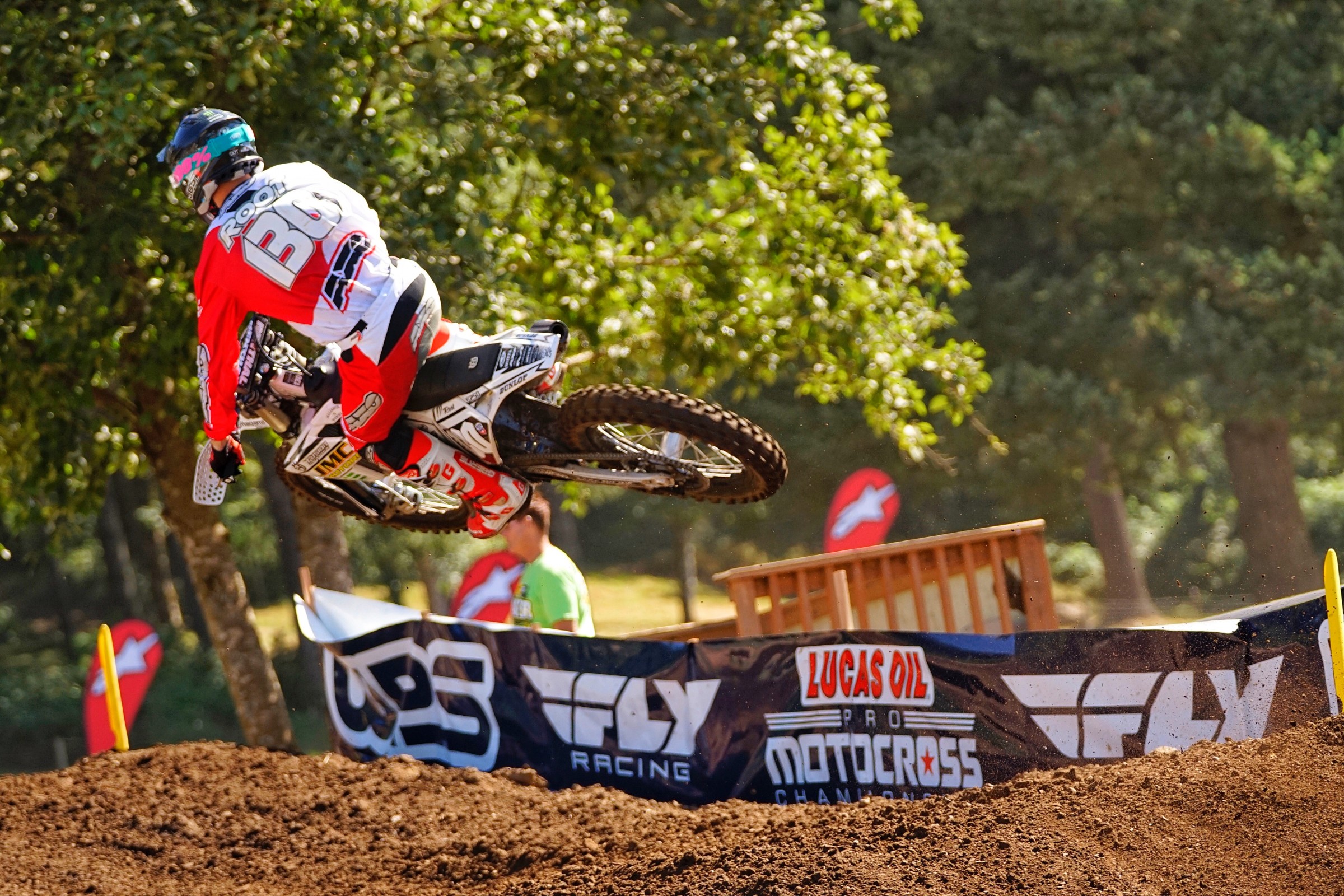 "I was a little bit nervous [to race on a new bike], I was kind of like, dude I don't have enough time on this bike! But Joel and them made me feel like I was kind of on a factory ride. They did everything they could to make me feel comfortable."
Root will remain on his newly acquired FC250 for the final three rounds of the season and for the MXGP of USA at WW Motocross Park, still driving to each race and still the underdog, but now at a little less of a disadvantage.
Root would like to thank Joel from JMC MotorSports, the team there—Josh and Jensen, Integrity Electrical Services, Scott from P3 Carbon, AXO, 100% , Just1, No-Toil, Fusion, Raptor, Debo Styles, Tony Pedone, Vortex, Moto-Vated Sports Complex, my mechanic Aaron, and most of all, my mom and dad.
---
Hero image courtesy of Bubb Lannan.