Moto-X 338
Southwick

,

MA
Southwick
Lucas Oil AMA Pro Motocross Championship
Welcome to Racerhead and another one of those blessed off-weekends. Riders and race teams are getting another break after four races in a row, getting a chance to rest and maybe reset before the final stretch of the season. And that makes it a good week for us to start looking forward. Besides the last five rounds of Lucas Oil Pro Motocross, we also have the AMA Amateur National Motocross Championships at Loretta Lynn Ranch coming up quickly, and after the Nationals are over, it's the Monster Energy MXGP of the USA, where we will get to see the likes of Eli Tomac and Marvin Musquin take on the Italian legend Tony Cairoli, his heir-apparent Jeffrey Herlings, and the rest of the MXGP pack. And then of course it's the Motocross of Nations in England, where the yet-to-be-named Team USA will try to break its five-year losing streak. (At this point, Eli Tomac, Blake Baggett, and Zach Osborne seem like the likely candidates.) Then it's Red Bull Straight Rhythm, the Monster Energy Cup, and finally—finally—the off-season.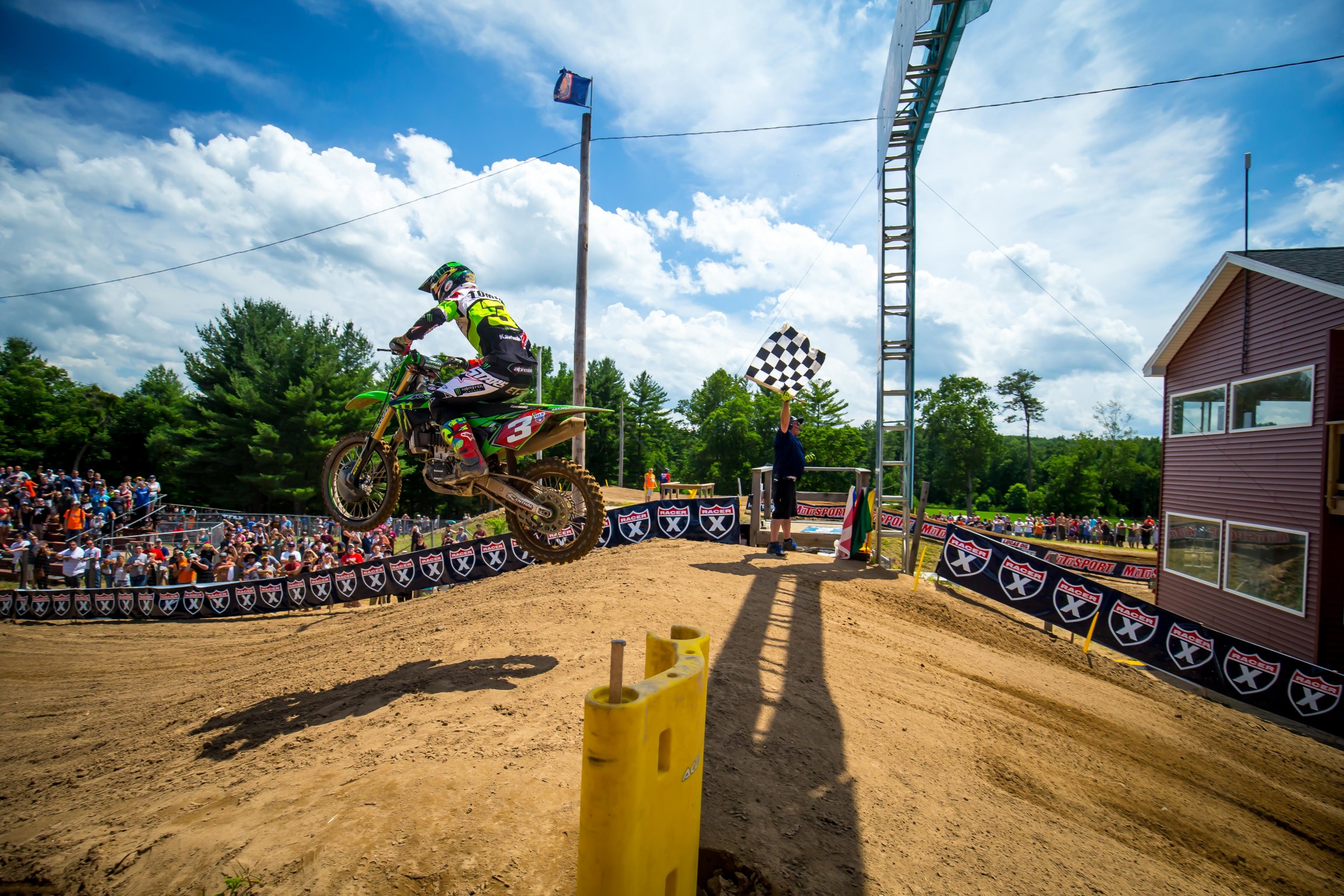 So far this summer we've seen some excellent racing in both the 250 and 450 Classes, though Monster Energy Kawasaki's Eli Tomac and Rockstar Energy Husqvarna's Zach Osborne recently seem to be asserting themselves and pulling away in their respective classes. With five races left—Spring Creek, Washougal, Unadilla, Budds Creek, and Ironman—time is starting to run out on every else. And Tomac has the advantage of knowing that Baggett is now dealing with a thumb injury. Osborne, who proved he can close the deal when he won that thrilling 250SX East Region Championship, has this title in sight and will also be tough to beat, especially if he gets the better of the brothers Martin at their home track next weekend. (And it's privateer Henry Miller's home race, too, and he's coming off a solid ninth overall at The Wick.)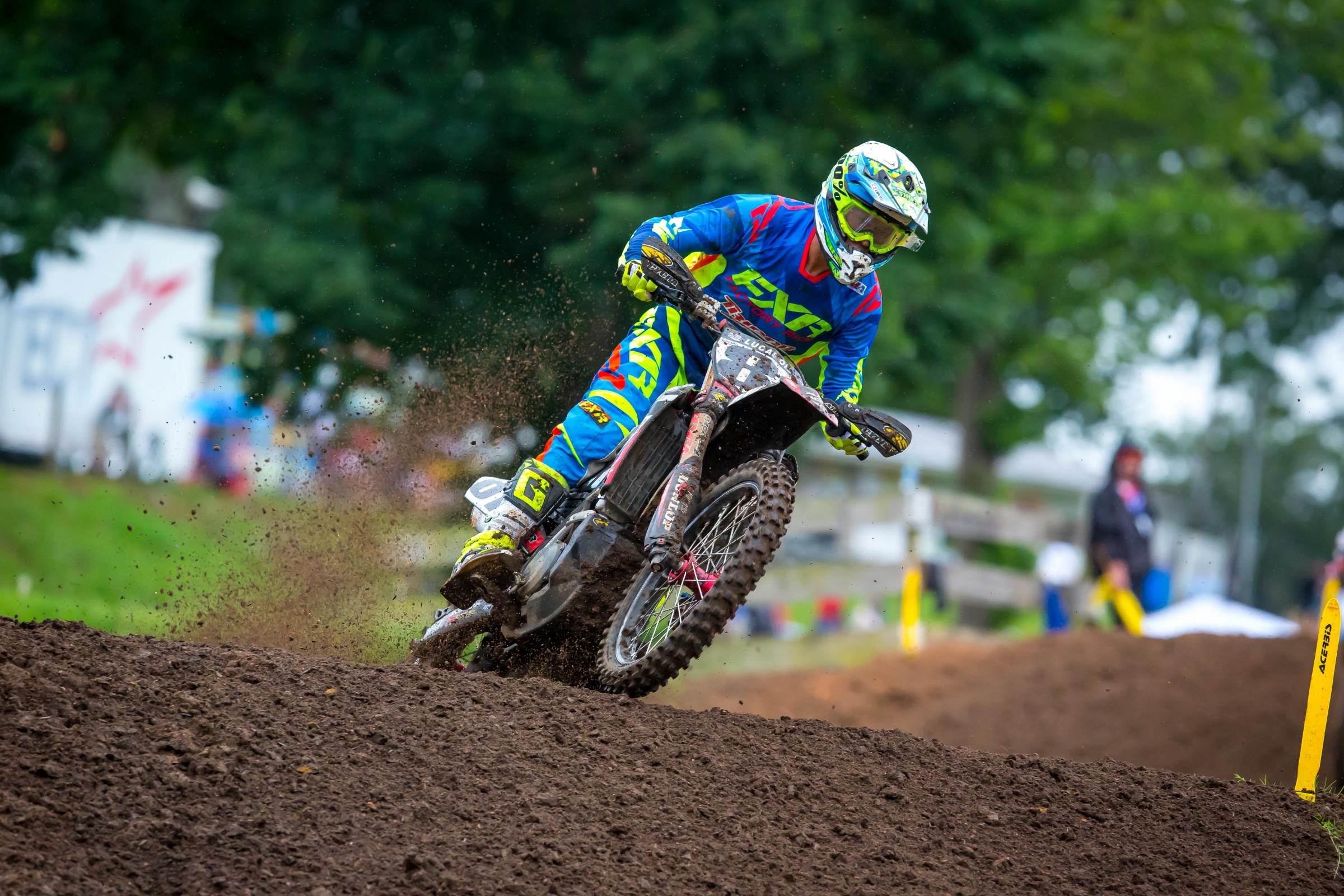 For the amateurs, we're three weeks away from the start of the 2017 Rocky Mountain ATV/MC AMA Amateur National Motocross Championships. We've been counting down the days to the start of the race with our 36-day Countdown to Loretta's, presented by Scott, where each day we go back and look at one of the previous years of the event, which started in 1982. So far, we've gone over Eli Tomac's graduation to the pro ranks (2009), Mike Alessi's "Believe the Hype" saga (2004), the arrival of the game-changing Cobras (1994), Hurricane Danny (1985), Travis Pastrana's leap into the mainstream (1999), and even Ricky Carmichael's return to amateur racing (2011). Today it's David Pingree's first visit to the ranch (1990). All have been fun to write and read through, and we plan on placing them in the Loretta Lynn's Vault as intros for each year. Make sure you check them out and read up on the years you were there.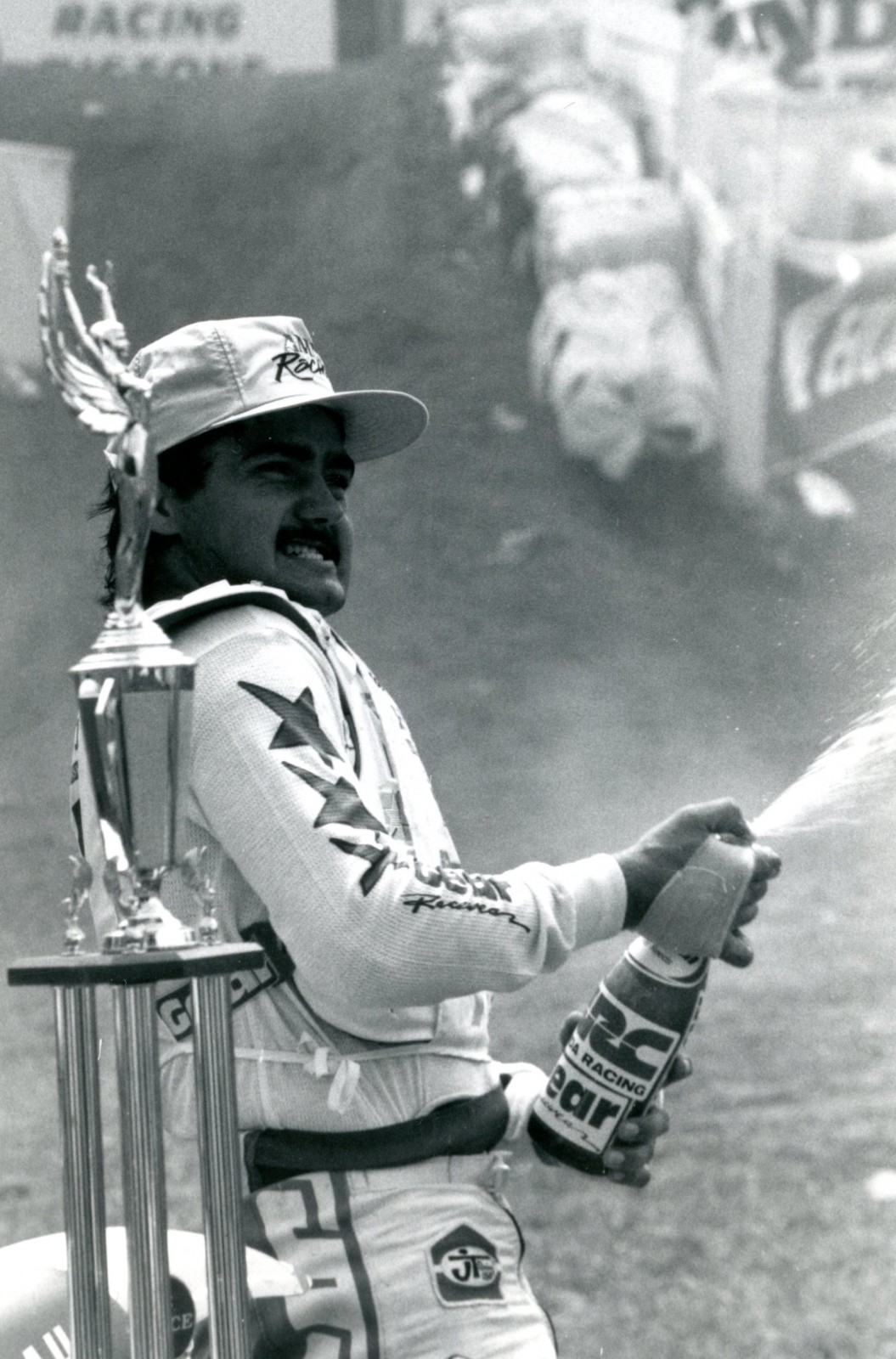 There is also a big battle brewing in the Amsoil AMA Grand National Cross Country Series, where KTM's Kailub Russell is suddenly starting to lose ground to Thad Duvall, his GNCC rival and International Six Days Enduro teammate. Duvall won the John Penton last weekend on his Husqvarna, only to be docked after the race for taking a shortcut through a creek section that a fan was pointing out to some of the top riders. (Chris Bach was docked a position as well.) With Duvall moved back to second, fellow Husqvarna rider Grant Baylor was declared the winner. Russell finished third, behind Duvall, and is now just 19 points ahead (211 to 192). Tensions definitely heated up this weekend in the wake of Duvall's penalty, and when that series resumes in September with the 10th round at Unadilla, it will certainly be worth watching.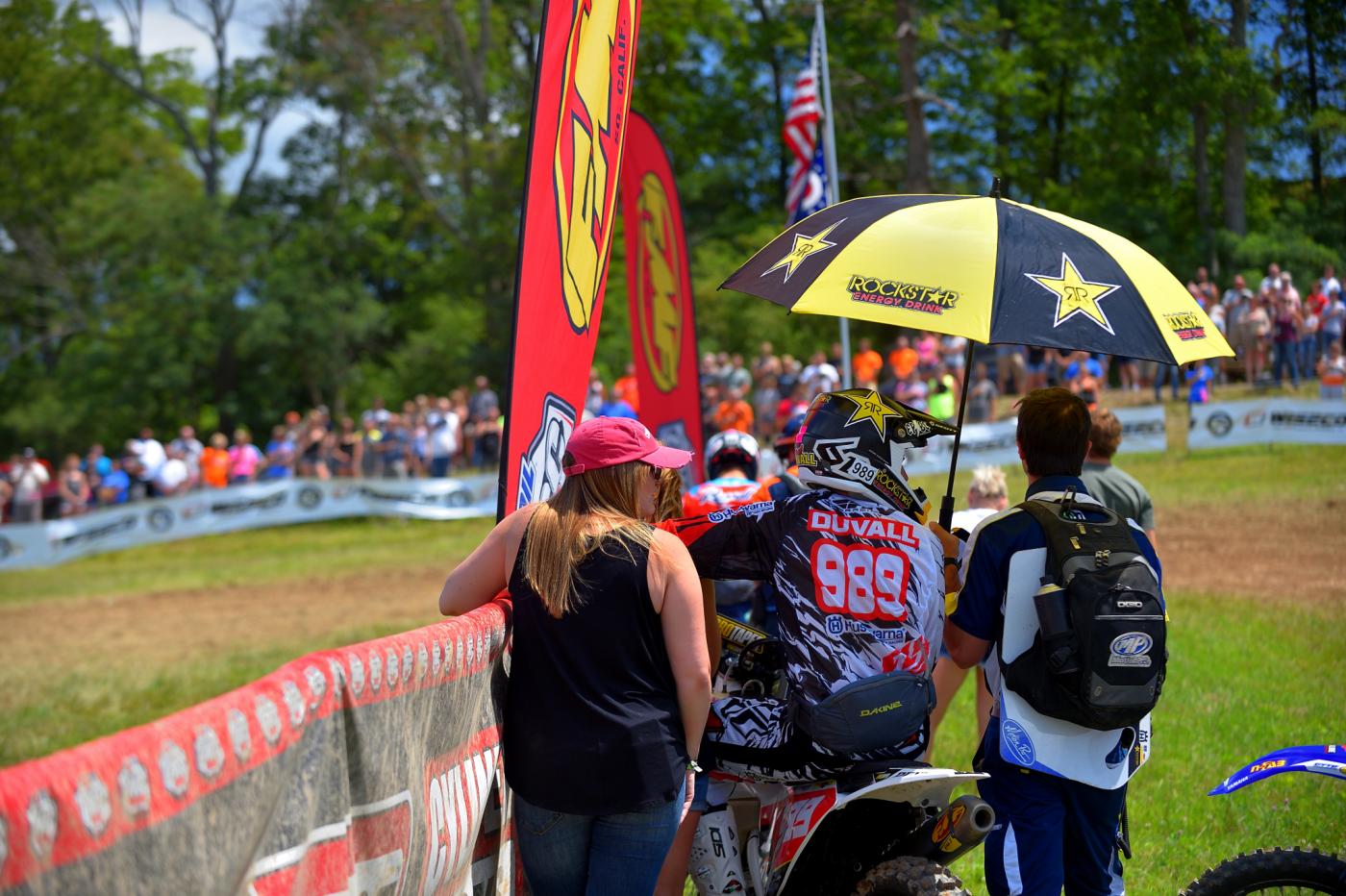 So what are you going to do on your off-weekend? We asked a bunch of the top pros, and some of it's pretty funny stuff.
GODSPEED (DC)
Before we get into the news of the week, we want to tip our visors to AMA off-road legend Bill Baird, who passed away earlier this week. Baird was a seven-time AMA National Enduro Champion and the all-time winningest enduro rider until Dick Burleson came along. Baird and his wife, Millie, were longtime advocates for the AMA as well as active motorcyclists until Bill was in his seventies. He served on the AMA Board of Trustees for 21 years. Baird was inducted into the AMA Motorcycle Hall of Fame in 1999. He was 88 years old.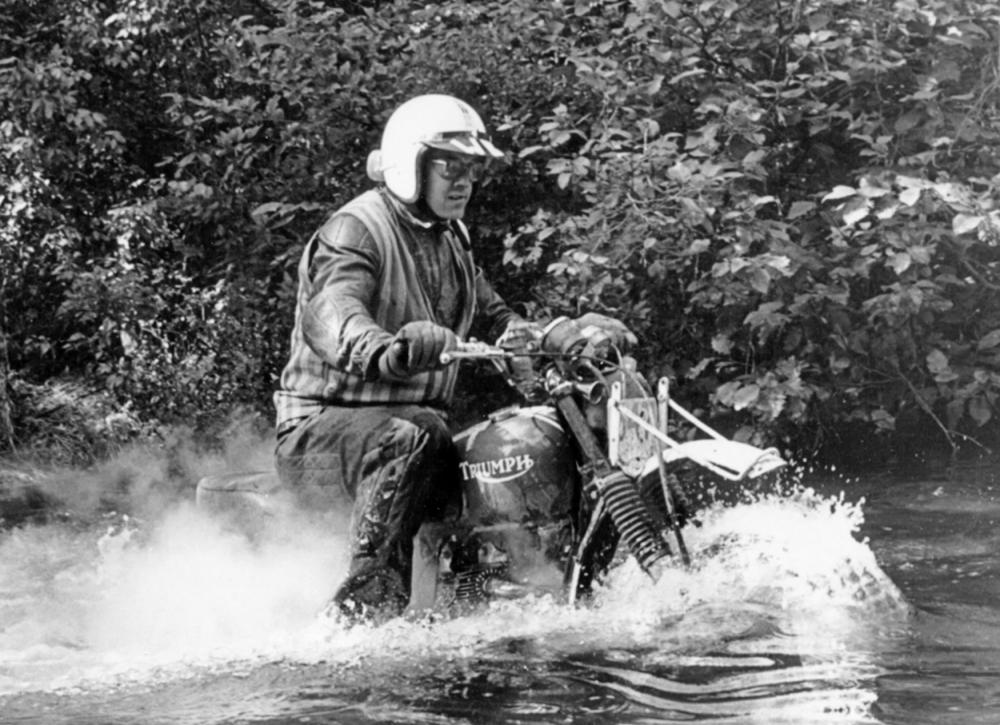 And last week we had mentioned the passing of former 250cc and 500cc World MX Champion Hakan Carlqvist, but we didn't have many details. My friend and colleague Adam Duckworth sent me more info on what exactly happened to the Swedish motocross legend. Carlqvist died after suffering a stroke at the age of 63. According to Adam, Carla's brother Bertil reported that he had a brain hemorrhage on Wednesday and was rushed to the hospital in Toulon, France. He passed away in the early hours of Friday. The pair were about to go on a motorcycle tour of the Alps and had talked via Skype the day before the stroke struck.
Also, Carlqvist was so popular in Sweden that the Prime Minister Stefan Lofven paid tribute to him: "I have a particular interest in motorsport and he was a huge role model for young motorsport enthusiasts. I saw Hakan 'Carla' Carlqvist race motocross several times and it was absolutely magical. He was a fighter. He said himself that he was patched and repaired many times." Carlqvist had been named the Sports Personality of the Year in 1983, an accolade also won by tennis players Bjorn Borg and Stefan Edberg and golfer Henrik Stensson.
Godspeed to Bill Baird and Hakan Carlqvist, champions both.
Pressure Point (Jason Weigandt)
Critical juncture now in Lucas Oil Pro Motocross, with Zach Osborne and Eli Tomac pouring it on and stretching their points leads in both classes. It was good to hear some updates from the Blake Baggett camp yesterday saying his thumb is feeling better (even though they now know he's got a torn ligament) and will be back on the bike today. Baggett certainly knows he's going to have to get back to warp speed, quickly, because Tomac is back to looking pretty flawless at the moment.
I think the 250 riders are in a different spot—they're waiting for Osborne to finally have a bad race. They've all handed over a ton of points: Aaron Plessinger has crashed too much, Jeremy Martin had a mechanical-failure DNF and two early crashes while leading, the Monster Energy/Pro Circuit Kawasaki riders have had mechanical problems and then hit a collective slump. Meanwhile, Osborne has avoided all such trouble. Alex Martin has been equally consistent, but not quite as fast as Zacho thus far. And maybe Dylan Ferrandis can build some momentum on his strong motos from Southwick, but he's also way back in points.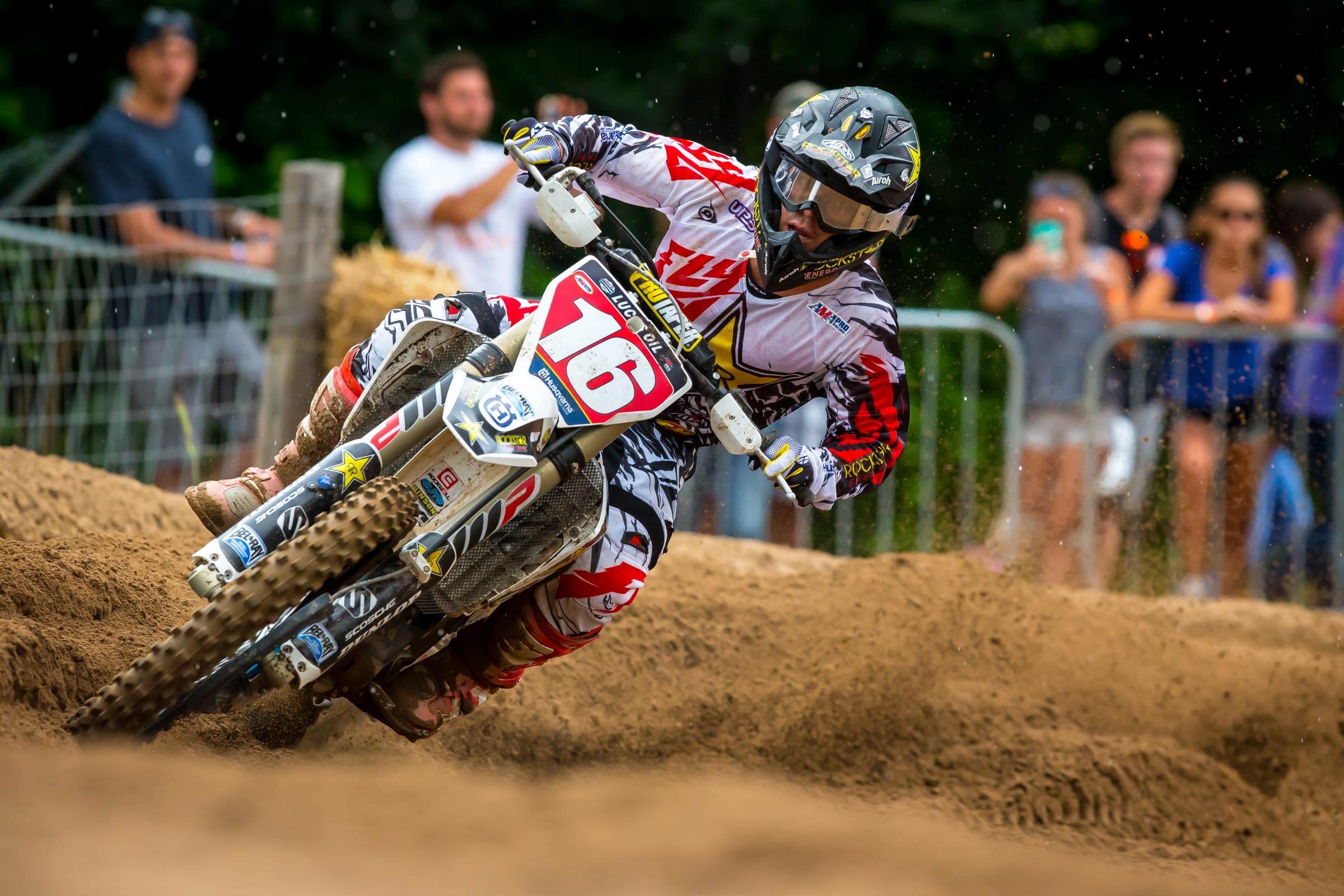 The 250 Class is usually ripe with inconsistency, though, so you'd have to think Zach will have some bad luck of his own and give some points back. Last year the second half of his season completely fell apart (outside of an overall win at Budds Creek) with a rash of mechanical problems. So it's not over yet.
Osborne's Second Half of the 2016 Season
| | |
| --- | --- |
| TRACK | 2016 |
| Spring Creek | DNF-3 |
| Washougal | 5-DNF |
| Unadilla | DNF-DNF |
| Budds Creek | 4-1 |
| Ironman | 11-15 |
However, it's said that you make your own luck, and Zach has done a lot of that so far. My broadcast partner Grant Langston has been pointing out each week that Osborne has a methodical approach to the races, usually waiting out the first few laps, avoiding chaos and costly early crashes, before pouring it on. Langston equates Osborne to a marathoner versus a sprinter, and he has the confidence to know he doesn't need to rush the first few laps and take risks, because he knows he's strong enough to catch back up later. It's been a pretty potent combination.
The Martin brothers are really the only ones left with a reasonable shot at Osborne. Millville is next which is good for them, but will they get the big mistake or mechanical (or two) they need to get back into this? Also, can you imagine two brothers duking it out for the 250 National Championship? It could happen … but right now Zach has everything going his way.
Pro Perspective (Jason Thomas and David Pingree)
JT: Outdoor Nationals are brutally hard. The racing is one thing, but the work during the week is what really wears you down. It's 90-plus degrees for most this time of year, and doing moto after moto simply wears everyone down. Hard work doesn't really accomplish anything without allowing the body to recover and come back stronger. The program I generally followed saw a really tough week leading into the off-weekend. We would actually do more work than a usual race week in hopes of making a few strides forward. We would usually add a day of motos since we didn't have to travel on Friday and there was no need to peak on Saturday. The daily bike ride would be a little longer, and we could add in a run or swim that would have been too much for a standard week. It made for a long, hard week, but there are few times during the season that you can actually try to get better or stronger. This off-weekend was critical, though, to get back to 100 percent by Monday and enter a normal race-week schedule. All of that extra work would be a detriment if you roll into Millville tired and beat up. Tomorrow and Sunday should have a bit of active recovery (think spinning on a stationary bike), but staying off your feet and out of the heat would be my advice. Monday morning should feel like one of the freshest days of the year. There are five races left and plenty of opportunity to perform. Being strong and rested will make that job much easier.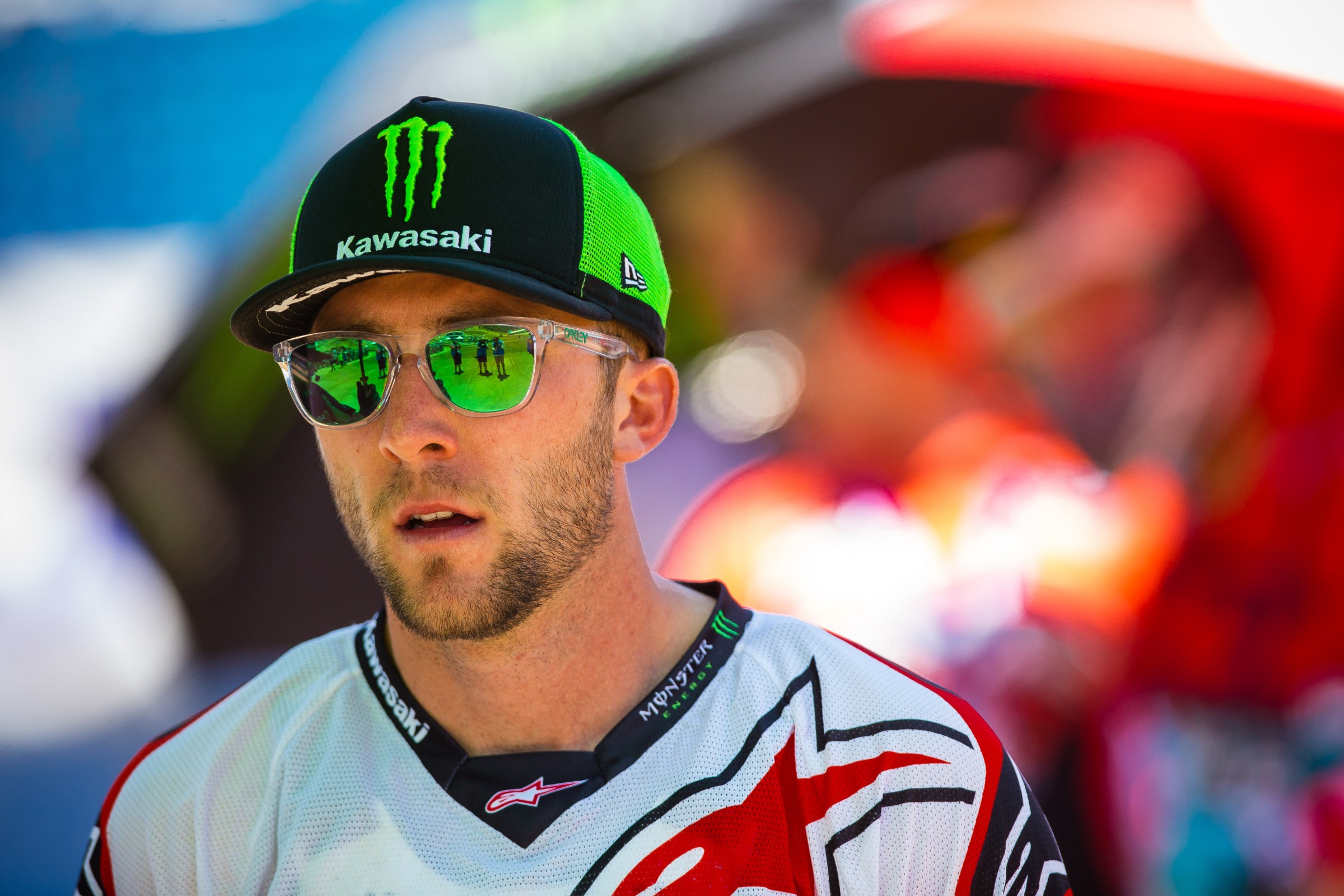 Ping: This weekend is critical for pro racers. Motocross is brutal, and even if you can avoid major injury you are likely nursing something at this point in the season. Supercross drags on for 17 weekends with hardly any breaks and the guys spend the time between SX and MX prepping for the new series. That makes the breaks in this schedule hugely important for riders to let their bodies heal and recover. Honestly, the best thing some of them can do is relax, get some therapy done, get a massage, and let their bodies catch up. A nagging injury is very tough to deal with when tracks are rough and rutted and it mentally wears you out. For those in the title hunt it is more difficult to take time off; you feel as though you are losing ground to your competition. But for those riders who are running out of steam, this break will give them a chance to get back to 100 percent and return to the fight with guns blazing. Enjoy the weekend off gentlemen.
THE WEEK THAT WAS (Matthes)
Busy week in the world of podcasting and talking about the grand ol' sport of motocross. David Pingree was up here in the Lion's Den (actually Basset Hounds' Den) for the PulpMX Show, and we talked about Southwick and silly season and had some laughs. Ping gave us his four rules for young motocrossers and they involve staying away from girls, get some kind of guidance/trainer in your life and a couple more that had us laughing.
We had Dean Wilson on, who spoke about his great ride at Southwick and how he hadn't been there in six years! The last time he was there it ran the other way and his practice session this year wasn't good. He was one of the few to get a much better time the second time out. Dean's inked up a deal with Rockstar Energy Husqvarna for 2018 with a team option for 2019, so that was a gamble that paid off for the #15. Ping and Wilson had some beef from an Ask Ping column a couple of years ago [Ed. Note: Here's the column Wilson was referring to] and we tried to bury it, but I don't think Dean was having it so looks like that will carry on.
We had the #800, er, I mean the #5, Mike Alessi, on the show to talk about his win at Gopher Dunes. Mike couldn't give us a comparison between his Kawasaki he races up there and the Honda he's on down here, but he did tell us he's sold the high desert compound he had for years to GEICO Honda's Carson Mumford. Mike's full-time East Coast now! He also said he didn't know if 2018 would be his last year, and he was not ever going to try poutine or Hawkins Cheezies.
Star Yamaha's Dylan Ferrandis was on and spoke about how difficult it is to get the National tracks down with so little practice compared to the MXGPs. Dylan also said that he's surprising himself with his results in America and that he also can't figure out why people call him "Fernandez" instead of "Ferrandis." I haven't spoken to Dylan much but he seemed like a good guy and is very happy to be here in America. Dylan also spoke about his admiration for Antonio Cairoli over in the MXGP series and how he's stoked that the #222 is dominating that series. He mentioned that he did have a deal with Kawasaki that if he won the MX2 title, he would get a ride with Monster Energy/Pro Circuit Kawasaki, but neither the title nor the deal happened.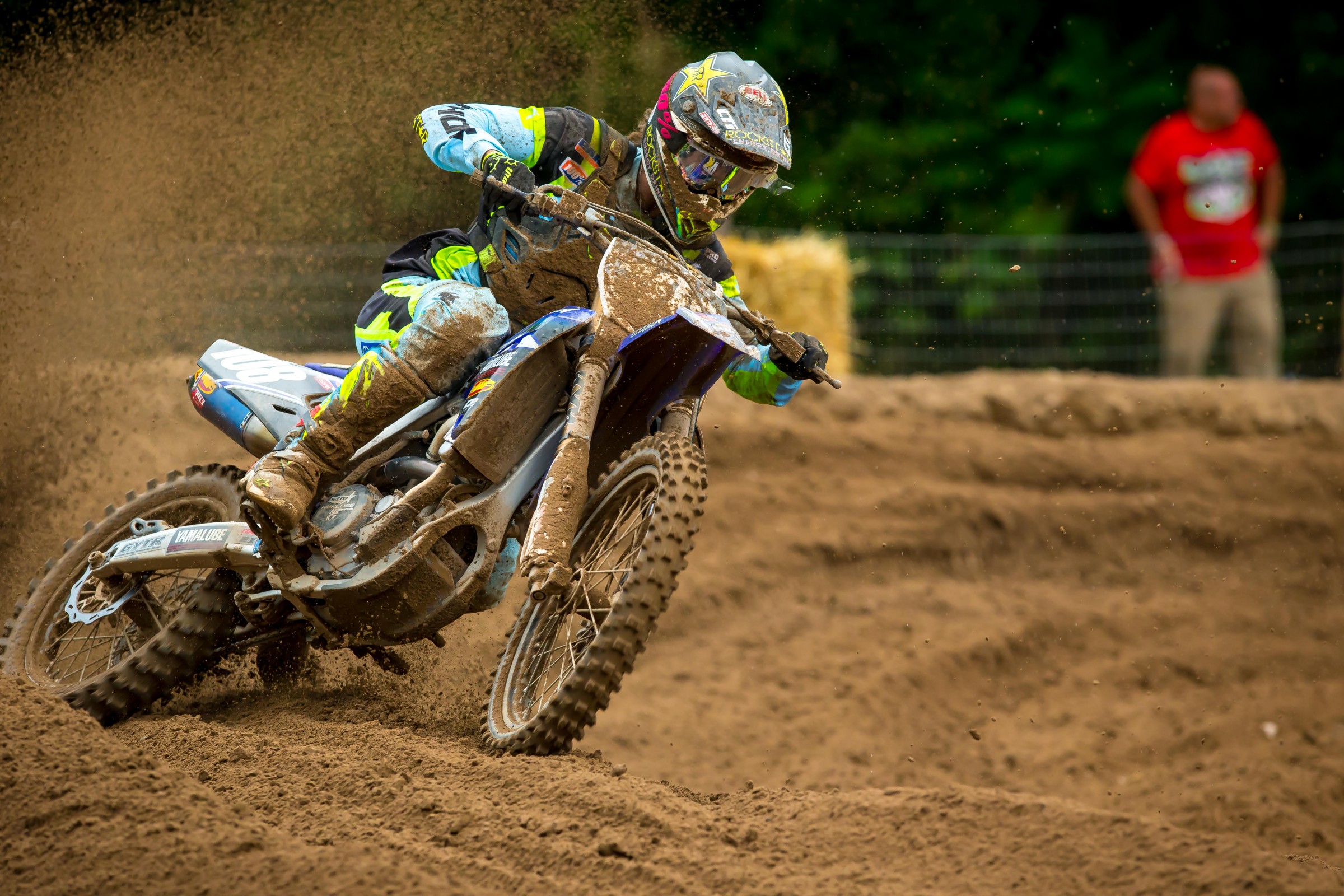 We cold-called Wil Hahn, who mentioned that when he looked at Aaron Plessinger's injury at High Point his first thought was, "Well, I guess that's what a man's penis looks like."
Troy Adamitis was on to talk about Season 3 of his MX Nations series, available on Red Bull TV, and all the drama that's coming up with that. We then spoke about Frezno Smooth (Troy directed that) and how there's supposed to be a part two. Troy's been given inside access to the camps of these riders, and it should produce some great TV in the upcoming weeks.
Go over to Pulpmx.com to read about David Vuillemin's take on Southwick, some boot review podcasts by Kris Keefer, JT's all-time list of riders that are fantasy killers and much more.
SEEING DOUBLE (DC)
When we were choosing the cover image for the latest issue, we knew we wanted to run Blake Baggett on Page 1. The Rocky Mountain ATV/MC KTM rider had been on quite a run, winning Thunder Valley and High Point and taking the points leader's red plate away from Red Bull KTM's Marvin Musquin. We looked throughout all of our photos files from the first four rounds of Lucas Oil Pro Motocross and decided on a unique image from Hangtown by Jeff Kardas that actually showed Blake emerging from the pack, front end high, bars cocked a bit to show his #4 prominently. Langers, our creative director, loved the image, so we went with it. Blake Baggett loved it too.
Meanwhile, on the other side of the Atlantic Ocean, the staff of the German magazine Cross must have been a very similar conversation. They work with Hoppen World Photos, which is a photo syndicate founded by Frank Hoppen that Kardas contributes to. The same photo from Hangtown of Baggett was available for foreign publications, and they picked the exact same cover image! And in all honesty, they probably picked it before we did, because while our magazine was still at the printer, theirs landed on my desk—I'm a subscriber.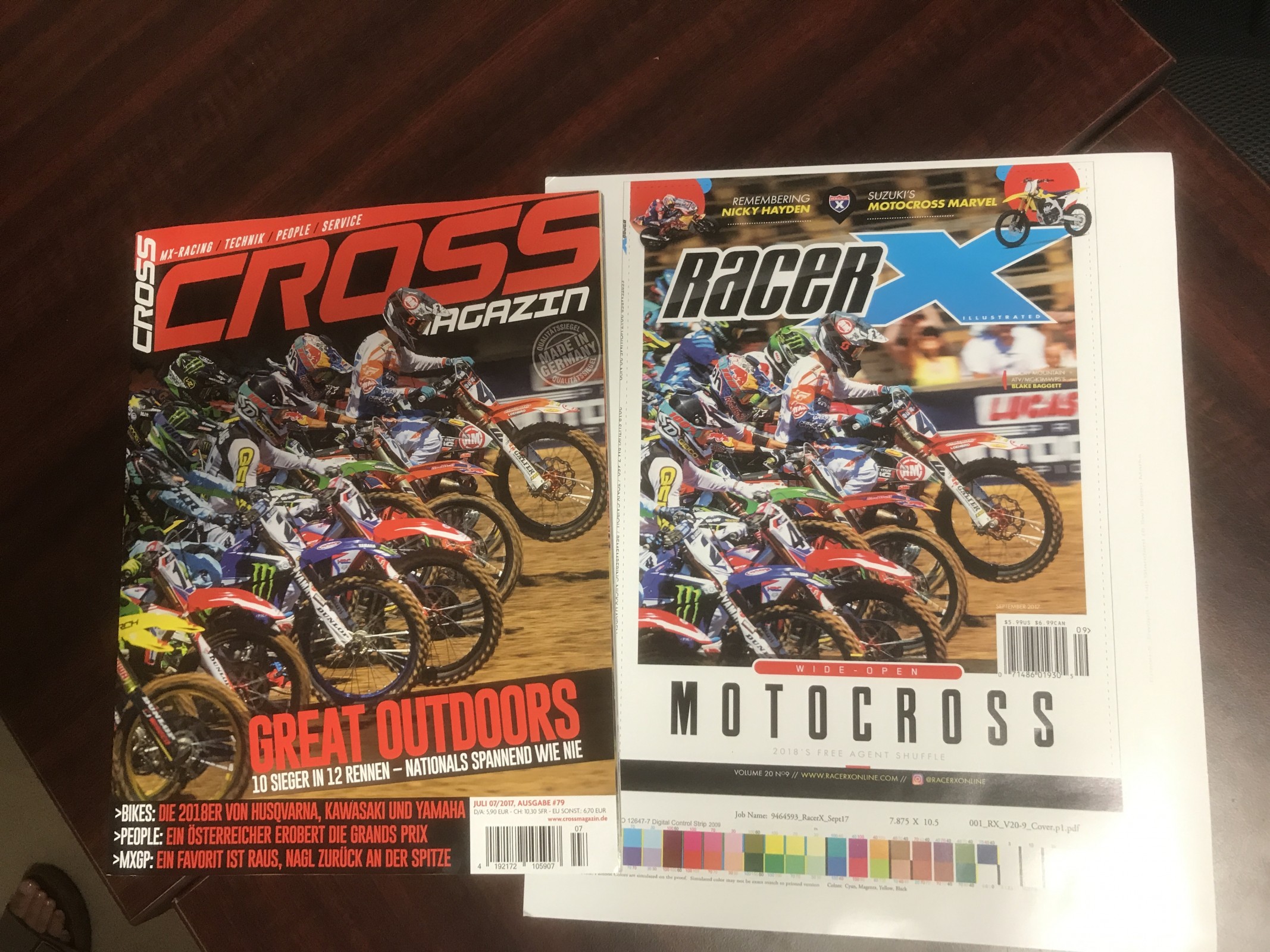 Fortunately, probably not a lot of folks read both magazines, and we have no issue with having the same cover photo as a top magazine in Europe. And we're happy for Jeff, too, for getting a rare double-cover out of a single unique image. But if there really is a cover curse, I'm going to keep my fingers double-crossed for Blake Baggett!
Warm Up (Weigandt)
Spotted this cool nugget of info in Honda HRC's always-informative post-race press releases. It's insight into Cole Seely's race day routine. Give it a read—rarely do team PRs get this in depth!
"Most professional racers live very structured lives and have a specific routine or schedule for each day of the week. That includes race days, during which each athlete has his own program to help him perform at an optimal level, diet being an important component. 'I always try to eat things that I know won't upset my stomach,' Cole Seely explained. 'Over the years I've learned which foods will agree with my body on a race day and which ones won't. For breakfast I'll try to stick with oatmeal or eggs, maybe even both. Immediately after I get off the bike after each session, I'll eat a banana to refuel my body before also having either a Cliff bar, peanut-butter-and-jelly sandwich, or smoothie. For lunch I stick with plain grilled chicken, sweet potato, rice, and avocado, which gives me the protein, carbs, and fats I need. We're putting our bodies through so much that it's important we eat the right foods.'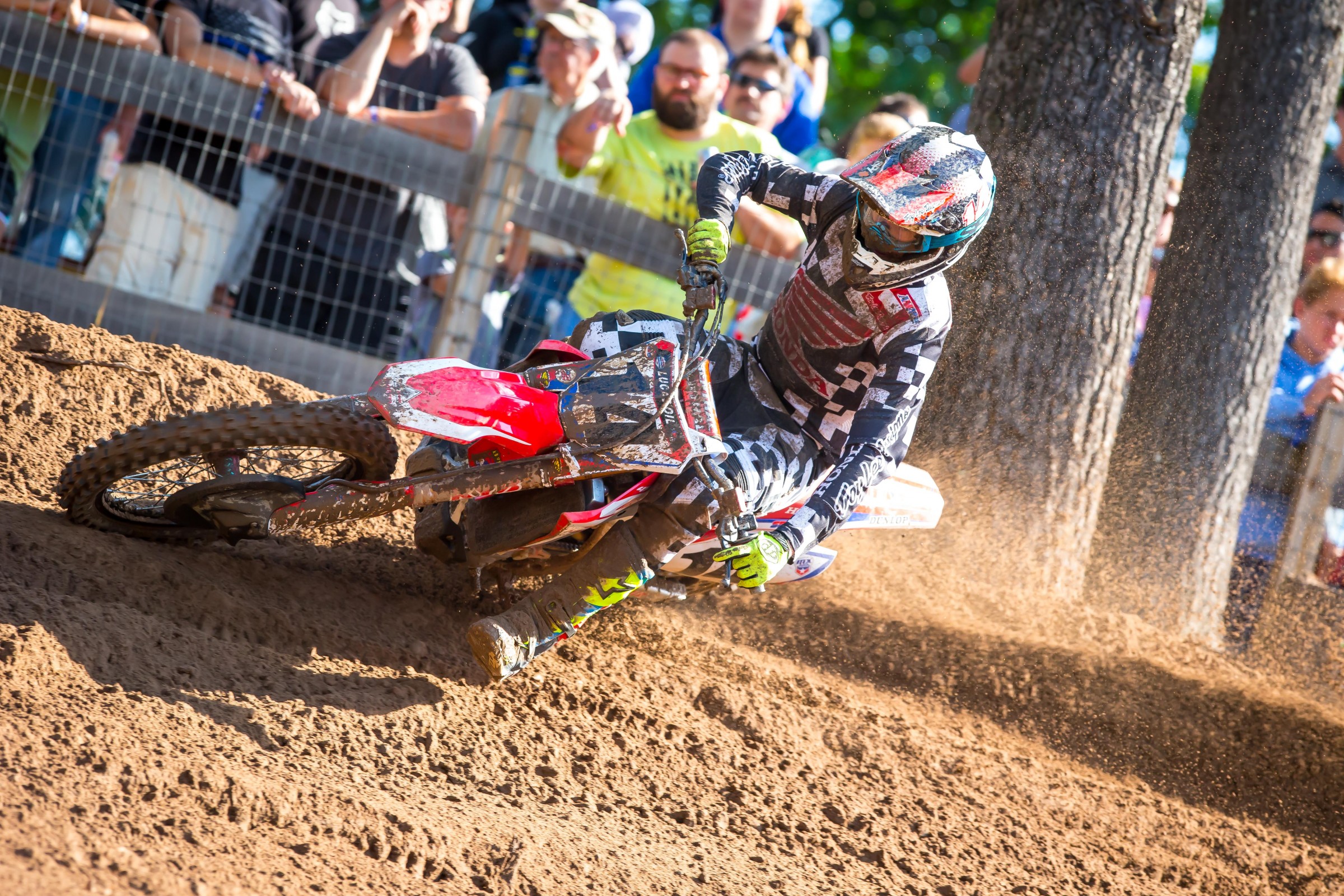 "Seely touched on his physical routine as well: 'Warming up your body is also really important on race day. There's so much strength involved when riding that you can't just jump on the bike and go out there. After the riders' meeting, I'll go into the lounge and do some stretching and balance movements that I know will warm me up and get a little sweat going. I have my [stationary] bicycle too, which is a pretty traditional way of warming up, so sometimes I'll do both. I've also been taking some new supplements that I've learned about from my new trainer Blake Savage. They're things that have worked well for him and have also worked with Kenny [Roczen] since they've been working together.'"
Intro Season (Kyle Scott)
Intro season is officially in full swing. This week, Honda introduced us to the new 2018 CRF450R and Kawasaki to the new 2018 KX250F. Both bikes were all new in 2017, featuring new chassis and big engine improvements. Now, 2018 is the year of refinement for these two machines with slight tweaks and improvements.
The 2018 CRF450R continues with last year's "Absolute Holeshot" concept with refinements. Last year the electric start came as an option, this year it comes standard. The suspension has been beefed up this year as well. The forks and shock come with stiffer suspension, which tailors to the bigger guys in the 185-200 pound range and more aggressive, lighter riders. Honda also added a new lighter and more durable lithium-ion battery. The same one from their race bike in fact, which Andrew Short was even surprised to see. The engine mounts have been changed this year as well which improves the handling of the bike. The final tweak for the CRF450R this year includes new ECU settings—it still comes with three maps. One thing noticed during our testing was the clutch needs to fully be engaged if the bike is to be started in gear.
The 2018 KX250F comes with a bunch of minor improvements that make a big difference. One of the first things you notice when you look at it is the new cylinder head. It's much bigger than most other bikes, and there's a lot going on under the hood as well. The fuel injector has a new angle, a new fuel pump, and the cam shaft timing has been improved.
The shape of the air boot has also changed. The new shape is more angled versus last year's, which was more curved. The more direct angle is geared to improve mid and top-end power. The header pipe diameter has been increased and is larger than last year, which the Kawasaki mechanics informed me improves mid and top-end power as well. What about the bottom end? Not to worry, they also extended the length of the pipe itself, which improves the bottom-end power. The shock and the ECU settings have been tweaked as well. The bike still offers three different plug and play couplers that feature a mellow (black), stock (green), and white (aggressive) performance.
With David Pingree sidelined while recovering from knee surgery, Bryce Vallee came out of retirement for the week and filled in after a horrendous crash at Pala back on April 1, 2012. In Bryce's crash then, he suffered two broken femurs, a broken pelvis in three places, five vertebrae fractures, a compound shattered left elbow, a shattered left collar bone, left hand paralysis from radial nerve damage (which has regenerated over time so he has movement but no feeling on top of the hand), a fractured left scapula, and to top it off damage to his liver and kidney. That was one April 1 he probably wished was merely an April Fool's joke. Bryce has only ridden a handful of times since then, but you wouldn't be able to tell watching him burn laps. I'm honestly surprised he even rides at all after such a crash, but he didn't skip a beat and was ripping immediately. That's what these new bikes do to people. They make you want to ride!
Stay tuned for more bike and gear introductions in the coming weeks. Intro season is here, and with an even busier schedule than normal, I need to land an energy drink sponsorship of my own.
THE DARKEST DAY IN MOTOCROSS (DC)
Racer X contributor Brett Smith recently wrote a piece for the moto publication META that should be a must-read for all: "The Darkest Day in Motocross" is a look at the tragic car/train crash at the end of the 1982 Ponca City NMA Grand National that took the lives of three promising young Suzuki factory minicycle racers: Bruce Bunch, Rick Hemme and Kyle Fleming. We wanted to share what he posted about it on Vital MX here: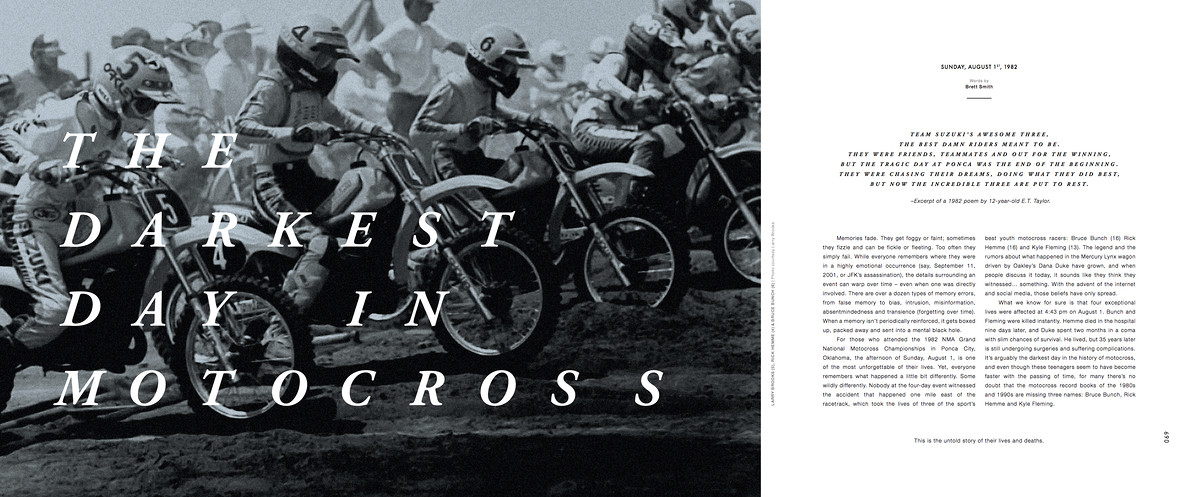 The idea for this story was brought to me by Jason Assad and once I dug into it, I could tell it was one that people wanted to know more about. For many people, the deaths of Bruce Bunch, Kyle Fleming and Rick Hemme is still a very fresh memory, 35 years later.
The photo here is the opening spread of a 12 page article being published next week in the next issue of META. Last October I started the journey of trying to tell the story of what happened in Ponca City, OK on August 1, 1982.
Maybe my work will only lead to more questions but the promise I made to the Bunch, Fleming and Hemme families was that everyone would know who their boys were and who they wanted to be.
Over 6 months of reporting went into this article, involving interviews with 50 different individuals, which ended up being 8,000 words, an unheard of length in motorcycle magazines. It was a complicated process and not every detail was able to get to print. I also ran into the issue of one person's account completely contradicting the account of another person's and I knew I could only report the stories that was I able to corroborate from multiple sources.
The family trusted me with this story and that's a very high honor. Word has started to leak about this article's release and I've been getting phone calls from complete strangers, men who were friends of the boys and just wanted to talk about them. I've also been getting messages from young men who are only in their 20s but they want to know more. It let me know that their memory is still very strong and now a younger generation will know who they were as well.
The article (shipping on July 21) will be published in Volume 009 of Meta Magazine and can be ordered from readmeta.com or by visiting a Barnes & Nobles (probably early August). A list of independent stockists can be found on the website: www.readmeta.com.
FIRST BRIT (Andras Hegyi)
This season, 2011 AMA 250 National Champion Dean Wilson has sped up in the 450 category. Last weekend he claimed his very first 450 podium. Wilson debuted in the 450 division in 2013. In his 17th 450 National race, he was third at Southwick. It was his first podium since 2011 when he was 250 Motocross Champion! All told, Wilson got five wins and 20 podiums in the 250 Class.
With this performance he has become the second Scottish-born rider to step up on the podium in a 250/450 National. The first one was the legendary seven-time AMA Champion Jeff Ward. Wardy was born in Scotland, but he got every success as an American citizen. Coincidentally, Wardy is the most successful American rider of all at the Motocross des Nations as a member of Team USA—he was undefeated in six MXoNs and two Trophee des Nations.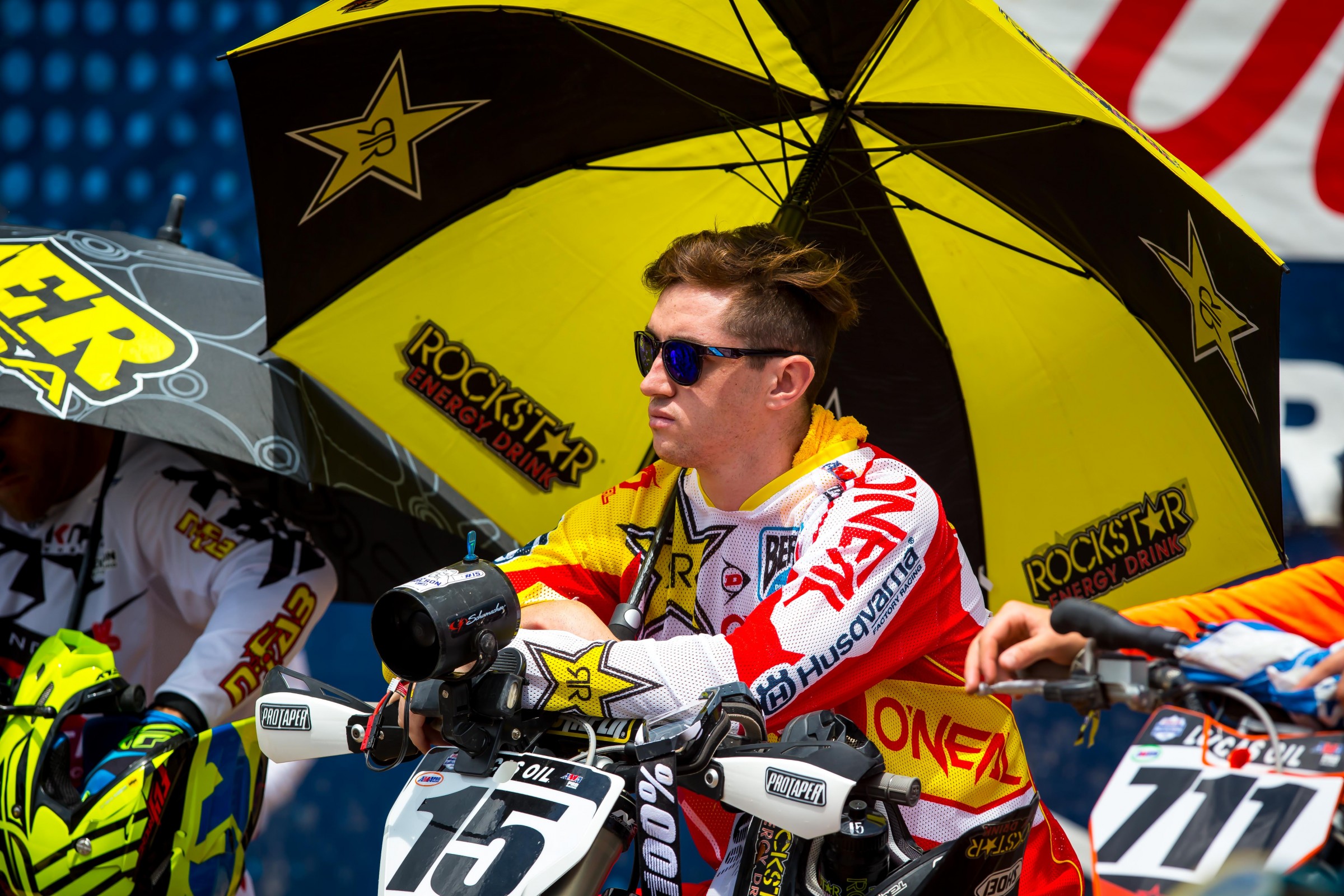 Finally, Wilson has become the very first British motocrosser to get podium in the American premier class motocross category, started in 1972. Wilson is the 22nd non-American rider to get a podium.
Chad Reed (Australian) 45 podiums
Ken Roczen (German) 29
Greg Albertyn (South African) 23
Sebastien Tortelli (French) 22
David Vuillemin (French) 11
Jean-Michel Bayle (French) 11
Marvin Musquin (French) 9
Brett Metcalfe (Australian) 9
Pierre Karsmakers (Dutch) 9
Michael Byrne (Australian) 7
Grant Langston (South African) 6
Ernesto Fonseca (Costa Rican) 5
Gunnar Lindström (Swedish) 4
Mickael Pichon (French) 4
Cody Cooper (New Zealander) 2
Stephane Roncada (French) 2
Ben Townley (New Zealander) 2
Clement Desalle (Belgian) 1
Christophe Pourcel (French) 1
Ross Pederson (Canadian) 1
Tyla Rattray (South African) 1
Dean Wilson (British) 1
THE NUMBER: 111 (DC)
I think it's fair to say that most of us here who contribute to Racerhead and Racer X Online are number-crunchers. We like to look at race results, lap times, rider digits, race dates—anything that might have some hidden meaning or interesting coincidences. Andras Hegyi does it on a weekly basis, all the way over from Hungary! Whether it's the amount of times a Husqvarna has won in the history of Southwick (one, counting Zach Osborne's weekend win) or the number of points John Dowd's son has now scored in his career (eight, counting last weekend's fine 18-16 showing), we like to find little nuggets of interest and share them here.
I bring this up because working on the next issue of the magazine, I spotted a randomly interesting tidbit we missed last month. On the weekend of the High Point National there was also a Rockstar CMRC National in Canada at a place called Wild Rose in Calgary. At High Point, which was run on Saturday, visiting Australian Dean Ferris shocked and impressed with 2-14 moto scores. The next day in Canada, visiting American Kyle Chisholm had a decent day, going 7-6 on a Honda. Add it all up and both Ferris and Chisholm finished seventh overall, respectively. They were also both wearing #111, that time-honored number usually given to visitors from abroad. Ferris also wears #111 while home in Australia; Chisholm still holds AMA #11 here in the states, but #111 this summer while in Canada.
Somewhere, the OG Number Cruncher Andy Bowyer is smiling.
Hey, Watch It!
Racer X Films: 2018 Kawasaki KX250F Intro
Racer X Films: 2018 Honda CRF450R Intro
Random Notes
Another randomly interesting old ad, this one from Honda in 1988 that probably wouldn't work today….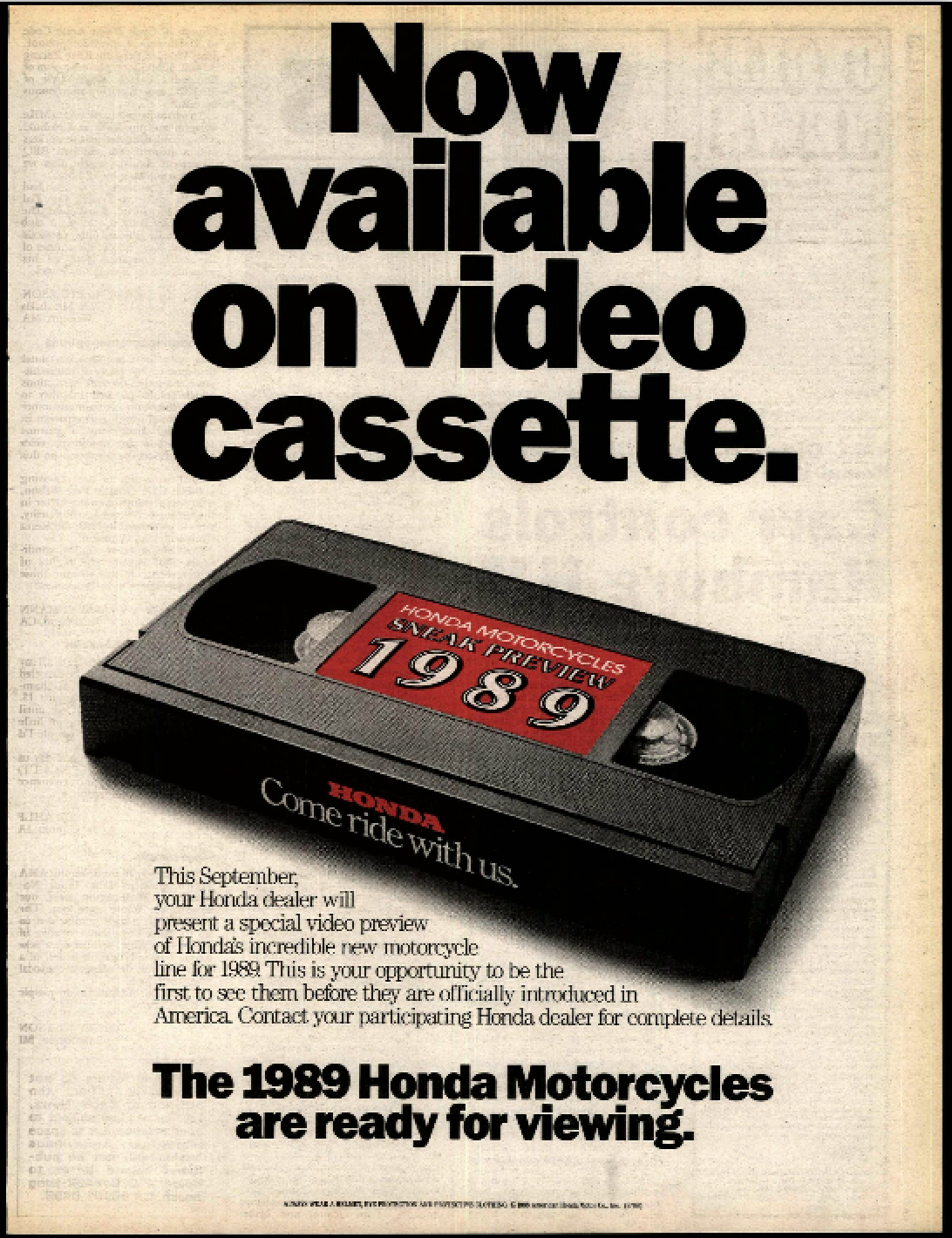 While flipping the pages in some old Cycle News magazines to dig up some information for our 36 Years of Loretta's feature, we came across two brief but funny stories from 1994.
The first involves a confused father and his injured son:
One of the most bizarre moments in Loretta Lynn's lore took place this year when a rider needed transportation in the ambulance to the nearby hospital with a broken jaw. According to the paramedics, the father of one of the riders in the same class saw his son's bike leaned against the paramedics' unit and looked inside the ambulance to see how his boy was doing. When informed that the boy had suffered a facial injury and needed surgery, the parent jumped into the front of the ambulance, rode to the hospital and filled out all the paperwork authorizing medical attention. Two hours later, when the boy came out of the emergency room, the father was shocked to discover that it wasn't his kid! His son actually had a broken arm and was in the paramedics' tent while the other rider – his face covered with a bandage – was being loaded in the ambulance.
The second involves our own Tim Coombs:
The undisputed "Holeshot King" at Loretta Lynn's was Racer Productions' own Tim Coombs, who pulled all six holeshots in the Junior (+25) and Vet A (30+) classes. Coombs, riding a Barr's Competition-prepared Honda CR500, also got two holeshots in '93, giving him a streak of eight over two years. "I don't train very much and I'm usually too busy working on the tracks to race back home," admitted Coombs, who also helped prep the track in Tennesee between his own motos. "I figure that the best time to lead is the first lap or two because that's when everyone takes all the photographs! Besides, I get too tired to go much longer than that." Coombs ended up seventh and fifth overall in his two classes. Sometimes it's better to fade away than to burn out.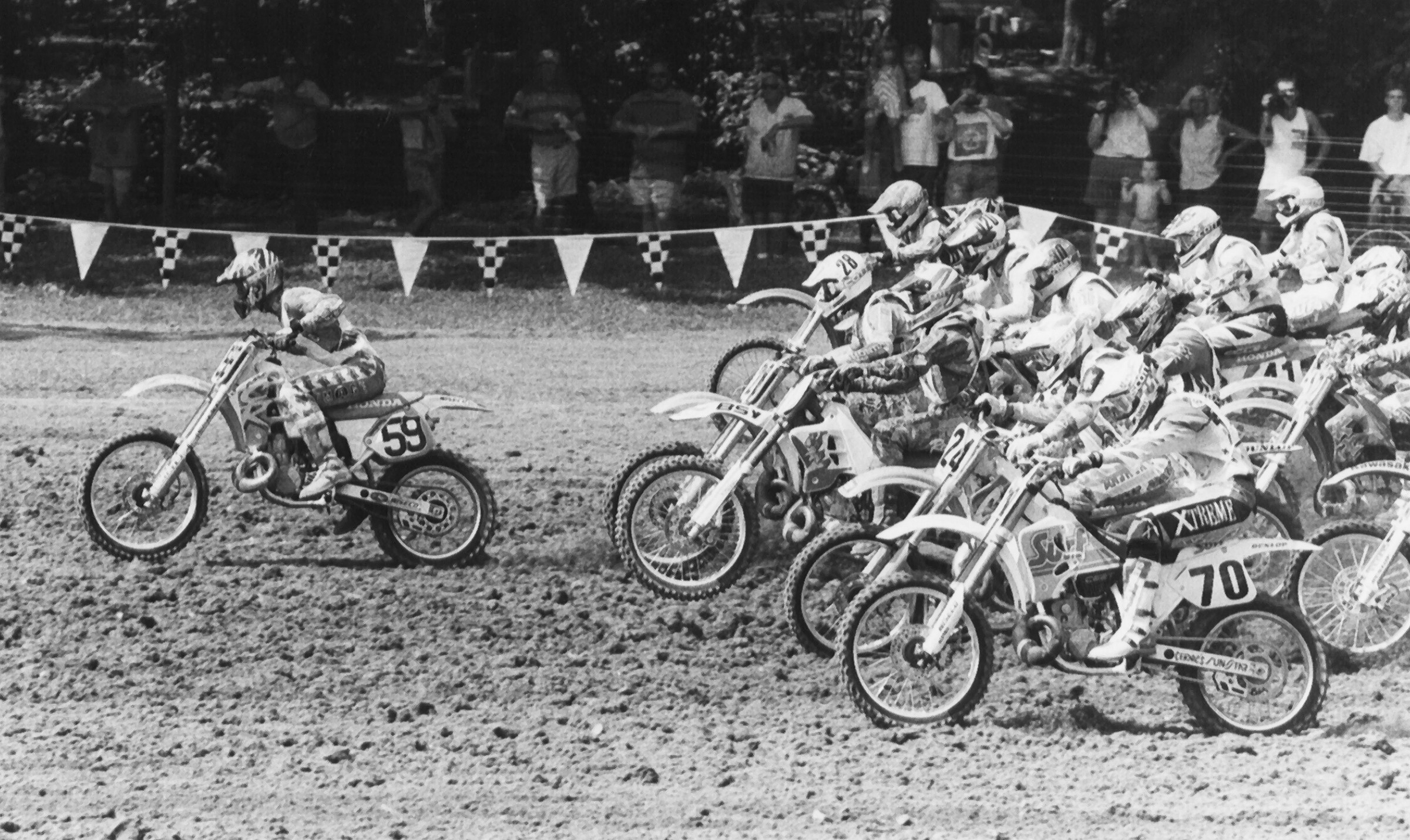 September 2017 Issue of Racer X Illustrated Digital Edition Now Available
Pick up your copy now and read about who will fill the void atop the 450 class ranks, Italy's Tony Cairoli trying to stay on track to become one of Europe's all-time greats, and the tragic loss of American MotoGP champion Nicky Hayden. Also read about our very own Jason Thomas traveling to Japan to test out the brand-new 2018 Suzuki RM-Z450, and how two-stroke racing is finally picking up momentum in Lucas Oil Pro Motocross.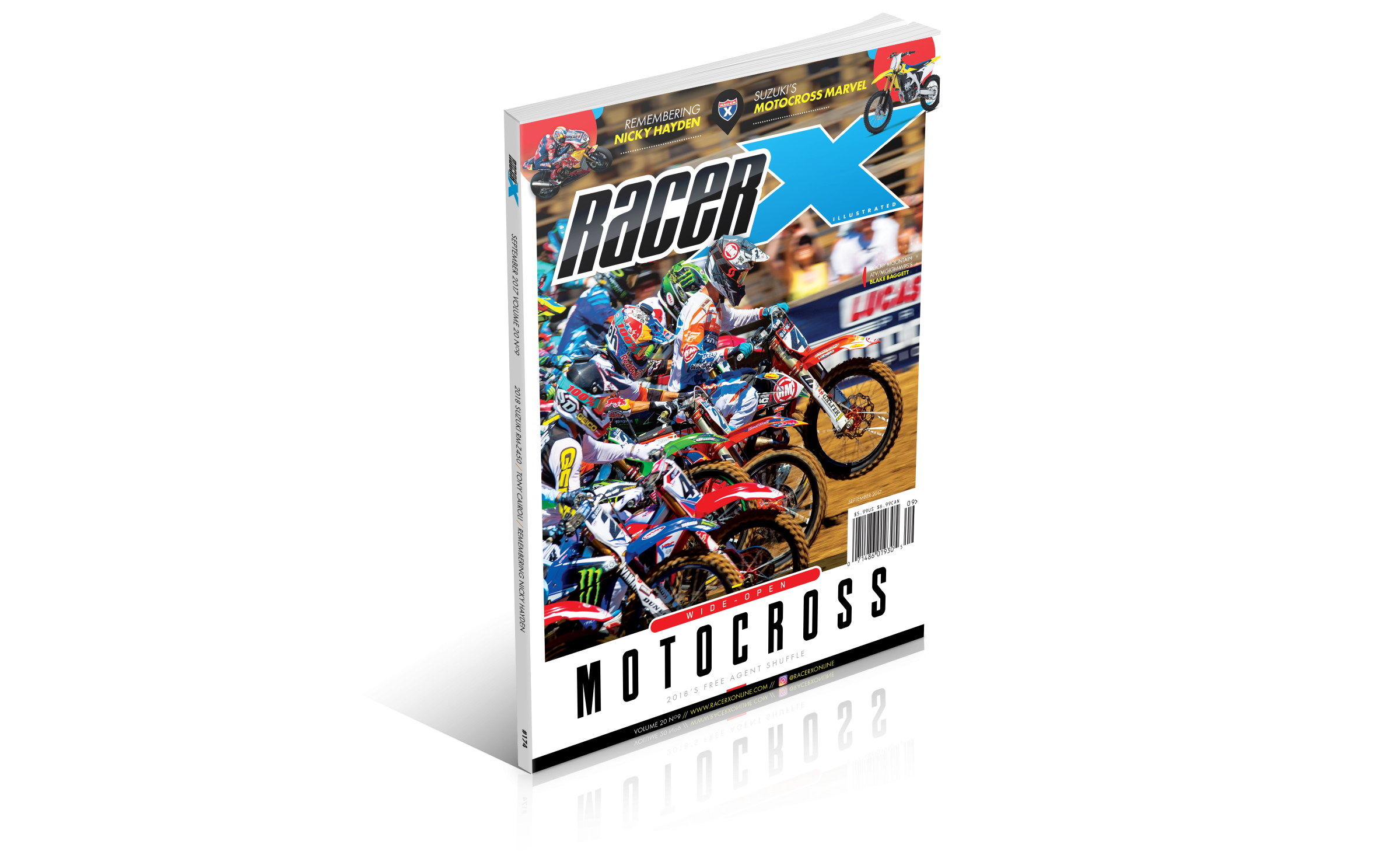 Subscribe now for as low as $9.98 and receive a free Fly Racing Draw String Bag plus access to our digital edition.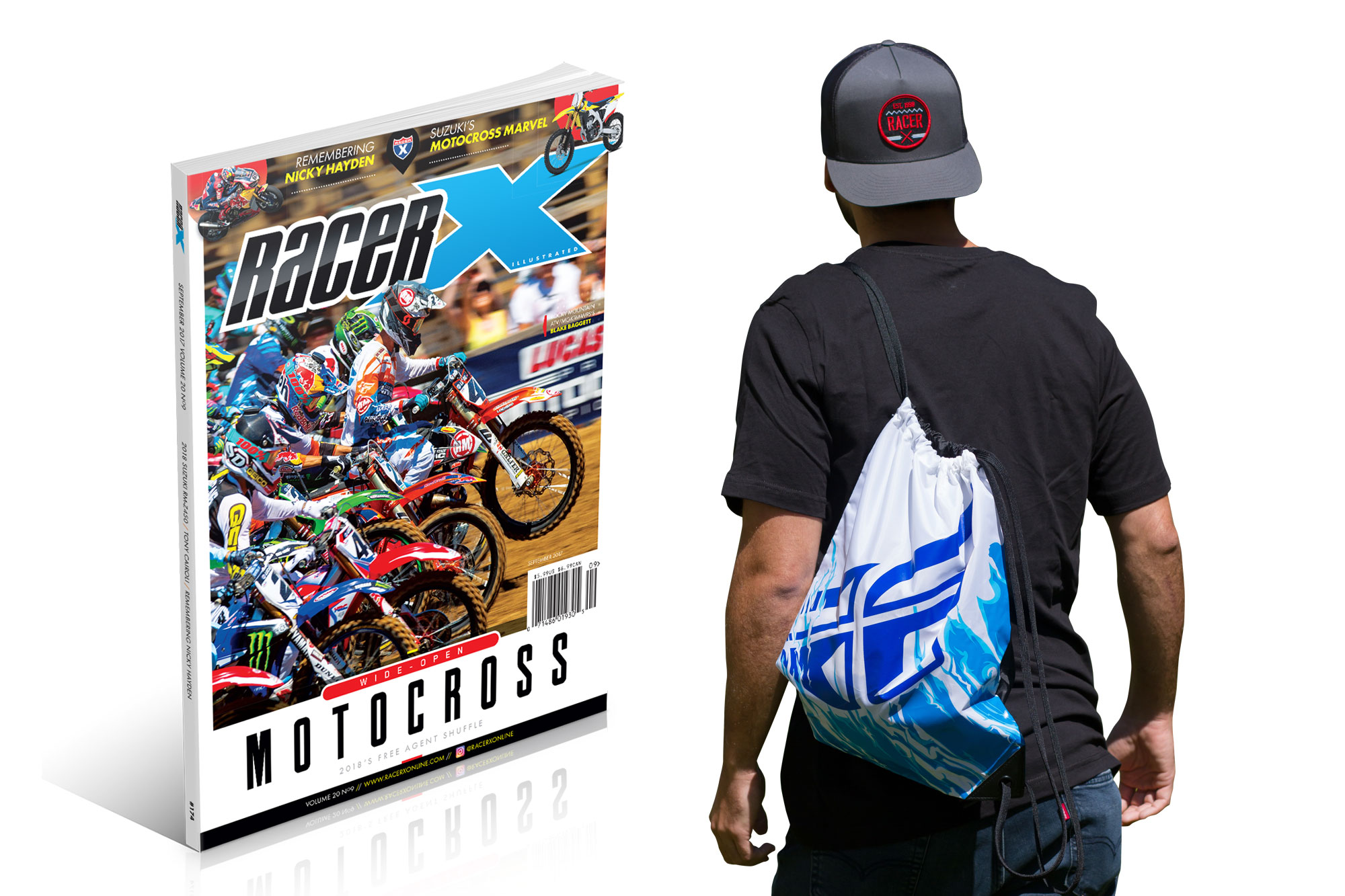 There's only 50 more days until the gate drops for the MXGP of USA at Gatorback Cycle Park.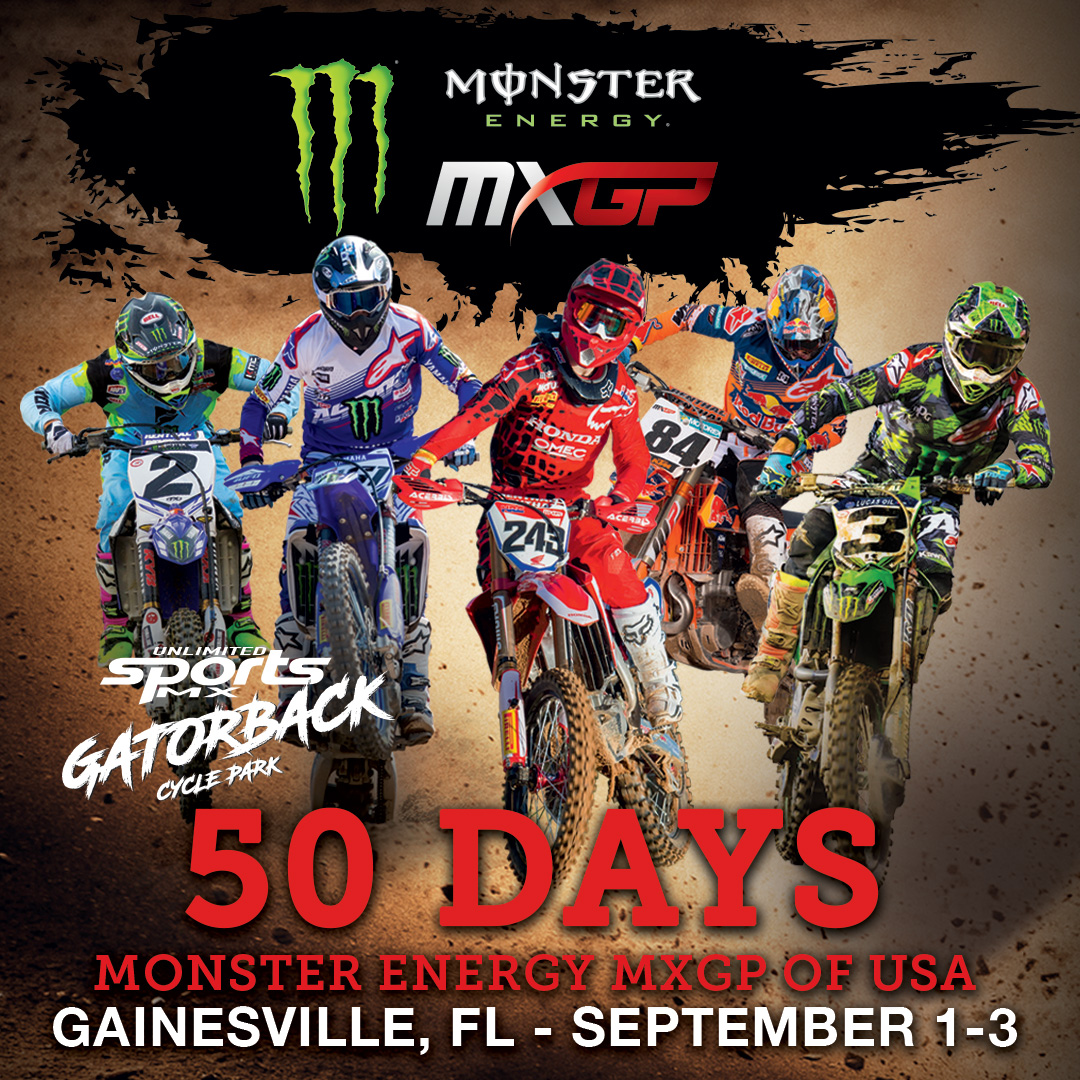 Finally, a note from John Hinz, the President of KTM:
On behalf of Ryan Dungey and St. Jude Children's Research Hospital® and the thousands of children that are helped by this amazing organization, it is my pleasure to announce KTM North America is supporting the fight against childhood cancer and forming the KTM CARES fundraising page with St Jude. KTM is joining together with Ryan's efforts by sponsoring the St. Jude Ride & 5K Run on July 23rd in Minnesota to help raise awareness and support to fight childhood cancer. Families at St. Jude never receive a bill for treatment, travel, housing, or food – because all they should worry about is helping their child live.
I will be participating in the 60-mile bike ride at the event along with Roger De Coster. I invite you to come and ride along with us and help support St. Jude Children's Hospital. For those that are able to attend theSt. Jude Ride & 5K Run on July 23rd in Minnesota, you can register for the ride or run of your choice by clicking here.

If you are unable to attend, but would still like to donate, please click the link below to contribute to St. Jude's fight against childhood cancer. Hinz St Jude Fundraising Page
That's all for now—thanks for reading Racerhead. See you at the races.