Dean Ferris Wins Sixth Straight in Australia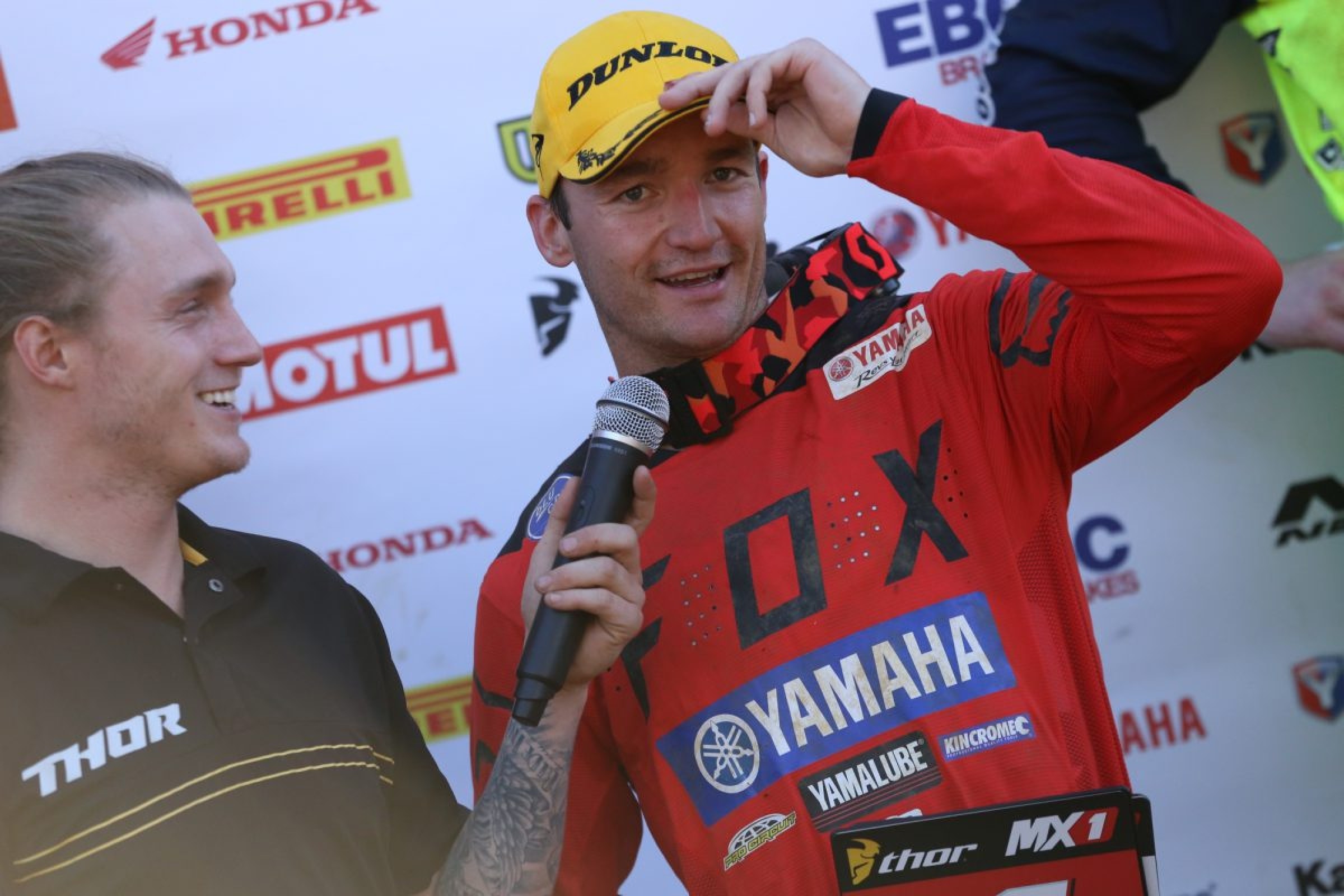 Report Provided by MX Nationals
MX1
CDR Yamaha's Dean Ferris proved why he's known world-wide as an Aussie looking to leave his mark on the sport, storming to 1,1 results at another action packed sixth round of the Motul MX Nationals at Nowra in New South Wales today.
The Thor MX1 class took to the Nowra circuit in sub five degree conditions this morning, however it took only a short time for things to heat up, with the heavy hitters immediately heading into practice and qualifying, followed by two races dominated by Ferris.
After 30 minutes on track for practice and qualifying it was MEGA Bulk Fuels Monster Energy Kawasaki's newest recruit Brett Metcalfe who was fastest with a 1:42.856 lap time. Second was CDR Yamaha's Dean Ferris (1:42.959) followed by Crankt Protein Honda Racing's Todd Waters in third (1:43.078). Fourth fastest on track was KTM Motocross Racing Team's Kirk Gibbs, while Luke Clout was the fifth and final rider to progress through to GoPro Superpole.
When all riders had thrown down their individual hot laps, it was Honda mounted Waters who collected his second GoPro Superpole victory for the year and first pick of the grid, thanks to a lightening fast 1:42.718 lap time.
Moto 1
When the Thor MX1 class took to the line for their first moto of the day, the question everyone wanted to know the answer to was could anyone possibly beat CDR Yamaha's Dean Ferris.
When gates dropped, it was Ferris who took the holeshot, but it was the first turn pile up that captured the crowd's attention, with more than ten riders getting caught up in Nowra's tight conditions.
When the majority of riders resumed racing, it was once again Ferris who in familiar fashion began to check out. Behind him, Waters was in second position, while CDR Yamaha's Dylan Long who was fresh back from injury, occupied third.
After three laps, Ferris had stretched out his lead to a healthy few seconds from Waters and Long, however the rider who was really capturing the crowd's attention was privateer Zak Small, who was in fourth position and battling hard with 2015 MX1 champ Kirk Gibbs.
Surprisingly, despite being caught up in a first turn crash, both Brett Metcalfe and Kade Mosig had made their way up to seventh and eighth after a handful of laps, where the pair began to battle for the positions in front of them.
Unfortunately for fastest qualifier Waters, a chain malfunction only five laps in saw a visibly dejected Honda rider headed back to the pits – leaving his factory Honda machine trackside. With Waters out and Ferris checked out, Long picked up a position and slotted in to second, while Gibbs also moved up a spot into third.
Behind Gibbs was Crankt Protein Honda Racing Team's Clout in fourth, while Metcalfe came together with Mosig in the fight for fifth, which saw Mosig go down, then forced to re-join the race in tenth position.
As moto one progressed, a mistake from Long saw him drop back to fifth, which allowed Gibbs to find himself in a familiar position – second behind Ferris. Metcalfe also capitalised on the mistake from Long, moving in to the final podium position with more than ten minutes left on the clock.
After ten laps, the running order saw Ferris continuing to lead from Metcalfe who had made the move on Gibbs for second, Clout made his way into fourth followed by fellow MX1 rookie and Kawasaki mounted Nathan Crawford in fifth. Long and KTM Motocross Racing Team's Luke Styke occupied positions six and seven, while Wilson Coolair Motul Factory Suzuki's Kyle Peters had fought his way back from dead last to eighth.
As moto one reached it's closing stages, once again no one could get near Ferris, while behind him, the field had settled in to their respective positions, and the running order remained relatively unchanged.
So when the chequered flag flew it was no surprise to see CDR Yamaha's Ferris cross the line victorious for the ninth time this season, second place was taken by MEGA Bulk Fuels Monster Energy Kawasaki's Metcalfe on debut, while Gibbs wrapped up moto one in third. Fourth place was Clout, followed by MX1 rookie Crawford in fifth. Styke, Peters, Brodie Sims, Keiron Hall and Zac Small completed the top ten.
Moto 2
In race two it was MEGA Bulk Fuels Monster Energy Kawasaki's Crawford who took the second Raceline holeshot of the day, followed by Clout, Metcalfe, Mosig and of course CDR Yamaha's Ferris.
To the spectator's delight, the top five riders then began an all out battle for the race lead, and before long, Metcalfe cracked under the pressure and ran off the track, while Ferris moved past Mosig where he then began to eye off the rear wheel of Clout.
After two laps, Clout and Ferris began to close in on race leader Crawford, but with a championship on his mind, it was Ferris who made the move on Crankt Protein Honda Racing Team's Clout and moved in to second.
From there Ferris continued his charge towards the front, and by the time riders headed in to lap four, the CDR Yamaha rider had made the pass on Crawford and taken the race lead.
With Ferris out in front, Crawford and Clout began to battle for second, while behind the rookie pair, Metcalfe and Mosig were locked into their own battle for fourth.
With experience in their favour, both Metcalfe and Mosig began to close in on the youngsters by the 12-minute mark, but it was Metcalfe who managed to pull the move on his teammate Crawford and move into third position behind Ferris and Clout.
Notable absentees from the front of the field in moto two were Gibbs and Waters, who after six laps were back in sixth and seventh positions and with their work cut out for them, should they want to make it to the front.
By the hallway mark in moto two, Ferris continued to lead from Metcalfe and Mosig who had managed to make the move on Clout. Behind Clout in fifth was Crawford, while Gibbs and Waters continued to circulate in sixth and seventh positions.
As moto two reached it's closing stages Ferris once again showcased his unmatchable speed, while the rest of the field settled in to their respective spots behind him.
By the time riders had received the last lap board, Ferris had followed his race plan to perfection – checking out on the field for the tenth time this season, allowing the bar to bar action to happen behind him.
So when the chequered flag flew for the final time at Nowra, it was Ferris who finished race two victorious, second place went to an ultra experienced Kawasaki mounted Metcalfe, while DPH Motorsport's Mosig wrapped up race two in third. KTM's Gibbs concluded the second race at Nowra in fourth after making the move Clout late in the moto, while Clout and Crawford finished in fifth and sixth places respectively. Waters, Styke, Peters and Hall completed the top ten in moto two.
But with 1,1 results it was Ferris who continued his incredible winning streak, taking his sixth round victory for 2017 at Nowra. Second spot on the podium went to MEGA Bulk Fuels Monster Energy Kawasaki's Metcalfe, while KTM's Gibbs completed the Thor MX1 podium.
Dean Ferris – CDR Yamaha – Round 6 Winner
"All the boys laid down a big challenge today – the first race was good but even in the second race I had my work cut out for me and even when I got into the lead Brett Metcalfe kept pushing," Ferris explained.
"Overall though it was a good day – all of the guys at CDR Yamaha are putting in hours, and hours to make this happen.
"I love working with them and we'll just continue to stay focussed and keep the ball rolling on to Shepparton."
MX2
KTM two-stroke rider Egan Mastin secured the first Motul MX2 round victory since the break, racing to 1,2 race results in what was another action packed day of racing at Round 6 of the Motul MX Nationals at Nowra today.
The Motul MX2 class roared back to life early in New South Wales this morning, with competitors hitting the track for the first time in five weeks for Practice and Qualifying, followed by two action packed races.
Following a 25-minute practice and qualifying session this morning, it was KTM two-stroke rider Mastin who returned from the break as the man to beat, setting the fastest lap time (1:43.211) ahead of Penrite CRF Honda Racing Team's Kyle Webster (1:43.429), followed by Raceline Pirelli KTM's newest recruit Jay Wilson who made his first appearance for the season by qualifying in third (1:43.591).
Moto 1
The Motul MX2 category was the first class to race at Nowra this morning, and when gates dropped on moto one it was Raceline Pirelli KTM's very own Jayden Rykers who secured the Raceline holeshot, however it only took a handful of turns for fastest qualifier Mastin to move into the lead position.
After two laps, Rykers found himself in second, while Northern Queenslander Richie Evans managed to navigate his way to an impressive third. Surprisingly, red plate holder Wilson Todd was well back in the field in seventh place after three laps on the tight and technical, Nowra circuit.
With 30 minutes on the clock in moto one, the MX2 class paced themselves, but the one rider who continued to set the speed on track was Mastin, who by lap five was still the quickest rider on the circuit.
As riders headed into their sixth lap, the leaders were already into lapped traffic, forcing competitors to navigate their way through the back markers, but it was the battle from fourth through to seventh between Hamish Harwood, Mitchell Evans, Jackson Richardson and Todd which was keeping spectators on the edge of their seats.
Just as the battle on track was heating up, Harwood cracked under the pressure, going down hard and allowing Serco Yamaha's Richardson, Evans and DPH Motorsport's Todd to inherit a position each.
From there, Richardson was on a charge, and it wasn't long before the rider from Cairns made the move on Richie Evans for third.
After 20 minutes on track the running order saw Mastin continue to lead from Rykers, and Richardson, while Richie Evans maintained fourth ahead of Todd and Harwood. Seventh position was held by KSF Racing's Dylan Wills, while third fastest qualifier Wilson maintained eighth.
With six minutes left to run, Mastin looked simply unstoppable leading by a healthy margin from Rykers and Serco Yamaha's Richardson.
And when the chequered flag flew it was KTM two stroke Davey Motorsport's rider Mastin who secured the first MX2 win of the second half of the season, second place went to Raceline Pirelli KTM's Rykers, while Richardson completed the podium finishing third. Incredibly DPH Motorsport's Todd clawed his way back to fourth, followed by Richie Evans, Harwood, Wills and Webster. Serco Yamaha's Evans wrapped up moto one in ninth following a crash mid-moto, while Wilson concluded his first appearance of the season in tenth.
Moto 2
In the final moto for the Motul MX2 class spectators dotted the fence line, eager to see whether any rider had anything for race one winner Mastin, and when gates dropped for the second time a huge crash off the start shifted the attention away from the first turn, but when riders gathered their composure it was Mastin who found himself in the lead from Jay Wilson in second, while Richardson slotted in to third.
After a lap on track, Davey Motorsport's Hamish Harwood joined the battle for positions at the front, tagging on to Richardson's rear wheel. Behind the top four was Richie Evans and red plate holder Todd, while privateer Joel Evans was having an outstanding ride in seventh position.
By the third lap, Richardson put the foot down, and made his presence known – passing third fastest qualifier Wilson and slotting up into second position.
With only 20-minutes on the clock in moto two, the MX2 class was sprinting, putting in one final dash for points on the gruelling Nowra surface. And much like in moto one, Richardson found another gear, and before long closed in on Mastin where he began to apply the pressure for the race lead.
But just as Richardson closed in, Mastin retaliated, and despite the Serco Yamaha rider closing the gap, he wasn't able to make the move on the KTM two-stroke rider.
By the halfway point, the running order saw Mastin continuing to lead from Richardson, Wilson and Harwood, while behind the top four riders was red plate holder Todd followed by Yamaha's Mitchell Evans in sixth.
As race two reached it's closing stages Richardson found some new lines, and thankfully they paid off – the Serco Yamaha rider was able to find an open section of the track and make the pass on the KTM rider, taking on the race lead for the first time in the moto.
From there Richardson looked more and more comfortable out in front, stretching out his lead on Mastin and storming closer to a race win.
Unfortunately for Harwood, a mistake from the New Zealander in the later stages of moto two saw him drop back to seventh, allowing Serco Yamaha's Mitchell Evans to slot up into fourth.
By the time riders received the last lap board, Richardson was untouchable out in front, while Raceline Pirelli KTM's Wilson who had held third position for the majority of the moto dropped back to fifth allowing the likes of Evans and Webster to blow by him.
And when the chequered flag flew for the final time, it was Richardson who collected the final Motul MX2 race win, second place went to Mastin while Evans charged back from a difficult start to finish in third. Penrite CRF Honda Racing's Webster wrapped up race two in fourth followed by Wilson, Rykers and Harwood. DPH Motorsport's red plate holder Todd had a race to forget finishing in eighth, while Richie Evans, and Joel Evans completed the top ten.
But it was 1,2 results that awarded Mastin the round win in Nowra today, second spot on the podium went to Serco Yamaha's Richardson, while Raceline Pirelli KTM's Rykers proved that consistency pays off, finishing in third overall.
Egan Mastin – Davey Motorsports, KTM Australia – Round 6 Winner
"Finally ended up getting the overall today – I'm pumped especially that I got it this weekend too, I've been sick all week and I lost a lot of weight prior to this round, so to go 1,2 and to get the overall I'm stoked," Mastin shared.
"I'm just going to keep doing what I'm doing and stay on schedule – I can't thank the whole crew of people who help me enough.
"We worked a lot on bike setup during the break and that helped a lot."
AUSTRALIAN MX NATIONALS
Round 6 – Nowra – New South Wales
MX1 450 Pro
| | |
| --- | --- |
| OVERALL FINISH | RIDER |
| 1st | Dean Ferris |
| 2nd | Brett Metcalfe |
| 3rd | Kirk Gibbs |
| 4th | Luke Clout |
| 5th | Nathan Crawford |
| 6th | Kade Mosig |
| 7th | Luke Styke |
| 8th | Kyle Peters |
| 9th | Keiron Hall |
| 10th | Brodie Sims |
MX2 250 Pro
| | |
| --- | --- |
| OVERALL FINISH | RIDER |
| 1st | Egan Mastin |
| 2nd | Jackson Richardson |
| 3rd | Jayden Rykers |
| 4th | Mitchell Evans |
| 5th | Kyle Webster |
| 6th | Wilson Todd |
| 7th | Hamish Harwood |
| 8th | Richie Evans |
| 9th | Jay Wilson |
| 10th | Dylan Wills |
MX1 450 Pro Championship Standings
| | | |
| --- | --- | --- |
| STANDING | RIDER | POINTS |
| 1st | Dean Ferris | 427 |
| 2nd | Kirk Gibbs | 366 |
| 3rd | Kade Mosig | 329 |
| 4th | Luke Styke | 310 |
| 5th | Todd Waters | 304 |
| 6th | Luke Clout | 277 |
| 7th | Kyle Peters | 276 |
| 8th | Brett Metcalfe | 239 |
| 9th | Aleksandr Tonkov | 218 |
| 10th | Keiron Hall | 216 |
MX2 250 Pro Championship Standings
| | | |
| --- | --- | --- |
| STANDING | RIDER | POINTS |
| 1st | Wilson Todd | 362 |
| 2nd | Mitchell Evans | 357 |
| 3rd | Egan Mastin | 344 |
| 4th | Jackson Richardson | 343 |
| 5th | Hamish Harwood | 327 |
| 6th | Dylan Wills | 286 |
| 7th | Kyle Webster | 284 |
| 8th | Jayden Rykers | 266 |
| 9th | Richie Evans | 253 |
| 10th | Aaron Tanti | 232 |