Ricky Russell Earns His First Career Overall Victory at the AMSOIL Snowshoe GNCC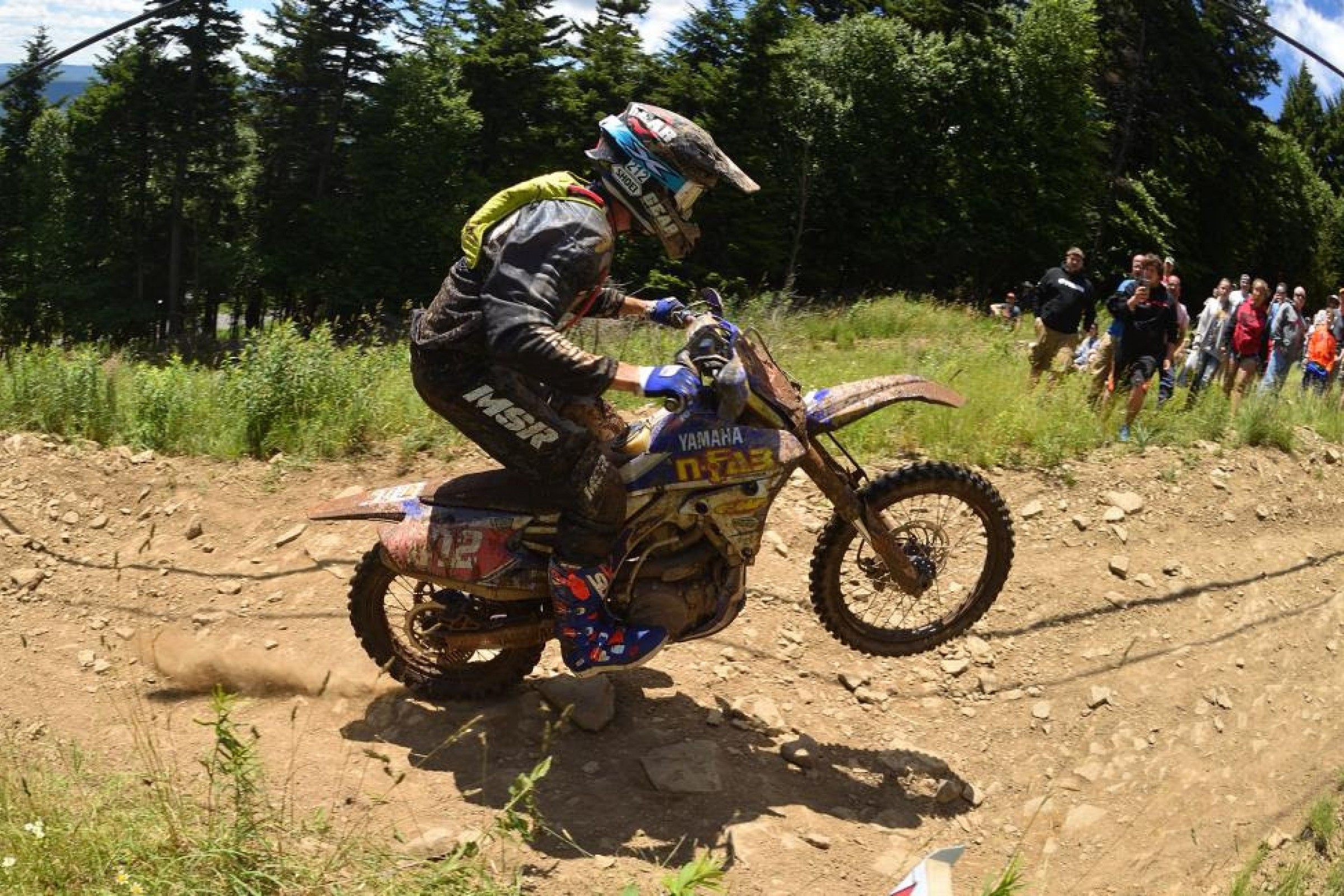 SNOWSHOE, W.Va. - Snowshoe Mountain hosted the eighth round of the 2017 AMSOIL Grand National Cross Country (GNCC) series presented by Maxxis, an AMA National Championship, this past weekend, June 25. The rough and rugged conditions created a grueling track for the AMSOIL Snowshoe GNCC that lived up to the nickname of "America's Toughest Race." After three hours of intense racing it was N-Fab/AmPro Yamaha's Ricky Russell taking home the coveted win - marking his first ever GNCC overall victory.
The unique live engine start modeled after the famed Blackwater 100 race treated SRT/KTM's Steward Baylor well, where he jumped out to the early lead, with R Russell in tow. As they approached timing and scoring for the first lap, it would be R Russell leading the way through the West Virginia woods.
As the pros tackled the western territory of the mountain, R Russell continued his lead through the FMF Powerpoint. His teammate, Josh Toth, used his first row start to his advantage where he was riding in a podium position physically and learning the ways from the other XC1 Open Pro racers.
Meanwhile, Rockstar Energy/Factory Husqvarna Racing's Thad Duvall was busy pushing his way through the pack after a sixth-place check-in on the first lap. The lead changed on the third lap when FMF/KTM Factory Racing's Kailub Russell moved into the front, with Duvall and R Russell behind him.
R Russell checked through timing and scoring for the third time with no goggles, but the Washington State native's demeanor was calm and collective as he rode his way to a pit stop for fresh goggles and a splash of gas. The Russell duo, Duvall and Toth remained in close proximity for the first half of the race.
The infamous Howard's Hole played out to be the turning point in the race, where all three front runners took a different line. Unfortunately for K Russell, his selection wasn't ideal, and both R Russell and Toth got around him.
The N-Fab/AmPro Yamaha teammates continued leading the way, while Duvall consistently rode in third. Not much changed between the podium contenders once the two-lap board came out. R Russell raced his way to his first-ever overall victory atop of Snowshoe Mountain.
"I really have no words," said R Russell. "I've been close, but not like this today. We were going back-and-forth all day and it was a good race. I had one side of the mountain dialed, but the other side, but toward the end I was struggling with the mud. I'm just at a loss for words, it's awesome."
R Russell's teammate, Toth, also had his best ever-finish where he crossed the line in second overall. This would mark the XC2 250 Pro rider's first overall podium. Nearly four minutes behind Toth, was Duvall in third who rounded out the overall podium. K Russell placed fourth overall, and third in class.
Beta USA's Jordan Ashburn put forth an impressive ride, where he finished just off the XC1 Open Pro podium, and fifth overall, after starting outside of the top-ten. After leading the first lap on adjusted time, JCR Honda's Trevor Bollinger maintained a steady pace to finish the race in sixth overall.
Rocky Mountain ATV*MC/KR4/ Husqvarna's Grant Baylor and SRT/KTM's Steward Baylor followed in seventh and eighth overall. RPM/KTM's Chris Bach rounded out the top-10 overall.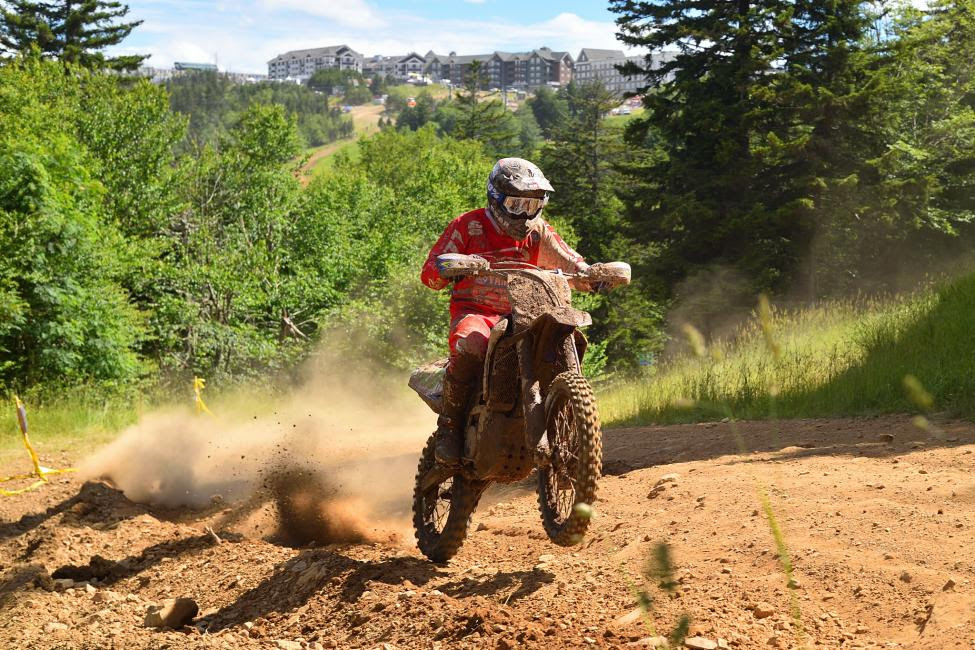 With Toth holding the top spot in the XC2 250 Pro class, Coastal Racing/Husqvarna teammates, Craig Delong and Layne Michael, rounded out the class podium. JCR Honda's Austin Lee and Solid Performance KTM's Jesse Groemm followed in respectable fourth and fifth place finishes. Jason Thomas, Hunter Neuwirth and David Quilled filled the FMF XC3 125 Pro-Am class podium.
After finishing 22nd overall, Levi Keller earned top amateur honors along with the Open A class win. Coastal Racing/Husqvarna's Alex Teagarden and Jonathan Johnson took home second and third in the amateur overall podium.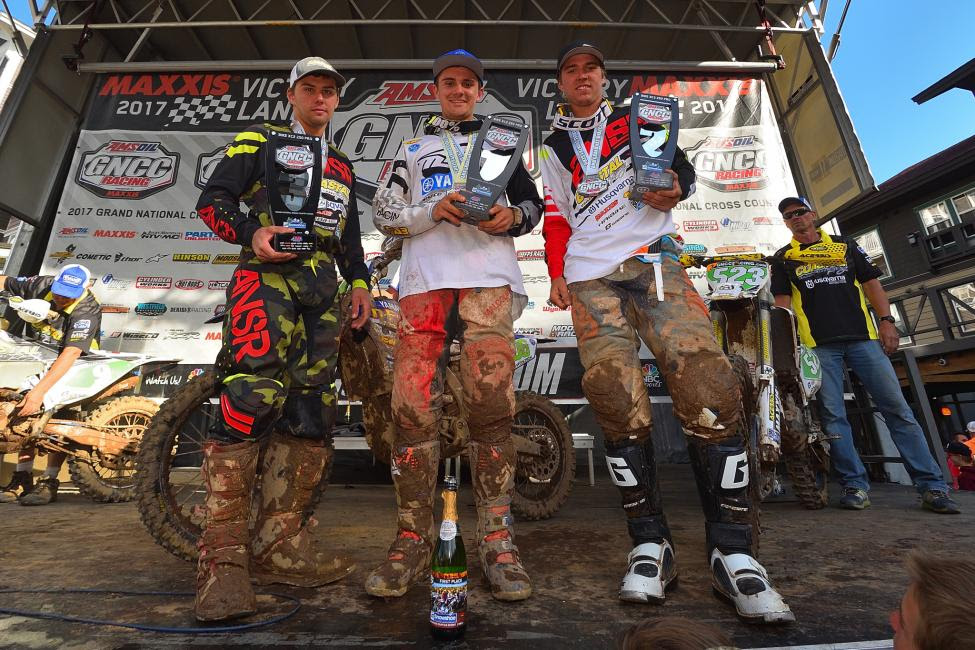 The 10 a.m. overall podium was topped by Super Senior A (45+) competitor and MXTire.com/Cernics Racing/Sidi-backed Carl LeBlond. WXC winner Rocky Mountain ATV*MC/KR4/Husqvarna Team's Tayla Jones was second, and Fly Racing/Maxxis/Seat Concepts/KTM's Becca Sheets rounded out the top three overall. StuxMX Graphix/Bell Powersports/Kenda Tires/Cosner Racing/Full Gas Fitness-backed Brooke Cosner landed on the WXC box in third.
Yesterday's racing action kicked off with the 8 a.m. youth race. Tely Energy's Peyton Whipkey emerged through the fog to cross the finish line first, with Zack Davidson and MXTire.com/Cernics Racing/Sidi's Ryder LeBlond following in second and third overall.
The 1 p.m. race was broadcast LIVE in its entirety on RacerTV.com and can be viewed as an archived video now by visiting the GNCC LIVE page online. A highlight show featuring the event will air Saturday, August 26 at 7:00 p.m. on the NBC Sports Network.
The 2017 AMSOIL Grand National Cross Country Series continues in two weeks, July 8 and 9, with the Wiseco John Penton GNCC at Sunday Creek Raceway in Millfield, Ohio.
For more information on the series, visit the official website at www.gnccracing.com call (304) 284-0084. Join the conversation on the series Facebook page, follow us on Twitter and Instagram, and be sure to always hashtag #GNCC
XC1 Open Pro Event Results:
Ricky Russell (YAM)
Thad Duvall (HSQ)
Kailub Russell (KTM)
Jordan Ashburn (BET)
Trevor Bollinger (HON)
Grant Baylor (HSQ)
Steward Baylor (KTM)
Chris Bach (KTM)
Ryan Sipes (HSQ)
Russell Bobbitt (KTM)
*Overall National Championship Standings:
Kailub Russell (184)
Thad Duvall (177)
Steward Baylor (152)
Ricky Russell (135)
Josh Toth (126)
Jordan Ashburn (99)
Grant Baylor (89)
Josh Strang (89)
Trevor Bollinger (87)
Craig Delong (77)
*Indicates that the Overall National Championship Standings will determine the 2017 National Champion.
XC2 250 Pro Event Results:
Josh Toth (YAM)
Layne Michael (HSQ)
Craig Delong (HSQ)
Austin Lee (HON)
Jesse Groemm (KTM)
Zach Nolan (KTM)
Mike Witkowski (KTM)
Nick Davis (BET)
Brendan Riordan (YAM)
Ryder Lafferty (KTM)
XC2 250 Pro Series Standings:
Josh Toth (218)
Craig Delong (165)
Layne Michael (156)
Mike Witkowski (143)
Jesse Groemm (125)
Austin Lee (112)
Ben Kelley (100)
Zack Hayes (98)
Sam Evans (72)
FMF XC3 125 Pro-Am Event Results:
Jason Thomas (HSQ)
Hunter Neuwirth (HSQ)
David Quillen (KTM)
Mark Heresco Jr. (KTM)
Jaryn Williams (YAM)
Devan Welch (YAM)
Josh Adkins (YAM)
FMF XC3 125 Pro-Am Points Standings:
Jason Thomas (216)
Mark Heresco Jr. (155)
Hunter Neuwirth (150)
Jack Edmondson (145)
Josh Adkins (100)
Jaryn Williams (96)
Devan Welch (76)
Paul Whibley (67)
Dustin Gibson (61)
Nate Smith (47)