Chain Derailment Ends Matt Goerke's Bid for Overall in Regina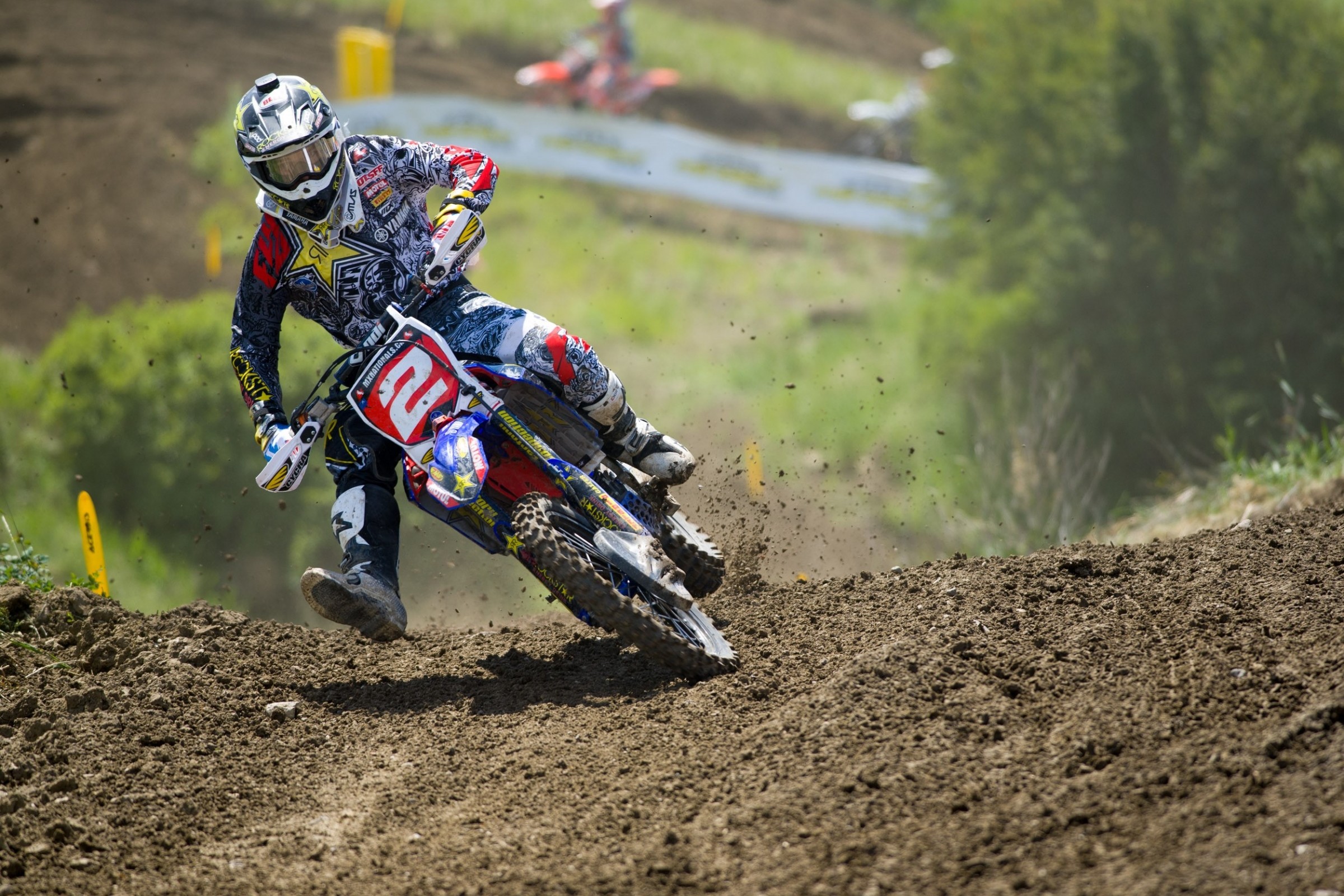 Report provided by CMRC
Under blue skies and sunshine, the fourth and final stop in Western Canada of the 2017 CMRC sanctioned Rockstar Energy Drink Motocross Nationals presented by Motovan took place this past weekend at the Moto Valley Raceway in Regina, Saskatchewan. The Moto Valley track was in great condition after being freshly tilled as riders found their way around the loamy, but hard based, fast race track, with its big floating jumps and high-speed drops. Moto Valley Raceway gave us the longest lap times of the series, and the first turn was changed back to a long high speed straight into a sweeping right hand turn instead of the tight right hand 180-degree turn from last year.
MX1
After failing to finish on the podium for the first time this season in last weekend's second moto, Rockstar Husqvarna's Christophe Pourcel came out flying in Round 4 and took the fastest qualifier position on the last lap of practice. Pourcel got a good start in the first moto and led the race on the opening lap before being passed by Matt Goerke on Lap 2 and settling into second for the entire moto. Christophe posted the fastest lap of Moto 1 and was right behind eventual race winner Goerke the entire race, close enough to strike at any time but far enough not to eat any roost. Pourcel got another good start in Moto 2 and by lap 11 worked his way into second place, again behind Goerke, and with just a couple of corners left in the race Christophe was handed a gift when Goerke's chain derailed. Pourcel's 2-1 moto finishes gave him the overall for the day, his third of the season, and he is now tied for the series lead with Goerke.
Monster Energy Alpinestars Kawasaki's Mike Alessi is starting to look more like his old self and ended his podium drought with impressive 3-2 finishes in Regina to grab second overall. Alessi qualified fourth and had a decent start in the first moto, finishing the opening lap in sixth before making a few good passes to finish the moto in third. Mike grabbed the holeshot in the second moto and led most of the race before being passed by Goerke and Pourcel, then also benefited from Goerke's chain derailment to finish second. Mike was all smiles on the podium and talked about how he is getting his "endurance and intensity" back after coming into the season underprepared because of injuries.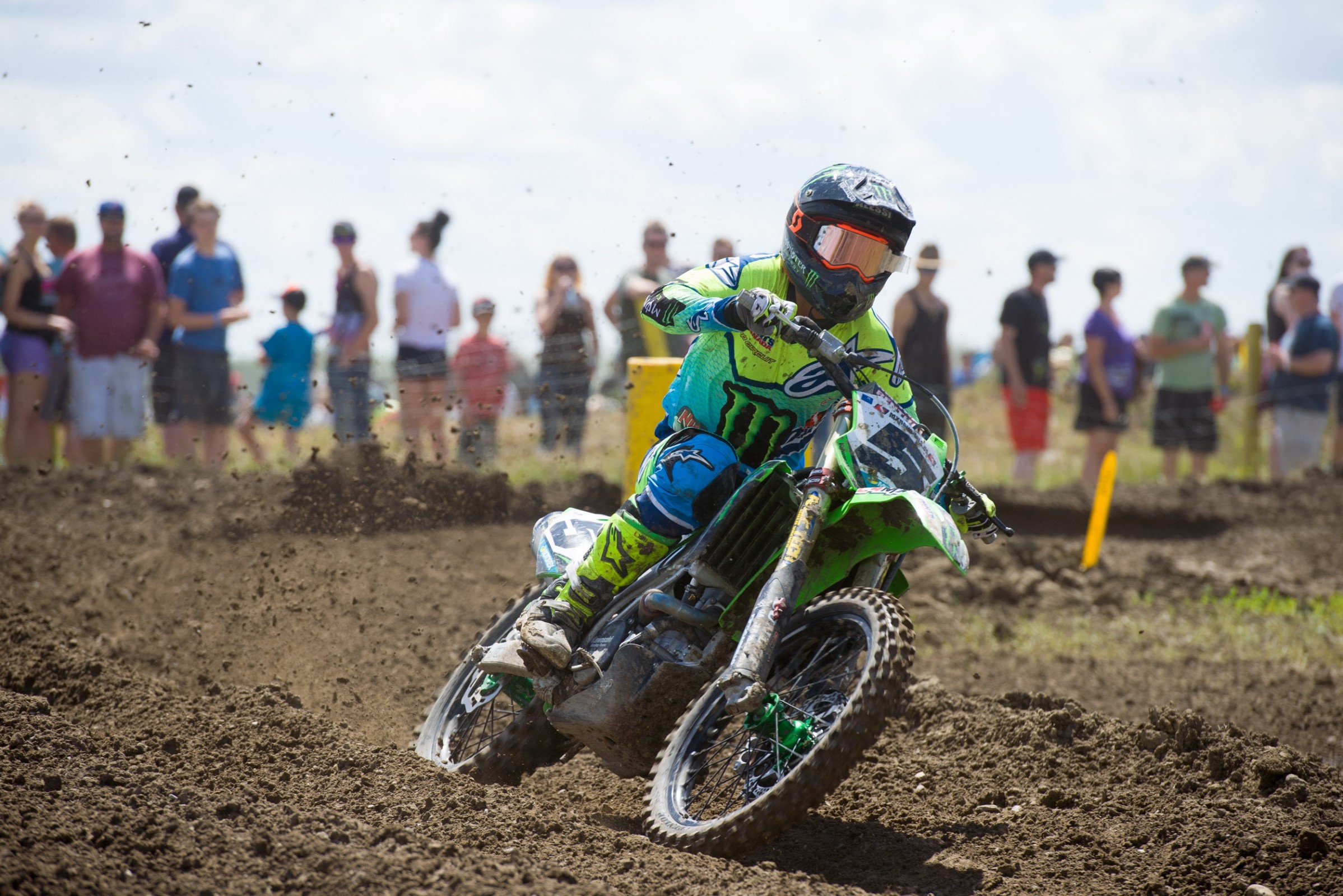 Although he must be happy to be leaving Regina with the red plate still on his motorcycle, Rockstar Energy OTSFF Yamaha's Matt Goerke's chain derailment with only a couple of corners remaining in Moto 2 put an end to an otherwise perfect day. Goerke made some passes early in the first moto, took the lead on Lap 2 and rode a flawless race to take the win. In Moto 2, Matt got another good start and passed Alessi for the lead on the tenth lap, and looked like he was going to make it a sweep and extend his points lead in the series. His chain coming off pushed him back to sixth, and on the podium, he said that he was lucky it went back on so that he could finish and minimize the damage. Matt will enter the next round tied for the series lead with Pourcel to a Gopher Dunes Racetrack where he has been unbeatable.
Royal Distributing Motovan Piller's Race Team's Tyler Medaglia continued his strong performances in the west and was the second fastest qualifier in Regina. He backed that up by pulling the holeshot in the first moto but then went down on the opening lap when he and Goerke went for the same rut in a corner. After going down and being outside of the top 20, Medaglia rode a brilliant race and came back to finish fourth. Tyler was fourth again in the second moto, putting him fourth overall in Round 4, and said on the podium,"I really love the long starts, and I had the pace today to run with the leaders."
Starting the day as the third fastest qualifier, Nut Up Industries Kawasaki's Dillan Epstein ran in fourth place during the opening laps of Moto 1 before making a few mistakes and falling a couple of times. Epstein finished the first moto in eleventh, and in Moto 2 was close to the back of the pack on the opening lap before coming all the way back to third. Dillan's second moto performance was spectacular and he posted the fastest lap of the moto. On the podium at the end of the day Dillan was very emotional and said he was shocked when he found out he had finished third in the second moto.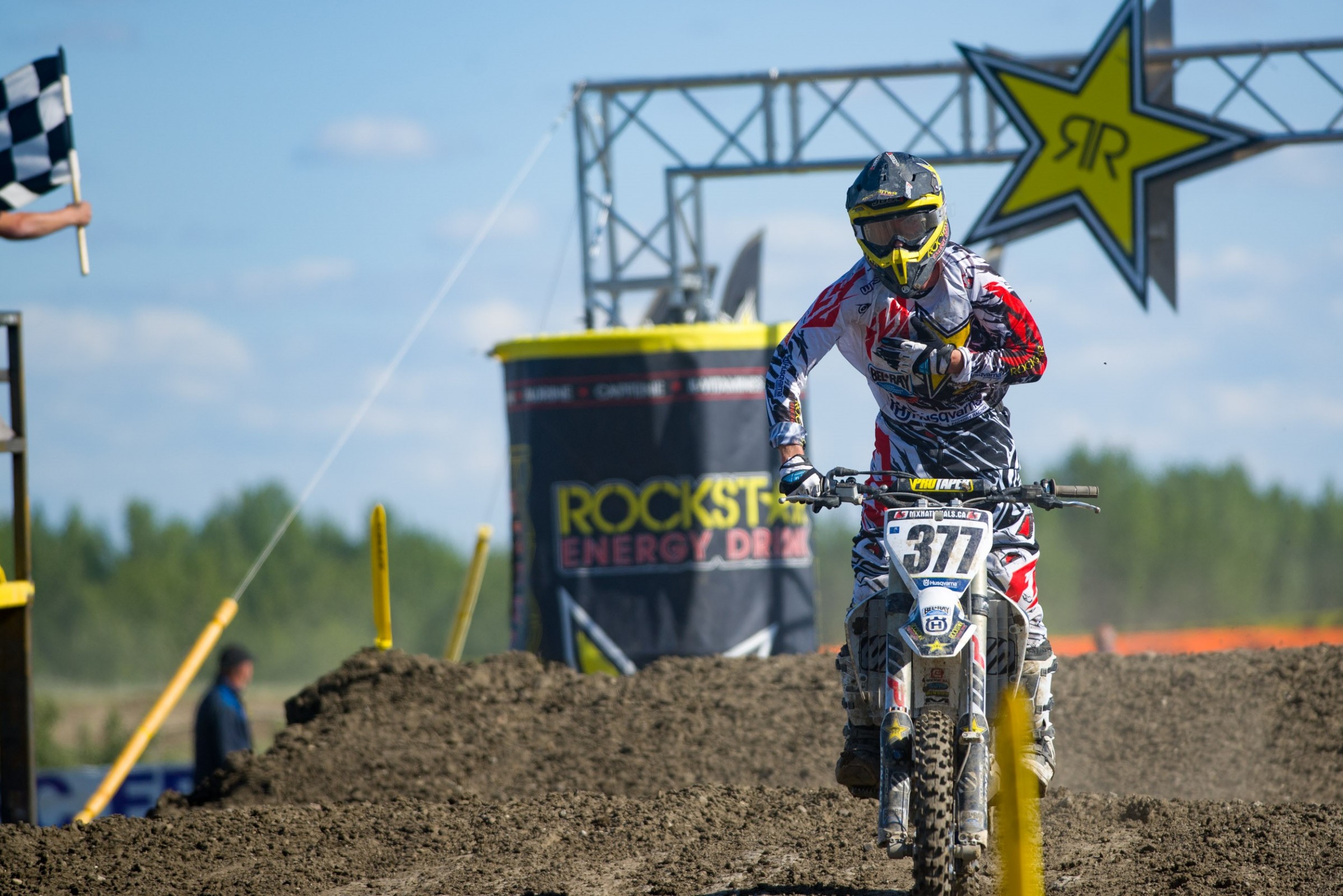 Rounding out the top ten were Royal Distributing Motovan Piller's Team's Kyle Chisholm in sixth with 8-5 moto finishes, Redemption Racing's Cade Clason seventh overall after going 6-7, Honda Canada GDR Fox Racing's Colton Facciotti in eighth place after finishing 5-8, Rockstar Energy OTSFF Yamaha's Tim Tremblay's 9-9 scores put him ninth overall, and Yamaha Canada Cycle Works' Keylan Meston in tenth after finishing 7-11.
MX2
KTM Canada Thor Racing's Cole Thompson's quest to win back to back Championships got a strong boost this weekend after he swept both motos and led all but three laps on the day. Thompson was the fastest qualifier and inherited the lead on Lap 4 of the opening moto after both Jacob Hayes and Shawn Maffenbeier went down. In the second moto, Cole put in his best performance of the year, led wire to wire, and did something he had not done yet this season, pull away from Maffenbeier. On the podium Cole said, "This is a great way to go into the east and I am going into the break ready to fight for six more rounds." Tommy Gun picked up his second win of the season, kept his podium streak alive, and extended his points lead in the series.
Having his best performance this season, Redemption Racing KTM's Josh Osby finished 2-3 for second overall and moved up to second in the series standings. After qualifying in fifth, Osby held off a hard charging Dylan Wright in the first moto and said, "I just wanted to ride safe, consistent laps after guys were going down everywhere." Josh rode most of Moto 2 alone in third after a few of his biggest competitors failed to start the second moto, and expressed again how he is looking forward to the series moving east and racing in soil conditions he feels more comfortable with.
Honda Canada GDR Fox Racing's Dylan Wright had his best weekend this season, and his 3-4 moto scores earned him third overall on the day. Wright's start in the first moto wasn't great but he had to be very satisfied with the passes he made on route to finishing third. In the second moto, Dylan again had to make up positions after the start and was only able to move up to fourth. On the podium, a smiling Dylan said, "I was feeling decently comfy out there. I finally pulled it together this weekend and built a lot of confidence today."
This season, Nut Up Industries Kawasaki's Ryan Surratt has been the holeshot specialist in the MX2 class after pulling one at every round so far. This weekend Surratt got both holeshots and earned the Royal Distributing Triple Crown and a nice cheque for his efforts. Ryan finished 5-5 for fourth overall on the day and said he decided to play it safe on a track that was very technical and a little "sketchy," as he described it.
Rounding out the top 5 was Canadian Jonah Brittons from Prince George, British Columbia aboard his RTR Performance KTM. Brittons' best finish this season was a nineteenth prior to his breakout ride this weekend where he turned a pair of good starts into 6-6 career best finishes. Jonah rode consistent laps and made no mistakes on route to his fifth overall finish, and will surely gain confidence with this result as the series heads east.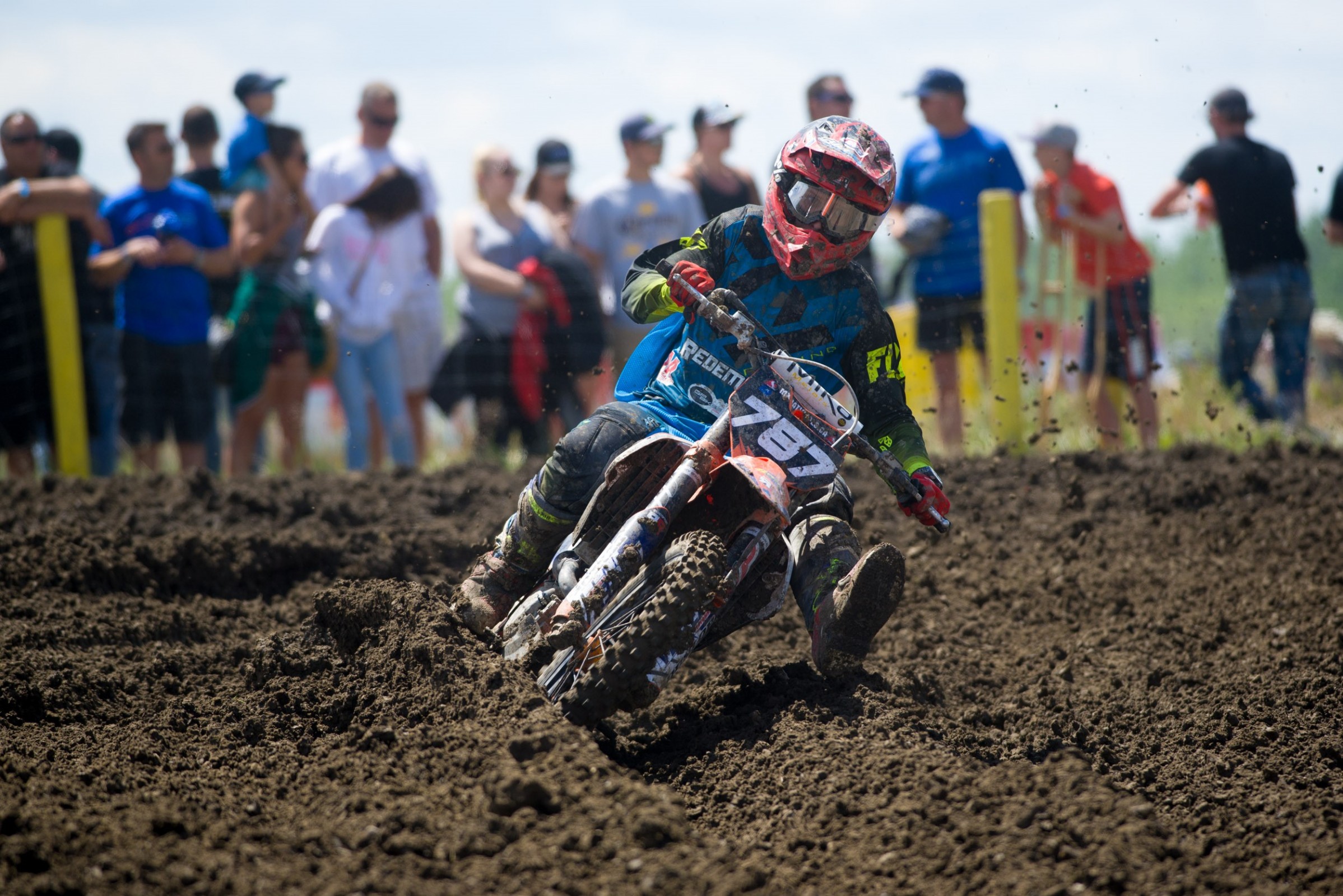 MX101 FXR Yamaha Team's Shawn Maffenbeier, racing in his home province of Saskatchewan, was surely looking to finish better than sixteenth in the first moto after qualifying third earlier in the day. After falling in the first moto while running in second position on Lap 4, he got his boot caught in his brake pedal, and by the time he could get it untangled found himself at the back of the pack. He did post the fastest lap of Moto 1 on route to his sixteenth-place finish. In the second moto, Maffenbeier again posted the fastest lap but had to watch as Cole Thompson pulled away; he settled for second. Shawn has been very fast this season but has also made a lot of small mistakes, and it seems that this weekend they caught up to him. He falls to third in the series standings and has a lot of ground to make up on Thompson if he wants to win the title this year.
Monster Energy Alpinestars Kawasaki Team's Jacob Hayes was the second fastest qualifier in the morning and was leading the first moto before disaster struck on Lap 4 when he went over the bars when he missed the step up triple jump and went down hard. Hayes' day ended there and early reports say he has a broken ankle.
MX101 FXR Yamaha Team's Jess Pettis had a strong first moto finish in fourth but did not line up for the second moto still feeling the effects of a big crash he took last weekend.
The weather has been good for the first four rounds of the series in the west, and we hope it will continue for Round 5 at Gopher Dunes, as the series moves east to Ontario following next weekend's break. After a weekend off, Round 5 of the CMRC sanctioned Rockstar Energy Drink Motocross Nationals presented by Motovan will take place on Sunday, July 9th at Gopher Dunes Raceway in Courtland, Ontario. Eastern Canadian fans will finally get the opportunity to see their heroes in person. If you haven't already purchased your tickets you can buy them online easily at www.mxnationals.ca/tickets. If you are in another part of the country and are unable to attend the race, you can see all the action live by downloading the free Conx2share app or logging on to www.conx2share.com and live stream every moto on either your mobile phone or computer.
CANADIAN MOTOCROSS NATIONALS
Round 4 - Moto Valley Raceway - Regina
MX1
| | | | | |
| --- | --- | --- | --- | --- |
| OVERALL FINISH | RIDER | MOTO 1 | MOTO 2 | Bike |
| 1st | Christophe Pourcel | 2 | 1 | Husqvarna |
| 2nd | Mike Alessi | 3 | 2 | Kawasaki |
| 3rd | Matt Goerke | 1 | 6 | Yamaha |
| 4th | Tyler Medaglia | 4 | 4 | Honda |
| 5th | Dillan Epstein | 11 | 3 | Kawasaki |
| 6th | Kyle Chisholm | 8 | 5 | Honda |
| 7th | Cade Clason | 6 | 7 | KTM |
| 8th | Colton Facciotti | 5 | 8 | Honda |
| 9th | Tim Tremblay | 9 | 9 | Yamaha |
| 10th | Keylan Mesto | 7 | 11 | Yamaha |
MX2
| | | | | |
| --- | --- | --- | --- | --- |
| OVERALL FINISH | RIDER | MOTO 1 | MOTO 2 | Bike |
| 1st | Cole Thompson | 1 | 1 | KTM |
| 2nd | Josh Osby | 2 | 3 | KTM |
| 3rd | Dylan Wright | 3 | 4 | Honda |
| 4th | Ryan Surratt | 5 | 5 | Kawasaki |
| 5th | Jonah Brittons | 6 | 6 | KTM |
| 6th | Shawn Mafenbeier | 16 | 2 | Yamaha |
| 7th | Christopher Fortier | 8 | 7 | Yamaha |
| 8th | Davey Fraser | 7 | 8 | Husqvarna |
| 9th | Jared Petruska | 12 | 9 | Yamaha |
| 10th | Kein Denzler | 9 | 12 | Yamaha |
MX1 Championship Standings
| | | |
| --- | --- | --- |
| STANDING | RIDER | POINTS |
| 1st | Christophe Pourcel | 212 |
| 2nd | Matt Goerke | 212 |
| 3rd | Dillan Epstein | 190 |
| 4th | Colton Facciotti | 185 |
| 5th | Tyler Medaglia | 180 |
| 6th | Mike Alessi | 174 |
| 7th | Kyle Chisolm | 153 |
| 8th | Cade Clason | 137 |
| 9th | Tim Tremblay | 121 |
| 10th | Keylan Meston | 109 |
MX2 Championship Standings
| | | |
| --- | --- | --- |
| STANDING | RIDER | POINTS |
| 1st | Cole Thompson | 224 |
| 2nd | Josh Osby | 191 |
| 3rd | Shawn Maffenbeier | 182 |
| 4th | Ryan Surratt | 169 |
| 5th | Jesse Pettis | 148 |
| 6th | Dylan Wright | 143 |
| 7th | Jacob Hayes | 134 |
| 8th | Hayden Halstead | 125 |
| 9th | Christopher Fortier | 123 |
| 10th | Casey Keast | 122 |