High Point Raceway
Mt. Morris

,

PA
High Point
Lucas Oil AMA Pro Motocross Championship
Following a week off, Lucas Oil Pro Motocross returned for round four of the championship at a completely redesigned High Point Raceway in Mt. Morris, Pennsylvania. The big news came before the motos even started as rumors that points leader Marvin Musquin was dealing with a knee injury scattered the pits after he completed just four laps in timed qualifying and set the 16th fastest time. We later confirmed with Red Bull KTM team manager Roger Decoster that Musquin has a torn meniscus in his knee. It wasn't the only major championship moment today though, as we have a new points leader in the 450 Class.
There was plenty of intrigue surrounding the championship after Blake Baggett's first overall win at Thunder Valley, and preceding comments made on the Pulpmx Show, prior to the break. We asked Baggett about the hype coming into this race on press day:
"Yeah, I don't know if it's hype or just all of a sudden you get forgot about, basically," he said. "It's a cruel way to say it, but that's the honest truth of it. You get forgot about even though you're there. You might be really close sometimes, but it takes doing something out of the ordinary to start everybody talking about you. But at the same time, most of those people that are talking about you, they don't talk to you or about you when you're in 30th. It's just a phase. You get used to it. You get a lot of new friends when you win, that's the bottom line to it. Whether they're friends or not … I just let it go."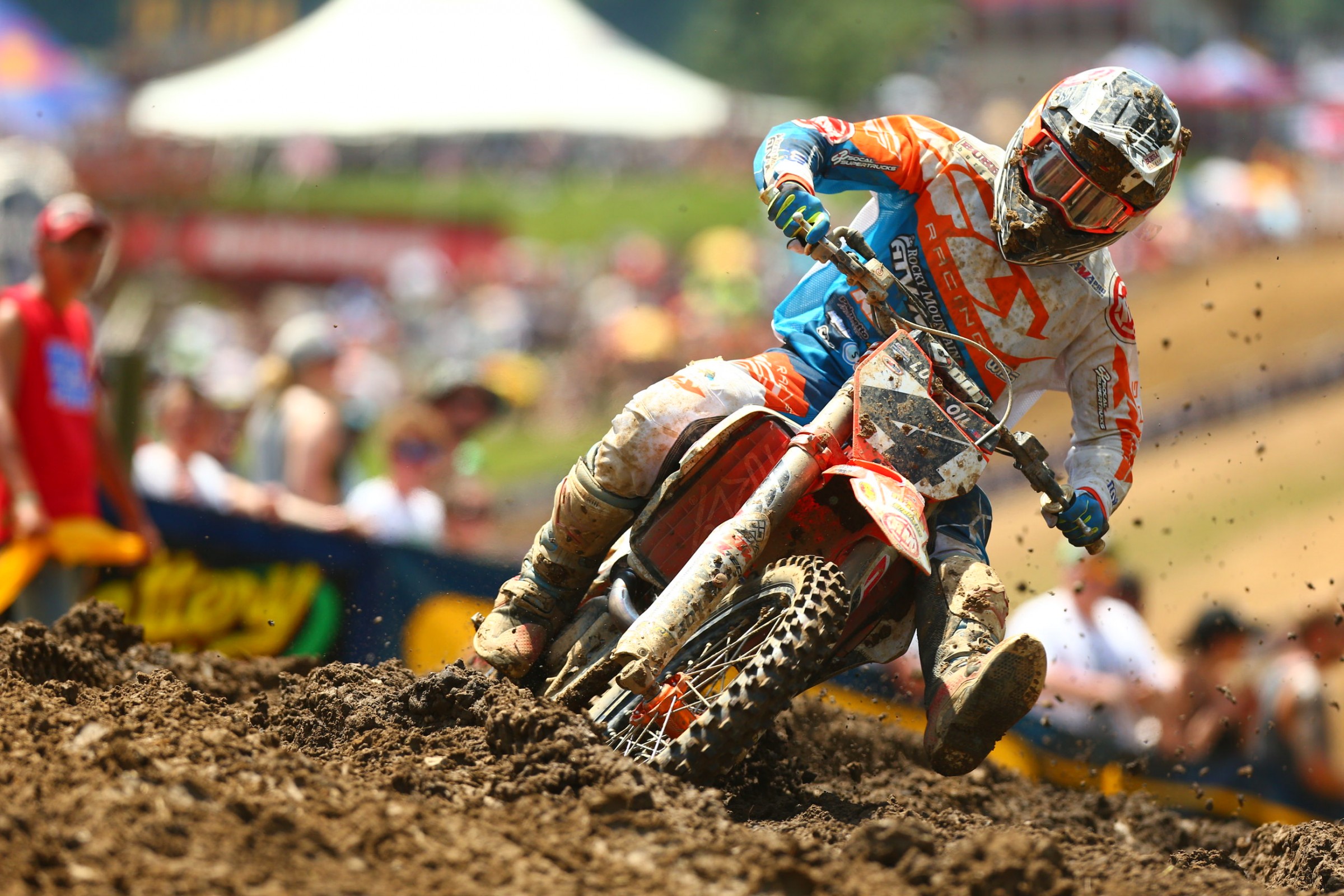 No one was forgetting about Baggett after his first moto performance. Eli Tomac, the overall winner at the opener, was looking to reestablish himself after a disappointing home race, and was off to a great start running second in the first moto. On the opening lap Tomac slid out and remounted dead last. This opened the door for Baggett, who quickly got around early leader Josh Grant and then Dean Ferris. He took off to a 22.2 second win over second place Ferris.
Baggett got off to another good jump in the second moto, but an early mistake shuffled him back to eighth. He was able to make a charge to get into second and then dropped consecutive 1:55s to close to within eight seconds of Tomac, but Tomac responded and won his first moto since the opener by 20 seconds.
"In the second turn, the ruts were just so deep I just caught the turn and went into neutral," said Baggett post-race. "I was gonna make a charge for it, make a push for it and catch up but I went through my mind that I was catching up on lappers really quick and you pretty much can't trust where they're going to go. So I just called it and decided I was going to ride it in and get a second and just take that on the day. On the days where I need to go … send it. But today I felt it was enough."
Baggett, who was in line for the overall with a second, said he was thinking about the championship during the second moto. With his second consecutive overall—the only rider in 450MX with two overalls—Baggett holds an eight-point lead over Musquin, who rebounded from a disappointing 16th in the first moto with a sixth in the second moto for eleventh overall.
"This week was all about salvaging points in the championship. I hurt my left knee so knew it was going to be tough coming into High Point especially since we were coming in with the red plate. I had to ride both races with my feet on the pegs basically unable to put my left leg out which obviously restricted what I was able to do on the track, it was tough. But I gave it everything I had and we leave here second in points so it could have been a lot worse. I guess the next few weeks will be about salvaging points and I will just keep trying to do my best."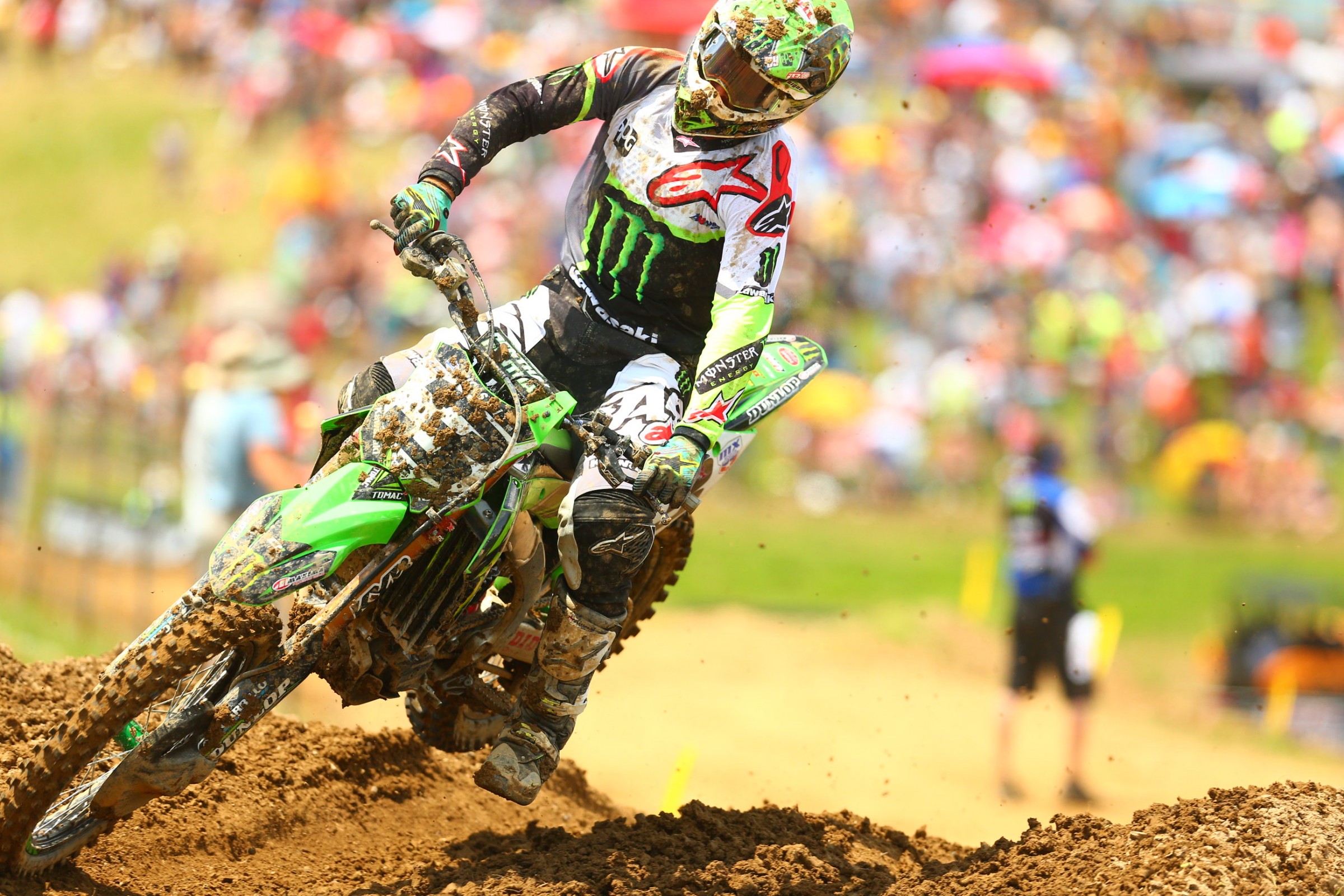 Tomac was fantastic in the second moto, running away late to capture his first win since Hangtown. He now trails Baggett by 11 points entering round five next weekend at Muddy Creek.
Jason Anderson was plagued by mistakes in his first moto and finished fifth. But in the second moto he led three laps before eventually finishing third. After a second overall he said he's happy, but he always wants to be challenging for wins.
"I want to be on top of the box, but at the same time I'm getting podiums so I can't really be too bummed," Anderson said post-race. "At the same time, I need to get it together a little bit and start racing these guys and make it a little harder on them. I was leading, but I was just uncomfortable."
Broc Tickle continued to do what Broc Tickle does: put in consistent results while going a bit unrecognized. In the first moto Tickle was buried in 11th after the first lap, but as the moto ticked away he picked off rider after rider until he made his way to fourth. He got a great start in the second moto and finished fourth to capture third overall, his first podium of the year. Tickle, who typically struggles on the West Coast, said his good start to this year helped him once the series moved east on tracks he's more comfortable on.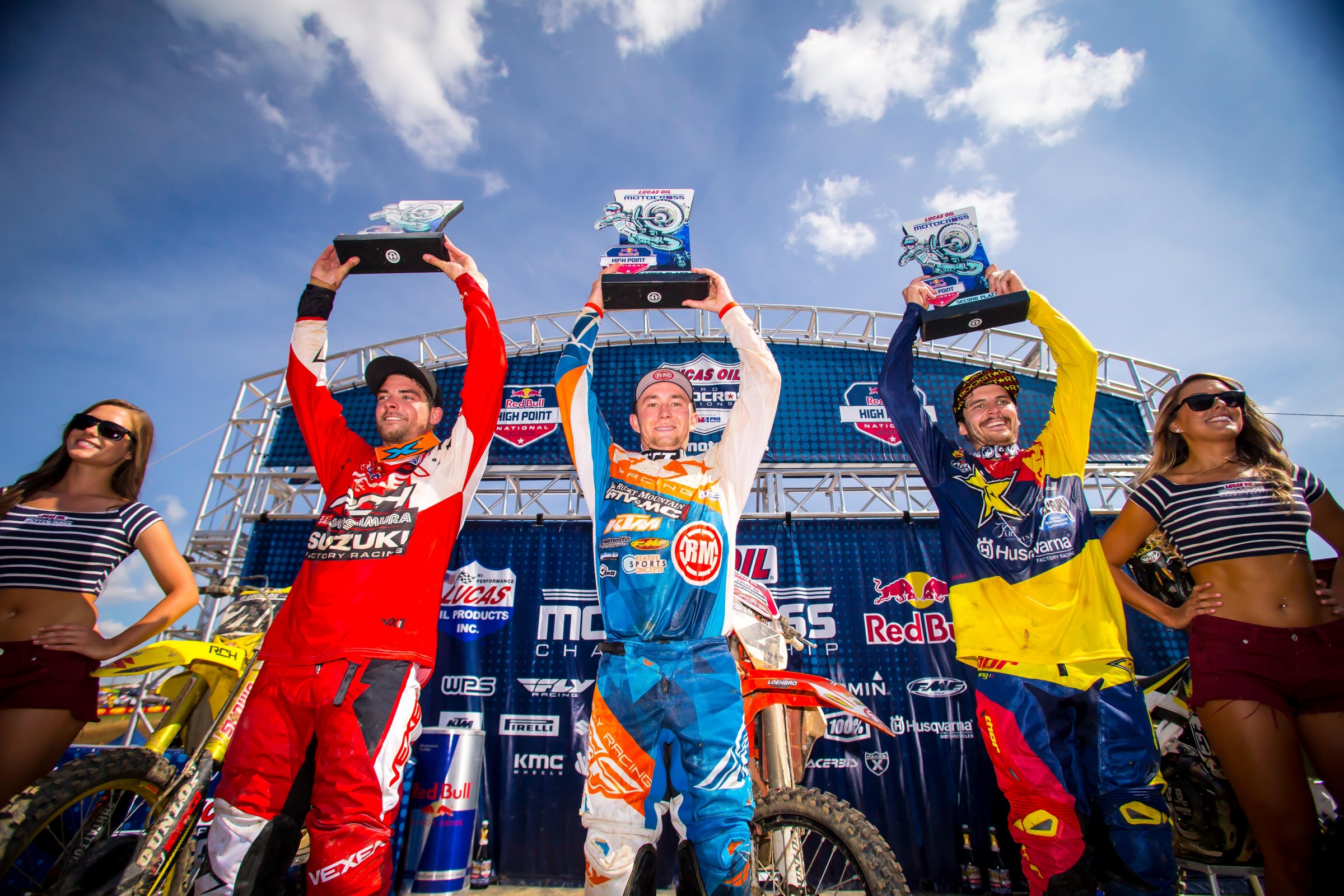 "I think throughout supercross … I was building momentum all year," he said. "I had flashes of brilliance and my starts got better. I felt like Hangtown went really well compared to last year, and I got two podiums (in 2016 outdoors) before I got injured. Coming into outdoors I knew I was going to be a podium guy. I felt that was realistic and I was capable."
On Thursday, Dean Ferris told us he'd like to return full-time to the U.S. in 2018. When asked what he needed to do this weekend to get back on the radar he said: "I'll discuss that on Sunday. I just want to see how I go. I'm not out to prove anything. We're doing well in Australia and I'd like to see where I'm at. We'll see how well I do on Saturday and then I guess I'll start making a plan and go from there." Well, Dean can sleep easy tonight as he's certainly on the radar after his performance at High Point. Ferris led briefly in the first moto en route to a second place finish. In the second moto he went down in the second turn and came from last to 14th to capture seventh overall.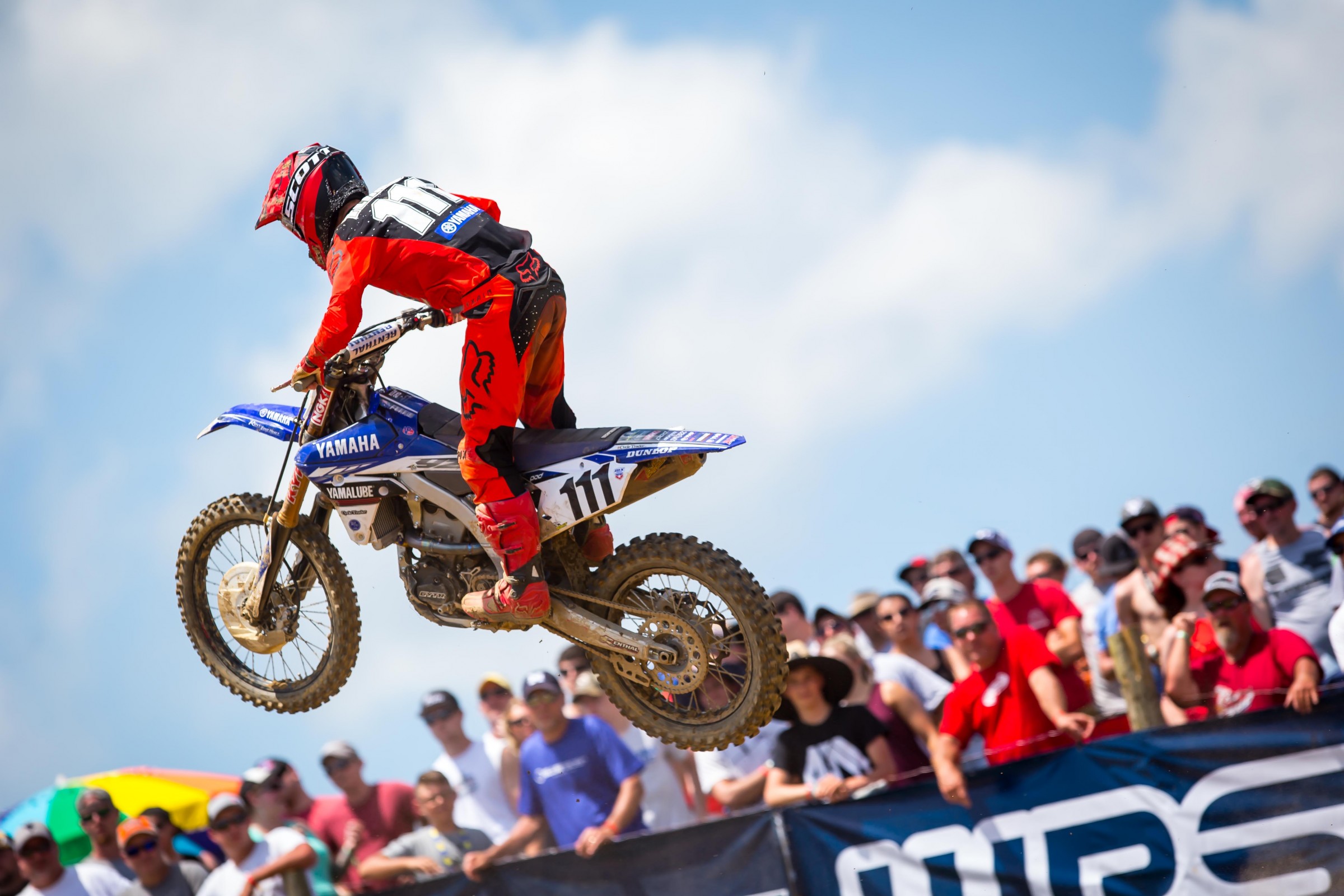 In other injury news, Honda HRC's Christian Craig pulled out of the first moto early due to his recent hand injury sustained at Glen Helen. He did not line up for moto two and tweeted the following: "Unfortunately won't be lining up for second moto. Hand fully isn't ready yet. Going to take it day by day and try to get back to 100% asap!" AutoTrader.com/JGR Suzuki's Justin Barcia crashed in practice and hit his head. He wasn't able to line up for either moto.
Jeremy Martin dealt with arm pump in the first 250 moto, but was still able to hold off Aaron Plessing to take second overall. In the second moto, Martin was able to pass his brother Alex to capture the moto victory and his first overall of the season.
"For me, it's more about comfort," Martin said about his arm pump struggles. "I like High Point, but I've always kind of struggled here. It's a real hard base underneath and you're in the ruts and you're like, eh eh eh eh [Imitating bouncing off the square edges in the ruts]. My bike was working really well but I could kind of feel just enough of an edge over like a moto. So we made a couple change just to smoothen out the edge a little bit."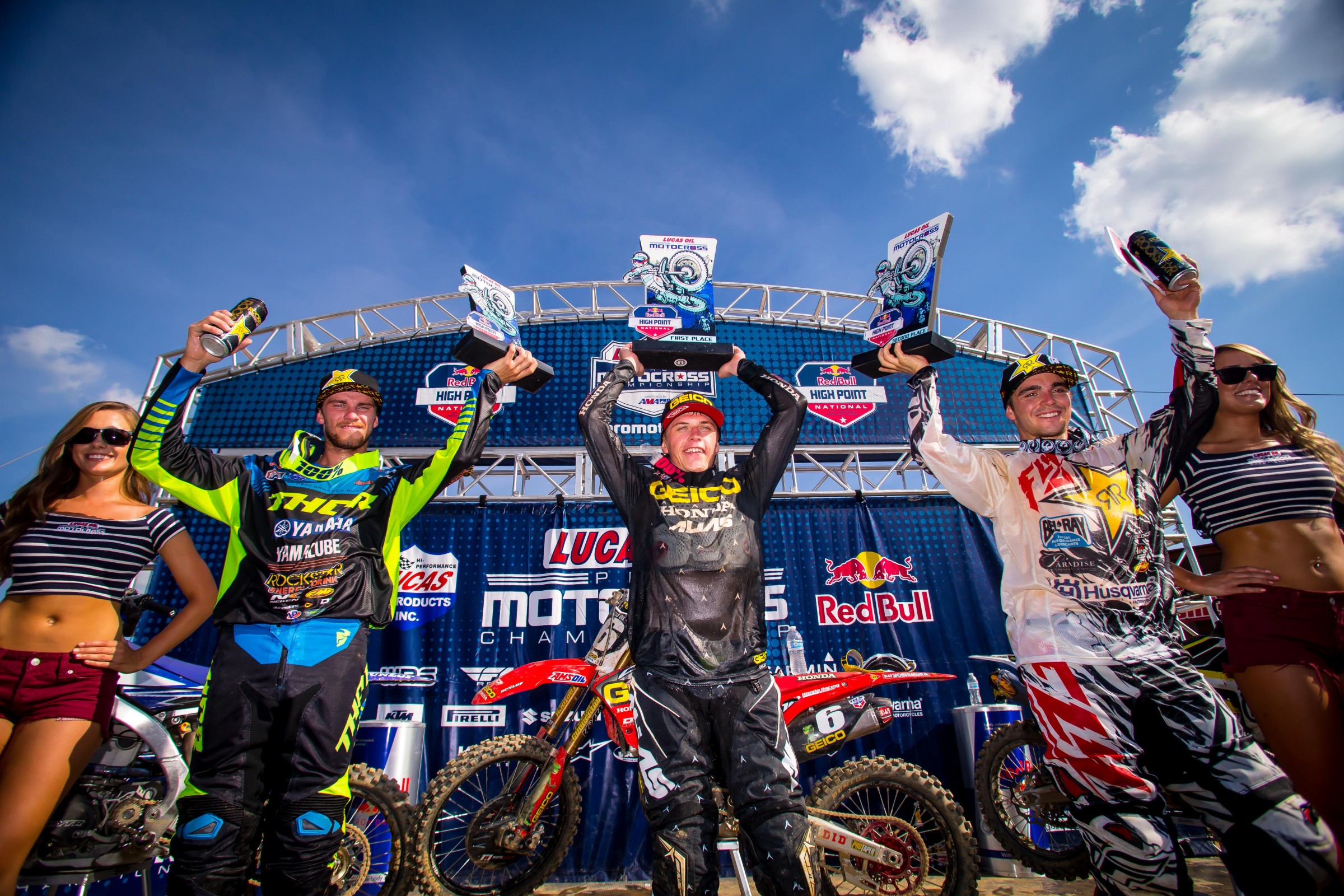 After struggling at Thunder Valley due to an illness, Zach Osborne was back to his normal self this weekend. From nearby Virginia, Osborne rode the track a lot as an amateur and even picked up his first career moto win here last year. In the first moto he ran away with the win, but in the second moto he was forced to come from the back to pick up a second for second overall. Once he passed Alex Martin for second, Osborne tried to rip of his goggles but struggled getting them off and then took Martin high in following corner so he couldn't pass him. He explained what happened post-race.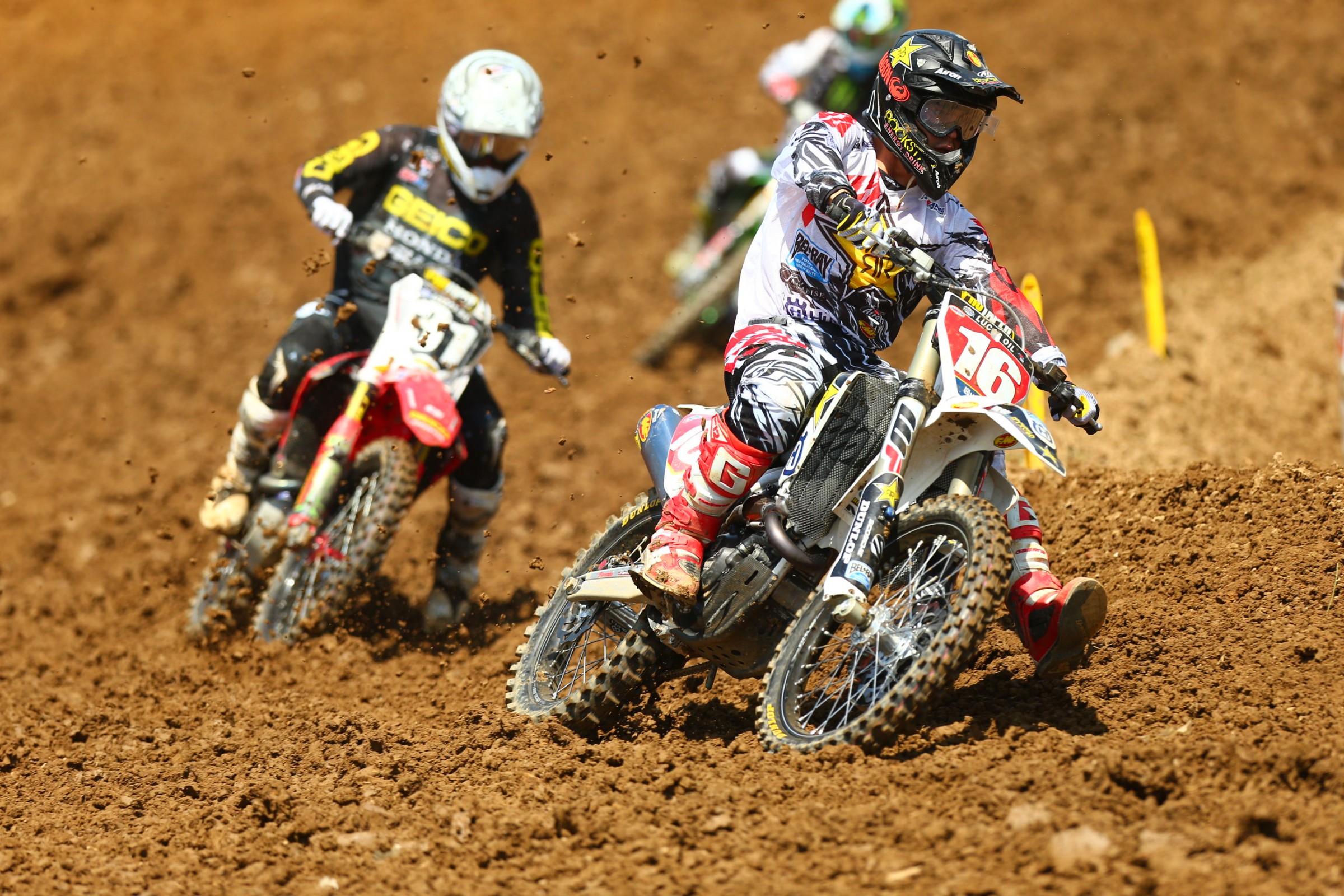 "I got hit by a rock the lap before I passed Alex—straight to my face and when it did it splashed all the sweat in my face and I couldn't see very good so I knew I needed to make a pass quick so I could get them off so I would be able to see the ruts. I went to take them off it clipped my visor and broke my visor and then my goggles were flopping in my face."
Yamalube/Star Racing Yamaha's Aaron Plessinger was able to line up despite a big crash in practice. He went 3-3 for third overall on the day. We'll let him explain what his injury was:
Troy Lee Designs/Red Bull KTM's Jordon Smith was back in action today after his back injury sustained in supercross, but he had another crash in practice and wasn't able to race. He tweeted the following: "Had a crash in practice today.. got a little black eye and twisted ankle. Decided wasn't worth trying to race today. We will be back."