High Point Raceway
Mt. Morris

,

PA
High Point
Lucas Oil AMA Pro Motocross Championship
Welcome to the Racer X Race Day Feed, your one-stop shop for round four of Lucas Oil Pro Motocross from Mt. Morris, Pennsylvania, at the Red Bull High Point National. We'll be updating this post throughout the day with news, notes, and results from qualifying and the motos, so be sure to check back throughout the day. You can also follow Racer X on Twitter, Instagram, and Facebook to stay up on all the action.
(Note: All updates will run top to bottom, starting with the morning report and going through the motos. So, make sure to scroll down for the latest.)
Morning Report
This isn't you grandfathers High Point. Hell, it's not even your fathers High Point. Tucked into the rolling hillsides of Mt. Morris, Pennsylvania, the track got a major facelift this past year. On press day Thursday, Honda HRC's Cole Seely and Christian Craig, Rocky Mountain ATV/MC-WPS-KTM's Blake Baggett, Coastal Racing's Ryan Sipes and the visiting Dean Ferris, among others, had a chance to test out the new layout. Initial response to the Randy Poulter design was positive, but as Baggett mentioned—until you go racing, it's hard to make judgments. The track did receive rain over the last two days, but with temperatures expected in the low-90s and no rain expected today, the track should be fine.
Speaking of Baggett, there has been plenty of talk surrounding his ride at Thunder Valley and the return of El Chupacabra, the nicknamed coined at High Point back in 2011. On Thursday we asked Baggett about the hype coming into round four of the championship:
There's definitely a lot of hype coming into this race. I think you're probably aware of it. Have you noticed it? And does it make you approach the race any differently?
Yeah, I don't know if it's hype or just all of a sudden you get forgot about, basically. It's a cruel way to say it, but that's the honest truth of it. You get forgot about even though you're there. You might be really close sometimes, but it takes doing something out of the ordinary to start everybody talking about you. But at the same time, most of those people that are talking about you, they don't talk to you or about you when you're in 30th. It's just a phase. You get used to it. You get a lot of new friends when you win, that's the bottom line to it. Whether they're friends or not … I just let it go.
With much of the talk during the off week surrounding Baggett and Monster Energy Kawasaki's Eli Tomac, the actual points leader—Red Bull KTM's Marvin Musquin—comes in under the radar. Musquin finished second overall at Thunder Valley and enters the weekend with a 17-point gap over Tomac and 19 on Baggett.
As we've mentioned, we're currently in the midst of one of the most competitive beginnings to a season in Lucas Oil Motocross history. Through six motos we've already seen five winners. In the last 20 seasons, the last time that happened with 1998!
Motocross 450 Standings - 2017
Full Standings
The opening three rounds of the 250 Class have been just as wild, where we've also seen five moto winners in six, the last two being won by Joey Savatgy and Alex Martin, respectively, at Thunder Valley. Zach Osborne, the overall winner at the opening two rounds, holds a nine-point lead over Alex Martin, with his younger brother Jeremy currently in third, 18 points back.
Motocross 250 Standings - 2017
Full Standings
As we mentioned above, Christian Craig is back a little over two weeks after sustaining a boxers fracture at Glen Helen. We spoke with Craig on Thursday and he said he's not experiencing any pain after riding and that it occurs more at night. GEICO Honda will also have a full rig for the first time this season as RJ Hampshire (tib/fib), Cameron McAdoo (shoulder) and Chase Sexton (femur) are all back in action. With those riders returning, it means Jimmy Decotis, who was signed to an sx-only deal, will not be racing this weekend. Also back in action for the first time (outdoors) is TLD/Red Bull KTM's Jordon Smith. The race winner in Monster Energy Supercross missed the first three rounds due to a back injury sustained at Las Vegas.
Coverage begins at 1:00 p.m. EST on the MAVTV. The second 450 moto will air live on NBC at 3:30 p.m. EST with the second 250 moto beginning at 4:30 p.m. EST on NBC Sports Network. You can watch all the motos live on NBC Sports Gold app.
First Practice
The 450 Class was out first on the still muddy High Point track and it was seen through the times. Jason Anderson was quickest with a 2:18.279. To give you some perspective on how the track is changing, in the very next session Zach Osborne topped the charts with a 2:16.767. Look for times to drop in the second session.
Eli Tomac was two-plus seconds off the pace of Anderson in the first session. His 2:20.678 was nearly a full second better than third place Dean Ferris' 2:21.294. Ferris, the defending and current points leader in the Australian Nationals, is racing for the firs time in Lucas Oil Pro Motocross. RCH/Yoshimura teammates Broc Tickle and Justin Bogle rounded out the top five. Current GNCC racer and former 250SX race winner Ryan Sipes was sixth ahead of Dean Wilson, Blake Baggett, Cooper Webb and Fredrik Noren. Points leader Marvin Musquin was 27th fastest.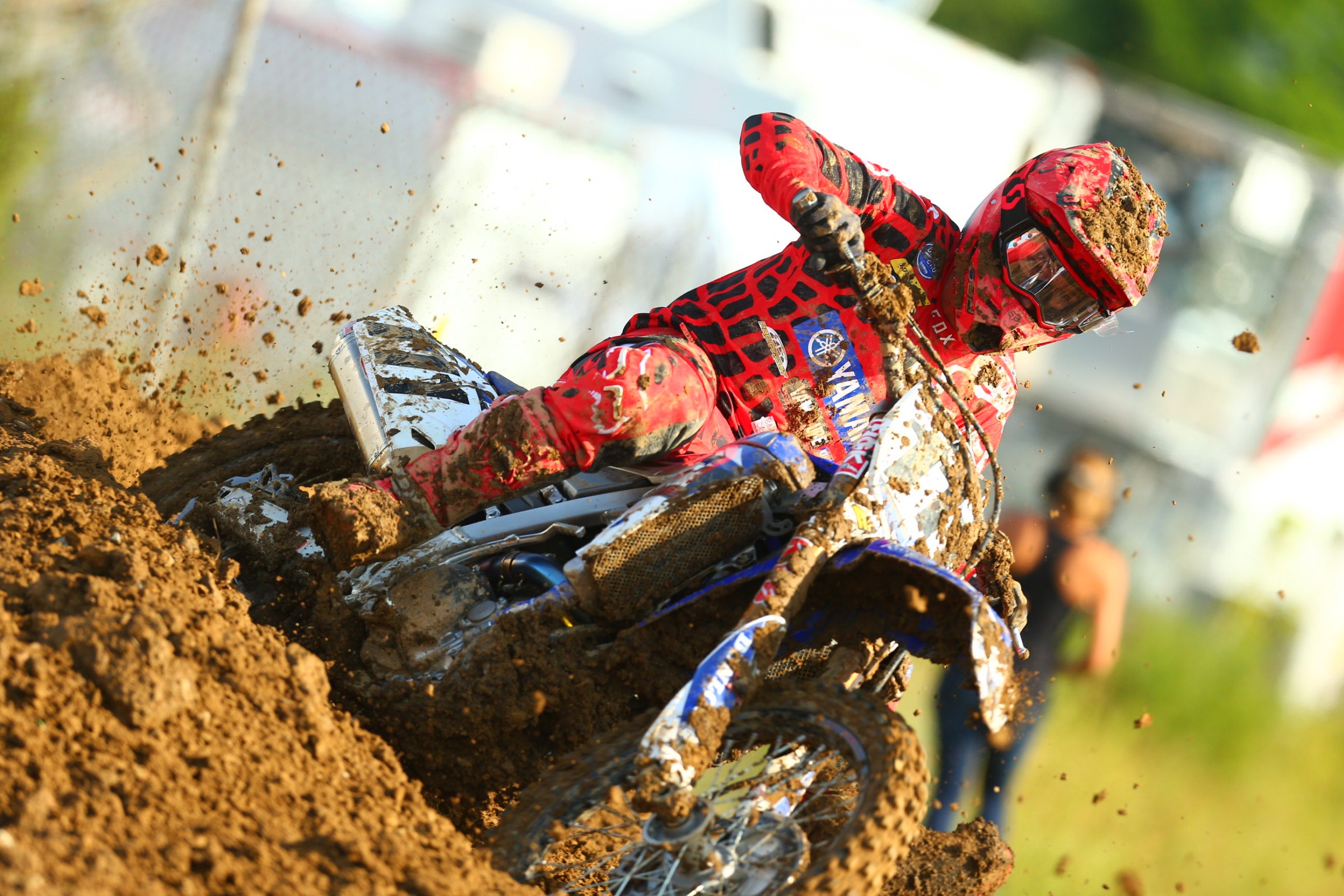 In the 250 Class, Osborne's time was just under two full seconds better than second place Joey Savatgy. Aaron Plessinger, Adam Cianciarulo rounded out the top five.
In his first race back from a broken tib/fib sustained in Toronto, RJ Hampshire was sixth. His GEICO Honda teammate, Chase Sexton, who is making his pro debut, was tenth fastest.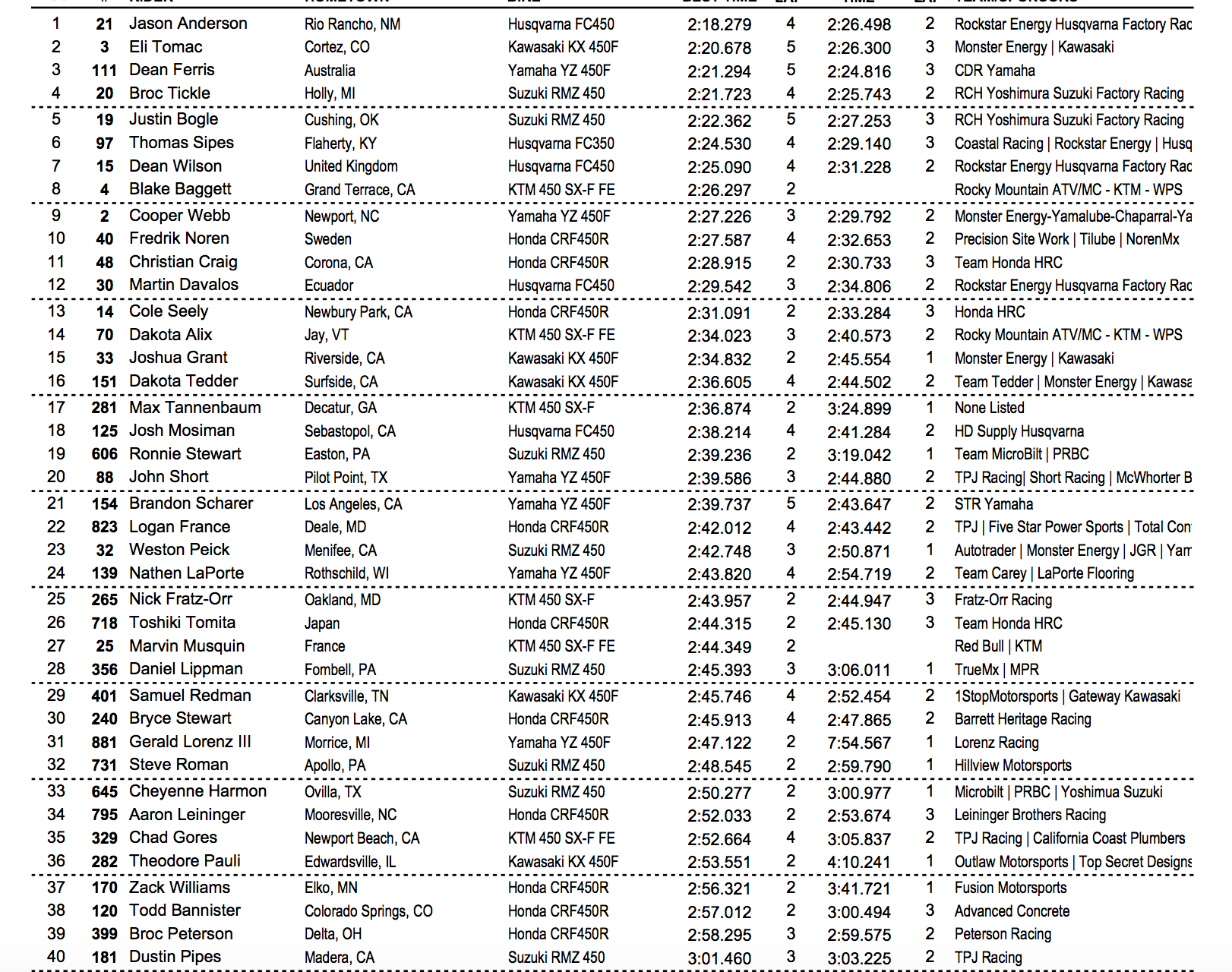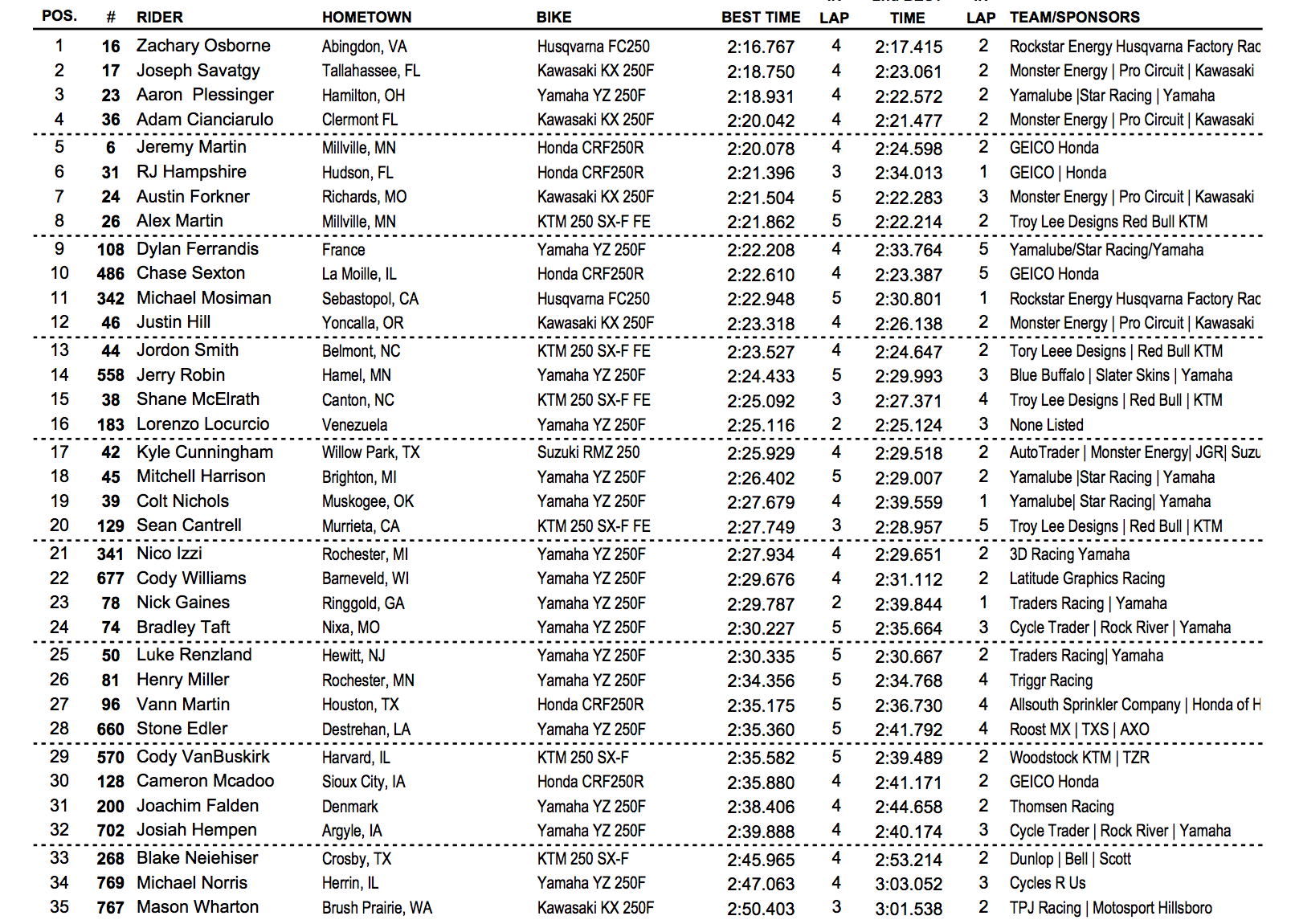 Second Practice
We said the times would be much quicker, but 14 seconds faster was a bit surprising. The leaderboard looked the same with Jason Anderson setting the fastest time with a 2:04.881. Again, not much a surprise. What was a bit surprising is that he was nearly two seconds faster than second place Blake Baggett and third place Dean Ferris.
Eli Tomac was fourth, but more than two seconds off the pace of Anderson. Broc Tickle came in fifth, a full four seconds behind Anderson and was followed by Cooper Webb, Cole Seely, Justin Bogle, Josh Grant and Ryan Sipes.
One thing to keep an eye on is points leader Marvin Musquin. In the first session he put in just one timed lap and finished 27th. In the second session he did just three timed laps and finished 16th.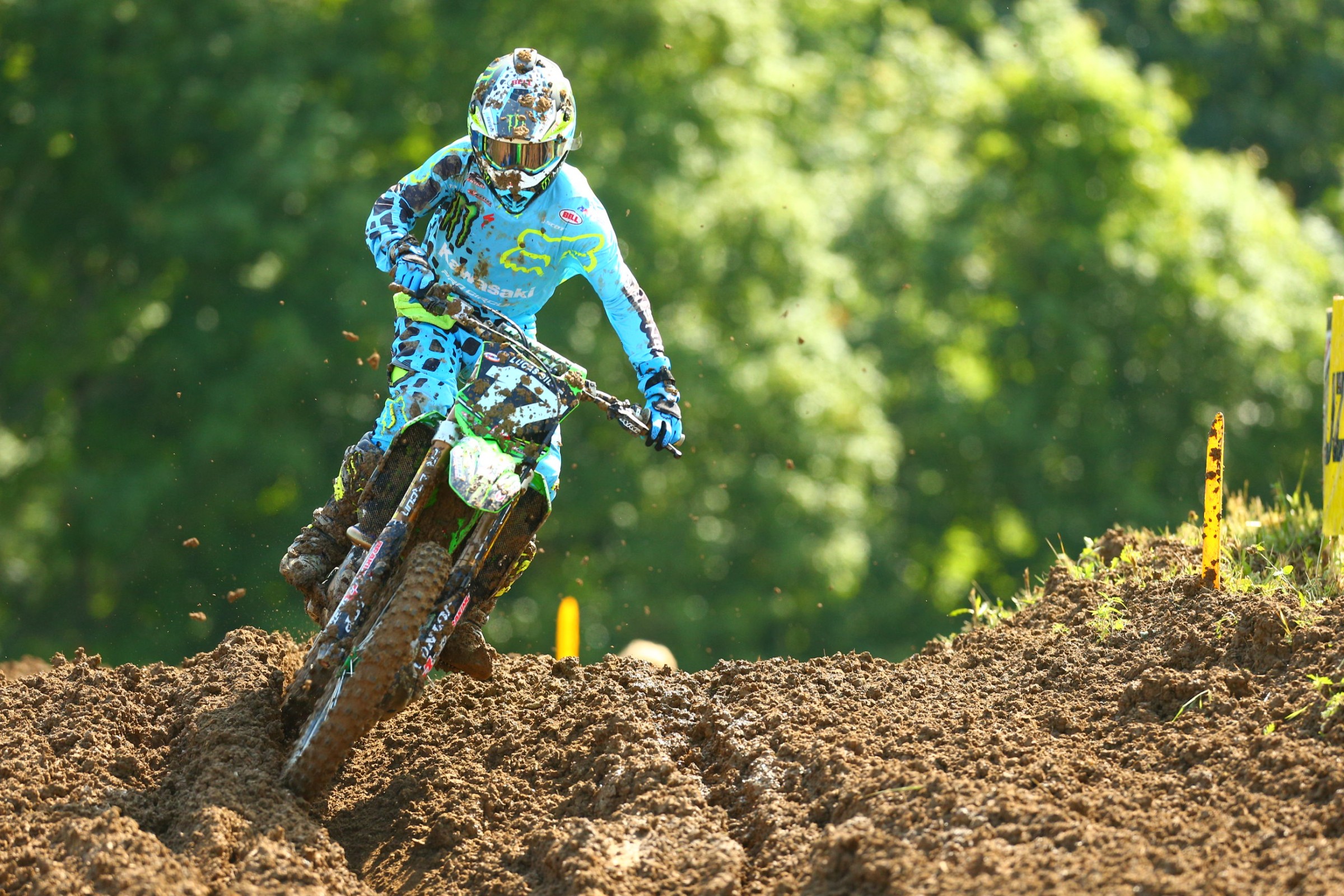 In the 250 Class Joey Savatgy put in a fast lap late in the session to nip his teammate Adam Cianciarulo for pole. Savatgy's 2:02.969 was fastest combined, with AC coming in second with a 2:03.212. Dylan Ferrandis was more than a second off the leader, but he was able to take the third spot over Jeremy Martin, Zach Osborne, Justin Hill, Shane McElrath, Austin Forkner, Chase Sexton and RJ Hampshire.
Aaron Plessinger and Jordon Smith both had big crashes and received help from the Alpinestars Medical Crew. Their status for the motos isn't known at this time. We'll update as soon as we know more.
Update
Aaron Plessinger is expected to race.
Barcia out hit head in practice. Jordan Smith out. McAdoo out.

— Racer X (@racerxonline) June 17, 2017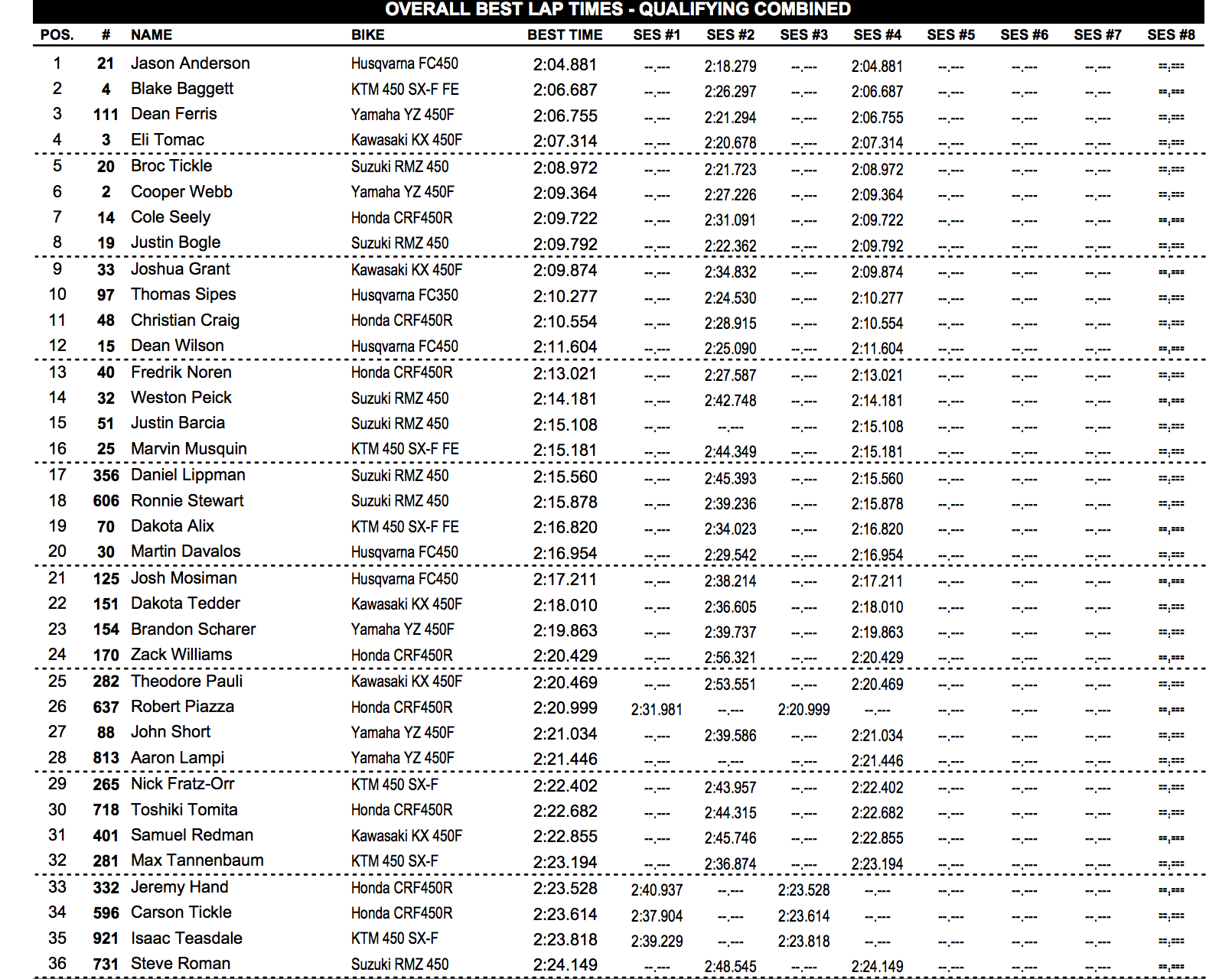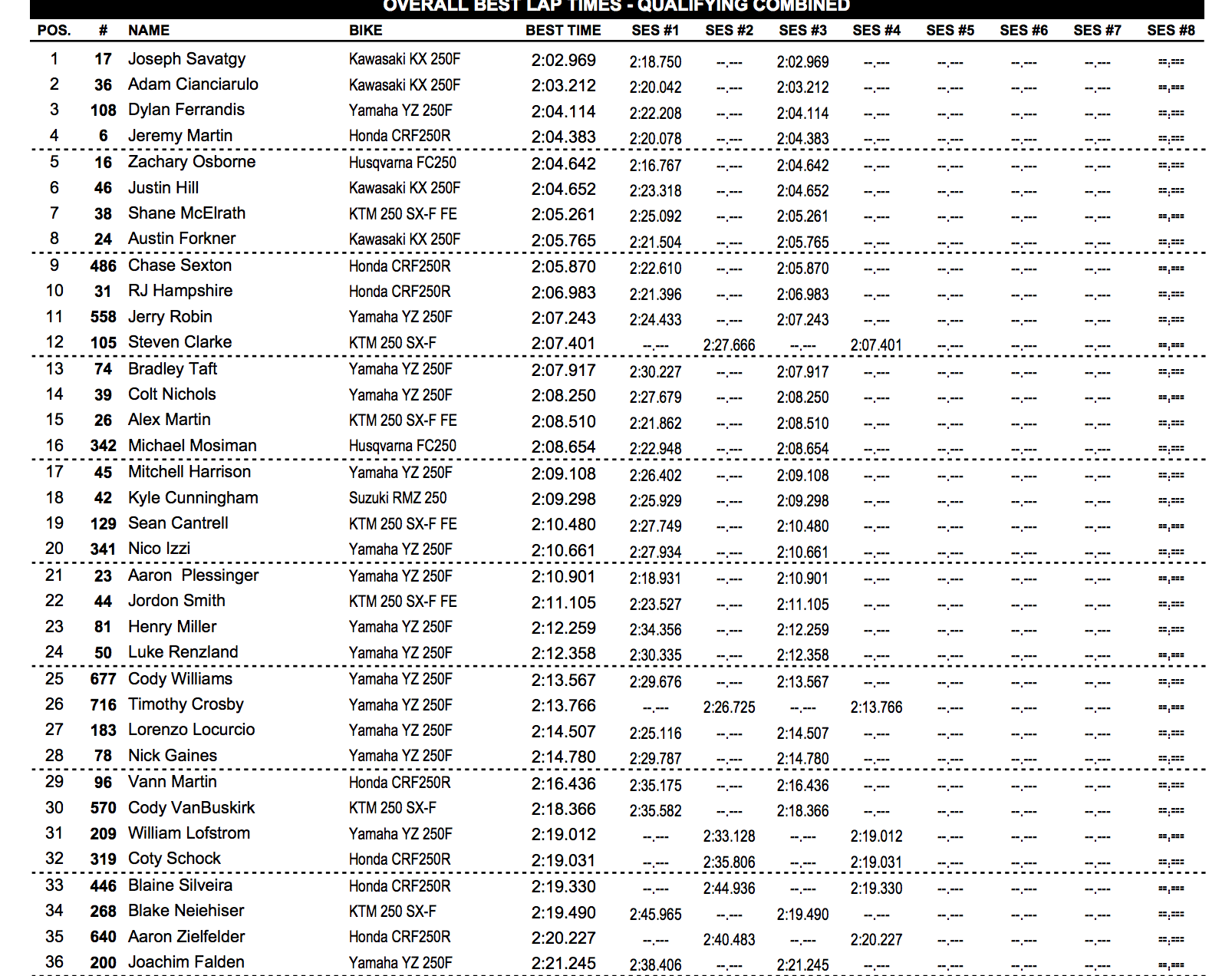 450 Moto One
After a pair of gate malfunctions, the first 450 moto at High Point got underway with Josh Grant, Eli Tomac, Dean Ferris, Christian Craig, and Blake Baggett all battling for the lead. A huge shakeup in the championship took place on the opening lap when Tomac went down and got up dead last. This gave Grant a bit of breathing room over Ferris and Baggett. That would change quickly though as Ferris, in his first career Lucas Oil Pro Motocross moto, took over the lead at the 21 minute mark. Troubles for Grant weren't over though, as Baggett was also charging hard and pushed Grant back to third.
Baggett wasted little time making his move for the lead. At the 19-minute mark Baggett, who was running two seconds a lap faster, took over the top spot. Once in the lead Baggett quickly stretched the gap out to five seconds. By the end of the moto Baggett had built a 22.2 second lead over second place Ferris. Grant regrouped to finish third.
Broc Tickle was a man on the charge at the end of the moto. He made his way past Justin Bogle, Jason Anderson and Cooper Webb to grab fourth. Anderson crashed twice in the race and finished fifth. He took Bogle down in the second crash and Bogle appeared to try and kick Anderson as he rode by. Bogle would rebound to finish seventh. Webb took sixth. Weston Peick, Dean Wilson and Cole Seely rounded out the top 10. Tomac eventually made his way to 12th.
After a great start in his first race back, Christian Craig pulled into the mechanics area later in the race and eventually DNFd.
Marvin Musquin, who entered the race with the points lead, had his troubles in the first moto. He started around 14th and eventually dropped back to 16th. There are unconfirmed reports that Musquin may be dealing with a knee injury. We'll have more on him later. [Update: According to Jason Weigandt, Red Bull KTM team manager Roger Decoster told him Musquin has a torn meniscus.]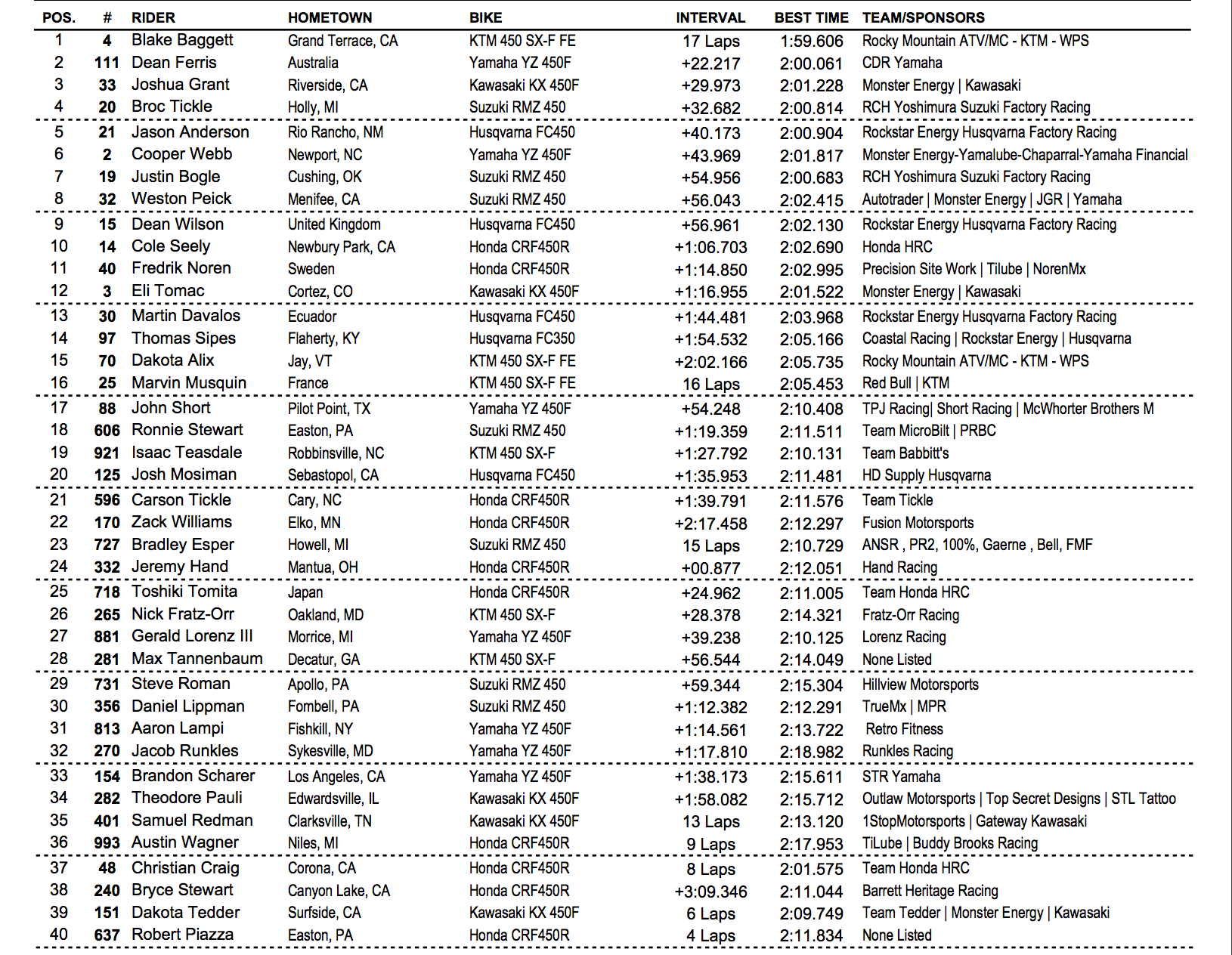 250 Moto One
Zach Osborne grew up in nearby Virginia and was a frequent visitor to High Point Raceway. A year ago, Osborne won his first career 250 moto at the track. Today, he chased down Jeremy Martin in the first 250 moto to take the win and extend his points lead.
Martin took the opening holeshot of the day with Aaron Plessinger, Osborne, and Joey Savatgy all in the mix. Savatgy would go down later in the race and rebound for eighth. After fending off Plessinger, Martin began to open a bit of a gap, but Osborne has charging hard and at the 19-minute mark passed Plessinger for second in the rollers. By the 12-minute mark Osborne had caught Martin but made a slight bobble. It looked like that would give Martin enough room to open his gap back up, but a minute later Osborne had already caught him again and made the pass for the lead. He would go on to win by 7.8 seconds.
Plessinger, who had a big crash in practice, actually pressured Martin late in the moto, but Martin was able to rebound and hang on for second. After the race Martin said he was "managing arm pump" all race but that it went away with two laps to go.
Dylan Ferrandis made a late charge to get Adam Cianciarulo for fourth. AC finished fifth followed by Austin Forkner.
After being involved in a first turn pileup that included Chase Sexton, Colt Nichols and Bradley Taft, Alex Martin was one of the fastest riders on the track and came from way back to finish seventh.
In his first race since breaking his tib/fib in supercross RJ Hampshire finished ninth. Mitchell Harrison rounded out the top 10. Nichols came back to finish 12th. In his first career pro race Chase Sexton took home 19th.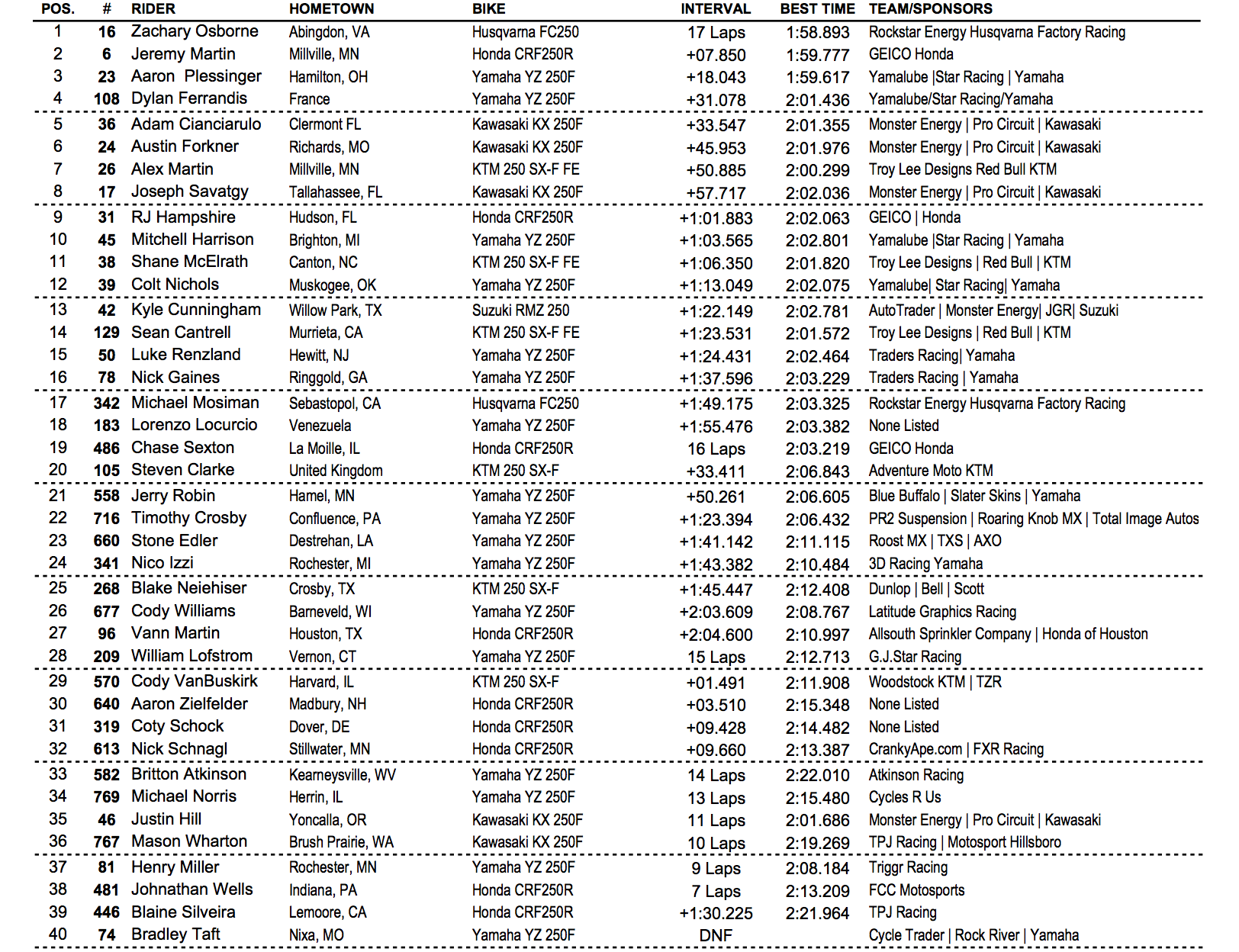 450 Moto Two
After a mistake on the opening lap of 450 moto one cost him a chance at challenging for the win, Eli Tomac fired back in the second 450 moto at High Point Raceway, taking his first moto win since the season opener at Hangtown.
The holeshot was taken by Broc Tickle, with Jason Anderson, Tomac, Blake Baggett, and Dean Wilson following. Baggett made a mistake on the opening lap and was shuffled back to eighth. He remained around seventh for the first few laps before making a huge charge toward the front. In one lap he passed both Anderson and Tickle and moved into second. He put down a couple 1:55s to close to within eight seconds of Tomac, but never got any closer. Tomac responded late and won the moto by 20 seconds. Behind a 1-2 day, Baggett would win his second straight overall.
After holding the early lead, Jason Anderson took third. Tickle finished fourth ahead of Cooper Webb.
A much better moto for Marvin Musquin. As we reported earlier, Musquin is currently racing with a torn meniscus in his knee and finished 16th in the first moto. In the second moto Musquin put in a hard charge to get around Josh Grant (who tipped over trying to re-pass Musquin and finished 11th) and Cole Seely to take sixth. Dean Wilson finished seventh followed by Seely, Justin Bogle and Martin Davalos.
Dean Ferris had another solid ride in his U.S. Lucas Oil Pro Motocross debut. After going down in the second turn and getting back up dead last, the 2016 Australian Nationals MX1 Champion fought back to finish 14th.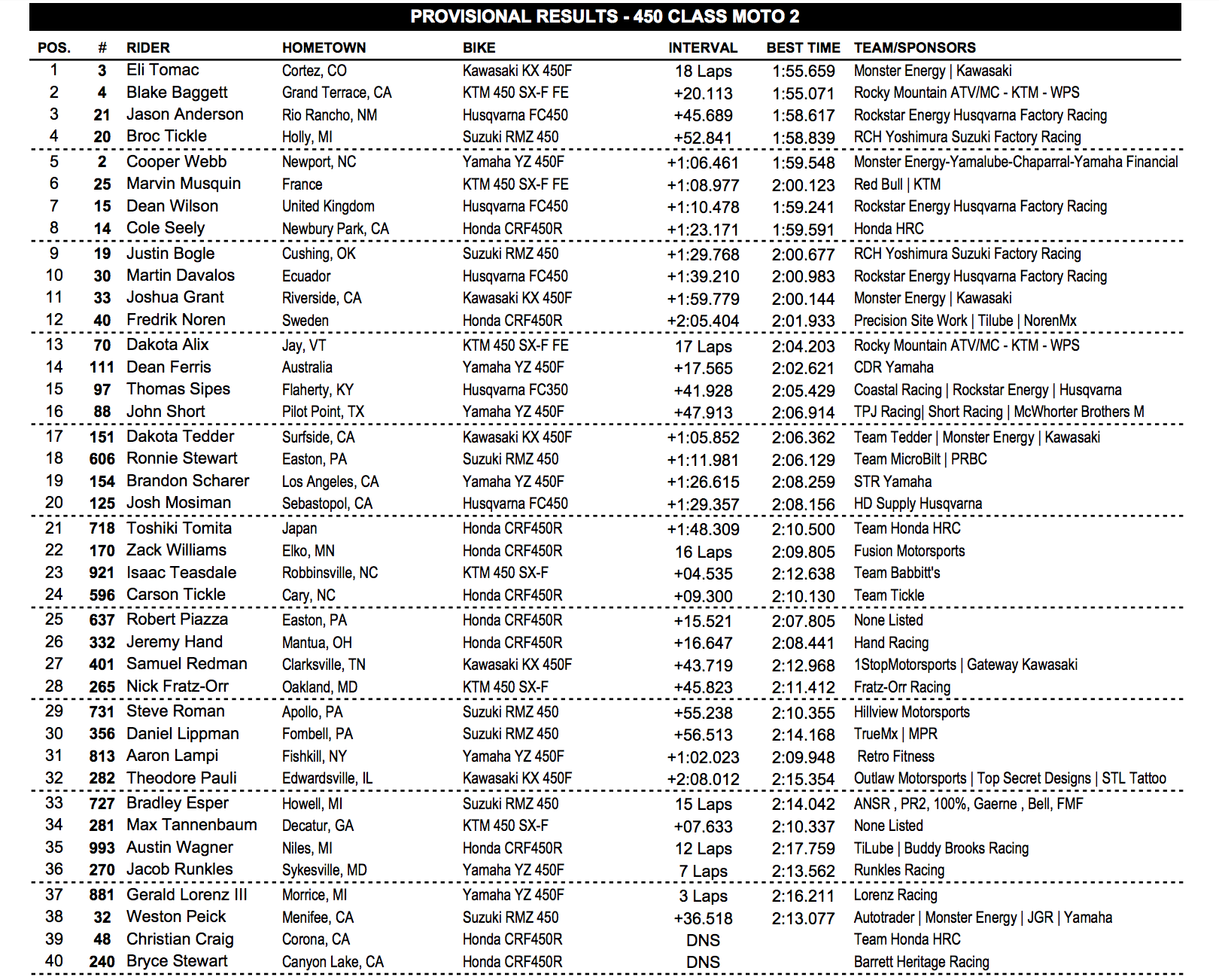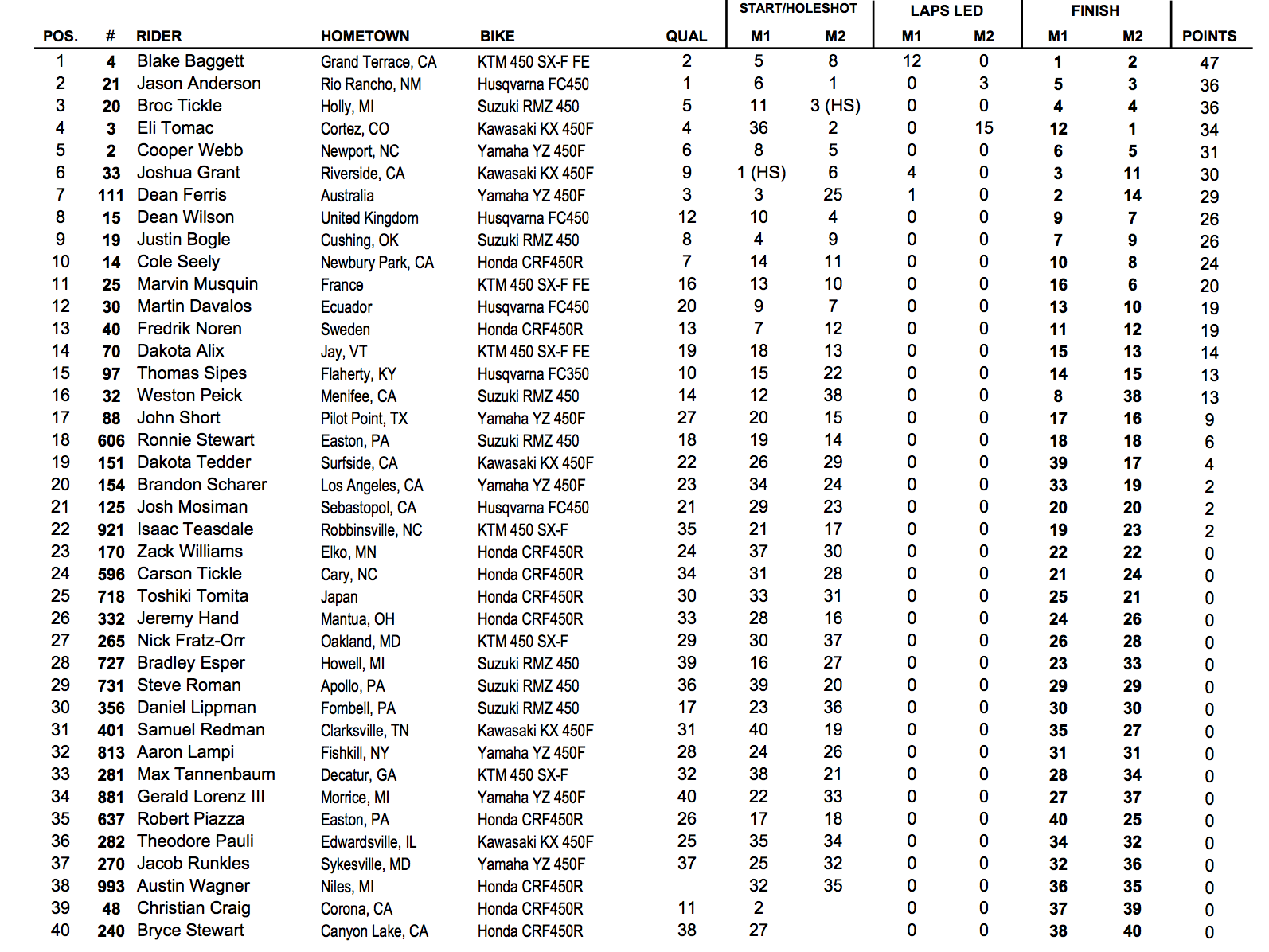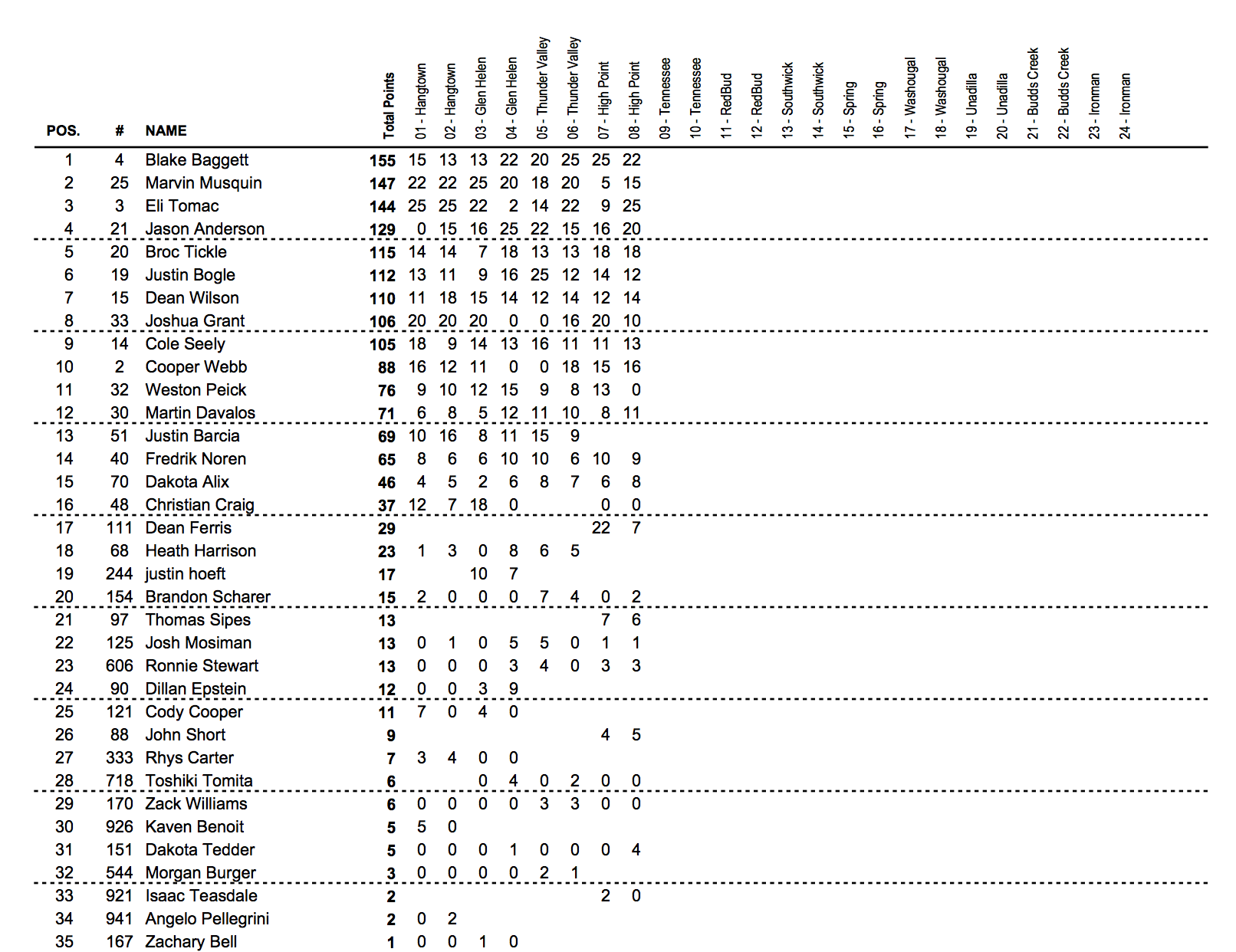 250 Moto Two
It was a Martin vs. Martin duel for the win in the second 250 moto. Alex Martin took the second moto holeshot over Aaron Plessinger and his younger brother Jeremy. First moto winner Zach Osborne was got off to a terrible start, but he'd make his presence known before the end of the moto.
At the 23-minute mark, Jeremy got around Plessinger for second. Then things came unraveled for Plessinger as he was soon passed by Austin Forkner then his teammate Dylan Ferrandis. He would eventually get passed by Osborne as well and drop back to sixth. But his moto was far from over as he regrouped and put in a huge late charge to pass Ferrandis and Alex Martin to grab third.
Up front, Alex and Jeremy were engaged in battle for the moto win. At 17 minutes, Jeremy began to close on Alex. Four minutes later Jeremy had enough momentum to finally make the pass stick for the lead. He went unchallenged en route to the moto and first overall win of the year.
Meanwhile, Osborne was making a huge charge late in the moto and caught Alex for second on lap 13. Osborne finally made the pass on the back section of the track. When Osborne was making the pass he appeared to try and ditch his goggles. When he went to throw them off they appeared to get stuck on his visor and broke his visor where it was standing straight up. He took Alex high in the following corner and was finally able to ditch them. After the race Osborne said he took a rock to the nose of his goggles and all the sweat was dripping down his face, which is why he had to take them off.
Then things came unraveled for Alex as he lost spots to Plessinger and Ferrandis and finished fifth. Forkner, who tipped over while battling Osborne around the mid-point of the moto finished sixth. Joey Savatgy, RJ Hampshire, Mitchell Harrison and Chase Sexton rounded out the top 10.