High Point Raceway
Mt. Morris

,

PA
High Point
Lucas Oil AMA Pro Motocross Championship
Welcome to Racerhead on a very busy Friday. We're coming to you from the announcer's tower at High Point Raceway, where tomorrow's Red Bull High Point National will take place, marking the fourth round of the Lucas Oil Pro Motocross Championship. This is our hometown race—not only for Racer X Online but for MX Sports Pro Racing. Mt. Morris, Pennsylvania, is a tiny town, but it's just five miles up Interstate 79 from Morgantown, West Virginia. Still, Mt. Morris looms large on the motocross calendar because this is where the series turns east, and after three extremely entertaining rounds of the series out west, this one should be a dandy.
We're also trying out the new High Point redesign, by master track builder Randy Poulter. Yesterday during press day we saw the red-hot Blake Baggett, Honda HRC's Cole Seely, and the returning Christian Craig out there, as well as Dean Ferris making a cameo appearance. They all seemed to really like the track, though Baggett told me that some of the jump faces needed to track in more. We were hoping to do some more tweaking on it today during the amateur races, but then a huge storm hit last night and swamped the place and amateur-day racing had to be postponed until Sunday. That means the WMX girls will now get to race as part of the Saturday program, just like in the old days. As for the track, there doesn't appear to be any more rain headed our way, so it will be dialed in tomorrow.
Later this evening, we are hosting Ryan Villopoto's Happy Hour, which is exactly what it sounds like: RV and friends like GNCC Champion Kailub Russell, former champions Fred Andrews and Barry Hawk, and OG FMXer Trevor Vines riding two-strokes out on the track and then doing some bench-racing with the fans—coolers welcome. There's also "Rocket" Rob's Pit Bike Race, a bonfire, and more bench-racing. People may forget that Villopoto won his first National here back in 2006 when he was riding for Mitch Payton. Here's the event coverage of that historic day:
Motocross fans have a lot to talk about right now. Never can I remember a time when we had 10 different moto winners in consecutive motos. Think about it: Hangtown's second-moto winners were Zach Osborne and Eli Tomac; Glen Helen saw Jeremy Martin and Dylan Ferrandis split 250 motos and Marvin Musquin and Jason Anderson win in the 450 Class; Thunder Valley's winners were Alex Martin and Joey Savatgy (250) and then Justin Bogle and Blake Baggett.
If we're going to make it to 11 in a row, it will come out of the 450 ranks, because with the live NBC network coverage tomorrow, the 450s will go first so that at 3:30 p.m. it will be time for their second moto, and that's the one NBC wants to show on the network. So it's up to a Cole Seely or Cooper Webb or Dean Wilson or Brock Tickle or Justin Barcia or Josh Grant to keep that streak alive. But after the Thunder Valley race, I have a feeling Baggett is more confident than he's ever been, and Tomac is ready to bounce back quickly from a long day at his home race.
The 250 Class should be just as epic, and I can see an Austin Forkner or Adam Cianciarulo or maybe even Aaron Plessinger breaking through with a moto win. All have been fast this summer, but they just haven't quite closed the deal on a moto win. Add the guys who have already won a moto to the mix, and it should be quite a day here at High Point.
Unfortunately, I don't have much time to do any real bench-racing here because my duties today include everything from track prep to helping set up the MHS lacrosse team's souvenir program sales, plus a Be the Match setup to help out sign up potential bone-marrow donors that will be on vendor's row. It's always fun to have a hometown race, but now I know why the riders sometime dread it, because you get pulled in a million different directions. Oh well, it comes with the territory!
Here's the rest of Racerhead, and Happy Father's Day to my fellow dads out there!
Pro Perspective (David Pingree)
How much of a difference is there really when the series heads east? Well, the tracks are a bit different, but that isn't what really changes the dynamic of the racing. You don't get to the gate at a National without being able to adapt to different types of dirt and track conditions. The significant factor is the weather. The trend is to move to Florida for the summer because showing up to the races acclimated to the heat and humidity is a huge advantage over those flying in from the West Coast or drier climates. The heat index at races on the East Coast is debilitating if you aren't used to it. On top of that, flying to the majority of the races is much easier from northern Florida than Southern California. When you aren't dealing with jet lag and time change every Friday night, it makes the weekend go much smoother. Oh, and there is also the East Coast weather thing. If you can't ride the mud well, the Nationals on the East Coast are not your friend. There are always a couple rounds that have rain before or during the race and turn the track into a swamp. Here's to good weather and good racing at High Point.
Check out Andrew Fredrickson's press day gallery from today.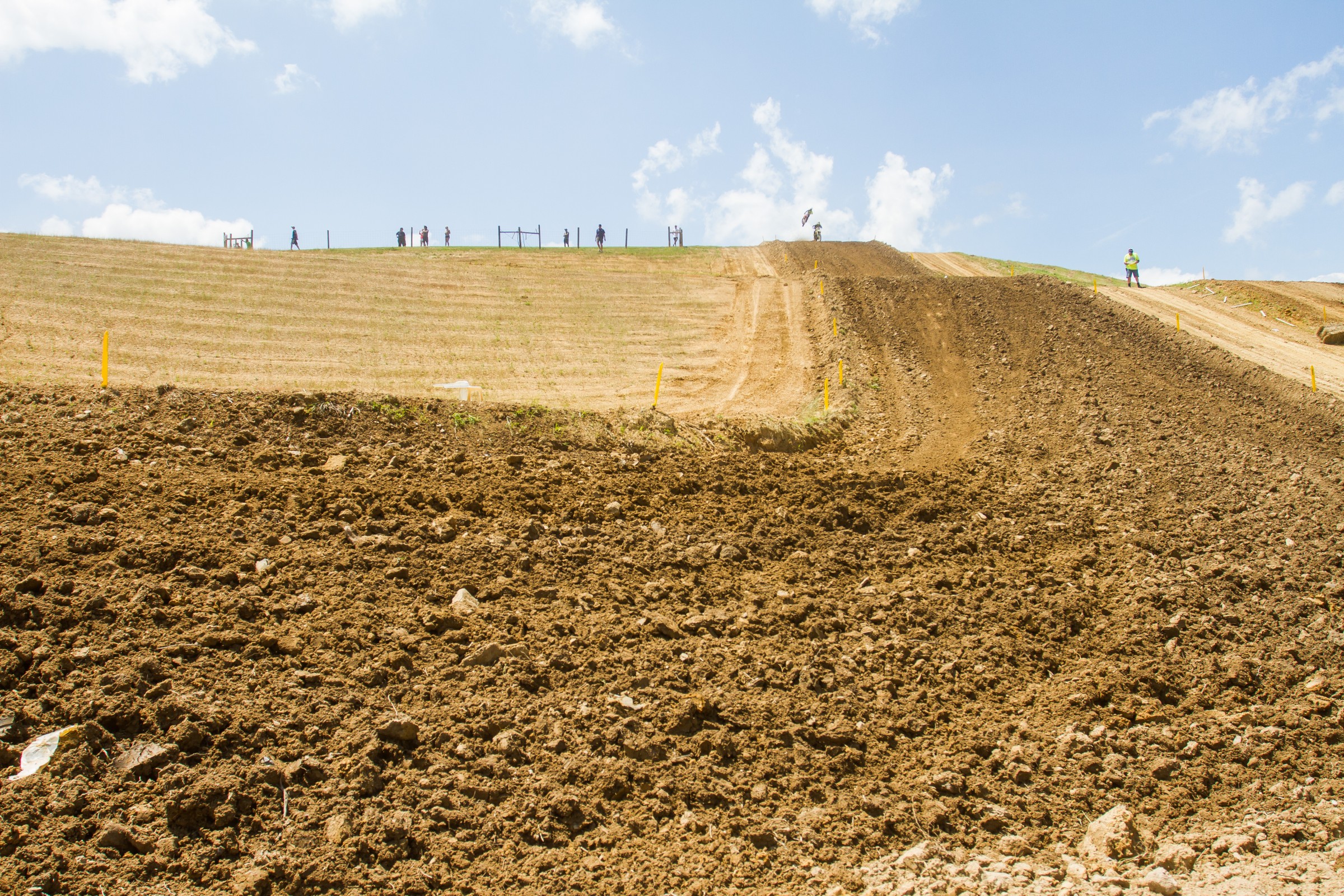 Desalle is Back in Business (Andras Hegyi)
The Belgian is once again fighting for the world title against Italian legend Antonio Cairoli. The Monster Energy Kawasaki rider has won the last two MXGP rounds and is now second in the overall classification.
Clement Desalle, 28, won the Motocross of Nations as a member of Team Belgium in 2013, his biggest success so far in his career. In the USA, he raced some 450 National events, and his best result was a solid second at Unadilla in 2010. Between 2009 and 2013 he was one of the main contenders in the world championship, battling for the world title as eight-time world champion Cairoli's number-one rival. Three times Desalle was runner-up, and two times he was third placed in the overall standings.
But then between 2014 and '16, Desalle became less competitive. He slipped to fourth in 2014, 10th in 2015, and eighth last season.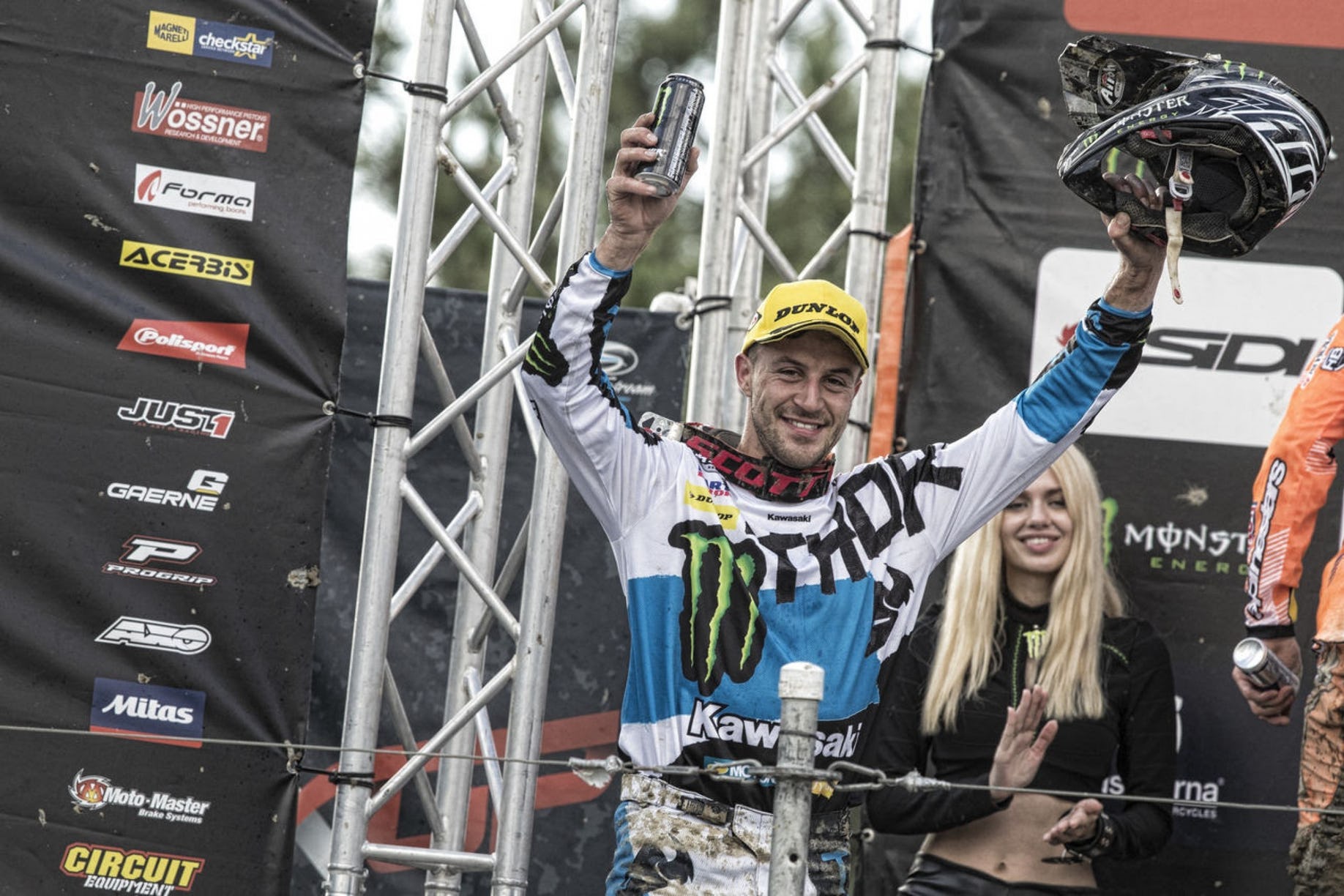 This season, however, Desalle has become Cairoli's main challenger, surpassing younger riders like Tim Gajser, Romain Febvre, Jeffrey Herlings, and Gautier Paulin. He's winning motos and overalls again, having just won in France and Russia.
Desalle, who has raced on the Grand Prix circuit since 2006, is a unique one in history of the FIM Motocross World Championship. He is the rider who has the most GP wins without ever being world champion with 22. By comparison, the most successful British racer, Dave Thorpe, earned three world titles while getting 22 GP wins. And Swedish riders Rolf Tibblin and Sten Lundin each won two world titles while collecting 22 GP wins in all. If not for Cairoli, Desalle would have a much different place in the record books.
ALOHACROSS! (Eric Johnson)
"Slow down! This ain't the mainland." That's what the t-shirt hanging in the window of a surf shop in Maui, second largest of the Hawaiian Islands, read. I stopped to think about it a minute. Well, I'm in Hawaii in the middle of June, and I should probably slow down a little bit … but wait, wasn't there a supercross here in back in the mid-1980s?
Turns out there was. On June 30, 1984, the night before Jeff Ward (125cc), Rick Johnson (250cc), and David Bailey (500cc) all won their respective AMA Motocross classifications at RedBud in Michigan, there was a race 4,313 miles away in Honolulu. Five journeymen mainlanders lined up to race the Continental Motorsport Club/Skoal Bandit Supercross in the 50,000-seat Aloha Stadium and promoted by Pro Motion Inc., an outfit that normally promoted rock concerts the Islands and created the first true stadium motocross race in the 50th state.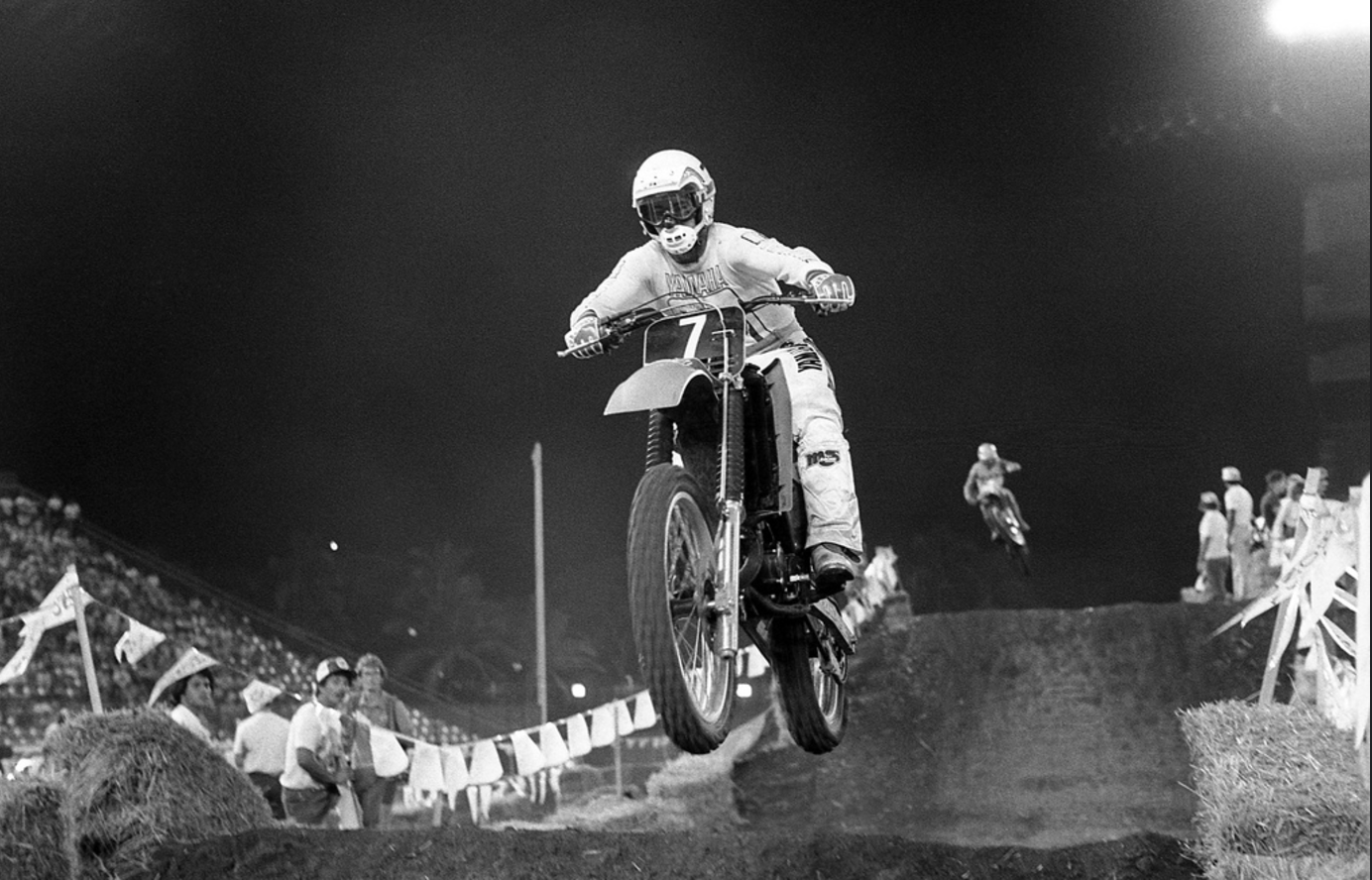 Among the roster of riders was "Radical" Ron Turner. A Southern California fixture on the CMC scene at blue-grooved venues such as Indian Dunes, Corona Raceway, and Carlsbad, Turner was also an accomplished AMA racer, placing sixth overall in the 1981 AMA 250cc National Championship aboard a production based Honda. Turner would race the Alohacross race on a Cagiva. Rodney Smith, from Antioch, California, was a second-year pro with plenty of speed and plenty of potential. Chris Heisser was a top-10 AMA 125cc National finisher in both 1982 and '83, "Flyin'" Brian Myerscough was a former Suzuki factory rider who won a couple of 125 Nationals, and last but certainly not least in the lineup was Jimmy Ellis, the 1975 AMA Supercross Champion.
Joining the mainlanders behind the rubber-band start that night would be a host of Hawaiian riders, the foremost being John "Flyin' Hawaiian" DeSoto. Straight out of Honolulu, where he learned to ride motocross in the pineapple fields, DeSoto was a full-on American motocross legend. In fact, at the 1973 Inter-AMA/AMA 250 Motocross National at Delta Motorsports Park in Ohio, DeSoto placed fourth overall behind winner Jaroslav Falta of Czechoslovakia, Heikki Mikkola of Finland, and Antonin Baborovsky of Russia. What was fascinating about the result was that the Hawaiian was scored as the top American rider, and as was customary during that early period of American motocross, beating out countrymen Jim Pomeroy, Brad Lackey and Gary Jones. The one and only major victory of his career, DeSoto retired from the sport in 1975. But in 1984, and despite the fact that the man was 37 years old, the Alohacross promoters coaxed DeSoto out of retirement to do a one-off appearance in his hometown.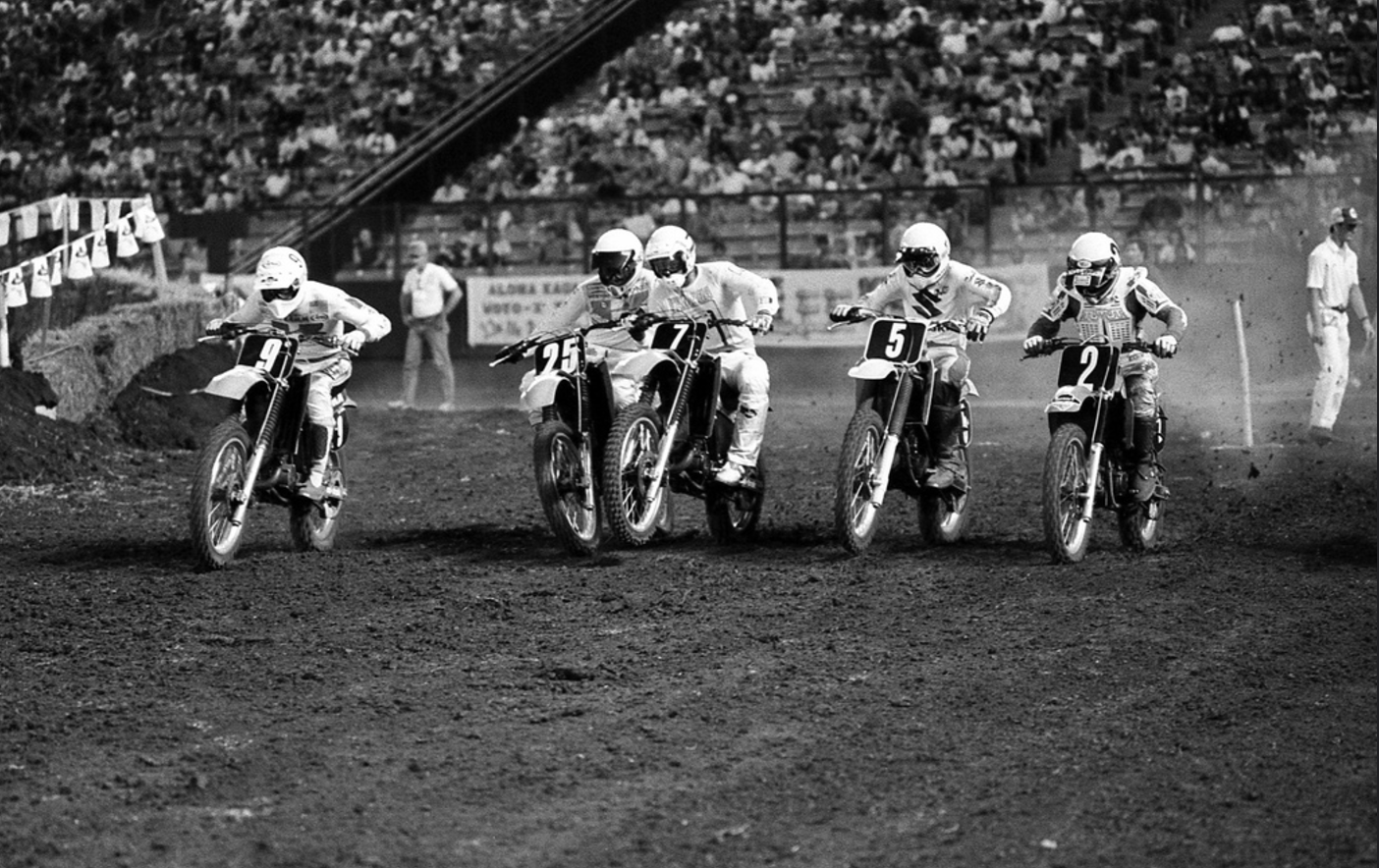 "Old pineapples never die, they just get old and ferment and just get better," DeSoto told the hometown crowd that night, and all 17,000 of them up in the Aloha Stadium stands roared in admiration for the old-timer.
In the 125cc-only affair, 12 riders would make the main event on a somewhat small and sinuous circuit highlighted by three double-jumps, six turns, some whoops, and a big finish-line jump called the Toyota Lava Leap. Larry "Supermouth" Huffman—a onetime Honolulu disk jockey—whipped the locals up into a frenzy all night long.
When the rubber band snapped to start the 25-lap main event, it was future Grand Prix and GNCC star Rodney Smith out front with the holeshot, chased by Turner, Amorin, Ellis, Myerscough, and DeSoto. Due to the short lap times, the race was somewhat abbreviated, and things happened quickly. Six laps in, Smith got out of shape, allowing Turner, riding a Cagiva, to streak by. Turner put the hammer down and by the halfway mark opened a six-second lead. Behind him, Myerscough and his Kawasaki KX125 were starting to gain momentum. With only a handful of circuits remaining, Flyin' Brian was on rear fender of Turner, and it all looked to be set up for a last-lap shootout. But the white flag never came out due to a big crash between two back markers over the Lava Leap—the flagman got confused and failed to unfurl and wave the white flag to the flying duo of Turner and Myerscough. The next lap, the checkered flag seemingly came out of nowhere, and Turner took the victory by mere inches.
"I knew it was near the end, but I would've charged a little bit harder if I had known it was the last lap," Myerscough lamented immediately after the race. "I'm really disappointed. I wanted to win, but it was my fault I didn't."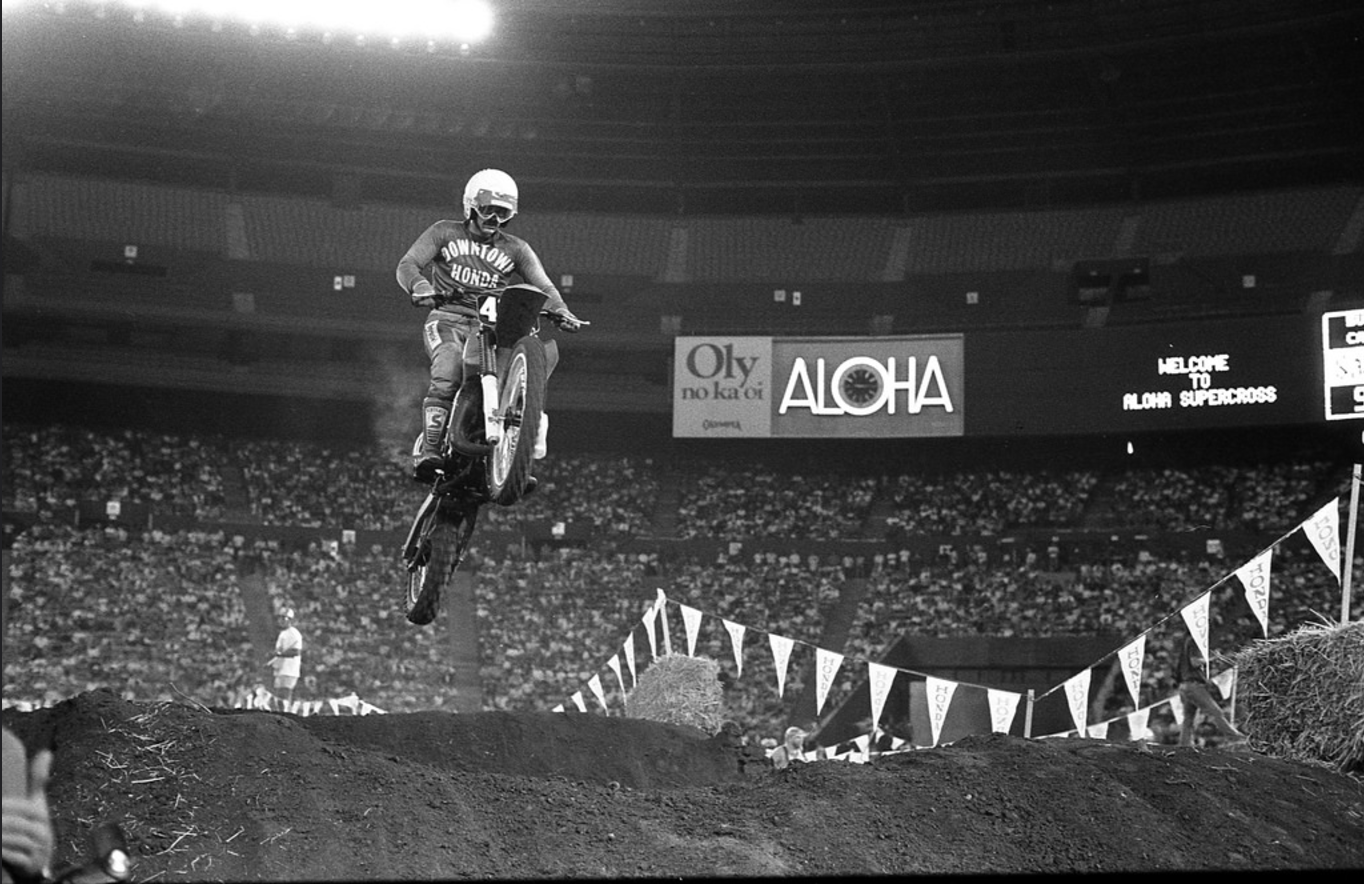 "I didn't see the white flag either, but I was sure glad to see the checkered!" said Turner. "I don't think it would've made much of a difference for me whether I saw it." When handed the wood-carved trophy, Radical Ron, beaming with pride, told Cycle News reporter Kit Palmer, "I wanted this trophy so bad when I first saw it and now I've got it. I almost can't believe it."
And of DeSoto's 25-lap performance? Despite being a bit battered and bruised from a heat race crash, the veteran was smiling back in the pits. "I sure felt out of place riding a 125," offered DeSoto. "I haven't ridden one since 1969 or '70 when I rode a Sachs at Mammoth. There are some really good kids out there, talented athletes, and the kids from the mainland did an awful lot for Hawaii. We are grateful they came over and put on such a great show, and I think Hawaiian Supercross will benefit."
Okay, story complete. Time to go snorkeling with my daughters.
Head-Scratching Headlines of the Week
"Arizona psychic hit by car says he never saw it coming." The Arizona Republic
"Prison worker arrested for trying to sneak drug-stuffed burrito into jail" – Munchies
"Yamaha Factory Motocrosser Cooper Webb Is Ready To Reach His High Point This Season At Mt. Morris"
Hey, Watch It!
125 Dream Race Helmet Cams
Tyler Livesay
GEICO Honda/HRC Honda factory rider Christian Craig wore the Vital MX Garmin for One Lap Around the revamped High Point Raceway.
Random Notes
Remember a few years back when Kim McGrath, the wife of seven-time AMA Supercross Champion Jeremy McGrath, was in desperate need of a bone marrow transplant? Kim and Jeremy were extremely fortunate to find a match for her, with the help of Be The Match, a global registry of potential bone marrow donors that has saved countless lives. It's easy to get involved and help potentially save a life; joining the registry requires a sample of cells, usually collected by swabbing the inside of your cheek. According Be The Match's website, "Doctors use this sample to compare specific protein markers, known as human leukocyte antigens (HLA) with HLA markers of patients who need a bone marrow transplant."
At tomorrow's High Point National there will be a Be The Match tent set up on vendor's row so that you can get signed up and maybe someday be the one to save a life. For more information, check out BeTheMatch.org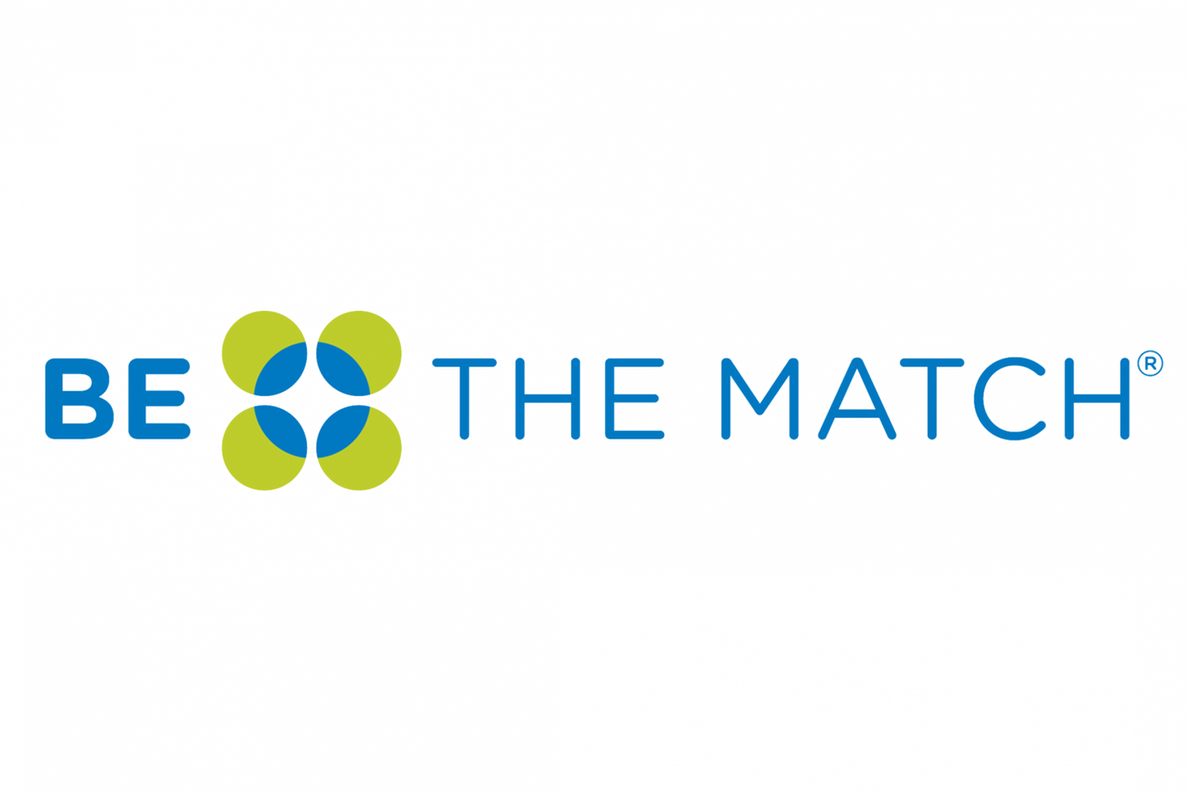 Planning on preordering tickets for the Red Bull High Point National this weekend?
If so, don't forget to add the official Racer X Illustrated shirt of High Point Raceway at a discounted price to your ticket preorder. There are limited quantities so be sure to get yours today. If preordered, your shirts will be available for pick-up at the Racer X booth, located in Sponsor Village, at the time of the event.
Already preordered tickets? No worries—these shirts will still be available for purchase at their regular price during the time of the event at the Racer X booth.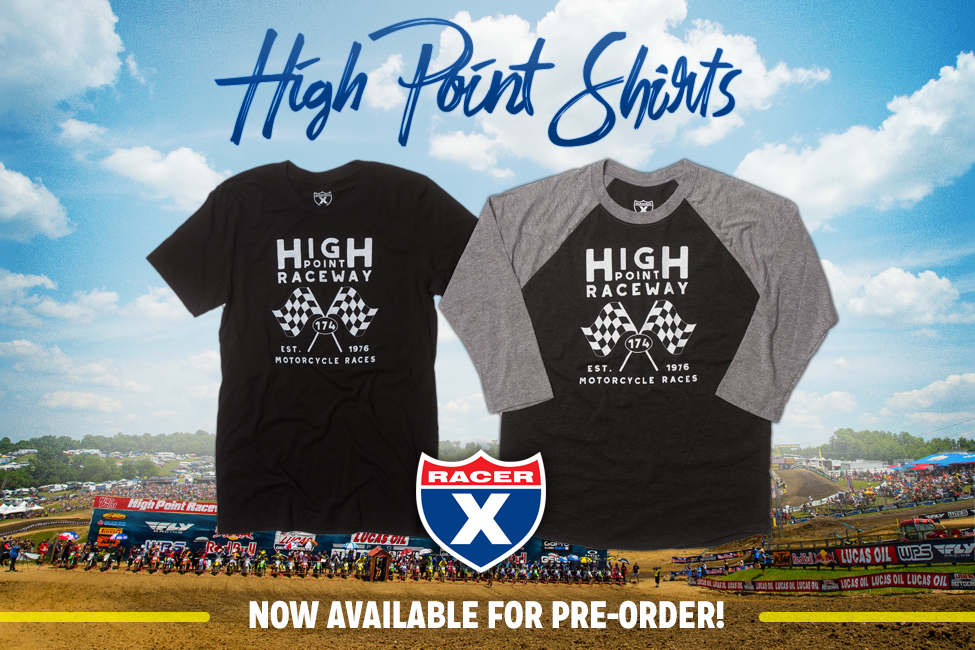 The only way to cruise the pits whenever you'd like is with the Racer X All-Day Pit Pass, but quantities are limited! Get yours today while they're still available and get all-day pit access plus a one-year subscription to Racer X Illustrated for just $50. Preorder ticket sales end Thursday, June 15th at 11:59 PM.
If you preorder online for this event, you'll need to pick your Racer X Pit Pass up at Will Call, where you'll also receive an extra copy of Racer X, the official event sticker, and Racer X stickers.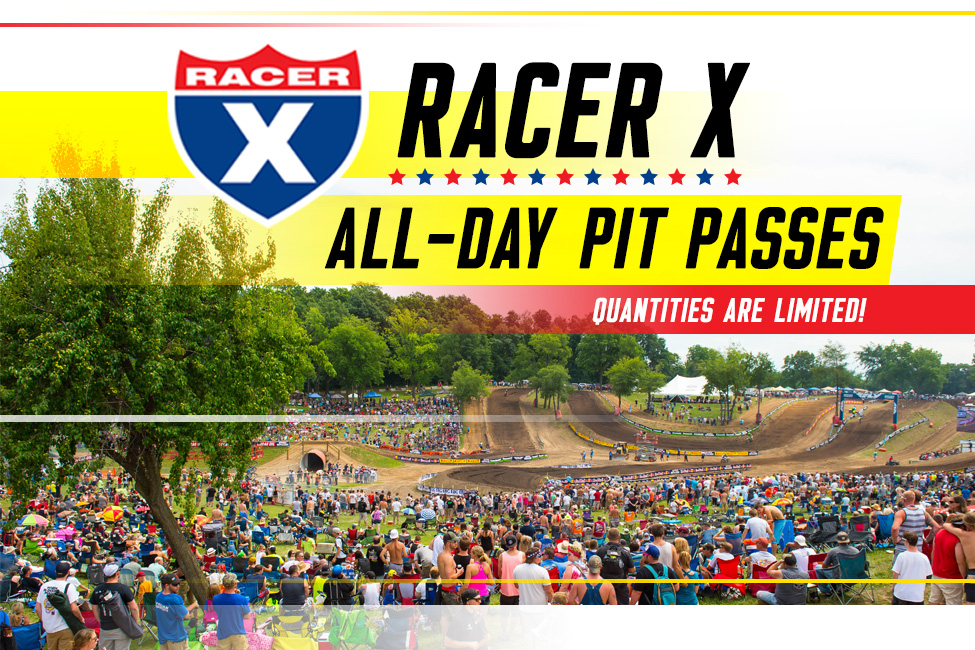 Be sure to stop by the Racer X Booth in Sponsor Village and subscribe to Racer X Illustrated for as low as $10 to receive a FREE $20 Motosport Gift Card, a one-year subscription to Racer X Illustrated, an extra copy of Racer X, the official event sticker, and Racer X stickers.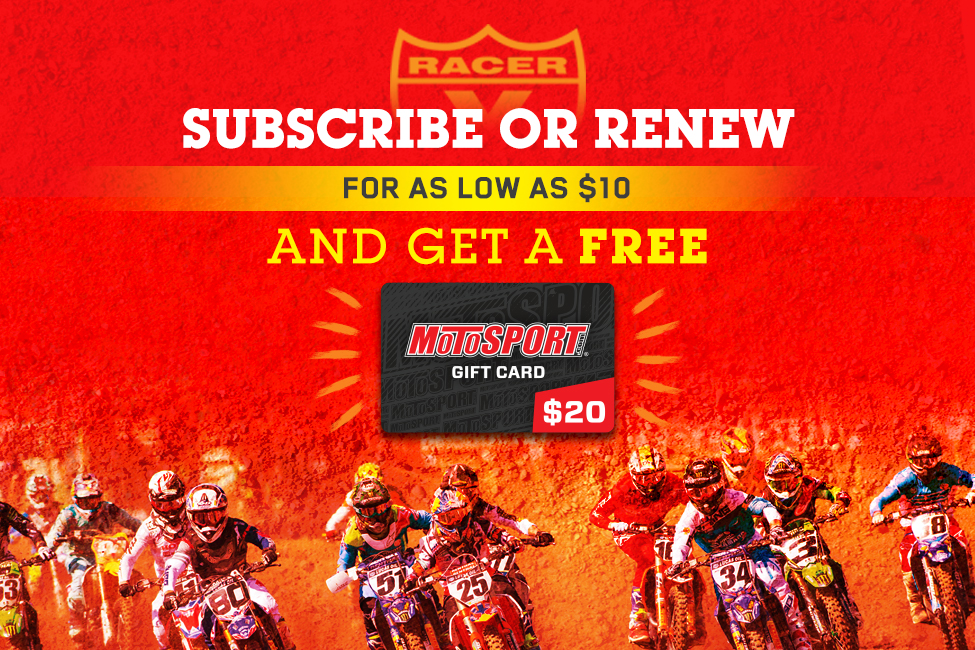 Headed to the Mammoth MX Amateur National? Be sure to grab a couple event stickers while you're there. Don't hesitate, there are limited quantities so get yours before they're gone!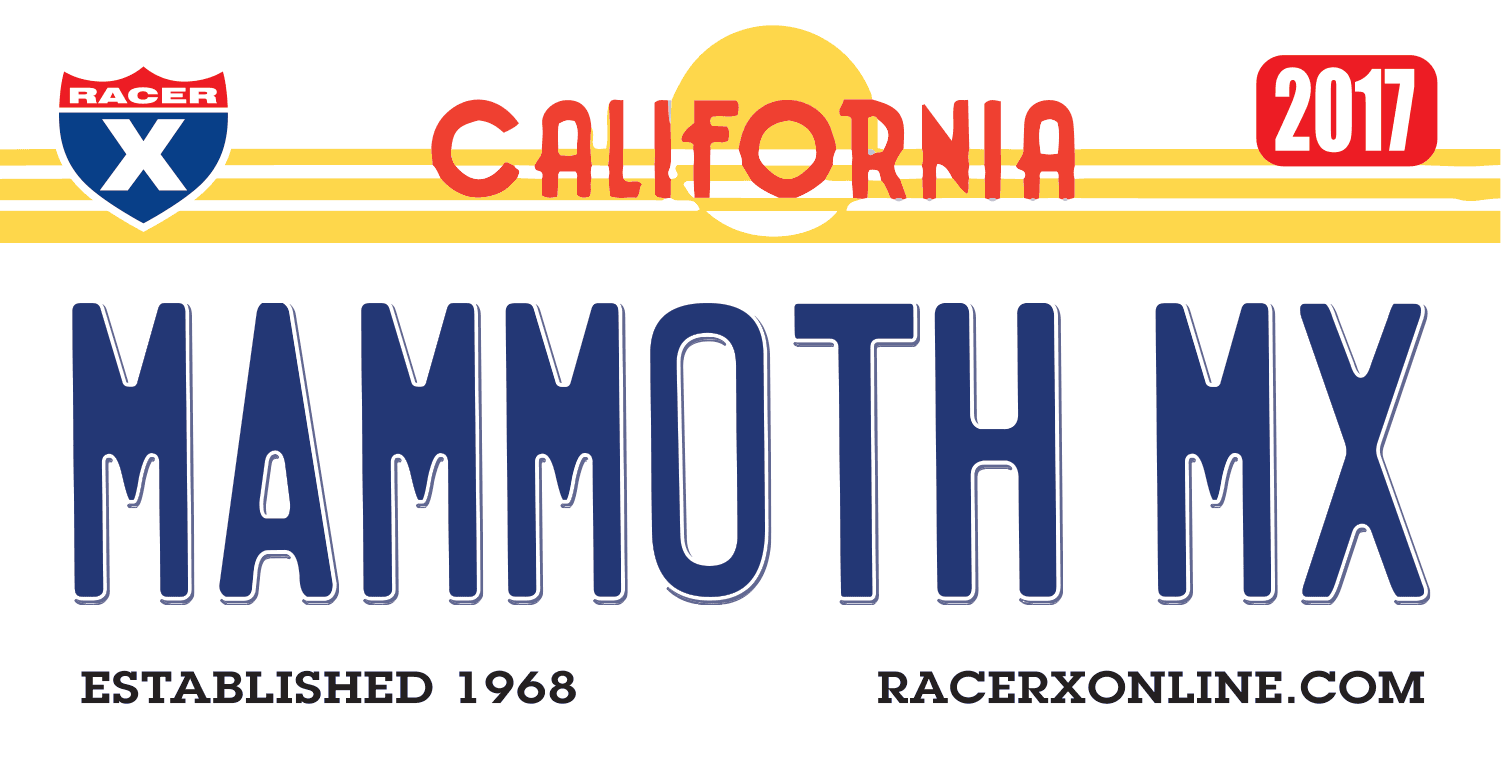 That's it for Racerhead. Happy Father's Day Weekend, and see you at the races.