Thunder Valley Motocross
Lakewood

,

CO
Thunder Valley
Lucas Oil AMA Pro Motocross Championship
1.) What's gonna happen in the 450 Class at High Point?
Steve Matthes: I think the week off will help everyone sort some things out and this is truly the first East Coast race. So that means tacky dirt that grabs the bike and pulls it down, ruts that change lap to lap and aren't locked in like the West Coast ones, and maybe some weather changes. When we left off, Blake Baggett put in an amazing ride to win Thunder Valley and I think that ride and the confidence he gained will be enough to make him a consistent podium threat. With High Point's off-cambers making throttle control and line selection paramount, I think Marvin Musquin will be very good there. But in the end, I think Eli Tomac gets his mojo back, stays away from anything that tires out his arms and gets the T-Train back on track at the house that Bradshaw built.
David Pingree: I've seen Baggett get on a roll before in the 250 Class and I'm hoping he can do the same thing now. After getting his first 450 win in pretty impressive fashion, the Grand Terrace kid should be brimming with confidence. Musquin is always good at High Point and he's the guy with the red plate at the moment, so you know he'll be fast. There's also that Eli Tomac guy who appears to be searching for something in the opening rounds. We saw what happens when he finds the right combination, ala supercross 2017. I think the podium includes these three, I'm just not sure in what order. In what we thought would be a Tomac blowout, this summer is turning out to be an interesting title fight.
Jason Thomas: I think we will see a lot of the same from Thunder Valley, but maybe not in the exact same order. The top three in points (plus Jason Anderson) will be up front trying to stake their claim as alpha male. There is a bit of uncertainty on exactly who is the man right now. Eli was unquestionably the favorite entering the series but two tough weekends in a row have made that dynamic a bit murky. Musquin and Baggett have both had big success in Pennsylvania so look for them to put even more pressure on Tomac. There are a lot of mental games flying around at the front of the 450 Class and this weekend could go a long way in determining who has the edge.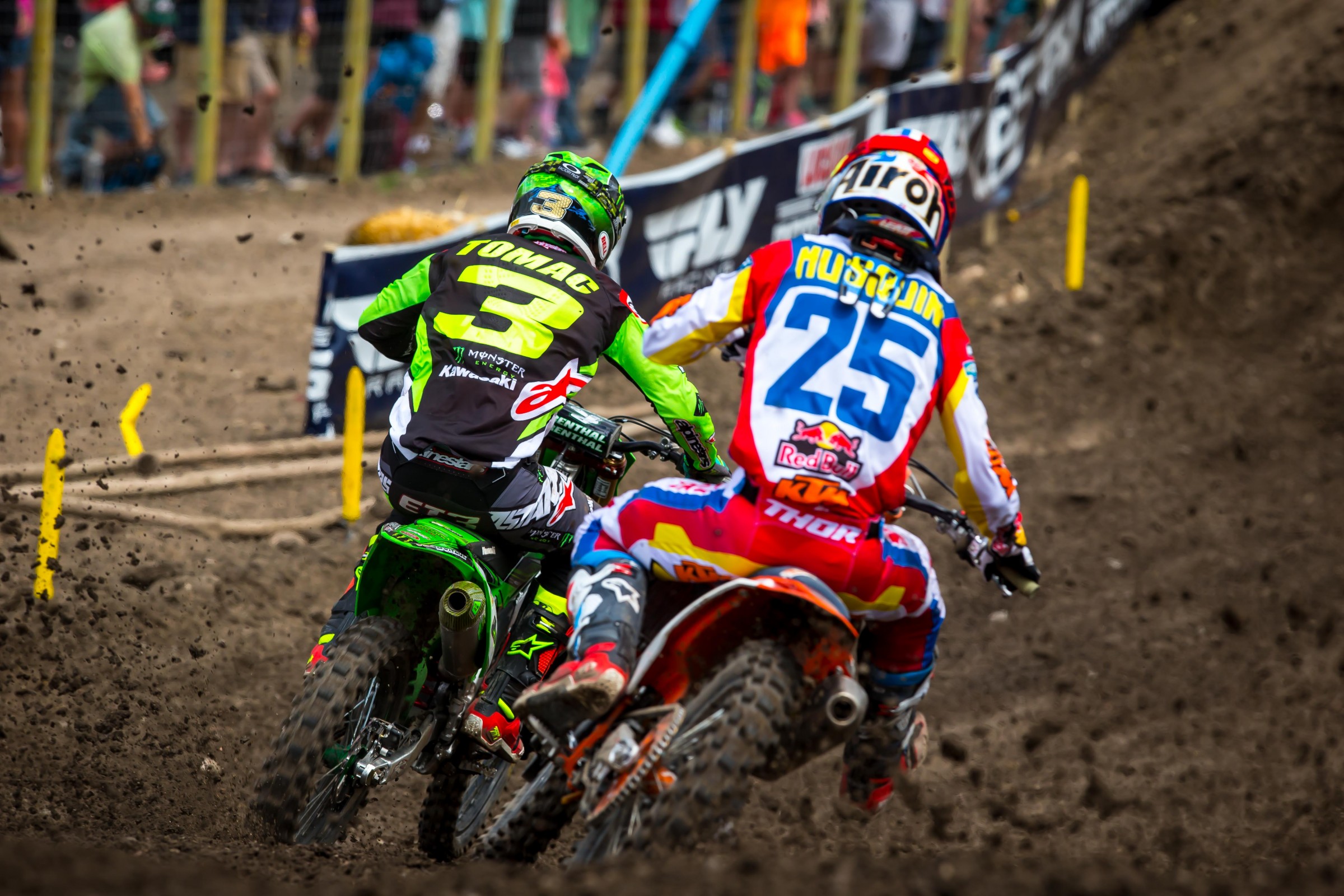 2.) What's gonna happen in the 250 Class at High Point?
Matthes: Well Zacho Osborne won the first two overalls and looked pretty good in the process, then was sick at Thunder Valley and still got a top five. He got his first career National moto win at High Point, so why not pick him to do well again? Aaron Plessinger is very fast there (by the way, lots of rumors of AP moving up to 450s next year) so he'll be great and Alex Martin seems to shine there as well. In this class, who the hell really knows and I curse the person who asked us to pick the winners. I'll go with Zachtin AlejerCianvatgy. How's that?
Pingree: Hang on, let me check with my reliable source on the matter: "All signs point to yes?" That doesn't even make sense, Magic 8 Ball! This class is more unpredictable than a gassy 85-year-old man with irritable bowel syndrome wearing white slacks. There is no sure thing! There are literally 10 riders who could win this Saturday, including Osborne, Alex Martin, Jeremy Martin, Joey Savatgy, Adam Cianciarulo, Austin Forkner, Plessinger, and more. At this point nobody has really grabbed ahold of the series and claimed it. I think whichever rider can consistently nail his starts will inch ahead of the pack.
Jason Thomas: There is absolutely no way of predicting what will happen in the 250 Class. These guys are all over the map! Osborne still holds the red plate and as Matthes said, he won a moto here last year. There are so many guys capable of winning in the 250 Class and they have all taken their turns. When you take a long look and realize that Plessinger, Osborne, J-Mart, A-Mart, Jordon Smith, Ferrandis, Savatgy, Cianciarulo, and Forkner all have a legitimate shot to win every time the gate drops, it's pointless to guess who will win. This is a good thing, folks.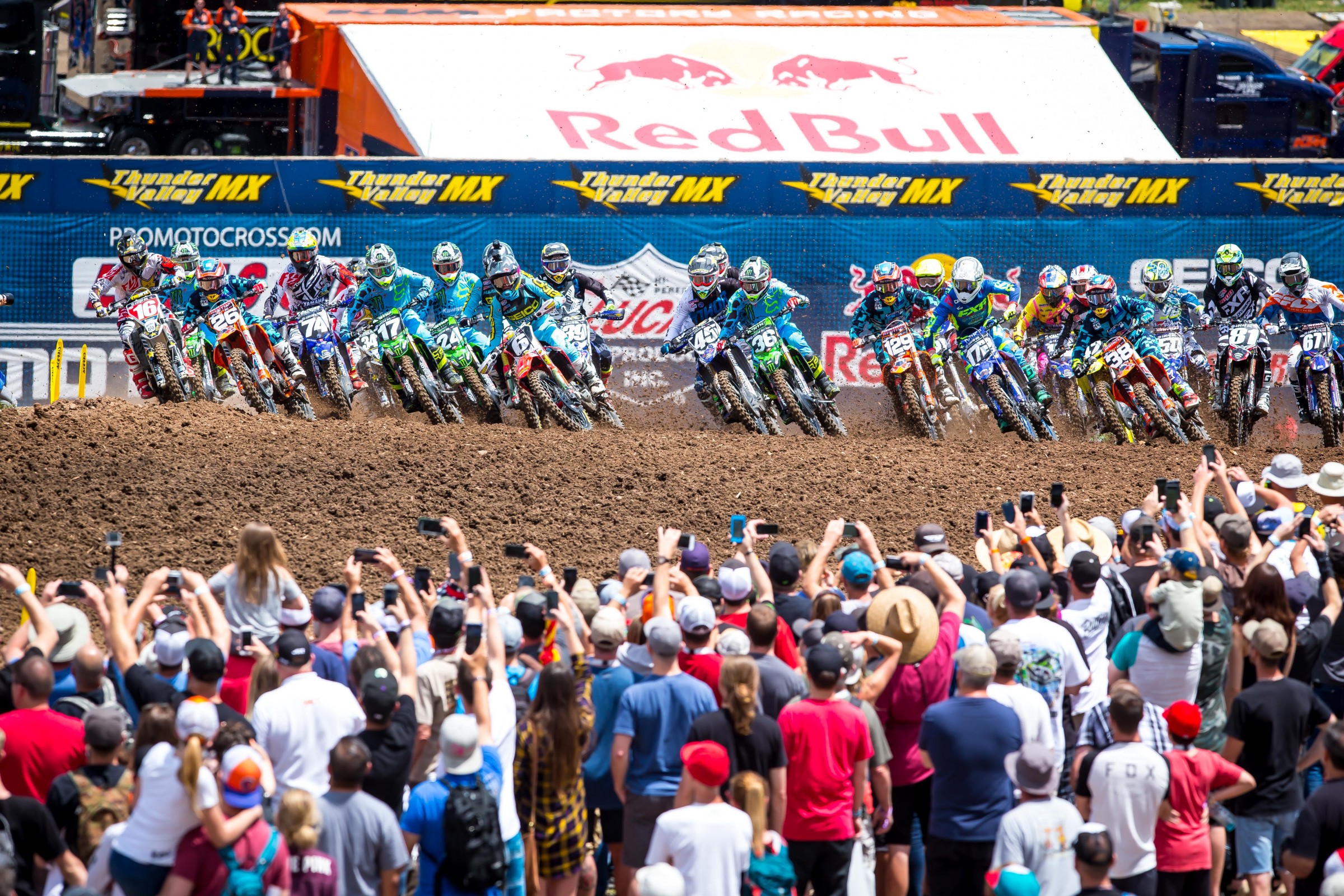 3.) What do you think of the 2018 supercross schedule?
Matthes: The 2018 Monster Energy Supercross schedule is out and I'm pissed. No Toronto? What in the name of Bob and Doug were the folks at Feld thinking? That race is awesome—based purely on personal reasons—but the attendance seemed to grow every year. I'm not stoked on that move Todd and Dave. Anyway, Tampa is back on for the first time since 1999 and I get that it's Feld Entertainment's home base but man, outside of Daytona (which is built around bike week) Florida supercross races (and I've been to many of them in Tampa, Orlando, Jacksonville, and even the one in Miami) just don't seem to attract the crowds. Wonder why? Maybe JT knows. So that's a bit of a risk but I love to see Houston back. Good city, historic race, and nice stadium. Foxborough and no East Rutherford? Ehhh, whatever. Same but different to me. I'm just glad we only have two Anaheims.
Ping: I know our token Canadian will be sad, but I'm fine with Toronto being off the schedule. The border crossing is a pain in the ass and the weather is terrible. What about Detroit? Bye, Felicia. Couldn't happen to a nicer place (sarcastic eye roll). Tampa will be a good addition and Houston is always a great venue. I don't really have an opinion on the East Rutherford/Boston change. Six of one, half dozen of the other? I'm just stoked there isn't nine additional rounds on the schedule.
JT: I like variety when it comes to venues so I was happy with the new schedule. Toronto is cool, but I will gladly trade the warm sun of Tampa over the frigid temps we saw in Canada this year. Hopefully Tampa can round up a good crowd, but it has never seemed to pan out. It's Feld's hometown so maybe they will grade on a curve. As for why the Florida crowds are historically low, there is simply too much to do in perfect weather for a huge crowd, or at least that's my theory. The Midwest winters don't offer many other options so when supercross rolls into town, people are ready. Houston will be great, taking a hiatus always sparks a good return to a successful venue. Seattle, for example, was a big hit when it came back this year. I am a bit bummed that East Rutherford is gone as I enjoy Manhattan, but it will be good to see Roger Goodell in Foxborough (football fans will understand). In my perfect world, we would move Oakland back into AT&T Park, we would drop an Anaheim, and take this show overseas. Maybe 2019?
2018 MONSTER ENERGY SUPERCROSS SCHEDULE
| | | |
| --- | --- | --- |
| DATE | CITY | VENUE |
| January 6 | Anaheim, CA | Angel Stadium |
| January 13 | Houston, TX | NRG Stadium |
| January 20 | Anaheim, CA | Angel Stadium |
| January 27 | Glendale, AZ | U. of Phoenix Stadium |
| February 3 | Oakland, CA | Oakland Alameda Coliseum |
| February 10 | San Diego, CA | Petco Park |
| February 17 | Arlington, TX | AT&T Stadium |
| February 24 | Tampa, FL | Raymond James Stadium |
| March 3 | Atlanta, GA | Mercedes-Benz Stadium |
| March 10 | Daytona, FL | Daytona Intl. Speedway |
| March 17 | St. Louis, MO | Dome at America's Center |
| March 24 | Indianapolis, IN | Lucas Oil Stadium |
| April 7 | Seattle, WA | Centurylink Field |
| April 14 | Minneapolis, MN | U.S. Bank Stadium |
| April 21 | Foxborough, MA | Gillette Stadium |
| April 28 | Salt Lake City, UT | Rice-Eccles Stadium |
| May 5 | Las Vegas, NV | Sam Boyd Stadium |