Pourcel Edges Goerke at Round 2 of Canadian Nationals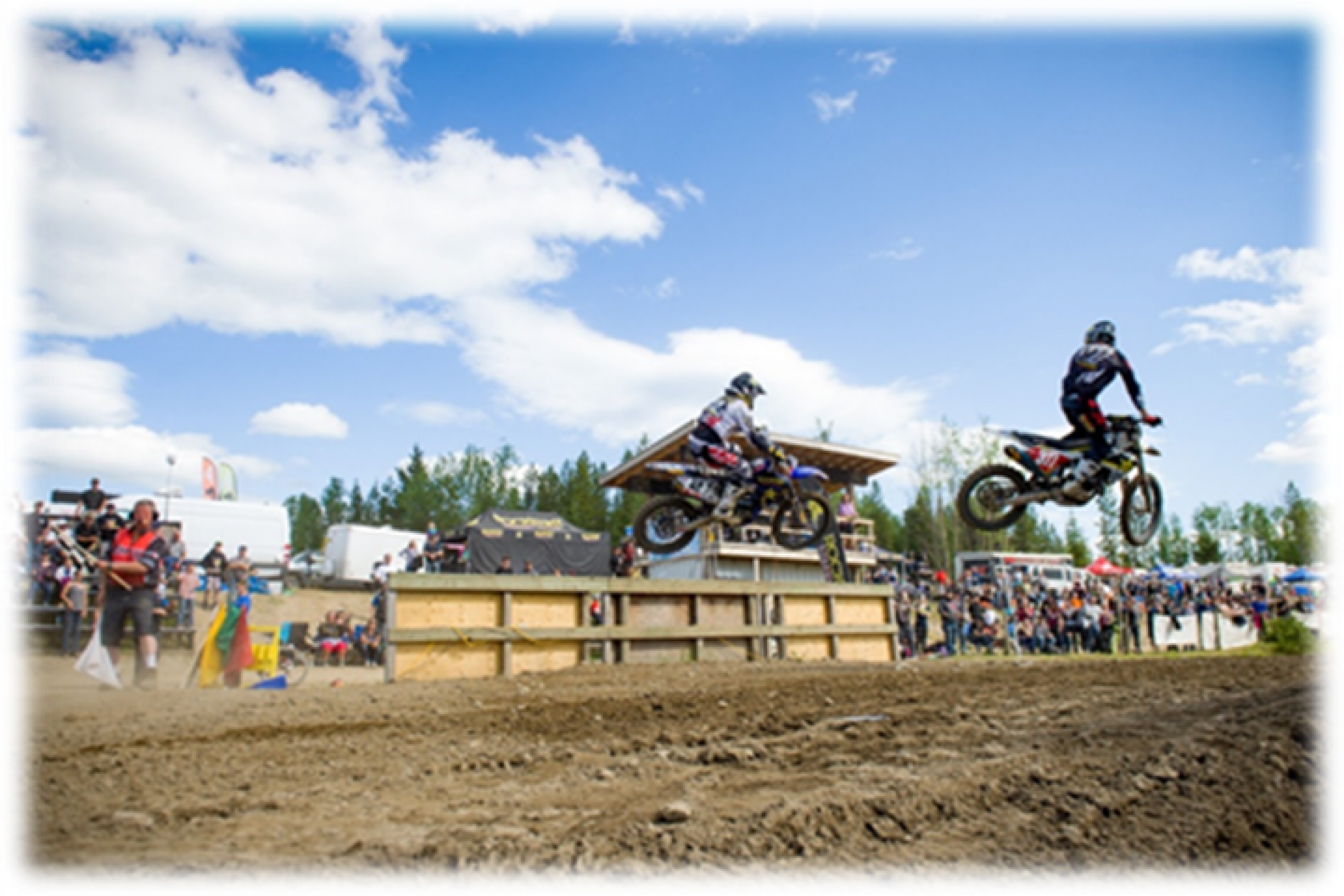 Report provided by CMRC
Round 2 of the CMRC sanctioned 2017 Rockstar Energy Drink Motocross Nationals presented by Motovan took place in Prince George, BC this past weekend. The Blackwater MX Track was a first-time venue on the National Circuit and provided some exciting racing and received high praise from the riders. The racetrack is carved into a hill and provides spectators with great viewing areas. It has a concrete starting area and a long uphill straightaway that leads into a right-hand turn. The track got super rough as the day wore on but still provided a lot of good lines, and a photo finish, on an overcast and cool day, ideal for racing.
MX1
Rockstar Husqvarna's Christophe Pourcel of France came into Round 2 with the red plate and was the fastest qualifier. Pourcel got the holeshot in Moto 1 and led for 15 laps before being passed by Matt Goerke, and finished second, less than 1 second behind the winner. In Moto 2, Christophe started in third and quickly moved into second, again behind Goerke, as the two of them distanced themselves from the pack and engaged in a great battle that we should be seeing a lot of this summer. Pourcel's super smooth riding style was in sharp contrast to Goerke's manhandling of his machine. The two battled all the way to the finish, where the Frenchman railed the outside of the last corner to make the pass and take the second moto win by less than a bike's length. With the Moto 2 victory, Pourcel also took the overall for the day.
After admitting to struggling with the flu in last weekend's season opener, Rockstar Energy OTSFF Yamaha's Matt Goerke showed no signs of struggling in the first moto at Round 2, after passing Pourcel on lap 15 and taking the moto win. Goerke posted the fastest lap of each moto, took the lead in Moto 2 from Mike Alessi on the fourth lap, and held on until just before the finish line, before he was passed in dramatic fashion by a hard charging Pourcel. Matt's 1-2 finishes tied him in points with Pourcel at day's end, but placed him second overall for the day. He now sits second in the series points standings, only 7 back. Matt commented after the race, "I trained hard for this and I want to win this championship badly. I feel like I rode well all day."
Honda Canada GDR Fox Racing's Colton Facciotti qualified second and got a good start in Moto 1 where he was scored in fourth place at the end of the first lap. Facciotti then lost a few positions before charging back to a fourth-place finish in the opening moto. In Moto 2, Colton got another good start and found himself in third place at the halfway point, but couldn't catch up to the battle for the lead. His 4-3 moto finishes put him on the last step of the podium at day's end, which leaves him fourth in the series standings, only 1 point out of third.
Another strong performance was put in by Nut Up Industries Kawasaki's Dillan Epstein, who was the third fastest qualifier. Epstein turned an eighth-place position after the opening lap of Moto 1 into a third-place finish, and followed that up in Moto 2 with a fifth. Dillan's 3-5 finishes earned him fourth overall for the day, and he sits third in the series standings.
Monster Energy Alpinestars Kawasaki's Mike Alessi improved his performance this weekend, and after qualifying fourth, earned a fifth-place finish in the first moto. Alessi grabbed the holeshot in Moto 2 and led for three laps, eventually finishing fourth, in his best moto of the new season. We can expect Mike to get better with each race as he gets used to his new bike and makes a full recovery from a broken collar bone he suffered while racing Supercross. After a fifth overall in Round 2, he sits sixth in the series standings.
Rounding out the top 10 were Royal Distributing Motovan Piller's Racing's Tyler Medaglia, who finished sixth overall, with 7-6 moto results. Medaglia's teammate, Kyle Chisholm, finished 6-7 for seventh overall, Rockstar Energy OTSFF Yamaha's Tim Tremblay went 11-8 for eighth overall, Team PR-MX Kawasaki's Scott Champion finished a solid 10-9 for ninth, and Redemption Racing's Cade Clason finished with 8-12 moto scores for tenth overall. KTM Canada Thor Racing Team's Kaven Benoit didn't line up in Prince George because he is still healing the ankle he injured last winter.
MX2
KTM Canada Thor Racing's Cole Thompson qualified fifth and took over the lead from Josh Osby on the first lap of Moto 1. Thompson ran first until Shawn Maffenbeier passed him on lap 7, only to inherit the lead a few laps later when Maffenbeier cross rutted and fell back to third. Cole hung on for the first moto win, and after finishing the first lap of Moto 2 in fourth, he showed us why he holds the #1 plate. He mounted a charge that saw him take over the lead with three laps remaining, taking the win and sweeping both motos. "Tommy Gun" posted the fastest lap of the second moto and leaves Round 2 with the red plate on his KTM, just like he did in 2016.
Racing in his hometown probably helped MX101 FXR Yamaha's Jess Pettis post the fastest qualifying time for the second week in a row. Pettis got a top 5 start in the first moto and took advantage of his teammate's mistake to take second place at the checkered flag. His start in Moto 2 was even better; Jess was able to pass Ryan Surratt for the lead on the opening lap and run first in front of the wildly cheering hometown crowd for most of the moto. With three laps remaining, Jess made a mistake and almost went down, which allowed Thompson to get by. The crowd favourite had to settle for second place. A pair of second place finishes earned Pettis second overall, his career best, and puts him second in the series standings only 8 points out of the lead.
Monster Energy Alpinestars Kawasaki's Jacob Hayes continues to improve, and after qualifying third overall holeshotted the first moto and led the first lap. Hayes would eventually finish the moto in fifth, and backed that up with a third in the second moto. Jacob's 5-3 moto finishes earned him the last step of the podium at day's end, which puts him in fourth place in the series standings.
American Ryan Surratt, riding for the Nut Up Industries Kawasaki Team, started the first moto outside the top 10 and had to battle hard to finish sixth. Surratt grabbed the holeshot in Moto 2, like he did in the season opening moto last weekend, and finished fourth. Ryan's solid performance earned him 6-4 finishes for fourth overall, and he sits sixth in the series standings only 2 points out of the top 5.
Redemption Racing's Josh Osby backed up last weekend's season opening podium finish with 4-6 moto finishes in Round 2, to round out the top 5. Osby was solid all day but didn't get the starts he needed to run up front. Josh sits in an impressive third place in the series standings after the first two rounds.
The first turn claimed Honda Canada GDR Fox Racing's Dylan Wright in Moto 1, just as it did last weekend, forcing him to fight back from the back of the pack again. Wright made his way up to eleventh by the end of the moto, and was an impressive fifth in the second moto, after going down twice. Dylan's 11-5 moto finishes were good enough for sixth overall.
MX101 FXR Yamaha's Shawn Maffenbeier's day got off to a great start after he posted the second fastest qualifying time in the morning, and then passed Thompson for the lead on the eighth lap of the opening moto. Shawn got cross rutted a few laps later and gave the lead back to Thompson. He had to settle for a third at the checkered flag, but did post the fastest lap of Moto 1. After starting the second moto outside the top 5, Shawn was charging to the front of the pack when he hit a rock in a rut that broke a bolt on his water pump that caused him to lose all his coolant. His day would come to an end with 3-38 moto finishes, putting him in fourteenth place.
Round 3 of the 2017 CMRC sanctioned Rockstar Energy Drink Motocross Nationals presented by Motovan will take place next weekend at the Wild Rose MX Park in Calgary, Alberta. If you haven't already purchased your tickets you can buy them online easily at the mxnationals.ca website. If you are in another part of the country and are unable to attend the race, you can see all the action live by downloading the free Conx2share app or logging on to www.conx2share.com and live stream every moto on either your mobile phone or computer.
CANADIAN MOTOCROSS NATIONALS
Round 2 - Blackwater MX Park – Prince George, B.C.
MX1
| | | | |
| --- | --- | --- | --- |
| OVERALL FINISH | RIDER | MOTO 1 | MOTO 2 |
| 1st | Christophe Pourcel | 2nd | 1st |
| 2nd | Matt Goerke | 1st | 2nd |
| 3rd | Colton Facciotti | 4th | 3rd |
| 4th | Dillan Epstein | 3rd | 5th |
| 5th | Mike Alessi | 5th | 4th |
| 6th | Tyler Medaglia | 7th | 6th |
| 7th | Kyle Chisholm | 6th | 7th |
| 8th | Tim Tremblay | 11th | 8th |
| 9th | Scott Champion | 10th | 9th |
| 10th | Cade Clason | 8th | 12th |
MX2
| | | | |
| --- | --- | --- | --- |
| OVERALL FINISH | RIDER | MOTO 1 | MOTO 2 |
| 1st | Cole Thompson | 1st | 1st |
| 2nd | Jesse Pettis | 2nd | 2nd |
| 3rd | Jacob Hayes | 5th | 3rd |
| 4th | Ryan Surratt | 6th | 4th |
| 5th | Josh Osby | 4th | 6th |
| 6th | Dylan Wright | 11th | 5th |
| 7th | Taylor Arsenault | 7th | 9th |
| 8th | Hayden Halstead | 10th | 7th |
| 9th | Tallon La Fountaine | 9th | 8th |
| 10th | Casey Keast | 8th | 10th |
MX1 Championship Standings
| | | |
| --- | --- | --- |
| STANDING | RIDER | POINTS |
| 1st | Christophe Pourcel | 112 |
| 2nd | Matt Goerke | 105 |
| 3rd | Dillan Epstein | 97 |
| 4th | Colton Facciotti | 96 |
| 5th | Tyler Medaglia | 89 |
| 6th | Mike Alessi | 80 |
| 7th | Kyle Chisolm | 75 |
| 8th | Cade Clason | 65 |
| 9th | Keylan Meston | 60 |
| 10th | Nathan Bles | 58 |
MX2 Championship Standings
| | | |
| --- | --- | --- |
| STANDING | RIDER | POINTS |
| 1st | Cole Thompson | 110 |
| 2nd | Jesse Pettis | 102 |
| 3rd | Josh Osby | 93 |
| 4th | Jacob Hayes | 89 |
| 5th | Shawn Maffenbeier | 85 |
| 6th | Ryan Surratt | 83 |
| 7th | Taylor Arsenault | 70 |
| 8th | Tallon La Fountaine | 68 |
| 9th | Dylan Wright | 66 |
| 10th | Hayden Hallstead | 65 |