Thad Duvall Goes Back-to-Back at Tomahawk GNCC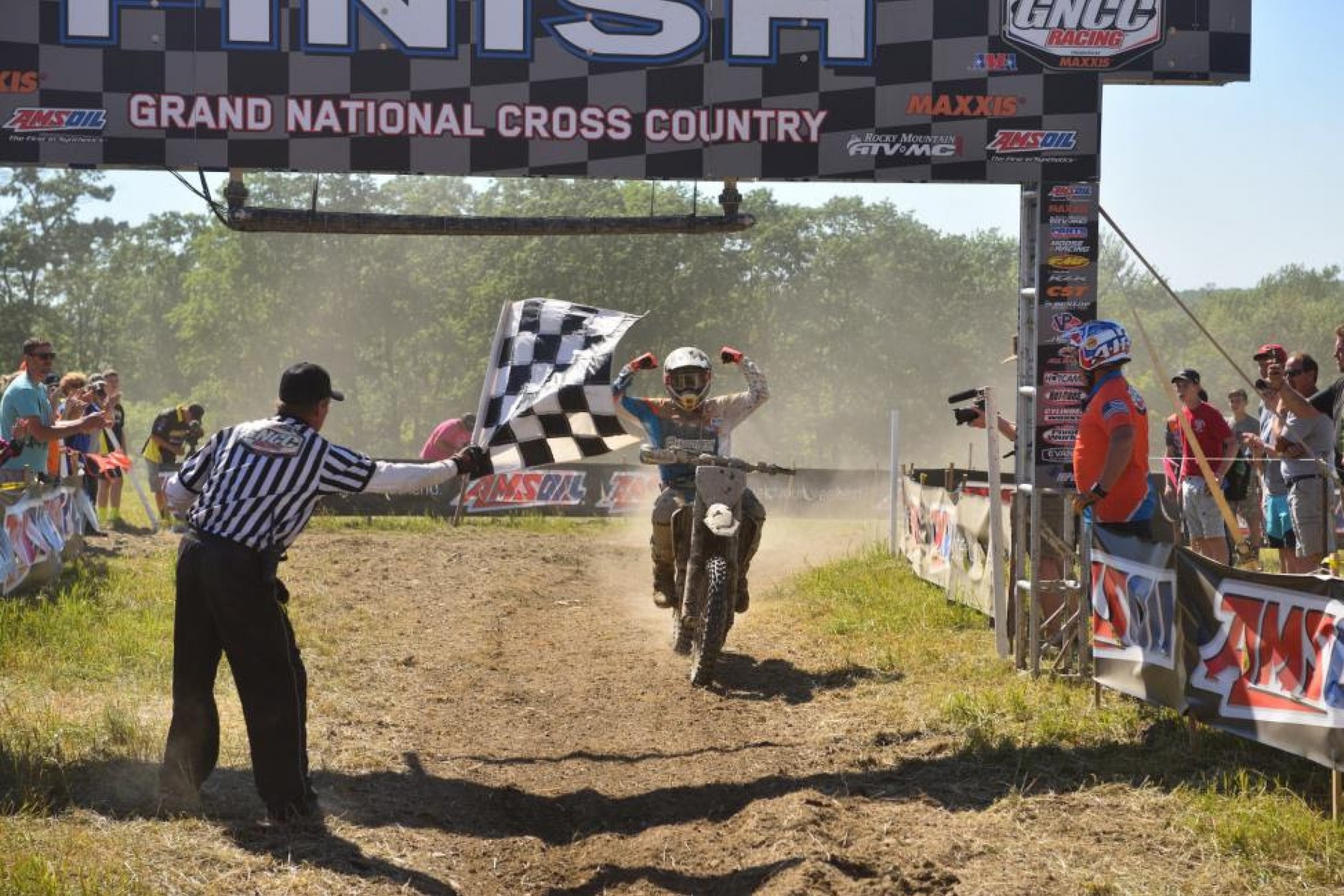 Odessa, N.Y. – Rockstar Energy/Factory Husqvarna Racing's Thad Duvall rode his way to his second overall win in a row at the Dunlop Tomahawk GNCC in Odessa, New York today, June 11. The points battle in the 2017 AMSOIL Grand National Cross Country (GNCC) Series presented by Maxxis, an AMA National Championship, tightened up with Duvall now only sitting 10 points out of the lead.
New York race fans lined the woods for a thrilling 1 p.m. pro race. N-Fab/AmPro Yamaha's Ricky Russell got a quick jump off the line, but it would be Rockstar Energy/Factory Husqvarna Racing's Josh Strang getting credited with the $250 All Balls Racing Holeshot Award.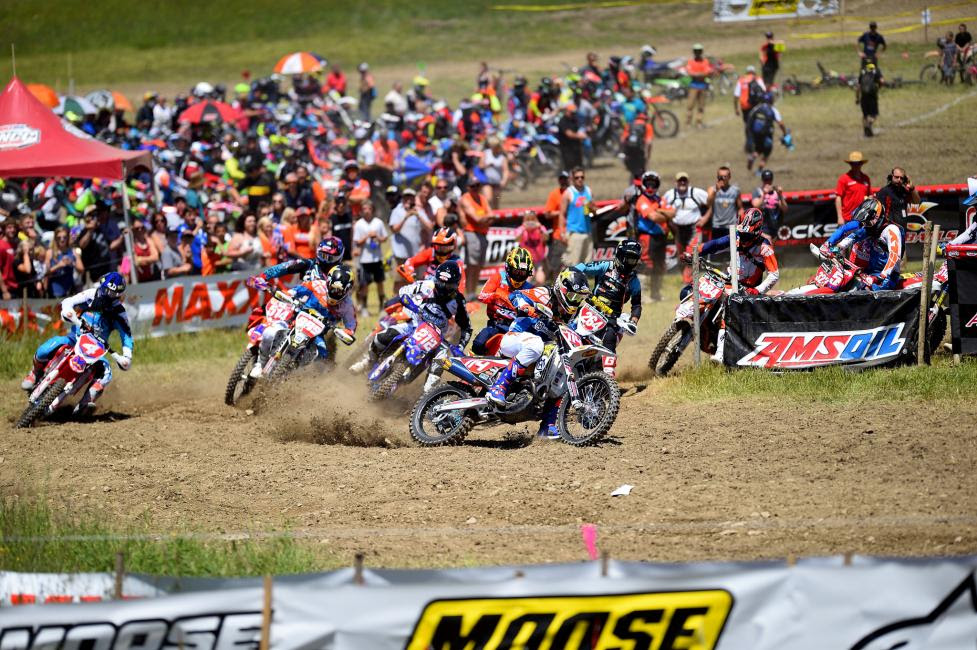 FMF/KTM Factory Racing's Kailub Russell was in a favorable position off the start in third, and Russell quickly worked his way to the lead until he was struck with some bad luck early on where his shifter fell off. Russell's crew attempted to stop him mid-lap, but he completed almost the whole lap before he arrived at the pits to change it. A quick stop resulted in a fixed shift lever and a splash of gas.
Strang and Coastal Racing/Husqvarna's Ryan Sipes capitalized on Russell's issue, and took the lead positions. Sipes would make the pass on Strang in the field section just after the pits and pave the way into timing and scoring for the first time.
Duvall remained off the radar on the first lap after hitting a tree at the three-mile mark. By the time he approached scoring, he had advanced from 12th to ninth. Sipes continued setting the pace upfront, but Russell quickly rebounded from his pit stop and found himself on Strang's back tire. After Russell worked his way past Strang, so did SRT/KTM's Steward Baylor and Duvall.
Sipes, Russell, and Duvall remained in close proximity throughout the remainder of the second lap. After fading back to fifth, Strang regained his focus and begin gaining back on the frontrunners.
Duvall secured the lead position on the fourth lap, after passing Russell who made another costly mistake, resulting in a broken front fender. Once the two-lap card came out, Baylor passed Strang for the final podium position. With little pressure, Duvall continued pushing himself in order to develop a comfortable gap on Sipes who was riding a consistent ride in second.
Not much changed on the last lap, with Duvall charging his way to his second straight win, an impressive one minute over Sipes who returned to the podium in second. Baylor rounded out the overall podium in third.
"It's been a good last couple of weeks, and it feels good to keep the momentum going," reported Duvall. "It was nice to win in the mud last round, but it feels even better to win today. I rode my heart out those last few laps to get a cushion. The fans were crazy today, it was like I was a New York native out there and they just kept pushing me. Overall, you can't complain when you're winning."
Strang placed just off the podium with fourth overall, and Russell placed seventh overall. Rocky Mountain ATV/MC/KR4/ Husqvarna's Grant Baylor had his best finish of the year with eighth overall, and Beta USA's Jordan Ashburn capped off the top 10.
When the green flagged waved for the second row, it was Chris Vendetti who earned the $100 Hot Cams XC2 250 Pro Holeshot Award. N-Fab AmPro Yamaha's Josh Toth also got a good start, where he wasted no time taking the lead. Toth continued leading until the checkered flag waved with Coastal Racing/Husqvarna's Layne Michael crossing in second. Trail Jesters/KTM Racing's Ben Kelley made his first podium appearance of the season in a respectable third.
"I started off pretty smooth, and I was pushing the whole race trying to get on the overall podium," said Toth. "I ended up getting tired during the end and I started fading, but I definitely want to make it up there before the season is over."
Jason Thomas grabbed the $100 Wiseco Holeshot Award in the FMF XC3 125 Pro-Am class and never looked back—winning the division by 12 minutes. Rocky Mountain ATV/MC/KR4/ Husqvarna Team's Hunter Neuwirth and Mark Heresco Jr. placed second and third.
Cody Barned secured the top amateur finish in the 1 p.m. race with 24th overall and the 250 A class win.
The 10 a.m. overall podium saw a shakeup with a 125 B/C rider landing on the third step of the box. Rocky Mountain ATV/MC/KR4/Husqvarna Team's Tayla Jones raced her way to the middle of the podium with Fly Racing/Maxxis/Seat Concepts/KTM's Becca Sheets following in second. Randall Ervin rounded out the overall podium with StuxMX Graphix/Bell Powersports/Kenda Tires/Cosner Racing/Full Gas Fitness-backed Brooke Cosner finishing out the WXC top three.
One of the most thrilling races of the day was the 8 a.m. youth race where Zack Davidson narrowly edged out Peyton Whipkey for the win. The duo displayed an excellent showing of sportsmanship throughout the entire race. The excitement continued with Michael Beeler Jr. finishing third overall out of the second row.
The 1 p.m. race was broadcast live in its entirety on RacerTV.com and can be viewed as an archived video now online by visiting the GNCC Live page online. A highlight show featuring the event will air Saturday, June 17 at noon.
The 2017 AMSOIL Grand National Cross Country Series resumes in two weeks, June 24 and 25, with the popular AMSOIL Snowshoe GNCC in Snowshoe, West Virginia.
For more information on the series, visit the official website at www.gnccracing.com or call (304) 284-0084. Join the conversation on the series Facebook page, follow us on Twitter and Instagram, and be sure to always hashtag #GNCC.
XC1 Open Pro Event Results:
Thad Duvall (HSQ)
Ryan Sipes (HSQ)
Steward Baylor (KTM)
Josh Strang (HSQ)
Kailub Russell (KTM)
Grant Baylor (HSQ)
Jordan Ashburn (BET)
Ricky Russell (YAM)
Russell Bobbitt (KTM)
Trevor Bollinger (HON)
*Overall National Championship Standings:
Kailub Russell (166)
Thad Duvall (156)
Steward Baylor (139)
Ricky Russell (105)
Josh Toth (101)
Josh Strang (89)
Jordan Ashburn (83)
Grant Baylor (75)
Trevor Bollinger (72)
Craig Delong (68)
*Indicates that the Overall National Championship Standings will determine the 2017 National Champion.
XC2 250 Pro Event Results:
Josh Toth (YAM)
Layne Michael (HSQ)
Benjamin Kelley (KTM)
Craig Delong (HSQ)
Michael Witkowski (KTM)
Jesse Groemm (KTM)
Ryder Lafferty (KTM)
Zack Hayes (KTM)
Brendan Riordan (YAM)
Trevor Barrett (YAM)
XC2 250 Pro Series Standings:
Josh Toth (188)
Craig Delong (144)
Layne Michael (131)
Mike Witkowski (129)
Jesse Groemm (109)
Austin Lee (94)
Ben Kelley (92)
Zack Hayes (91)
Trevor Barrett (65)
Sam Evans (62)
FMF XC3 125 Pro-Am Event Results:
Jason Thomas (HSQ)
Hunter Neuwirth (HSQ)
Mark Heresco (KTM)
Nate Smith (HSQ)
Devan Welch (YAM)
Josh Adkins (YAM)
FMF XC3 125 Pro-Am Points Standings:
Jason Thomas (186)
Jack Edmondson (145)
Mark Heresco Jr. (137)
Hunter Neuwirth (125)
Josh Adkins (86)
Jaryn Williams (80)
Paul Whibley (67)
Dustin Gibson (61)
Devan Welch (61)
Nate Smith (47)