High Point Raceway
Mt. Morris

,

PA
High Point
Lucas Oil AMA Pro Motocross Championship
Welcome to Racerhead on a blessed off-weekend—and it could not come at a worse time, because both the 450 and 250 National classes were on fire last weekend in Thunder Valley, with four fantastic motos, four different winners, a breakout overall for Blake Baggett, and a nice rebound for Joey Savatgy after a painful few weeks. Everyone gets to take a breather after all that drama at the base of the Rocky Mountains … well, everyone but us here in Morgantown. We have our hometown High Point National next weekend, so it's all hands on deck with helping get the track ready, the cooler stocked, the office cleaned up, and mowing, mowing, and more mowing. Tomorrow's weather (if the race were this weekend) is 85 and partly cloudy. Next weekend's? We'll see.
Let's start by looking back at the 450 Class last weekend, and specifically the developments for Baggett and the Rocky Mountain ATV/MC-WPS-KTM team, as well as Justin Bogle, who blew many minds with his surprise first-moto win. Last August, at the third-to-last round, the Butler Brothers team rig went up in flames, and then the team's rookie rider Benny Bloss had a career day. This time, at the third round of the series, the RCH Racing/Yoshimura Suzuki rig almost went up in flames and team rider Justin Bogle goes out and has a career day, winning a moto for the first time ever. But the Butler Brothers were involved in this story too, even though it wasn't the Rocky Mountain ATV/MC KTM rig that almost went up in flames—but Blake Baggett went ahead and had a career day anyway.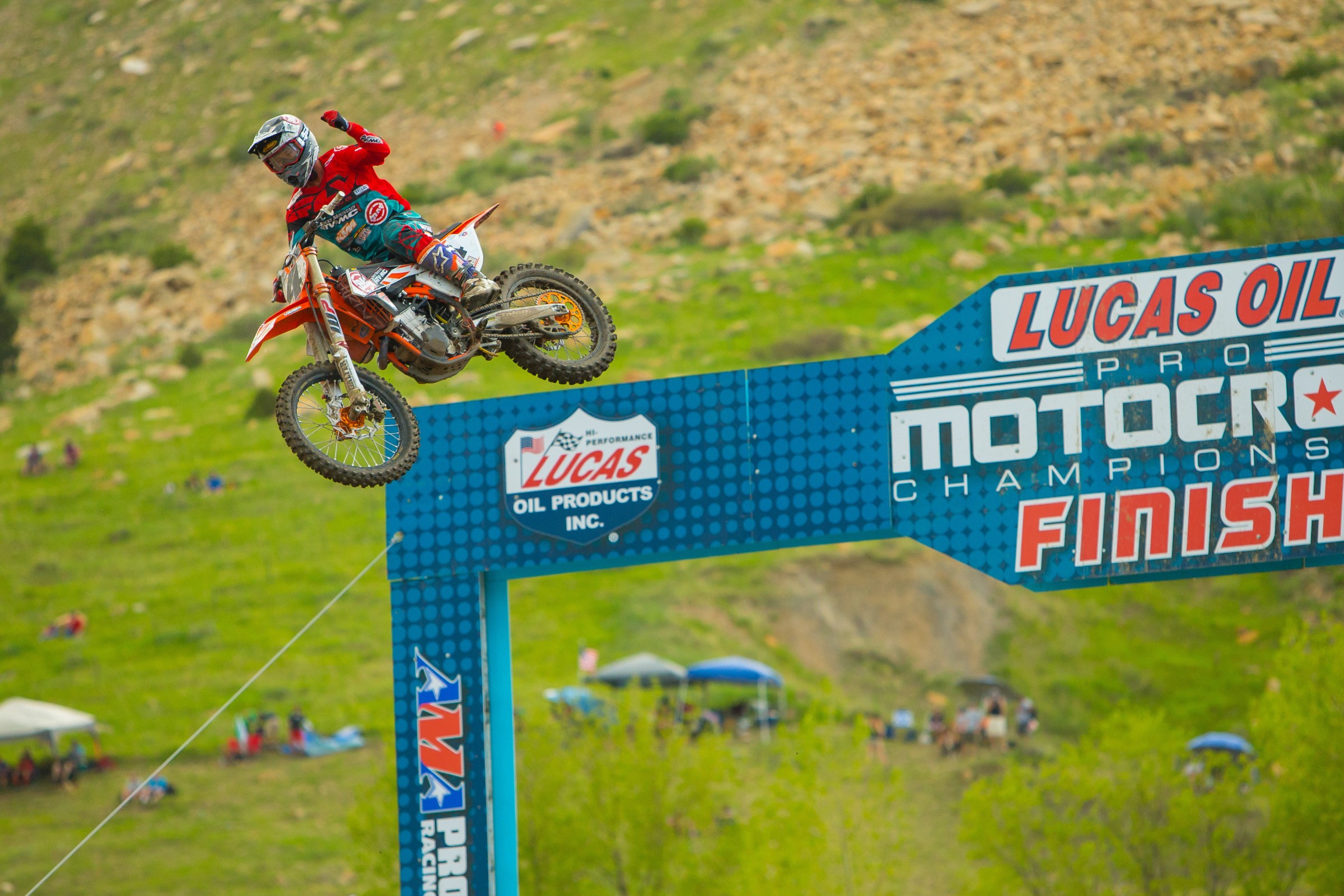 Baggett's win came after an almost-as-impressive first-moto charge from a first-turn crash to a third-place finish, giving him a shot at the overall. In the second moto, his around-the-outside pass of Eli Tomac will be highlight-reel footage for some time to come. Afterward, Baggett didn't sound surprised at all, and maybe he shouldn't have been—this is a former AMA 250 National MX Champion with 14 National wins to his credit. But everyone else was left looking at one another thinking, Was that for real? We'll know soon enough—in eight days, to be exact. I'm inclined to believe this win will lead to more for Blake, who's a creature of momentum, kind of like the old El Chupacabra….
Baggett's rise came at the same time that Tomac had another head-scratching outing. Eli just wasn't riding like his normal self, and maybe the added pressures/interruptions that come with a home race threw him off his game. Either way, don't write him off—nor Marvin Musquin, the series points leader, who wasn't at his best either but managed to get a decent haul in Colorado. And if anyone wants to start thinking who might be the fourth winner in this series, after seeing Anderson get out of the mountains with a 2-6, despite his past problems with altitude sickness (and USADA's refusal to grant him a therapeutic-use exemption), I'm guessing he is next in line. Or maybe Josh Grant, or even Bogle, if he can ride like he did in the first moto for two motos at High Point.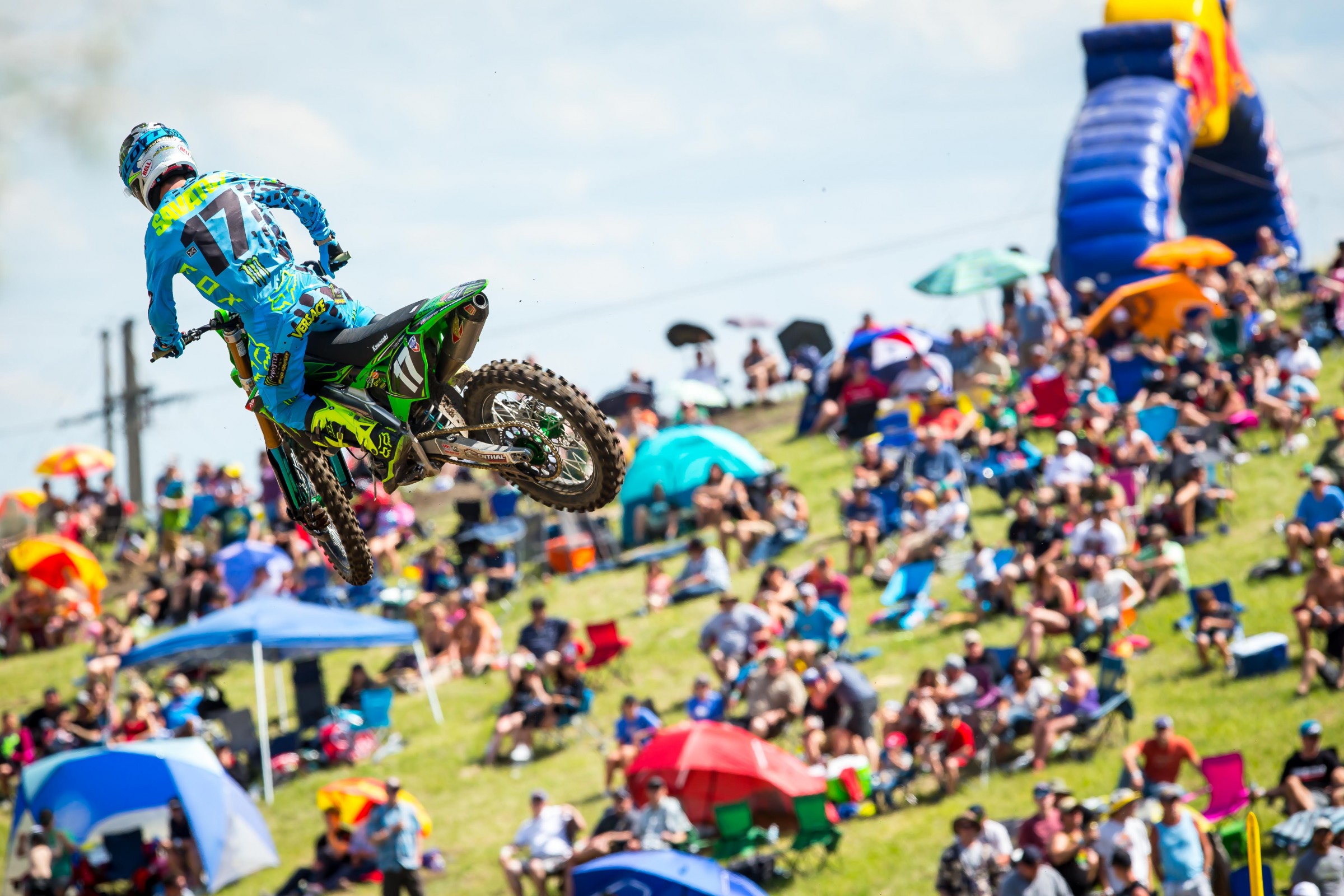 The 250 Class is just plain cutthroat this year, and Thunder Valley saw some epic racing in both motos. Monster Energy/Pro Circuit Kawasaki's Joey Savatgy got a much-needed win after some bike breakdowns in the first two rounds (and some mental breakdowns at the last two rounds of supercross). He battled with the Martin brothers all day, as well as his teammate Austin Forkner. The racing was so close that the four were all within one point in the overall column, and Forkner got the short straw—his 2-3 motos equaled fourth overall!
Behind them, points leader Zach Osborne had to overcome a nasty flu that had him feeling weak and weary, but he managed to minimize the damage with 8-5 moto scores on the Rockstar Energy Husqvarna. Now Zach has a weekend off to get his health back, and the next two rounds are two tracks he grew up on: High Point and then Tennessee's Muddy Creek. This is the perfect time for a weekend off for Zacho, though he probably wished he could have just stayed at home in bed last weekend.
And the same goes for Yamalube/Star Racing Yamaha's Aaron Plessinger, who was winning the second moto when he crashed in a really fast but strange spot on the big uphill. What followed was something of a Keystone Cops moment, because while Plessinger was safe and off to one side of the track, two flaggers were on the opposite side, and all three were waving their flags and arms to caution the rest of the pack of the danger. The problem was that, from a rider's point of view, the flaggers were not in the best spot from where AP's #23 Yamaha lay, right in the middle of the track on the backside of the same blind crest where Austin Stroupe's bike got run over a bunch of times a few years back—a crash that ultimately led to the introduction of the Wheels on the Ground (WOG) flags.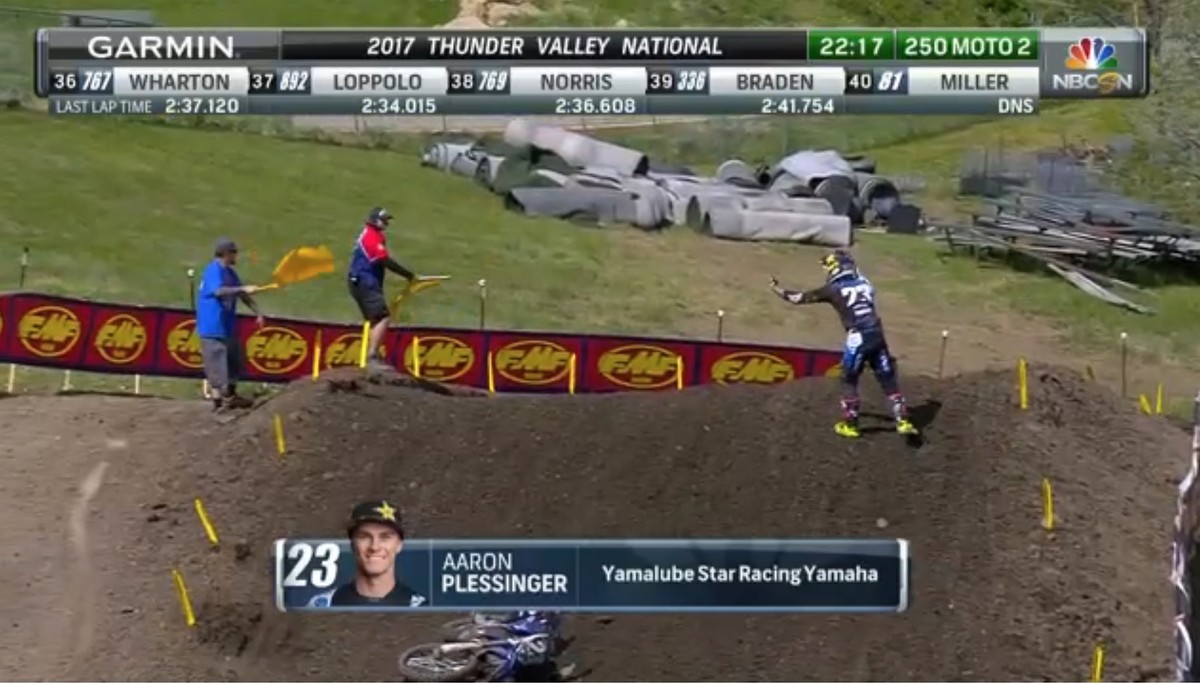 Everyone at MX Sports has spent the last week talking, both internally and externally, to folks about how this situation might have been prevented, or at least the riders better warned of the danger, and we're still talking about it. It was something of a catch-22: the flaggers are told not to get out on the track until the track is clear, but they weren't slowing on the caution flags that were waving, and Plessinger's presence on the other side of the track only complicated the matter more. It wasn't until Nick Wey thankfully got there to step out on the track and wave a flag he'd grabbed from one of the caution flaggers that the danger passed, but not before another rider clipped Plessinger's bike and went down. We've taken a lot of grief over this, but we've also come up with some good suggestions that we plan on taking to the riders and team managers before the next race, whether it's adding NASCAR-style whistles (thanks for that suggestion, Nate Rauba) or adding more heft to yellow flags (thanks, Vital MX) or trying to come up with a bigger series-wide crew (thanks, Nick Wey).
One thing I do want to explain is that there is already a traveling crew of seven infield flaggers and section managers who are at pretty much every race, as well as MX Sports' own Jeff Canfield, Duke Finch, Tim McAdams, and Roy Janson, who monitor the races on TV screens from either the announcer's tower or the mechanics' area. And there were also more than 40 local caution flaggers at Thunder Valley, all of whom did their best to keep the riders safe. Plessinger's crash came at a spot that was difficult to flag in the first place, with a weird situation to follow where everyone was related to the downed bike. I'm glad everyone is okay, and I really hope we can prevent another crash like this moving forward.
Beyond that, I'm loving the weekend off, even if it slows series momentum. Traveling and racing and even just working the races is hard work for everyone, and it's nice to have some time off after three solid, successful, and mostly injury-free races. We have a good series going, and I can't wait to get back to it next week, right in my hometown. In the meantime, I hope the riders and race teams all enjoy a little time off. If you're dying to see some racing, keep an eye on www.mxgp-tv.com for the Grand Prix of Russia on Sunday (on what looks to be an epic track) or on Prince George in Canada, where Christophe Pourcel got off to a good start last weekend—he's the only rider in history that Matthes and I can think of who has won a Grand Prix, an AMA National, and now a Canadian National, as well as all those Lites SX races. And then there's GNCC Racing from New York that you can watch streaming for free www.racertv.com.
Here's Racerhead.
Polarized Lenses (Jason Weigandt)
America is all about the one side versus the other right now (and probably forever), so why not expect that same spirited debate to carry into our little world? I've spent far too long trying to douse the flames and calm everything down. Let's just have at it and enjoy the bench racing. Interest like this is good for the sport. Want proof? The social media data folks at Hookit have been claiming some huge numbers for fan interaction for supercross—like, bigger than NASCAR numbers, which seemed impossible to me. But from what I've heard, the numbers are generated not because there are more fans of supercross than NASCAR, but because fans of this sport battle so hard. Every time two fans battle over "Is Ryan Dungey lucky or smart?" or "Is Ken Roczen cocky or confident?" the social media wars begin anew, and the numbers shoot skyward. Ultimately, we all love dirt bike racing, but we're all more interested when there's something interesting happening.
For a political process, partisanship just means gridlock, and when something like former FBI director James Comey's hearing generates huge ratings, the money doesn't go to offsetting our national debt…. Hey, wait! That gives me an idea. The senate should charge rights fees just like sports do. Or air it via pay-per-view. We'd be out of debt in no time! So that kind of sucks, but spirited debate is good for business everywhere else, so let's embrace it.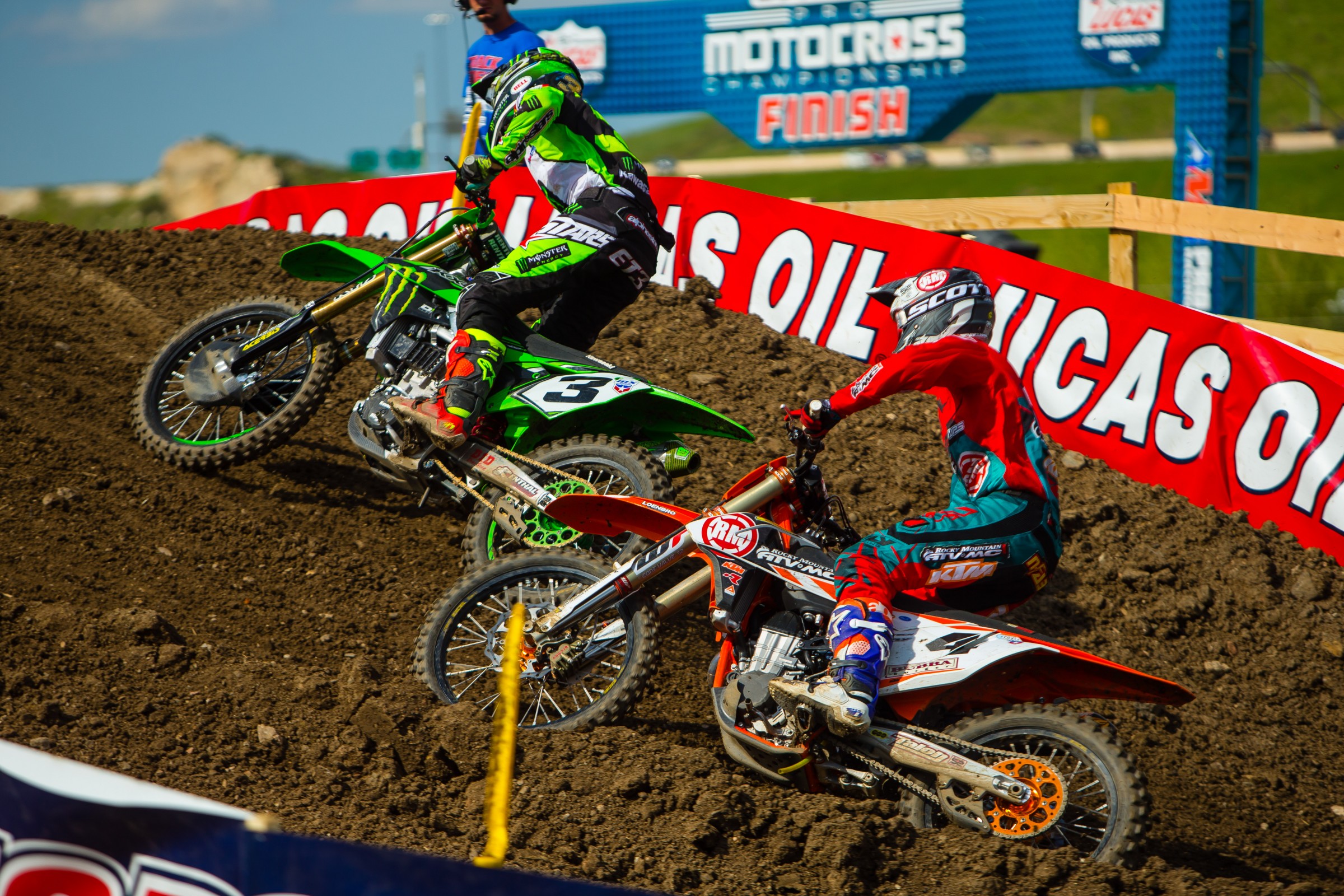 Back to motocross. This week's Eli Tomac-versus-Blake Baggett debate has been wildly all over the map, probably the best back-and-forth I've seen since, well, Dungey versus Tomac just a month ago. I've heard it all this week: Eli is overrated, and this proves it; Baggett should shut up because he's only won one race; Eli is cocky, Baggett is cocky, Eli is cool, Baggett is cool, so on and so forth. Was Baggett's first win on the 450 expected or surprising? The debates go on and on.
As a bonus, neither rider is even leading the 450 Class points! Marvin Musquin is, so that means we have a multi-rider battle shaping up with some good heat building off the track as well. Good thing, really, because that's the ultimate combination for a fun weekend of racing. High Point comes next, and it just so happens that the second 450 moto marks the season debut on NBC (the big network), so we could be in for a real treat. Last year, a pair of Tomac/Roczen battles (one at Muddy Creek, another at Southwick) aired live on NBC and generated a big audience, around 700,000, which is great for our little sport, or bigger than just about any other dirt bike program on TV the whole year. If random folks are going to tune in, it's good to give them a show, and Roczen-Tomac did that last year. No matter what side of the Baggett versus Tomac (or Musquin) debate you're on, everyone can agree that it should lead to some amazing racing the next time these dudes hit the track. Don't let us down, boys!
THE NUMBER: 3 (Andras Hegyi)
The number of winners continues to grow in the 450 Class. One week after Red Bull KTM's Marvin Musquin got his maiden victory at Glen Helen, and two weeks after Monster Energy Kawasaki's Eli Tomac won the opener at Hangtown, we got our third overall winner in three rounds at Thunder Valley with Blake Baggett's stunning win in the second moto.
And speaking of the number three, the Japanese brands were unable to get on the podium again, as Baggett's KTM led Musquin's, then came a solid outing for Rockstar Husqvarna's Jason Anderson.
Baggett got his first 450 National win in his 20th race and his third season. Baggett is now the 66th winner in the 250/450 Class. And this is the first time since 2001 that there have been three different overall winners in the first three rounds, as well as the 11th time in the history of the 250/450 Class, which started in 1972. But this number of winners is not a record because in 1982, '98, '99, and 2001 there were four different overall winners in the first four rounds.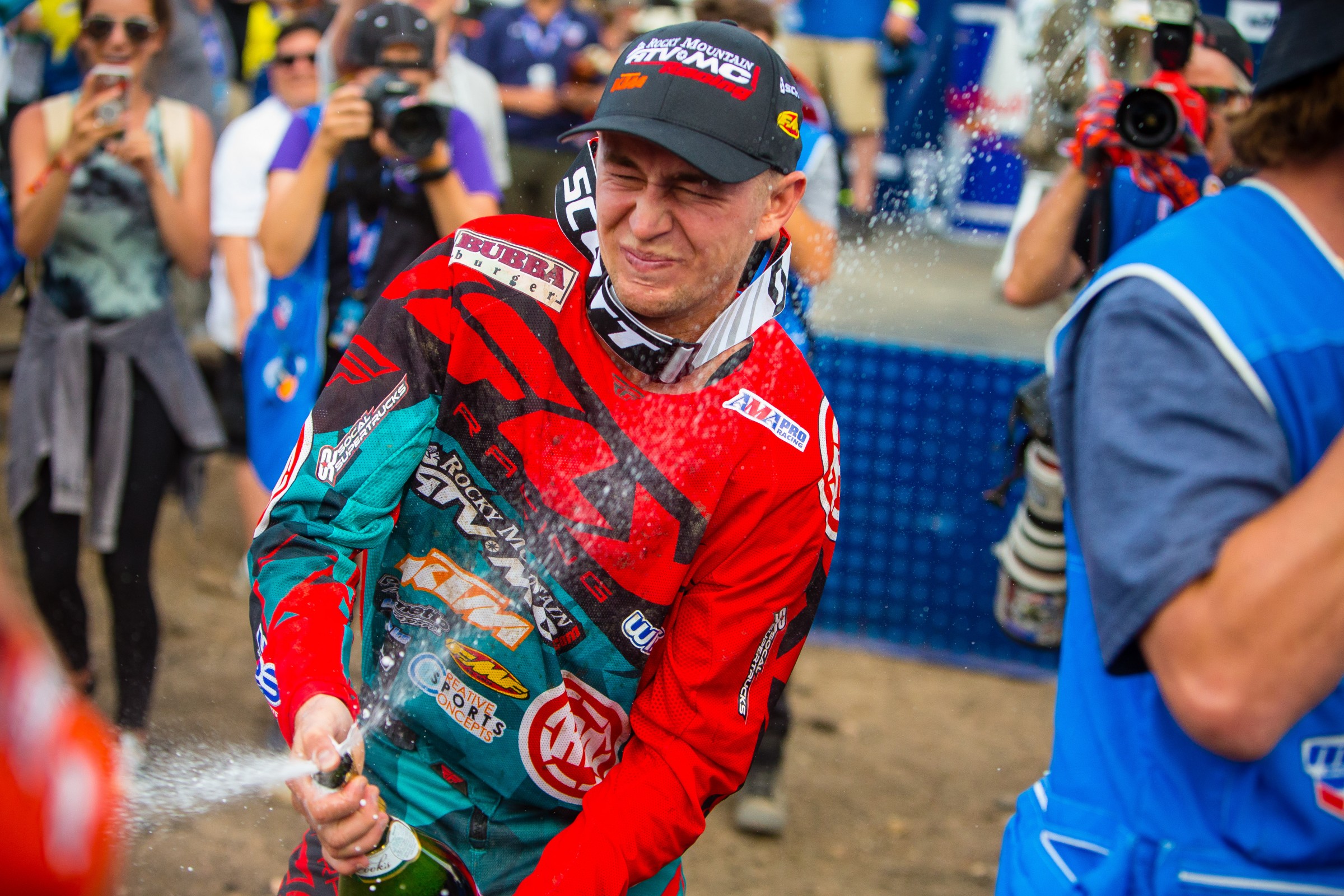 The 250/450 National seasons with three winners in the first three rounds:
1973: Bob Grossi (Husqvarna), Jim Weinert (Kawasaki), Gary Jones (Honda). Jones ended up the champion.
1974: Billy Grossi (Honda), Pierre Karsmakers (Yamaha), Ken Zahrt (Bultaco). Neither of them won the championship, though Karsmakers would have been had he been allowed to count in the AMA standings.
1976: Jim Ellis (Can-Am), Jim Weinert (Kawasaki), Tony DiStefano (Suzuki). DiStefano was the champion.
1977: Marty Smith (Honda), Jim Ellis (Can-Am), Bob Hannah (Yamaha). Neither of them was the champion.
1982: Ricky Johnson (Yamaha), Broc Glover (Yamaha), Donnie Hansen (Honda). Hansen was the champion (and Honda Support rider Kenny Keylon won the fourth round).
1984: Bob Hannah (Honda), Ron Lechien (Honda), Alan King (Honda). None were the champion
1995: Jeremy McGrath (Honda), Mike Kiedrowski (Kawasaki), Doug Henry (Honda). McGrath was the champion.
1998: Mickael Pichon (Suzuki), Jeremy McGrath (Yamaha), Ezra Lusk (Honda). None were champion, but fourth-round winner Doug Henry won on the new Yamaha four-stroke.
1999: Sebastien Tortelli (Honda), Kevin Windham (Honda), Greg Albertyn (Suzuki). Albertyn was the champion (and Ezra Lusk won the fourth round).
2001: Tim Ferry (Yamaha), Sebastien Tortelli (Honda), David Vuillemin (Yamaha). None of them was the champion, as fourth-round winner Ricky Carmichael caught fire and won eight of the last nine rounds.
2017: Eli Tomac (Kawasaki), Marvin Musquin (KTM), Blake Baggett (KTM). TBD
Phil Back on Bike; Peick Heads to NC (Chase Stallo)
AutoTrader.com/JGR Suzuki's Phil Nicoletti, who has been out since February with a fractured lower fibula, shattered heel, and a dislocated ankle, is scheduled to begin riding on Monday at the JGR test track in North Carolina, according to the team.
While the team hasn't announced a timetable on his return, there has been talk that Nicoletti could make it back as soon as RedBud on July 1, but that won't be determined until he has a chance to test his ankle/heel. The team says he's way ahead of schedule, so look for him to return sooner rather than later. He'll transition back to the 450, where he finished fifth in 450 MX points last season, after riding the 250 in Monster Energy Supercross.
Weston Peick will be traveling to North Carolina on Sunday, according to the team, to test for the next two weeks. The team says most of his time will be spent at the JGR test track and that they've "wrangled up a slew of fast riders to help make the JGRMX outdoor track rough." Peick, who is riding at around 80 percent due to a wrist injury sustained in supercross, is currently 11th in 450 Class points. With the next two rounds of the championship on the East Coast, it makes logistical sense for the California native to spend the next two weeks in North Carolina.
KTM Dealer Meeting (Simon Cudby)
I was lucky enough to get an invitation to attend the KTM Dealer Meeting event in Colorado Springs this week. Dealers spent their mornings in breakout meetings on brand awareness, features and benefits, and other business subjects, and then they boarded the wrapped tour buses for a short ride to the base of Pikes Peak for demo rides. There were two different routes: an adventure bike loop with some dirt sections, and a ride to 14,114 atop the mountain on 1290 Super Duke R machines.
Ryan Dungey and Roger DeCoster were on hand for the opening-night dinner, where Ryan received a standing ovation for his amazing years helping KTM win multiple championships and become a top brand.
Flashback to 1982 (DC)
It's hard to believe it's been 35 years since the epic 1982 Colorado National, where Team Yamaha's rookie sensation Rick Johnson pretty much lost the AMA 250 National Championship when he overrode his Yamaha YZ250 on the old CDR Tech Track near Castle Rock and collapsed its front wheel. That opened the door for Team Honda's Donnie "Holeshot" Hansen, 20 points down when the day started, to eke out the title and add it to the one he would win that same year in the Wrangler AMA Supercross Championship. While Johnson was getting the front wheel changed, Hansen was battling RJ's Yamaha teammate Broc Glover for the win, passing him in the last turn to take 25 points and the series lead. Hansen then rode to third in the final moto behind Glover and Johnson to win the title by three points (300 to 297). Interestingly, Yamaha did not put out a "Let Rick Bye" board that would have given Johnson a tie in the points with Hansen, repeating the notorious incident of five years earlier that involved Bob Hannah and Glover. Hansen had more moto wins than RJ anyway and would have won a tiebreaker had team tactics come into play.
Hansen's career would end just a few weeks later with a massive concussion while riding in Germany. And Johnson would redeem himself with seven major titles and overtake Hannah for the SX/MX wins record, at least until Jeremy McGrath came along, and then Ricky Carmichael. (All of the riders mentioned in this entry are members of the AMA Motorcycling Hall of Fame.)
Helping the Lenoir Family (Chase Stallo)
On Monday, professional racer Steven Lenoir tragically lost his life due to injuries sustained in a crash in qualifying at Cassel in his native France. He was 25.
Lenoir won the EMX250 title in 2010 over current MXGP riders Valentin Guillod and Julien Lieber. By 2012, Lenoir was competing in Britain, riding for the Samsung Yamaha team in the Maxxis British Championship. By 2015, Lenoir was a top contender and won the MX2 championship. This season, Lenoir was competing in the MX1 class and was second in points.
Lenoir was well liked throughout the MXGP paddock, and many riders took to social media to pay tribute to their fellow competitor:
Max Anstie:
Tommy Searle:
Jordi Tixier:
Kevin Strijbos:
According to MX Vice, RedSand MX Park in Spain renamed their second circuit "Steven Lenoir Track." Lenoir had previously named that circuit as his favorite.
The Road 2 Recovery has set up a fund to help the Lenoir family. You can help support Steven's family by donating to his R2R Memorial fund here. All donations are in USD.
Rest in peace, Steven.
In the Mag (DC)
Subscribe now or pick up your copy of the August issue of Racer X Illustrated and read about the dramatic ending to the 2017 Monster Energy Supercross Championship season, the Lucas Oil Pro Motocross season presenting second chances for many of the 250F class rider and team switches, and how Jadd Knox makes a dangerous living. Also read about the still-thriving Throttle Jockey after 25 years of business and the 3rd Annual Babes in the Dirt campout, which had a turnout of more than 500 women.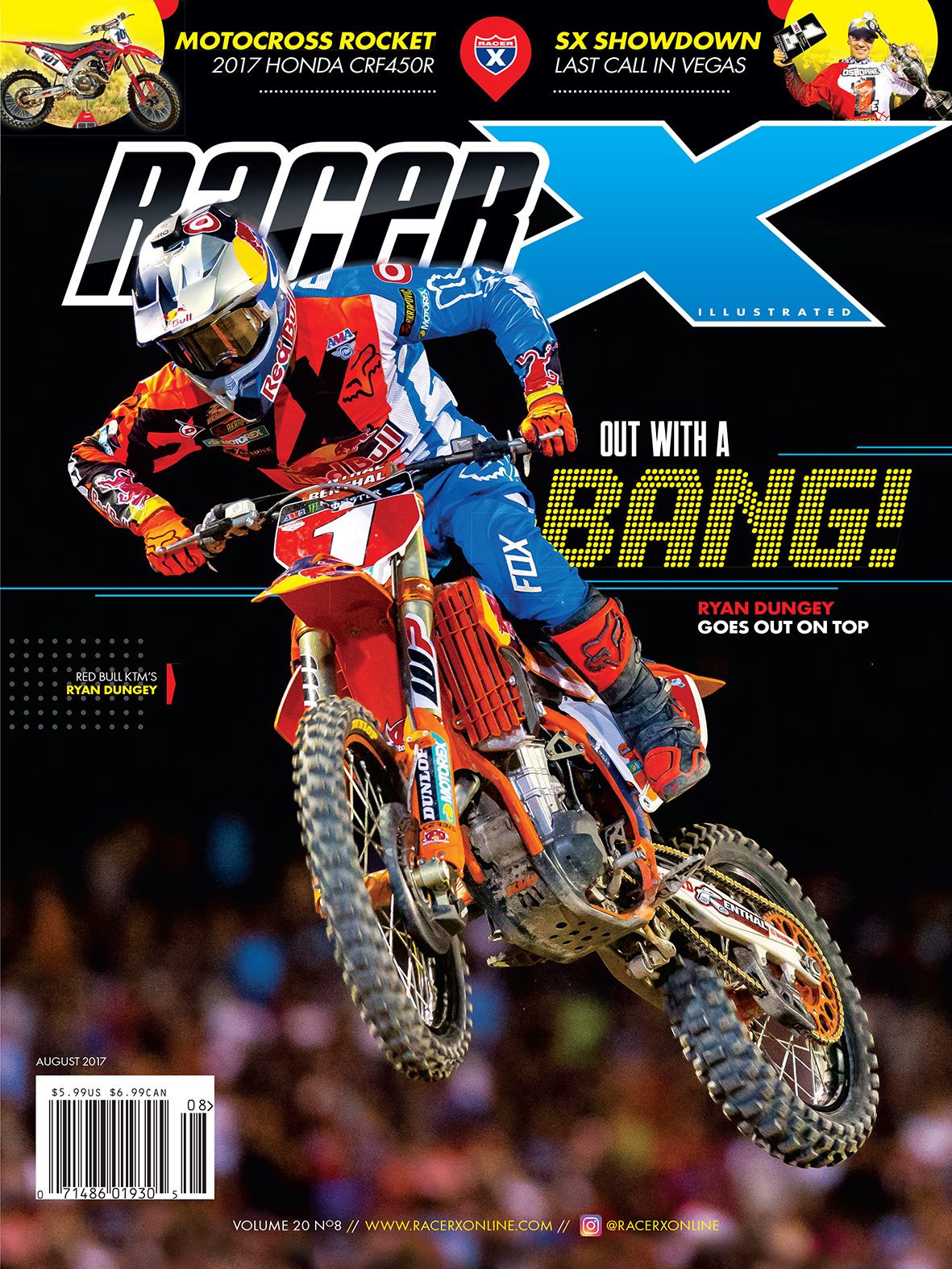 A TALE OF TWO TITLES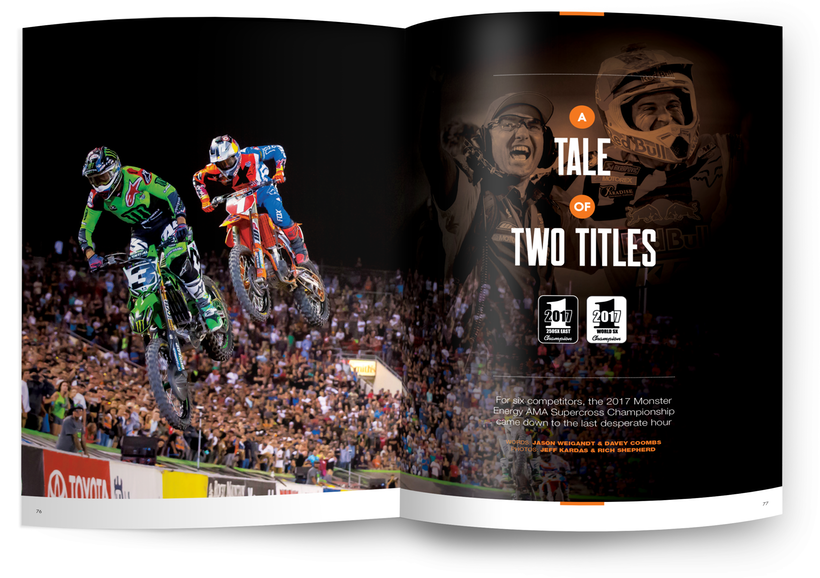 The final hour of the 2017 Monster Energy Supercross Championship brought a thrilling, unpredictable season to a fittingly wild close.
SECOND CHANCES
The supercross preseason saw lots of team and rider switches in the 250 ranks, but they didn't quite pan out as hoped. The Lucas Oil Pro Motocross season presents a second chance to get things right.
CIRCUS JUMPER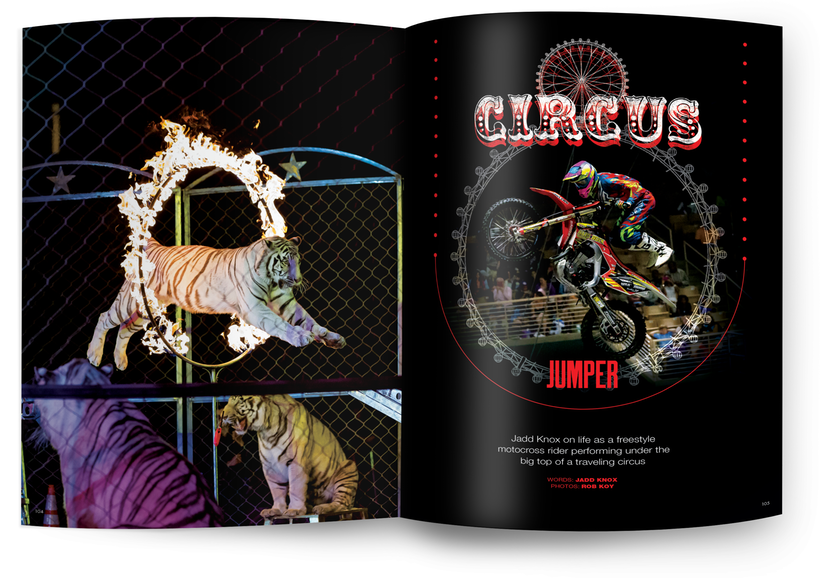 Jadd Knox makes a dangerous living jumping his motorcycle under the Big Top for the Royal Hanneford Circus. This day was more dangerous than most.
ADHESIVE LIVES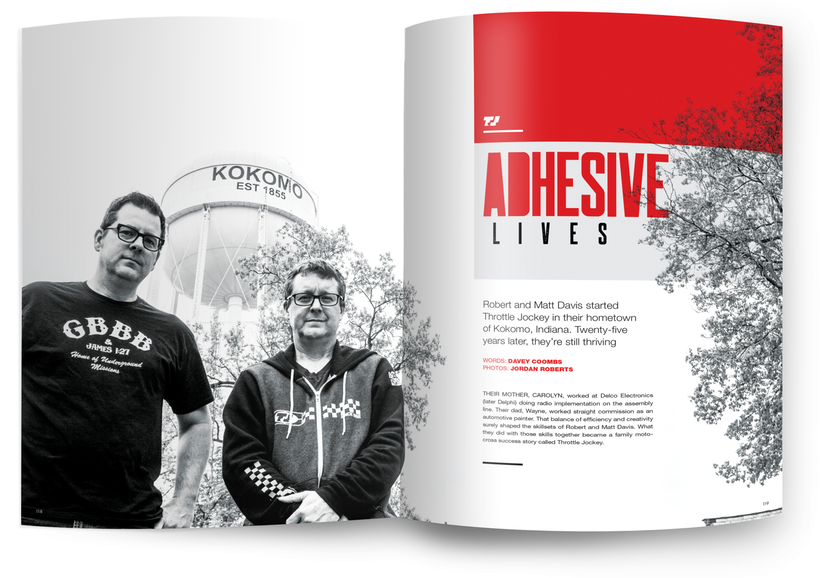 Brothers Robert and Matt Davis started Throttle Jockey in their Indiana hometown. Twenty-five years later, the graphics company is still thriving.
BABES IN THE DIRT
The 3rd Annual Babes in the Dirt campout at Hungry Valley OHV Park drew more than 500 women for a weekend of riding, fun, and friendship.
Head-Scratching Headline of the Week
"DC bars to open early for Comey hearing watch parties" – WTOP.com
Hey, Watch It!
Racer X Films: FMF 125 Dream Race from Thunder Valley
If Baggett's around-the-outside pass at Thunder Valley seemed familiar, you probably remember these passes from Hangtown 2012.
Random Notes
Planning on pre-ordering tickets for the Red Bull High Point National next weekend?
If so, don't forget to add the official Racer X Illustrated shirt of High Point Raceway at a discounted price to your ticket pre-order. There are limited quantities so be sure to get yours today. If pre-ordered, your shirts will be available for pick-up at the Racer X booth, located in sponsor village, at the time of the event.
Already pre-ordered tickets? No worries, these shirts will still be available for purchase at their regular price during the time of the event at the Racer X booth.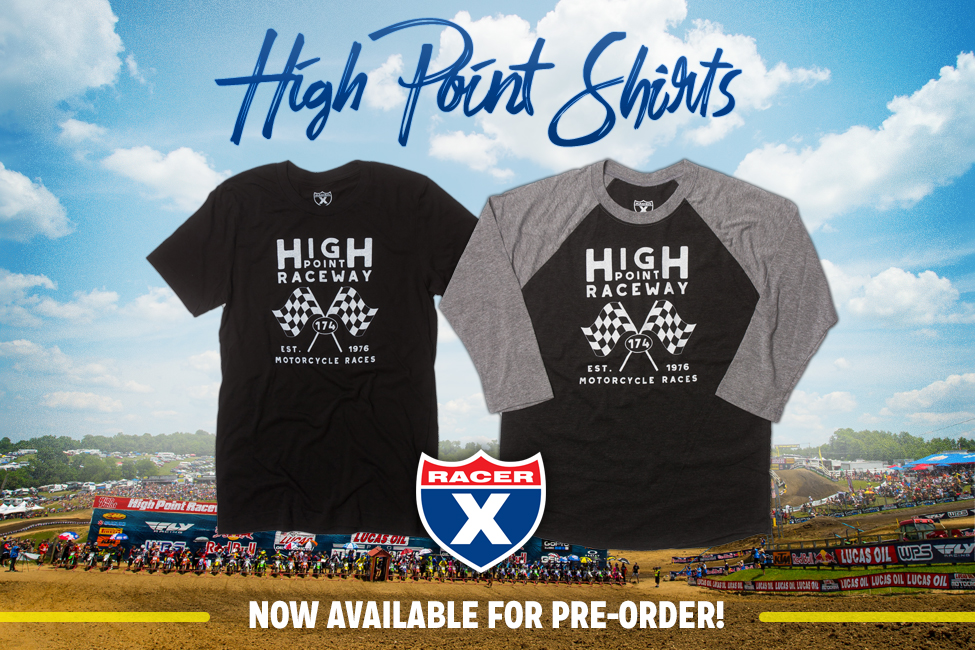 Subscribe to Racer X Illustrated right now for as low as $9.98 and receive a free Alias T-Shirt plus access to our current digital edition.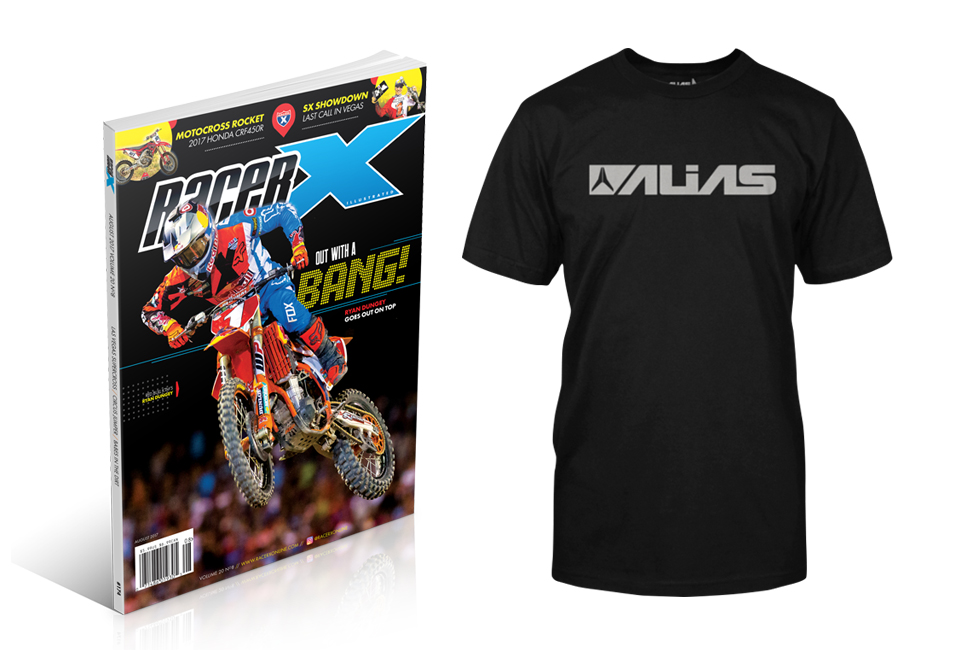 Team Honda HRC, in collaboration with Road 2 Recovery, brings motocross fans a once-in-a-lifetime fan experience to benefit the Alpinestars Mobile Medical Center. This eBay auction item is jam packed with a full day of fan experiences and a truly unique opportunity to win a piece of Honda HRC 2017 history—The Above and Beyond Impact Award.
eBay Auction Package Details:
The Team Honda HRC Impact Award (signed by Award recipients crew and rider(s) with the race locations).
Andrew Short, Mandie Fonteyn, Lars Lindstrom, Dan Bentley, Jason Thomas, Rich Simmons, Ken Roczen, Cole Seely and many more…
Four tickets to AMA Pro Motocross of choice (winners required to pay all travel expenses).
Rig tour of Team Honda HRC trucks and the Alpinestars Mobile Medical Center
Meet and greet with Honda riders (rider(s) to be determined)
Lunch with Honda HRC team
One team Honda HRC hat and t-shirt
Four Alpinestars t-shirts and hats
Cole Seely jersey
The auction went live on Monday and will be up for 10 days.
---
Tomahawk MX is offering free practice for pro riders (top 100 numbers only). Tomahawk MX park in Hedgesville, West Virginia, is inviting all riders holding a top 100 AMA Pro number for free practice the week before the AMA Lucas Oil High Point National on Monday, June 12 through Wednesday, June 14 from 12 to 5 PM, as well as before the Tennessee National on Monday, June 19 through Wednesday, June 21, from 12 to 5 PM. (Three-digit numbered riders are welcome at the same time for the discounted rate of $25.) Riders and teams are invited to camp during the week and take advantage of a prepped track each day. The track will be open to campers on Sunday, June 11th and 18th at 5pm.
Tomahawk MX owner Chad Gochenour says, "We want to offer the riders an opportunity to stay in the area and practice as much as they would like between Nationals. Tomahawk is conveniently located within a 2-hour drive from High Point on your way to the Tennessee National. The pros have a tough schedule and we are just glad we have the opportunity to offer them a place to ride."
Tomahawk will continue with their regularly scheduled practices each Wednesday from 12 to 7 PM. For more information on Tomahawk MX Park please contact Chad Gochenour at 304-582-8185 or visit them online at: tomahawkmx.com.
---
On The MotoXpod Show this week Muscle Mark and Darkside talk about their trip to Thunder Valley National in Lakewood, Colorado. They fill in producer TJ Smith on everything he missed. Then friend-of-the-show Guy "Airtime" Cooper comes on to talk racing and fill everyone in on his latest project. And then Phil Maiorano introduces The MotoHub to everyone and how it got started. Tune in each week to the MotoXpod on iTunes, Stitcher, Soundcloud or anywhere fine podcasts are found. You can also follow the MotoXpod Show on Facebook, Twitter, Instagram and Snapchat.
---
It's been a bad week over on the Isle of Man, where the TT race around the tiny island in the Irish Sea claimed three racers' lives. The notorious road race even made headlines here in the New York Times.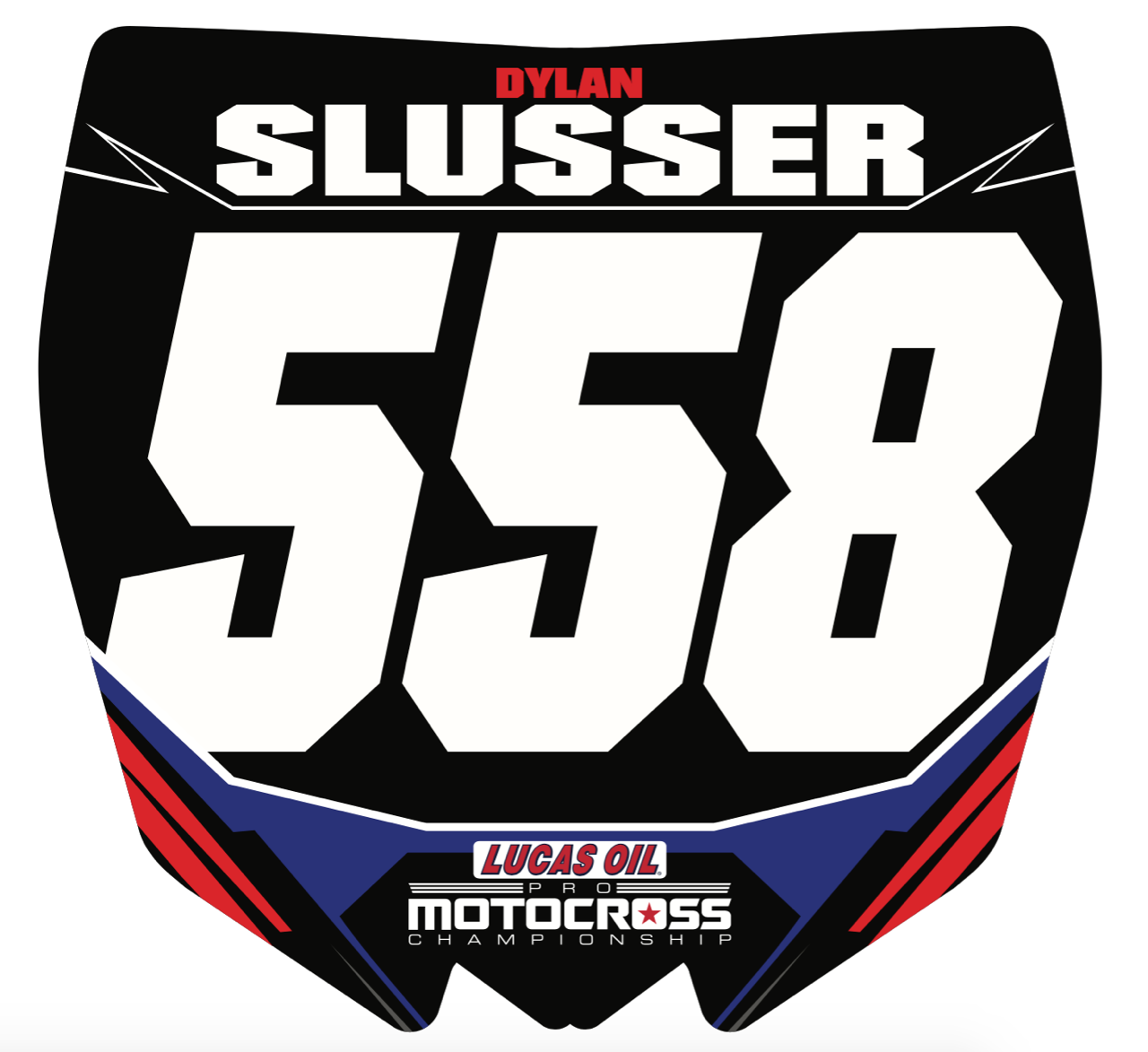 Thanks for reading Racerhead. See you at the races.