Rancho Cordova, CA
Hangtown
Lucas Oil AMA Pro Motocross Championship
YEAHHHHH!!! The great outdoors is here! The 2017 Monster Energy Supercross Championship went full balls-out on us and that was awesome, but it's always cool when a new series kicks off. The outdoors is upon us and it's man-type racing or, if you will, #realracing. Like, the winner of each class is a bad dude for the rest of their lives. I put a lot of stock in someone who wins a national championship because you don't luck into being the best rider after 24 motos. If your s*#& isn't together, you'll be exposed at some point.
I've written about the Hangtown track a ton. There's no track on the circuit that has improved as much as the NorCal circuit. It used to be dry, hard, slick, and frankly, kind of sucked. I remember in 1997 there was a ride day at the track the day after the national and I went there with my rider's bike all stoked to be riding Hangtown. That lasted about half a lap and I was out of there. Then there's the all-time Damon Bradshaw story when Yamaha was out there testing and some guy that ran the place asked him what they could do to make it better. Bradshaw replied: "Put a closed sign out front." It was that bad! (Poor guy, he's probably still in therapy.)
The track this year was brutal. It was heavily watered and prepped so much that massive ruts developed and later on, it got pretty hard and choppy. Starting the Lucas Oil Pro Motocross Championship at Hangtown is basically like waking up in the morning by someone smacking you in the face with a frying pan. Lots of riders looked to be suffering, although I'm sure if you asked them they just "got tight."
Something I couldn't figure out: they built this massive 150-foot tabletop a couple of years ago and it made for a pretty cool visual as riders sailed over it. Even Adam Cianciarulo cleared it on a 250 (although as he joked, "That was 45 pounds ago"). This year the only rider to try it was Josh Grant on press day and a headwind didn't help him as he bounced off it and crashed. I never saw another rider try it.
I asked Eli Tomac about it and he told me, "The corner was way too wet. The dirt was too heavy and the ramp was actually too steep. They put a dang freestyle ramp on it and expect us to go 150 feet, but all we do is go up. And then the dirt was too heavy. It wasn't a good prep there."
If you're going to have a big jump there and sell tickets to stand by it and no one is able to jump it and in the process of not jumping it, the riders just skim low across it and then ride off, that's an epic fail. Very confusing to me.
Eight out of the top 20 in the 450SX points weren't racing at Hangtown (Ryan Dungey, Chad Reed, Malcolm Stewart, Jake Weimer, Vince Friese, Mike Alessi, Justin Brayton, Davi Millsaps) and just one out of those eight are injured (Millsaps). Also, Weimer was a replacement for the injured Weston Peick, who is now back. Still, I think losing these guys showed in the depth of the class. Hopefully injuries don't strike this 450MX field because it could get a tad ugly. And in a related note, there were only 41 250MX riders signed up! What the heck? Last year there were 61 riders pre-entered. Strange sight to basically let everyone race (sorry Tucker Cantrell) and it made for some early lapping by the leaders. Let's keep an eye on these entries as the series moves on.
Ready for the wash bay rant? It's unbelievable that here in the USA we don't have wash bays. The pits are this muddy crap hole where all the fans walk and this is perfectly fine? Good luck bringing in an outside sponsor if they have some nice shoes on—I'm sure they'll be pumped.
Let's take a look at the results, shall we?
250MX Results
1 16 Zachary Osborne Abingdon, VA Husqvarna FC250 1 1- Oh man, Wacho was good. Like, really, really good. It's odd to see him be the class of the field in both SX and now, although it's only one round, MX. I mean, he's still Zach Osborne, the guy who couldn't get a ride over here and was forced to Europe, y'know? Whatever Osborne is paying Aldon Baker (and it's probably in the 75K range for the year) has been a hell of a bargain because he's a new guy this year. And the funny thing is I bet Wacho would tell you that he's probably doing less off the bike than he did, say, two years ago when he went to Colorado to train with Tomac and it ground him down.
2 26 Alex Martin Millville, MN KTM 250 SX-F FE 4 4- Troll was great out there in both motos although he got tired in the second moto and was forced to sort of let Austin Forkner and his brother by late in the race. We hadn't seen Alex since Christian Craig decided to "move" him out of the way in Detroit, so you're kind of not sure, on the new bike and all, how he would be. Well, he's the same as last year. Fast, in shape, consistent, and a race-winning threat. I'm all in on the T(roll)-Train this summer in case you were wondering.
3 23 Aaron Plessinger Hamilton, OH Yamaha YZ 250F 3 5- Aaron starts the series off strong with a third overall. He definitely looked a little tired out there but again, Hangtown was gnarly. The one thing AP has got to get better at is consistency with his starts. By the way, he had a Camelback on! What a move by the GNCC veteran.
4 36 Adam Cianciarulo Clermont FL Kawasaki KX 250F 2 8- AC led some laps in the first moto and held strong for a second. The second moto you could definitely tell that he, like many others, didn't have a lot in the tank and he faded back a bit. Still, you can get fitter but it's hard to teach speed, right? By the way, people in the pits tell me he's already signed with GEICO for next year but I'm telling you that's definitely not true. I'm sure GEICO has reached out to him and I would bet everyone wants him, including his current team. Nothing is done for AC.
5 24 Austin Forkner Richards, MO Kawasaki KX 250F 11 2- Forkner rode great and he will win motos and a national real soon. The second moto he was pushing hard with two-time 250MX champion Jeremy Martin all over him, it was something cool to see—two guys pushing each other to the edge. The first moto he had an electrical problem with his bike and pulled into the pits for repairs. I know the MX Sports officials held him up for a bit before letting him go but by my count, he cut well over a minute off the track getting to the mechanics' area for repairs and he was not held nearly long enough to make up for the time he gained cutting the track to get in for repairs. Those five, six points he gained could be huge by the end of the year.
6 39 Colt Nichols Muskogee, OK Yamaha YZ 250F 5 6- I 100 percent believe that Nichols is some sort of Terminator robot whose limbs are able to be snapped back into place after breaking them.
7 17 Joseph Savatgy Tallahassee, FL Kawasaki KX 250F 7 7- On a track that he went 1-1 on last year and led every lap of the first moto, Savatgy's moto finishes this year have to be a bit of a let down. He passed Osborne in the second moto and led a lap before dropping back way further than he would've liked. I didn't talk to him to see if anything was wrong but after a tough SX season, we wondered how he would respond in MX and I know it's early but this isn't what he nor the team wanted.
8 46 Justin Hill Yoncalla, OR Kawasaki KX 250F 8 9- Solid day for Hill, he didn't make a lot of noise up front because he didn't get the starts, but he rode well. Remember two years ago he was on the box at Glen Helen with some great rides? He should do well this weekend.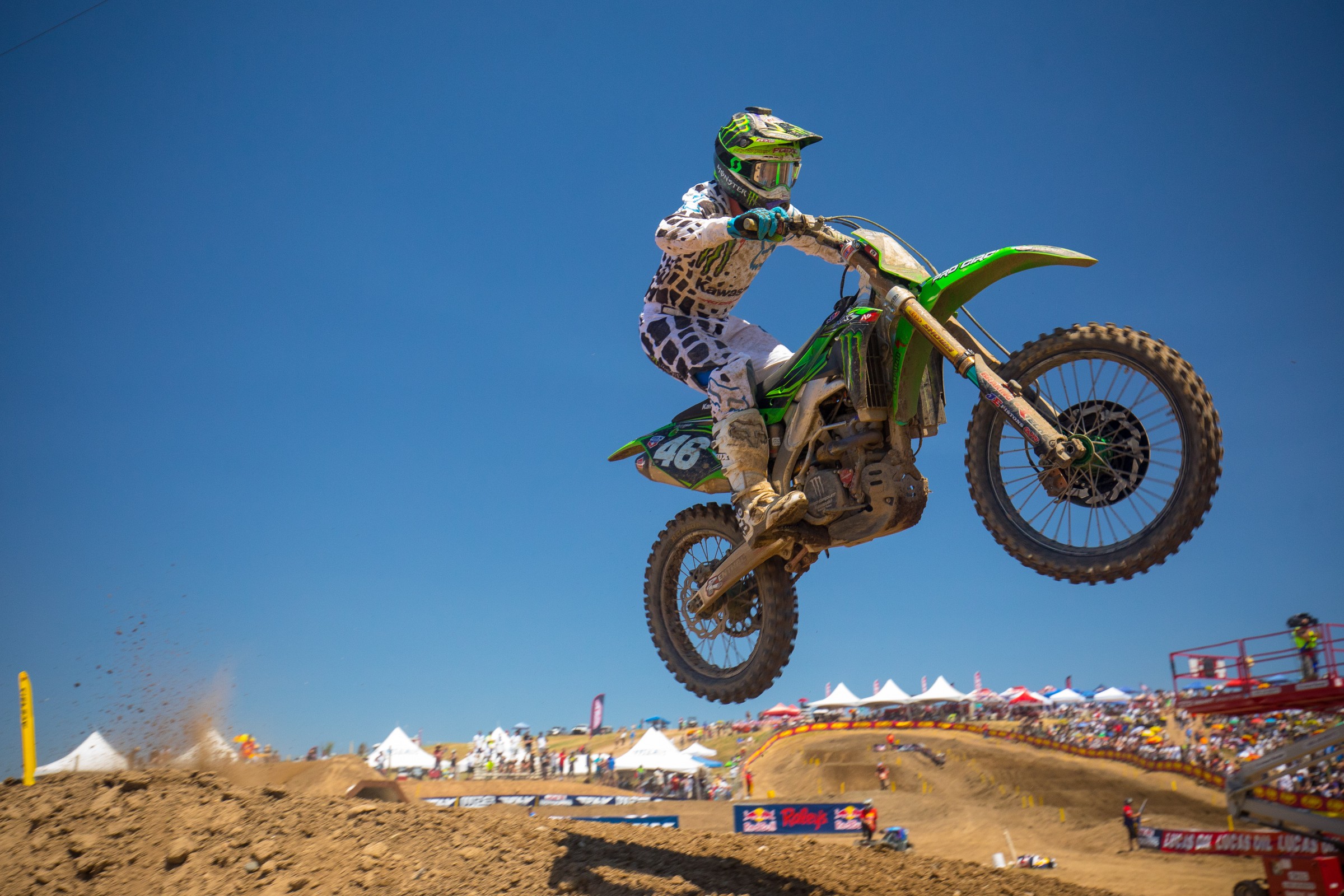 9 28 Mitchell Oldenburg Alvord, TX KTM 250 SX-F FE 6 12- Oldenburg's second moto was strong as he ripped through the pack. I keep hearing that he's going to Rockstar Husky next year, but nothing is confirmed.
10 45 Mitchell Harrison Brighton, MI Yamaha YZ 250F 9 11- Heartbreak for Harrison as he was seventh on the last lap before he went down! That would've been a great finish for a kid who looks like the light has gone on the last few months and he's figuring this stuff out. A 10th overall is still a good finish for him, though.
11 6 Jeremy Martin Millville, MN Honda CRF250R 35 3- Oh man, J-Mart's bike gave up the ghost in the first moto and I'm sure at that point he was asking "Why me?" because outside of that Daytona race, things haven't been going smooth for Jeremy. The second moto was much better and more Jer-like in that he looked fresh and fast late in the moto. He and Forkner were pushing each other hard that entire second moto. I hope he and Phil Nicoletti make up soon because they're both in Alex Martin's wedding party in the fall and that will be awkward.
12 129 Sean Cantrell Murrieta, CA KTM 250 SX-F FE 10 13- As usual, the rookie at Hangtown got a start and ran up front. Happens with someone every year! Cantrell did just that as he was in second for a bit before getting shuffled back (and a fall didn't help). I spoke with Sean after the race and he was excited about his race and sounded in awe of being out there. He didn't talk bike "set-up" or how he got "tight" or anything like that, so there's hope for him yet.
13 38 Shane McElrath Canton, NC KTM 250 SX-F FE 16 10- Not Shane's best day and he knows that. First turn crash in the first moto didn't help. I don't remember him ever doing that well at Hangtown, he's an East Coast man.
14 342 Michael Mosiman Sebastopol, CA Husqvarna FC250 12 14- Mosiman's day was good. He fell in both motos and in the first one he came from 29th to 12th, which is strong for your first ever national. And in the 450MX class his brother Josh, who raced every moto last year and never scored a point, got one on the day. The family must've been stoked.
15 78 Nick Gaines Ringgold, GA Yamaha YZ 250F 13 15- I can't believe I'm writing "consistent day" and "Nick Gaines" in the same sentence but that's exactly what it was for Nick on the Traders Racing Yamaha team.
16 128 Cameron Mcadoo Sioux City, IA Honda CRF250R 15 16- McAdoo got a bit lost in the Mosiman and Cantrell hype, but he was also making his rookie debut at a national like those two. A solid day for Cameron even though he suffered some crashes.
17 50 Luke Renzland Hewitt, NJ Yamaha YZ 250F 14 20- Good first moto. Bad second moto. To be fair to Luke, he came from almost last to get a point.
18 183 Lorenzo Locurcio Venezuela Yamaha YZ 250F 18 17- I took two waters from Cycle Trader's pit cart during Lorenzo's moto so I was really hoping he wasn't going to pull in with heat stroke and the team needed those. I feel bad.
19 558 Jerry Robin Hamel, MN Yamaha YZ 250F 17 40- I don't know about you guys but I'd like to see Ol'Jerry out in the 125 dream race on a 1985 CR125.
20 791 Gustavo Souza Brazil Honda CRF250R 34 18- Has anyone named Gustavo ever gotten a point at an AMA national before? Can we check this out?
450MX Results
1 3 Eli Tomac Cortez, CO Kawasaki KX 450F 1 1- Well, he was everything we experts thought he'd be, right? Dominated the first moto, worked his way to the front in moto two (although a bit later than I would've thought) by being multiple seconds faster than anyone else and took off once past Musquin for the easy win. Eli told me that in the second moto he made some bike changes that weren't in the right direction and that took a bit of getting used to but all in all, a great day for the #3 and Kawasaki.
2 25 Marvin Musquin France KTM 450 SX-F FE 2 2- Marv was great, I was impressed with how much better he was than everyone else not named "Eli Tomac." Marv was fast in practice, he rode hard and he pushed himself to another level when Tomac caught him late in the second moto. That's all a good thing. He's not going as fast as Tomac right now but if like Teddy KGB in Rounders he can "hang around" then if anything happens to the #3, he'll be right there.
3 33 Joshua Grant Riverside, CA Kawasaki KX 450F 3 3- Grant credits his ankle surgeries from last summer for his improved 2017 finishes. He made his first 450MX podium in like three years with great starts and some fast laps, heck he even led seven laps! Remember he got on the box at Vegas also (although with some help) and also remember that in late March last year, Grant had nothing and was out of a pickup truck at Daytona Supercross before getting the fill-in ride at Kawasaki. I got to think that Kawasaki, Fly Racing and some other sponsors got JG33 pretty cheap and he's outperforming all expectations. Ten years ago, it was the other way around, but good for Josh.
4 15 Dean Wilson United Kingdom Husqvarna FC450 10 4- Nice ride by Wilson who I spoke to after the race and he looked spent. He laid it all out there coming from a first-lap crash to 10th in moto one, and then in the second moto coming up from sixth to fourth. Wilson's been building steadily for a while now and it paid off at Hangtown as many people probably went "Huh, oh yeah, that's Dean Wilson and he's a past national champion!"
5 20 Broc Tickle Holly, MI Suzuki RMZ 450 7 7- All Broc Tickle does is go out there with no fanfare and log good, consistent finishes. I've always said that when the field is stacked, he'll surprise you and when the field is thinned out, he'll surprise you (but not in a good way). This was Tick's first race in a while so a fifth overall is impressive. He was a choo-choo train out there where he just did consistent laps. Some people passed him, he passed people but he went his speed for both motos.
6 4 Blake Baggett Grand Terrace, CA KTM 450 SX-F FE 6 8- Baggett had a lot of the "Stopwatch National" experts (I'm not one of them, I've spent too much time at practice tracks watching riders go fast, thinking they would kill it, and then watch them suck at that races to think a Glen Helen on Thursday is the key to life) predicting big things and to be fair, BB4 WILL win motos and maybe races this summer. But his starts at Hangtown weren't great and he rode okay, look for better rides going forward from here.
7 2 Cooper Webb Newport, NC Yamaha YZ 450F 5 9- Webb described his opening outdoor national as "decent" on his social media and I'd agree. You probably wanted a bit more from last year's 250MX national champion (especially seeing him shuffled back quickly in moto two) but all in all, a "decent" start for Webb. Look for Yamaha to get the 2018 YZF 450 homologated and Webb to be on it for Lakewood at the earliest.
8 14 Cole Seely Newbury Park, CA Honda CRF450R 4 12- Seely's barely been riding due to a leg injury he had in supercross and then he crashed hard in practice leading to enough pain where I had heard he might not race. But race he did and his fourth in moto one was impressive. He told me after the race that the left leg injury combined with the right hip problem from the practice crash, combined with the lack of riding due to the injuries, caught up to him in the second moto. Interesting that Cole said the injury he's got is worse in SX than MX—I would've thought it as the other way around.
9 51 Justin Barcia Greenville, FL Suzuki RMZ 450 11 5- Wilson's going to get all the love for his fourth OA (and rightfully so) but Barcia finished just three points behind him on the day but six whole spots further back which leads people to wonder what happened to the #51.
10 19 Justin Bogle Cushing, OK Suzuki RMZ 450 8 10- This is a good ride for Bogle, right? Two top 10s, which meant he didn't crash (something he's done a lot in supercross) and he rode well. Nice start to the series for someone who needs good finishes to stay on the factory bikes in 2018.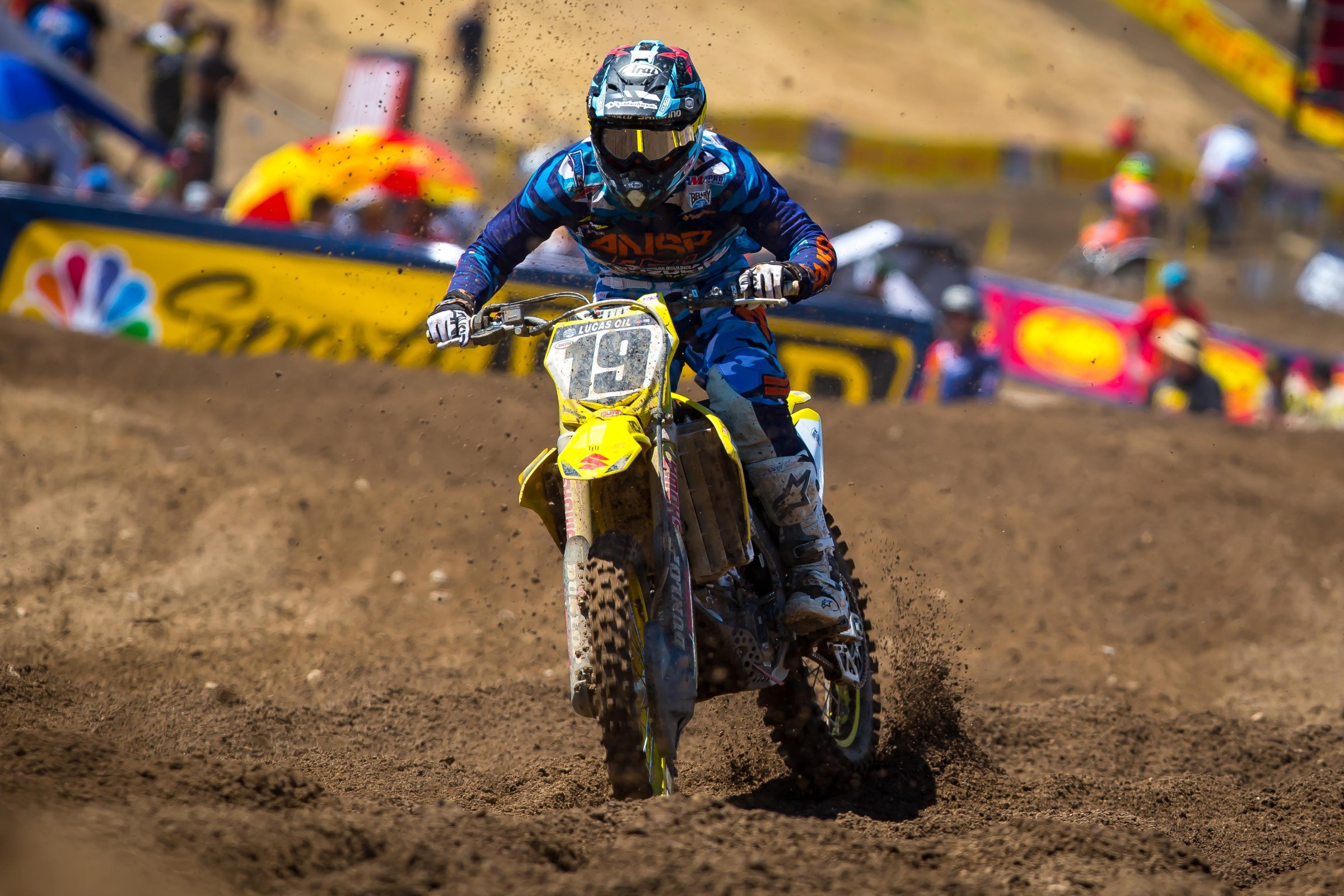 11 32 Weston Peick Menifee, CA Suzuki RMZ 450 12 11- Peick's barely been back on the bike after breaking his wrist in Phoenix and in fact, the doctors would've liked him to heal up some more but that's Peick. He's not going to sit around and not race. Everyone I spoke to around Weston—from his team to his sponsors to his dad—were very happy with this result all things considered.
12 48 Christian Craig Corona, CA Honda CRF450R 9 14- Seeing the #48 round the hill from the back in the lead, I had flashbacks to Freestone all those years ago when Craig holeshot and took off with the lead before he got tired. This time he would lead a lap before tipping over. Second moto he got a way worse start and dropped a few spots to get a 14th. I think if Craig can deliver two top 10 finishes every weekend, he and Honda would be stoked.
13 21 Jason Anderson Rio Rancho, NM Husqvarna FC450 39 6- No one will really notice or talk about it but Anderson's second moto ride was very good as he came from outside the top 20 to a sixth. Late in the moto he looked like he found some reserve energy and zapped a bunch of dudes. First moto he got a rock in the eye coming down a hill and had to get some stitches. Goggles like the Scott Prospect and Oakley Airbrake, although expensive, have the locked in lenses and are thicker than a standard goggle to help this issue that has plagued all goggle companies since the beginning of time. I bet it's not too long before we see other companies go this way.
14 30 Martin Davalos Ecuador Husqvarna FC450 15 13- Marty's on a 450 now! Hurray! And he set a fast qualifying time at that, which led to some eyebrows being raised in the pits. Maybe Marty will kill it this summer and he'll realize that he should've been on a big bike all this time and he'll finally move up? One can dream.
15 40 Fredrik Noren Sweden Honda CRF450R 13 15- Fast Freddie was out there as a full privateer with his wife holding the pit board and helping out. One thing about Freddie is that he's in shape and he'll ride the same pace all moto. It may not be blazing fast (although sometimes it is!) but it's consistent. I wonder how bitter Fred is that Honda picked Craig to fill-in for Roczen and not him?
16 70 Dakota Alix Jay, VT KTM 450 SX-F FE 17 16- I think this is Dakota's first ever 450MX national so pretty consistent scores. I think if you're Forrest Butler of the Rocky Mountain ATV/MC KTM team, this is all you want from a fill-in rider.
17 333 Rhys Carter New Zealand Kawasaki KX 450F 18 17- Former world champion Shayne King made a deal that if he finished top three in the New Zealand nationals, he would bring him to America. Carter did that and Kinger brought him. Consistent finishes in both motos opened some eyes and he killed it for the fantasy MX players also.
18 121 Cody Cooper New Zealand Honda CRF450R 14 37- Cody Cooper! Remember him? The ex-JGR Yamaha rider was also at Hangtown last year and scored some good finishes. This year he was 11th in the first moto before getting cramped up and he lost a bunch of spots late. Second moto cramps came back and he DNF'd.
19 926 Kaven Benoit Canada KTM 450 SX-F FE 16 38- Oh Canada! Benoit, last seen on the international level when he killed it at the Motocross of Nations came to Hangtown and acquitted himself pretty well. I don't know why he pulled off in the second moto, but I know he had an ankle injury that was pretty serious not that long ago so maybe that was it. Love to see Canadians go outside their comfort zone and race the best.
20 68 Heath Harrison Silverhill, AL Yamaha YZ 450F 20 18- Wait until the series goes east and then the YamaDog will have a lot more bark to him.
Thanks for reading, it's great to have you onboard with us for this journey through the 12 rounds. Email me at matthes@racerxonline.com if you want to chat about this or anything else.