Saxony-Anhalt, Germany
MXGP of Germany
FIM Motocross World Championship
Time for Germany and it can only mean the hard-pack of Talkessel, Teutschenthal, a layout that's almost the definition of "old school"—narrow, twisty, off-cambered, untouched, and with a vibe of history. The surface might have been tough, but Red Bull KTM's Jeffrey Herlings will bounce off the mat pretty quickly after this first initial spar with teammate Tony Cairoli. Round eight of 19 in 2017 surely won't be the last dust-up between the pair separated by almost 10 years in age.
The order went Herlings-Cairoli and Cairoli-Herlings—a more static second moto under the German sunshine belonged to the Sicilian and series leader. It was his fourth overall success at Teutschenthal since entering the premier class in 2009 (not including his sweep of the 2013 Motocross of Nations) and his third of 2017. Cairoli had to be slightly in awe of the Dutchman in the first race though. Herlings barged his way to second place and clocked four laps in a 1 min 47 second bracket—the only rider to do so—to gobble #222's lead and hit the front. Cairoli watched and analysed and applied his own pressure in the final five minutes, but a combination of backmarkers and Herlings' strength was too much to overhaul. Herlings, meanwhile, was on course for a second consecutive GP win after turning his maiden MXGP season around with victory two weeks previously in Latvia.
An impressive holeshot helped Cairoli in the opening seconds of Moto 2 and he was away. Herlings blocked Rockstar Energy IceOne Husqvarna Factory Racing's Gautier Paulin (3-3) and Monster Energy Kawasaki's Clement Desalle was also adrift (4-4).
"We have been very consistent the last couple of races and I feel like there are a lot of things possible in the world championship; I am not talking about the title but maybe to get some more positions towards the podium spots," said Herlings who has risen to sixth. "I'll keep working and keep charging. I feel like where I want to be. The speed is so high and you need to be focussed … the level is so high it is incredible."
"It is very fun to race against Jeffrey and I never really did it in the past, just last year at the Motocross of Nations," Cairoli commented. "He is a very talented rider—a world champion—and is very fast. Most of all he is really fit and well-trained and this make him strong. It is perhaps his strongest point and that fact that he can stay that quick all the way through the moto."
Likeness in speed and in terms of extracting their own demands from the 450 SX-F, Herlings and Cairoli are nevertheless in slightly different situations with regards to the championship picture as the trail nears the half way mark. Cairoli now has a ballooning 44-point gap over world champion Tim Gajser. Herlings is climbing the table but the all-square nature of the German Grand Prix means the window remains at 84 and at least a three moto margin.
A storm threatened to flood the region Friday evening. The ominous skies created some stunning natural imagery across the vast and open German landscape, but in less than 30 minutes the motocross circuit was submerged. In truth it was the best kind of drenching the distinctively hard and unforgiving mud could have had. Breezy but bright conditions on Saturday and then warm sunshine on Sunday meant the lines, ruts, bumps, and technical level of the dirt was softer and slightly more forgiving that the brutal hard-pack normally in store. Talkessel is claustrophobic and hardly generous with passing opportunities, but the variation allowed some difference in the lap-times and race approach from what has been a closely welded MXGP pack so far this season.
As usual, it could also bite. And HRC were particularly gnawed. Evgeny Bobryshev was busy having a plate inserted on his snapped right collarbone as the paddock quieted Saturday evening after a timed practice spill and Gajser's heavy dismount while leading the qualification heat (after falling heavily 13 days beforehand in Latvia) meant a battered and bruised #243 somehow made it through the motos with 11th overall. The 20-year-old Slovenian crashed several times in 2016, but was largely fortunate to evade any major scrapes. It seems his luck has deserted him so far in '17, even to the extent that the first two rounds of the campaign were blighted by illness. Gajser will be counting the hours more than most in the MXGP field this week with only a matter of days before Ernee—precious little time for recuperation, never mind a training schedule.
Jeremy Van Horebeek was another athlete tasting German soil and the Belgian doesn't have the best luck at Teutschenthal. JVH was 10th overall, a few slots behind local favourite but still off-song Max Nagl. Romain Febvre, the 2015 world champion, applied some smelling salts to a dismal year so far with fifth overall, but seemed to have tweaked his left ankle and required a painful trip to the medical centre after the second moto with scans eventually giving the Frenchman the all-clear.
MX2 served up the best scenes away from the Herlings-Cairoli dynamic with a second race melee that saw seven riders split by just four seconds in the chase for the lead. Red Bull KTM's Pauls Jonass was a serial holeshotter on the day but the Latvian's distaste for Teutschenthal was evident and he could not resist Suzuki's Jeremy Seewer in race one and dropped from first to fifth in the second. Jonass still claimed his sixth podium trophy from eight and guards the red plate from Seewer. A Suzuki 1-2 was celebrated by team principal Stefan Everts and crew thanks to Hunter Lawrence's confessed fondness for ruts (the Australian previously earned EMX250 European Championship spoils at Talkessel).
Kemea Yamaha's Benoit Paturel came out of the cold and should have been on the box. The Frenchman had been touted as one of the main contenders for Herlings' vacated MX2 throne, but since Qatar he has barely been able to force the buzzing MX2 pack to sample his roost. He was runner-up in the second moto and only a mechanical problem and DNF in the first dented his day. Sitting sixth in the standings and 105 points away from Jonass the #6 has some serious ground to peg back and will need more drive from that YZ250F to get anywhere near the KTMs or Husqvarnas that currently seem to have the monopoly out of the gate. Honda's Michele Cervellin and Rockstar Husqvarna's Thomas Kjer Olsen caught the eye but it was the other FC250 that really became a blur. Thomas Covington recovered from last to 14th in the first moto after being unable to avoid two fallen riders ahead of him in a melee of incident that dropped the American to the ground on the opening lap. It was his aggression, tenacity, and intensity that made the difference in the second moto as he moved up from the midst of the frantic lead group to act as point man.
Covington admitted—like most fans, followers, or competitors of motorcycle racing of any discipline it would seem—that 2006 MotoGP World Champion Nicky Hayden's fight for life was on his mind over the weekend and didn't want to relinquish any emotions that he carried into the GP and after his frustration of the first moto.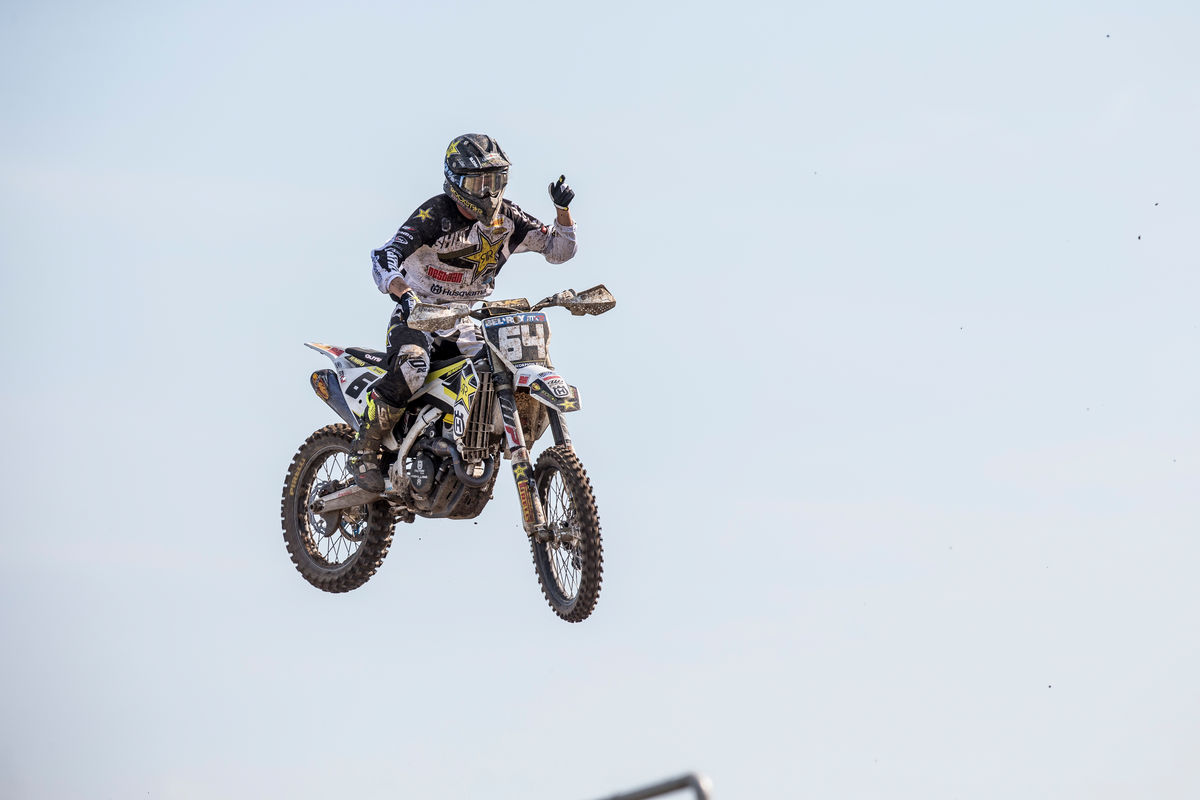 "I was pretty pissed," he said. "It was a bummer and there was nothing I could do, but I'm riding really well at the moment and the bike is really dialled in. I was sitting in the gate before the second one and I was thinking about my buddy Nicky and wanted to go out there and win it for him and managed to get it done; I wasn't going to settle for anything less. It was crash-or-win. It was so easy to make mistakes out there and I really focused." [Ed Note: According to a FOX Sports report from earlier today, Hayden has passed away. He was 35 years old.]
Monster Energy DRT Kawasaki's Darian Sanayei's top 10 presence was another lesson for the rookie of this type of track at Grand Prix speed.
Another time-honoured circuit is next in store for MXGP with Ernee—scene of Motocross of Nations in 2005 and 2015—hosting what is bound to be a noisy and atmospheric Grand Prix of France.
MXGP Overall Results
| | | | | |
| --- | --- | --- | --- | --- |
| Overall Finish | Rider | Race 1 Points | Race 2 Points | Bike |
| 1st | Antonio Cairoli | 22 | 25 | KTM |
| 2nd | Jeffrey Herlings | 25 | 22 | KTM |
| 3rd | Gautier Paulin | 20 | 20 | Husqvarna |
| 4th | Clement Desalle | 18 | 18 | Kawasaki |
| 5th | Romain Febvre | 14 | 16 | Yamaha |
| 6th | Glenn Coldenhoff | 15 | 14 | KTM |
| 7th | Max Anstie | 13 | 15 | Husqvarna |
| 8th | Max Nagl | 11 | 13 | Husqvarna |
| 9th | Arminas Jasikonis | 10 | 12 | Suzuki |
| 10th | Jeremy Van Horebeek | 16 | 6 | Yamaha |
| 11th | Tim Gajser | 9 | 11 | Honda |
| 12th | Tanel Leok | 8 | 10 | Husqvarna |
| 13th | Damon Gaulus | 7 | 8 | Honda |
| 14th | Valentin Guillod | 4 | 9 | Honda |
| 15th | Arnaud Tonus | 12 | 0 | Yamaha |
| 16th | Jose Butron | 6 | 5 | KTM |
| 17th | Ken de Dycker | 5 | 4 | Suzuki |
| 18th | Alessandro Lupino | 1 | 7 | Honda |
| 19th | Jens Getteman | 2 | 2 | Kawasaki |
| 20th | Rui Goncalves | 0 | 3 | Husqvarna |
MX2 Overall Results
| | | | | |
| --- | --- | --- | --- | --- |
| Overall Finish | Rider | Race 1 Points | Race 2 Points | Bike |
| 1st | Jeremy Seewer | 25 | 18 | Suzuki |
| 2nd | Hunter Lawrence | 18 | 20 | Suzuki |
| 3rd | Pauls Jonass | 22 | 16 | KTM |
| 4th | Thomas Covington | 7 | 25 | Husqvarna |
| 5th | Thomas Kjer Olsen | 20 | 9 | Husqvarna |
| 6th | Brian Bogers | 14 | 14 | KTM |
| 7th | Michele Cervellin | 15 | 13 | Honda |
| 8th | Julien Leiber | 11 | 15 | KTM |
| 9th | Darian Sanayei | 12 | 12 | Kawasaki |
| 10th | Benoit Paturel | 0 | 22 | Yamaha |
| 11th | Jorge Prado | 9 | 11 | KTM |
| 12th | Bas Vaessen | 10 | 8 | Suzuki |
| 13th | Brian Hsu | 16 | 0 | Husqvarna |
| 14th | Henry Jacobi | 13 | 0 | Husqvarna |
| 15th | Simone Furlotti | 0 | 10 | Yamaha |
| 16th | Freek van der Vlist | 2 | 7 | KTM |
| 17th | Brent Van doninck | 8 | 0 | Yamaha |
| 18th | Samuele Bernardini | 3 | 4 | TM |
| 19th | Vsevolod Brylyakov | 0 | 6 | Kawasaki |
| 20th | Ben Watson | 6 | 0 | KTM |
MXGP Championship Standings
| | | |
| --- | --- | --- |
| STanding | Rider | Points |
| 1st | Antonio Cairoli | 305 |
| 2nd | Tim Gajser | 261 |
| 3rd | Gautier Paulin | 260 |
| 4th | Clement Desalle | 246 |
| 5th | Jeremy Van Horebeek | 226 |
| 6th | Jeffrey Herlings | 221 |
| 7th | Evgeny Bobryshev | 214 |
| 8th | Romain Febvre | 177 |
| 9th | Max Nagl | 163 |
| 10th | Glen Coldenhoff | 153 |
| 11th | Arnaud Tonus | 145 |
| 12th | Arminas Jasikonis | 128 |
| 13th | Max Anstie | 124 |
| 14th | Shaun Simpson | 123 |
| 15th | Tanel Leok | 91 |
| 16th | Kevin Strijbos | 90 |
| 17th | Jose Butron | 66 |
| 18th | Rui Goncalves | 52 |
| 19th | Jordi Tixier | 52 |
| 20th | Valentin Guillod | 47 |
MX2 Championship Standings
| | | |
| --- | --- | --- |
| Standing | Rider | Points |
| 1st | Pauls Jonass | 325 |
| 2nd | Jeremy Seewer | 288 |
| 3rd | Thomas Kjer Olsen | 264 |
| 4th | Julien Lieber | 249 |
| 5th | Benoit Paturel | 220 |
| 6th | Thomas Covington | 184 |
| 7th | Jorge Prado | 175 |
| 8th | Brent van doninck | 174 |
| 9th | Darian Sanayei | 142 |
| 10th | Michele Cervellin | 139 |
| 11th | Hunter Lawrence | 137 |
| 12th | Calvin Vlaanderen | 133 |
| 13th | Brian Bogers | 129 |
| 14th | Vsevolod Brylyakov | 129 |
| 15th | Samuele Bernardini | 111 |
| 16th | Adam Sterry | 72 |
| 17th | Ben Watson | 72 |
| 18th | Alvin Ostlund | 69 |
| 19th | Conrad Mewse | 55 |
| 20th | Ivo Monticelli | 49 |