Ferris Wins Round Four of the Australian MX Nationals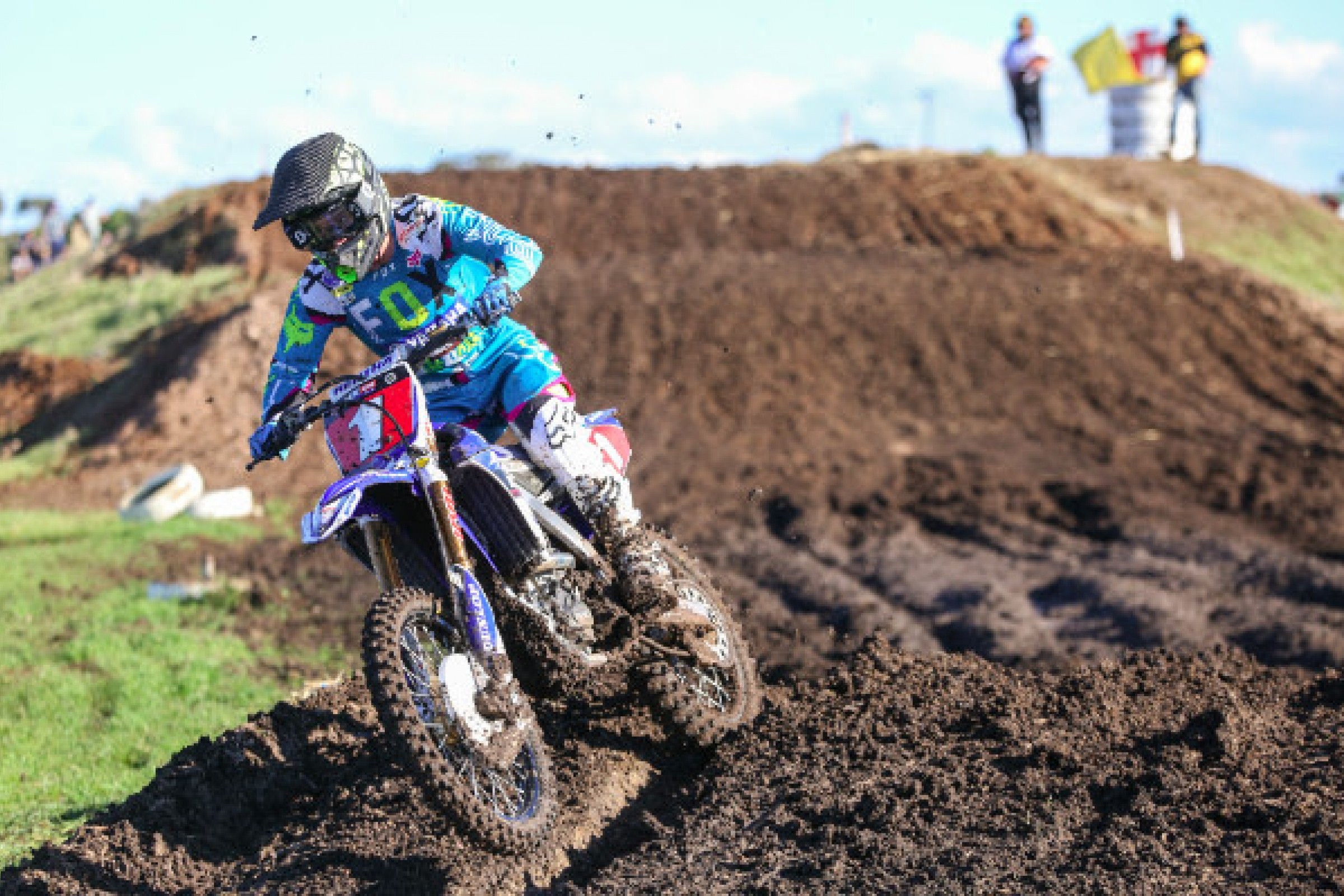 MX1 Report
Victoria, Australia – In the two days prior to todays event, heavy rain blanketed the Western Victorian venue, but the sun came out when it mattered and when the gates opened at Horsham, spectators and fans we treated to ideal weather conditions and a technically demanding track, which Ferris relished in.
When riders in the premier Thor MX1 class headed out for their practice and qualifying sessions this morning, riders were forced to take on their first muddy track of the season. With the conditions proving difficult, most opted to put down minimum laps, and it was KTM's Kirk Gibbs who was fastest of the session on only his first lap (2:17.125).
It was once again no surprise the CDR Yamaha's Ferris was well within the top times recording a 2:18.187 lap time which ensured he was second quickest, while DPH Motorsport's Kade Mosig found his speed late in the session placing him in third (2:18.221). Crankt Protein Honda Racing's Todd Waters and MEGA Bulk Fuels Monster Energy Kawasaki's Aleksandr Tonkov were the final two riders to progress through to GoPro Superpole.
But for the first time this season it wasn't Ferris who collected the GoPro Superpole victory. Waters managed a lightening fast 2:10.510 hot lap time, awarding him his first GoPro win of 2017, three championship points, and first pick of the MX1 grid.
Moto 1
With the Horsham track claiming a number of machines in other categories by the time the Thor MX1 class lined up for their first moto this morning, thousands of spectators watched on eager to witness the premier class take on the gruelling track conditions.
When the gate dropped and riders headed in to the first turn, it was an all out battle for the holeshot, but once again it was CDR Yamaha's Ferris who wasted no time securing the Raceline holeshot and from there he moved in to a familiar position—he race lead.
With a clear track ahead of him Ferris took full advantage of the first lap, stretching his lead out to an impressive nine seconds. Slotting in to second place behind him was KTM Motocross Racing Team's Luke Styke, followed by MX1 rookie Luke Clout in third.
Despite securing his first GoPro Superpole win this morning, Waters was back in 10th place after one lap, and on a mission to make up time due to a first turn crash.
By the time riders headed into lap three, Clout had gotten by the far more experienced Styke, and was looking ultra comfortable in second position. Behind the top three DPH Motorsport's Mosig was in fourth, followed by fastest qualifier Gibbs who was circulating with the absence of goggles.
As race one progressed, Ferris began to come under fire from second placed Clout, who had gradually made up ground on the CDR Yamaha machine, but as soon as Ferris felt the pressure he accelerated away, dashing any hopes of a battle for the lead.
Meanwhile, despite riding without the protection of goggles, Gibbs was in no way deterred, and by the time riders reached the six lap mark, the KTM rider had made the pass on Mosig for fourth, where he began to eye off his teammate Styke.
Another rider who was capturing the attention of the crowd with his charge through the pack was Waters—the Crankt Protein Honda Racing Team rider had managed to make his way from tenth to sixth by the halfway mark in the moto.
With 20 minutes run, Ferris was four seconds a lap faster than any other rider on track, showcasing his undeniable consistency and skill aboard his CDR Yamaha machine.
And it was in the top spot that Ferris remained for the duration of the 30 minutes, crossing the finish line to collect his sixth moto win in race one at Horsham. Crankt Protein Honda Racing Team rider Clout finished in second, recording his best result of the season, while Styke also managed his best race finish so far in 2017, coming home in third.
DPH Motorsport's Mosig snatched back fourth in the later stages of the moto followed by Gibbs who slipped back to fifth. Waters, Tonkov, Davey Motorsport's Hamish Harwood, Wilson Coolair Motul Factory Suzuki's Kyle Peters, and Lachlan Davis (KTM) completed the top ten.
Moto 2
In the second moto for the Thor MX1 class, competitors were welcomed to drier track conditions, and it was Crankt Protein Honda Racing Team's rookie Clout and Ferris who were neck and neck off the start, but in what seems to be the theme this year, it took less than a lap for Ferris to find his way into the lead position.
Behind Ferris and Clout, was once again KTM Motocross Racing Team's Styke in third, while Mega Bulk Fuels Monster Energy Kawasaki's Tonkov got to a solid start finding himself in fourth.
With the track far more technical in the second moto, Ferris' showed off his confidence and ability, and by the three-lap mark was more than five seconds a lap quicker than his competitors. Clout, who is only in his first year in the MX1 class, continued in second position, while Styke began to come under fire his team mate Gibbs in what was shaping up to be an exciting battle for third.
With Gibbs desperate for championship points, it wasn't long before the KTM rider made the move on Styke, while Wilson Coolair Motul Factory Suzuki's Peters passed Waters for fifth on the very same lap.
By the half way point in race two, it became clear that Ferris was on another level, continuing to lead by a huge margin from Clout and Gibbs in second and third positons. Peters made his way up to fourth, followed by Waters and Styke who unfortunately had slipped back to sixth position.
With nine laps in the books, Clout began to feel the pressure from Gibbs who was navigating his way through the field, testing the young rider's ability—but just as the fight for the position was heating up, Clout's bike let out a plume of smoke, and only seconds later the young Honda rider was pushing his bike back to the pits, dashing any hopes of a podium.
With Clout out of the picture, his teammate Waters inherited third place, while Peters followed suit slotting up to fourth.
With only a lap remaining, Ferris was simply unstoppable—the margin to second placed Gibbs growing greater with every turn, and with both Gibbs and Waters behind him with their goggles around their arms, the CDR Yamaha rider was under minimal threat.
So when the checkered flag flew for the final time at Horsham today, it was no surprise to see Ferris once again finish victorious. Second in moto two was taken by KTM's Gibbs, while Waters managed to hold on for third. Styke and Peters wrapped up race two in fourth and fifth places respectively, while Harwood, Mosig, Tonkov, Davis and Joel Green completed the top ten in race two.
However, the man of the moment was Ferris at the conclusion of racing today, his 1,1 race finishes rewarding him with his fourth consecutive round win at Horsham. Second on the podium was secured by Gibbs, while teammate Styke completed the Thor MX1 podium.
MX1 Results
| | |
| --- | --- |
| Overall Finish | Rider |
| 1st | Dean Ferris |
| 2nd | Kirk Gibbs |
| 3rd | Luke Styke |
| 4th | Todd Waters |
| 5th | Kade Mosig |
| 6th | Kyle Peters |
| 7th | Hamish Harwood |
| 8th | Aleksandr Tonkov |
| 9th | Lachlan davis |
| 10th | Keiron Hall |
MX1 Championship Standings
| | | |
| --- | --- | --- |
| Standing | Rider | Points |
| 1st | Dean Ferris | 288 |
| 2nd | Kirk Gibbs | 243 |
| 3rd | Todd Waters | 224 |
| 4th | Kade Mosig | 223 |
| 5th | Luke Styke | 215 |
| 6th | Kyle Peters | 182 |
| 7th | Aleksandr Tonkov | 173 |
| 8th | Luke Clout | 173 |
| 9th | Nathan Crawford | 149 |
| 10th | Keiron Hall | 148 |
Mx2 Report
It was an unusual day of racing for the fourth installment of the championship, with riders taking to the track in pristine weather conditions today, however below their wheels, the surface was a completely different story.
After heavy rain had fallen in the lead up to round four, riders were forced to contend with an extremely muddy track for their qualifying session, but it was DPH Motorsport's Todd who set the pace this morning with a 2:10.582 lap time, more than four seconds quicker than second fastest qualifier Hamish Harwood (2:14.266) while KSF Racing's Dylan Wills was third fastest on track thanks to a 2:14.759 lap time.
Unfortunately for KTM two-stroke rider Egan Mastin of Davey Motorsports, despite initially setting the fastest time in qualifying (2:10.086) he was penalized three positions due to jumping under a yellow flag.
Moto 1
When riders lined up for their first moto of the day, the sun was out but the track remained wet and muddy, and as a result riders opted to forgo their sighting lap and head straight into a race start. When the gate dropped it was Todd who got the jump and secured the first Raceline holeshot, but with a slippery and wet surface to contend with, WBR Yamaha's Aaron Tanti was able to find grip and challenge the DPH Motorsport's rider. However, Tanti went down only a few turns later handing the lead back to Todd, where he then had a clear track ahead of him.
With 30 minutes on the clock in moto one for the Motul MX2 class, riders played it smart in the opening laps, ensuring that they preserved their machines for the duration of the race.
Behind Todd after two rotations was Serco Yamaha's Jackson Richardson, followed by Harwood and Penrite CRF Honda Racing's Kyle Webster.
Despite not getting the best of starts, red plate holder Mitchell Evans began to make his way to the front by the third lap, and with riders going down left right and centre in the mud, it was a mission to simply keep their machines upright.
But Todd was having no issue with the conditions out in front, the Yamaha rider stretching out his lead to an incredible half a lap by the time riders had reached the half way mark. Behind him, Richardson continued to maintain second position despite going down numerous times, followed by Webster, Harwood and red plate holder Evans in fifth.
With the track proving to be brutal in moto one, it was simply survival of the fittest, and unfortunately for Richardson a small mistake proved costly, dropping from second back to sixth in a matter of seconds.
With less that five minutes left on the clock in the opening moto Todd continued to lead from Harwood who was the only rider that the DPH Motorsport's leader hadn't lapped. Webster slipped back to third thanks to a pass from Kiwi Harwood, followed by Mitchell Evans and Richie Evans in fourth and fifth places respectively.
But it was Todd's patience and technique that paid off in moto one, surviving the toughest conditions of the season to take the first race win at Horsham. Second in race one and the only rider not lapped by Todd was Harwood, followed by Webster in third. Red plate holder Evans wrapped up the opening moto in fourth, followed by Ricky Latimer in fifth. KSF Racing's Wills, Tomas Ravenhorst, WBR Bulk Nutrients Yamaha's Tanti, Lachlan Wilson and James Brown all completed the top 10.
Incredibly 16 riders registered a DNF in the first Motul MX2 class race, indicative of the conditions that competitors were forced to contend with.
Moto 2
After the challenge of moto one, in race two it was a dash for points for the Motul MX2 competitors. And when gates dropped for the second time today it was Todd once again who shot off the start and secured the holeshot.
With the start playing a huge role in the outcome of today's racing, Harwood and privateer Latimer wasted no time slotting in behind their race leader, while Richardson was just outside the top three in fourth, desperately racing for points after a disappointing race one finish.
After three laps on track, one rider who was visibly absent from the top ten was red plate holder Mitchell Evans—Evans who had entered the round having been undefeated since round two was back in 14th position and with a large task ahead of him if he was to chase down the leaders.
With only 20 minutes to race in the second moto for the Motul MX2 class, both Harwood and Latimer were charging hard in a bid to keep race leader Todd in their sights, while behind them, Richardson, Webster and Mastin were locked into their own battle for top five positions.
By the halfway point in race two, Todd looked unstoppable in P1, followed by Harwood, Latimer, and Serco Yamaha's Richardson.
As the Motul MX2 class reached its later stages in race two, riders had settled in to their positions, but one thing was certain and that was that no one was getting near the DPH rider Wilson Todd.
When the chequered flag flew on the second moto it was Todd who crossed the line victorious by more than 22 seconds, while Ironman Harwood recorded his best result so far this season finishing in second, followed by privateer Latimer who also finished in a career best third in moto two. CRF Honda Racing's Webster and Serco Yamaha's Richardson wrapped up the second race in fourth and fifth places respectively. Mastin, Wills, Raceline Pirelli KTM's Rykers, Mitchell Evans, and Richie Evans all finished inside the top ten in moto two.
With 1,1 race results Todd was rewarded with the round four win as well as the red plate at Horsham this afternoon , second on the podium was Kiwi Harwood, while consistency paid off for Webster who's 3,4 results handed him with third overall at Horsham.
MX2 Results
| | |
| --- | --- |
| Overall Finish | Rider |
| 1st | Wilson Todd |
| 2nd | Hamish Harwood |
| 3rd | Kyle Webster |
| 4th | Ricky Latimer |
| 5th | Mitchell Evans |
| 6th | Dylan Wills |
| 7th | Jackson Richardson |
| 8th | Egan Mastin |
| 9th | Aaron Tanti |
| 10th | Thomas Ravenhorst |
MX2 Championship Standings
| | | |
| --- | --- | --- |
| Standing | Rider | Points |
| 1st | Wilson Todd | 257 |
| 2nd | Mitchell Evans | 246 |
| 3rd | Jackson Richardson | 224 |
| 4th | Egan Mastin | 215 |
| 5th | Hamish Harwood | 213 |
| 6th | Kyle Webster | 208 |
| 7th | Dylan Wills | 186 |
| 8th | Aaron Tanti | 178 |
| 9th | Ricky Latimer | 168 |
| 10th | Jayden Rykers | 168 |