Kailub Russell Leads the Pack Into Inaugural X-Factor GNCC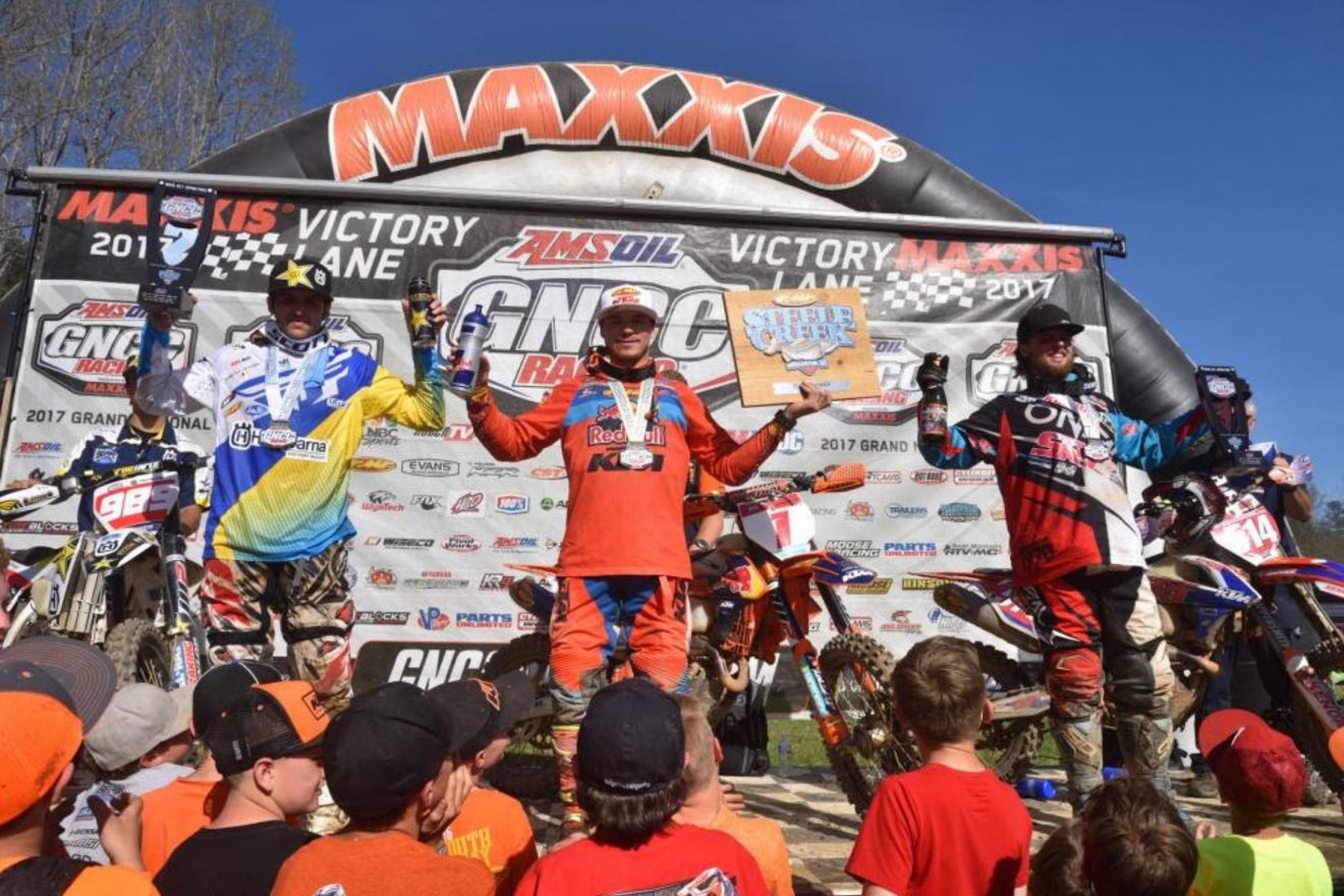 Morgantown, W.Va – X-Factor Whitetails of Indiana in Peru, Indiana will host round six of the 2017 AMSOIL Grand National Cross Country (GNCC) Series presented by Maxxis, an AMA National Championship this weekend, May 20 and 21. While FMF/KTM Factory Racing's Kailub Russell has won the past three rounds, Rockstar Energy/Factory Husqvarna Racing's Thad Duvall and SRT/KTM-backed Steward Baylor haven't lost sight of the National Championship.
With a four-race winning streak behind him, Russell heads into the sixth round of the season knowing what it takes to come out on top, but as the season progresses so does the competition. Duvall's recent success at the National Enduro and ISDE Qualifier means a GNCC overall win is the only thing he's lacking. After leading the majority of the race in South Carolina, Duvall will be a rider to keep an eye on this weekend as he looks to top Russell.
Baylor's consistency has played a major role in his current overall standings, meaning you can bet that he will be upfront again this weekend. While he may not always start the race in a top-five position, Baylor's determination always works to his advantage where he's able to make quick work through the pack.
Talk about N-Fab/AmPro Yamaha's Ricky Russell has been relatively quiet, but his recent results prove it won't be long until he makes headlines. After barely missing the overall podium at the previous round and having three weeks to train between South Carolina and the X-Factor GNCC, R Russell will be hoping to land his first podium finish of the season this weekend.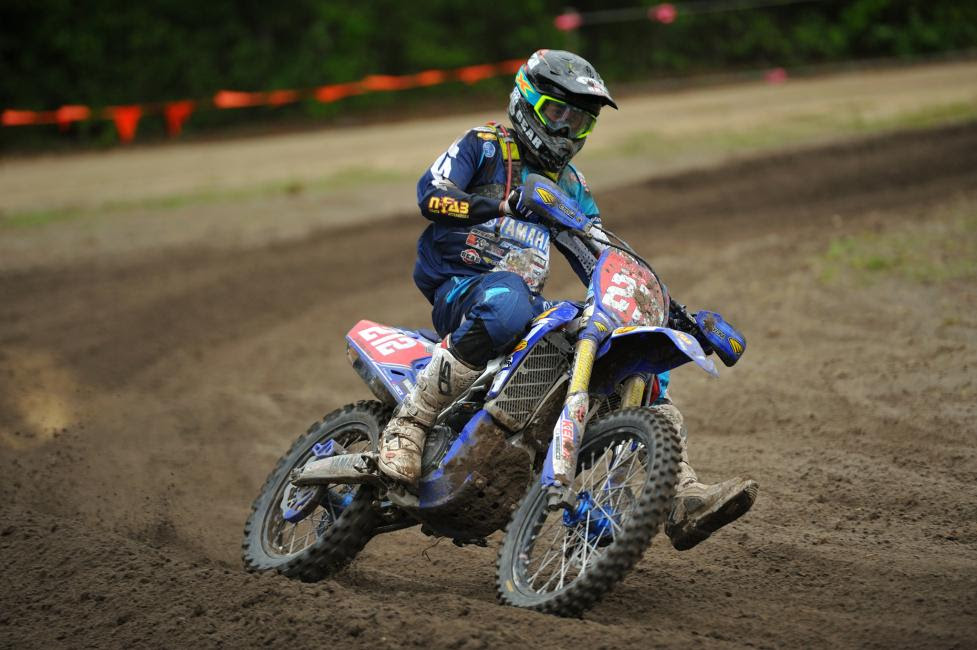 XC1 Pro rookie and JCR Honda's Trevor Bollinger hasn't had beginners luck this season, but has had a strong showing at a few of the races. Bollinger's willpower to succeed continues to separate him from the rest of the field. The new venue may just be what Bollinger needs to land his first overall podium of the year.
Beta USA's Jordan Ashburn has yet to make his podium debut this year, but with three top-ten finishes he shows promise, just like Bollinger. After a top-ten finish last race, FMF/KTM Factory Racing's Russell Bobbitt sits ranked eighth overall in the points championship. Rocky Mountain ATV/MC-KR4-Husqvarna's Grant Baylor and Rockstar Energy/Factory Husqvarna Racing's Josh Strang round out the top ten in points as the GNCC series travels to Peru, Indiana.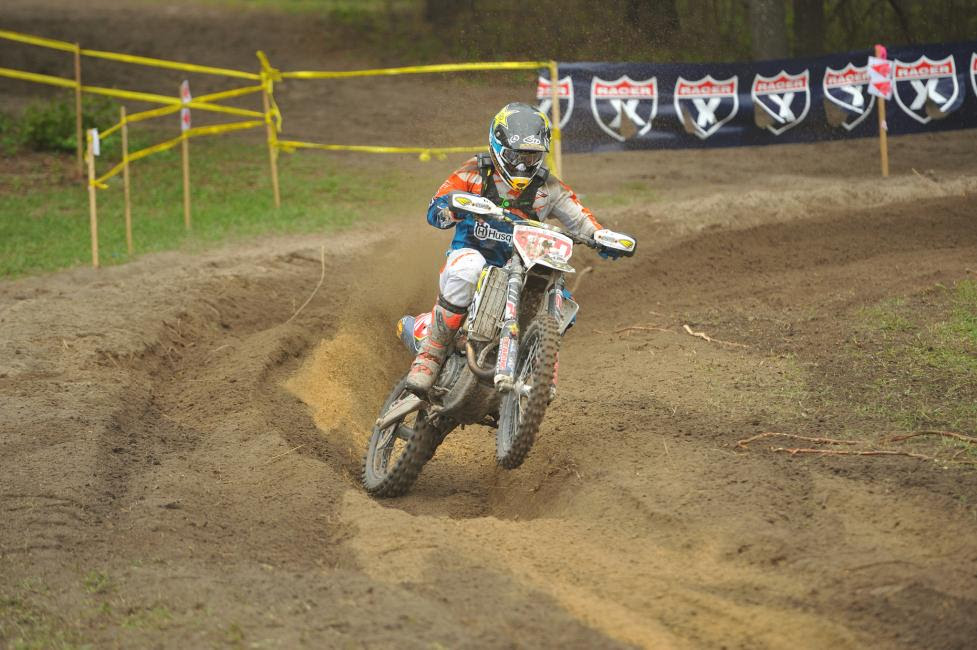 In the XC2 250 Pro division, N-Fab/AmPro Yamaha's Josh Toth continues to pave the way with five-straight wins. Coastal Racing/Husqvarna's Craig Delong and RPM/KTM's Mike Witkowski trail Toth in second and third, but look to change that this weekend.
Sunday's race schedule is as follows: Youth Bike racing begins at 8 a.m., followed by amateurs and women at 10 a.m., and pros and top amateurs at 1 p.m.
Adult (12+) gate admission is $20 for the full weekend and $10 for kids (6-11), with kids five and under free. Gate admission includes pro pit access and pro autographs at no additional charge.
The event is co-sanctioned with IXCR, a series that produces local racing events across Indiana, and will ultimately bring out a full slate of local racers. All local racers are invited to compete at the X-Factor GNCC, as GNCC Racing offers classes for riders of all skill and experience levels. The amateur race entry fee is $40 if racers pre-enter, and $50 if racers sign up at the track. To learn more about GNCC Racing please visit the GNCC101 webpage.
Local racers expected to compete this Sunday will be Rachel Gutish (WXC), Milton Taylor (Masters C 50+), Jacob Blythe (125 B/C), brothers Lucas (85 7-11) and Logan Grounds (65 7-9), Haley France (Girls 8-15), Patrick Flynn (Silver Masters A 55+), brothers Sam (200 B) and Jackson Hall (65 7-11), Austin Lee (XC2 250 Pro), Jaryn Williams (XC3 125 Pro-Am), Eric Douglass (250 A) and Will Busick (250 B).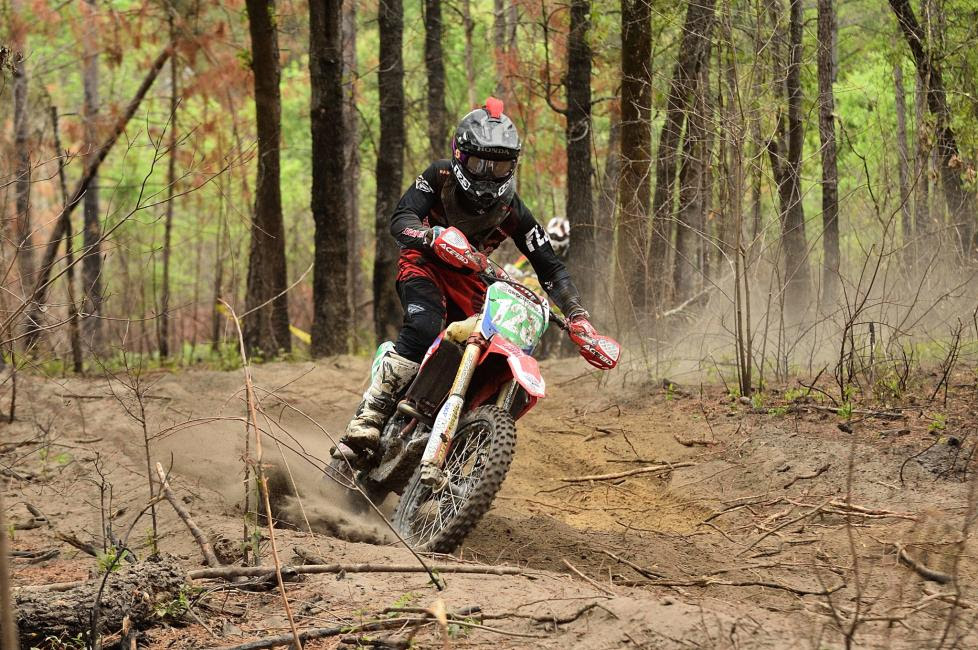 Tune in to RacerTV.com on Sunday at 1 p.m. EST to catch LIVE streaming of the Pro Bike race. For more information on GNCC LIVE coverage, visit RacerTV.com. A highlight show featuring the event will air on NBC Sports Network on Saturday, June 17 at noon.
The 2017 AMSOIL GNCC series heads to Peru, Indiana this weekend, May 6 and 7, for the X-Factor GNCC. For a complete schedule of the weekend's activities, please visit the X-Factor GNCC event page on the series website by clicking here.
---
Previous Round Results and Points Standings
CST Tires Camp Coker Bullet GNCC
Society Hill, South Carolina
Round 5 of 13
Sunday, April 23
XC1 Open Pro Event Results:
Kailub Russell (KTM)
Steward Baylor (KTM)
Thad Duvall (HSQ)
Ricky Russell (YAM)
Josh Strang (HSQ)
Jordan Ashburn (BET)
Grant Baylor (HSQ)
Russell Bobbitt (KTM)
Ryan Sipes (HSQ)
Trevor Bollinger (HON)
*Overall National Championship Standings:
Kailub Russell (145)
Steward Baylor (118)
Thad Duvall (96)
Ricky Russell (75)
Josh Toth (74)
Trevor Bollinger (57)
Jordan Ashburn (56)
Russell Bobbitt (54)
Grant Baylor (53)
Josh Strang (46)
*Indicates that the Overall National Championship Standings will determine the 2017 National Champion.
XC2 250 Pro Event Results:
Josh Toth (YAM)
Jesse Groemm (KTM)
Craig Delong (HSQ)
Layne Michael (HSQ)
Mike Witkowski (KTM)
Ben Kelley (KTM)
Zack Hayes (KTM)
Dylan Macritchie (KTM)
Trevor Barrett (YAM)
Brendan Riordan (YAM)
XC2 250 Pro Series Standings:
Josh Toth (140)
Craig Delong (101)
Mike Witkowski (92)
Jesse Groemm (92)
Layne Michael (92)
Austin Lee (68)
Zack Hayes (67)
Ben Kelley (63)
Trevor Barrett (48)
Sam Evans (41)
FMF XC3 125 Pro-Am Event Results:
Jason Thomas (HSQ)
Jack Edmondson (HSQ)
Mark Heresco Jr. (KTM)
Devan Welch (YAM)
Hunter Neuwirth (HSQ)
Josh Adkins (YAM)
Jaryn Williams (YAM)
FMF XC3 125 Pro-Am Points Standings:
Jack Edmondson (145)
Jason Thomas (126)
Mark Heresco Jr. (91)
Hunter Neuwirth (86)
Paul Whibley (67)
Jaryn Williams (65)
Josh Adkins (58)
Devan Welch (45)
Dustin Gibson (43)
Nate Smith (29)