Ferris Wins Round Three of the Australian MX Nationals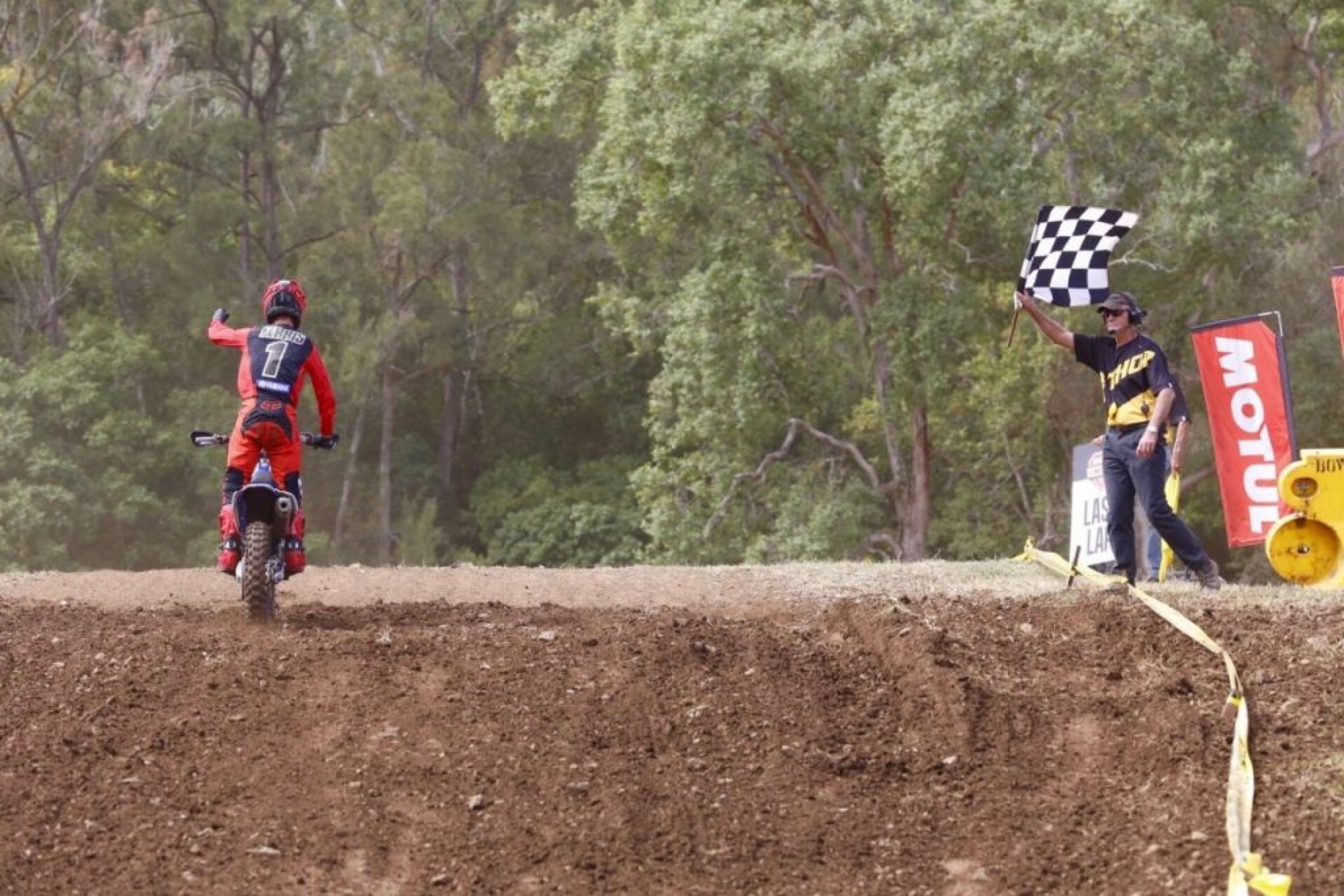 MX1 Report
Conondale, Queensland – Ferris was impressive from the minute he hit the track on the Sunshine Coast today, the reigning champ putting on a performance for thousands of spectators, and maintaining the red plate as the series powers on.
Competitors and fans were greeted with dry track conditions for Thor MX1 qualifying this morning, but the one rider who capitalized on the conditions early was KTM Motocross Racing Team's Kirk Gibbs. Gibbs was close to a second faster than any other rider on track with a 2:10.898 lap time at the conclusion of the session. Second fastest was Russian MEGA Bulk Fuels Monster Energy Kawasaki's Aleksandr Tonkov (2:11.568), followed by CDR Yamaha's Ferris, Crankt Protein Honda Racing's Todd Waters and teammate Luke Clout.
With the top five through to GoPro Superpole, fans watched on in anticipation as riders threw down their fastest flying laps, but it was Ferris who made it count when it mattered, once again taking his third Superpole victory for the season and first pick of the grid when racing commence with a 2:10.620 lap time.
Moto 1
When bikes headed to the line for race one all eyes were on the heavy hitters, and uncharacteristically Ferris and Gibbs opted to take positions on the grid no where near each other. But when gates dropped it was the Russian rider Tonkov who took the Raceline holeshot, and only a bikes length behind him was Waters and Ferris who weren't letting the international competitor out of their sights.
With one lap in the books Ferris made a quick pass on Waters and moved up into second position, where he then set his sights firmly on the rear wheel of race leader Tonkov, and before riders had even reached their second rotation, the CDR Yamaha rider had moved into the race lead.
With Ferris out in front, the focus the shifted to the battle for positions behind him. And battle they did. KTM Motocross Racing Team's Gibbs began his charge to the front, passing both Waters and Tonkov to snatch up second position. Despite Waters dropping off the pace for a short time and losing a spot to Tonkov, it wasn't long before the Crankt Protein Honda Racing Team rider found his wheels once again and moved back up into third place.
Unfortunately for Tonkov his time at the front was short lived in moto one, and by lap four the Factory Kawasaki rider had dropped back to fifth position, where he then continued to fade.
After 10 minutes on track for the Thor MX1 class, Ferris continued to school his competitors, leading by a comfortable margin. Gibbs and Waters occupied second and third while DPH Motorsport's Kade Mosig was back in fourth. Rookie MX1 rider Clout was having yet another impressive ride in fifth position, while Penrite Honda's Jesse Dobson and SD3 Husqvarna's Brett Metcalfe continued to battle for sixth.
As race one reached its final stages, Ferris continued to be the fastest rider on track, slowly stretching out his lead to a commanding eight seconds. Behind him, Metcalfe was on his own charge, passing the likes of Dobson and then Clout to make his way into the MX1 top five.
But it was Ferris who had reason to celebrate at the conclusion of moto one, taking his fourth race victory for the year by a comfortable eight seconds. Second place was taken by Gibbs, while Waters rounded out the MX1 podium getters in the opening moto. Mosig crossed the finish line in fourth followed by Metcalfe who held on to finish in fifth. Dobson, KTM Motocross Racing Team's Luke Styke, Clout, Nathan Crawford and privateer Keiron Hall completed the top 10 in race one.
Moto 2
When bikes returned to the line for race two, the crowd watched on intently with all wondering whether Ferris could go undefeated at Conondale, and unsurprisingly it was the CDR Yamaha rider who snatched up the Raceline holeshot, and within only a few turns had stretched out his lead to an impressive three seconds.
Behind Ferris was MX1 rookie Crawford aboard the MEGA Bulk Fuels Monster Energy Kawasaki, followed by KTM's Styke and Crankt Protein Honda Racing Team's Waters.
Uncharacteristically, Gibbs who finished second in the opening moto was back outside the top five in seventh position after one and a half laps, giving himself one serious job to do if he was to make his way onto the MX1 podium.
With Ferris stretching his lead out lap by lap, the focus shifted to the riders behind him. And unfortunately it was Styke who captured the spectator's attention for all the wrong reasons, allowing Waters, Mosig, Gibbs and Metcalfe to charge past the KTM rider who had fallen back to seventh position.
Despite entering the season with an arm injury, by lap five Crawford continued to hold his own in an impressive second place, while behind him Waters began to come under fire from Gibbs who was a man on a mission in the final moto. And by lap seven Gibbs made the pass on Waters and began his attempt to chase down Crawford.
When riders reached the halfway mark in race two Ferris had stretched out the margin on second placed Crawford to seven seconds, while behind the Kawasaki rider Gibbs began to look ultra threatening after coming through the field and into the final podium position. Behind Gibbs was Waters and Styke who recovered from an earlier mistake, while DPH Motorsport's Mosig looked dejected in sixth.
As race two reached its final stages, SD3 Husqvarna's Metcalfe was headed back to the pits after experiencing bike trouble, while Gibbs closed in on Crawford and made the pass on the Kawasaki rider for an all important second position.
But Ferris was unstoppable at Conondale this afternoon, and once again in the final moto he took an unchallenged victory and celebrated deservingly across the finish line. Second place in moto two was taken by KTM Motocross Racing Team's Gibbs, followed by Crawford who collected the first MX1 podium finish of his career.
Fourth place in race two was taken by Waters, followed by Styke in fifth. Honda mounted Dobson, Mosig, Clout, Tonkov and Wilson Coolair Motul Factory Suzuki's Peters completed the top 10 in the MX1 class in race two.
With 1-1 race results it was Ferris who secured the top step of the Thor MX1 podium at Conondale, while second place was handed to KTM's Gibbs, and third at round three was secured by Crankt Protein Honda Racing Team's Waters.
MX1 Results
| | |
| --- | --- |
| Overall Finish | Rider |
| 1st | Dean Ferris |
| 2nd | Kirk Gibbs |
| 3rd | Todd Waters |
| 4th | Nathan Crawford |
| 5th | Kade Mosig |
| 6th | Luke Styke |
| 7th | Jesse Dobson |
| 8th | Luke Clout |
| 9th | Kyle Peters |
| 10th | Keiron Hall |
MX1 Championship Standings
| | | |
| --- | --- | --- |
| Standing | Rider | Points |
| 1st | Dean Ferris | 216 |
| 2nd | Kirk Gibbs | 185 |
| 3rd | Kade Mosig | 170 |
| 4th | Todd Waters | 166 |
| 5th | Luke Styke | 157 |
| 6th | Nathan Crawford | 149 |
| 7th | Luke Clout | 141 |
| 8th | Kyle Peters | 134 |
| 9th | Aleksandr Tonkov | 126 |
| 10th | Brett Metcalfe | 109 |
MX2 Report
The Motul MX2 class showcased bar to bar racing across two motos at Green Park in Conondale, but once again it was Serco's Evans who showed undeniable form, collecting his fourth consecutive race win.
With no rain overnight, competitors were treated to a dry circuit on the Sunshine Coast for their qualifying session this morning, and in what has been the trend so far this season it was a battle of the Yamaha machines for the fastest time on track during their timed session. But it was Serco Yamaha's Jackson Richardson who was quickest this morning with a 2:15.240 lap time, followed by Round 2 winner Evans (2:15.489) and DPH Motorsport's Wilson Todd who was third fastest on track (2:16.687).
Moto 1
When gates dropped on race one Serco Yamaha's Richardson secured the first Raceline holeshot for the day, Richie Evans and Todd slotting in behind him. After a single rotation on the two-minute lap time circuit, Richardson stretched his lead out to a comfortable two seconds, while DPH's Todd began to apply the pressure on Evans for second.
A notable absentee from the top three was last round's victor Mitchell Evans, who after two laps on track was back in eighth place.
With valuable championship points up for grabs, Todd began his charge to the front by the third lap—both himself and Aaron Tanti (WBR Yamaha) passing Richie Evans to move up into podium contention. And from there, Todd and Tanti closed in on race leader Richardson, providing spectators with a three-way battle for the race lead.
With 30 minutes plus one lap on the clock for the Motul MX2 competitors, by the halfway point riders had settled into their positions—Richardson continuing to lead from Todd and Tanti, while behind them Penrite CRF Honda Racing's Kyle Webster and Evans were occupying spots four and five. New Zealander Hamish Harwood looked comfortable in sixth position followed by Egan Mastin and Richie Evans.
By the sixth lap Todd had found Richardson's rear wheel and it took no time at all for the red plate holder to make the pass and take on the race lead for the first time in the moto.
Unfortunately for Tanti, a crash towards the latter stages of the race allowed Webster to inherit third, the Yamaha rider then re-joining the race in fourth position. But fortunately for Tanti and mistake from Webster shortly after allowed Tanti to charge back past, while Serco Yamaha's Evans who had made his way through the field also passed Webster and slotted in to fourth position.
As moto one reached the 25-minute mark Richardson had once again reclaimed the lead from Todd, while behind the Yamaha mounted pair, Tanti and Mitchell Evans were locked into their own battle for the final podium position.
But when the checkered flag flew it was an incredible charge from MX2 rookie and Serco Yamaha's Evans that wowed the crowd—the Yamaha rider charging by both Todd and Richardson on the final two laps to take the race one win. Second place was taken by Richardson while Todd crossed the line in third. Tanti and Webster finished in fourth and fifth places respectively.
Rounding out the top 10 in race one was Davey Motorsport's duo Harwood and Mastin, followed by Raceline Pirelli KTM's Jayden Rykers, Richie Evans, and Synep Racing's Dylan Wills.
Moto 2
With a red plate well and truly up for grabs at Conondale, all eyes were on the first turn as riders lined up for their second and final moto of the day. When gates dropped, it was KTM two-stroke rider Mastin who took the Raceline holeshot, but once again Serco Yamaha's Evans wasted no time in finding his way to the front of the field.
But as soon as Evans had moved into the top spot the Serco Yamaha rider came under fire from Tanti, and within only a few turns, the Bulk Nutrients WBR Yamaha rider had made the pass and moved into the lead position.
Unfortunately for Evans, Richardson also made the move on his team mate, relegating him to third, and Richardson's charge did not stop there—only a single lap later the Serco Yamaha rider passed Tanti for the lead and began to check out.
However only moments later bad luck struck Tanti, unfortunately suffering a flat tyre which saw him drop to sixth. With Tanti out of podium contention, Serco Yamaha's Evans slotted into second behind his teammate, while Mastin happily inherited third position.
By the halfway mark in the second moto for the MX2 class, behind the top three, Wills had made his way up to fourth, followed by Penrite CRF Honda Racing's Webster, DPH Motorsport's Todd and Raceline Pirelli KTM's Rykers, indicating that a change of red plate may be imminent.
With only 20 minutes of track time in the final moto, Evans frantically searched for lines in order to close in on his teammate, and by the time riders received the last lap board Evans made his move on the flat section of the track with an aggressive pass on Richardson for the lead that he made stick.
Despite a final attempt from Richardson to pass back his teammate, it was Evans who crossed the line to collect his fourth race win in a row. Richardson was forced to settle for second in race two, while Mastin finished in third. DPH Motorsport's Todd wrapped up the final outing for the MX2 class in fourth, followed by Webster in fifth.
Rykers, Wills, Richie Evans, Harwood and Ricky Latimer completed the top 10 in moto two.
But with a flawless scorecard for the second consecutive round, it was Serco Yamaha's Evans who was rewarded with the overall victory and the MX2 red plate at Conondale. Second on the podium this afternoon was teammate Richardson, while DPH Motorsport's Todd wrapped up round three in third.
MX2 Results
| | |
| --- | --- |
| Overall Finish | Rider |
| 1st | Mitchell Evans |
| 2nd | Jackson Richardson |
| 3rd | Wilson Todd |
| 4th | Egan Mastn |
| 5th | Kyle Webster |
| 6th | Jayden rykers |
| 7th | Aaron tanti |
| 8th | Hamish Harwood |
| 9th | Dylan Wills |
| 10th | Richie Evans |
MX2 Championship Standings
| | | |
| --- | --- | --- |
| Standing | Rider | Points |
| 1st | Mitchell Evans | 196 |
| 2nd | Wilson Todd | 187 |
| 3rd | Jackson Richardson | 178 |
| 4th | Egan Mastin | 171 |
| 5th | Kyle Webster | 150 |
| 6th | Hamish Harwood | 149 |
| 7th | Jayden Rykers | 145 |
| 8th | Dylan Wills | 137 |
| 9th | Richie Evans | 136 |
| 10th | Aaron Tanti | 136 |