Jeffrey Herlings Tops Qualifying at MXGP of Latvia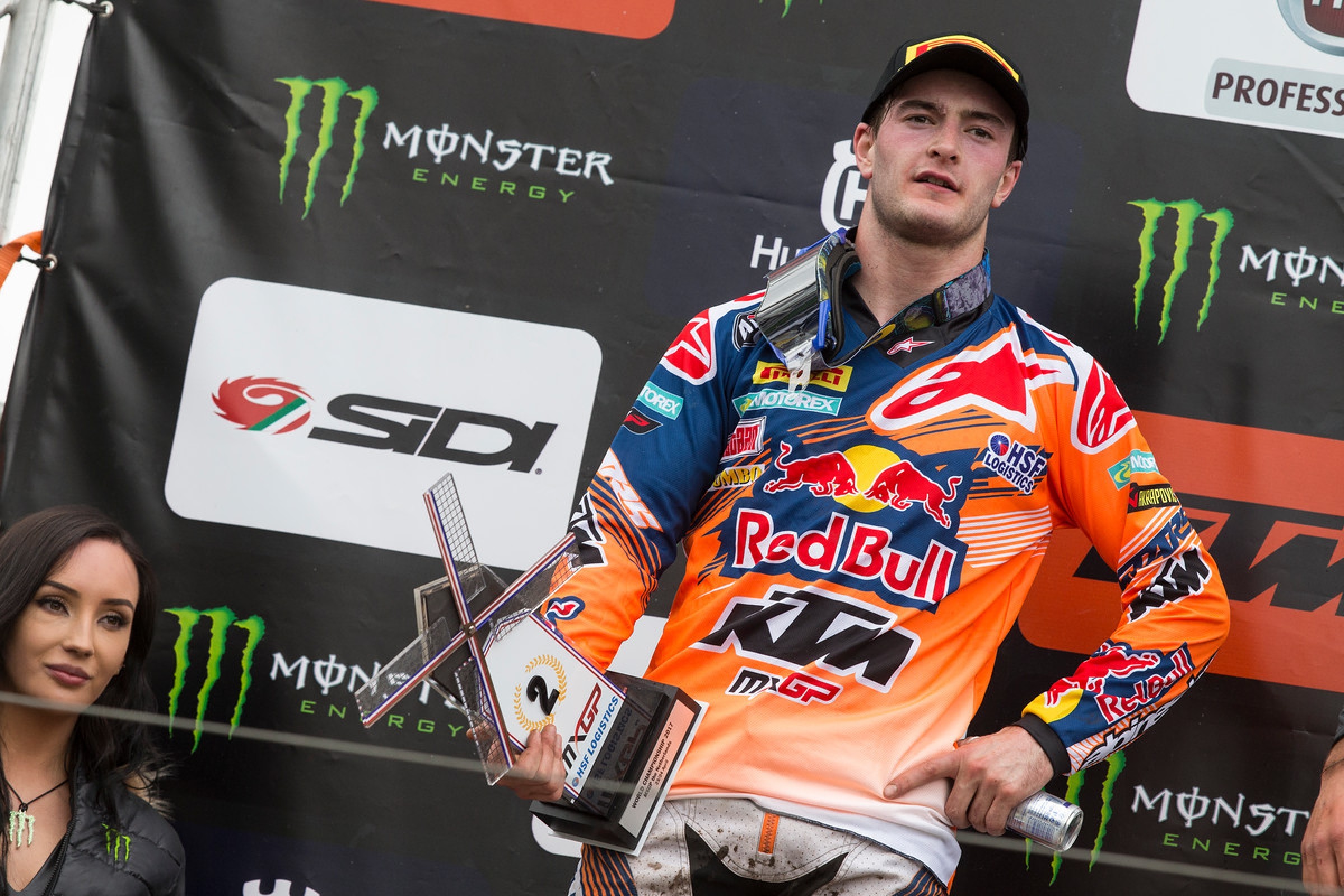 Kegums, Latvia
MXGP of Latvia
FIM Motocross World Championship
Red Bull KTM's Jeffrey Herlings won the qualifying race toady at Round 7 of the FIM Motocross World Championship at the MXGP of Latvia.
Slowed by an pre-season wrist injury, Herlings' MXGP career got off to a slow start, but he's since rebounded, grabbing his first podium of the season last weekend and winning qualifying today by 2.5 seconds over Max Nagl. Jeremy Van Horebeek took third ahead of points leader Tim Gajser and Evgeny Bobryshev.
American Thomas Covington finished second in MX2 behind teammate Thomas Kjer Olsen. Fellow American Darian Sanayei finished seventh. Points leader Pauls Jonass took third.
You can watch live coverage of the racing tomorrow on MXGP-TV.com beginning at 2:40 a.m. EST. Delayed coverage of MX2 and MXGP airs on CBS Sports Network at 12:00 p.m EST and 11:00 p.m. EST.
MXGP Qualifying Results
1. Jeffrey Herlings
2. Max Nagl
3. Jeremy Van Horebeek
4. Tim Gajser
5. Evgeny Bobryshev
6. Arminas Jasikonis
7. Antonio Cairoli
8. Clement Desalle
9. Gautier Paulin
10. Shaun Simpson
11. Max Anstie
12. Glenn Coldenhoff
13. Romain Febvre
14. Damon Graulus
15. Jordi Tixier
MX2 Qualifying Results
1. Thomas Kjer Olsen
2. Thomas Covington
3. Pauls Jonass
4. Jorge Prado Garcia
5. Calvin Vlaanderen
6. Brian Hsu
7. Darian Sanayei
8. Jeremy Seewer
9. Brent Van doninck
10. Henry Jacobi
11. Bas Vaeesen
12. Benoit Paturel
13. Brian Bogers
14. Conrad Mewse
15. Samuele Bernardini