Salt Lake City, UT
Salt Lake City
Monster Energy AMA Supercross Championship
Troy Lee Designs/Red Bull KTM had a banner night in Salt Lake City, as Shane McElrath and Mitchell Oldenburg went 1-2 at Round 8 of the 250SX West Region.
Behind a third place finish, Monster Energy/Pro Circuit Kawasaki's Justin Hill clinched the championship, the first of his career.
All three riders spoke with the media following the race.
Justin, congratulations. Can you take us through those final laps, and even that final straightaway? You found yourself in a little bit of a battle there to close out the championship.
Justin Hill: I didn't know for sure that if he got me I wasn't going to wrap it up, but I had an idea, and I don't like getting passed anyway. I was surprised. I thought I cut the corner off enough for him to not get me and he ran it in there pretty good. I was like, all right, I got to make something happen here. I was glad I was able to do it and get it over with.
Mitchell, congratulations on the night. Third place two weeks ago in Seattle. It's obvious that you're building a little bit of confidence. Did you feel the effects of that confidence in the main event? You had to fight your way through and make some passes.
Mitchell Oldenburg: Yeah, for sure. Seattle was unreal for me. It was my first podium so it was an extreme high. To back it up and get second is just an unreal feeling. We put in a lot of work and to have that setback like I've said so many times in San Diego, it's a bummer. But it's good for me. I think there's always them "What ifs?" We've had some good races and where would we be if we wouldn't have got hurt? I'm just excited on the night. To go one-two with my buddy Shane and just to have a good main event and solid 15 minutes plus one lap was a good way to end the night.
Shane, congratulations. You mentioned to me on Race Day Live earlier today how you were happy with the way the season started out and it was very important to you to close the season like you started it and get two wins. Halfway there.
Shane McElrath: It's kind of been a rough few, couple weeks with getting hurt at Seattle. Since then we just took it one day at a time. Each day was just trying to be a little better than the day before. Even today, I didn't expect that of myself. I just wanted to go out and give it my all. With how the track was breaking down all day, I knew that it was going to be a tough main. Even though the lap times were short, the track is not that technical layout-wise, but with how the track broke down it was pretty crazy. It was a bummer to see Aaron [Plessinger] go down. He was pushing hard. He was pulling me in the beginning and there wasn't anything I could do. I was pretty much settled in. He was riding fast and he ended up going down. Just tried to work on things. The lappers were pretty bad, but that's kind of been some of my weaknesses. Just a lot of positives to take out of tonight. Aside from the win, it's been a long break and a rough few, couple weeks. So to come out with the win tonight, it felt like A1 again.
Justin, after you crossed the finish line you looked really confused on "Did I do this? Did I not?" Were you getting pit boards, or did you know?
Hill: No, my guy just wanted me to focus on the race and push. Obviously that was hard to do. I really had no idea. I thought that if Martin got by me that I would have to race Vegas seriously, so I didn't want that to happen. It was like total confusion. I was asking, "Did I do it? Did I do it?"
This is kind of a question for all three of you guys. What we've noticed is there's a bunch of camaraderie between you guys, not as much rivalry. Does that make being up on the podium sweeter knowing that you guys are friends and buddies?
McElrath: Honestly it's kind of tough. I ride with Freckle every day so I've gotten used to hating him and loving him at the same time. With Justin, being in the championship battle with him, it's like we've been teammates, we're friends. You kind of get that bitterness because you're like, "Dude, I don't want this guy to beat me," but at the end of the day we're friends. We're cool off the track. I think anybody will tell you out there on the track I think it's even a little more lenient if you come in a little hot with your friends. So it's tough but at the same time it's something that's really good.
Oldenburg: I think Shane hit the nail on the head, as far as that goes. We were all teammates last year so we've spent a lot of time together and at the practice tracks and stuff like that. We're just normal humans just out here doing our job and enjoying it. I think just for us, when we all do good … I can't even explain it. It's just an awesome feeling and I'm just pumped for these two guys and for myself to be up here.
Hill: I like racing with my buddies. I know these guys well. I've known them for a long time. It's run racing with them. I'm into sportsmanship and being cool to everybody. I'm a nice guy just by nature. I like racing them. I think sometimes you race your buddies hard, which is good. It's good for the sport. If we can have kind of like a high level of respect for each other I think that's good.
Justin, there's been some rumors about the 250 class changing the eligibility. If you're eligible next year, do you want to defend the plate or are you going to look for a 450 ride?
Hill: I want to be on a big bike, only just because I think I ride it better. I have a hard time revving the little bike out and ringing it out and making it do what it's supposed to do. So, I feel as if that's a little bit harder for me, so I'm looking to move up.
Justin, congratulations on your championship there. Did you know that Martin Davalos was that close to you when you went up into that left-hander there and just kind of put in a bump and then you go, "I'm out of the championship now?" How important was it to get back around just right before that finish?
Hill: I didn't actually know. I had an idea. I was like, I think I got it if I'm in third. It was all kind of up in the air, in my mind. I just knew that every position counted, that's all. I didn't know he was that close. I heard him a little bit kind of towards the end and I went high just as a precaution and it turned out he was there. I was glad to just rail the next corner and get it back around him. I didn't think I'd have it, but I went for it.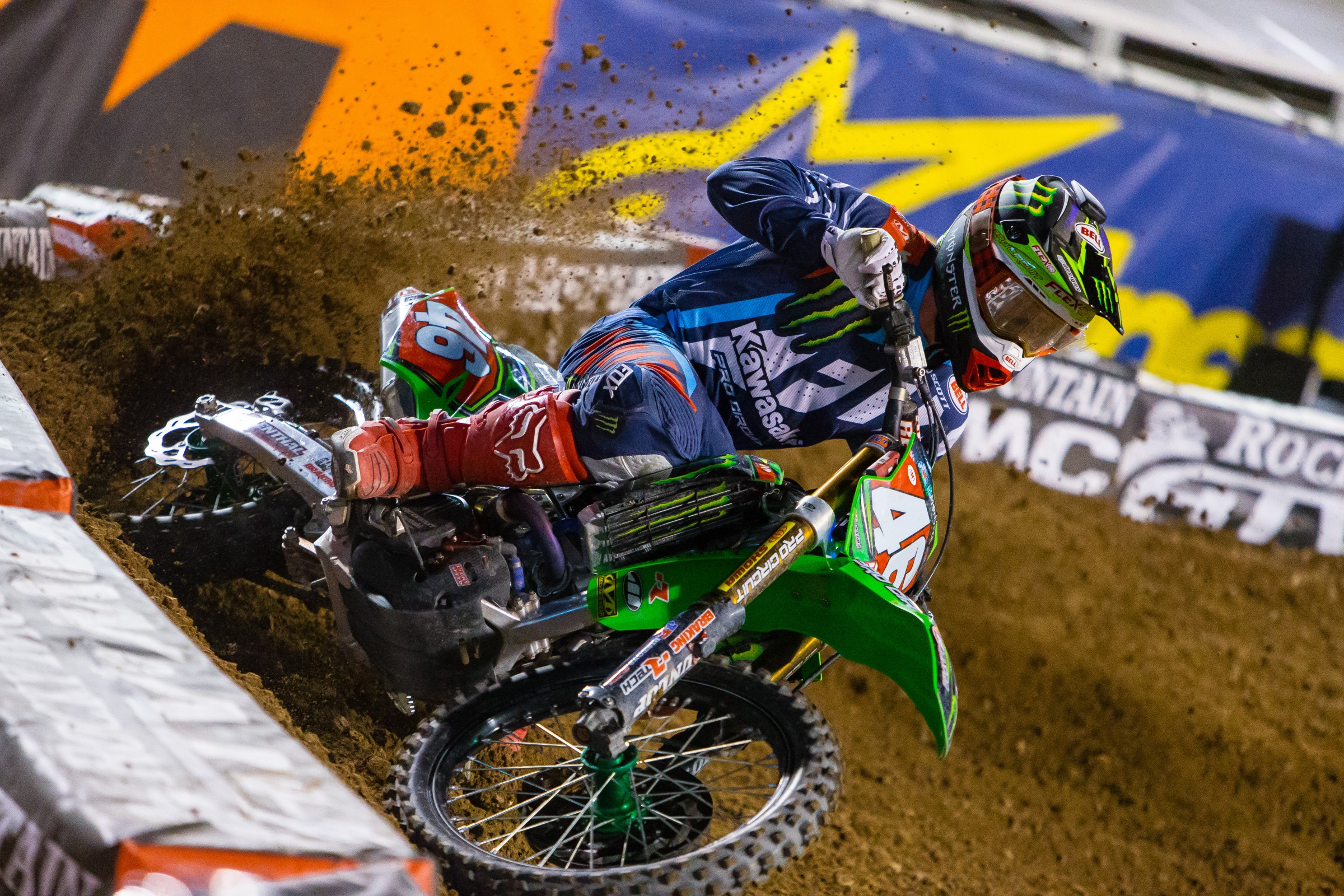 It's been a long time since we've had supercross here. Have you guys ever raced here and what did you like about coming and racing in Salt Lake City in front of almost a sold-out crowd?
Hill: I dug it. I've been here when I was a kid to watch my brother, that's it. So I've never raced here. I liked the dirt. I rode tight because of the situation, but I would love to come back here again.
Oldenburg: I've never been here either. I think the last time they were here was 2013 and that was my first year racing pro. Honestly I was a little worried about the altitude. I haven't spent much time in it. Obviously we raced here at Toole [Miller Motorsports Park] or whatever a couple years ago, but never supercross in altitude. So that was definitely in the back of my mind. It didn't affect me as bad as I was expecting. It was good dirt. The track was fun. It was a little tight, but I think it made for some good racing.
McElrath: Going back and watching some of the supercrosses from before they stopped coming here, and just seeing all the battles and the way the track turned out in the main, and it was dry and dusty and slick. It's kind of one of those things I was looking forward to because it's kind of just like the test track. We get to go and pretty much just treat it like another day there. Altitude-wise, it was something that I sort of thought about but didn't really feel anything today. It just felt like another day. Not that I was expecting it to feel any different, but it was just cool to just see where we are after a few down weeks.
Justin, what is the second chance for you on Monster Energy/Pro Circuit Kawasaki team? Does that make it that much sweeter getting the championship back with this team?
Hill: Absolutely. I have a better relationship with Mitch I think this time around. We understand each other a little bit more. I wanted to fill that little space on his wall that doesn't have a plaque on it. So I went over there, placed it against there and it looks pretty cool. I dig it. I'm glad that I could do it for Mitch.
Justin, what was going through your head when they handed you that number one plate?
Hill: Hopes and dreams, everything I worked for. It's sweet. I'm looking forward. I like looking at the future, looking past it. I'm excited. It probably hasn't sunk in fully, but I don't know what to say about it. It's awesome.