Gautier Paulin Claims First Victory of 2017 at Valkenswaard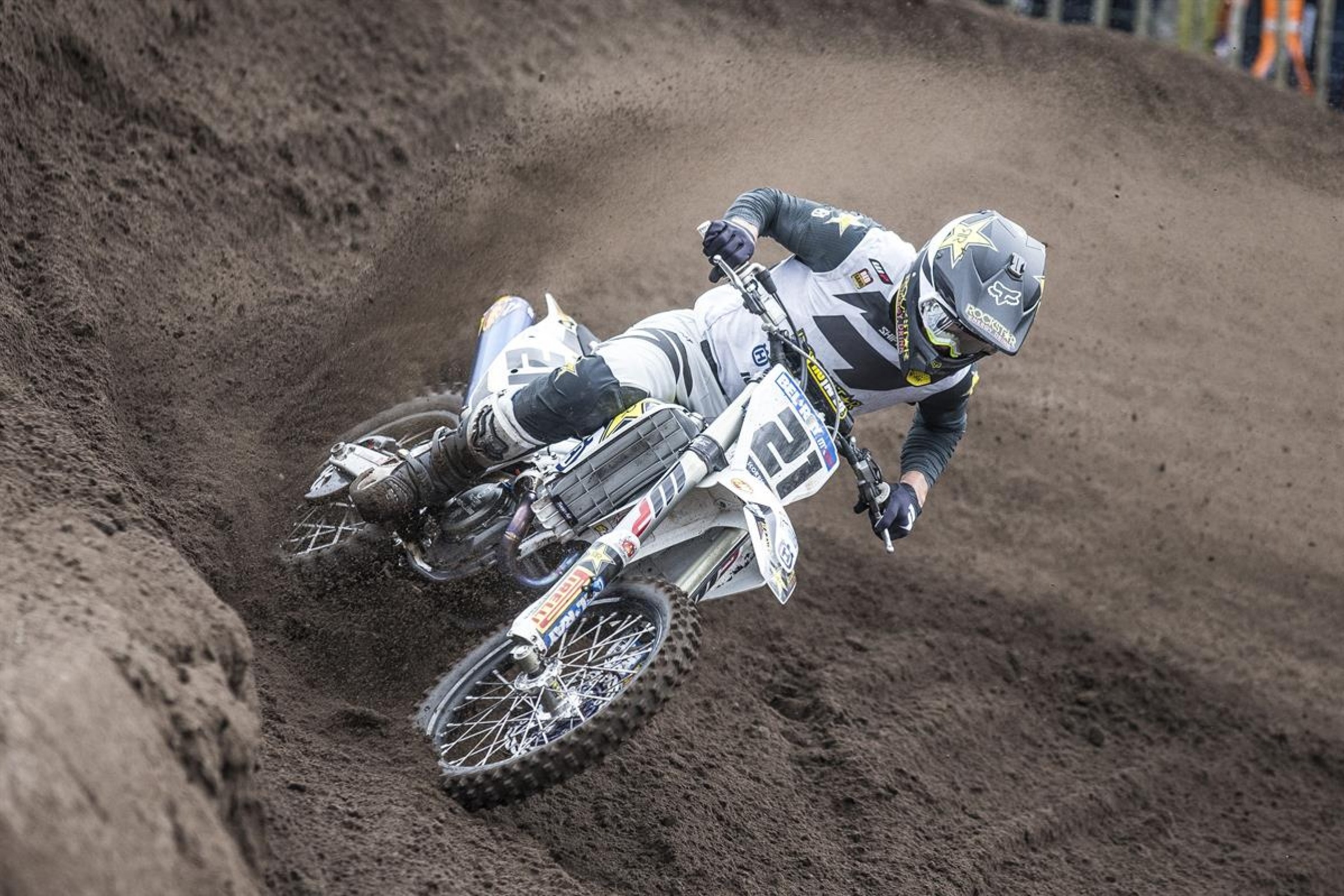 Valkenswaard
Valkenswaard

,

Netherlands
MXGP of Europe
FIM Motocross World Championship
Behind a victory in the first moto, Gautier Paulin won his first Grand Prix of 2017 today at the MXGP of Europe at Valkenswaard in the Netherlands.
Paulin finished runner-up to second moto winner Antonio Cairoli to claim the victory at Round 6 of the FIM Motocross World Championship.
Jeffrey Herlings, who never lost a moto at his home Grand Prix while in the MX2 Class, finished second overall. Jeremy Van Horebeek finished third ahead of Cairoli and points leader Tim Gajser.
"It's been an amazing GP. We started off with a good pace in qualifying," said Paulin in a team statement. "I was feeling good on the bike ever since I stepped foot on this track, so I was very positive of some good results. We had a perfect opening moto. I got a clear holeshot and managed to successfully defend my lead until the finish line. Despite not getting the best of starts in moto two, I stayed focused on the goal of winning the overall. I kept pushing and as soon as I saw other riders suffering physically I gave one last push for the overall victory. I honestly have no words to thank my Rockstar Energy Husqvarna Factory Racing team for all their hard work and dedication. This victory has given us a big confidence boost for the races to come."
In MX2, Palus Jonass extended his points lead behind a 1-1 finish. Jeremy Seewer took second ahead of Brent Van doninck.
Amercian Thomas Covington finished on the podium in the first moto, but crashed in moto two and bent his bars. He did not finish the race.
"My riding was good throughout the weekend despite the rough sandy track. Following a strong sixth place in qualifying race I got off to a good start in moto one and managed to make some good passes for third at the finish line," said Covington in a team statement. "Towards the end of the moto I felt a bit of pain in my back but I tried not to let that affect my performance and my lap times. To finish third felt good and I was looking forward to moto two. Unfortunately, my start was bad in the last moto and as I was pushing to make passes I crashed and bent my bars. The championship still has a long way to go. We proved the speed is there so it's up to me now to reduce mistakes and be more consistent."
MXGP Overall
| | | |
| --- | --- | --- |
| 1 | Gautier Paulin | 25-22 |
| 2 | Jeffrey Herlings | 20-20 |
| 3 | Jeremy Van Horebeek | 22-16 |
| 4 | Antonio Cairoli | 12-25 |
| 5 | Tim Gajser | 15-18 |
| 6 | Evgeny Bobryshev | 18-13 |
| 7 | Arminas Jasikonis | 16-14 |
| 8 | Romain Febvre | 10-15 |
| 9 | Glenn Coldenhoff | 13-11 |
| 10 | Max Nagl | 11-10 |
| 11 | Clement Desalle | 14-7 |
| 12 | Arnaud Tonus | 7-12 |
| 13 | Tanel Leok | 8-9 |
| 14 | Shaun Simpson | 9-8 |
| 15 | Harris Kullas | 4-4 |
MXGP Points Standings
| | | |
| --- | --- | --- |
| 1 | Tim Gajser | 234 |
| 2 | Antonio Cairoli | 220 |
| 3 | Gautier Paulin | 192 |
| 4 | Jeremy Van Horebeek | 182 |
| 5 | Evgeny Bobryshev | 176 |
MX2 Overall
| | | |
| --- | --- | --- |
| 1 | Pauls Jonass | 25-25 |
| 2 | Jeremy Seewer | 18-22 |
| 3 | Brent Van doninck | 16-20 |
| 4 | Thomas Kjer Olsen | 12-18 |
| 5 | Calvin Vlaanderen | 15-14 |
| 6 | Hunter Lawrence | 11-16 |
| 7 | Benoit Paturel | 14-12 |
| 8 | Petar Petrov | 9-13 |
| 9 | Julien Lieber | 22-0 |
| 10 | Thomas Covington | 20-0 |
| 11 | Alvin Ostlund | 10-8 |
| 12 | Darian Sanayei | 6-10 |
| 13 | Brian Hsu | 0-15 |
| 14 | Brian Bogers | 2-11 |
| 15 | Vsevolod Brylyakov | 13-0 |
MX2 Points Standings
| | | |
| --- | --- | --- |
| 1 | Palus Jonass | 242 |
| 2 | Jeremy Seewer | 223 |
| 3 | Julien Lieber | 197 |
| 4 | Thomas Kjer Olsen | 188 |
| 5 | Benoit Paturel | 173 |