Cairoli, Prado Victorious at MXGP of Trentino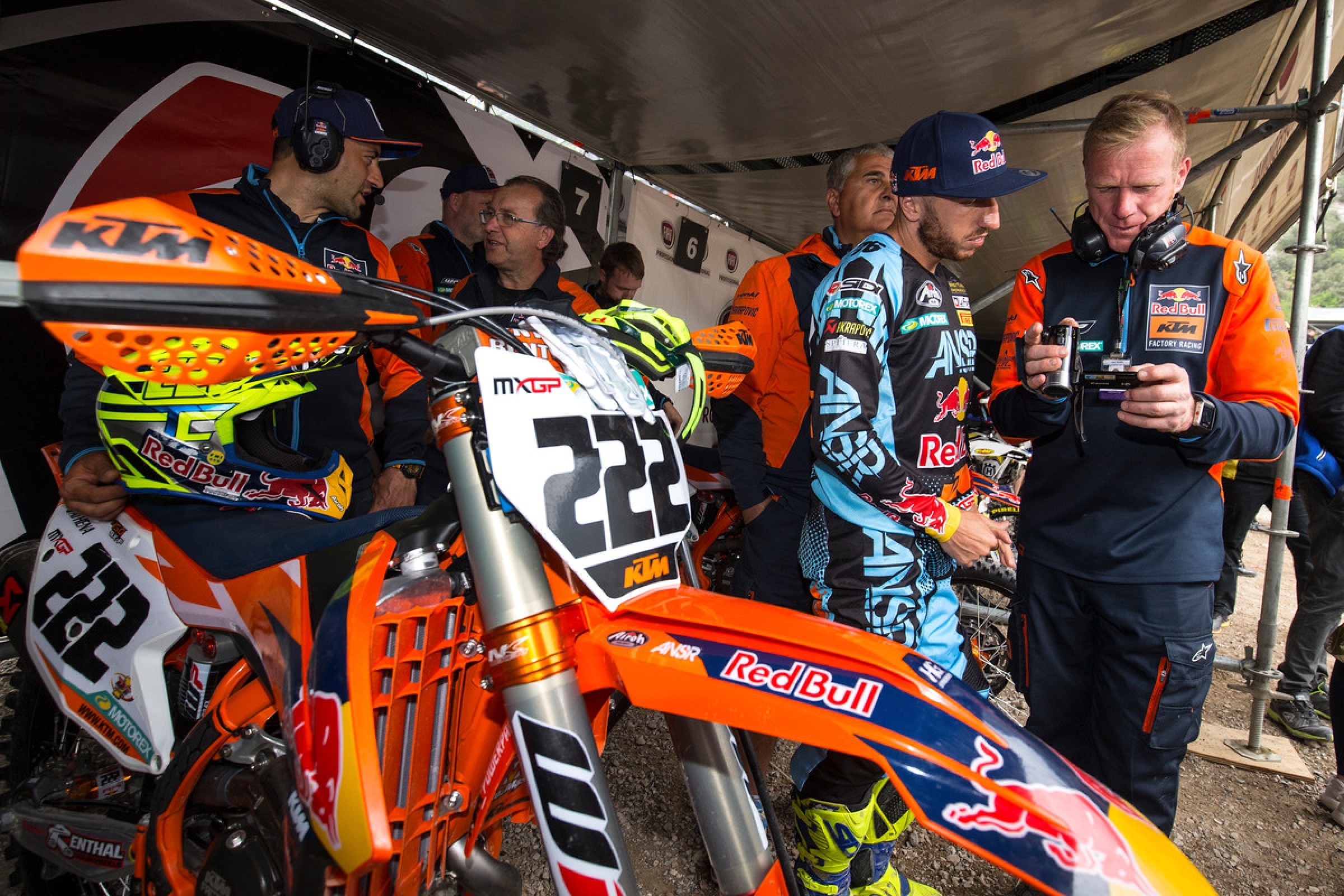 Trentino, Italy
MXGP of Trentino
FIM Motocross World Championship
Eight-time world champion Antonio Cairoli outlasted defending world champion Tim Gajser today at Round 5 of the FIM World Motocross Championship at the MXGP of Trentino to claim the overall behind a first moto victory.
Gajser, who won the second moto, still controls the points lead, as he holds a 19-point advantage over Cairoli just five rounds into the championship.
In MX2, Spanish teen Jorge Prado Garcia claimed his first career overall with 2-1 moto scores. Points leader Pauls Jonass took second in front of Julien Lieber. American Thomas Covington finished fifth overall thanks in part to a podium in the second moto.
We'll have complete coverage from Italy later.
MXGP Overall
| | | |
| --- | --- | --- |
| 1 | Antonio Cairoli | 25-22 |
| 2 | Tim Gajser | 20-25 |
| 3 | Arnaud Tonus | 22-14 |
| 4 | Evgeny Bobryshev | 14-20 |
| 5 | Gautier Paulin | 14-20 |
| 6 | Clement Desalle | 16-16 |
| 7 | Jeremy Van Horebeek | 15-13 |
| 8 | Jeffrey Herlings | 7-18 |
| 9 | Max Nagl | 10-12 |
| 10 | Arminas Jasikonis | 9-10 |
MXGP Points Standings
| | | |
| --- | --- | --- |
| 1 | Tim Gajser | 201 |
| 2 | Antonio Cairoli | 182 |
| 3 | Clement Desalle | 151 |
| 4 | Evgeny Bobryshev | 145 |
| 5 | Gautier Paulin | 145 |
MX2 Overall
| | | |
| --- | --- | --- |
| 1 | Jorge Prado Garcia | 22-25 |
| 2 | Pauls Jonass | 25-22 |
| 3 | Julien Lieber | 20-16 |
| 4 | Thomas Kjer Olsen | 16-15 |
| 5 | Thomas Covington | 10-20 |
| 6 | Jeremy Seewer | 12-18 |
| 7 | Vsevolod Brylyakov | 18-11 |
| 8 | Brent Van doninck | 9-12 |
| 9 | Brian Bogers | 2-14 |
| 10 | Conrad Mewse | 11-5 |
MX2 Points Standings
| | | |
| --- | --- | --- |
| 1 | Pauls Jonass | 192 |
| 2 | Jeremy Seewer | 183 |
| 3 | Julien Lieber | 175 |
| 4 | Thomas Kjer Olsen | 158 |
| 5 | Benoit Paturel | 147 |