Kylie Fasnacht Sweeps Round 3 of the WMX Championship
PALA, Calif. - Pala, California was the battleground for Round 3 of the Onsia Sound Art Women's Motocross Championship (WMX) this past weekend, April 9, and it was Kawasaki's Kylie Fasnacht who won both motos in come-from-behind performances.
JM Racing's-backed Brandy Richards led the charge in Moto 1, taking the MyLucasOil.com holeshot and holding onto the lead for a couple laps. A small miscue by Richards was enough to let BLK RDR/Motovan.com/KTM-supported Eve Brodeur take over the lead. Richards was back up and in hot pursuit of Brodeur when Fasnacht started to make up ground from her mediocre start. Richards hit the dirt once again, allowing Fasnacht to be on the heels of the Canadian rider Brodeur. The track was tight so Fasnacht had to be patient and pick the right spot to pass Brodeur—eating a lot of Pala roost along the way. Fasnacht took the win, Brodeur was second, and Richards remounted to capture third. Lauren Woods finished fourth followed by Amanda Brown and Brittany Gagne.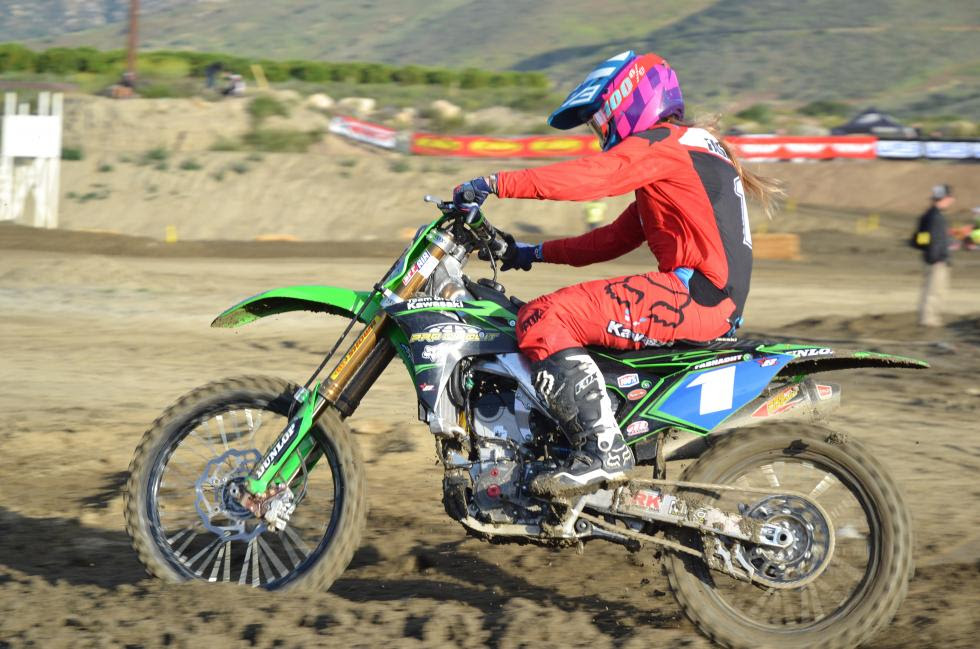 Moto 2 looked like a repeat of Moto 1 with Richards once again barely grabbing the holeshot over Woods with Fasnacht close behind. Richards was on a mission and determined to take the win, stretching out the lead over Fasnacht who was now in second. Brodeur was holding down third and battled the rest of the Moto with Jamie Astudillo. On lap three, and with a solid lead over Fasnacht, Richards' bike malfunctioned ultimately taking her out of the race where she handed the lead over to Fasnacht. Brodeur and Astudillo went at it for the rest of the moto putting on a great show for the fans. When the checkered flag waved it was Fasnacht, Brodeur, and Astudillo—which is how the final moto scoring for the event ended up. Carrie Killebrew finished fourth followed by Gagne and Brown.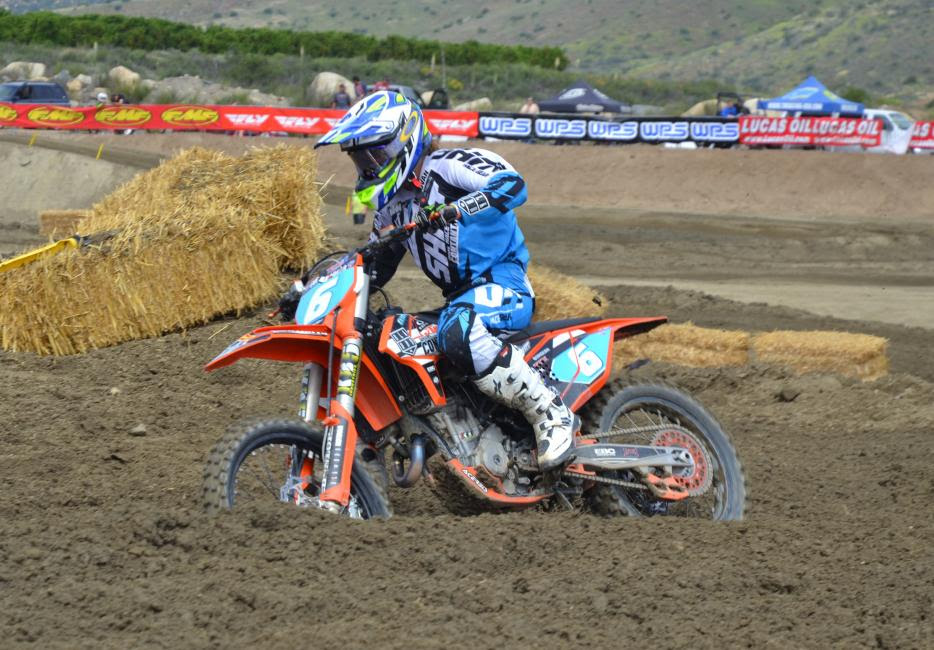 Brodeur was excited to post the second place—her best results to date. "I've been working really hard to improve my results from round to round and I'm pretty pumped on getting a second place position today! It's my best finish ever so I'm really excited about it. It's motivating to know that all the hard work I put in over the winter is finally paying off. I will continue to work hard to make it happen again!"
Round 4 of the Onsia WMX will take place Sunday, May 7, as part of the Amsoil Arenacross Final—held inside the Orleans Arena in Las Vegas.
For more information, please visit the official website at ww.racewmx.com or call (304) 284-0101. Also, follow the official Facebook, Twitter and Instagram accounts for exclusive content and to catch the latest news.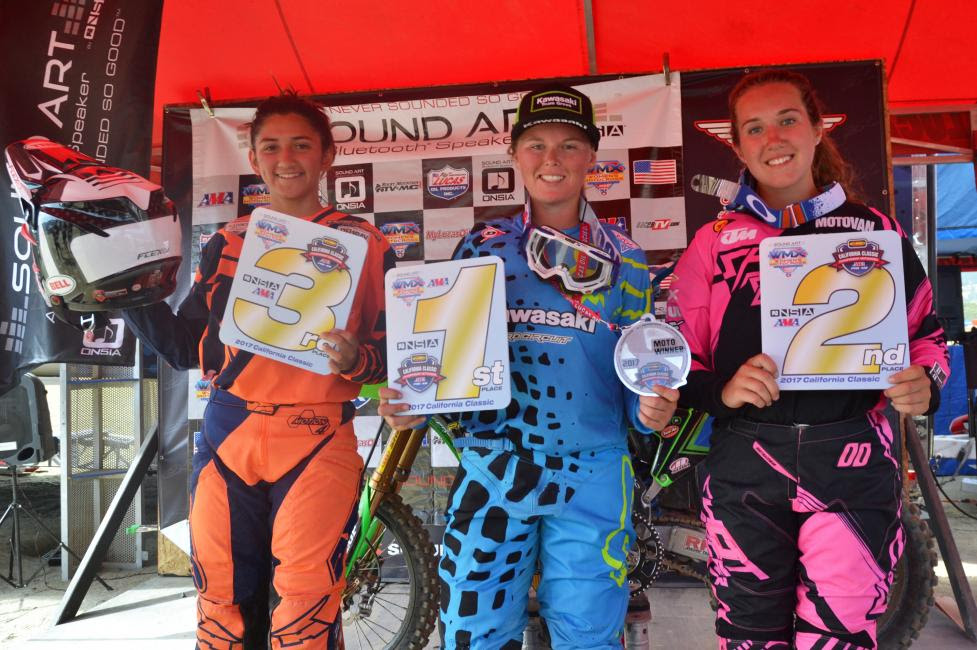 ---
Event Results:
Kylie Fasnacht (KAW) 1-1
Eve Brodeur (KTM) 2-2
Jamie Astudillo (KTM) 8-3
Brittany Gagne (YAM) 6-5
Amanda Brown (HON) 5-6
Lauren Woods (YAM) 4-7
Carrie Killebrew (KAW) 9-4
Amber Felicio (HON) 7-9
Brandy Richards (YAM) 3-13
Mikayla Inman (KTM) 10-8
Series Points Standings:
Kylie Fasnacht (133)
Jamie Astudillo (109)
Eve Broduer (103)
Hannah Hodges (94)
Amanda Brown (85)
Shelby Rolen (70)
Mikayla Inman (65)
Brandy Richards (60)
Brittany Gagnes (59)
Carter Daughtrey (57)
---
IN THEIR OWN WORDS
Kylie Fasnacht #1 - First Overall
In my first moto, I came off with like a fifth place start and I knew I didn't belong back there, so I just put my head down and started picking them off one-by-one. I caught up to Eve and Brandy and was behind them for a little bit. Unfortunately, Brandy went down and left the track open for Eve, so I played it smart as the track was tight in some spots. I tried not to stay super close but couldn't pull a move as I was right on her eating all her roost and kept making mistakes. I eventually saw chance to pass and pulled the trigger, put it on cruise control and rode safely to the checkers. In the second moto I got off to a little better start and was able to move into second place in the second turn behind Brandy. I fell off her pace as she was riding really good those first couple laps. I was able to make up some ground and catch her then her bike starting bogging and making weird noises. She pulled off so the lead was mine and I rode a safe, smart race until the end.
Eve Brodeur #6 - Second Overall
In race one I got a third place start and quickly moved up to second, and tried to apply pressure to the leader. I ended up leading for a few laps and settled for second behind Kylie. Race two, I was in fourth off the start and quickly made the pass for third. After Brandy pulled out, I was in a battle for second with Jamie for most of the race and eventually pulled a little bit of a gap on the last two laps. A pair of seconds and second overall makes for my best results so far, so I'm pretty excited.
Jamie Astudillo #469 - Third Overall
This California Classic was a bit of a struggle. I felt like I was riding pretty good, just didn't get the best of starts and it was one tough track to pass on. First moto got out to a fifth place start and got into fourth and just stayed there the rest of the race. Second moto kind of happened the same way, off to a decent start. I got into fourth and then by the second lap I got into third. Battled it out for second most of the race but couldn't make it happen. I'm happy getting out with third overall.
Brandy Richards #19 - Ninth Overall
My first moto wasn't too bad, I got the holeshot and led a couple laps and ended up going down twice but luckily I made it back up to third. My second moto was going really good, I got the holeshot again, was leading and building a good gap until the fuel pump in my bike went out and I was unable to finish the race.