Chris Blose Perfect in Sacramento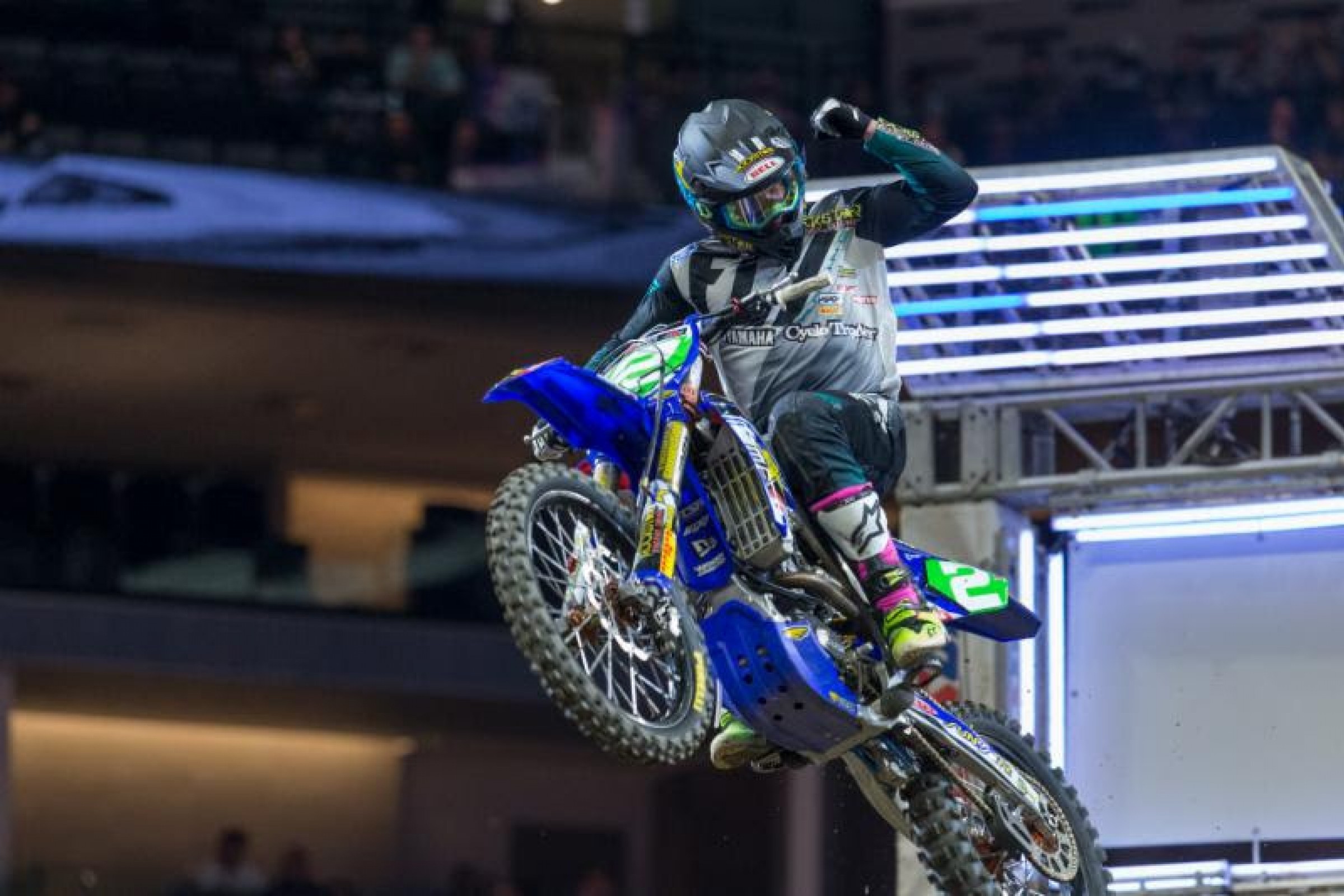 SACRAMENTO, Calif. - The fourth round of AMSOIL Arenacross' Race to the Ricky Carmichael Cup continued the championship's west coast swing from the new, state-of-the-art Golden 1 Center on Saturday night. Following his most dominant outing of the entire 2017 season, Rockstar Energy/OTSFF/Yamaha, , in association with Cycle Trader and Rock River, rider Chris Blose earned his first overall victory in the Race to the Ricky Carmichael Cup with a perfect night of maximum points. In the Western Regional AX Lites Class, DrivenMX Racing KTM's Jared Lesher took his second Main Event win of the season.
Blose's path to victory started prior to the 250AX Class Main Events with a triumphant effort in the RMATV/MC Head 2 Head Challenge over Team Babbitt's/Monster Energy/AMSOIL Kawasaki, presented by AP Design, rider Gavin Faith, the championship leader. With his win, Blose earned an additional bonus point in the Race to the Ricky Carmichael Cup. In the first of two 250AX Class Main Events, Blose put his Yamaha out front immediately, with Faith and Team TiLUBE/Jack's Links/TUF Racing Honda's Jace Owen in tow. The top three riders in the championship standings were able to keep pace with one another in the early laps, which allowed them to break away from the field.
Blose established a margin of just under a second over Faith, and the two would trade fast laps throughout the 15-lap Main Event. Faith would gain a bike length on Blose and appeared poised to make a challenge for the lead, but Blose would respond on the ensuing lap and reestablish his comfortable gap. This seesaw battle continued until the final few laps when Faith got to within a half-second of Blose. The defending AMSOIL Arenacross Champion ultimately didn't have enough momentum to make a serious bid for the lead and Blose took the opening Main Event win by four-tenths of a second over Faith. Owen followed with a solid third-place finish, with Team Babbitt's/GPF/Monster Energy Kawasaki/MMCR's Jacob Williamson in fourth and Team TiLUBE/Jack's Links/TUF Racing Honda's Ben Lamay in fifth.
When the field stormed out of the gate to start the second 250AX Class Main Event, Owen and Blose battled side-by-side for the lead on the opening lap. Blose edged out front to take the lead, while Faith was able to sneak by Owen and take over second, ultimately duplicating the starting order from the first Main Event.
This time Blose upped the pace and moved out for a comfortable lead of over a second on Faith, who settled into the spot with another second separating he and Owen in third. While Faith would at times inch closer to Blose, the Yamaha rider was in full control of the race and had his sights set on victory.
Blose capped off his dominant night with a sweep of the Main Events, taking the checkered flag two seconds ahead of Faith. Owen rode to another strong third-place performance, with his teammate Lamay in fourth and Woodstock KTM's Daniel Herrlein in fifth.
The overall podium classification was as orderly as it comes, with Blose (1-1), Faith (2-2) and Owen (3-3) posting identical finishes. Lamay landed fourth overall (5-4), while Williamson rounded out the top five (4-7).
Blose became the third different winner in the Race to the Ricky Carmichael Cup, joining Faith and Owen. Faith remains the championship leader with his runner-up effort, and now holds an eight-point lead over Blose, who surpassed Owen in the standings thanks to scoring the maximum number of points. Owen is just nine points out of the lead in third.
The Western Regional AX Lites Class Main Event got underway with Sportland 2/TZR/Kawasaki Team Green's Scott Zont out front early ahead of Lesher, but Lesher seized control of the lead on the opening lap and proceeded to control the Main Event from there on out. Behind him, Zont faced heavy pressure from championship leader Hunter Sayles, who put his Woodstock KTM into second on Lap 2. The battle for the podium continued for Zont just a couple laps later when Team Babbitt's/GPF/Monster Energy Kawasaki/MMCR's Jacob Williamson fought his way into third on Lap 5 after starting fifth.
Lesher continued to lead and was able to maintain a multiple-second advantage throughout the 15-lap Main Event. Williamson continued his charge forward and engaged in a battle with Sayles for second with just a handful of laps remaining. Williamson successfully made the pass on Lap 10. Lesher went on to take the win 2.2 seconds ahead of Williamson, while Sayles soldiered home to third, just ahead of his championship rival, Team Babbitt's/GPF/Monster Energy Kawasaki/MMCR rider Ryan Breece.
Sayles' slim margin over Breece in the Western Regional Championship standings sits at just two points with two rounds of racing remaining. Lesher's win helped him gain valuable ground on both riders in third, now just five points out of the lead, setting the stage for a thrilling three-rider battle to the finish.
250AX Class Results - Main Event 1
1. Chris Blose, Phoenix, Yamaha
2. Gavin Faith, Fort Dodge, Iowa, Kawasaki
3. Jace Owen, Matoon, Ill., Honda
4. Jacob Williamson, Swartz Creek, Mich., Kawasaki
5. Ben Lamay, Forney, Texas, Honda
6. Jared Lesher, Ball Ground, Ga., KTM
7. Gared Steinke, Woodland, Calif., Kawasaki
8. Daniel Herrlein, Bethesda, Ohio, KTM
9. Cody VanBuskirk, Harvard, Ill., KTM
10. Josh Osby, Valparaiso, Ind., Kawasaki
250AX Class Results - Main Event 2
1. Chris Blose, Phoenix, Yamaha
2. Gavin Faith, Fort Dodge, Iowa, Kawasaki
3. Jace Owen, Matoon, Ill., Honda
4. Ben Lamay, Forney, Texas, Honda
5. Daniel Herrlein, Bethesda, Ohio, KTM
6. Travis Sewell, Westville, Ind., Kawasaki
7. Jacob Williamson, Swartz Creek, Mich., Kawasaki
8. Josh Osby, Valparaiso, Ind., Kawasaki
9. Cody VanBuskirk, Harvard, Ill., KTM
10. Jared Lesher, Ball Ground, Ga., KTM
250AX Class Overall Results (Main Event Results)
1. Chris Blose, Phoenix, Yamaha (1-1)
2. Gavin Faith, Fort Dodge, Iowa, Kawasaki (2-2)
3. Jace Owen, Matoon, Ill., Honda (3-3)
4. Ben Lamay, Forney, Texas, Honda (5-4)
5. Jacob Williamson, Swartz Creek, Mich., Kawasaki (4-7)
6. Daniel Herrlein, Bethesda, Ohio, KTM (8-5)
7. Jared Lesher, Ball Ground, Ga., KTM (6-10)
8. Gared Steinke, Woodland, Calif., Kawasaki (7-11)
9. Travis Sewell, Westville, Ind., Kawasaki (12-6)
10. Josh Osby, Valparaiso, Ind., Kawasaki (10-8)
RMATV/MC Head 2 Head Challenge Results (Bonus Points)
1. Chris Blose, Phoenix, Yamaha (2 points)
2. Gavin Faith, Fort Dodge, Iowa, Kawasaki (1 point)
3. Jacob Williamson, Swartz Creek, Mich., Kawasaki (1 point)
4. Jace Owen, Matoon, Ill., Honda (1 point)
5. Ben Lamay, Forney, Texas, Honda (1 point)
6. Travis Sewell, Westville, Ind., Kawasaki (1 point)
7. Gared Steinke, Woodland, Calif., Kawasaki (1 point)
8. Jared Lesher, Ball Ground, Ga., KTM (1 point)
Western Regional AX Lites Class Results
1. Jared Lesher, Ball Ground, Ga., KTM
2. Jacob Williamson, Swartz Creek, Mich., Kawasaki
3. Hunter Sayles, Merrill, Wis., KTM
4. Ryan Breece, Athol, Idaho, Kawasaki
5. Scott Zont, Algonquin, Ill., Kawasaki
6. Connor Pearson, El Dorado, Calif., KTM
7. Richard Jackson, Holdenville, Okla., KTM
8. Robbie Wageman, Newhall, Calif., Yamaha
9. Deegan Vonlossberg, Palmdale, Calif., Yamaha
10. Chance Blackburn, Newman Lake, Wash., KTM
Race to the Championship Standings
1. Gavin Faith, Fort Dodge, Iowa, Kawasaki - 135 (8 Main Event Wins)
2. Chris Blose, Phoenix, Yamaha - 127 (3 Main Event Win)
3. Jace Owen, Matoon, Ill., Honda - 126 (15 Main Event Wins)
4. Daniel Herrlein, Bethesda, Ohio, KTM - 101 (1 Main Event Win)
5. Gared Steinke, Woodland, Calif., Kawasaki - 96
6. Travis Sewell, Westville, Ind., Kawasaki - 76 (1 Main Event Win)
7. Cody VanBuskirk, Harvard, Ill., KTM - 74
8. Ben Lamay, Forney, Texas, Honda - 48 (1 Main Event Win)
9. Matt Goerke, Lake Helen, Florida, Yamaha - 40 (1 Main Event Win)
10. Josh Osby, Valparaiso, Ind., Kawasaki - 37
Western Regional AX Lites Class Championship Standings
1. Hunter Sayles, Merrill, Wis., KTM - 100
2. Ryan Breece, Athol, Idaho, Kawasaki - 98
3. Jared Lesher, Ball Ground, Ga., KTM - 95
4. Hunter Hilton, Youngsville, La., Husqvarna - 51
5. Jeramy Taylor, Canton, Ohio, KTM - 36
6. Parker Fleming, Quinlan, Texas, Husqvarna - 36
7. Austin Walton, Sparks, Nev., Yamaha - 34
8. Connor Pearson, El Dorado, Calif., KTM - 32
9. Robbie Wageman, Newhall, Calif., Yamaha - 32
10. Kinser Endicott, Red Bluff, Calif., Yamaha - 26