Cade Autenrieth To Fill-In For Phil Nicoletti at JGR Suzuki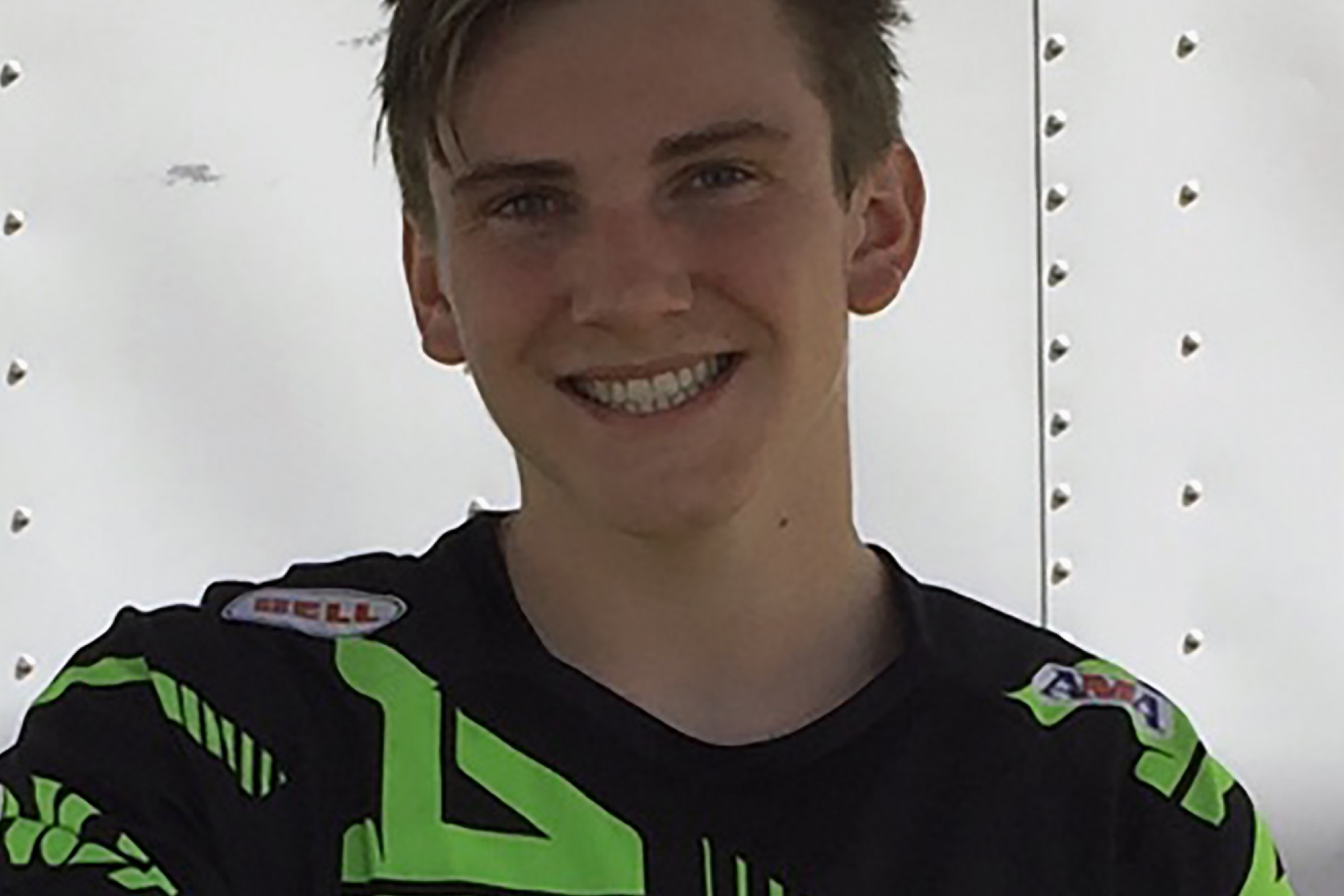 Seattle, WA
Seattle
Monster Energy AMA Supercross Championship
AutoTrader.com/JGR Suzuki has already gone through three fill-in riders in the 450 and 250 class in Monster Energy Supercross, and they will add another one when the 250SX West Region returns in Seattle next week, as current rider Phil Nicoletti continues to recover from a dislocated ankle, shattered heel, and fracture to his lower fibula.
The team has settled on the relatively unknown Cade Autenrieth, who turns 17 today (Thursday) to fill-in for Nicoletti. Autenrieth hails from Hemet, California, and currently trains with ex-arenacross champion Buddy Antunez, who works with current JGR 450SX rider Weston Peick.
"It's like the ultimate birthday dream [laughter]. I still can't believe that this opportunity has actually happened," Autenrieth said in a JGR team statement. "I plan on taking advantage of the chance to ride a factory bike."
Seattle will mark the first career 250SX race for Autenrieth, who got his pro license through the Ricky Carmichael Road to Supercross. At last year's Rocky Mountain ATV/MC AMA Amateur National Motocross Championship at Loretta Lynn's, the teenager finished fifth overall in Schoolboy 2 B/C and 17th in 250 B.
"It's exciting to give this kind of opportunity with equipment of this caliber to a young deserving racer like Cade," said Jeremy Albrecht, team manager of JGR Suzuki.
JGR provided an interview with Autenrieth, which you can read below.
To begin, how did the JGRMX Suzuki opportunity come together?
We had just showed up at a race in Turlock for a Mammoth Mountain qualifier, and Buddy [Antunez] called and said that I might have an opportunity to ride the last three 250SX West rounds for JGRMX. I hoped for the best. JGRMX set me up with a test in California at the Suzuki supercross track south of Corona last week. Then, on Tuesday, I received the call from Jeremy Albrecht [JGRMX team manager] that JGRMX decided to pick me for the spot. It didn't seem real.
Jeremy Albrecht was impressed how you improved in every practice session. Was it difficult adapting to the RM-Z250?
I realized immediately that the Suzuki RM-Z250 was quite a bit different from what I was used to riding. As the day went on I found a lot more comfort with the bike. What I really noticed was how the Suzuki turns really well. I could lean the bike over and trust that it would stay right where I wanted it. I rode a practice bike, and the suspension was a bit soft for me, so I'm excited to get on the race bike and see what I can do.
Did you have any plans to race the final three 250 West Supercross rounds before JGRMX called?
No, I did not. I was planning on racing the 250 Nationals my first year pro. Obviously I'm excited about the opportunity. I've never ridden for a team before. Some people might think that I feel a lot of pressure to perform, but honestly it's more a feeling of excitement.
It's a bit serendipitous that the world is finding out that you are the newest edition to the JGRMX 250 factory Suzuki program today, which just so happens to be your 17th birthday, don't you think?
It's like the ultimate birthday dream [laughter]. I still can't believe that this opportunity has actually happened. I plan on taking advantage of the chance to ride a factory bike.
Can you provide a brief overview of how you started out in the sport of motocross?
I'm from Hemet, California. I started riding when I was five years old, but never did any amateur races. Then, once I got on a 85, I began racing locally. After that I decided to race some amateur nationals. My first one was at Mammoth, and from there I went to all of the major events. About that time I started working with Buddy Antunez. That was five years ago. The whole time I dedicated myself to motocross in the hope that I would one day get a dream ride. Somehow that dream has suddenly become a reality.
Buddy Antunez was hugely successful, especially indoors. What's it like working with a five-time Arenacross champion?
Buddy is awesome to work with. He's always looking for areas where I need to improve on, and that's why I like working with him so much. Buddy has explained different riding situations and how I should react, and he always has an answer for a problem.
There's a big autograph signing the night before the Seattle Supercross at Ride Motorsports. You'll be seated next to riders like Justin Barcia and Jake Weimer, signing autographs and shaking hands with fans. Have you thought about what it will be like in the spotlight?
It's honestly a dream come true. It will be a first for me. I'll have a great time and enjoy every moment. Maybe it will be a little nerve-racking, but it will be good for me. I'm looking forward to see what I can do on a factory JGRMX Suzuki RM-Z250.