Daytona International Speedway
Daytona

,

FL
Daytona
Monster Energy AMA Supercross Championship
1. Who should Zach Osborne be more worried about—Joey Savatgy or Adam Cianciarulo?
Steve Matthes: Well, it should be Adam Cianciarulo because Adam JOKINGLY said on the Pulpmx Show that he sees Zach and the boys cycling on his way to the track and could mow them down at any minute. But seriously, I still like Zach for this title. He got an okay start at Daytona, fell down, almost fell down again, and was still moving forward and trying to pass dudes on a terrible track. He's the total package right now and I can't see him losing this points lead. Now, mentally maybe he folds up, but he's older and working with the right people so I can't see that either. Great to see AC and Savatgy go 1-2 and get close to Wacko in the points chase to make it exciting, but I'm still Team Zach for this title. He was very, very good on Saturday and with a start, would've won. Of course that applies to about four other guys also.
Jason Thomas: Well, I tend to agree with Steve here but he didn't really answer the question. As for who has the momentum and can make this title a real dogfight, I like Adam here. Joey hasn't seemed to fire on all cylinders yet and while he is still second in points, I haven't seen the dynamic speed I expected. Adam, on the other hand, has gotten better and better. He has that elite level speed and when things are clicking, he's always been a winner. His struggle is keeping that progress rolling without the mishap that derails title chances. He is only nine points behind the lead and with one main event, changed his whole outlook on 2017.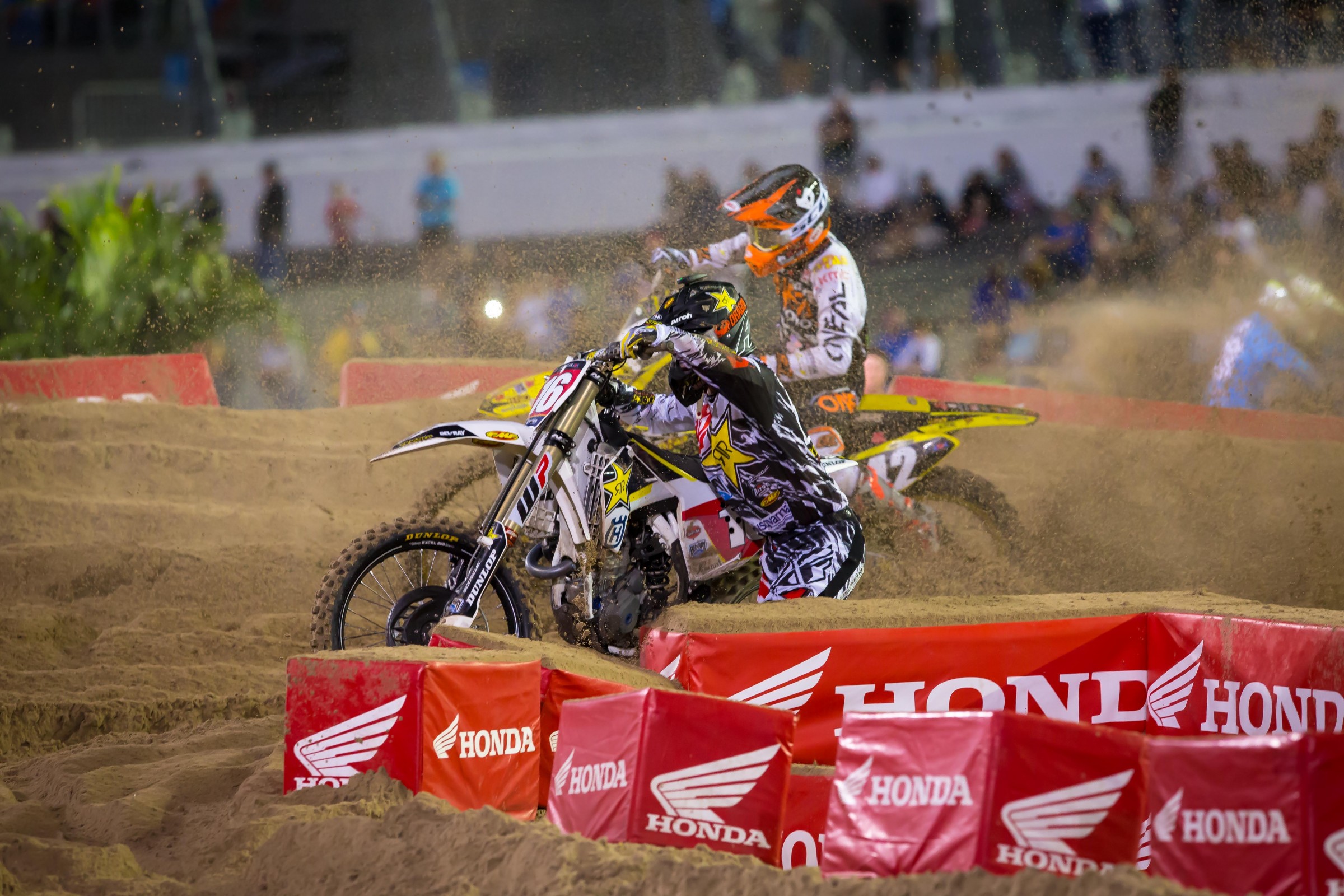 David Pingree: I don't think this championship is over by any stretch of the imagination. Zach should worry about Zach. Joey needs to worry about Joey and Adam would be well-served to focus on Adam. All three of these guys have reason to think they should win this title at this point; Savatgy has the experience, Adam is "Back" and is coming off a confidence-boosting win, and Zach has the points lead and is riding better than he ever has. So, who will win? Waaaaay too early to call. I can't wait for this Saturday night.
---
2. Did Jeremy Martin silence critics?
Matthes: Well, he kind of did. Props to J-Mart for admitting the 250SX West Region hasn't gone very well and he surprised me at Daytona leading laps and finishing second. He's great at Daytona, loves it and I feel like his day could've gone either way really easily. He crashed in the heat, got the last spot into the main in the semi and then pulled a great start from the outside. After that he sprinted away and that was it. J-Mart's Daytona was a fine line between great and an "ehhhh", but he made it great and good for him and Honda. It's just his finish did nothing for me to say, "ah, now he's a great supercross racer." Go ahead and call me a hater.
JT: He rode great and should be very proud of himself. That was a terrific showing. But, Daytona is not really supercross. He is a two-time outdoor champion and Daytona fits that mold more than say, Anaheim. I know he has gotten fairly defensive recently as he's faced some criticism in his supercross career, but it's only because of how excellent his track record has been outdoors. I am certainly not willing to say he isn't good at supercross. That would be silly as he has won races and will win again. I will say that he is better at outdoor racing and Daytona was more a sign of that elite level than it was silencing any supercross doubters. If that had been Indy, I think he would be justly able to rub it in everyone's face, but Daytona is far from Indy.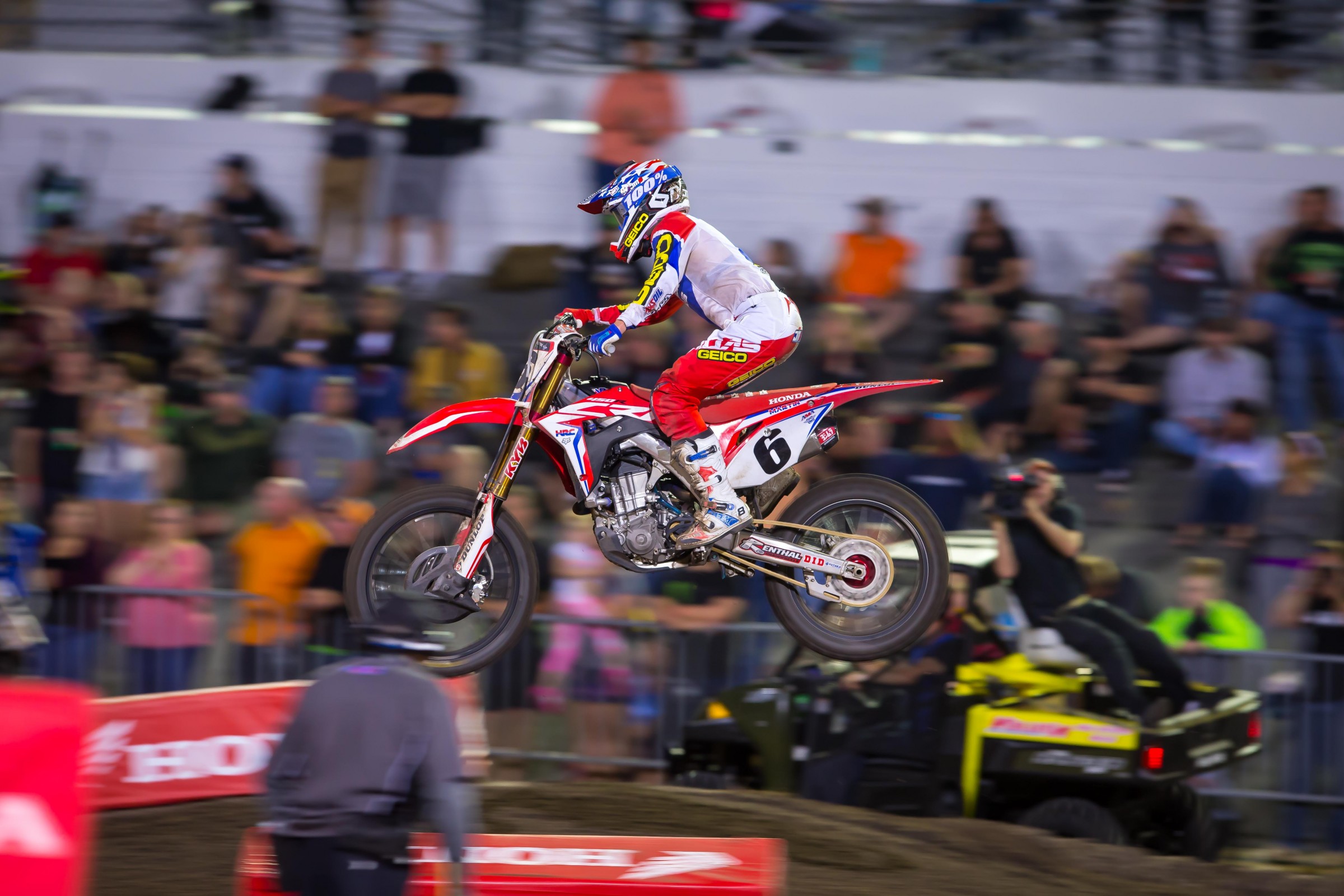 Ping: Jeremy proved one thing in Daytona: He can ride the wheels off a 450. And that one ride will pay dividends when he negotiates a deal to ride the big bike in the coming seasons. However, Daytona is more of a tight motocross track than a supercross circuit. Jeremy is better outdoors, plain and simple. He actually reminds me a lot of Blake Baggett in that regard. Blake was a national champ who always crashed in supercross and just couldn't get the ball rolling inside stadiums. Jeremy can ride supercross; he has lap times at the practice track that are as quick as anybody. He just hasn't been able to turn that into a solid supercross season.
---
3. In a KTM press release following Daytona, Dungey hinted at changing strategy, saying "Next week is a new week and we're looking forward to protecting the points lead and changing up the strategy moving forward." What do you think he means by that?
Matthes: Yeah, I don't know, bro. Dungey hasn't been sticking around the press conferences for me to try and talk to him one on one so not sure I'll be able to ask him this weekend either. Do we know he said that exact thing because these press releases sometimes, uhhhh, make things up? I'm sorry but there's also no Santa Claus, people. To me, a rider can make a choice late in a particular race to preserve some points and not take chances in going after a win or a rider in front of them, but before then I assume that riders on the level of Ryan Dungey are going for it per usual. Right now, Eli Tomac controls his destiny in that if he wins every single race from here on out, he wins the title. I guess that's all you want if you're Tomac and Kawasaki but I highly doubt that's going to happen. So not sure about Dungey's comments. Sorry, bro.
JT: Who knows, man. Strategy is great and all but I am not sure what more he can do that he isn't already doing. When he gets out front, he drops the hammer and usually wins. When Eli gets out front, the same good things happen for Eli. That "protecting the points lead" would be more likely if he had a 30-plus points lead like in previous seasons but with the lead shrinking, I would think the opposite is needed. Dungey has been a bit off of Eli's pace overall so maybe he is willing to push the edge if needed now that the gap has been brought down to 17? Or maybe someone just paraphrased his curse words exiting the track on Saturday night. In any case, he is going to need to beat Eli a few times down the stretch to keep that #1 on his KTM.
Ping: My guess is that he is going to have to start attacking again. Dungey has appeared to play it safe and manage the points lead he had while the season sorted itself out. Historically, Dungey has been able to beat many opponents through consistency and attrition. Unfortunately for him, Eli Tomac never got that memo. With Eli taking a good chunk out of the points gap last weekend it is time for team Dungey to twist the throttle and go after wins with the same do-or-die attitude that Tomac has been. With the points as close as they are, there really aren't any other options if Ryan wants this title.