TCX Announces the X-Helium Boot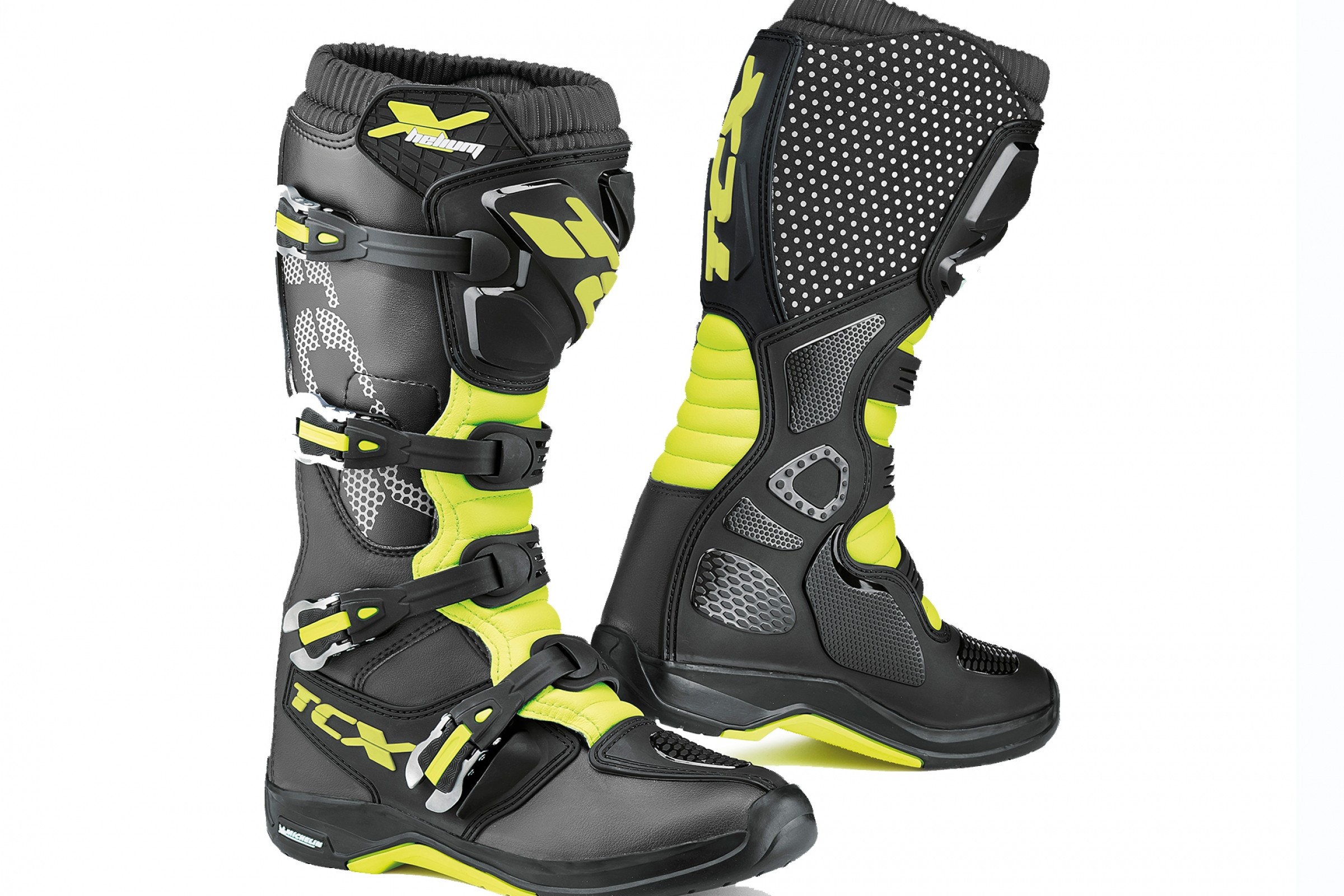 Encinitas, CA - Blending the best technical features of a pure moto boot with the more specialized needs of an enduro rider or a dual-sporter, TCX elevates the off-road arena with the 2017 X-Helium. From the trick top buckle to the bottom of its exclusive Michelin® MX Hybrid sole, the X-Helium lives up to the company's "Focus On Boots" motto. And unlike its predecessor, the X-Helium 2.0 is available in more than just black and white as Fluorescent Yellow joins the colorways.
"Of course we had to add some Italian-style to our proven design," says TCX Research and Development head Marco Poloni. "While we may have made a concession to the style-conscious with the addition of Fluorescent Yellow scheme, it is still the performance that counts. A more fitted toe box, narrower sole, and the breathable Air Tech microfiber padded liners make the X-Helium feel as good as it looks."
To elevate the boot, TCX focused on the best selling 1.1 Pro and upped the spec while keeping the price down. Building on the best features of the earlier Pro model, the X-Helium gets what have been referred to as "the best buckles in the business"—the same ones found on the top-of-the line TCX Comp EVO. The Helium also benefits from the same exclusive Michelin® MX Hybrid sole found on the EVO.
The buckles are ergonomically designed for easier opening, even with gloves on. Micro-adjustability means the boots fit like they were tailor made for each rider. Should anything ever happen, the aluminum buckles are also fully interchangeable.
Heart and soul of any TCX competition boot is their Michelin sole. The "X" benefits from a Michelin MX Hybrid sole specifically designed to combine grip, traction and stability. Michelin's engineers were inspired by their Multiway 3D Tire combining micro-grooves for water evacuation with macro-wipes in the rear for multi-directional traction.
Meanwhile the red portion is made of the same incredibly long-wearing high-durometer material used on the TCX Comp EVO. "My TCX X-Helium dirt boots have taken a year of abuse and keep coming back for more" said RevZilla's Spurgeon Dunbar in naming the TCX X-Helium a 2016 ZLA Awards winner for dirt boots. "They saved me from a broken ankle or foot twice while riding the Tiger off-road. I really like their Michelin sole for off-road riding."
Bottom line: Top-shelf features, mid-point price, and a great sole on the bottom make for the best all-around off-road boot on the market top to bottom. It also represents the best bang for the buck, priced nearly $300 less than the moto-focused Comp EVO at just $289.99. For more information, visit RideTCXBoots.com