Jace Owen Sweeps Night Two in Mississippi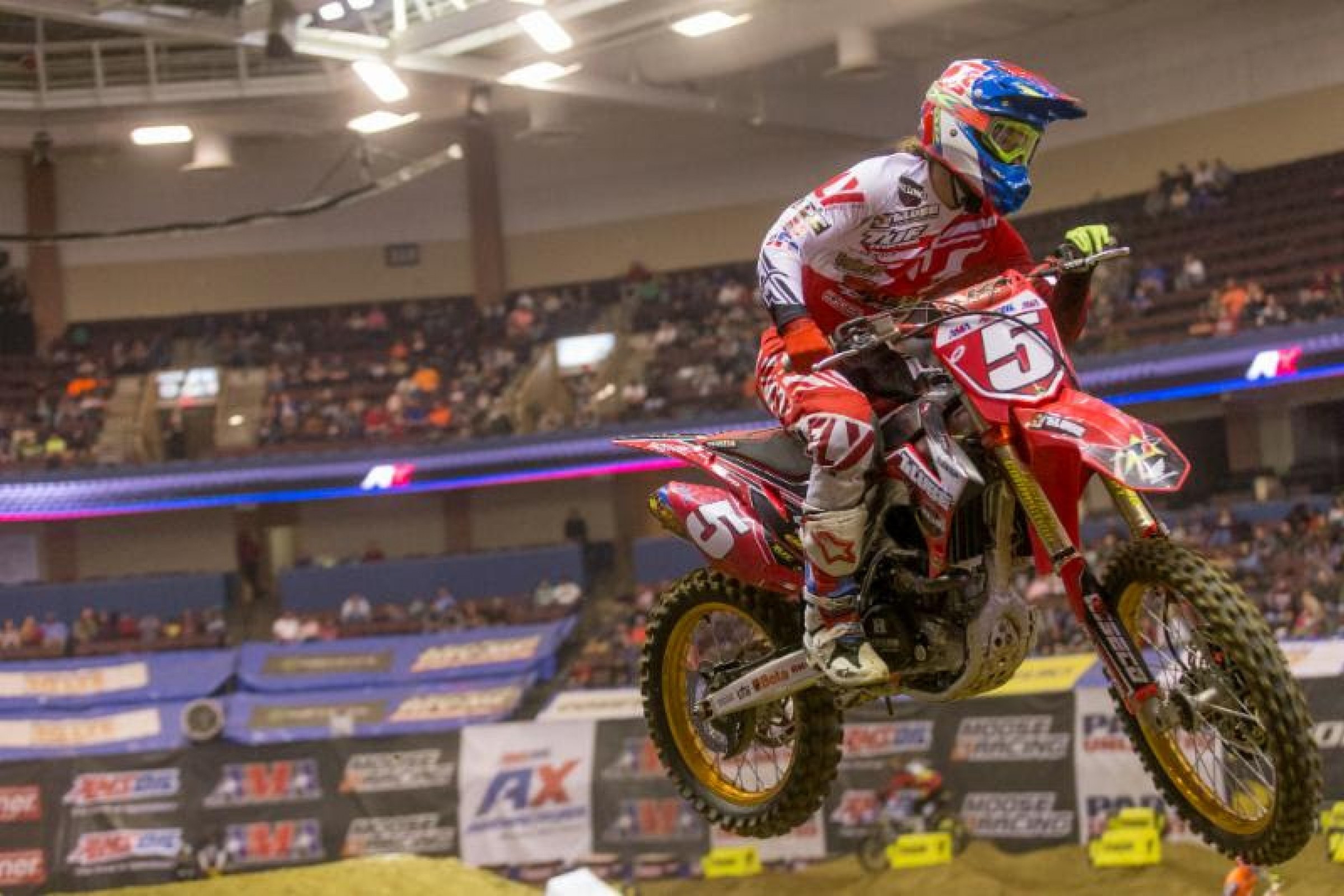 SOUTHAVEN, Miss. - AMSOIL Arenacross closed out its eighth round on Saturday evening with its second night of action inside the Landers Center. Current 250AX Class points leader Jace Owen kept his hot streak alive by sweeping both Main Events for the second straight night to grab his seventh overall victory of the season aboard his TiLUBE/Jack Link's/TUF Racing Honda machine. In the Western Regional AX Lites Class, Woodstock KTM's Hunter Sayles used a come-from-behind effort to score his first career win.
The points-paying action got underway with the RMATV/MC Head 2 Head Challenge, where TiLUBE/Jack Link's/TUF Racing Honda's Ben Lamay matched up against Rockstar Energy/OTSFF/Yamaha, in association with Cycle Trader and Rock River, rider Matt Goerke. A superb ride by Lamay allowed him to fend off the hard-charging Goerke for the win and claim an additional championship bonus point.
When the Main Events got underway, Owen jumped out of the gate to grab the holeshot in the first 250AX Class Main Event, leading Goerke and Sportland 2/TZR/Kawasaki Team Green's Josh Osby on the opening lap. Owen instantly laid down fast laps in an attempt to open a cushion on his fellow competitors, but Goerke gave chase in second and refused to let the Honda rider out of his sights. Defending 250AX Class Champion Gavin Faith powered his Team Babbitt's/Monster Energy/AMSOIL Kawasaki into the third spot on Lap 2. Out front, Owen extended his lead over Goerke and was able to maintain the distance for the majority of the race. Faith kept Goerke within sight the entire race, but was never close enough to make a move. Owen took the checkered flag 1.2 seconds ahead of Goerke, with Faith third, Lamay fourth, and Osby fifth.
Owen put his TiLUBE/Jack Link's/TUF Racing Honda out front yet again to start the final 250AX Class Main Event of the evening, followed closely by Osby and Team Babbitt's/Monster Energy/AMSOIL Kawasaki, presented by AP Design, rider Gared Steinke in third. Osby latched on the rear fender of Owen, applying heavy pressure and keeping the gap at less than a second for the first nine laps. Despite Owen pushing while in the lead, Osby was able to match his lap times until a bobble on Lap 10 allowed Owen to open a small gap. As the leaders approached lapped traffic, Owen used them to his advantage and comfortably navigated the final six laps, eventually taking the checkered flag for a championship-leading 12th Main Event win by 2.1 seconds over Osby. Steinke rode strong the entire 15-laps to hold onto third, with Goerke fourth and his teammate Chris Blose fifth.
Owen's pair of wire-to-wire Main Event wins propelled him to his seventh overall victory in 2017, further extending his lead in the championship standings. Goerke's consistent scores placed him in the runner-up spot on the night (2-4), with Osby scoring a career-best effort in third (5-2), clinching the 10th and final spot in the Race to the Championship and solidifying the 10 riders that will chase this year's Ricky Carmichael Cup.
Owen added 11 points to his lead in the 250AX Class standings, which now sits at 36 points over Faith as the Race to the Championship now sits just two weeks away. Goerke remains third, 42 points out of the lead.
In the third 15-lap Western Regional AX Lites Class Main Event of the season, Honda rider Lane Shaw led the field early, followed by DrivenMX KTM's Jared Lesher and KTM rider Isaac Teasdale in second and third, respectively. Sayles, who started fourth, quickly went to work and found his way past Lesher and Teasdale to take over second. Friday night Main Event winner Ryan Breece found himself battling through the field due to a bad start, and put his Team Babbitt's/GPF/Monster Energy Kawasaki/MMCR into the top five on Lap 6. Sayles successfully took over the lead from Shaw on Lap 10, while Teasdale attempted to follow him into second. As he tried to make the pass, Teasdale and Shaw made contact, sending both riders to the ground just before the start of Lap 11. Sayles capitalized on the leaders' mistakes by gaining control of the lead and claiming his first Main Event win. Lesher rode well to finish second, while Breece used several late race passes to round out the top three.
Sayles, who entered the evening six-points behind Breece in the Western Regional Standings, now trails by just four points following his Main Event win. Following his second place finish, Lesher is just five points out of the lead and remains in the championship hunt.
AMSOIL Arenacross will continue next Saturday, March 11, as it heads to New Orleans for the ninth round of the season inside the Smoothie King Center.
250AX Class Results - Main Event 1
1. Jace Owen, Matoon, Ill., Honda
2. Matt Goerke, Lake Helen, Fla., Yamaha
3. Gavin Faith, Fort Dodge, Iowa, Kawasaki
4. Ben Lamay, Forney, Texas, Honda
5. Josh Osby, Valparaiso, Ind., Kawasaki
6. Gared Steinke, Woodland, Calif., Kawasaki
7. Travis Sewell, Westville, Ind., Kawasaki
8. Jacob Williamson, Swartz Creek, Mich., Kawasaki
9. Daniel Herrlein, Bethesda, Ohio, KTM
10. Cody VanBuskirk, Harvard, Ill., KTM
250AX Class Results - Main Event 2
1. Jace Owen, Matoon, Ill., Honda
2. Josh Osby, Valparaiso, Ind., Kawasaki
3. Gared Steinke, Woodland, Calif., Kawasaki
4. Matt Goerke, Lake Helen, Florida, Yamaha
5. Chris Blose, Phoenix, Yamaha
6. Ben Lamay, Forney, Texas, Honda
7. Travis Sewell, Westville, Ind., Kawasaki
8. Jacob Williamson, Swartz Creek, Mich., Kawasaki
9. Gavin Faith, Fort Dodge, Iowa, Kawasaki
10. Daniel Herrlein, Bethesda, Ohio, KTM
250AX Class Overall Results (Main Event Results)
1. Jace Owen, Matoon, Ill., Honda (1-1)
2. Matt Goerke, Lake Helen, Florida, Yamaha (2-4)
3. Josh Osby, Valparaiso, Ind., Kawasaki (5-2)
4. Gared Steinke, Woodland, Calif., Kawasaki (6-3)
5. Ben Lamay, Forney, Texas, Honda (4-6)
6. Gavin Faith, Fort Dodge, Iowa, Kawasaki (3-9)
7. Travis Sewell, Westville, Ind., Kawasaki (7-7)
8. Chris Blose, Phoenix, Yamaha (12-5)
9. Jacob Williamson, Swartz Creek, Mich., Kawasaki (8-8)
10. Daniel Herrlein, Bethesda, Ohio, KTM (9-10)
RMATV/MC Head 2 Head Challenge Results (Bonus Points)
1. Ben Lamay, Forney, Texas, Honda (2 points)
2. Matt Goerke, Lake Helen, Fla. Yamaha (1 point)
3. Jace Owen, Matoon, Ill., Honda (1 point)
4. Chris Blose, Phoenix, Yamaha (1 point)
5. Gared Steinke, Woodland, Calif., Kawasaki (1 point)
6. Travis Sewell, Westville, Ind., Kawasaki (1 point)
7. Josh Osby, Valparaiso, Ind., Kawasaki (1 point)
8. Daniel Herrlein, Bethesda, Ohio, KTM (1 point)
Western Regional AX Lites Class Results
1. Hunter Sayles, Merrill, Wis., KTM
2. Jared Lesher, Ball Ground, Ga., KTM
3. Ryan Breece, Athol, Idaho, Kawasaki
4. Isaac Teasdale, Robbinsville, N.C., KTM
5. Samuel Redman, Clarksville, Tenn., Kawasaki
6. Nick Schnagl, Stillwater, Minn., Honda
7. Hunter Hilton, Youngsville, La., Husqvarna
8. Parker Fleming, Quinlan, Texas, Husqvarna
9. Jake Mckinney, Hamersville, Ohio, Kawasaki
10. Scott Zont, Algonquin, Ind., Kawasaki
250AX Class Championship Standings
1. Jace Owen, Matoon, Ill., Honda - 319 (12 Main Event Wins)
2. Gavin Faith, Fort Dodge, Iowa, Kawasaki - 283 (5 Main Event Wins)
3. Matt Goerke, Lake Helen, Florida, Yamaha - 277 (1 Main Event Win)
4. Gared Steinke, Woodland, Calif., Kawasaki - 241
5. Chris Blose, Phoenix, Yamaha - 236 (1 Main Event Win)
6. Ben Lamay, Forney, Texas, Honda - 213 (1 Main Event Win)
7. Daniel Herrlein, Bethesda, Ohio, KTM - 208
8. Cody VanBuskirk, Harvard, Ill., KTM - 149
9. Travis Sewell, Westville, Ind., Kawasaki - 144
10. Josh Osby, Valparaiso, Ind., Kawasaki - 109
Western Regional AX Lites Class Championship Standings
1. Ryan Breece, Athol, Idaho, Kawasaki - 45
2. Hunter Sayles, Merrill, Wis., KTM - 41
3. Jared Lesher, Ball Ground, Ga., KTM - 40
4. Dylan Bolinger, Corona, Calif., Yamaha - 22
5. Jeramy Taylor, Canton, Ohio, KTM - 19
6. Hunter Hilton, Youngsville, La., Husqvarna - 19
7. Parker Fleming, Quinlan, Texas, Husqvarna - 14
8. Richard Jackson, Holdenville, Okla., KTM - 6
9. Brandon Marley, McEwen, Tenn., KTM - 4
10. Miles Daniele, Clovis, Calif., KTM - 2
11. Dustin Winter, Clearwater, Kan., Yamaha - 2