Chris Blose Gets First Win of 2017 In Atlanta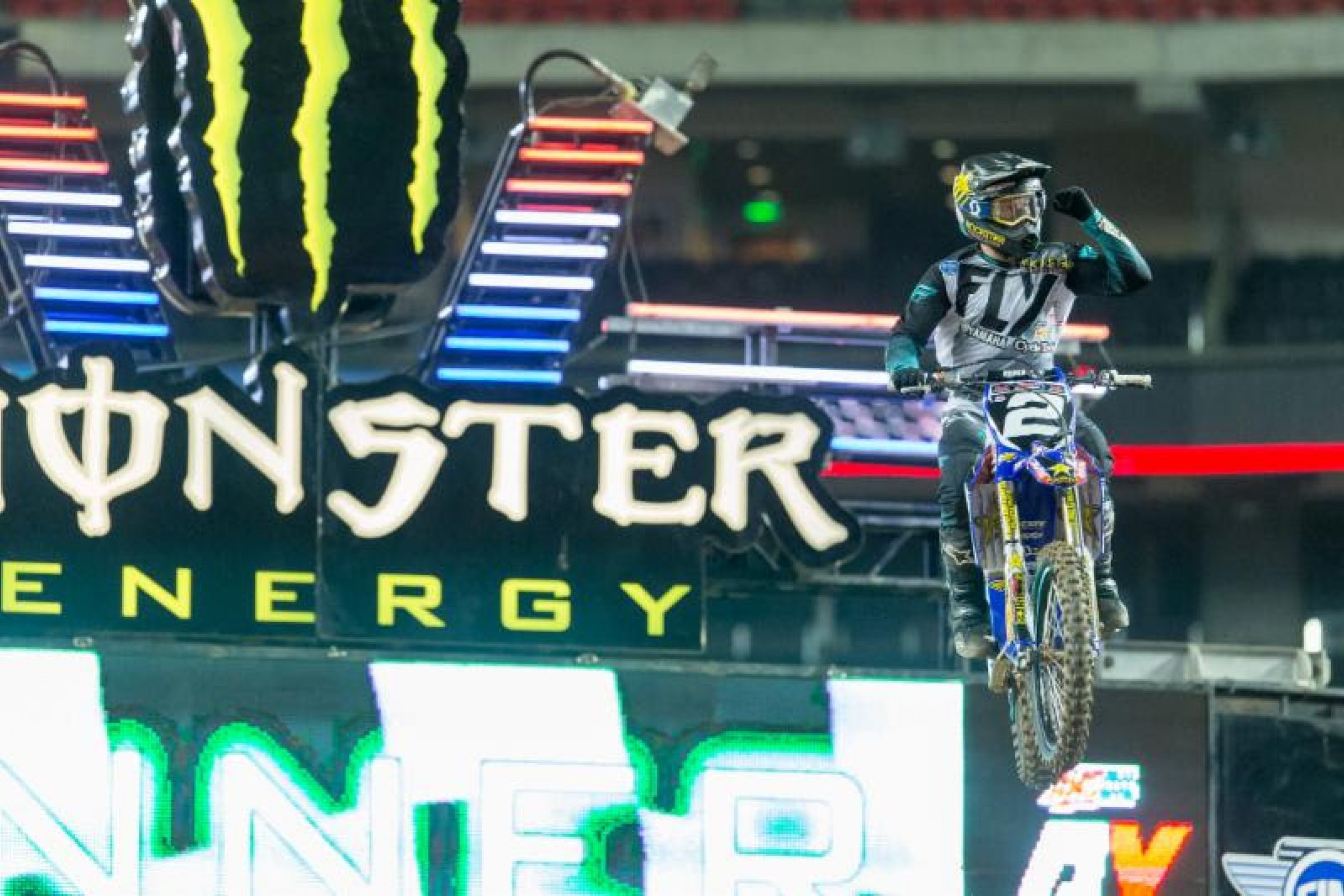 ATLANTA - Arguably the most historic night in AMSOIL Arenacross history took place on Friday as the inaugural MotoFest, The World's Greatest Motocross Festival, officially got underway. For the first time ever AMSOIL Arenacross and Monster Energy AMA Supercross, an FIM World Championship, will compete in the same city, inside the same venue, for an action-packed, history making doubleheader that will also include a full slate of amateur supercross competition.
Friday night's AMSOIL Arenacross action inside the Georgia Dome signified the seventh round of the 2017 season, utilizing approximately three quarters of the track Monster Energy Supercross will compete on Saturday night. In the 250AX Class, Rockstar Energy/OTSFF/Yamaha, in association with Cycle Trader and Rock River, rider Chris Blose broke through for his first overall victory of the season. In the sixth round of the Eastern Regional AX Lites Class, Traders Racing Yamaha's Jayce Pennington took his first career win in a convincing effort.
Prior to the pair of 250AX Class Main Events for the evening Blose faced off against TiLUBE/Jack Link's/TUF Racing Honda's Jace Owen, the championship points leader, in the final of the RMATV/MC Head 2 Head Challenge. Following a heated battle, Blose emerged victorious to earn an additional championship bonus point.
The first 15-lap 250AX Class Main Event saw Team Babbitt's/Monster Energy/AMSOIL Kawasaki, presented by AP Design, rider Gared Steinke grab the holeshot, with Blose in second and Sportland 2/TZR/Kawasaki Team Green's Josh Osby in third. Owen and Rockstar Energy/OTSFF/Yamaha's Matt Goerke battled for fourth.
Blose wasted little time in applying pressure on Steinke for the lead and successfully seized control of the Main Event on Lap 1. On the following lap Goerke broke into podium position by passing Osby for third, bringing Owen along into fourth and Team Babbitt's/Monster Energy/AMSOIL Kawasaki's Gavin Faith, the defending series champion, into fifth. Osby fell to sixth. Goerke's forward progression continued on Lap 4 when he passed Steinke in the whoops to move into second behind his teammate. By this point Blose had opened a gap of nearly three seconds and while Goerke did all he could to erase the deficit, he soon ran out of time.
Blose took his first Main Event win of the season, crossing the line 1.7 seconds ahead of Goerke, which gave the Rockstar Energy/OTSFF/Yamaha team its first ever 1-2 finish. Steinke held on for a solid third-place finish, with Owen fourth and Faith fifth. When the second Main Event got underway it was Owen who took control of the early lead, with Team Babbitt's/Monster Energy/AMSOIL Kawasaki teammates Travis Sewell and Faith not far behind. Both Goerke and Blose were left to fight their way through the field, starting in sixth and seventh, respectively. Owen moved out to a lead of more than a second at the conclusion of the first lap, while Sewell and Faith engaged in a heated battle for second. Behind them, Goerke broke into the top five on Lap 2, with Blose following into sixth. Goerke gained another spot on Lap 3, passing Steinke for fourth. Blose would move into fifth on the following lap.
As the race reached the halfway point, less than a second separated the top three on the track. After a persistent challenge against his teammate, Faith moved into second on Lap 9 with just about a second separating he and Owen. Goerke was able to also pass Sewell and move into third. Goerke was then able to pressure Faith for second, soon moving into the runner-up spot on Lap 12 just prior to the finish line. Blose moved past Sewell for fourth that same lap. Goerke attempted to overcome a gap of just over a second to Owen over the closing laps, but the championship leader secured his eighth Main Event win by a slim margin of 0.12 over Goerke. Faith was third, with Blose fourth and Sewell fifth.
When the overall results were tallied, Blose's (1-4) extra bonus point from the Head 2 Head Challenge gave him a one-point edge over Owen (4-1) and Goerke (2-2), who tied for second, giving Blose his first victory of the season. Faith was fourth (5-3) and Steinke fifth (3-6).
Owen's runner-up effort helped him add to his lead in the 250AX Class standings, which now sits at 20 points over Faith. Goerke maintains control of third, 26 points out of the lead.
The 12-lap Eastern Regional AX Lites Class Main Event saw Pennington grab the early lead over Team Babbitt's/GPF/Monster Energy Kawasaki/MMCR's Ryan Breece and KTM rider Isaac Teasdale. The clear track allowed Pennington to open a gap of over a second by the completion of Lap 1, but Breece immediately started to make a push. The two paced one another for several laps until Breece closed the deficit to under a second on Lap 5. Just one lap later Breece's hopes of victory would come to an end after he crashed in the whoops while trying to chase down Pennington. Breece would lose several positions and fall out of contention, moving Teasdale into second and Yamaha Rock River bLU cRU rider Justin Cooper, the championship points leader, into third.
Breece's misfortune gave Pennington a comfortable lead of nearly four seconds, which would ultimately be all he needed to take home the win. He went unchallenged over the second half of the Main Event to take the checkered flag 4.5 seconds ahead of Teasdale, who firmly maintained control of second. Cooper went on to grab the final spot on the podium in third.
Cooper's podium effort helped extend his lead in the Eastern Regional standings to 18 points over Teasdale, who moved into second. Team Babbitt's/GPF/Monster Energy Kawasaki/MMCR's Jacob Williamson, who finished fourth, is third, 19 points out of the lead.
AMSOIL Arenacross continues with its eighth round of the season next weekend, with two nights of action from Southaven, Mississippi's Landers Center. The first night will kick off at 8 p.m. ET on Friday, March 4, followed by a second night on Saturday, March 5, also beginning at 8 p.m. ET.
250AX Class Results - Main Event 1
1. Chris Blose, Phoenix, Yamaha
2. Matt Goerke, Lake Helen, Fla., Yamaha
3. Gared Steinke, Woodland, Calif., Kawasaki
4. Jace Owen, Matoon, Ill., Honda
5. Gavin Faith, Fort Dodge, Iowa, Kawasaki
6. Ben Lamay, Forney, Texas, Honda
7. Daniel Herrlein, Bethesda, Ohio, KTM
8. Cody VanBuskirk, Harvard, Ill., KTM
9. Isaac Teasdale, Robbinsville, N.C., KTM
10. Ryan Breece, Athol, Idaho, Kawasaki
250AX Class Results - Main Event 2
1. Jace Owen, Matoon, Ill., Honda
2. Matt Goerke, Lake Helen, Florida, Yamaha
3. Gavin Faith, Fort Dodge, Iowa, Kawasaki
4. Chris Blose, Phoenix, Yamaha
5. Travis Sewell, Westville, Ind., Kawasaki
6. Gared Steinke, Woodland, Calif., Kawasaki
7. Daniel Herrlein, Bethesda, Ohio, KTM
8. Ben Lamay, Forney, Texas, Honda
9. Isaac Teasdale, Robbinsville, N.C., KTM
10. Cody VanBuskirk, Harvard, Ill., KTM
250AX Class Overall Results (Main Event Results)
1. Chris Blose, Phoenix, Yamaha (1-4)
2. Jace Owen, Matoon, Ill., Honda (4-1)
3. Matt Goerke, Lake Helen, Florida, Yamaha (2-2)
4. Gavin Faith, Fort Dodge, Iowa, Kawasaki (5-3)
5. Gared Steinke, Woodland, Calif., Kawasaki (3-6)
6. Daniel Herrlein, Bethesda, Ohio, KTM (7-7)
7. Ben Lamay, Forney, Texas, Honda (6-8)
8. Travis Sewell, Westville, Ind., Kawasaki (13-5)
9. Isaac Teasdale, Robbinsville, N.C., KTM (9-9)
10. Cody VanBuskirk, Harvard, Ill., KTM (8-10)
RMATV/MC Head 2 Head Challenge Results (Bonus Points)
1. Chris Blose, Phoenix, Yamaha (2 points)
2. Jace Owen, Matoon, Ill., Honda (1 point)
3. Gavin Faith, Fort Dodge, Iowa, Kawasaki (1 point)
4. Ben Lamay, Forney, Texas, Honda (1 point)
5. Daniel Herrlein, Bethesda, Ohio, KTM (1 point)
6. Jacob Williamson, Swartz Creek, Mich., Kawasaki (1 point)
7. Josh Osby, Valparaiso, Ind., Kawasaki (1 point)
8. Ryan Breece, Athol, Idaho, Kawasaki (1 point)
Eastern Regional AX Lites Class Results
1. Jayce Pennington, Walnut Hill, Ill., Yamaha
2. Isaac Teasdale, Robbinsville, N.C., KTM
3. Justin Cooper, Cold Spring Harbor, N.Y., Yamaha
4. Jacob Williamson, Swartz Creek, Mich., Kawasaki
5. Brandon Gourley, Bonnville, Ind., KTM
6. Dylan Bolinger, Corona, Calif., Yamaha
7. Ryan Breece, Athol, Idaho, Kawasaki
8. Nick Schnagl, Stillwater, Minn., Honda
9. Scott Zont, Algonquin, Ind., Kawasaki
10. Jordan Bailey, Orlando, Fla., Husqvarna
250AX Class Championship Standings
1. Jace Owen, Matoon, Ill., Honda - 252 (8 Main Event Wins)
2. Gavin Faith, Fort Dodge, Iowa, Kawasaki - 232 (5 Main Event Wins)
3. Matt Goerke, Lake Helen, Florida, Yamaha - 226 (1 Main Event Win)
4. Gared Steinke, Woodland, Calif., Kawasaki - 195
5. Chris Blose, Phoenix, Yamaha - 190 (1 Main Event Win)
6. Ben Lamay, Forney, Texas, Honda - 172 (1 Main Event Win)
7. Daniel Herrlein, Bethesda, Ohio, KTM - 162
8. Cody VanBuskirk, Harvard, Ill., KTM - 118
9. Travis Sewell, Westville, Ind., Kawasaki - 98
10. Steven Mages, Sardinia, Ohio, Kawasaki - 89
Eastern Regional AX Lites Class Championship Standings
1. Justin Cooper, Cold Spring Harbor, N.Y., Yamaha - 104 (3 Main Event Wins)
2. Isaac Teasdale, Robbinsville, N.C., KTM - 86
3. Jacob Williamson, Swartz Creek, Mich., Kawasaki - 85 (1 Main Event Win)
4. Heath Harrison, Silverhill, Ala., KTM - 58 (2 Main Event Wins)
5. Brandon Gourley, Boonville, Ind., KTM - 52
6. Scott Zont, Algonquin, Ill., Kawasaki - 48
7. Josiah Hempen, Argyle, Iowa, Yamaha - 31
8. Broc Gourley, Boonville, Ind., Suzuki - 30
9. Jayce Pennington, Walnut Hill, Ill., Yamaha - 28
10. Dylan Greer, Summerfield, Fla., Yamaha - 26