Benny Bloss Sustains Shoulder Injury in Minneapolis [Update]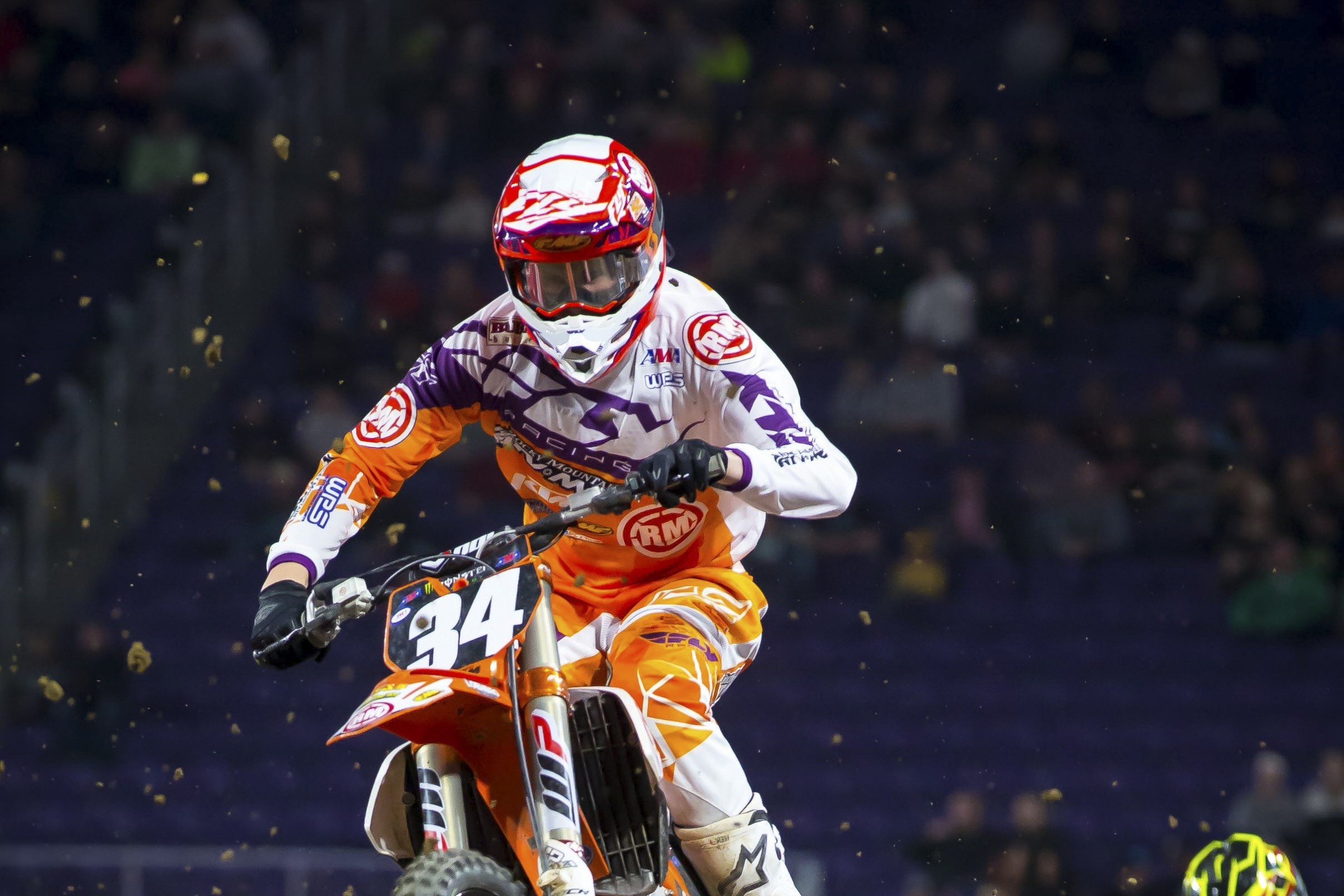 Minneapolis, MN
Minneapolis
Monster Energy AMA Supercross Championship
[Update: Feb. 22]
Rocky Mountain ATV/MC-WPS-KTM's Benny Bloss will miss the remainder of the Monster Energy Supercross 250SX East Region, the team announced today.
After sustaining a dislocated shoulder in a crash at the East Region opener on Saturday, the second-year pro consulted with doctors this week and was found to have a fracture to the top of his humorous bone, and a torn labrum in his shoulder.
The team said that Bloss has decided to undergo surgery in order to be ready for the start of the Lucas Oil Pro Motocross Championship, where he won 450 rookie of the year honors in 2016.
"I was feeling great on the bike, and just taking the race one lap at a time finding my grove," Bloss said in a team statement. "Everyone kept talking all off season about my size on the 250 in SX, and truthfully I have never felt better. Of all places to go down, I got kicked funny in the whoops and rode the front end into a turn and just went down shoulder first. As soon as I hit, I knew it was out. It's a bummer, but I am going to get it fixed right, I am young and have my whole career ahead of me. I can't thank all our team sponsors enough: Rocky Mountain ATV/MC, Factory KTM, Fly Racing, Palmetto Motorsports, Bubba Burger, N-Fab, FMF, the list goes on with our crew and I just can't wait to get back out there and give them some podiums outdoors."
Team owner Forrest Butler added: "Being injured is the black cloud in our sport. We can't control that side of it, and we can't rewind the clock—we can only move forward. Benny, the team and our sponsors have all put in so much work to try and reach the top step in the 250 SX class. The last time our team contested in the 250 class was back in 2010, and we certainly were not a factory team. Benny's factory KTM 250 SX-F was a flat out weapon, and he was riding so well—there is not a doubt in my mind of what he stood to accomplish on that bike with his talents. But, an injury happened and now we will back his decision to get fixed, and come back at it 100 percent ready for the outdoors."
Bloss is the team's only 250 rider. It has yet to be decided if the team will seek a fill-in rider for the remainder of the 250SX East Region.
---
Rocky Mountain ATV/MC-WPS-KTM's Benny Bloss sustained a dislocated shoulder on Saturday night at the 250SX East Region opener in Minneapolis.
The former AMA Horizon Award winner finished just 11 laps of the 19-lap main event on Saturday. The team made the announcement via their Twitter account.
Bloss later wrote on Instagram, "Not the best night of racing but it happens, started feeling really good in the main and ended up crashing at the end of the whoops and dislocating my shoulder. We'll be back, couldn't do it without my whole team @teamrmatvmc."
At this time it's unknown if Bloss will be able to race round two of the championship this weekend in Atlanta. We'll provide an update later this week.