Minneapolis, MN
Minneapolis
Monster Energy AMA Supercross Championship
Epic madness. It sure seemed like we were due for some of it in Minneapolis, and the factors were all there to create what could have been one seriously wild night of racing. Marvin Musquin had just scored his first career win the week before, you knew Eli Tomac was going to try to bounce back after a disastrous night in Arlington, and there was just no way Ryan Dungey was going to lose a race in Minnesota in front of his hometown fans. Everything was in place to create what seemed like an inevitable clash of the sport's two-wheeled titans. Only somebody forgot to fill Tomac in.
For the third time in four races Eli Tomac was incredible, and simply put, the Monster Energy Kawasaki rider was just better than everyone else tonight on a track that most riders found pretty tough.
"This was by far, I think, on par with Oakland for being one of the tougher tracks of the year," Tomac said afterward. "Because of the shorter lap times, we did twenty-four or twenty-five laps, we went around a lot and the lappers were tough. It was a night of survival for sure. In a few of the corners we were getting down to that plywood."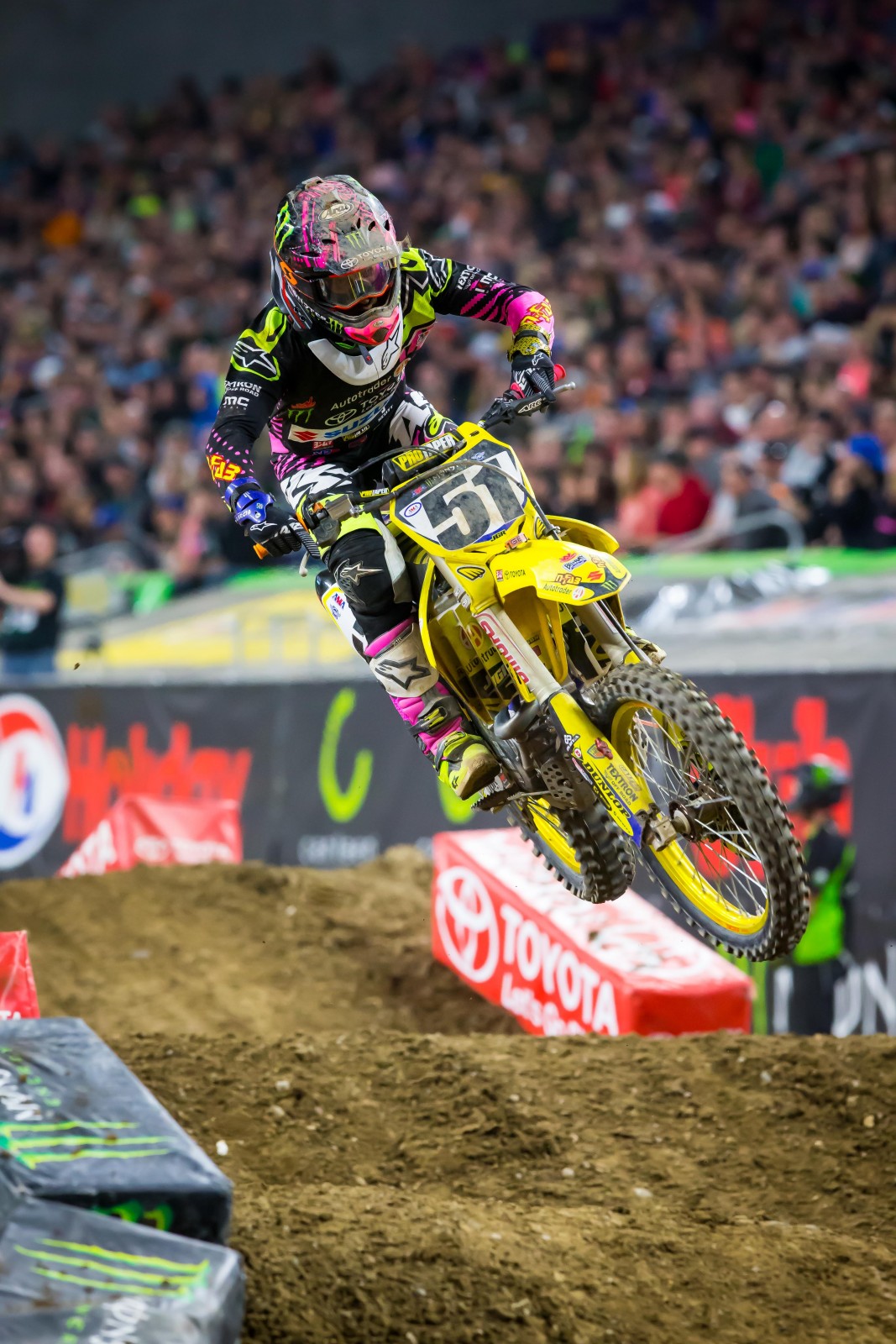 Dungey echoed Tomac's comments in the post-race press conference, saying one of the toughest parts of the track for him was the long rhythm lane that nearly caused him to go down in the main event.
"There was a dragon-back to dragon-back, back-to-back, and the first one had a couple options but what I was doing was jumping off one and landing in the front pocket of the next dragon back and kind of seat bouncing over the top of it," Dungey explained. "I got to the top and I was trying to make up time, I saw Eli [Tomac] getting away and I was trying to keep the pace. You're skimming and barely touching, and you get off the gas and the rear wheel hits the top and the front just dropped. One time you'd get drive off it and the next you'd hit a soft spot. It was a little inconsistent. My nose dropped down and I came close to going over. I was able to jump over the bails and onto the flat and recover. I don't like those moments too much [chuckles]."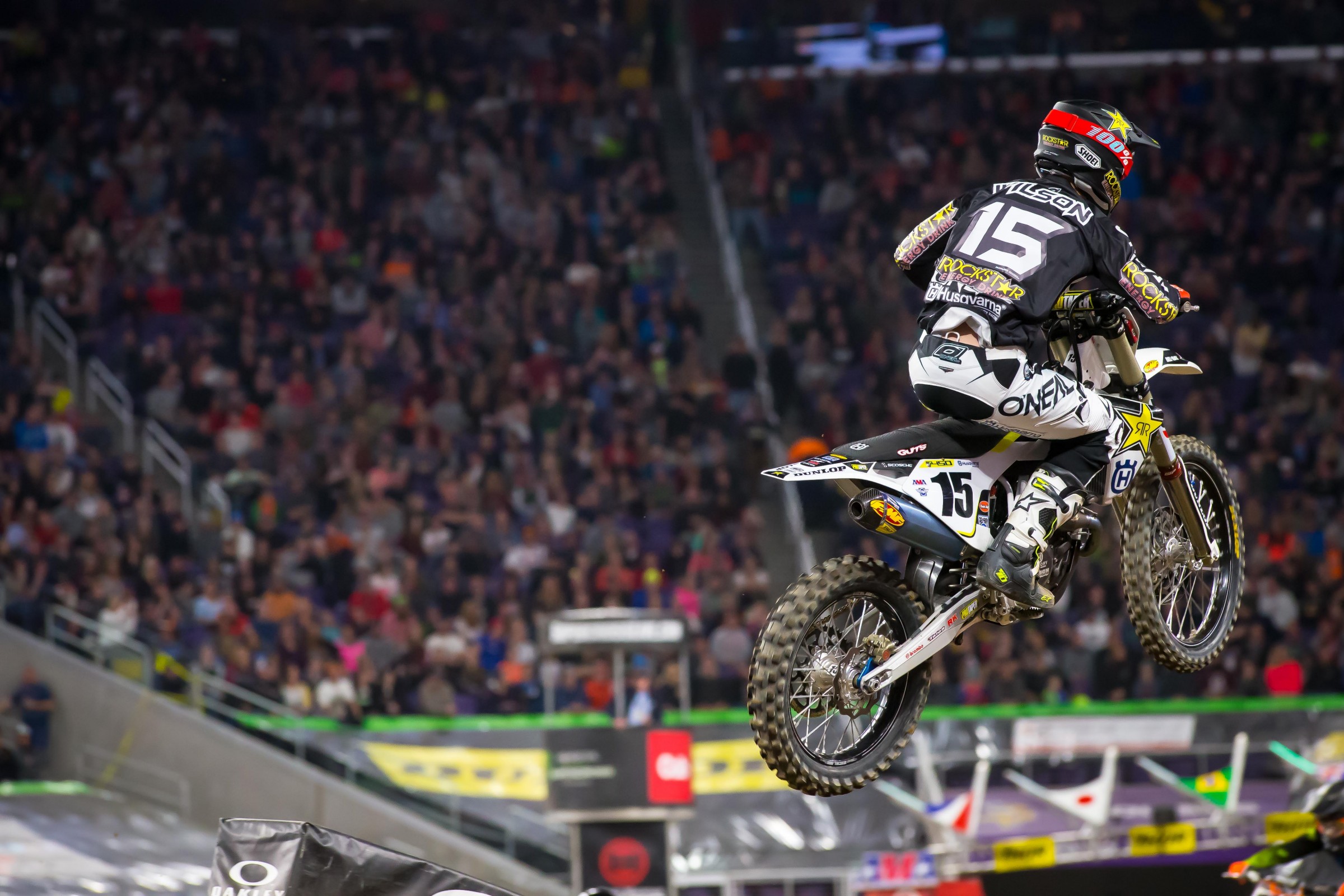 Marvin Musquin had a great race, coming from a ways back to pass Dungey for second on the night. It was the kind of ride that would make you suspect he was riding high on confidence earned from winning his first 450SX race the week before in Arlington. But he denied coming into Minneapolis with any kind of different mindset when asked about it in the post-race press conference.
"No, not really. Every single race is different. New tracks, new dirt, and anything can happen," Musquin explained. "Last week after the red flag it was a perfect race for me, with the holeshot and leading every lap. It was almost easy because nobody was challenging me from behind, there was a lot of crashes and problems behind me. I wish it would happen like that every weekend, but it would be too easy. This weekend I had to fight really hard. I won last week and I really enjoyed it, I was really happy, but to be able to come back tonight like I did and get a second place, I'm really happy as well. It feels good and hopefully we'll get better starts like last weekend."
Cole Seely's main event started out well when he got a holeshot, but it didn't last long—he ended up going down all by himself while leading.
"I got a great start but I had a terrible first lap," Seely said. "It was good though, I haven't really found my groove with my starts. I haven't been stressing about it because I knew it was there. But I threw it away, that's a bummer. But I was still able to fight back to fifth which is good in such a stacked class. I had an off-day, so to be fifth still is still good. There are plenty of positives to take away and I'm going to focus on those instead of the negatives."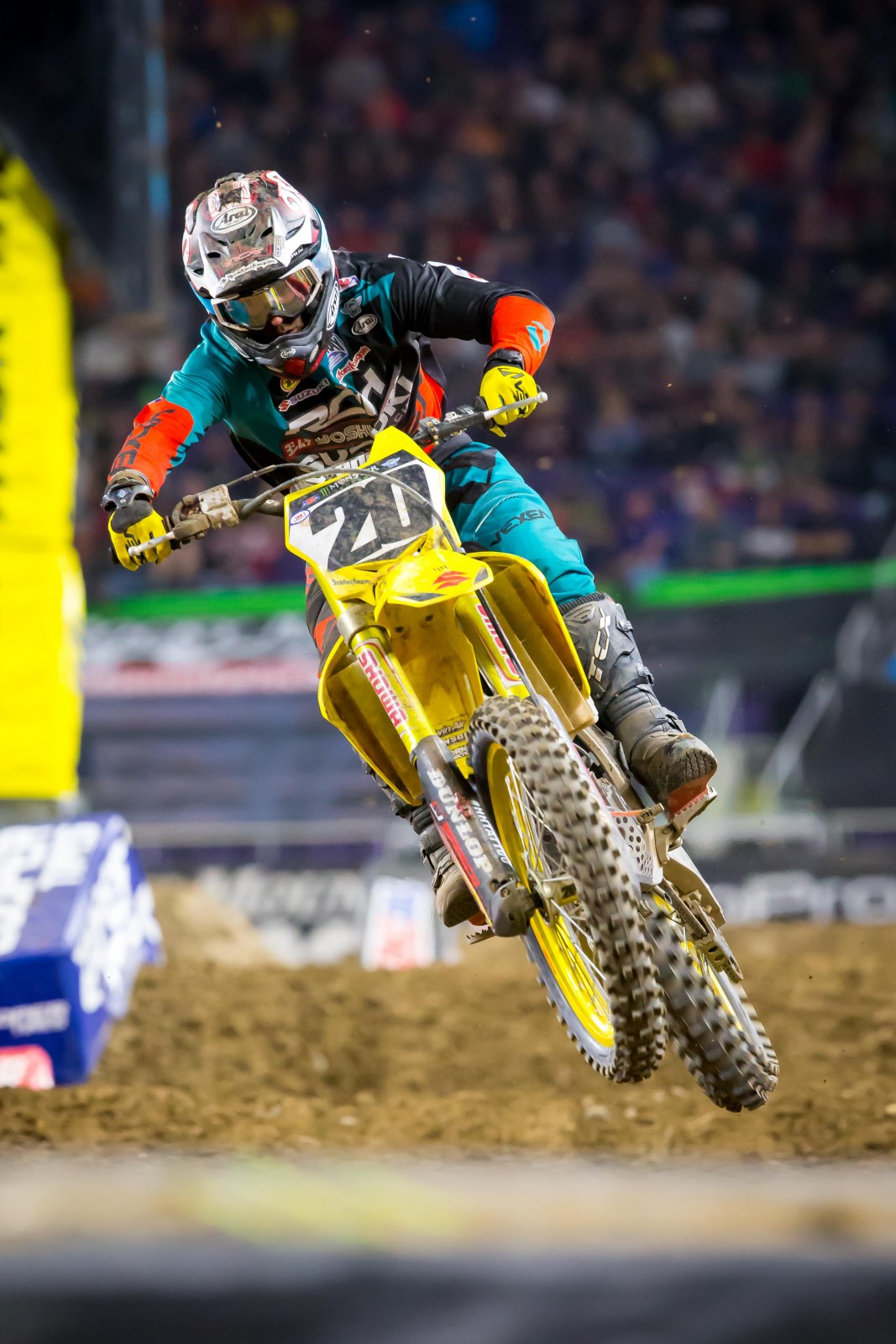 Two other riders, Cooper Webb and Justin Bogle, didn't do as well after having crashes of their own. Webb crashed early in his heat and slammed his shoulder into the dirt hard. We checked with the team after the race and they seemed confident there weren't any broken bones but they weren't sure if anything else was injured. They'll have a better idea of the severity in a few days.
Bogle crashed hard in his semi and was unable to race for the rest of the night. In fact, the team even sent him to the hospital to get his back checked out. He checked out okay and they were confident that he'd be able to race next weekend.
There were several big crashes in the 250SX Class as well. Alex Martin crashed on the first lap of the main event and was too banged up to continue. Fortunately, when we checked with the team they said he was just fine and wouldn't miss any races. We can't say the same for Benny Bloss, who also crashed out of the 250SX main. In fact, we can't say anything at all on his condition because we simply don't know. We were unable to get any information regarding his crash and we're not sure if he sustained any injuries or not. He certainly looked like he was in pain out there though. We'll know more next week and hopefully we're able to report some good news.
We thought something might have been wrong with Christian Craig too. The GEICO Honda rider was flying during qualifying and dominated his heat race. Then, after a bad start in the main, he got lapped! We were sure something was up with either him or his bike, but when we checked his Twitter feed he simply said he'd forgotten how to ride a dirt bike in the main event.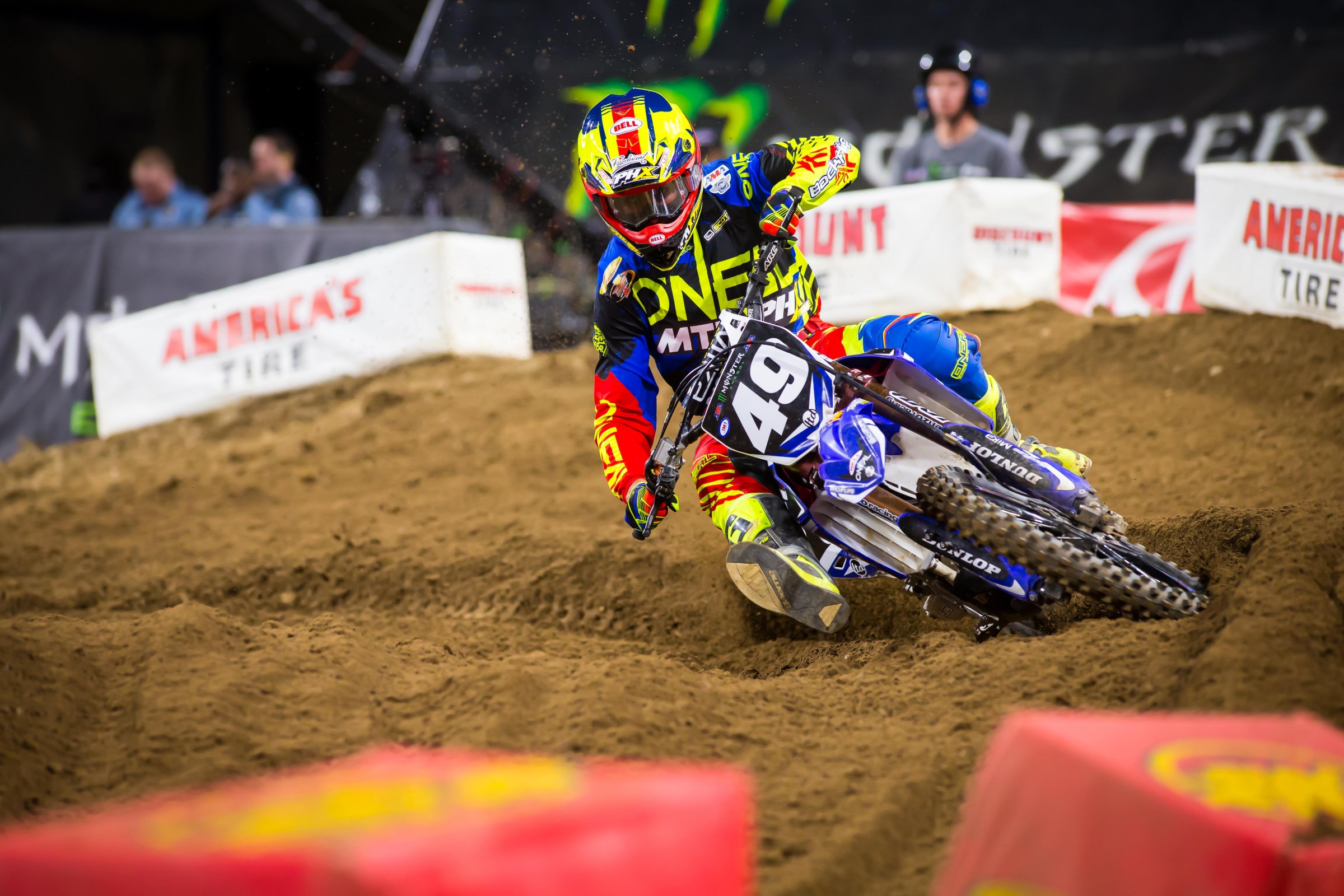 Adam Cianciarulo had a pretty good night and was able to recover from a terrible start to log a fifth.
"I've felt really good lately riding supercross, I'm more comfortable than I've ever been," Cianciarulo said. "I've grown into my body a little bit and I'm a little bit more coordinated after growing so much. Today I rode kind of tight though. The track was a little bit different, kind of soft and spongey, but as I got more laps on the track I felt better. The main event just came down to the start. I ended up double-clutching it and got stuck behind guys going down. It took me so long to pass some of the guys—I think I was in eleventh or twelfth after those first couple corners. By the time I got to fifth it seemed like the guys in front of me were twenty seconds ahead already. I used a lot of energy to get to that point. Overall I'm happy, I kept it on two wheels and got some good points, but it's not where I want to be. I feel like I'm a championship contender and I want to win races. That's the goal."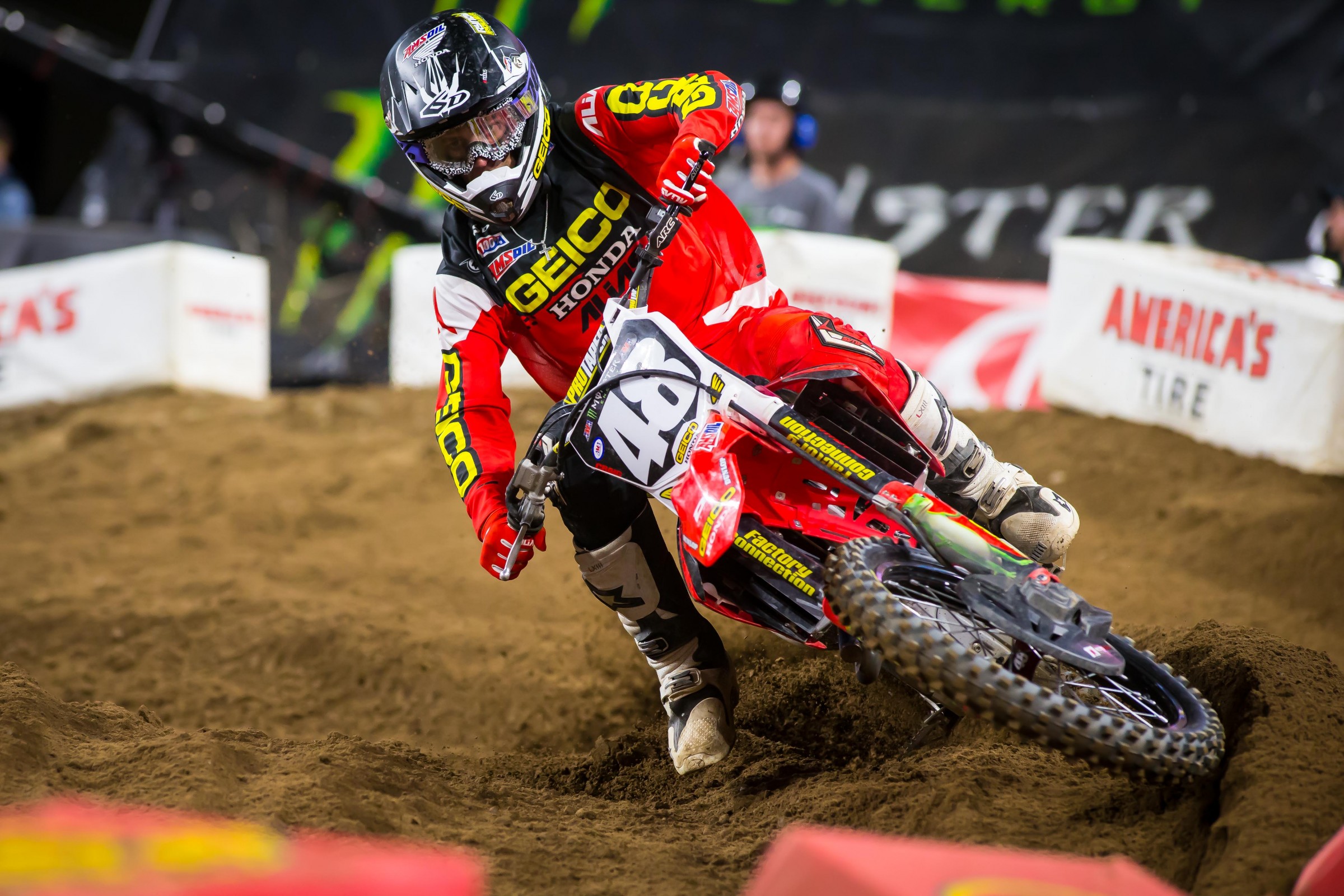 RJ Hampshire had a good night too, taking fourth, despite not feeling comfortable all day.
"I struggled all day," Hampshire told us afterward. "The practices weren't the greatest and I didn't even jump a whole rhythm section, I wasn't getting over the dragon's back. We made a huge change from the heat race to the main event and I didn't know what to expect. I got a decent start, not great, but the carnage helped me out. I was around fifth, made some passes, but had no idea where I was. I thought I was riding terrible, but when I looked at my lap times afterward I saw I had the second-fastest lap of the race. On a bad night, to come away with a fourth, I'm happy with that."
If you're Zach Osborne you could feel two totally opposite emotions. He landed on the podium in the first race of the season, but he tossed away a chance to win his first supercross race when he crashed all by himself while closing in on Joey Savatgy. So how did he feel afterward?
"I feel good about tonight," Osborne affirmed. "I felt good all day. The track didn't have much flow but I was able to find it. In the main I somehow made a bonehead mistake. I got into neutral. Our bike is almost impossible to get into neutral, even when you're trying, so it's kind of strange it happened. I tipped over and still managed to get third so I'm happy."
Jordon Smith also had reason to feel opposite emotions. He led a bunch of laps and had a chance to go for the win, but wasn't able to hold off Savatgy. But second is still fantastic, and it also happens to be the best result of Smith's career.
"I got tangled up with a few people in the heat race and barely made it in through the heat," Smith said. "I knew I needed to get a good start in the main. The track was really one-lined and I knew it was going to be hard to pass. I got a really good start from the outside and just tried to hit my lines and stay clear of the lappers, which was pretty tough with all the ruts. It was a good first race, and I'm just glad to get out of here with a good finish."
One rider who had every reason to be happy was Savatgy, although his stone-faced exterior in the press conference gave no indication what he was feeling at all.
"It would have been nice to get out of here with a podium, but to get the win is a little bit sweeter," Savatgy said. "I didn't really feel awesome all day. I struggled with bike setup and in the main event I struggled. The track seemed tight in areas and it was hard to get a rhythm going. But it's hard to complain when you're up here and we just have to keep it going."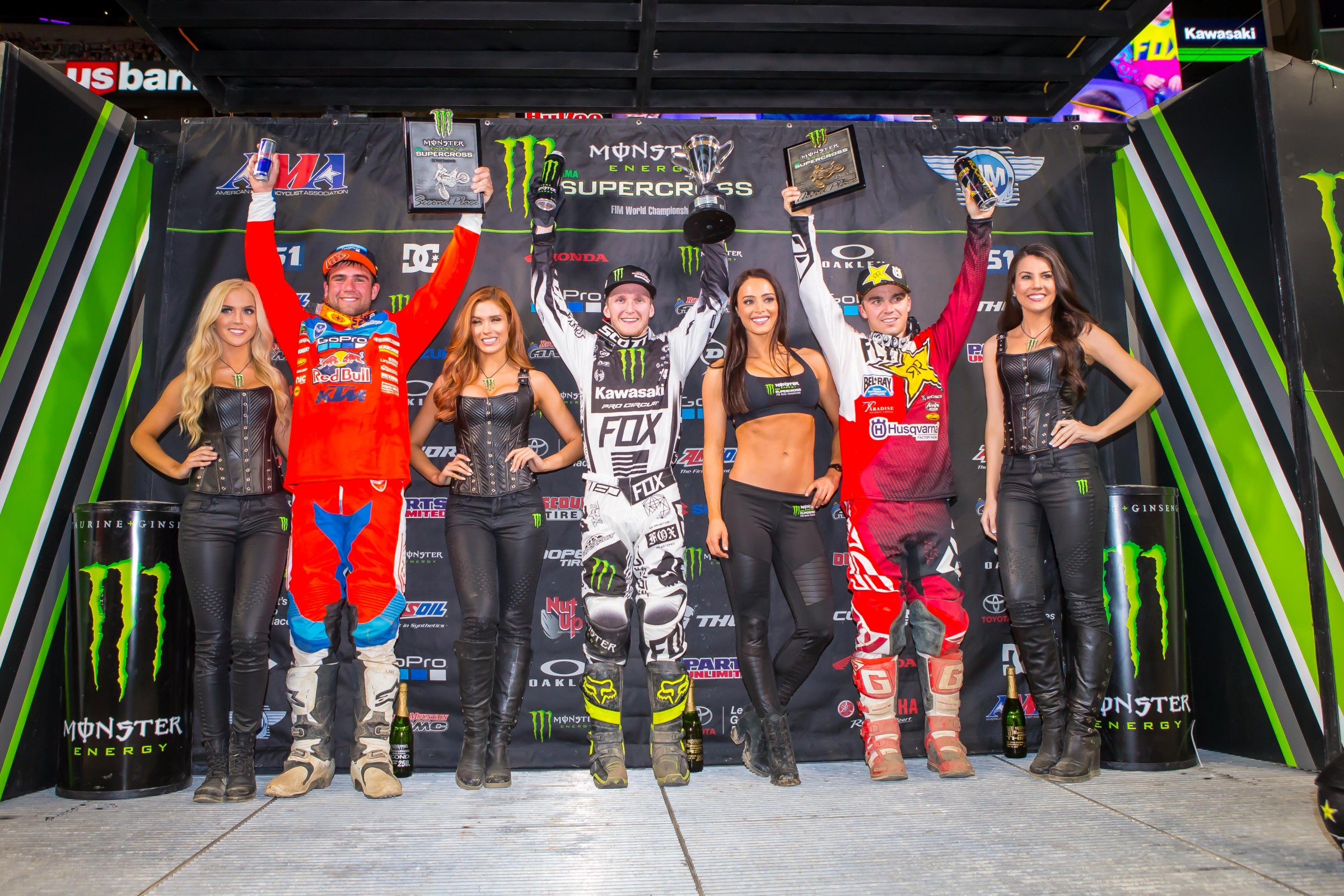 Supercross
Rider
Hometown
Bike
1
Joey Savatgy
Thomasville, GA

United States

Kawasaki KX250F
2

Jordon Smith
Belmont, NC

United States

KTM 250 SX-F
3
Zach Osborne
Abingdon, VA

United States

Husqvarna FC 250
4
R.J. Hampshire
Hudson, FL

United States

Honda CRF250R
5

Adam Cianciarulo
Port Orange, FL

United States

Kawasaki KX250F
6
Dylan Ferrandis
Avignon

France

Yamaha YZ250F
7
Anthony Rodriguez
Caracacus

Venezuela

Yamaha YZ250F
8
Luke Renzland
Hewitt, NJ

United States

Yamaha YZ250F
9

Kyle Peters
Greensboro, NC

United States

Suzuki RM-Z250
10
Colt Nichols
Muskogee, OK

United States

Yamaha YZ250F
11
Jesse Wentland
Elk River, MN

United States

Honda CRF250R
12
Christian Craig
Temecula, CA

United States

Honda CRF250R
13
Fredrik Noren
Lidköping

Sweden

Honda CRF250R
14
Lorenzo Locurcio

Venezuela

Yamaha YZ250F
15
Cameron McAdoo
Sioux City, IA

United States

Honda CRF250R
16
Gannon Audette
Minneapolis, MN

United States

Kawasaki KX250F
17
Tony Archer
Clinton, MD

United States

Kawasaki KX250F
18
Mitchell Harrison
Lansing, MI

United States

Yamaha YZ250F
19
Paul Coates

United Kingdom

Yamaha YZ250F
20
Dakota Alix
Jay, VT

United States

KTM 250 SX-F
21
Benny Bloss
Oak Grove, MO

United States

KTM 250 SX-F
22
Alex Martin
Millville, MN

United States

KTM 250 SX-F
Full Results
Supercross
Rider
Hometown
Bike
1

Eli Tomac
Cortez, CO

United States

Kawasaki KX450F
2
Marvin Musquin
La Reole

France

KTM 450 SX-F
3
Ryan Dungey
Belle Plaine, MN

United States

KTM 450 SX-F
4
Jason Anderson
Edgewood, NM

United States

Husqvarna FC 450
5
Cole Seely
Newbury Park, CA

United States

Honda CRF450R
6
Davi Millsaps
Cairo, GA

United States

KTM 450 SX-F
7
Broc Tickle
Holly, MI

United States

Suzuki RM-Z450
8
Trey Canard
Shawnee, OK

United States

KTM 450 SX-F
9
Blake Baggett
Grand Terrace, CA

United States

KTM 450 SX-F
10
Mike Alessi
Apple Valley, CA

United States

Honda CRF450R
11

Malcolm Stewart
Haines City, FL

United States

Suzuki RM-Z450
12

Dean Wilson
Scotland

United Kingdom

Husqvarna FC 450
13
Jake Weimer
Rupert, ID

United States

Suzuki RM-Z450
14
Josh Grant
Riverside, CA

United States

Kawasaki KX450F
15
Vince Friese
Cape Girardeau, MO

United States

Honda CRF450R
16
Chad Reed
Kurri Kurri

Australia

Yamaha YZ450F
17
Justin Barcia
Monroe, NY

United States

Suzuki RM-Z450
18
Nick Schmidt
Maryville, WA

United States

Suzuki RM-Z450
19
Cade Clason
Arcadia, OH

United States

Honda CRF450R
20
Jimmy Albertson
Mount Vernon, MO

United States

Suzuki RM-Z450
21
Alex Ray
Jackson, TN

United States

Husqvarna FC 450
22
Adam Enticknap
Lompoc, CA

United States

Honda CRF450R
Full Results
Supercross
| Position | Rider | Hometown | Points |
| --- | --- | --- | --- |
| 1 | Zach Osborne | Abingdon, VA | 173 |
| 2 | Adam Cianciarulo | Port Orange, FL | 171 |
| 3 | Joey Savatgy | Thomasville, GA | 166 |
| 4 | Jordon Smith | Belmont, NC | 161 |
| 5 | Dylan Ferrandis | Avignon | 144 |
| 6 | Christian Craig | Temecula, CA | 97 |
| 7 | Mitchell Harrison | Lansing, MI | 86 |
| 8 | Luke Renzland | Hewitt, NJ | 84 |
| 9 | Anthony Rodriguez | Caracacus | 82 |
| 10 | Kyle Cunningham | Aledo, TX | 77 |
| 11 | Gannon Audette | Minneapolis, MN | 63 |
| 12 | Alex Martin | Millville, MN | 60 |
| 13 | Jesse Wentland | Elk River, MN | 55 |
| 14 | Cameron McAdoo | Sioux City, IA | 49 |
| 15 | Colt Nichols | Muskogee, OK | 49 |
| 16 | Lorenzo Locurcio | | 46 |
| 17 | Fredrik Noren | Lidköping | 46 |
| 18 | Kyle Peters | Greensboro, NC | 37 |
| 19 | R.J. Hampshire | Hudson, FL | 36 |
| 20 | Dakota Alix | Jay, VT | 33 |
Full Standings
Supercross
| Position | Rider | Hometown | Points |
| --- | --- | --- | --- |
| 1 | Ryan Dungey | Belle Plaine, MN | 359 |
| 2 | Eli Tomac | Cortez, CO | 354 |
| 3 | Marvin Musquin | La Reole | 293 |
| 4 | Jason Anderson | Edgewood, NM | 273 |
| 5 | Davi Millsaps | Cairo, GA | 221 |
| 6 | Blake Baggett | Grand Terrace, CA | 220 |
| 7 | Cole Seely | Newbury Park, CA | 212 |
| 8 | Dean Wilson | Scotland | 185 |
| 9 | Chad Reed | Kurri Kurri | 182 |
| 10 | Josh Grant | Riverside, CA | 175 |
| 11 | Broc Tickle | Holly, MI | 167 |
| 12 | Justin Brayton | Fort Dodge, IA | 147 |
| 13 | Cooper Webb | Newport, NC | 129 |
| 14 | Jake Weimer | Rupert, ID | 113 |
| 15 | Malcolm Stewart | Haines City, FL | 103 |
| 16 | Vince Friese | Cape Girardeau, MO | 84 |
| 17 | Justin Bogle | Cushing, OK | 83 |
| 18 | Justin Barcia | Monroe, NY | 83 |
| 19 | Mike Alessi | Apple Valley, CA | 59 |
| 20 | Ken Roczen | Mattstedt | 51 |
Full Standings