Phil Nicoletti Injured, Will Miss Arlington [Update]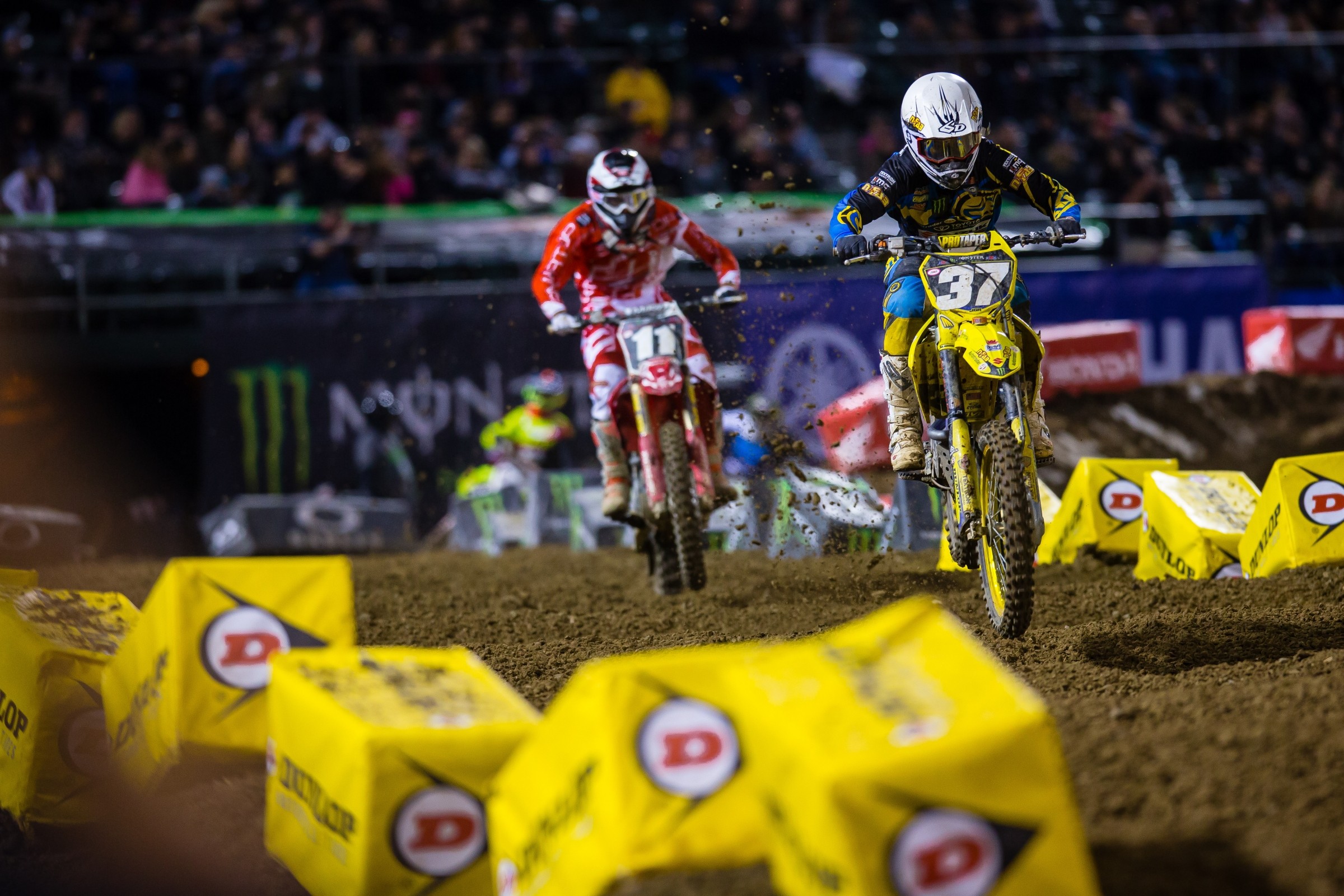 Arlington, TX
Arlington (Dallas)
Monster Energy AMA Supercross Championship
Many considered 2017 to be a fresh start for the Autotrader.com/Monster Energy/JGR Suzuki team. They were on new bikes, their 450 riders were healthy, and two 250 riders had been added to the team. It wasn't long before Justin Barcia injured his wrist before the season, Matt Bisceglia injured his foot and had to be moved to the 250SX East Region, and then Weston Peick lacerated his kidney and dislocated his wrist.
The JGR squad has taken another blow today with the news that Phil Nicoletti, their last non fill-in rider, will miss the Arlington Supercross after injuring his left ankle and heel during press day. Right now there is no word on the severity of his injury, but Nicoletti is flying home to North Carolina to be evaluated by his physician. Nicoletti was coming off his best finish of the season with a fifth place finish in Oakland. We'll update you as we know more.
Update Feb 11 @ 9:00 a.m.: We've heard Nicoletti dislocated the ankle and needs surgery to put it back in place. Ouch. Again, we'll report more whenever we have a time table for recovery on @BadNewsPhil
You can view the full press release below:
HUNTERSVILLE, N.C. – Autotrader/Suzuki/Yoshimura Team rider Phillip Nicoletti was injured today at AT&T Stadium while participating in Press Day activities for the Arlington, Tex. event taking place tomorrow, Feb. 11. The injuries are to his left ankle and heel, Nicoletti will not be able to compete in Arlington. He will return home to N.C. and be evaluated by his physicians, at which time more will be known about the length of his recovery.
Autotrader/Suzuki/Yoshimura Team rider Matt Bisceglia who was injured just prior to the start of the season will not be ready to compete when the 250SX East Series begins on Feb. 18. Kyle Peters, who rides for Wilson's Coolair Factory Suzuki Team in Australia will substitute for Bisceglia for at least the first round of the eastern regional series. Peters will race with the number 56.
Peters is in the U.S. training for the Australian Motocross National Series which starts on April 2 in Wonthaggi, VIC. His familiarity with the Suzuki makes him the perfect temporary replacement for Bisceglia. "Unfortunately injuries are a part of our sport, we appreciate Kyle and the Wilson's Coolair Factory Suzuki Team helping us out while Matt makes final preparations to come back, and we will do everything we can to help Phil make a quick and full recovery," said Jeremy Albrecht, the JGR team manager.
Round six of the 2017 Monster Energy AMA Supercross Series is tomorrow, Saturday, Feb. 11 at AT&T Stadium in Arlington, Tex. Jake Weimer will contest the 450SX Class for the Autotrader/Suzuki/JGRMX Team. Peters will race for Bisceglia when the series moves to Minneapolis, Minn. on Feb. 18 at U.S. Bank Stadium for the opening round of the eastern regional series. The western regional series resumes on April 8, at Century Link Field in Seattle, Wash.